June, 30, 2014
Jun 30
5:30
PM ET
PHILADELPHIA -- The Eagles don't have a problem if offensive tackle
Lane Johnson
is really suspended for four games, as reported by Paul Domowitch of the Philadelphia Daily News.
They have several problems.
Remember, Johnson was a quarterback in high school and then a tight end when he first got to Oklahoma University. The 6-foot-6 Johnson bulked up to more than 300 pounds to become an offensive tackle good enough to be taken fourth overall in the 2013 NFL draft.
Johnson
Was that physical transformation natural or the result of performance-enhancing drugs? This is more than a theoretical matter for the Eagles. They drafted Johnson based on his size and his physical skills. At the scouting combine last year, Johnson ran a 4.75-yard 40-yard dash, an excellent time for a man of his size. The Eagles drafted him fourth, which meant a contract worth almost $20 million, including a signing bonus of $12 million.
The Eagles made that investment on the assumption that Johnson was clean. He earned his money as a rookie, starting all 16 regular-season games plus the playoff game against New Orleans. But the question becomes, can he perform at the same level if he stops doing whatever earned him a four-game suspension?
If Johnson is sidelined, the Eagles could start either guard
Todd Herremans
or backup lineman
Allen Barbre
at right tackle. Barbe performed very well when pressed into action at left tackle last year at Green Bay. Herremans played right tackle in 2012 and 2013 before moving back inside to guard last year.
The other candidates to fill in for Johnson are
Dennis Kelly
, who was troubled by back pain last season, and
Matt Tobin
and
Michael Bamiro
. The Eagles did not take an offensive lineman in this year's draft.
Taking a step back, a suspension would cast doubts upon more than just Johnson.
Head coach Chip Kelly has gotten a lot of attention for his training methods and his sports science-based approach to football. It didn't raise many questions when linebacker
Jake Knott
was suspended earlier this year. But now, with a first-round pick and starter reportedly testing positive for PEDs, there will be plenty of speculation about what's in those custom smoothies the players drink after every practice.
Johnson would be the fifth Eagles player suspended for performance enhancing drugs. This would be the first time, however, that two Eagles have tested positive in the same year. Instead of a minor player whose absence would barely be noticed, Knott becomes part of a trend for the 2013 NFC East champions. If there are no more positive tests, there will be no more suspicions. But if the trend continues, questions will be asked.
February, 20, 2014
Feb 20
8:00
AM ET
PHILADELPHIA – Numbers seldom tell the story when it comes to offensive line play. For the 2013 Eagles, though, these numbers were remarkably eloquent:
Jason Peters
: 1,019.
Evan Mathis
: 1,104.
Jason Kelce
: 1,096.
Todd Herremans
: 1,104.
Lane Johnson
: 1,103.
[+] Enlarge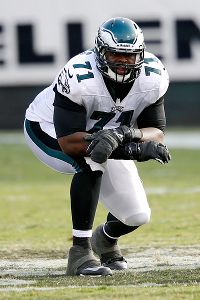 AP Photo/Kevin TerrellJason Peters was one of two Philadelphia offensive linemen to earn a Pro bowl nod in 2013.
Those are the snap counts for the Eagles' starting line, from left tackle to right tackle. Guards Evan Mathis and Todd Herremans played every single offensive snap. Right tackle Lane Johnson missed one play. Center Jason Kelce played 99 percent of the snaps. Left tackle Jason Peters, coming off two tears of the same Achilles tendon, played 92 percent.
A year after four of the five starting linemen were lost to injury, the Eagles enjoyed remarkable health at this most vital of positions. So it's no surprise the line was one of the team's strongest areas. Peters and Mathis were selected for the Pro Bowl. Kelce deserved to be.
The right side of the line wasn't as strong, but that's deceptive. The left side is the best in the NFL, according to Pro Football Focus. And the right had two players – veteran Herremans, who was relearning guard after playing tackle, and rookie Johnson – who improved noticeably as the season went on.
The line cleared the way for
LeSean McCoy
to lead the league in rushing and gave
Nick Foles
time to put up some unprecedented numbers and stake his claim to the starting quarterback spot.
There are two points to consider here. The first is that the Eagles aren't lucky to win the injury-free lottery every year, so they will need depth behind the starting five. The other is that Peters, Mathis and Herremans are all over 30. Top reserve
Allen Barbre
will be 30 in June. So it makes sense to have some young linemen in development.
The Eagles do. One consequence of the starters' health is that we never got to see any of them play.
In an interview with Bleeding Green Nation, Mathis cited
Matt Tobin
as a player to watch. The undrafted free agent from Iowa slipped ahead of
Dennis Kelly
, based on the weekly inactive list. At 6-foot-6, 290 pounds, Tobin is big enough to play tackle as well as guard.
And then there is
Michael Bamiro
, the 6-8, 340-pound project from Stony Brook. Bamiro spent the season working with offensive line coach Jeff Stoutland and his assistant, the similarly mammoth former tackle Tra Thomas.
Can Tobin, Bamiro, Kelly and center
Julian Vandervelde
provide enough depth behind the starters and the versatile Barbre? There is probably enough talent and potential there to make the offensive line relatively low on the priority list.
That said, the position is too important for the Eagles to pass on a player they like in the draft. That is GM Howie Roseman's philosophy, so it wouldn't be a surprise if the Eagles drafted a lineman or two.
While we're on the line, we should mention that long snapper
Jon Dorenbos
had another very fine season. It's a position you don't think much about until a mistake is made. Dorenbos, 33, doesn't make anyone think about it.
January, 8, 2014
Jan 8
8:00
AM ET
PHILADELPHIA -- There is roster change every year for NFL teams. The
Philadelphia Eagles
find themselves in pretty good shape going into the 2014 offseason. They have control over most of their roster and can, for the most part, make only the changes they want.
Here's how the roster shapes up:

Unrestricted free agents:
Wide receivers
Riley Cooper
and
Jeremy Maclin
; safeties
Nate Allen
,
Kurt Coleman
and
Colt Anderson
; quarterback
Michael Vick
; defensive end
Clifton Geathers
, punter
Donnie Jones
.
The Eagles could lose all of those players without taking a major hit. That doesn't mean those players aren't valuable, merely that they're not irreplaceable. It's not as if
LeSean McCoy
or
Mychal Kendricks
or
Jason Kelce
were free to leave.
My guess is general manager Howie Roseman will make solid market offers to Cooper, Maclin, Allen, Geathers and Jones. He will not overpay for any of them. If some other team does, the Eagles will move on without the player in question.
Players due for contract extensions:
Defensive end
Cedric Thornton
(exclusive rights free agent) and center Jason Kelce.
Let's project to the year 2022. The 35-year-old Kelce announces he is playing his final season after 13 years with the Eagles. That's how things should go with this guy. He's smart, physical, athletic and exactly the kind of player teams should commit to. So yes, extend Kelce.
Thornton was one of the delightful surprises of 2013. An undrafted rookie from Southern Arkansas, he hung around for a couple years without anyone paying much mind. But he's living proof of Chip Kelly's no-expectations approach. Kelly judges based on what a player does, and Thornton was very good this year.
Players who could be gone:
Vick, Anderson, Coleman, wide receiver
Damaris Johnson
, kicker
Alex Henery
, linebacker
Brandon Graham
, safety
Patrick Chung
, linebacker
Phillip Hunt
(restricted free agent on IR), wide receiver
Arrelious Benn
, offensive lineman
Dennis Kelly
.
Mostly self-explanatory. Vick wants to find a place where he can start. Even if he doesn't, the Eagles really like
Matt Barkley
and may well prefer a younger (read: cheaper) No. 2 behind
Nick Foles
.
Henery will have competition for the kicking job next summer. Not sure he'll answer that bell. Graham belongs at end in a 4-3 defense and may get a chance to return to one. The Eagles tried to replace Chung over and over but injuries kept him in the lineup.
Johnson lost his return job and never played on offense. Anderson has been a solid special teams guy, but Kelly likes versatility and may prefer a replacement who can fill in on defense, too.
Veterans on the salary-cap bubble:
Tight end
Brent Celek
, linebacker
Trent Cole
, guard
Todd Herremans
, wide receiver
Jason Avant
. They are all good enough players to stay. That, not their cap numbers, should be the deciding factor.
Youth movement:
The Eagles signed their practice squad and one other player to futures contracts. They are linebackers
Emmanuel Acho
,
Josh Kaddu
and
Travis Long
; offensive tackle
Michael Bamiro
; defensive end Brandon Bair; wide receivers
Will Murphy
,
B.J. Cunningham
and
Ifeanyi Momah
, and tight end
Emil Igwenagu
.
The takeaway here: The Eagles staff spent a lot of time coaching these guys and one or three of them just might become contributors.
September, 1, 2013
9/01/13
3:43
PM ET
The Philadelphia Eagles' waiver-wire spree didn't really materialize Sunday. The team was awarded just one player, former
Cincinnati Bengals
cornerback
Shaun Prater
.

One possible reason for the relatively light activity: The
Jacksonville Jaguars
, who are two spots higher than the Eagles on waiver claims, were awarded a stunning seven players. That included two players, DE/LB Chris McCoy and TE
Clay Harbor
, who were released by the Eagles.
Prater is 5-foot-10, 190 pounds. A fifth-round pick out of Iowa last year, Prater spent his rookie season on injured reserve with patellar tendinitis. He is not expected to be a factor right away. The Eagles will roll with
Cary Williams
and
Bradley Fletcher
(who played with Prater at Iowa) outside and
Brandon Boykin
in the slot.
But at least Prater can practice and play. To make room for him, the Eagles released
Curtis Marsh
, another member of their disastrous 2011 draft class. Marsh had surgery on his broken hand last month and was not available for the last two preseason games.
A couple of other roster-related notes:
The Eagles signed four players to their practice squad, all of whom were released over the weekend: OT Michael Bamiro, RB Matthew Tucker, WR Greg Salas and LB Travis Long. They have four more spots to fill.
Didn't do too poorly on my projected 53-man roster, which was posted Friday morning. I had 48 players right. And where I was incorrect, I might have been right in a couple of spots where the Eagles turn out to be wrong.I had McCoy staying and Casey Matthews going. We'll see how that one turns out.

I had Salas and Russell Shepard among six wide receivers. The Eagles kept five, including Jeff Maehl. That's two Oregon guys who made the team that I didn't expect.

I thought they'd keep 10 offensive linemen, including Matt Tennant. They went light there, cutting Tennant, and kept one more tight end than I expected: Emil Igwenagu.

Finally, they kept two more DBs than I expected. One was Colt Anderson, who will play only on special teams. The other was Marsh, who was released today. So maybe I had 4.5 players wrong.
Roseman made two trades involving a running back for a linebacker. He got Emmanuel Acho, who made the team, for Dion Lewis, who is on IR in Cleveland. And he got Adrian Robinson, who was cut Friday, for Felix Jones, who made the Steelers roster.
The Eagles were off today and have some conditioning work scheduled for Monday. They'll be off again Tuesday. The practice week for Monday night's game at Washington begins in earnest on Wednesday.
August, 31, 2013
8/31/13
2:30
PM ET
The release of
Danny Watkins
says nearly as much about the
Philadelphia Eagles
as it does Watkins himself.
With the hiring of Chip Kelly, there is no more need to rationalize the mistakes of the Andy Reid era. Watkins, fairly or otherwise, became symbolic of that era's final unraveling.
His release wasn't even surprising. The only eyebrows raised Saturday were at the departures of wide receiver
Russell Shepard
and tight end/receiver
Clay Harbor
. They both had better preseasons than Watkins. The Eagles also released safety
David Sims
and offensive tackle
Michael Bamiro
.
The Eagles were a playoff team in 2010. Going into the 2011 draft, they were looking to fill a few key needs in order to remain a perennial contender. With the 23rd pick, they took Watkins, a guard from Baylor with an unusual backstory: A Canadian, Watkins didn't start playing football until he was 22 years old. He was a 26-year-old rookie.
The Eagles went 8-8 in 2011. They went 4-12 last year. Reid was fired. Kelly was hired.
Of the 11 players taken in that draft, just 30 months ago, only center
Jason Kelce
and kicker
Alex Henery
are in the starting lineup. Fifth-round pick
Julian Vandervelde
, who was released last year and re-signed, is the backup center.
Second-round pick
Jaiquawn Jarrett
is long gone. He started at safety for the Jets Thursday night. Third-round cornerback
Curtis Marsh
and fourth-round linebacker
Casey Matthews
are on the bubble and could be gone by opening day.
Watkins started 12 games as an overmatched rookie. He started six games last season. He never clicked with Howard Mudd, the coach Reid brought in to revamp the offensive line's approach. With Kelly and new line coach Jeff Stoutland, Watkins was pretty much a non-entity all summer.
Now he's gone and, with him, so is another reminder of what went wrong under Reid.
As for other known cuts:
Harbor became endangered in May, when Kelly asked him to work out at linebacker during OTAs. He moved back to tight end, then started taking reps at wide receiver early in camp.
Shepard got a really close look this summer. He seemed like a good bet to make the 53-man roster.
The 6-foot-8, 340-pound Bamiro was not eligible for the draft. The Eagles signed him in July. With his size and natural ability, he will almost certainly be on the practice squad if he clears waivers.
Sims started one game at safety last season. He never really became a factor in what turned out to be a lackluster competition for a starting job.
July, 17, 2013
7/17/13
11:15
AM ET
By
ESPN.com staff
| ESPN.com
Dallas Cowboys
ESPNDallas.com's Todd Archer analyzes defensive tackle Nick Hayden's
chances of making the 53-man roster
.
The Cowboys
worked out quarterbacks Kyle Padron, Chase Clement and Alex Tanney on Tuesday
, writes Calvin Watkins of ESPNDallas.com. Dallas is expected to keep just two quarterbacks on the active roster, Tony Romo and Kyle Orton.
Pass-rusher DeMarcus Ware
says there is 'no big difference'
in switching to defensive coordinator Monte Kiffin's 4-3 scheme, writes Jon Machota of the Dallas Morning News.
Bill Parcells says outsiders who criticize Jerry Jones
have a distorted view of how the Cowboys' owner and general manager operates
, writes Machota. Says Parcells: "I think Jerry is a good businessman and a good listener. What you have to do is make sense to him. You've got to make sense to him. If he thinks you're making sense, he'll alter his opinion. I enjoyed him. I like him. I like him a lot."
New York Giants
In a recent radio appearance on Sirius XM, Receiver
Victor Cruz said he felt he deserved a better contract
than the extension he received from the Giants last week. The Giants' obligation to Cruz is nearly $46 million for the next six years, as he's signed through the 2018 season. Conor Orr of the Newark Star-Ledger has more.
Ohm Youngmisuk of ESPNNewYork.com continues his position-by-position look at the Giants
with a breakdown of the receivers
and
running backs
entering training camp.
Philadelphia Eagles
The Eagles signed
6-8, 335-pound offensive tackle Michael Bamiro
, writes Les Bowen of the Philadelphia Daily News. Bamiro, 22, thought he had another year of college eligibility but was denied it by the NCAA. Instead of putting him in last week's supplemental draft, the NFL declared him an immediate free agent.
With the Phillies' playoff hopes fading,
Philadelphia sports fans will focus their attention on new coach Chip Kelly and the Eagles
, writes Phil Sheridan of the Philadelphia Inquirer.
Washington Redskins
John Keim of the Washington Post continues his position-by-position look at the Redskins' roster entering training camp
with a breakdown of the tight ends
.
Tight end Chris Cooley will
retire from the NFL and join the Redskins' radio broadcasts
as an analyst. Mark Maske and Dan Steinberg of the Washington Post have the story.
Linebacker Bryan Kehl, a seven-year veteran, knows shining on
special teams is the key to winning a roster spot
, writes Brian Tinsman of the team's website.
July, 12, 2013
7/12/13
10:30
AM ET
By
ESPN.com staff
| ESPN.com
Dallas Cowboys
NFL.com analyst Elliot Harrison
says quarterback Tony Romo is one of the most underrated Cowboys of all time
. Writes Elliot: "Critics hold Romo accountable as an individual, which is funny, because none of them want to hear his individual statistics. They don't want to hear that he owns the fifth-highest passer rating in NFL history at 95.6. Or that analytics haven Pro Football Focus rated him as the 11th-best quarterback in football last season, 10th in 2011 and eighth in 2010."
The NFL is reviewing defensive tackle Josh Brent's status with the Cowboys and
should have a decision whether to suspended him
before the team heads to training camp July 19, writes Clarence E. Hill Jr. of the Fort Worth Star-Telegram. Brent is still on the roster while awaiting his September trial on an intoxication manslaughter charge in the death of teammate Jerry Brown, who was a passenger in Brent's car when it crashed Dec. 8 in Irving.
The team's website continues its series analyzing each position group
with a look at the cornerbacks
by David Helman.
New York Giants
ESPNNewYork.com's Ohm Youngmisuk
talks with coordinator Kevin Gilbride
about how the offense looked during offseason OTAs.
Giants.com writers
debate if the team will keep both kickers
, Josh Brown and David Buehler, on the final roster.
Philadelphia Eagles
Chip Kelly
is in no hurry to name a starting quarterback
, writes Zach Berman of the Philadelphia Inquirer. The new coach has elected to exercise patience, withholding judgment until it's necessary -- or obvious -- to make a decision between Michael Vick and Nick Foles, and potentially even Matt Barkley.
The Eagles were among 22 teams on hand to
watch a workout in New Jersey by offensive tackle Michael Bamiro
, a 6-foot-8, 335-pound preseason All-American from Stony Brook. Bamiro had eligibility issues and is now a free agent.
Washington Redskins
Rich Tandler of csnwashington.com
breaks down who will get the extra carries
, assuming quarterback Robert Griffin III carries the ball less this season.
In his position-by-position look at the Redskins' roster, John Keim of the Washington Post says
Alfred Morris' rookie season was no fluke
.
Outside linebacker Brian Orakpo, recovered from surgery to repair his torn pectoral muscle, says he is "300" percent, adding
"I'm going to rip it up this year."
Brian Tinsman of the team's website has the story.