NFC East:

Michael Bennett
June, 5, 2014
6/05/14
11:45
AM ET
ASHBURN, Va. -- One addition could lead to better individual play. The other could be seen as insurance for his potential departure. Both could help
Brian Orakpo
in the short term, and that's all he's worried about.
In fact, Orakpo said he never viewed rookie
Trent Murphy
as anything other than a guy who could help now. He said he did not wonder if Murphy was drafted to be his eventual replacement.
[+] Enlarge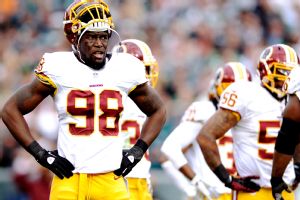 AP Photo/Michael PerezBrian Orakpo views the additions of rookie Trent Murphy and outside linebackers coach Brian Baker as a sign that better days are in the immediate future for the Redskins' pass rush.
"That's the last thing I'm thinking of," Orakpo said. "That's the first time I even thought about that to be honest with you."
Orakpo said Murphy's addition was necessary. So, too, was outside linebackers coach Brian Baker's. And Orakpo said both can help him -- and
Ryan Kerrigan
-- have more of an impact this season.
First, Baker. Here's the list of pass rushers he's worked with in the past:
Charles Johnson
,
Julius Peppers
,
DeMarcus Ware
and
La'Roi Glover
. How much did he mold their games? Tough to say, but clearly Baker can pass along tips he picked up working with those players onto the Redskins' linebackers.
"Just pass-rush concepts, man," Orakpo said. "Not just being an athlete. All kinds of different stuff he learned coaching guys throughout his years. Hand usage. Hand placement. I'm a momentum type of pass rusher. Now he's trying to teach a guy like myself proper hand placement and not being so wild at times when I'm rushing.
"We've been doing a lot of techniques. Any time we got a break, me and Baker are going at it doing different techniques, working different hand placements, working half of the offensive tackle or the tight end. Just trying to get better."
It's different.
"I haven't done this before," Orakpo said. "This is brand new for me. I'm excited. It will get all of us better and get all of us to another level. It comes with years of experience, always trying to incorporate something new in your game. I'm excited Baker is here and also that [Kirk Olivadotti] is here because he's teaching the inside linebackers a lot of new things as well that we were accustomed to my first year. Those guys are huge assets."
That's how Orakpo views Murphy, chosen in the second round last month. Orakpo said one word came to mind when they picked him: Depth.
While many will debate whether Murphy was the right choice, the bottom line is the Redskins needed another pass rusher. Just adding
Jason Hatcher
in the offseason would not provide enough of a boost, or depth, in this area.
"It's all about getting another guy to come in and create havoc," Orakpo said. "Depth is huge. You need three or four pass rushers that can go. This team has relied on me and Ryan doing the dirty work. But every other team has three to four guys ready to rock and roll. You saw what Seattle did bringing three or four guys, moving my boy
Michael Bennett
around.
Cliff Avril
on one side,
Chris Clemons
one side. Just moving guys all over the place. ... We finally got the big picture and got someone in here."
It's no secret what the Redskins want to do: tap into the three linebackers' versatility. That's evident in practice as each of them has lined up all over the place. The goal: pressure with four or, at most, five. You can be aggressive without always having to blitz. Washington blitzed more in 2012 in part because it lost Orakpo and
Adam Carriker
to injuries. But it left a weak secondary susceptible.
"If you pressure with four guys, you have a much better chance," Redskins coach Jay Gruden said. "You saw the success Seattle had -- they very seldom blitz. We have the ability with four, five guys that we have being able to rush the passer, keeping them fresh -- that we can get pressure."
If that's the case, then Orakpo likely would receive the sort of long-term contract he desires from Washington. He made it clear a long time ago he'd still like a long-term deal and that not having one wouldn't impact his approach, or desire to attend workouts. He'd still like one before the season, but Gruden said long ago he's fine with letting him play the season out on the franchise tag. Other members of the organization said it's conceivable the Redskins will keep all three pass rushers beyond this season.
For now, Orakpo's concern is 2014.
"Don't look into the one-year-left-rookie-drafted [storyline]," Orakpo said. "We have to look at this year and trying to get to that Super Bowl. Forget about the future. That's just business. Business will take care of itself. We're trying to make noise this year."
March, 11, 2014
3/11/14
11:00
AM ET
IRVING, Texas --
Jason Hatcher
has been waiting for this day for a long time.
Hatcher
He will soon find out how much the rest of the NFL thinks of him and whether he will be a former
Dallas Cowboys
defensive tackle.
It is not an apples-to-apples comparison, but in the last week two defensive ends have signed contracts that could be an indication of what Hatcher, who led the Cowboys in sacks (11) in 2013, gets paid.
The
Minnesota Vikings
signed
Everson Griffen
to a five-year, $42.5 million deal with $20 million guaranteed. He had 17.5 sacks in his first four seasons and has started only one game. The Vikings, however, are changing the face of their defensive line and will likely say goodbye to
Jared Allen
and
Kevin Williams
in favor of Griffen and
Sharrif Floyd
.
Griffen is also 26.
On Monday, the
Seattle Seahawks
re-signed
Michael Bennett
to a four-year, $28.5 million deal with $16 million guaranteed. Bennett had 8.5 sacks in 2013 in helping the Seahawks win the Super Bowl. He has 23.5 sacks in his career, including 17.5 in the last two seasons.
He is 28.
Hatcher's first bite at the free-agent market came in 2011 after a lockout. Teams acted quickly and Hatcher took a three-year, $6 million deal from the Cowboys. Up to that point he had started one game and never had more than 2.5 sacks in a season.
Now 31 and coming off his best season, Hatcher wants to cash in. If Griffen can get a deal worth $8.5 million annually and Bennett, who is better than Griffen, gets $7.125 million annually, then does that keep Hatcher in the $6 million-a-year neighborhood? Maybe it's in the mid-$5 million range.
He plays a different position, but ends tend to have more value than tackles, even in a 4-3. Age will also be a factor. It can be argued Hatcher does not have as many miles on his soon-to-be 32-year-old body, but that won't inflate his price that much.
The Cowboys would have to create cap room for a deal. They could re-work the deal for
DeMarcus Ware
or release the seven-time Pro Bowler, or they cut lower-priced players to fit Hatcher's first-year cap figure. They don't want to restructure anymore contracts.
Teams like the
Indianapolis Colts
and
Tampa Bay Buccaneers
are believed to have interest in Hatcher, but what type of interest is it?
It seemed like a foregone conclusion when the season ended that Hatcher would not be with the Cowboys in 2014, but the salary cap has increased and his price might be more palatable than originally believed.
March, 10, 2014
3/10/14
8:00
AM ET
A theory: The media-savvy NFL didn't create this three-day "legal tampering" period to facilitate negotiations between teams and pending free agents. The real reason was to create three more days of intense fan interest and fevered speculation.

Acknowledging the lack of real news, here are some thoughts pertaining to the Eagles as the actual free agency period draws near:
March, 6, 2014
3/06/14
11:00
AM ET
The only player evaluations that matter, as far as the Eagles are concerned, are the ones done by general manager Howie Roseman and his staff.
The media-produced rankings of potential NFL free agents may not tell us much about what the Eagles are thinking. But the wide range of evaluations can provide insight into how wildly divergent different teams' opinions can be.
Let's take a look at the safety position, which figures to be an area the Eagles try to address. Buffalo's
Jairus Byrd
is generally considered the best safety available, but there are dissenting opinions.
Over at
NFL.com
, Byrd is listed as the No. 1 free agent available regardless of position. He is the only player tagged as a "difference-maker." On
ESPN Insider
, former NFL executive Bill Polian and his team have Byrd as the fourth-ranked safety.
Antoine Bethea
of the Colts, the only safety with an A grade, is rated the best safety on the market.
Polian has Miami's
Chris Clemons
as his second-ranked safety, with Cleveland's
T.J. Ward
third. NFL.com calls Clemons "a league-average starter," which would still make him an upgrade for the Eagles.
Over at
Pro Football Focus
, Byrd is rated the top safety and No. 2 free agent overall, behind only Seattle defensive end
Michael Bennett
. PFF rates Ward as the second best safety (No. 8 overall), while Clemons is No. 30 overall. Bethea, the top safety and a Grade-A player for Polian, is No. 61 overall on PFF's list and No. 51 on the NFL.com list.
PFF places Byrd in the same category as Seattle safety
Earl Thomas
. Considering the Seahawks just won the Super Bowl with Thomas as a key defensive player, it is likely many teams will make a run at Byrd in hopes of recreating that success.
Ultimately, Roseman and his personnel staff have graded players based on their game tape and how they project players in the Eagles' scheme. Cleveland's Ward is considered a better run defender, more of a strong safety type. Byrd is better at playing deep and at coverage, which was a huge problem area for the Eagles. Their pass defense was dead last in the NFL.
Malcolm Jenkins
of the Saints, a converted cornerback, might be a better fit than Ward, from the Eagles' perspective. And that's the bottom line here: The Eagles' perspective is the only one that will matter to them, and they haven't published their opinions on the Internet.
February, 4, 2014
2/04/14
12:20
PM ET
IRVING, Texas -- In this copycat league that is the NFL, all of a sudden everybody needs tall and long conerbacks like Seattle's
Richard Sherman
. One problem, there aren't that many of those kinds of guys around.
Plus from a Dallas Cowboys' perspective, they have already allocated their cornerback resources in
Brandon Carr
,
Morris Claiborne
and
Orlando Scandrick
. So scratch that possible remodel.
Where the Cowboys can attempt to emulate the Super Bowl champion
Seattle Seahawks
is with their defensive line.
[+] Enlarge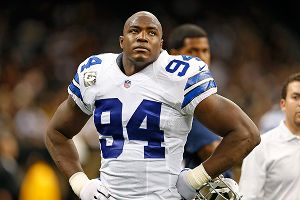 AP Photo/James D. SmithFor years, Dallas has relied on DeMarcus Ware to provide a pass rush. Adding depth to the defensive line could be a priority this offseason.
The Seahawks do what Rod Marinelli wants to do with the Cowboys. He just did not have enough quality players, rolling through 20 defensive linemen in 2013 because of injuries and poor play.
Seattle's defensive line accounted for 33.5 sacks from eight players. The Cowboys defensive line had 28 sacks from six players.
Michael Bennett
led the Seahawks with 8.5 sacks. Fellow free-agent pickup,
Cliff Avril
, was second with eight.
Clinton McDonald
had 5.5, and
Chris Clemons
had 4.5
Jason Hatcher
led the Cowboys with 11, followed by
George Selvie
with seven and
DeMarcus Ware
with six.
Kyle Wilber
had two sacks from his defensive end spot before he was switched to outside linebacker later in the season.
Everette Brown
and and
Jarius Wynn
each had one sack.
The Cowboys want to rotate defensive linemen as much as possible to keep them fresh. That is a great approach when you have players worthy of being in the rotation. In the Super Bowl win against the
Denver Broncos
, the Seahawks had four linemen take at least 41 of 69 snaps, led by Bennett, who played 47. In the NFC Championship Game against the
San Francisco 49ers
, they had four linemen take at least 31 of 55 snaps. In the divisional-round win against the
New Orleans Saints
, they had five linemen take at least 43 snaps.
That rotation kept opposing quarterbacks
Peyton Manning
,
Colin Kaepernick
and
Drew Brees
under pressure. The pressure could come from the inside or the outside. And it would come with mostly just four rushers, which allowed that back seven to be even more aggressive.
For far too long the Cowboys' pass rush has been Ware and nobody else. This past season it was Hatcher, and sometimes Selvie and Ware. The Cowboys hope
Tyrone Crawford
can develop after missing last season with an Achilles injury, but the defensive line needs a ton of help.
For the Cowboys to make a jump in the defensive rankings -- forget being a top-five or 10 unit -- they need a better pass rush. For a better pass rush, they need better players. To get better players in free agency they need to hope the defensive line market is as slow as it was in 2013 when Bennett received a one-year, $5 million deal, and Avril received two years and $15 million from the Seahawks. That could allow Dallas to either keep Hatcher (unlikely), or get lucky with some other prove-it type deals. The easier way to get better players is the draft, but will the right players be available at the right time?
If the Cowboys get a better pass rush, their secondary will look a lot better.
January, 31, 2014
1/31/14
1:00
PM ET
PHILADELPHIA -- It is a word the Eagles hated using for years and it's a word that doesn't really apply to the franchise now, just one year into Chip Kelly's tenure.
Rebuilding.
In evaluating the decline of the team in Andy Reid's final years, Eagles owner Jeff Lurie and general manager Howie Roseman have said the big mistake was thinking the team was always one move away from a championship. In trying to make that one decisive win-now move, the Eagles instead made mistakes that weakened their infrastructure.
[+] Enlarge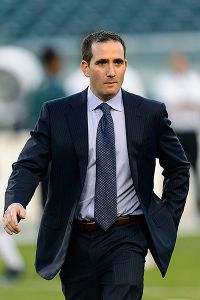 Howard Smith/USA TODAY SportsGM Howie Roseman has said the Eagles will avoid lavish free-agent deals.
But it would also be a mistake to go too far the other way. The Eagles are not a rebuilding team right now. They were 10-6 and are defending NFC East champions. They have an offensive team with key skill players in the prime of their careers:
LeSean McCoy
,
DeSean Jackson
and
Brent Celek
. The offensive line, which is vital to the team's success, has three starters over the age of 30.
The goal should be simple: Keep adding talent around those core players until the Eagles are at the elite level of the teams that will play in the Super Bowl Sunday. That means using every tool available, including spending money on free agents when it is warranted.
The
Denver Broncos
weren't exactly thinking about a five-year plan when they signed
Peyton Manning
two years ago. The
Seattle Seahawks
splurged on a quarterback in free agency that same offseason. They signed Green Bay's
Matt Flynn
to a three-year, $26 million contract.
Manning had one of the great seasons ever and will start for the Broncos Sunday. Flynn is back in Green Bay as a backup.
Russell Wilson
became Seattle's starter and quickly emerged as one of the top young quarterbacks in the NFL.
If the Broncos had ruled out high-priced, quick-fix free agents, the Patriots would be in the Super Bowl. If the Seahawks had avoided drafting a quarterback that high after signing Flynn, San Francisco or New Orleans would be preparing for
Tom Brady
.
This isn't to say the Eagles should go crazy and throw big money at every flavor-of-the-month free agent on the market. But they also shouldn't rule out the occasional bold move. Yes, they were burned by
Nnamdi Asomugha
a few years back, but Reid's era of success was made possible partly by acquisitions like
Hugh Douglas
(in a trade, with a new contract included),
Jon Runyan
and, well, let's just admit it,
Terrell Owens
.
Roseman has said repeatedly that the Eagles will avoid huge free-agent deals. That would seem to rule out difference-making players like Washington linebacker
Brian Orakpo
and safeties
Jairus Byrd
of Buffalo and
T.J. Ward
of Cleveland.
And that's fine, provided the Eagles are able to obtain high-quality players in other ways. Seattle got 16-1/2 sacks in the 2013 season from free-agent pickups
Cliff Avril
(two years, $13 million) and
Michael Bennett
(one year, $5 million). Smart shopping is the key, whatever the price tag.
The key point is that the Eagles didn't make a mistake by signing marquee free agents. They made mistakes in player evaluation in both free agency and the draft. You don't stop drafting because you selected
Danny Watkins
and
Jaiquawn Jarrett
, so you shouldn't rule out free agency because you signed Asomugha and
Vince Young
.
The Eagles made huge strides in one year because Kelly made excellent use of the considerable offensive talent he inherited, and because his overall approach in all phases reinvigorated a stale franchise. To make those next steps toward a championship-caliber team will require better players in a few key spots.
If Byrd, Orakpo or some other elite player can further that process, the Eagles shouldn't hesitate to go after him. There is no rebuilding, only building, and that process should be constant. The well-run organizations of the last decade understand that. The Eagles should know -- a few missteps aside, they're one of them.
January, 28, 2014
1/28/14
9:00
AM ET
IRVING, Texas -- With
sources saying
Scott Linehan will take over as the
Dallas Cowboys
' playcaller, his track record suggests the offense will be
Tony Romo
friendly.
[+] Enlarge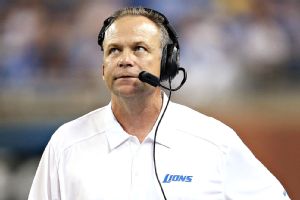 Leon Halip/Getty ImagesScott Linehan has been the Lions' offensive coordinator for the past five years, but can he get the Dallas run game going?
For the past five years Linehan was the
Detroit Lions
offensive coordinator. In the last three seasons, Lions quarterback
Matthew Stafford
has thrown for 14,655 yards and 90 touchdowns with 52 interceptions.
From 2011-13,
Calvin Johnson
caught 302 passes for 5,137 yards and 33 touchdowns. So that would appear to be good news for
Dez Bryant
.
But what about the running game?
Linehan has been an offensive coordinator/head coach from 2002-2013, except for the final 12 games of the 2008 season when he was fired as head coach of the
St. Louis Rams
.
Using the 11 seasons as a backdrop, Linehan has had a top-10 ranked rush offense just twice and those were in his first two years with the
Minnesota Vikings
in 2002 and 2003. A Linehan-led running game has not finished better than 12th in the NFL since. With the Lions he had running games ranked Nos. 24, 23, 29, 23 and 17.
The Cowboys have been at their best offensively when
DeMarco Murray
has been involved.
Linehan is not averse to the run.
In 2002,
Michael Bennett
ran for 1,296 yards for the Vikings. A year later Minnesota had four different players with at least 400 yards rushing. In 2005 with the
Miami Dolphins
, where he worked with Jason Garrett for the first time,
Ronnie Brown
ran for 907 yards and
Ricky Williams
had 743 yards.
In his first year with the Rams,
Steven Jackson
, the runner so many Cowboys fans wanted them to take in 2004, ran for 1,528 yards. He had 1,002 yards in 2007.
With the Lions, he had to make due with
Kevin Smith
,
Jahvid Best
, whose career was cut short by injuries and
Mikel Leshoure
. Last season,
Reggie Bush
ran for 1,006 yards.
Joique Bell
ran for 650 yards.
In Murray, Linehan will inherit a back coming off the best year of his career and an offensive line that finished the year on a high note.
It's up to him to use the running game.