March, 22, 2012
3/22/12
2:03
PM ET
Man, running back really is a funny position these days in the NFL, isn't it? Last week,
Mike Tolbert
, who has 303 carries and 19 touchdowns over the past two seasons, signed a free-agent deal to be a fullback on a
Carolina Panthers
team that has two starting-caliber tailbacks. Thursday,
Michael Bush
, who had 977 rushing yards and 418 receiving yards in 2011,
signed a free-agent deal
with the Bears, who have designated star running back
Matt Forte
as their franchise player.
[+] Enlarge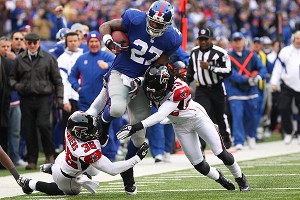 Debby Wong/US PresswireIn an odd year for free-agent running backs, it's possible Brandon Jacobs could return to the Giants.
I have
New York Giants
asking me what all of this means for
Brandon Jacobs
, who was released a couple of weeks ago after he and the Giants couldn't agree on the size of the pay cut he would take in order to remain on the team. A lot of people think the slow and weird running back market means Jacobs is likely to return to the Giants, since it portends a lack of opportunity to find a better deal elsewhere. I think that's possible, but I don't think it's that cut and dried. I think it comes down to whether there's a team out there that has a specific role in mind for Jacobs.
Of the top 15 running backs (
according to our Scouts Inc. grades
) who hit the open market when free agency opened last Tuesday, Bush is just the fourth to sign. And all four have been backs who spent 2011 in time-share or backup roles. (Jacobs ranks No. 3 on this list, since I'm not counting the two guys at the top who got franchised and therefore didn't hit the open market.)
What's it all mean? Well, teams have come to realize that there's not much value in throwing big free-agent bucks at running backs when good ones can be found in the middle and late rounds of the draft. But it also shows that running back beauty today is very much in the eye of the beholder.
If you're a free-agent running back on this year's market, you need to hope some team has a very specific role or job in mind for you. The Panthers wanted Tolbert because they saw in him a fullback who could pick up big yards for them in short-yardage spots or at the goal line. The Bears wanted Bush because ... well, they always seem to want a high-profile backup behind Forte since they don't like to give Forte the goal-line carries. Also, it's possible Forte could hold out, demand a trade or refuse to sign his franchise tender. Forte's unhappy in Chicago, and the Bears helped their leverage by signing a guy who showed he could handle starter's duties last year in Oakland when
Darren McFadden
got hurt.
Jacobs wouldn't have fit either of those roles, which is why he's not a Panther or a Bear. But that doesn't mean there's not a team out there who sees Jacobs as a fit for what they need in their backfield. He brings some things other running backs don't bring. He's by far the biggest and most physical back on that Scouts Inc. list, taller and heavier than even the guys who are being signed for fullback roles. He's as physical a runner as there is in the league, and he's got open-field speed that befits a much smaller guy. No, he's not the same terrifying force he was earlier in his career, but he can help, as he did the Giants in 2011. He's also got two Super Bowl rings, which is something I'm fairly certain no one else on the list can claim. And yeah, that kind of thing does appeal to teams.
The Giants have a spot for him -- in the same championship time-share in which he spent 2011 with his buddy
Ahmad Bradshaw
. They haven't filled it yet, and as the central point of this post indicates, there's no rush for them to do so. If Jacobs decides he wants to go back and take the offer they gave him two weeks ago, there's a decent chance that spot will still be waiting for him. But he's not in any rush either. There are still teams with holes in their backfields, and one of those teams might just decide Jacobs is the guy they want. Running back is a strange and sl0w-moving market this year, and I don't think we can know anything just yet about where Jacobs fits into it, and whether he goes back to the Giants or not.
March, 13, 2012
3/13/12
8:00
AM ET
Morning. The new league year begins at 4 p.m. ET, and while two of our teams may have
less to spend
than they initially thought, it promises to be an interesting day on which speculation finally begins converting to reality. No longer must we wonder what our teams will do once free agency begins. Today, we get to watch and see.
At this hour, it is still technically not yet the new league year. So one last time, our links are in order of this past year's division standings. Tomorrow, they'll be alphabetical again.
New York Giants
Old friend Kevin Boss has been
released by the Raiders
. Lots of people were asking, in the wake of this news, whether this meant he'd come back to the Giants. It makes perfect sense to me. Boss knows the system. The Giants need a tight end. He's not likely to cost anything near what he cost last year. He probably regrets leaving. Why not? If he's healthy, the Giants need to at least look at it.
Free-agent running back Mike Tolbert says he
wants to be the guy
to replace Brandon Jacobs in New York. I say it's a great fit. Tolbert is a different kind of back than Ahmad Bradshaw is. He's used to being in a committee situation and apparently wouldn't mind being in one again. He's good enough to be an every-down guy if and when Bradshaw has to miss a game. Tolbert and Michael Bush, two starter-quality free agents who have been operating in running back committees, make the most sense as Jacobs replacements if the Giants can afford them. The question now for Tolbert is how much he expects to make. They're right up against the salary cap, which is why Jacobs is gone in the first place.
Philadelphia Eagles
Rich Hofmann wonders if free agency will be the time when the Eagles, who should be feeling a
sense of urgency
about the coming season, start to show it. I don't think that's how the Eagles roll. And while they might make a signing or two (Rich raises the London Fletcher possibility we
discussed here last week
), they're not likely to go nuts the way they did a year ago. Those players are all still there, or the good ones are at least, and they believe they'll perform better in Year 2.
The Eagles did take care of restricted free agent Antonio Dixon on Monday, tendering him
at second-round level
. If any team wants to sign him to an offer sheet, the Eagles will have seven days to match the offer or receive a second-round pick from the team that wants him. Basically means he's not likely to go anywhere.
Dallas Cowboys
Jean-Jacques Taylor writes that the salary-cap sanctions against the Cowboys show that Jerry Jones doesn't wield
the same power he used to
in an NFL that's become a Roger Goodell dictatorship. I don't think that's what happened here. It wasn't Goodell who pushed for these sanctions, but rather the other owners. And it does bear mentioning that the new chairman of the NFL Management Council, which issued the sanctions, is Giants owner John Mara. Jones and the Redskins' Dan Snyder likely flaunted the 2010 guidelines because they saw that they constituted illegal collusion and figured the NFL would have to admit to such if it ever wanted to call them on it. They just didn't count on the NFL getting its union to go along with the punishment, which effectively cut off their avenue for complaint.
Todd Archer explains what you really want to know if you're a Cowboys fan -- why the sanctions announced Monday
don't necessarily kill
the Cowboys' plans to use free agency to fill the many holes on their roster.
Washington Redskins
Regardless of the sanctions, the Redskins still need to be active and intelligent in free agency, according to Mike Jones and Mark Maske, who run down
some of the Skins' potential moves
. One name that popped on the market late Monday is that of right tackle Eric Winston, who was released by the Houston Texans in a surprise move and should be one of the Redskins' first phone calls this afternoon.
Dan Daly writes that the sanctions are a disgrace, and that the
Redskins were negligent
for allowing them to happen. Strong take, but again, I'm not sure I agree. The Redskins broke no rule whatsoever. They simply acted in a way that upset their competitors. Unfortunately for them, the NFL is a business in which their competitors have the ability to band together and punish them for behavior they don't like. I guess the Redskins should have known that, but (a) it strikes me as having been worth a shot and (b) they have so much cap room this year that it's unlikely to matter too much anyway.
March, 9, 2012
3/09/12
4:22
PM ET
Mike Garafolo of
The Star-Ledger
reported, and our Adam Schefter confirms, that the
New York Giants
have decided to release running back
Brandon Jacobs
because they have been unable to come to terms on a renegotiated contract with him. Jacobs was entering the final year of his contract and was scheduled to make $4.9 million in 2012. But the Giants have salary-cap concerns and have been working with Jacobs in an effort to get him to agree to cut that salary, perhaps by half or more.
Jacobs, who took a pay cut last year so the team could re-sign his friend and backfield-mate
Ahmad Bradshaw
, said recently that he'd be amenable to a cut but only if it were "fair." Apparently, he and the team could not reach agreement on what would constitute "fair," and Jacobs now will look for work elsewhere.
Jacobs rushed for 4,849 yards and 56 touchdowns, and, perhaps more importantly, won two Super Bowls in seven years with the Giants. His best individual season was 2008, when he averaged 5 yards per carry and racked up 1,089 yards and 15 touchdowns in only 13 games. He was less productive in recent years and lost the starting job to Bradshaw, but he played a key role this past season when Bradshaw had to miss games with a foot injury, and he and Bradshaw worked well together as a running back committee.
The Giants have some young running backs, including
D.J. Ware
,
Da'Rel Scott
and
Andre Brown
, but they also could look on the free-agent market or in the draft for someone to replace Jacobs' carries and production.
Michael Bush
and
Mike Tolbert
are both free-agent running backs who have performed well in committee roles in recent years, and would fit well if the Giants decided to go in that direction. Of course, it's unlikely they'll get either of those guys for less than it would have cost them to keep Jacobs.
It has to be a tough parting for Jacobs and the Giants, even though both sides saw it coming for months. The Giants are the only NFL team for which Jacobs has played, and they've had a great deal of success together. But such is life in the NFL's salary-cap world. The Giants would have liked to keep him, but this time around, they couldn't make it work financially.
August, 13, 2010
8/13/10
8:00
AM ET
By
Matt Mosley
| ESPN.com
ARLINGTON, Texas -- It's too bad we can't get those 60 minutes of our lives back. The Cowboys' first-team offense once again failed in the red zone, and the backups didn't do any better in a
17-9 loss to the Raiders
. With the Cowboys having played Sunday, it was obvious they didn't belong on the field Thursday night.
The defense certainly had its moments, but the story of the game (from my vantage point) is that
Tony Romo
was sacked three times and the running game was non-existent. Other than that, it was a wonderful night of football. The Cowboys have nine days before playing a preseason game in San Diego. Maybe we'll get a better feel for where this team is at that point. But in the interest of producing a blog entry before most of you arrive at work, here are a few observations from Thursday's contest:
[+] Enlarge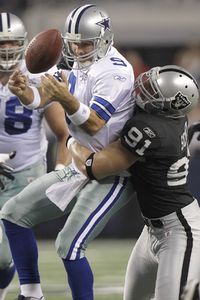 AP Photo/LM OteroTony Romo was sacked three times in Thursday's loss to Oakland.
The Cowboys were 0-for-4 in red zone efficiency, including a quick trip inside the 20 before Romo was sacked for a 9-yard loss. Dallas gave up six sacks in the game, three on Romo. The most disturbing to me was seeing Raiders defensive end Matt Shaughnessy beat Doug Free on a speed rush and then drag down Romo with one arm. Free was with Shaughnessy the whole time on the play, but he never delivered a solid punch. Shaughnessy's a nice second-year player out of Wisconsin, but he's not Trent Cole, Justin Tuck and Brian Orakpo. Free needs to clean things up before he meets any of those players. At least two of the three sacks on Romo were coverage sacks. He needs to do a better job of unloading the ball in those situations.

Linebackers Bradie James and Keith Brooking were both excellent in coverage in the first quarter. James was throwing his body all over the place and Brooking was superb in not letting anyone get separation from him. Brooking still moves really well. I hope Sean Lee is watching Brooking's every move right now. The rookie needs to get past this quadriceps injury and return to the practice field. Otherwise, he's not going to have a chance to earn time in sub packages. Bobby Carpenter was replacing Brooking in the nickel last season, but right now I wouldn't replace him with anyone.

Raiders safety Tyvon Branch was a mismatch for Jason Witten. The Pro Bowl tight end got plenty of separation and Romo hit him in stride for a big play on the first drive.

Miles Austin made a beautiful adjustment to a ball thrown slightly behind him in the first quarter for a 24-yard catch. Austin brought a lot of energy to the field Thursday and ran some excellent routes. On the twisting grab, he beat cornerback Chris Johnson. The Raiders are vulnerable on that side of the field.

Raiders defensive end Lamarr Houston had one of the sacks on Romo. He was able to sneak in the backside and crunch the quarterback. Romo didn't feel the pressure coming on the play. He just seemed content to stay in the pocket, and that wasn't helping matters. Of course, everyone in the stadium gasped when he took off running up the middle of the field on one play.

It was a good night for kicker David Buehler. He nailed a 42-yard field goal and then connected on two short ones. He also recorded three touchbacks. The 42-yarder was a good sign because that's a distance that plagued the team during a miserable stretch in '09. Buehler has all the confidence in the world. If he'll trust his leg, the distance will be there.

Cowboys cornerback Orlando Scandrick might be the best tackler of all the defensive backs. He does a really nice job of wrapping up and you don't see guys bounce off him. Scandrick decked wide receiver Louis Murphy early in the game. Then he absorbed a blow from James. The Cowboys were flying to the ball early.

The running game was awful, but I did see Marion Barber put a nice little move on cornerback Stanford Routt in the first quarter. He froze Routt with a little stutter-step. Barber stumbled after that and only gained 2 yards.

Romo and Austin have tremendous chemistry on the slant. On a third-down play, Austin got Johnson on his hip and then made a nice grab across the middle. Even when cornerbacks see it coming, they have an awful time getting inside position.

All the goodwill that Kevin Ogletree earned in the offseason is being wasted early in the preseason. He's not making contested catches and it just seems like there's a lack of concentration. I still think he'll make the roster as the fifth receiver, but he hasn't seized some of these extra repetitions that were created by Dez Bryant's absence.

Linebacker Victor Butler picked up a personal foul on a punt return. The officials will not have any tolerance this season for those blindside hits on defenseless players. There's just too much of a risk for head and neck injuries. Butler must have better awareness on that play.

In the first quarter, cornerback Terence Newman closed quickly to break up a Jason Campbell throw in the flat. Newman was in position to make the interception, but he opted for knocking down the ball with one arm. It was a very instinctive play and it caught Campbell by surprise.

Free-agent rookie Bryan McCann out of SMU had one really nice punt return (28 yards) late in the second quarter when he allowed Ogletree to set him up with a good block. McCann's also getting a lot of opportunities with the second-team defense. He was late on a Campbell throw to Murphy, but you can tell that he's not far away from making those plays. I get the sense that Wade Phillips is really pulling for McCann.

I was eager to see how former third-round draft pick Robert Brewster performed at left tackle against the Raiders. And once again, he turned in a dud. Not even the optimistic Phillips will be able to praise Brewster after Thursday's showing. His feet are stuck in neutral and there's absolutely no anchor. When you watch him, he's getting pushed directly toward the quarterback. He's most susceptible to an outside speed rush right now, and that's not a good sign. Brewster will keep getting chances, but I thought that was a poor showing. Brewster was also penalized for grabbing a defensive end as he raced past.

Butler does an excellent job getting pressure on the quarterback. He's so much more consistent this season in causing problems for the offensive line. And the other linebacker who caught my eye Thursday was Leon Williams. He's just a really tough player who brings some attitude to the field. Inside linebacker Jason Williams is still a work in progress, but he did race through and make a nice play against running back Michael Bush.

Safety Mike Hamlin suffered a neck strain and a concussion in the third quarter, according to ESPNDallas.com's Tim MacMahon. Some folks in the organization thought Hamlin might challenge Alan Ball for the starting role, but that hasn't happened so far in camp. The good news for the Cowboys is that Hamlin was the only player injured. That's a lot different situation than what took place against the Bengals.

Roy Williams and Romo weren't on the same page in the first quarter. On one play, Romo rolled right and wanted Williams to come back to him. Williams sort of posted up the cornerback along the sideline and hoped for the best. There wasn't any rhythm to his routes against the Raiders. By the way, Bryant gave Williams and the rest of the receivers some new shoes.

In one of the Cowboys' four trips inside the red zone, Jon Kitna rolled right and threw to Deon Anderson in the flat. It was a poorly conceived play on fourth-and-1. Linebacker Thomas Howard applied the pressure to Kitna.

I thought safety Danny McCray did a really nice job hustling over to break up a deep ball to Johnnie Lee Higgins. McCray's been a camp phenom, and I'm eager to see if he can keep it up in Oxnard, Calif., next week. The Beast will be on the ground in Oxnard beginning Sunday evening.

The Cowboys were 3-for-16 on third down. The lack of a running game put the Cowboys in third-and-long situations far too often. Losing in the preseason isn't a big issue, but this red zone issue is something that goes back to last season. The Cowboys need a touchdown from the first-team offense against the Chargers next Saturday.

Guard Pat McQuistan simply doesn't play with any power. Every time I watch him, he's getting thrown toward the quarterback. It's about time to move on without him. The Cowboys have invested a lot of time in him, but I don't think he'll ever be a starter. And he doesn't seem like a reliable backup. On the other hand, I like the backup center, Phil Costa. The guy will stand his ground and he seems to have a little attitude. Give me that guy over McQuistan any day. I also liked the way rookie Sam Young played.