September, 9, 2014
9/09/14
3:00
PM ET
Here's an examination of one thing the
New York Giants
must do after their season-opening loss to the Lions in Detroit:
Rodgers-Cromartie
The Giants' plan Monday night was to shadow the Lions' top wide receiver,
Calvin Johnson
, with their top cornerback,
Dominique Rodgers-Cromartie
. They offered Rodgers-Cromartie safety help on some plays but asked him to single-cover the game's best wideout on others. This is why they signed Rodgers-Cromartie believing they could use him this way. The results, as you know by now, were not positive, as Johnson caught seven passes for 164 yards and two touchdowns.
Johnson is the toughest test there is, so there's no reason to think the Giants will move away from that "shadow the best WR" plan with Rodgers-Cromartie. But the next opponent on the Giants' schedule is the
Arizona Cardinals
, and they bring with them a talented corps of wide receivers without an obvious top candidate for the honor of "best."
Is it veteran
Larry Fitzgerald
, who's in the top 30 in NFL history in catches and receiving yards? Is it the emerging
Michael Floyd
, who had five catches for 119 yards in Arizona's opener late Monday night and was targeted seven times versus Fitzgerald's four? Could it even be electric rookie
John Brown
, who also saw more targets Monday (five) than Fitzgerald and caught the game-winning, 13-yard touchdown in the fourth quarter?
My guess is Floyd will be Rodgers-Cromartie's man if the Giants go the same way they did in Week 1. But the broader point here is the Giants need to be open to rethinking their coverage plan with their cornerbacks.
As my colleague Herm Edwards is fond of saying on air, "A plan that can't be changed is a bad plan." The Giants might have signed Rodgers-Cromartie under the belief he was a shutdown corner who could match up with top wide receivers, but the fact is he has not been that, consistently, throughout his career.
Prince Amukamara
showed some good things Monday night and remains a quality option, as does slot corner
Walter Thurmond
. The Giants obviously need to play better in zone coverage than they did Monday.
Cornerback is the strongest position group the Giants have, on paper, but it didn't look very strong Monday night. They might need to make some adjustments to the way they're deploying these guys if they want to get the best out of them the rest of the way.
December, 2, 2013
12/02/13
8:00
AM ET
PHILADELPHIA -- A look at four issues from the
Philadelphia Eagles
'
24-21 win
against the
Arizona Cardinals
Sunday.
[+] Enlarge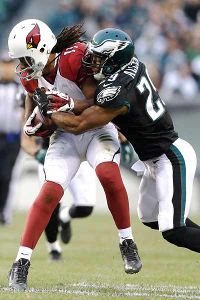 Matt Rourke/AP PhotoEagles safety Nate Allen did his best to keep Cardinals receiver Larry Fitzgerald in check during their Week 13 game Sunday.
Foles is lucky as well as good.
Nick Foles
needs to throw just two more touchdown passes to break
Peyton Manning
's NFL record of 20 touchdown passes without an interception. Foles also broke teammate
Michael Vick
's team record of 224 consecutive pass attempts without an interception. Going back to late last year, Foles has thrown 233 pick-free passes.
That's all good. But luck came in when he threw an ill-advised pass as he was being hit in the fourth quarter. The ball landed in the hands of Arizona cornerback
Patrick Peterson
, but the interception was negated by a holding penalty on safety
Tyrann Mathieu
.
"It definitely was a mistake by me," Foles said. "I was happy there was a penalty that kept our drive going. It wasn't a smart decision." It was the kind of decision that can turn a game around. Luck kept that from happening.
"That's just the game of football," Foles said. "It's a crazy game, and things happen."
Nate Allen isn't Brian Dawkins, but that's OK.
Allen, the fourth-year safety from South Florida, made a nice break on an underthrown
Carson Palmer
pass for an early interception. Allen was part of an egregiously bad secondary the past two years and has not exactly been a huge fan favorite. But his improved play has been a big part of the defense's development.
"He's one of the hardest workers in the building," Eagles defensive coordinator Bill Davis said. "It means so much to him. He's motivated because he hasn't had the success and everyone has been on him for a couple years here. Everyone wanted him to be Brian Dawkins and now everybody's kind of letting him be Nate Allen."
Fitzgerald? Check. Megatron?
The Eagles' defense did a decent enough job on Arizona's
Larry Fitzgerald
and
Michael Floyd
. Each caught a touchdown pass. Fitzgerald caught five passes for 72 yards, Floyd five for 99. Those are very good numbers, but neither could break open the game. That's encouraging, because the Eagles defenders get Detroit's
Calvin Johnson
here next Sunday.
"Those guys stepped up and took on the challenge of playing this top receiving group," Davis said. "There's a lot of times they were one-on-one. Throughout the game, I was mixing in [coverages], but there were a lot of snaps that were, 'Hey, get your man.'"
Davis often had linebacker
Connor Barwin
lined up directly across from Fitzgerald, especially in the slot. Barwin was able to get a more physical jam on Fitzgerald at the line before giving him up to a defensive back to cover.
The NFC playoff picture is a little clearer after this.
The Eagles earned a tiebreaker over Arizona should they wind up with the same record in the wild-card race. Sunday's win also keeps them within a game of San Francisco (8-4), which is currently in position to earn the second wild card. Chicago's loss to Minnesota leaves the Bears at 6-6, a game behind Detroit. The Eagles face those three NFC North teams over the next three weeks -- Detroit and Chicago at home, with Minnesota on the road in the middle.
The Eagles' best shot at the playoffs remains in beating Dallas (7-5) for the NFC East title, but the Cowboys are one of the teams with a realistic shot at a wild card.
December, 1, 2013
12/01/13
7:45
PM ET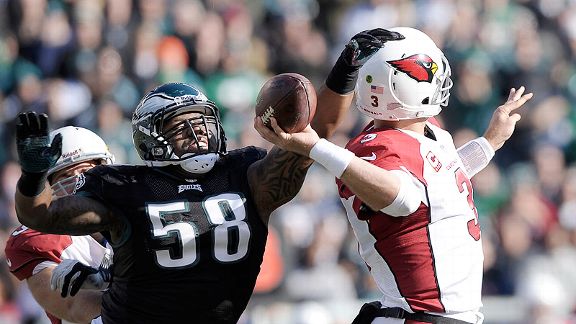 AP Photo/Michael PerezTrent Cole accounted for two of the Eagles five sacks on Cardinals quarterback Carson Palmer.
PHILADELPHIA -- It is all about offense in the NFL, right up until the moment your defense is on the field trying to protect a fourth-quarter lead.
Offense drives fantasy leagues. Offense benefits from virtually every change in the league's rules. Offense gets head coaches like Chip Kelly their jobs.
In the Eagles' past two games, Kelly's potent offense put 24 points on the scoreboard to build big leads. And then, when the game was on the line in the fourth quarter, Kelly's offense stood helpless on the sideline and hoped the defense would save the day.
"We'll take it," outside linebacker
Trent Cole
said. "We'll take it all day. It doesn't matter what the situation is. If it's on us, we're going to go out there and do what we have to do. It doesn't matter if they back us up on the 5-yard line. We have to go out there and stop them."
The Eagles stopped
Carson Palmer
and the
Arizona Cardinals
one last time Sunday to preserve a
24-21 victory
. It was the second home win in a row for Philadelphia and the second in which a big second-half lead was in peril in the final minutes.
"I thought the defense literally won the game today," wide receiver
Jason Avant
said. "To stop a team that was that hot, that had scored a couple touchdowns back to back and to hold them -- what was that a three-and-out? A four-and-out? That's a great job."
It was a great job that left the Eagles at 7-5, tied with Dallas for first place in the NFC East and solidly in the wild-card race. It also establishes the Eagles as one of the more complete teams in the NFC. They may not belong with elite teams such as Seattle and New Orleans, but they have rallied from a 3-5 midseason record with a big-play offense, solid special teams and an increasingly effective defense.
That plays very well in Philadelphia, where fans appreciate a well-executed touchdown throw, but where defense really gets the adrenalin flowing. As bad as the previous two years were here, the worst of it was watching soft, passionless defense by men wearing the uniform of Reggie White, Brian Dawkins and Bill Bergey.
"This is Eagles football," Cole said after getting to Palmer for two of the Eagles' five sacks. "This is the Eagles football that I know. Being here for nine years, this is how we always did it. And we always won in the Linc. We protected our house."
After losing 10 consecutive games in Lincoln Financial Field, the Eagles now have a two-game winning streak here (and four games overall). After getting crushed 52-20 in Denver on Sept. 29, they haven't allowed more than 21 points in their past eight games.
"The guys scrapped and fought and got turnovers and pressured the quarterback," defensive coordinator Bill Davis said. "Our defensive line stepped up and got all kinds of pressure on the quarterback. Our coverage was tight. At the end of the day, we had three more points than they did."
They had 17 more points in the third quarter. Two weeks ago, against Washington, the Eagles had a 24-0 lead in the fourth quarter. Both times, the offense ground to a halt. Kelly's play calling grew conservative and the opposing defense responded by playing with more intensity.
The NFL is all about offense, so there's only so long a defense can hold an opponent in check. Washington scored two touchdowns on fluky plays, made two-point conversions and closed to within 24-16 before
Brandon Boykin
's interception ended the potential game-tying drive.
After turning the ball over and making other costly mistakes early, Arizona got its offense going for two touchdown drives to make it 24-21 with 4:45 left in the fourth quarter.
Two Arizona defensive penalties gave the Eagles a first down -- and negated what would have been a game-turning interception by
Patrick Peterson
-- but the offense couldn't run the clock to the two-minute warning. Arizona took over at its own 10 with 2:03 left and two timeouts.
"Against that stout defensive line, it's tough to line up and run the football on them," Kelly said. "It's a good group over there. So again, it's something we need to continue to work on and we've got to get better at."
Until then, it comes down to the defense. For the second game in a row, the defense held. This time, cornerback
Bradley Fletcher
broke up a fourth-down pass intended for
Michael Floyd
. There was contact, but Fletcher escaped without drawing a flag.
"It's a timing deal," Fletcher said, "and I was able to do that. We had a blitz on and I was holding my inside leverage and my ground. There was some contact at the break point, and I went and made a play."
It may not be the easiest way to win, but enduring these situations can make the Eagles defense only stronger as the playoff race tightens.
"I like those moments," cornerback
Cary Williams
said. "It's kind of a bittersweet situation. You never want to be put in those situations, but if you are, you want to play to the best of your ability. It was a great opportunity for us to go out there. We handled our business. We continue to get better in those scenarios. I think the sky's the limit for the defense."
And that defense makes the Eagles a legitimate contender, even in a league that is all about the offense.
April, 14, 2012
4/14/12
11:04
AM ET
You e-mail questions, I answer them. Ideally, you come out of this weekly exercise informed and/or entertained. We'll see.
Scottie Baker from Berrian Springs, Mich.,
asks whether, if the Colts are able to sign the player they're taking with the No. 1 pick (presumably
Andrew Luck
) before the draft, would the
Washington Redskins
then be able to sign the player they want to take at No. 2 (presumably
Robert Griffin III
) before the draft as well.
Dan Graziano:
No, Scottie, they would not. The NFL's rules stipulate that the team holding the No. 1 pick is the only team allowed to sign its draft pick in advance of the draft. So if the Colts were to do a deal with Luck, say, sometime next week, that would not give the Redskins license to negotiate a deal with Griffin. They'd have to wait until after the Colts actually formally selected Luck on April 26 to officially pick Griffin, and until then they would not be permitted to sign Griffin. I imagine this rule is in place to avoid a slippery slope that could theoretically result in everyone in the top 10 signing their picks well in advance of the draft and depriving the NFL of the pomp and pageantry of its draft night. But it is, in fact, a rule. I checked.
KD from Cleveland
wants to know how the re-signing of
Derek Landri
will affect the
Philadelphia Eagles
' plans for the first round of the draft. Specifically, he wants to know if Notre Dame wide receiver
Michael Floyd
could enter the picture.
DG:
Well, Floyd
could
enter the picture, and it will surely be tempting for the Eagles to secure another weapon for
Michael Vick
and the offense. But I personally don't think the Landri signing will or should affect the Eagles' first-round plans. The Eagles were one of the worst teams in the league last year defending against runs up the middle, and they can't do enough to strengthen the middle of their defensive line. A longer-term solution at defensive tackle in the first round is the best way for the Eagles to go if they can't (as it appears they won't) get Boston College linebacker
Luke Kuechly
. I think the Eagles should be willing to move up or down a few spots to get the best bang for their buck in the first round, and I think that means drafting defense.
Alan from Arlington, Va.,
wants to know why the Giants couldn't pay $1.25 million to keep
Dave Tollefson
from signing with the Raiders.
DG:
The Giants are right up against the salary cap, and in the case of Tollefson they decided they didn't want to pay more than the veteran minimum to keep him. They've decided, in the cases of several of their own free agents this year, to set a price over which they would not go and then allow the player to go see if he could get more on the open market. This is why they have lost
Brandon Jacobs
and
Mario Manningham
to the 49ers and why
Jonathan Goff
did not re-sign. They also made a decision to trade for
Keith Rivers
to improve their linebacker corps, and at the time of the trade he was scheduled to earn $2.16 million in 2012 (though they were working on a restructuring in the immediate wake of the deal). Figuring in the Rivers pursuit and the money they'll need to sign draft picks, the Giants had to be willing to let valued veterans like Tollefson and Jacobs go if they weren't willing to accept the exact amount the team had allotted for them. The Giants also trust in their ability to replenish positions of need from within their own roster or through the draft.
Jed from Texas
has a PUNTER QUESTION!!! He wants to know why the
Dallas Cowboys
haven't signed
Mat McBriar
and if they're really going to go with
Chris Jones
as their punter.
DG
: Well, Jed, as much as we value punting on this blog, it's not necessarily a major priority for teams in the early weeks of free agency. McBriar had some serious health questions last year, and it's perfectly understandable if the Cowboys want to make sure those are behind him before committing any real money to him. If Jones isn't the answer, then McBriar or another more acceptable option is likely to present itself some time between now and the start of the season. I think they can and will do better than Jones, and McBriar may well be the solution. But they should make sure his foot is fully healthy before making that decision.
Back next week with more mailbag fun. See ya.
April, 11, 2012
4/11/12
6:14
PM ET
Todd McShay's latest mock draft is what he calls "
scenario-based

," which is his effort to present a number of different possibilities for each team in the first round, rather than a best guess of one particular player. It's a good way to go, especially the further down the round you go. The
Washington Redskins
, for example, have only two scenarios, and everyone knows what they are.
But I thought I'd take a look at the
Dallas Cowboys
' portion of Todd's scenario-based first round. The main reason I picked the Cowboys is that we haven't had a Cowboys post yet today, and I don't want my Cowboys fans to think I've forgotten about them. Perhaps we'll look at the Eagles' and Giants' scenarios Thursday. But we've had lots of Giants today and some Eagles as well, and this thing is Insider anyway, so let's keep it focused on Big D for now, mmmkay?
Todd's first scenario for the Cowboys at No. 14 is Memphis defensive tackle
Dontari Poe
, and we've already discussed why a big nose tackle makes sense for the Cowboys even if they aren't ready to move
Jay Ratliff
to defensive end full-time. Rob Ryan likes to vary his fronts, and Poe's versatility would help. Mississippi State's
Fletcher Cox
would help in the same ways, but Todd has him gone at No. 9 to Carolina.
Scenario No. 2 is Alabama safety
Mark Barron
, because "The Cowboys have been searching for some time for a versatile, do-it-all safety who can be a quarterback in the secondary." We've raised Barron here as well, and it would be a sensible pick. As I've said many times, I think the right thing for the Cowboys to do in the first round (and possibly in each of the first three or four rounds) is to take the best defensive player still on their board.
Scenario No. 3 is Notre Dame wide receiver
Michael Floyd
, who seems like a fast mover these days. Todd actually has him going one pick earlier, as Arizona'a top scenario. But if he's there at 14, he'd be the kind of pick that would remind you of Cowboys drafts past. That might make
Tony Romo
happy, but it's not necessarily what they
should
do, given their needs on defense.
Scenario No. 4 is LSU defensive tackle
Michael Brockers
, who "is a better overall player than Poe but who might not be the best fit in the middle in a 3-4." Again, though, versatility on the line and help for the pass rush, even if he has to play 3-4 defensive end in Dallas.
And finally, scenario No. 5 has the Cowboys taking South Carolina cornerback
Stephon Gilmore
. As is the case with safety, the Cowboys could stand to add depth at corner, and I don't think they could go wrong taking their highest-rated defensive back at this point.
Notice that not one of these scenarios includes an offensive lineman. I think Todd's on the money here. The work the Cowboys did in last year's draft and this year's free agency is going to have to suffice on the offensive line. I think they could get better at center, but an interior lineman likely doesn't represent good value in the middle of the first round.
April, 4, 2012
4/04/12
8:00
AM ET
You guys see this on Twitter this morning? Jim Irsay says he passed Robert Griffin III going the other way during his morning run and waved hello, but Griffin didn't wave back. Acted like he didn't even see him. Later, he saw him in Starbucks, but Griffin pretended to be texting the whole time Irsay tried to get his attention even though it looked to Irsay like the phone wasn't even on.
Weird. I think we should spend the day pondering what this means about the first two picks in the draft. Gonna need sustenance. How about some links?
Dallas Cowboys

Jason Garrett went to Alabama's pro day last week, and now
three Alabama defensive players
are among the 30 players scheduled for pre-draft visits with the Cowboys. Man, if I believed anything that happened three weeks before the draft offered legitimate clues about what teams were going to do, I'd consider this a sign that the Cowboys like those Alabama guys.
Brandon Carr was a right cornerback in Kansas City but
expects to play on the left side
in Dallas. Not sure how much this matters. Kind of depends on which side of the field the other team assigns to its best receiver, right?
New York Giants

Speaking of Carr, Victor Cruz said he
doesn't care
about what Carr said the other day about keeping Cruz from salsa dancing in 2012. Cruz also says he has
no plans to hold out
, in spite of a comment he made earlier in the offseason about thinking he deserved more money. Cruz is one cool cat.
The Giants like Dave Tollefson and have made an effort to re-sign him. But as the interest from other teams piles up, it looks
less and less likely
that they'll be able to bring him back. If he leaves, that probably makes it even less likely that they trade Osi Umenyiora.
Philadelphia Eagles

I don't put any stock into the Eagles' reported interest in Ryan Tannehill, since I don't think they will draft him.
I am intrigued
, however, by this idea of Michael Floyd. Most projections have the Eagles going defense in the first round, but another fun passing-game weapon for Michael Vick wouldn't be a terrible idea.
Jason Peters' ankle
surgery was successful
, as all professional sports surgeries seem to be, but his replacement is still a mystery, as the Eagles continue efforts to plug a big new hole that opened up unexpectedly last week.
Washington Redskins

The Redskins' free-agent signing pace has slowed down since the opening week, but that has nothing to do with a lack of salary cap space. Washington
still has plenty
of it, in spite of their early signings and the $18 million penalty imposed by the league.
Eddie Royal says his decision to choose the Chargers over the Redskins was based in large part on the fact that the Chargers' quarterback is already an
established star
while the Redskins' next quarterback, whatever he becomes down the road, will of course be a rookie in 2012.
January, 18, 2012
1/18/12
12:30
PM ET
Aw, yeah, fans of teams that aren't still playing this week. Do we have some fresh meat for you. Our NFL draft expert, Mel Kiper, has posted his first mock draft of 2012, and
here it is
in all its glory. Looks like it's an Insider piece, so you have to pay to read the whole thing. But in the interest of keeping the blog fed, the masses happy and reasons for people to pay for Insider access obvious, I'll let you know what he's got for our four teams. The comments here are mine, not Mel's.

6. Washington Redskins: Morris Claiborne, CB, LSU.
This came up in this morning's breakfast links, with John Keim of the Washington Examiner suggesting cornerback at a spot where most people have been hoping or assuming the Redskins would take a quarterback or wide receiver. But Mel's got
Andrew Luck
gone to Indy at No. 1,
Robert Griffin III
gone to Cleveland at No. 4 and Oklahoma State receiver
Justin Blackmon
gone to St. Louis at No. 2, and he doesn't forecast trades. He also doesn't have another quarterback going in the first round, so second-tier options like
Ryan Tannehill
could still be available there if this were to come true. I'm curious to see whether Notre Dame wide receiver
Michael Floyd
could get this high, though he said this week that he's dropping out of the Senior Bowl, where Mike Shanahan and the Redskins will be one of the coaching staffs.

14. Dallas Cowboys: David DeCastro, G, Stanford.
Seems high for a guard, and it would seem odd for the Cowboys to spend top-15 picks on offensive line two years in a row. But other than cornerback, interior offensive line is the Cowboys' biggest need position, and Mel has Claiborne and Alabama's
Dre Kirkpatrick
gone in the top 10. I wonder if the Cowboys would maneuver to grab a pass-rushing outside linebacker such as Alabama's
Courtney Upshaw
or South Carolina's
Melvin Ingram
, who are gone at No. 10 and 12, respectively, in Mel's mock.

15. Philadelphia Eagles: Luke Kuechly, LB, Boston College.
No question linebacker is the Eagles' biggest need, but will Andy Reid really go far enough out of character to take one in the middle of the first round? Everybody loves Kuechly for his instincts and tackling, and those are two aspects of their linebacking corps the Eagles desperately need to improve. I could see, as Mel says he could also, the Eagles taking a safety here. (Mel has Alabama's
Mark Barron
going next, to the Jets.) And if they part ways with DeSean Jackson, the Eagles could certainly look for a wide receiver in the first round. But Kuechly seems like a big pile of exactly what Philadelphia needs.

29*. New York Giants: Zebrie Sanders, OT, Florida State.
The Giants will pick in this spot if they lose Sunday, 31st if they win Sunday and lose the Super Bowl and a very happy 32nd if they win the Super Bowl. Tackle's not a bad way to go, since they have some question marks there. Right tackle Kareem McKenzie is a free agent and Will Beatty didn't look like the answer at left tackle before eye surgery ended his season. David Diehl has played well there since, but he's 31, and it can't hurt to add young depth at a spot like this. The Giants could use help at linebacker and maybe in the secondary depending what happens with Terrell Thomas, but clearly, since they're still playing this week, their needs appear to be relatively few.