NFC East:

Michael Griffin
March, 5, 2012
3/05/12
8:00
AM ET
I am back, and as Mike and Mike like to say, better than ever. Yeah, of course I missed you guys. Won't ask if you missed me. Plenty of time over the coming weeks and months to invite that kind of abuse.
It was a lovely week off, spent relaxing and watching college basketball conference tournament games. I did keep half an eye on what was going on in the NFL, but the fact is, if you'd been reading this blog regularly, you knew way ahead of time that the Eagles were going to franchise DeSean Jackson and the Redskins were going to franchise Fred Davis. Will the Cowboys do the same with Anthony Spencer? We find out today.
We are eight days from free agency and 52 days from the NFL Draft, and the best way to embark upon an offseason odyssey like this is to fill up first with some links.
New York Giants

If Mario Manningham signs elsewhere as a free agent, the Giants are likely going to need someone from their current group of wide receivers to step forward and replace him. They don't necessarily need a repeat of what Victor Cruz did to replace Steve Smith last year, but they need someone productive. Domenik Hixon, re-signed in spite of having played just two games the past two years due to two tears of the same ACL,
would like to be that guy
.
Former Giant Mark Bavaro talked to the New York Post about his experience -- or what he believed was his experience -- with "
bounty-hunting
" defensive players during his time in the NFL. Not a new problem, but the Saints' story isn't going away anytime soon, either.
Philadelphia Eagles

Jeff McLane is wondering
what the Eagles will do at safety
, where they've spent high draft picks but have received little production over the past couple of years. McLane seems to think it's likely that they'll stick with Nate Allen and his fellow youngsters, maybe adding a "second or third-tier" veteran in free agency. But he lists some of the higher-end targets anyway in case they decide to go big-game hunting. The first guy on his list, Tennessee's Michael Griffin, is probably getting franchised, according to Adam Schefter.
I did hear that there was a fair amount of chatter in Philadelphia last week about the possibility of the Eagles trading up with the Rams and drafting Robert Griffin III at No. 2 overall in the draft.
Bleeding Green Nation
doesn't think this will happen, and neither do I. I totally understand that Andy Reid loves to be deep at quarterback, and I'm not about to rule out the possibility. But given the competition the Eagles will have from teams who need Griffin to start for them next year -- as opposed to sit behind Michael Vick -- I don't see how it becomes worth it for the Eagles to spend their resources that way.
Dallas Cowboys

Calvin Watkins reports that
the Cowboys will franchise Spencer
, which would guarantee him $8.8 million this year. I know Watkins has believed all along the team would get a deal done with Spencer, and of course they still might. That's what the original intent of the franchise designation was, after all -- to hold a guy in place while you worked on a long-term deal with him. But if the Cowboys don't get a deal done with Spencer, this still isn't a terrible idea. Other than Mario Williams, who's likely to break the bank, there just aren't very many pass-rushers on the market who would qualify as an upgrade over Spencer, disappointing though he may be. And yeah, they can draft a pass-rusher, but even if they did, that would create depth and give them options a year from now when Spencer was up again. So, sensible move, even if it doesn't smell quite right to Cowboys fans.
Oh, and since we did this with the Eagles, let's briefly revisit
last week's flare-up
over Jerry Jones saying he wouldn't trade Tony Romo to move up to draft Griffin or Andrew Luck. It's draft season, so things get crazy, but it's important to remember that Luck and Griffin are basically children who, while they seem likely to succeed in the NFL, aren't guaranteed to be anything at all. If either of them is ever half as good an NFL quarterback as Romo already is, they'll be overjoyed, and so will the teams that draft them. Jones is the voice of reason here, folks. Ain't that something?
Washington Redskins

Are the Redskins the favorites to land that coveted No. 2 pick in a trade with the Rams? Could such a deal be agreed upon this week? Jim Thomas of the St. Louis Post-Dispatch
thinks so on both counts
, reporting that the Browns don't want to give up both of this year's first-rounders just to move up two spots and get Griffin. Thomas also writes that the Redskins, while willing to deal this year's first-rounder and next year's, are balking at the idea of adding this year's second-rounder to the deal, and that that's a hangup for the Rams. I think the Redskins should move up to get Griffin if it's at all reasonable. If all else is equal, he's their best option. Peyton Manning is a good option if healthy and if they can't get Griffin, but Griffin is the ultimate offseason prize for Washington this year. I think that, if they can do it for two first-rounders, they should. I also think they're wise to not jump to meet St. Louis' asking price just yet, since other suitors may drop out and reduce that price. But as for this week ... yeah, it makes sense that something could get decided this week (even if it couldn't be announced until March 13), because if the Redskins can't get that No. 2 pick, they're going to need to figure out how to get a quarterback in free agency which, as I've already mentioned, starts in eight days.
The Washington Post spoke with former Redskins players and coaches about the way
the "bounty" system
was administered during Gregg Williams' time there. The league is looking into Williams' time with the Redskins, but it sounds as though the Saints are the team in real trouble here.
September, 28, 2010
9/28/10
1:00
PM ET
By
Matt Mosley
| ESPN.com
»
NFC Decisive Moments
:
East
|
West
|
North
|
South
»
AFC
:
East
|
West
|
North
|
South
The
New York Giants
' first possession of the second half set the course for a meltdown. With the score tied at 10, the Titans pinned the Giants at their 1-yard line. On third-and-10 from the 1,
Eli Manning
dropped back to pass and found wide receiver
Mario Manningham
streaking down the left sideline for a 43-yard gain. It could've been one of those game-changing plays and, in fact, it was.

Running back
Ahmad Bradshaw
went low to take out a Titans defender. What he didn't realize was that center
Adam Koets
was already engaged with the player and actually had him by the face mask. Bradshaw was called for the chop block in the end zone and the result of the play was a safety for the Titans.
Tennessee returned the ensuing free kick to midfield and marched down for a touchdown to make it 19-10 in the third quarter.
On another note, Titans punter
Brett Kern
deserves a special mention for pinning the Giants deep on the possession. Titans safety
Michael Griffin
waited to down the punt near the 1-yard line. That's why I support Tom Coughlin's idea of putting more starters on special teams. Griffin made huge plays on defense and he still had the energy to play well in coverage. New York could use a little bit of that action.
September, 26, 2010
9/26/10
8:45
PM ET
By
Matt Mosley
| ESPN.com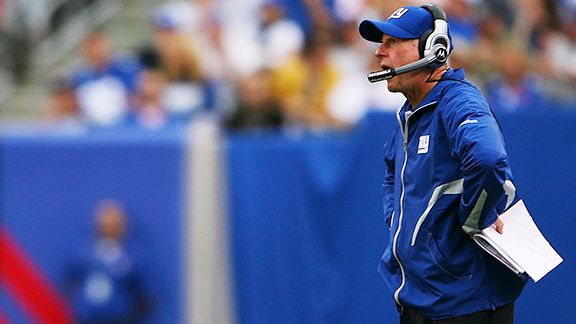 Andrew Burton/Getty ImagesTom Coughlin's New York Giants totaled six personal fouls in a sloppy loss to the Tennessee Titans.
EAST RUTHERFORD, N.J. -- Led by their head coach's postgame monologue, the
New York Giants
claimed to have been the best team on the field Sunday against the
Tennessee Titans
. But they were also the dumbest team, which undermined any positives in a
29-10 loss
to the Titans that puts them in a 1-2 hole.
We've told ourselves since the 2007 Super Bowl season that Tom Coughlin's teams don't beat themselves, but that's exactly what happened Sunday. The Giants appear to be one of the most undisciplined teams in the league, although it's progress that no helmets made their way into the stands. Of course, that didn't keep the Giants from losing their heads.
Quarterback
Eli Manning
set the tone early with what may have been the most clueless decision of his career. A brilliant throw down the seam to tight end
Kevin Boss
for 54 yards gave the Giants a first-and-goal on the Titans' 9-yard line midway through the first quarter. On third down from the 2-yard line, Manning tried to escape pressure before inexplicably lobbing the ball into the end zone with his left hand. Titans linebacker
Will Witherspoon
tipped the weakly thrown pass and cornerback
Jason McCourty
made a diving interception.
The Giants' benevolence in the red zone would continue, but it was the utter lack of composure that brought back Terrible Tom's sideline act. Through the magic of film, players and coaches had noticed how the Titans liked to play through the whistle. They shouldn't have been surprised that cornerback
Cortland Finnegan
, one of the most underrated players in the league, likes to add an extra shove or a few choice words following plays. Yet the Giants retaliated time after time, leading to six personal fouls, two of which were called on veteran right tackle
Kareem McKenzie
.
When McKenzie was flagged for his second unnecessary roughness penalty in the fourth quarter, Coughlin stormed down the sideline and told offensive line coach Pat Flaherty to find an immediate replacement. Former Eagles Pro Bowler
Shawn Andrews
came jogging onto the field and played the rest of the way. On the Titans' ensuing possession, Coughlin yanked safety
Antrel Rolle
from the field for drawing another 15-yard penalty for taking a swipe at tight end
Craig Stevens
after the whistle. Rolle complained last week that Coughlin pulled players off at a road game too early. Rolle said he wasn't provided with an explanation for his early departure, but I'm sure the coaches will accommodate him soon.
"I got struck twice, and I struck back," said Rolle. "There was no explanation about it. I'm a ballplayer, and that means I'm fiery. He struck me twice, and I definitely struck him back. I wasn't ejected, but the coaches pulled me out probably to calm me down. I understand that. It's a game of emotions. That guy took two strikes at me, and I made sure I struck him back."
[+] Enlarge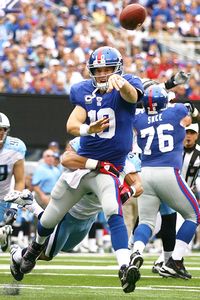 Andrew Burton/Getty ImagesEli Manning threw two picks against the Titans, including this drive-ending interecption at the goal line.
Rolle admitted that he made a mistake, but he seemed to stand by his retribution. I wouldn't blame Coughlin if he benched both Rolle and McKenzie next week. During a postgame news conference that was held in clear sight of some boisterous Giants fans, Coughlin took full responsibility for the red zone turnovers and personal fouls.
"The way in which we play in between the lines is my responsibility and I'm taking full responsibility for that," said Coughlin. "This is a game that we should have won, we didn't win."
Told that Coughlin had taken the blame for the all the personal fouls, defensive end
Justin Tuck
told a small group of reporters, "That's horse [expletive]! That's an individual penalty, not a coach's penalty."
Even with all the mistakes, the Giants had an opportunity to get back in the game late in the third quarter.
Ahmad Bradshaw
had gashed the Titans for runs of 22 and 20 yards on a drive to set up a first-and-goal from the 6-yard line. On the next play, Titans safety
Michael Griffin
poked the ball out of Bradshaw's arms and the Titans recovered to maintain a 19-10 lead.
The two red zone turnovers and six personal fouls undermined a strong performance by the defense against Titans All-Pro running back
Chris Johnson
, who tacked on a 42-yard gain after the game had been decided. The Giants outgained the Titans by a staggering 200 yards but it didn't matter because of 11 penalties and three turnovers.
It was a completely different feeling from the whipping they took from the Colts last week, but the result was the same. Even in the watered-down NFC East, the Giants are already in trouble. They have the same 1-2 record as the
Dallas Cowboys
, but those teams had much different experiences Sunday. The Cowboys' win over the Texans could serve as a springboard for a quick turnaround, while the Giants will host a Bears team next Sunday night that could potentially be 3-0.
This season is already on the brink, and you could say the same thing about Coughlin's future as head coach. He talks about always putting the team first, but several individuals made a joke of that concept in Sunday's loss. The fact that most of those players are veterans has to be the most galling part for Coughlin.
"I'm disappointed that it comes at all, that it comes from our team because, as I said, it'll be very, very difficult to win football games under those circumstances," said Coughlin.
August, 16, 2009
8/16/09
7:00
PM ET
By
Matt Mosley
| ESPN.com
Posted by ESPN.com's Matt Mosley
BALTIMORE -- Redskins defensive tackle Albert Haynesworth didn't play in Thursday's preseason game against the Ravens, but he did take some time to visit with the NFC East blog. He discussed Michael Vick, Greg Blache's defensive scheme and his passion for Wal-Mart. Here's a portion of the interview:
What are your thoughts on having to face Michael Vick twice a season?
AH: I'm glad someone signed him. The man's suffered enough. But I've played with Steve McNair and Vince Young. Mobile quarterbacks aren't anything new to me.
Do you need to play in the preseason to feel comfortable?
AH: I'm going to play next week. I'd really like to get out there. I think playing next to my new teammates would really be beneficial.
You've only made it through a complete season once without some type of injury. Have you done anything to address that?
AH: I haven't done anything different. I'd rather go 1,000 percent through 14 games and help get my team in the playoffs than play all 16 and not be right. That's how I've been an All-Pro and a Pro Bowl player.