July, 22, 2014
Jul 22
10:00
PM ET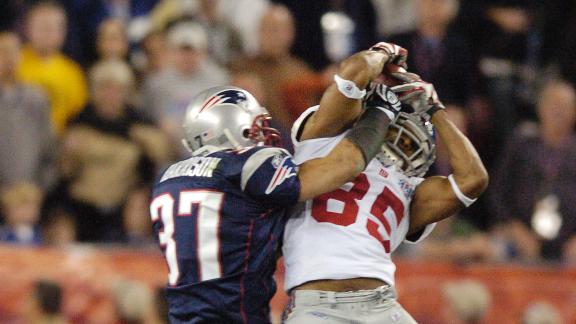 EAST RUTHERFORD, N.J. -- I wrote about the Tony Dungy-
Michael Sam
controversy on
Tuesday
, so you know where I come down on the gay rights issue. I think these are issues of human decency, not of religion or culture or the sanctity of the NFL locker room.
But if Dungy merely put his toe over the line and onto the wrong side of this issue, former
New York Giants
wide receiver David Tyree is the
mayor
of the wrong side of this issue. In 2011, Tyree said he'd trade his miracle "helmet catch," which led to the Giants winning Super Bowl XLII, in exchange for a law outlawing gay marriage. And he's publicly professed his belief that "there is no scientific data to support the claim of being born gay." Tyree has explained his views by citing his religious beliefs, which is an excuse a lot of people use and is, in my opinion, a crummy reason for treating fellow human beings poorly. You believe what you want to believe, but once you start using it as a weapon with which to mistreat other people, you have lost me.
Anyway, this comes up because
the Giants hired Tyree on Tuesday
as their new director of player development. And while I don't think wrongheaded views should necessarily prevent a person from seeking and holding a job in his chosen field, I'm surprised that the Giants would make such a tone-deaf move in the current NFL and social climate. The move was
ripped by the Human Rights Campaign
, and Tyree declined to comment about the criticism when contacted by ESPNNewYork.com.
Obviously, given the sensitive nature of the Michael Sam story, we're at an important social time in NFL history. One of the points of Sam's decision to live his life as an openly gay man trying to play in the NFL is that gay football players in the future will be less afraid to live their lives openly. Sam's story should lead us all to a deeper understanding of each other as people and to treat each other with more kindness and decency regardless of where we disagree or where we're different. People like Tyree stand in the way of that, which is why I don't think this is the right time for Tyree to hold a job like this in the NFL.
Imagine, if you will, there was a hypothetical closeted gay player on the Giants who was thinking about coming out. Maybe he was inspired by Sam, maybe not, but as of, say, Monday, he was thinking about telling the world he's gay. He was nervous but excited about finally not having to feel as though he had to hide who he is -- a great, positive thing for the player and the world in general.
And then on Tuesday, the Giants go and hire a guy to work in a position of authority in the organization, and this guy loudly and publicly believes what Tyree believes.
What does that player think now? What does that player do now? What message has his organization sent to players in that position?
Tyree might well be qualified to hold the job of director of player development. Heck, he might be great at it. And maybe his medieval views on this issue won't affect his ability to do the job or relate to players in any way. But given what's going on in the NFL and the world right now, I have to think the Giants could have made a less tone-deaf hire.
February, 22, 2014
Feb 22
6:00
AM ET
On the schedule for Saturday in Indianapolis:
Giants/Jets media availability:
Giants general manager
Jerry Reese
will address the media at 10 a.m., one day after his coach -- Tom Coughlin -- announced his own one-year contract extension. No doubt, Reese will be asked about Coughlin, but most of the topics will be personnel-related. The Giants' talent base has decayed the last two years, and Reese needs a home-run draft to get them back in the playoffs. There will be no Jets media availability.
Combine schedule:
This is the busiest day because there are four different player groups involved in various activities. The offensive linemen and tight ends finish up their week with on-field drills -- springs, agility stations and skill drills. ... The quarterbacks, running backs and wide receivers move to their next phase -- psychological testing, bench press and team interviews. ... The defensive linemen and linebackers get into the action with measurements, medical exams, team interviews and media obligations. ... The defensive backs arrive in town, starting with a medical pre-exam and X-rays, orientation and team interviews.
Players of interest:
The big story -- the big, big story -- will be
Michael Sam
. If you haven't heard of him, you're welcome to rejoin our society at any time now. The former Missouri defensive end, who came out recently as gay, is scheduled to meet the media. It probably will be the largest news conference in combine history, assuming it happens. The schedule got jammed up Friday because medical exams took longer than expected, causing some of the wide receivers (including the top prospects) to postpone their media sessions until Saturday. Hopefully, Sam stays on schedule because it should be fascinating.
February, 10, 2014
Feb 10
4:55
PM ET
Michael Sam is a potential 3-4 outside linebacker who happens to be gay, and potentially the first openly gay player in the NFL.
But come draft time the Redskins need to ask themselves one question: Can he help them?
He's a potential 3-4 outside linebacker who would need time to develop based on the descriptions of his play. Sam posted big numbers at Missouri this past season as a defensive end: 11.5 sacks; SEC Defensive Player of the Year; first-team All-American. Clearly he has talent.
What the Redskins need are good, young pass rushers. Do they have enough? He would be a project, like any player who must make the transition from college left end to 3-4 outside linebacker. That means being able to play in space and drop into coverage. He's listed at 6-foot-2 and 260 pounds. By comparison,
Ryan Kerrigan
and
Brian Orakpo
, the Redskins' starting outside linebackers both are 6-foot-4 (as is top reserve
Rob Jackson
) and weigh around 260 pounds as well.
Sam most likely is a mid-round draft choice at best, based on scouting reviews before his recent news.
Sam's play at the Senior Bowl received mixed reviews. But Falcons linebackers coach Bryan Cox said to reporters during the week about Sam that he had "Good athleticism. You know what he was in college in terms of big plays that he made for Missouri. And you look at the [Cotton] bowl game when he had the big strip at the end of the game to win it for the team. So you know that he has some pass-rush ability
"You're looking for his versatility; kind of showcase his ability to play linebacker as well as playing the defensive front. He's just trying to showcase who he is. He's a very talented guy."
Would the organization want to draft an openly gay player? Consider the history: A former Redskin, Dave Kopay, was the first ex-NFL player to reveal his sexual orientation.
General manager Bruce Allen's father, George, coached former Redskin Jerry Smith. George Allen later sent a letter to Smith after he learned he had contracted AIDS.
In A Football Life: Jerry Smith, Bruce Allen read parts of the letter, "You not only were the very best tight end the Redskins ever had, you also were the toughest. Like we always said, no matter how many setbacks you have had keep fighting. I want you ready for my next team. That one will be called the Over the Hill Gang."
And the Redskins alumni invited Smith's sister and her son to a recent homecoming game.
Allen also said on the show, "He's in our ring of honor and has been there for a number of years. His contributions to the
Washington Redskins
on the field and off the field will never be forgotten."
Not that this has anything to do with the team now.
Doug Williams was just hired Monday as a Redskins personnel executive. So it's not as if he speaks for the entire organization. But I'd be surprised if others differed with what he said.
"We have to take our hats off to the young guy," Williams said. "He did something that takes a lot of courage. I'm sure he thinks it could hurt his draft status. It could help. But the locker room is what it is. For five years this guy has been in a locker room and [his teammates] put their arms around him and had a heck of a season, which means it wasn't a big deal to them. At the NFL level the bottom line is where does he rate as a player.
Russell Wilson
won the Super Bowl and nobody talked about him being black. Eventually we have to get to that point when we talk about people's sexuality.
"We all understand there will be some knuckleheads out there. That won't ever change. But you have to understand society has changed enough over the last 10 to 15 years and you have to accept people for what they are."
February, 10, 2014
Feb 10
2:45
PM ET
IRVING, Texas -- From a football perspective, the
Dallas Cowboys
have to figure out if
Michael Sam
is a fit for their defense.
If the Cowboys still ran a 3-4 defense, the answer might be more definitive. At 6-foot-2, 260 pounds, Sam, who revealed on Sunday that he is gay, is built more like an outside linebacker in a 3-4.
Now that the Cowboys run a 4-3, Sam might not fit as well as he might be too small to play defensive end.
Of the six defensive ends on the Cowboys' roster at the end of the 2013 season, only
DeMarcus Ware
(258) and
Martez Wilson
(252) were lighter than Sam. At 6-1,
Everette Brown
was the shortest defensive end on the roster and he was a role player after signing with the Cowboys during the season.
Sam was named the SEC Defensive Player of the Year out of Missouri after leading the conference in sacks (10.5) and tackles for loss (18).
When he played outside linebacker at the Senior Bowl, teams were not blown away by his athleticism. Just as a comparison, Ware was able to answer the question during the 2005 Senior Bowl that he could make the move from 4-3 defensive end to 3-4 outside linebacker.
The Cowboys generated only 34 sacks in 2013, so finding pressure players is a must if they are to improve in 2014. Sam showed he can get after the quarterback at Missouri and he will get the chance to show if he can do it at the NFL level.
For the Cowboys, he might be more of a situational pass-rusher than an every-down player. If he's not an every-down player, then he would figure to be a middle- to late-round pick.
February, 10, 2014
Feb 10
2:45
PM ET
One of the major questions in the wake of Missouri defensive lineman
Michael Sam
's announcement he is gay is how NFL teams will react. With the draft less than three months away and the scouting combine next week, the focus will be on how and whether Sam's coming out will affect his draft stock. To hear the owners of the
New York Giants
tell it, it shouldn't affect it at all.
"I would just echo what the league and
Zak DeOssie
, one of our captains, have said in welcoming Michael into our league and supporting him as he attempts to achieve his dream of playing in the NFL," John Mara said Monday in a statement released by the team. "Our sport, our game, is the ultimate meritocracy. You earn your way with your ability. As Patrick Burke and Wade Davis constantly remind all of us, regardless of who you are, what your background is and what your personal or sexual orientation is, if you can play, you can play. Michael's announcement will not affect his position on our draft board."
"As I said last night, Michael Sam is a gifted athlete and a courageous man," Steve Tisch said in his own statement released by the team. "I hope any NFL team would not hesitate to draft Michael if he is right for their team. Our game is the ultimate team game, and we often talk about how a team is a family. Regardless of where you are from, what your religious beliefs are, what your sexual orientation is, if you are good enough to be on the team, you are part of the family. How the University of Missouri and its football program embraced and supported Michael is a tremendous blueprint for all of us, but frankly, I think the lessons of our game also provide the same positive example."
I'll echo what
I wrote this morning
, which is that the Giants likely would be a welcoming environment for Sam due to their strong leadership. The question in the Giants' draft room will be whether Sam represents good value at the mid-round pick with which he'd be available to them. The Giants run a 4-3 defense, but while Sam played 4-3 defensive end in college, there is concern that his lack of prototypical size would inhibit his ability to do so in the NFL. That doesn't mean the Giants won't take him if they think he's a good enough player to help them on special teams and in certain roles, but it's hard to see him as the kind of player they have to have.
February, 10, 2014
Feb 10
1:30
PM ET
PHILADELPHIA – Take it from the center of the big top: Media circuses don't last, and any talk that Missouri defensive end
Michael Sam
will be a "distraction" that affects his eventual NFL employer is mere hyperbole.
Last summer,
Philadelphia Eagles
wide receiver
Riley Cooper
was caught on video using the most despicable racial slur in the American vernacular. The incident brought on a media firestorm, including the prediction that Cooper's presence would create racial tension and fracture the Eagles' locker room.
I should know. I wrote a column saying just that and suggesting the Eagles should at least suspend Cooper and would be justified in releasing him outright. I still think a suspension would have been reasonable (the franchise once suspended
DeSean Jackson
for being late to a special teams meeting), but realize I underestimated the ability of Cooper's teammates to handle the situation.
Five years before that, the Eagles signed quarterback
Michael Vick
, arguably the most unpopular football player in the world, right after he had spent 21 months in Leavenworth Federal Prison. The signing of Vick caused a major distraction, including angry protests and media criticism.
Let's be clear: We're not equating Sam's decision to reveal his sexual orientation to Cooper's transgression or Vick's crimes. Not in the least. We're talking here only about the perception of a player's impact on a franchise as a distraction, either within the locker room or as focus of media attention.
What we learned in each case was that NFL locker rooms are far more mature, far more diverse workplaces than they appear from the outside. Vick was accepted immediately by his teammates and developed into a respected elder statesman during his five seasons in Philadelphia. After some early wariness, Cooper was embraced by many teammates, accepted by others and at least tolerated by the rest.
Those things pass, they really do. The Eagles went to the playoffs after each of their first two seasons with Vick on the roster. They went back to the playoffs this year just months after the Cooper incident.
For a team to pass on drafting Sam because of the possible media attention or issues in the locker room is ultimately a copout.
Would the Eagles draft the Missouri defensive end, who projects as an outside linebacker in the NFL?
I have no doubt they will evaluate Sam based purely on his potential to help their team on the field. Owner Jeff Lurie, who was guided by his own conscience in signing Vick and keeping Cooper, wouldn't have it any other way. General manager Howie Roseman and head coach Chip Kelly are way too forward-thinking to dismiss a good player.
If the Eagles aren't that high on Sam, it's because they place a premium on size and athleticism at the position he plays. Sam is listed at 6-foot-2, 255 pounds. He was very productive at Missouri, but it's the job of NFL talent evaluators to project how a player will do at the next level, within their team's system.
An objective evaluation might lead the Eagles to pass on Sam. But then, an objective evaluation is exactly what Sam, and every other prospect, deserves.
NFC EAST SCOREBOARD
Sunday, 10/26
Monday, 10/27