August, 13, 2010
8/13/10
8:00
AM ET
By
Matt Mosley
| ESPN.com
ARLINGTON, Texas -- It's too bad we can't get those 60 minutes of our lives back. The Cowboys' first-team offense once again failed in the red zone, and the backups didn't do any better in a
17-9 loss to the Raiders
. With the Cowboys having played Sunday, it was obvious they didn't belong on the field Thursday night.
The defense certainly had its moments, but the story of the game (from my vantage point) is that
Tony Romo
was sacked three times and the running game was non-existent. Other than that, it was a wonderful night of football. The Cowboys have nine days before playing a preseason game in San Diego. Maybe we'll get a better feel for where this team is at that point. But in the interest of producing a blog entry before most of you arrive at work, here are a few observations from Thursday's contest:
[+] Enlarge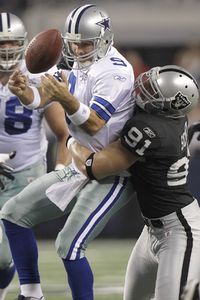 AP Photo/LM OteroTony Romo was sacked three times in Thursday's loss to Oakland.
The Cowboys were 0-for-4 in red zone efficiency, including a quick trip inside the 20 before Romo was sacked for a 9-yard loss. Dallas gave up six sacks in the game, three on Romo. The most disturbing to me was seeing Raiders defensive end Matt Shaughnessy beat Doug Free on a speed rush and then drag down Romo with one arm. Free was with Shaughnessy the whole time on the play, but he never delivered a solid punch. Shaughnessy's a nice second-year player out of Wisconsin, but he's not Trent Cole, Justin Tuck and Brian Orakpo. Free needs to clean things up before he meets any of those players. At least two of the three sacks on Romo were coverage sacks. He needs to do a better job of unloading the ball in those situations.

Linebackers Bradie James and Keith Brooking were both excellent in coverage in the first quarter. James was throwing his body all over the place and Brooking was superb in not letting anyone get separation from him. Brooking still moves really well. I hope Sean Lee is watching Brooking's every move right now. The rookie needs to get past this quadriceps injury and return to the practice field. Otherwise, he's not going to have a chance to earn time in sub packages. Bobby Carpenter was replacing Brooking in the nickel last season, but right now I wouldn't replace him with anyone.

Raiders safety Tyvon Branch was a mismatch for Jason Witten. The Pro Bowl tight end got plenty of separation and Romo hit him in stride for a big play on the first drive.

Miles Austin made a beautiful adjustment to a ball thrown slightly behind him in the first quarter for a 24-yard catch. Austin brought a lot of energy to the field Thursday and ran some excellent routes. On the twisting grab, he beat cornerback Chris Johnson. The Raiders are vulnerable on that side of the field.

Raiders defensive end Lamarr Houston had one of the sacks on Romo. He was able to sneak in the backside and crunch the quarterback. Romo didn't feel the pressure coming on the play. He just seemed content to stay in the pocket, and that wasn't helping matters. Of course, everyone in the stadium gasped when he took off running up the middle of the field on one play.

It was a good night for kicker David Buehler. He nailed a 42-yard field goal and then connected on two short ones. He also recorded three touchbacks. The 42-yarder was a good sign because that's a distance that plagued the team during a miserable stretch in '09. Buehler has all the confidence in the world. If he'll trust his leg, the distance will be there.

Cowboys cornerback Orlando Scandrick might be the best tackler of all the defensive backs. He does a really nice job of wrapping up and you don't see guys bounce off him. Scandrick decked wide receiver Louis Murphy early in the game. Then he absorbed a blow from James. The Cowboys were flying to the ball early.

The running game was awful, but I did see Marion Barber put a nice little move on cornerback Stanford Routt in the first quarter. He froze Routt with a little stutter-step. Barber stumbled after that and only gained 2 yards.

Romo and Austin have tremendous chemistry on the slant. On a third-down play, Austin got Johnson on his hip and then made a nice grab across the middle. Even when cornerbacks see it coming, they have an awful time getting inside position.

All the goodwill that Kevin Ogletree earned in the offseason is being wasted early in the preseason. He's not making contested catches and it just seems like there's a lack of concentration. I still think he'll make the roster as the fifth receiver, but he hasn't seized some of these extra repetitions that were created by Dez Bryant's absence.

Linebacker Victor Butler picked up a personal foul on a punt return. The officials will not have any tolerance this season for those blindside hits on defenseless players. There's just too much of a risk for head and neck injuries. Butler must have better awareness on that play.

In the first quarter, cornerback Terence Newman closed quickly to break up a Jason Campbell throw in the flat. Newman was in position to make the interception, but he opted for knocking down the ball with one arm. It was a very instinctive play and it caught Campbell by surprise.

Free-agent rookie Bryan McCann out of SMU had one really nice punt return (28 yards) late in the second quarter when he allowed Ogletree to set him up with a good block. McCann's also getting a lot of opportunities with the second-team defense. He was late on a Campbell throw to Murphy, but you can tell that he's not far away from making those plays. I get the sense that Wade Phillips is really pulling for McCann.

I was eager to see how former third-round draft pick Robert Brewster performed at left tackle against the Raiders. And once again, he turned in a dud. Not even the optimistic Phillips will be able to praise Brewster after Thursday's showing. His feet are stuck in neutral and there's absolutely no anchor. When you watch him, he's getting pushed directly toward the quarterback. He's most susceptible to an outside speed rush right now, and that's not a good sign. Brewster will keep getting chances, but I thought that was a poor showing. Brewster was also penalized for grabbing a defensive end as he raced past.

Butler does an excellent job getting pressure on the quarterback. He's so much more consistent this season in causing problems for the offensive line. And the other linebacker who caught my eye Thursday was Leon Williams. He's just a really tough player who brings some attitude to the field. Inside linebacker Jason Williams is still a work in progress, but he did race through and make a nice play against running back Michael Bush.

Safety Mike Hamlin suffered a neck strain and a concussion in the third quarter, according to ESPNDallas.com's Tim MacMahon. Some folks in the organization thought Hamlin might challenge Alan Ball for the starting role, but that hasn't happened so far in camp. The good news for the Cowboys is that Hamlin was the only player injured. That's a lot different situation than what took place against the Bengals.

Roy Williams and Romo weren't on the same page in the first quarter. On one play, Romo rolled right and wanted Williams to come back to him. Williams sort of posted up the cornerback along the sideline and hoped for the best. There wasn't any rhythm to his routes against the Raiders. By the way, Bryant gave Williams and the rest of the receivers some new shoes.

In one of the Cowboys' four trips inside the red zone, Jon Kitna rolled right and threw to Deon Anderson in the flat. It was a poorly conceived play on fourth-and-1. Linebacker Thomas Howard applied the pressure to Kitna.

I thought safety Danny McCray did a really nice job hustling over to break up a deep ball to Johnnie Lee Higgins. McCray's been a camp phenom, and I'm eager to see if he can keep it up in Oxnard, Calif., next week. The Beast will be on the ground in Oxnard beginning Sunday evening.

The Cowboys were 3-for-16 on third down. The lack of a running game put the Cowboys in third-and-long situations far too often. Losing in the preseason isn't a big issue, but this red zone issue is something that goes back to last season. The Cowboys need a touchdown from the first-team offense against the Chargers next Saturday.

Guard Pat McQuistan simply doesn't play with any power. Every time I watch him, he's getting thrown toward the quarterback. It's about time to move on without him. The Cowboys have invested a lot of time in him, but I don't think he'll ever be a starter. And he doesn't seem like a reliable backup. On the other hand, I like the backup center, Phil Costa. The guy will stand his ground and he seems to have a little attitude. Give me that guy over McQuistan any day. I also liked the way rookie Sam Young played.
June, 17, 2010
6/17/10
1:00
PM ET
By
Scouts Inc.'s Matt Williamson
| ESPN.com
»
NFC On the Radar
:
East
|
West
|
North
|
South
»
AFC
:
East
|
West
|
North
|
South
A player, coach or issue that should be on your radar as training camp approaches.
When examining the landscape of the NFC East, it is somewhat surprising how many issues there are across the board at the safety position. Let's take a quick overview of the situation while remembering that this is a division that features tight ends such as
Jason Witten
and
Brent Celek
, a lot of firepower at the wide receiver position and a fine foursome of passers to attack safeties at the third level.
In Dallas,
Gerald Sensabaugh
looks entrenched as the starting strong safety, while
Alan Ball
will do battle with
Mike Hamlin
at free safety, with the long shot of rookie
Akwasi Owusu-Ansah
factoring in here as well.
Sensabaugh is probably the best safety on the roster, but his coverage skills are average. He is best against the run, but it should be noted that he played a large portion of the season with a broken thumb. Everyone else is really an unknown, other than
Pat Watkins
, but Watkins has proved to be someone not worth getting excited about. Ball is small and has more of a cornerback skill set than that of your typical safety.
[+] Enlarge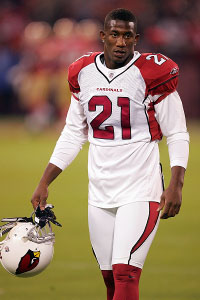 Ezra Shaw/Getty ImagesThe Giants, who signed Antrel Rolle to a $37 million deal, should have the best situation at safety in the division.
The Giants were horrendous at safety last season and obviously some of that had to do with the brutal knee injury to
Kenny Phillips
, who looked like a real up-and-comer before he got hurt. It's hard to speculate if Phillips will be ready for this season or if he will be the same player when he does return, but the Giants were quite proactive in their approach to the position.
Though they spent a lot of money to acquire him, I commend the signing of
Antrel Rolle
. He is extremely talented and entered the league as a highly touted cornerback prospect. While already a very good player, he should only improve with more reps at free safety, where he will start for the Giants. His ability to read the play from the deep middle does need work though.
If Phillips cannot man the strong safety spot, the job would go to either
Deon Grant
, recently signed as a free agent, or
Michael Johnson
, who had a rough year in 2009 and makes too many errors with his assignments. New York also used a third-round pick on
Chad Jones
, a player with a lot of ability. His game seems best suited for free safety, but he has the body to play closer to the line of scrimmage.
While New York was probably the worst off in this division at safety last year, I expect them to be the best of the four in 2010. You have to commend their aggressive approach to fixing a problem. And although all these moves seem to indicate that New York is seriously worried about Phillips' recovery, it also should be noted that new defensive coordinator Percy Fewell used a lot of three-safety sets with the Bills and that could carry over to the Giants this year.
Philadelphia also was proactive in improving its free safety position, but an Achilles injury to
Marlin Jackson
took him out of the equation. Second-round pick
Nate Allen
also is a fine-looking prospect for this position. That is a lot of pressure to put on a rookie -- especially in this division -- but Allen has the skills to handle it. What is worrisome, however, is how well he will handle the mental aspects of the position, which can be taxing.
The Eagles are set at strong safety with
Quintin Mikell
, who is a very solid all-around safety who is asked to do many things in an attacking scheme -- and does just about everything well. With Jackson's injury, depth here is a major concern, although
Macho Harris
could potentially move back to free safety if needed. Still, the Eagles are not real deep at cornerback either, which gives me some pause about their sub package defenses. If we lined up today, I would attack this defense with three- and four-wide receiver sets until the secondary proved it could handle the stress.
Like their counterparts in the division, the Redskins have questions at safety as well. I see three decent safeties -- one with loads of ability -- but all three are more strong safety types. The player with loads of ability is
LaRon Landry
, who will handle the starting strong safety spot. Landry was overwhelming coming out of college, but certainly has not lived up to his draft position. As the Redskins move to a 3-4 scheme, maybe Landry will see more of a versatile role, such as the one Pittsburgh uses with
Troy Polamalu
. Landry has reportedly bulked up for the role, which could be a good or bad thing, depending on how it affects his movement skills. He really struggled in deep coverage, but I am predicting a breakout season for him.
Neither
Chris Horton
nor
Reed Doughty
is the ideal fit at free safety. Doughty fits the mold better and should get the nod, but he isn't going to make anyone forget about Sean Taylor in terms of his physical skill set. He plays the run better than the pass. This safety situation could lead to a lot of big plays deep downfield against the Redskins.
There are some good football players at safety in this division and there are others with a lot of ability who could flourish in 2010. But it does surprise me that three of the four teams -- Dallas, Philadelphia and Washington -- do not appear interested in adding a true centerfield type in
Oshiomogho Atogwe
. And while there are questions across the board at safety, for the most part, the teams in the NFC East can really rush the passer -- which of course can make problems on the backend disappear.
October, 25, 2009
10/25/09
3:32
PM ET
By
Matt Mosley
| ESPN.com
Posted by ESPN.com's Matt Mosley
ARLINGTON, Texas -- Hello and welcome to today's live blogging experience. I'll be bouncing back and forth between the Beast and
NFL Nation Live
. Fortunately, we'll have this game covered from every angle. NFC South blogger Pat Yasinskas has you covered from the Falcons' standpoint and I'll try to take care of the Cowboys' angles.
We're also pleased
to have ESPNDallas writers
Calvin Watkins and Tim MacMahon in the house. No surprises on the inactives, but I'll give them to you anyway:
Cowboys:
Emergency QB
Stephen McGee
, S
Mike Hamlin
, LB
Jason Williams
, G
Montrae Holland
, C/G
Duke Preston
, T
Pat McQuistan
, WR
Kevin Ogletree
, LB
Curtis Johnson
Falcons:
Emergency QB
John Parker Wilson
, S
William Moore
, RB
Jerious Norwood
, FB
Ovie Mughelli
, S
Antoine Harris
, OT
Garrett Reynolds
, G
Quinn Ojinnaka
I'll be paying close attention to Cowboys wide receiver Roy Williams the first time he takes a shot. I think it's important for him to catch an early ball and take a hit. Once he does that, I think he'll be ready to go. The Falcons are under-staffed in the secondary today and I've always thought cornerback
Chris Houston
was a little soft.
October, 4, 2009
10/04/09
3:25
PM ET
By
Matt Mosley
| ESPN.com

Posted by ESPN.com's Matt Mosley
DENVER -- Cowboys coaches and athletic trainers were gathered around running back
Marion Barber
(left quad) as he worked out a couple hours before the game. The Beast reported last night that
Tashard Choice
would get the majority of the carries. And unless Barber made some incredible progress, I expect that to hold up.
Here are the inactives for both teams:
Cowboys:
QB
Stephen McGee
(emer.), RB
Felix Jones
, S
Mike Hamlin
, G
Montrae Holland
, C
Duke Preston
, T
Pat McQuistan
, WR
Kevin Ogletree
LB
Curtis Johnson
Broncos:
QB
Tom Brandstater
(emer.), CB
Alphonso Smith
, ILB/FB
Spencer Larsen
, G/C
Ben Hamilton
, DL
Chris Baker
, T
Brandon Gorin
, WR
Brandon Lloyd
, OLB/DE
Jarvis Moss
September, 28, 2009
9/28/09
7:25
PM ET
By
Matt Mosley
| ESPN.com

Posted by ESPN.com's Matt Mosley
ARLINGTON, Texas -- As we've been predicting all week, Cowboys running back
Marion Barber
will be inactive tonight against the Panthers. Owner Jerry Jones all but ruled him out this afternoon, and now it's clear that
Felix Jones
and
Tashard Choice
will get the majority of the carries.
Here are the rest of the Cowboys' inactives: QB
Stephen McGee
(emergency), S
Mike Hamlin
, LB
Jason Williams
, G
Montrae Holland
, C/G
Duke Preston
, T
Pat McQuistan
, WR
Kevin Ogletree
For the Panthers: QB
A.J. Feeley
(emergency), RB
Tyrell Sutton
, S
Chris Harris
, FB
Brad Hoover
, LB
Na'il Diggs
, T
Garry Williams
, G
Duke Robinson
, DE
Everette Brown