February, 2, 2014
Feb 2
2:50
PM ET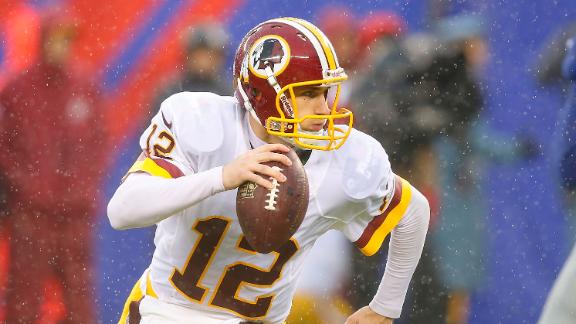 It's not big news that Kirk Cousins would like to go somewhere he can at least compete for a starting job. But here's the deal: You have to wonder why that story, by ESPN's Adam Schefter, came out now. There's a reason: This is about Cousins being proactive in trying to push for a trade and reminding teams that, yes, he would welcome a move. It's not earth-shattering news, but that wasn't the intention, I'm guessing, of the story's genesis. He is not demanding a trade, nor is that his style. But he definitely understands that Jay Gruden was brought to the Redskins in part to help Robert Griffin III reach a certain level. Yes, I had heard that the idea was told to Cousins; I don't think that's news. By the way, any competitive person should want to be in a position to start. No one wants to stay too long in a place where, if things go right for the starter, you might never get that opportunity. That's why, from what I understand, the notion of welcoming a trade was relayed to the Redskins before Gruden was hired.
Based on previous conversations I've had with him, Cousins understands his situation rather well. That's why he would not demand a trade. He has little leverage because he just hasn't played enough, so demanding a trade would not be a good look for a guy who has four career starts and could lead to a burned bridge. Besides, if he demanded a trade, how would fans react? Even if they understood, it would not be wise. Here's something Cousins once told me of being in Washington: "I love the fan base, and I love where I live. The problem is that I'm here to build a great career, and I can only do that so much in D.C." Because Griffin starts, of course.
Even in those prior conversations, Cousins was well aware that some teams would not be inclined to give up enough to pry him from the Redskins. I'm guessing his thoughts on the matter have not changed. One conversation we had centered on what his value was. Cousins understood that teams would compare their pre-draft thoughts on him to what they've seen of him in his first two years. Did their pre-draft grade match up with what he's shown? If not, where has his performance been better -- or worse? It also will be compared against the current draft class. At one point it looked like this might be a deep group of quarterbacks. Not anymore.
Some teams -- not all -- would definitely want to see more than four starts or eight games played before giving up, say, a second-round draft pick for Cousins. A first-rounder at this point would be highly unlikely. Although the Cleveland Browns are about to name Kyle Shanahan offensive coordinator and Shanahan liked Cousins, the Browns are said to be targeting a quarterback with their first pick. They also have Brian Hoyer (coming off an ACL injury, but if he recovers on time, he reportedly should be fine by the spring), whom the front office reportedly likes. Hoyer is not Aaron Rodgers, but he played well when given the chance this past season. If he'll be ready and if the Browns are still set on selecting a quarterback, it's tough to see Cleveland doing something. But this was an interesting column the Browns' general manager, Mike Lombardi, wrote about Shanahan/Cousins. Going back to the picks, if another team does want Cousins, what would offset some of the lack of game action will be the opinion of Mike Shanahan, who saw the quarterback's progression in practice. How much that would help I don't know, but it would be a factor, I'm sure.
If I'm the Redskins, I don't trade him -- and certainly not for anything less than a second-round pick. Although Cousins clearly wants to go somewhere to start, he's also the sort of guy who would not be a problem if he does return. He's a perfect backup for Griffin, and has been, for that reason. And if Griffin somehow is bothered by the competition, that's a bigger issue. If Cousins returns, he will work hard, provide good insurance in case Griffin either struggles or doesn't stay healthy. That's who he is and who he has been. But he also will continue to show that he'll advocate for himself, as the trade story suggests.
March, 15, 2010
3/15/10
12:59
PM ET
By
Matt Mosley
| ESPN.com
For those of you who continue to ask about the Beast mock draft, I've been working up to 17 hours per day on the final product, which may or may not ever see the light of day. I've booked the Red Lobster in Times Square for a potential release party on the eve of the draft, but hold off on booking airfare for now.
In other news, mock drafters from across the nation have been publishing their first-round predictions. On Sunday, the ubiquitous Mike Lombardi
released his top-10 mock draft
on NFL Network. The former Raiders scout tends to have a good feel for these things, so you should know that he has Notre Dame quarterback
Jimmy Clausen
going to the Redskins at No. 4 overall. Lombardi has the
St. Louis Rams
selecting
Sam Bradford
with the No. 1 overall pick in the draft.
One of our favorite mock specialists, SI.com's Don Banks, thinks the Redskins
will likely select
Oklahoma State left tackle
Russell Okung
if Bradford's off the board.
Here's the Banks mock 3.0
, which was released a little more than a week ago.
Mel Kiper has the Redskins
selecting Jimmy Clausen at No. 4
, but my cousin, Todd McShay, is still not sold on the Notre Dame quarterback. McShay agrees that the Skins will go with Okung.
February, 11, 2010
2/11/10
4:04
PM ET
By
Matt Mosley
| ESPN.com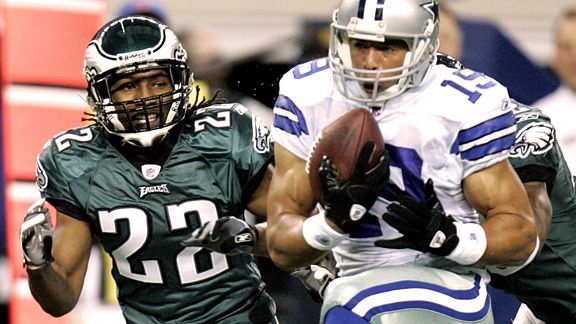 AP Photo/Mike FuentesThe Eagles Asante Samuel may be a Pro-Bowler, but he's not exactly a "shut-down corner."
It's been more than a month since the Eagles' season ended in Arlington, Texas, but we've been able to mention the
Donovan McNabb
situation on a daily basis. It's one of the most compelling storylines of the NFL offseason, but it's not the most important issue the organization is facing.
If the Eagles don't fix their defense, it really won't matter whether it's McNabb or
Kevin Kolb
behind center. I've already ruled out
Michael Vick
as the starter despite at least one report that the Eagles are just dying to pay the man his $5 million in 2010. (Since Vick is hosting at least seven NBA All-Star parties in Dallas this weekend, I'll try to catch up with him.)
The Eagles failed spectacularly in December and early January, in part, because they had no answers for
Tony Romo
,
Miles Austin
,
Jason Witten
and
Felix Jones
. You can blame it on the departure of
Brian Dawkins
, a season-ending injury to middle linebacker
Stewart Bradley
or the death of defensive coordinator Jim Johnson. But the Eagles weren't the only team in the league to face adversity in '09.
The club can't afford to obsess about the quarterback position this offseason at the expense of the rest of the roster. There's simply too much work to be done on defense. Eagles president Joe Banner told the club's Web site earlier this week that he didn't think
the gap between the Eagles and Cowboys
was as wide as those final two games indicated. And that sort of sentiment should scare the hell out of Eagles fans.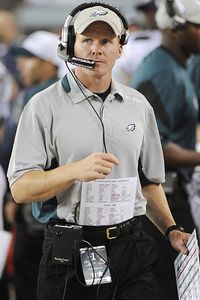 Howard Smith-US PRESSWIRECoordinator Sean McDermott's Eagles defense needs to find some answers in the offseason.
Sean McDermott's defense had no hope against the Cowboys because there was not a single player who could match up with Witten. Assigning linebackers such as
Will Witherspoon
and
Moise Fokou
to cover Witten is an absolute farce. Even if the Eagles accounted for Witten, it just opened things up for Austin and Crayton across the middle.
The return of Bradley will certainly help the Eagles' cause but this defense isn't one player away from making noise in the playoffs. Everyone wants to talk about letting Dawkins get away, but I'd argue that the lack of depth at cornerback is just as big of an issue. You have to admire
Sheldon Brown
for playing through pain on numerous occasions, but that doesn't cancel out the fact that he was a liability at times.
Asante Samuel
will always go to Pro Bowls based on his gaudy interception totals -- and those are important. But Samuel's reluctance to make contact with ball carriers will continue to be a sore spot with coaches and fans. Let's not act like Samuel's a so-called shut-down corner. I'm pretty sure
Deion Sanders
was the last man to fulfill that role. Samuel is one of the biggest gamblers in the game, which makes the Eagles susceptible to the big play (Austin on the sideline).
I know it's fashionable to talk about taking the "best player available" in the draft, but the Eagles better make sure that player can cover a wide receiver. Who do you guys trust in the Eagles' secondary? I still think
Quintin Mikell
's a quality player, but he was exposed when he had to line up next to inferior talent.
I think the Eagles would be wise to either trade for a veteran safety or find one in free agency, like the Cowboys did with
Gerald Sensabaugh
last March.
Sean Jones
certainly wasn't the answer last offseason and
Quintin Demps
is firmly entrenched in Andy Reid's doghouse. I think it's extremely difficult to ask a rookie to make an immediate impact at the safety position because of its complexities.
The Eagles were so desperate in the secondary at one point this season that they signed a former Mr. Irrelevant who couldn't stick with the
Detroit Lions
. I would identify the best two or three cornerbacks in this draft and try to get one of them at No. 24. I know you're not exactly set along the offensive line but teams such as the Colts (and even the Eagles) have shown that you can find starters in the later rounds.
Then there's this little thing about finding another pressure player to take some heat off defensive end
Trent Cole
. And for the record, I don't think it would be wise to dump a bunch of free-agent money into signing Panthers defensive end
Julius Peppers
, who might be asking for
Albert Haynesworth
money, which sounds ludicrous to me. Haynesworth, who is a couple years younger than Peppers, signed a contract that included $41 million in guaranteed money.
There's no chance I'd make that type of commitment to Peppers, who had 10.5 sacks for a bad Panthers team in '09. The Eagles spent roughly $30 million on defensive end
Jevon Kearse
before finally cutting their losses following the '07 season. Kearse was younger than Peppers when he arrived in Philly and he was an enormous disappointment even before a season-ending knee injury in 2006.
The ubiquitous scout turned broadcaster/writer Mike Lombardi has suggested the Eagles trading backup quarterback Kevin Kolb for Browns defensive tackle
Shaun Rogers
. And isn't a 31-year-old defensive tackle with a checkered past
exactly
what the Eagles need to finally win a Super Bowl?
No, I'm afraid there won't be a lot of shortcuts available in trying to catch up with Wade Phillips and the Cowboys. Andy Reid and his new boy wonder general manager Howie Roseman are going to have to close the gap via the draft. The Eagles have obviously hit big on offensive players such as
DeSean Jackson
,
Brent Celek
and
Jeremy Maclin
in recent drafts.
Now, they desperately need to rebuild a defense that seemed to become old and slow overnight. Or maybe you agree with Banner in that those two blowouts at the end of the season were an aberration.
October, 21, 2008
10/21/08
5:02
PM ET
By
Matt Mosley
| ESPN.com
Posted by ESPN.com's Matt Mosley
Former Raiders and Browns personnel executive Mike Lombardi now writes for SI.com and he apparently blogs for The National Football Post. Lombardi does a nice job pulling back the curtain on the scouting industry. In this post , he explains how he graded his staff in Oakland and how the Eagles have whiffed completely on seven of their 24 second- and third-round picks.
"When you look at the names, what is most alarming is for all the talk about being cap sound and adding youth to the team, the names are not impressive, even if they do start," writes Lombardi. "The Eagles are not a talent rich team -- maybe that is why I defend McNabb so strongly. As John Madden used to say, 'having a great quarterback is a great deodorant.'"
"Finding talent is a talent -- and the Eagles have the right plan in theory, but not in practice."
Lombardi won't make many friends with the Eagles saying things like this, but you have to admit that the numbers are pretty interesting.