August, 9, 2011
8/09/11
1:49
PM ET
When I encountered new
Chicago Bears
receiver
Roy Williams
after practice Sunday night, he was calm. His voice projected at normal volumes. He wasn't trying to make anyone laugh or find his way into the headlines or otherwise be the life of the party.
It's too easy and would be cliché to suggest Williams was humbled by three unproductive seasons with the
Dallas Cowboys
. But I do think he fully understands how fortunate he is to have landed with the Bears, a team that doesn't need him to be the star of its offense but which offers a scheme that coaxed his best two seasons in the NFL.
[+] Enlarge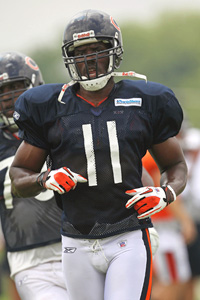 Jonathan Daniel/Getty ImagesNew Bears receiver Roy Williams had his two most productive NFL seasons under Mike Martz while they were in Detroit.
"This is the best scheme in the country for me," Williams said. "It's the best scheme, hands down."
In two seasons under offensive coordinator Mike Martz, when both were with the
Detroit Lions
, Williams caught 146 passes for 2,148 yards and 12 touchdowns. In the other six seasons of his career, Williams has totaled 210 receptions for 3,060 yards and 30 scores.
For that reason, the Bears wasted no time inserting Williams into their first-team offense during training camp drills this week. The move displaced their top-yardage man from last season,
Johnny Knox
, and in the end it demonstrated how much the Bears valued a different-sized body among their receivers.
"I know Jay [Cutler] was begging for a big guy," Williams said. "I know I fit the mold of a big guy. I'm not a
Brandon Marshall
, who is nine-feet tall. But I'm a big guy who can go across the middle, make the catch and try to keep the chains moving."
Williams' classic 6-foot-3 frame suggests his performance should transcend scheme, but it obviously hasn't during his eight-year career. Why did Williams perform so well for Martz in Detroit? Part of it, to be sure, was Martz's pass-happy play-calling at the time. Someone had to get the yards. But I also think that despite his frame, Williams' athleticism and footwork get him to the precise point Martz demands of his receivers in a way normally reserved for much smaller men.
Williams referred to the Bears' receiving group as "The Smurfs" because Knox,
Earl Bennett
and
Devin Hester
are all under six-feet tall. But normally, receivers built closer to the ground are quicker in and out of their cuts than longer, loping wideouts.
For whatever reason, Williams had no problem executing in Martz's scheme with the Lions. During the Bears practices I watched this week, his long arms and reach were an important contrast to those of his teammates. Cutler now has his go-up-and-get-it receiver.
Knox, on the other hand, was particularly upset about the quick demotion. But with all due respect, it wouldn't make sense to have three receivers of the same size on the field when there is a viable alternative, and it was unlikely that Cutler favorite Earl Bennett was going to get pushed down the depth chart.
"[Knox] is upset," Williams said. "Everybody is a competitor in this league. You have to be a competitor, but at the same time you have to know what's going on. I would be upset if a guy just came in and got in front of me. That's the nature of this business. There is nothing wrong with what he did. Nothing wrong with what he did. He had an exceptional season last year. If anything is to happen to me, or I go down, he's a great guy to come back in."
In truth, I would consider 2011 an enormous success for Williams if he finishes with the same kind of production -- 51 receptions for 960 yards and five touchdowns -- that Knox did last season. Williams boasts two years of experience in this system, and his arrival will give Knox an opportunity to be a package-focused playmaker as opposed to one expected to make tough catches on third-and-6.
Which brings us to the larger question: Can Williams be trusted with a starting role? I can tell you this much: He couldn't have landed in a better spot to answer that question.
"I know how this thing works," he said. "I know how it works."
November, 27, 2010
11/27/10
2:36
PM ET
By
Matt Mosley
| ESPN.com
The
Philadelphia Eagles
will line up Sunday afternoon
without their Pro Bowl cornerback
Asante Samuel
because of a knee injury. Samuel leads the league with seven interceptions, and he would've made life tough for Bears quarterback
Jay Cutler
.
Nickel corner
Joselio Hanson
will replace Samuel and rookie
Trevard Lindley
will also see plenty of playing time when the Bears use three wide receivers. It will now be more important than ever to generate pressure with the front four. I don't think Eagles defensive coordinator
Sean McDermott
can be as aggressive with the blitz without Samuel playing.
The Bears haven't done a great job of protecting Cutler this season, so defensive ends
Trent Cole
and
Brandon Graham
need to pressure him early in this game. Bears offensive coordinator Mike Martz will likely try to exploit matchups against Hanson and Lindley. And it's not like the other starter,
Dimitri Patterson
, is a career starter. He recently replaced
Ellis Hobbs
, who is out for the season following a collision during a kickoff return against the
New York Giants
.
The Eagles entered the season thin at cornerback, and that trend has continued. If the Bears can give Cutler enough time, he should be able to find
Devin Hester
and
Johnny Knox
on double moves. But I think the Eagles' pass-rush will be up to the test.
October, 29, 2010
10/29/10
12:00
PM ET
By
Matt Mosley
| ESPN.com
A quick look at a team that has not met expectations and is struggling.

What's gone wrong:
Where do you start? Oh, how 'bout losing your star quarterback for at least two months to a broken left clavicle? But that's just what finished this 1-5 team off for good this season. The
Dallas Cowboys
were already in a world of hurt before Romo was decked by Giants linebacker
Michael Boley
on Monday. The offensive line is showing its age, which we should've seen coming. Right tackle
Marc Colombo
's battling through injuries and left guard
Kyle Kosier
's missing time on the field with right a Achilles strain and a right ankle sprain. The Cowboys can't protect the passer, they can't run the ball and they're not able to stop anyone on defense. Other than that, things are going pretty well.
How to fix them:
As this point, it's time to start daydreaming about April's draft. You can't fix this current team on the fly and suddenly turn the season around. The Cowboys will be fortunate to finish 5-11 with
Jon Kitna
and perhaps
Stephen McGee
at the helm. You could start "fixing" things by getting rookie wide receiver
Dez Bryant
as many touches as possible. But in reality, this season's already beyond repair.
Panic rating:
Code red: The only reason North Texans haven't overreacted to the Cowboys' awful start is because they have the Rangers in the World Series.
Coach on hot seat?
Owner Jerry Jones has made it clear that Wade Phillips will not get fired during the season. The Cowboys coach might be saved by a combination of the looming labor battle and Romo's injury. Those factors could provide Jones with cover if he wants to retain Phillips (and further alienate his fanbase).
October, 1, 2010
10/01/10
4:00
PM ET
By
Matt Mosley
| ESPN.com
»
NFC Final Word
:
East
|
West
|
North
|
South
»
AFC
:
East
|
West
|
North
|
South
Five nuggets of knowledge about Week 4:
Why is no one talking about Artis Hicks' triumphant return to Philly?
I need to take a break from
Donovan McNabb
for at least two paragraphs, so let's take a peek at the
Washington Redskins
' offensive line. Rookie
Trent Williams
has the athleticism to slow Eagles defensive end
Trent Cole
, but he's nursing toe and knee injuries and doesn't know if he'll be ready. If
Stephon Heyer
starts at left tackle, the Redskins must help him out quite a bit. Hicks, the former Eagles reserve, starts at right guard for the Skins. He'll have to play against a defense that has produced 12 sacks, which is second in the league. Cole and
Juqua Parker
have combined for seven sacks and rookie
Brandon Graham
's becoming more comfortable each week. Redskins coach Mike Shanahan will try everything to establish the running game, but that will be difficult if Williams doesn't play. Expect to see Redskins running back
Ryan Torain
early and often Sunday. He's quicker than
Clinton Portis
and a better fit for what Shanahan's trying to accomplish now.
The Giants are glad Olsen doesn't have a twin.
Bears tight end
Greg Olsen
will play in his home state of New Jersey for the first time since high school Sunday night. A matchup nightmare for linebackers and safeties, he has 10 catches for 140 yards and two touchdowns this season. This is a game when safeties
Kenny Phillips
and
Antrel Rolle
must be technically sound. Bears offensive coordinator Mike Martz likes to run Olsen up the seam to give quarterback
Jay Cutler
a quick option off a three-step drop. If Giants linebackers take one false step, Olsen will burn them like he did the Cowboys in Week 2. Olsen's on his way to stardom. Who said Martz doesn't value tight ends?
[+] Enlarge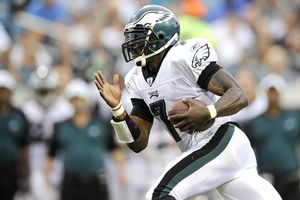 John David Mercer/US PresswireThe Redskins may try to contain Michael Vick by assigning a defensive back to shadow him.
Skins defensive coordinator Jim Haslett wants Michael Vick to scramble.
When he was the head coach for the
New Orleans Saints
, Haslett had a front-row seat to the Vick Experience. I think he will have a defensive back spying on Vick at all times. He has told his players to get their hands up earlier than usual in an attempt to disrupt Vick's rhythm. The Eagles' quarterback looked brilliant against the Lions and Jaguars, but those teams did a poor job containing him. The Redskins will try to lure Vick into throwing the ball across his body. Cornerback
DeAngelo Hall
played with Vick for several years, so he knows a lot of his tendencies. Look for outside linebacker
Brian Orakpo
to play a different style in this game. He can't race up the field. Instead, he'll hold the edge and try to force Vick the other direction. For some reason, my gut's telling me Vick will really struggle. But my gut's been wrong on occasion.
Will the Giants show an ounce of discipline against the Bears?
The
New York Giants
embarrassed themselves with five post-whistle personal fouls in last Sunday's loss to the Titans. It's no secret the Titans are a chippy team that loves to intimidate their opponents, so the Giants shouldn't have been surprised. I expect to see a smarter team show up against the Bears. But the Giants also must be disciplined before plays end.
Eli Manning
and
Ahmad Bradshaw
must take care of the ball in the red zone. No one cares that the Giants outgained the Titans by 200 yards last week. It's all about the scoreboard. I expect the Giants to make much better decisions against the Bears. And for whatever reason, I'm still not buying the Bears as a team to beat in the NFC. Cutler will make a back-breaking mistake at some point.
Donovan McNabb will put Eagles rookie safety Nate Allen to the test.
I think McNabb's poised to have a big game against the Eagles' secondary. The Lions moved the ball against them really well late in the game. Redskins offensive coordinator Kyle Shanahan will want to establish a quick tempo early in Sunday's game. If the running game is decent, McNabb will be effective in the play-action game.
Santana Moss
will line up all over the place, and Shanahan will put him in motion quite a bit. I assure you that McNabb will look to beat Allen with a double move at some point. And if Allen takes a false step, Moss will take it to the house.
September, 22, 2010
9/22/10
12:15
PM ET
By
Matt Mosley
| ESPN.com
»
NFC Stock Watch
:
East
|
West
|
North
|
South
»
AFC
:
East
|
West
|
North
|
South
FALLING
1. Wade Phillips, Dallas Cowboys defensive coordinator/head coach:
Phillips has asked the media to place the blame on him when things go wrong, so I'm just following orders. I thought the identity of this team was going to be its defense, but
Chicago Bears
offensive coordinator Mike Martz exposed some serious flaws. The Cowboys held the Bears to 1-of-11 on third downs, but it didn't matter because they allowed several big plays. The Bears used the Cowboys' speed against them in dumping the ball to
Matt Forte
and finding wide-open targets such as tight end
Greg Olsen
. It was a really poor performance by what was reputed to be one of the best defenses in the league.
2. DeAngelo Hall, Washington Redskins cornerback:
A week after being one of the heroes in a win over the Cowboys, Hall was part of a defensive collapse that allowed the Texans to record a 30-27 win in overtime. After his "this is my team" rant after the game, Hall looked rather foolish.
Andre Johnson
and
Kevin Walter
combined for 23 catches and more than 300 yards receiving. Are we to believe that defensive coordinator Jim Haslett prevented Hall from covering either player? I admire Hall's enthusiasm to a certain extent, but at some point he crossed over to showing up his teammates and coaches in that postgame rant. And that's why Hall appears on the infamous NFC East "FALLING" list this week.
3. Brandon Jacobs, New York Giants running back:
Players who throw their helmets into the stands during games -- whether intentional or not -- always end up on this list. And Jacobs went the extra mile by trying to bounce that run outside in the third quarter and losing an additional 4 or 5 yards. When you're a 264-pound sledgehammer, you shouldn't be trying to channel Tony Dorsett against the Vikings on "Monday Night Football."
4. Andy Reid, Philadelphia Eagles head coach:
This is a bonus item. For more information, please read my
column from last night
.
[+] Enlarge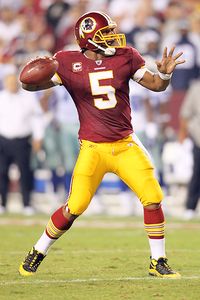 Jeff Fishbein/Icon SMIDonovan McNabb threw for 426 yards in Sunday's loss to Houston.
RISING
1. Michael Vick, Philadelphia Eagles quarterback:
I think Reid made a misguided decision, but that's not Vick's fault. He took several sacks, but he also made a ton of plays behind a patchwork offensive line. Vick was accurate and he seemed to have a good sense of when to leave the pocket, which is to say every time he dropped back to pass. Reid said he might be the hottest quarterback in the league right now, and that's hard to argue with.
2. Donovan McNabb, Washington Redskins quarterback:
Who needs weapons at wide receiver when you have McNabb to spray the ball around? He threw for over 400 yards and he carried a team that didn't have a running game. Why does that sound so familiar?
3. LeSean McCoy, Philadelphia Eagles running back:
The Lions had an excellent pass rush, but they had a difficult time with McCoy, who had three touchdowns. He showed excellent speed and he's starting to arrive in the passing game. McCoy can be a huge help to Vick if he'll keep going to him when he's in trouble. Reid needs to keep feeding him the ball.
September, 21, 2010
9/21/10
1:00
PM ET
By
Matt Mosley
| ESPN.com
»
NFC Decisive Moments
:
East
|
West
|
North
|
South
»
AFC
:
East
|
West
|
North
|
South
Lots to choose from this week, but I'm going with a decisive moment that turned Sunday's game around for the
Chicago Bears
and allowed offensive coordinator Mike Martz to plant seeds of doubt in coach Wade Phillips' mind. Trailing 7-3 in the second quarter, the Bears were finally on the move. On the first three series, quarterback
Jay Cutler
had been battered behind an offensive line that had already lost left tackle
Chris Williams
to injury.

Cowboys coach Wade Phillips dialed up a blitz with "zero" coverage that did not feature his usual free safety help in the middle of the field. Martz, who had already told Cutler to stop worrying about seven-step drops that took too long to develop, called for an empty backfield with four wide receivers and a tight end. Safety
Alan Ball
lined up across from tight end
Greg Olsen
, who would soon end up with a 39-yard touchdown to give the Bears a 10-7 lead.
Cowboys inside linebackers
Bradie James
and
Keith Brooking
bunched together and showed blitz up the middle. James would later tell ESPN 103.3 that he called a "check" that not everyone heard. Brooking held up on the blitz at the last second, but it was too late because Olsen came free across the middle. Since Ball was the player chasing Olsen, some of us assumed it was his fault. But Phillips said that Olsen wasn't Ball's responsibility.
In his weekly Scout's Eye report
for ESPNDallas.com, former Cowboys and Eagles scout Bryan Broaddus points out that James is normally quite vocal with his calls. Why wouldn't he have been more demonstrative in that situation?
It was a decisive moment in Sunday's game because it caused Phillips to back off some of the aggressive blitzes that allowed him to bother Cutler early in the game. The Cowboys did a nice job against the Bears on third downs (1-of-11), but they simply gave up too many big plays on the other downs. Martz made a really nice adjustment and the Cowboys didn't respond.
September, 19, 2010
9/19/10
9:09
PM ET
By
Matt Mosley
| ESPN.com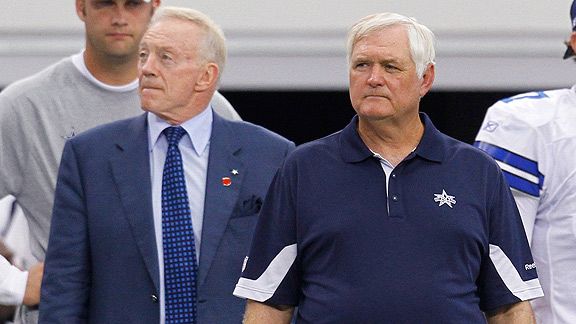 AP Photo/Tim SharpWade Phillips and the Cowboys are 0-2 with unexpected issues on defense.
ARLINGTON, Texas -- A week after Cowboys head coach Wade Phillips and offensive coordinator
Jason Garrett
fought over who should take the blame for a bone-headed play call, they made it easier for all of us Sunday. Both coaches flopped in the Cowboys'
27-20
loss to the
Chicago Bears
, but it was Phillips' vaunted defense that took the biggest fall.
This defense hadn't allowed a touchdown in three consecutive regular-season games, but Bears offensive coordinator Mike Martz seems to have the Cowboys' number. He was the architect of a game plan that baffled the Cowboys late in the 2006 season and nudged Bill Parcells toward another retirement. Lions quarterback
Jon Kitna
, now the Cowboys' backup, would famously say that linebacker
Bradie James
appeared completely lost in that game.
Early in Sunday's game, Bears quarterback
Jay Cutler
was running for his life as outside linebackers
DeMarcus Ware
and
Anthony Spencer
raced past offensive tackles. To make matters worse, the Bears lost starting left tackle
Chris Williams
in the first quarter. After the third consecutive three-and-out series, Cutler shouted, "Can't we block anybody?" as he arrived on the sideline.
Cowboys first-round pick
Dez Bryant
returned the ensuing punt 62 yards for a touchdown and there were no signs of what was about to happen. Martz changed the game plan on the fly and told Cutler to stop worrying about seven-step drops and just get the ball out immediately. When Phillips sent inside linebackers James and
Keith Brooking
on a blitz up the middle, Cutler hit tight end
Greg Olsen
in stride for a 39-yard touchdown. Everyone with the Cowboys agreed it was a blown coverage, although Phillips did offer safety
Alan Ball
an alibi.
When a reporter timidly suggested the Cowboys might have shown blitz too early on the play, Phillips deadpanned, "
Really
?"
The Bears don't make their assistant coaches available after games, but Cutler (and several Cowboys defenders) gave Martz his props. The Bears don't have a true No. 1 receiver, but Cutler thinks that can be a positive.
"I think it's almost even a bigger advantage to have what we have and have a lot of weapons," the Bears' quarterback said. "It keeps teams off balance. They don't know where we are going or what we are doing in some of these formations or where we are headed, so it is working out to our advantage, and we have a guy like Mike Martz who knows how to take advantage of all that."
Phillips couldn't get over the fact the Bears were 1-of-11 on third downs but still managed to make some huge plays against his defense. The one conversion came on third-and-15 with the Bears trailing 14-10. Bears wide receiver
Johnny Knox
raced past Pro Bowl cornerback
Mike Jenkins
and Cutler delivered a gorgeous ball for a 59-yard completion. Jenkins jumped up looking for a teammate to blame, but Phillips indicated to me after the game that the Cowboys were in man-to-man coverage.
Cowboys history buffs/apologists will point to the 1993 team beginning the season with two losses before winning the Super Bowl. But a young player named
Emmitt Smith
ended his holdout in Week 3 of that season, and he's not walking through that door.
[+] Enlarge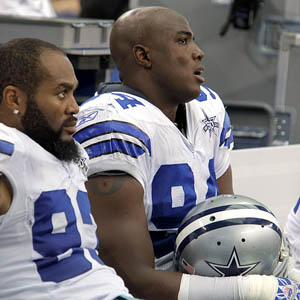 AP Photo/Sharon EllmanAnthony Spencer (left), DeMarcus Ware and the Dallas defense couldn't solve Mike Martz's schemes.
In the postgame locker room, Cowboys defensive line coach Paul Pasqualoni gathered
Marcus Spears
,
Igor Olshansky
,
Jay Ratliff
and
Stephen Bowen
for a brief session. All of them still looked shell-shocked by what had happened and could offer little explanation for why the Bears were able to expose them with so many big plays. Across the room, cornerback
Terence Newman
offered the strongest comments of the afternoon, indicating there had been failures in practice leading up to Sunday's game.
"I think that things kind of got let go in practice. It's things that … it's not our coaches. They don't really know some of the things that were going on," said Newman. "But as players, we have to crack down and make sure that some of the stuff that has been going on, doesn't go on. We have to make it a game situation in practice. That's just what it is. We go hard in practice, but maybe our intensity needs to go up a little bit. We got to do that as players and not worry about the coaches."
It was Newman's missed tackle in the fourth quarter that allowed
Devin Hester
to race down the sideline for 38 yards and set up the Bears' game-sealing touchdown. Newman said the defensive backs talked on Saturday night about establishing an identity, but the search will continue as the Cowboys prepare for a trip to Houston to play an explosive Texans team.
With two strong AFC South opponents looming, the Cowboys are staring at an 0-4 start. It's too early to declare the season over, but get back to me next Sunday afternoon.
September, 19, 2010
9/19/10
4:08
PM ET
By
Matt Mosley
| ESPN.com
ARLINGTON, Texas -- If
Dallas Cowboys
fans haven't panicked yet about the 2010 season, now's as good a time as any. You expected them to be a desperate team after a season-opening loss to the Redskins, but it was the
Chicago Bears
who played with the greater sense of urgency Sunday in a
27-20 road victory
. And it's hard to choose between Wade Phillips and
Jason Garrett
in this one, so we might as well pile on both of them.


What it means:
The Cowboys' 2010 season is firmly on the brink. Bears offensive coordinator Mike Martz made key adjustments after the Cowboys' pass-rush was destroying his offensive line and Dallas never recovered. Quarterback
Jay Cutler
used swing passes and quick slants to soften up the Cowboys before hitting
Johnny Knox
on a deep ball. Cowboys cornerback
Mike Jenkins
, who was injured in the fourth quarter, was beaten a 59-yard pass by Knox in the first half. Jenkins jumped up and pointed toward safety
Gerald Sensabaugh
, indicating that he was supposed to help out. It's just the start of a full week of finger-pointing.
Tomorrow's talker:
The fact that the Cowboys' vaunted defense was shredded by Cutler and a nondescript group of wide receivers. Safety
Alan Ball
was exposed in coverage, allowing
Greg Olsen
to break free for a touchdown in the first half. And that was just the start of things. Phillips and Garrett were both outclassed in this game. It's looking like everyone overrated the Cowboys and they could be staring at an 0-4 start. It's not like the schedule gets any easier.
Goat:
Too many to really single anyone out. It didn't help that kicker
David Buehler
missed a 44-yard field goal, but I still think the Bears would've responded with a touchdown drive if he'd nailed it. Let's single out Jenkins for letting Knox get behind him in the first half and
Terence Newman
for missing a tackle that allowed the Bears to set up the game-sealing touchdown pass.
What I didn't like:
Pretty much everything. Why was Garrett running the ball on second-and-10 all the time? Is he not allowed to run on first down? In the first half,
Marion Barber
had some momentum in the running game, so he was removed from that series in favor of
Felix Jones
. I'm not sure what's wrong with Jones. Is the weight catching up to him? Didn't look fast at all and he looked tentative at the line of scrimmage. This is not a good football team.
What's next:
The Cowboys will be a team under siege this week. All the Super Bowl talk looks ridiculous now that we've seen them for two weeks. They'll go into Houston next week as a big-time underdog.
September, 19, 2010
9/19/10
2:45
PM ET
By
Matt Mosley
| ESPN.com
Here are some quick-hitting observations from the first half in case you haven't been following our live chat. And really, why haven't you been following our live chat?
Mike Martz is winning the battle of the offensive coordinators in the first half. The Cowboys were destroying the Bears' offensive line on the first two series, so Martz started calling quick slants and swing passes to folks such as Devin Hester and Greg Olsen. The results were devastating. And Jay Cutler showed off his cannon when he found Johnny Knox on a deep ball.
Early in the game, the Cowboys have Marion Barber busting loose in the running game. Then for no apparent reason they interrupt his rhythm on what appeared to be a promising drive. Felix Jones tried to bounce a couple runs outside and the Bears were simply too fast. Jason Garrett's approach can be baffling at times.
Martz is using DeMarcus Ware's speed against the Cowboys. He's letting him come free and then dropping the ball off to his side of the field on little swing passes to Matt Forte or Hester.
Cowboys safety Alan Ball has not been impressive. On the long touchdown to Olsen, Ball was out of position. He's not reacting quickly enough in the middle of the field. The Cowboys had Cutler on his heels early in the game but they allowed him to get some confidence. With left tackle Chris Williams out of the game, the Cowboys should be having a field day in the pass rush. Kudos once again to Martz for neutralizing the Bears' speed.
I'll see you after the game for a Rapid Reaction. Halftime score: Bears 20, Cowboys 14.
September, 19, 2010
9/19/10
1:44
PM ET
By
Matt Mosley
| ESPN.com
ARLINGTON, Texas --
Dallas Cowboys
rookie sensation
Dez Bryant
had a 62-yard punt return for a touchdown to give his team a 7-3 lead. Of course, the Bears have just made it 10-7 with tight end
Greg Olsen
's touchdown. Cowboys brought the blitz up the middle and
Jay Cutler
found Olsen in the middle of the field. Cowboys safety
Alan Ball
never had a chance on the play because he was completely out of position.
On Bryant's return, he broke one tackle attempt from
Josh Bullocks
before exploding down the left sideline. Former Ball State standout punter
Brad Maynard
had no chance once Bryant gave him a nice stutter-step move in the open field. Apparently all the contact work the Bears did with Maynard in training camp did not pay off at the moment of truth.
Really nice adjustment by Mike Martz to start hitting the Cowboys with some quick passes after not having any success early in the game.
December, 11, 2009
12/11/09
10:24
AM ET
By
Matt Mosley
| ESPN.com
London Fletcher
has been one of the best linebackers in the league this decade but he doesn't have a Pro Bowl to show for it. As his former coach with the Rams, Mike Martz, pointed out on the NFL Network recently, Fletcher's numbers are virtually the same as
Ray Lewis
' during the past 10 seasons.

Fletcher
Meanwhile, Lewis has nine Pro Bowls to Fletcher's zero. It's an injustice that fans, coaches and players need to address in the Pro Bowl voting this season. Fletcher's having another excellent season, so it's time to finally reward him with a trip to Hawaii. Redskins Pro Bowl tight end
Chris Cooley
had an interesting take on the Pro Bowl during a recent appearance on DC101:
"It's a tough position to get recognized, and it's tough, because every year you'll have guys that are creating more turnovers and more big plays, and not doing as many of the every-down things, but they have more shock value in what they're doing," said Cooley via D.C. Sports Bog. "And even though they're not as consistent, the fans vote, and the players vote, and a lot of times when the actual players vote it's not taken as seriously as it should be. And so I think the biggest vote is the coaches' vote, because they watch the most film and they're more serious about who they're voting for.
"And a lot of times players on teams will be like, 'Oh yeah, don't vote for him because we want our guy to make it, we think that guy will make it so don't vote for him.' You can't vote for your own team, but I would assume our tight end and offensive line group will vote for almost no-name middle linebackers. It's a weird political kind of vote thing. The Pro Bowl doesn't always work out the way it should .... Anyway, we'll see what happens. I really hope London makes it. It is a huge honor. I felt a huge honor when I got voted there. He deserves it. I watch a lot of guys on film. He deserves to be there."
Even the immortal Susan Lucci finally broke through and won an Emmy several years ago. Now, it's Fletcher's turn.
April, 11, 2009
4/11/09
6:08
PM ET
By
Matt Mosley
| ESPN.com
Posted by ESPN.com's Matt Mosley
| | |
| --- | --- |
| | |
| | NFL.com Video |
| | Mark Sanchez talks about his game as he prepares for the 2009 draft. |
As many of you know, the NFL Blog Network never sleeps -- with the possible exception being Christmas. Hopefully this special edition of Matt's Mailbag will get you through the weekend. Thanks for being so prolific with your questions -- and threats.
Mike in Louisville, Colo., you have the first word: In Kiper's latest mock draft, he has the Redskins picking Mark Sanchez with the 13th pick. Why, why, WHY would the 'Skins pick Sanchez there? They need a starter with that pick and they already have a good starting quarterback. They need help on both lines. In fact, if all of their top choices are gone and Sanchez is still there, they should trade down in the first round and pick up a second round pick from someone who needs a quarterback more. And if the 'Skins were stupid enough to pick Sanchez there, does Jason Campbell's head explode?
Mosley: I think some folks might disagree with you on Campbell, although I'm not one of them. The Redskins are sitting there praying that Brian Orakpo from Texas slips to No. 13. My former colleague and world-famous draft expert Rick "Goose" Gosselin has Orakpo going to the Redskins in his first of three mock drafts. I don't think the Redskins will take Sanchez either, but keep in mind that Kiper is a Ravens season-ticket holder and he's also plugged in pretty closely to the Redskins. So let's not completely dismiss the most famous mocker of them all.
---
Josh from Lynchburg, Va., welcome to The Bag: Matt, all these bloggers keep talking about "true No. 1 receivers." Can you please explain what makes a receiver a true No. 1? Thanks, your blog is the best!
Mosley: As I heard former Cowboys great Drew Pearson point out recently, too many young players are handed "No. 1" status when they haven't done anything to earn it. When a defensive coordinator puts a game plan together, he has to select one or two players that could do the most damage. When you have to jam a receiver and then shade a safety over the top, I'd say the guy's a No. 1. It's basically the receiver who commands the most attention. Some teams don't have a No. 1 receiver (see the New York Jets), and some potentially have two on the roster (see the Arizona Cardinals).
---
Chris from Tuscon, what's on your mind sir? Don't you think you're being a little harsh with your criticism of Roy Williams in your recent article, "Which route will Beast take at receiver?" He was always a solid receiver in Detroit, and that by itself says a lot if you ask me. Williams was acquired by the Cowboys at about midseason, thrown into a whole new system with different terminology and then expected to put up Larry Fitzgerald-type numbers. I agree the 'Boys gave up too much to get him but I think we should at least give him this year before we pass judgment. I think he will surprise you.
Mosley: Based on where he was taken in the draft, Williams has had only one nice season during his six years in the league. That season came with an offensive coordinator (Mike Martz) who doesn't run the ball and a quarterback (Jon Kitna) who had a career season. You're suggesting that Williams' numbers are pretty solid considering that he plays for the Lions. I'm suggesting that his numbers should've been a lot better because the Lions were so bad. They're constantly playing from behind, which should've given Williams more opportunities to pad his numbers. In case you missed it, Troy Aikman recently said the Williams trade could potentially be one of the biggest busts "in NFL history." So no, I don't think I'm being especially harsh. And I never ran into anyone who expected Williams to be Larry Fitzgerald. The two aren't in the same stratosphere.
---
Elizabeth from Los Angeles is concerned about the Cowboys' kicking game: Hey Matt, I have a question regarding the Cowboys' new stadium. How high is the video board, and do you think that a punter could could hit the screen?
Mosley: Elizabeth, I asked Jerry Jones that exact question during my recent site visit, which appeared on "Monday Night Countdown" for at least 18 seconds. Jones assures me the 60-yard-long boards will be "out of play," but I'm not so sure. I haven't seen them suspended above the field yet, but Cowboys punter Mat McBriar gets incredible hang-time on his kicks. My guess is that Jones will send McBriar over to the stadium once his foot is healed and let him have a go at things. It might be awkward to punt while wearing a hardhat, but McBriar will be up to the task.
---
New Canaan checks in with a Giants question: I know the Giants are concerned about Braylon Edwards' drops, but of the three wide recievers they're looking at (Boldin,Johnson and Edwards), he seems like the best choice. He is the youngest in the group, and with a consistent quarterback he can play like he did in '07. And Ocho Cinco has some character issues, Boldin is not a real team guy (just ask Todd Haley). Isn't Edwards the safe bet?
Mosley: Since I've actually discussed Boldin with Haley, let me tell you that he would bring him to Kansas City in a heartbeat. Haley's a fiery guy who's been yelling at players on the sideline (and in practice) for years. The timing of Boldin's shouting match and subsequent pout was awful, but his teammates would never label him as a "non-team guy." I think the Giants would prefer Boldin to Edwards. And yes, Cinco appears to be a distant third.
---
Cameron from Philly writes: YES IT DOES BOTHER ME THAT THE EAGLES REFUSE TO GO OUT AND HELP DONAVON! OK, this is ridiculous that year after year the man has given this franchise a legitimate chance at a championship without that big-play receiver. If only the Eagles could give him this one valuable pick, the Eagles could very easily be front runners in the NFC east with their dominant defense and now their dynamic offense. Is Boldin still an option and if so what do the Eagles have to do?
Mosley: McNabb did have a
big-play receiver in 2004 and for part of '05, but we know how that ended. I think DeSean Jackson is already a "big-play" receiver, and I'm not so sure why everyone thinks the Eagles need another guy. If you draft another quality running back and perhaps a guy like Brandon Pettigrew from Oklahoma State at tight end, you'd be in nice shape on offense. The only think I'd worry about is left tackle -- and that's a pretty big worry. I think the Cardinals would want one of those first-round picks and probably a third. I don't think Andy Reid's going to sign off on that. Thanks so much for your questions. Keep'em coming.
Happy Easter!