March, 18, 2014
Mar 18
9:35
AM ET
Hatcher
Most significant signing:
Defensive lineman
Jason Hatcher
. A major issue for Washington's defense last season was the lack of an interior pass rush, which is something Hatcher did exceptionally well last season in Dallas. The Redskins could not push the pocket and the rush too often relied on blitzes or pressure from outside linebackers
Ryan Kerrigan
and
Brian Orakpo
. It wasn't enough. Hatcher doesn't need to duplicate his 11-sack season, but he does need to provide a constant threat inside to diversify the Redskins' rush.
Most significant loss:
The Redskins haven't lost anyone significant thus far and the players they've wanted to keep they have. But perhaps the biggest loss came when safety
Mike Mitchell
opted to sign with Pittsburgh at an affordable price. The Redskins were deeply interested in him, making him their first call in the legal tampering window, and then again early on the first day of free agency. But they lost out on him and free safety remains a hole.
Meriweather
Biggest surprise:
The inability to add a safety and the lack of pursuit for the big-name inside linebackers. The Redskins didn't want to overspend at either position -- and at safety, they didn't see many options better than
Brandon Meriweather
, whom they re-signed. As far as inside linebacker, it's not a position as important to them as pass-rusher. Still, they did not bring in any of the so-called big names at this position. They're hoping newly signed
Darryl Sharpton
can stay healthy or that
Keenan Robinson
can do the same and show that, despite missing most of his first two seasons, he might be able to help. Sharpton received only a one-year deal.
What's next?
The Redskins have shown a methodical approach to free agency, and that won't change. They're not taking on bad contracts and should be set up nicely in terms of cap space for some big contracts in coming seasons. As far as remaining holes, the draft is considered deep at receiver, so there's a good chance that position is addressed in the first several rounds. Inside linebacker and safety also could be early targets based on what they haven't done in free agency.
March, 12, 2014
Mar 12
9:40
AM ET
1. Yes, I'm surprised the
Washington Redskins
did not land one of the top safeties available. I'm not sure, however, that I would have paid
Jairus Byrd
what New Orleans did (yes, I know his first-year cap hit is only $4 million, but Year 3 will be a whopper of a figure). I wasn't sold on
Malcolm Jenkins
as an option, either; certainly not at the price Philadelphia paid. That leaves
Mike Mitchell
, who signed with the Steelers. Nor would I have given
Aqib Talib
the deal he got from Denver ($26 million guaranteed). I like Talib; I also know he hasn't played more than 13 games in a season since 2009, and players don't become healthier as they age. It's a shame because he would have helped.
2. Byrd would have helped because of his deep middle skills. But the area that must be fixed is the pass rush. And people I trust who have played this game or coached in it all said the same: They would sign the expensive corner before the safety -- yes, even at a time where it seems the safety position has become a bigger deal. In other words, Talib over Byrd. But both received deals not recommended for a team that needs to fill so many holes.
[+] Enlarge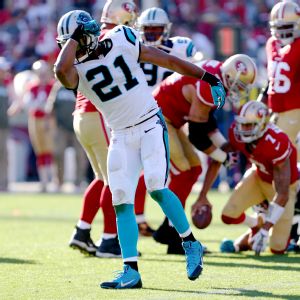 Kelley L Cox/USA TODAY SportsThe Redskins showed interest in Mike Mitchell, who landed with the Steelers.
3. Safeties often are a product of their front seven. Carolina had a terrific front. That's the thing with Mitchell: Was last year the start of something for his career? He's only 26 after all. Or was he the product of right place, right time? But his deal did not seem outlandish (five years, $25 million, but I have not yet seen the breakdown). This is the one that puzzles me a bit. No, I'm not sure what they will do here yet and, yes, they need to do something -- a few things. Still, the Redskins need to improve their pass rush; you can't rely on two outside linebackers anymore to generate all the heat, especially when they're good but not great 'backers.
4. The problem is, the Redskins didn't temper expectations at all. We heard they would be active. We knew they made their first call of the legal tampering period to Mitchell. They clearly liked him (while he had a good year, I did hear mixed opinions from a couple people outside the organization when asking about him. Nobody hated his game, but there were some doubts). They also clearly set a price. I'm all for that; not doing so in the past has led to many, many bad deals -- for which they're being knocked with the same intensity they are now. But they made it seem as if they would be in on these deals, setting up fans for disappointment. Heck, some of their own members of the organization, too.
5. By the way, it's not that I endorse what the Redskins are doing, it's that I refuse to get caught up in hysteria over the lack of certain moves. Have been around too long and seen too much to go that route. Have seen too many first-day splashy signings result in "Possible Super Bowl" talk only to lead to buyer's remorse.
6. History shows that the Redskins and overspending do not mix. Or most teams for that matter. Free agency is a way to complete a team, not build one. The problem is, that means you must draft and develop well, and the Redskins haven't done that either.
7. I seriously doubt there would be this much angst if this front office had a track record like, say, GM Ozzie Newsome and Baltimore. The Ravens could let players walk last year and even those who were baffled had to come back to this: "Well, Ozzie knows what he's doing." The Redskins haven't done anything to warrant that sentiment. Maybe they will in time; they haven't yet. With no trust built up, panic ensues when certain moves aren't made. I get that aspect big time.
8. Is this a new approach they're trying? Or did they fail to execute their plan? I've seen many plans over the past 15 years; all have pretty much failed. But there were some offseasons that stood out for their inactivity, like before Marty Schottenheimer's first season. They signed nobodies. It was a reversal from the 2000 Deion Sanders-led offseason when they signed big names. Both teams went 8-8. Good coaching did the trick under Schottenheimer, but he obviously was a proven winner. Jay Gruden is just starting out.
9. The real problem is the years of failure that went into trying to build a secondary. It left the Redskins in an absolute state of dire need this offseason. And when the top safeties were signed (aside from
Chris Clemons
, who remains available), it led to many being up in arms. They also lack depth at linebacker and need someone to help rush the passer from the front (
Antonio Smith
is visiting Wednesday). This defense was poorly built, for whatever reason, and the Redskins are now paying for it, and the patience that is required will be difficult for some. And if I'm Jim Haslett, I'm thinking, "I've seen this movie before." None of the first three signings went to defense (I'm considering
Adam Hayward
special teams help, which, as you might recall, is welcomed). Haslett can't be pleased. But the offseason just started.
10. We were told the Redskins had built depth along the offensive line. If that's the case, and you want to make a change at guard, then one of the three young guards you have should be ready. All have been around at least two years. Instead: They gave
Shawn Lauvao
a four-year deal worth $17 million. If you're doing things right, one of those young players is ready and you fill from within -- and then you use that money for more pressing areas. Instead, the Redskins invested two to three years on backup linemen -- and then signed a player who struggled with his previous team.
March, 10, 2014
Mar 10
8:00
AM ET
A theory: The media-savvy NFL didn't create this three-day "legal tampering" period to facilitate negotiations between teams and pending free agents. The real reason was to create three more days of intense fan interest and fevered speculation.

Acknowledging the lack of real news, here are some thoughts pertaining to the Eagles as the actual free agency period draws near:
March, 7, 2014
Mar 7
11:00
AM ET
»
AFC Free-Agency Primer
:
East
|
West
|
North
|
South
»
NFC
:
East
|
West
|
North
|
South
Key free agents
: LB
Brian Orakpo
(franchise), LB
Perry Riley
, WR
Josh Morgan
, WR
Santana Moss
, S
Brandon Meriweather
, S
Reed Doughty
, LB
Rob Jackson

Where they stand
: The
Redskins
have about $30 million of cap space available, even with the franchise tender to Orakpo, so they will be able to upgrade defensively for the first time in a couple years. The problem is, Washington has so many holes to fill defensively. The Redskins need two starting safeties and must replace retired inside linebacker
London Fletcher
. If Riley leaves -- they would like him back, but they are not yet close to a deal -- then it creates another spot. They could use more help along the defensive line. Offensively, their holes are fewer, but they need another receiver -- or two -- and an interior lineman. Moss and Doughty -- as a backup -- could return at small deals; it's tough to see Morgan coming back. He just wasn't productive enough. Meriweather wants to return, but the Redskins need an upgrade over his 2013 performance.
What to expect
: A much more eventful period than last year, when the Redskins could only re-sign their own players and added no one of significance in free agency thanks to the second year of their $36-million cap penalty. But the question is, Can Washington pursue someone such as safety
Jairus Byrd
while having so many other needs? It will be difficult, but he would solidify the deep middle. They like safety
Mike Mitchell
as well. Giants defensive tackle
Linval Joseph
is another possibility.
Brandon Spikes
, a liability in coverage, or
Daryl Smith
would fill a hole at inside linebacker. What the Redskins should not do is try and fill every need with a free agent and use up all their cap space. With several prominent players up for new deals in the next couple years, they need to also have an eye on the future.
March, 6, 2014
Mar 6
8:15
AM ET
Some key dates over the next month for the
Washington Redskins
(and the rest of the NFL):
March 8-11:
It used to be that teams could not legally contact players until free agency began. But that was a sham so now they have a legal window to talk to players. The Redskins talked to numerous players during this period last year, but with no room against the cap they didn't sign anyone. It was akin to colleges recruiting players before offering a scholarship. But deals can't be struck during this time. It gives teams and agents a good idea on what to expect when free agency begins. Not everyone likes this format. Teams are sometimes reluctant to say exactly how much they'll pay a player, fearing they're just doing another team's negotiating. This causes teams to be more vague, which, in turn frustrates agents.
[+] Enlarge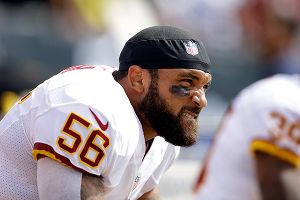 Ezra Shaw/Getty ImagesA weak market for inside linebackers should help Perry Riley's leverage in negotiations.
What to watch:
Perry Riley
's situation. The Redskins and Riley have continued to talk, but no deal appears imminent. The Washington Post reported they're not close. The scouting combine provides agents and teams a chance to talk (even if they're not supposed to) so Riley's side should have a feel for his market. But it'll crystallize more this weekend. If he indeed wants $5.5 million per year, as rumored, that's too much for Washington. In Riley's favor? It's not a strong inside linebacker market, in free agency or the draft.
March 11:
Free agency begins at 4 p.m. Teams must be in compliance with the salary cap by 4 p.m. (this is also when the rule of 51 begins and only the top 51 contracts count toward the cap). This won't be an issue at all with Washington. The Redskins will have approximately $30 million in cap space (linebacker
Brian Orakpo
has not signed his franchise tender; he has until July 15) and plenty of needs. The shopping list includes two safeties, another cornerback, at least one inside linebacker, a defensive lineman and perhaps receiver and an offensive lineman. Other than that, they're all set.
What to watch:
How aggressive will the Redskins be? They were forced to be prudent the past two offseasons. But with more cap space, that will change -- but how aggressive will they be? General manager Bruce Allen has done a good job of setting a price for guys and sticking to that figure. But will that change with the desire to rid themselves of last year's 3-13 stench? They need a safety and the best one out there is Buffalo's
Jairus Byrd
, whose ability to cover deep middle would open up this defensive scheme. Byrd might be too expensive, but he can't be ruled out of course. Also, New York defensive lineman
Linval Joseph
could be a target among others. Other names to watch: Carolina's
Mike Mitchell
and Giants' receiver
Hakeem Nicks
. They also apparently like Houston free-agent linebacker
Joe Mays
, as much for his special-teams ability. They talked to him during training camp
March 23-26:
NFL owners meeting in Orlando, Fla.
What to watch:
Will the NFL expand the current playoff format
? It's working rather well the way it is, but Redskins coach Jay Gruden will meet with the media for about an hour during this trip. If there's a big free-agent signing I'm sure he'll talk beforehand, but this is always a good chance to delve into other topics.
April 7:
Because the Redskins have a new coach, they can begin their offseason workout program. Teams without a new coach must wait two more weeks.
What to watch:
For the first two weeks of the offseason workouts, players can't work with their position coaches. They can only do strength and conditioning or rehab. Quarterbacks can throw the ball to receivers, but not against a defense. In the second phase, which lasts three weeks, coaches are allowed to be on the field to provide instruction and run drills. But there's still no offense vs. defense. And in the final phase, there are no individual drills pitting offense vs. defense, but you can do a full-team drill that way. This is also the first time players can wear helmets in the offseason (no pads of any kind however).
The Redskins also get an extra minicamp this spring because they have a new coach and that's what will be more revealing publicly. Last year, for example, you could see
Josh LeRibeus
did not have a good offseason just by how he looked physically: out of shape. During Washington's minicamps, we'll get a chance to see how Griffin is throwing the ball -- will he be more consistent? The problems he had throwing the ball were evident last summer, so we'll get some clue as to his improvement. There's a long way to go of course, but it will be the first measurement and it will come after he's had a month or two of good training. Will the brace be on?
March, 3, 2014
Mar 3
7:15
PM ET
The Eagles haven't exactly advertised their free-agency plans, which is understandable. Now that the deadline for franchise and transition tags has passed, all we can say is that their plans likely haven't changed much.
Washington linebacker
Brian Orakpo
had the franchise tag placed on him. That takes him off the list of possible targets for the Eagles, but the odds were against them making a play for Orakpo. He is exactly the kind of free agent -- a guy who could command more money than his production warrants -- that general manager Howie Roseman has said the team is not interested in.
(That said, he's also exactly the kind of player that fans and media like to speculate about. Orakpo would be a perfect edge pass rusher in the Eagles 3-4 defense and signing him would mean not facing him twice a year.)
Worilds
Another player that has been discussed as a possibility for the Eagles is Pittsburgh linebacker
Jason Worilds
. The Steelers placed the transition tag on Worilds, which means only that they would have the right to match any offer he receives.
If the Eagles were planning to take a shot at Worilds, that shouldn't slow them down. The Steelers do not have the cap space to match a carefully designed offer sheet. Indeed, to keep Worilds, Pittsburgh may have to release other players to create cap space. If
LaMarr Woodley
is a casualty, he could be a nice consolation prize. Bottom line: There just aren't that many pass rushers worth pursuing in free agency.
Eagles defensive coordinator Bill Davis has often cited the Steelers' Dick LeBeau-coached defense as his model. It stands to reason Davis could use a big-time player who is already schooled in that style of play.
Neither of the top safeties were tagged, which makes for an intriguing scenario when free agency opens. Buffalo's
Jairus Byrd
and Cleveland
T.J. Ward
will be on the market. Both are 27. Both have been to the Pro Bowl. Either would be the Eagles' best safety since
Brian Dawkins
.
Is Roseman willing to make Byrd the highest paid safety in the NFL? That's what it will take? Would he make a run at Ward, who knows Davis from his stint in Cleveland?
Even if Ward and Byrd are not on Roseman's list, their presence in the market has a ripple effect. They will attract immediate attention from teams desperate for safety help. That will leave the next tier -- safeties like Miami's
Chris Clemons
and Carolina's
Mike Mitchell
-- for the Eagles to approach if that's the way they choose to go.