October, 14, 2013
10/14/13
3:00
PM ET
A review of four hot issues following the
Washington Redskins
'
31-16 loss
to the
Dallas Cowboys
:
It's tough to defend the clock management at the end of the first half.
Redskins coach Mike Shanahan defended the way Washington handled the timeouts and play calls during that span. Shanahan knows more about coaching than I'll ever know, but in this case, there is this: The Redskins had a chance to stop the clock at Dallas' 17 with 37 seconds left. They would have had one timeout left. Conceivably, they could have run several more plays by stopping the clock at this point. They also would have been more limited to where they could throw with only one timeout, or whether they could run the ball. Still, they trailed 14-3 at the time and had a chance to gain momentum before the half. Instead, the Redskins ran three plays, including a quarterback keeper on third-and-10. They got their field goal; but they also lost a chance for more plays and perhaps more points.
[+] Enlarge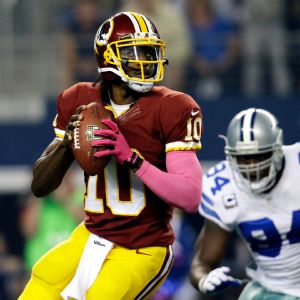 AP Photo/Tim SharpRobert Griffin III finished the loss to the Cowboys with 19 completions for 246 yards and no TDs.
Robert Griffin III regressed during the game from a passing standpoint.
He completed 9-of-21 passes for only 112 yards in the second half, looking off-target on too many throws. The interception in the end zone wasn't just on him, as receiver
Santana Moss
slipped and fell after the ball had been thrown. Griffin was under duress often and it possibly affected his accuracy. Regardless, Griffin's passer rating got worse with each quarter, starting with a 111.5 rating in the first and finishing with a 25.0 in the fourth. He ran well; it wasn't nearly enough.
Washington's defense played its best game of the season,
bothering quarterback
Tony Romo
enough to hurt his accuracy. Corner
DeAngelo Hall
did a terrific job on receiver
Dez Bryant
and, after a bad first series, the defense did a better job tackling. For the third straight game, they also stopped the run. For the first time this season, they did not allow a play of more than 20 yards. After a horrific start, the defense can feel better about themselves entering the Chicago game.
Bad calls occur every game.
But the Redskins lost a chance to gain early momentum when the officials ruled that
B.W. Webb
was a passive player when he was blocked into the ball on a Washington punt. That meant it was not a fumble. But former vice president of officiating Mike Pereira told WFJK-FM's Grant Paulsen that he would have ruled it a fumble because Webb was an active blocker, extending his arms to block Washington's
Jerome Murphy
. The Redskins would have had the ball at the Cowboys' 24 trailing by a touchdown. They did force a punt and drove for a field goal. But they lost a chance at more points.
December, 22, 2009
12/22/09
4:40
PM ET
By
Matt Mosley
| ESPN.com
If you were watching the Eagles-49ers game Sunday, you might recall fullback
Leonard Weaver
and
Ahmad Brooks
shouting at each other while quarterback
Donovan McNabb
was desperately trying to spike the ball at the end of the first half. Paul Domowitch of the Daily News says that several e-mailers suggested that McNabb should have gone ahead and spiked the ball while the two argued,
prompting off-setting penalties and clock stoppage
.
Domo said the e-mailers were using the play as an example of McNabb not being familiar with the rules, so the erstwhile reporter called the league's vice president of officiating Mike Pereira and asked for a clarification. The following response won't please the anti-McNabb faction:
"If the ball would have been snapped, we would have penalized the Eagles for a false start since all offensive players did not get set before the snap," said Pereira. "That would have taken precedent over the defense being offside. There would not have been a play and there would be a 10-second run-off."
And that means the half would have ended without the Eagles having the opportunity to kick a field goal.
November, 13, 2009
11/13/09
12:41
PM ET
By
Matt Mosley
| ESPN.com
Just spoke with Redskins executive vice president of football operations Vinny Cerrato on the phone. Sounds like he thinks the Skins are poised for an upset win. We can discuss Skins-Broncos, Cowboys-Packers or Eagles-Chargers. It's really up to you guys. Welcome back to the Mailbag, a place where we can say how we really feel about each other. Continue for reading for nuggets that will change and enhance your life:
Dan from Swedesboro, N.J., would like to know why the Eagles' Joselio Hanson was suspended for doing virtually the same thing that players from Minnesota and New Orleans were doing.
Mosley:
Dan, it's a fair question. That's exactly the point that attorney David Cornwell made on Hanson's behalf. It appears that the players' union and owners will at some point in the future agree to reduce the punishment for players who test positive for using diuretics. Cornwell has said that Hanson took a pill before last season's NFC title game because he was feeling "bloated" and that pill turned out to be a diuretic. It certainly doesn't seem fair that Hanson's suspended while the StarCaps players continue to stay on the field, but the Eagles cornerback's appeal was denied. But let's at least point out that players don't really have an excuse for taking a pill if they're not 100 percent sure what it is. It's not like the whole diuretics angle is a new one. Hanson needed to be more vigilant in finding out what he was taking. Or maybe he should simply avoid Chinese food before games in the future.
---
Aaron from Candor, NY wants to know if Cowboys outside linebacker Anthony Spencer is a bust and if he should be replaced by rookie Victor Butler. He'd also like to know if Spencer's struggles have led to DeMarcus Ware's relatively low sack total.
Mosley:
Aaron, I'm not going to use the "bust" word for Spencer just yet. It's not like he's been turned into a nickel linebacker (Bob Carpenter) at this point. Spencer has actually held up really well against the run this season and he's put some pressure on the quarterback. But yes, he was drafted in the first round to be a dynamic pass-rusher who can collect at least 10 sacks per season. That hasn't happened. He's not at "bust" status yet, but check back with me at the end of the year. And I don't think Butler should start, but he's definiely earned some more snaps. In limited action, he's had three sacks. The play he made against Donovan McNabb on Sunday night helped preserve the win for the Cowboys. He's been highly productive so far. Why not give the man some more reps?
---
Stephen Kogon from the great state of Maryland says that we "ain't seen nothing yet" if the Redskins retain Vinny Cerrato at the end of the season. Stephen thinks the fan base would rebel at that point.
Mosley:
I spoke to Cerrato via phone this morning. In the past, I would've said that Dan Snyder would keep Cerrato around no matter how the team finishes, but I'm sensing a new level of disgust from the owner. Not specifically with Cerrato, but with the entire situation. I think he realizes that fans have lost faith in pretty much anyone in a management position. Snyder and Cerrato settled for Jim Zorn as a head coach because they ran out of other options. They looked pretty smart in the first half of the 2008 season, but they were close to firing Zorn by the end of the season. Cerrato hasn't told me this, but I think his best chance of remaining with the organization is for Snyder to hire Mike Shanahan as head coach. Cerrato and Shanahan worked together in San Francisco and have a good relationship. If any of the other big names took the job (Cowher, Gruden, Holmgren), Cerrato could find himself without a job. But the last time Snyder "fired" Cerrato, he was only in exile for a season. That was the Marty Schottenheimer regime.
---
Andrew from New York is concerned that I haven't spent enough time this week analyzing "the three incorrect spots" in the fourth quarter of the Cowboys-Eagles game.
Mosley:
Andrew, the only spot that looked wrong to me at the time was the fouth-and-one play where Donovan McNabb went with the quarterback sneak. NFL vice president of officiating Mike Pereira admitted that he would've
moved the ball forward a few inches
, which may have given the Eagles a first down on a crucial drive. But here's why I haven't made a huge deal about that spot: The Eagles had a second-and-1 that went for no gain followed by a third-and-1 that went for no gain. Those didn't look like bad spots to me, they looked like poorly executed plays. If the Eagles can't come up with a play that results in a 1-yard gain on two (and perhaps three) consecutive plays, how much sympathy do they deserve? I sense that some Eagles fans agree with me on this point. Over the past few years, Andy Reid teams have not been good in short-yardage situations. They'd been better this season -- until last Sunday night. So anyway, that's why I didn't spend much time taking up the Eagles' cause this week.
---
Bardo from Utah, you get the final word today because you bring up a great name:
Regarding Veterans Day, not many stories on former New York Giants Al Blozis. Sad that he's a forgotten man today... Al played tackle for the Giants in 1944. He had also held the world record for the shot put at the time. Shortly after losing the Packers in the 1944 title game, Al left for Europe and directly to the Battle of the Bulge. Al was a Lieutenant and killed in his first patrol. I wish someone could spread more info on this real hero. Thanks!
Mosley:
On Dec. 2, 1945, here's what was
written in the official game program
for the Giants-Eagles game:
This last day of the professional football season at the Polo Grounds is dedicated by the Giants to two of their teammates who lost their lives in the war, Al Blozis, who died in the Vosges Mountains and Jack Lummus who was killed on Iwo Jima.
Al and Jack were splendid men. That they also were grand fellows and fine football players now, alas, is only incidental. The Giants miss them. They miss their fellowship, they miss the tone these men lent to the clubhouse and field ensemble. Today plaques commemorating their deeds are unveiled here at the Polo Grounds.
Blozis joined the Giants in 1942 after winning fame in football and as the world's champion shot putter at Georgetown. Big Al (he weighed 250 and stood 6-6) did well in his freshman year with the pros. In his second he won all league tackle honors. After the 1943 gridiron campaign, the North Bergen, N. J. giant got into the Army the hard way. He had been turned down several times because of his size. After winning his gold bars, Al received special permission to play with the Giants the last three 1944 games. His gridiron farewell was December 17, when the Giants opposed the Green Bay Packers for the title. Two days later Al was on his way to the front.
1st Lt. Lummus was killed in an infantry-tank attack which broke one of Japan's final and most stubborn lines of resistance on Iwo Jima. The following year, On May 5, 1946 Harry S. Truman, President of the United States, signed the Citation awarding posthumously the Medal of Honor to First Lieutenant Jack Lummus.
November, 19, 2008
11/19/08
6:01
PM ET
By
Matt Mosley
| ESPN.com
Posted by ESPN.com's Matt Mosley
Eagles quarterback Donovan McNabb spent part of his Wednesday news conference defending the fact that he didn't know the regular season overtime rules. It sounded like he was emboldened by the fact that other players (Hines Ward and Ben Roethlisberger) have rushed to his aid:
"It doesn't make me feel bad at all," McNabb said. "I was truly being honest. The thing about it is that now other people are starting to say that they didn't know it either. Am I wrong for that? No. Should I have known that rule? There are a lot of rules that coaches, officials, players, they don't know. Any time an official goes out on the field and then you see [NFL vice president of officiating] Mike Pereira trying to correct that mistake, that shows that officials don't even know everything in the rule book. [Neither do] coaches [or] players. What people may say about me, it doesn't bother me. As you can see, every time something happens that I have been a part of, more and more things have come out and people begin to sit back and say, 'Oh, maybe he was right.' Should I have know that rule? Yes. But, there are a lot of rules in that rulebook that a lot of us don't know, and we ask questions."
September, 10, 2008
9/10/08
9:59
AM ET
By
Matt Mosley
| ESPN.com
Posted by ESPN.com's Matt Mosley
| | |
| --- | --- |
| | |
| | Icon SMI |
| | Terrell Owens' celebration drew a 15-yard unsportsmanlike conduct penalty on Sunday. |
Now that Cowboys head coach Wade Phillips has complained about the "hidden" rule responsible for Terrell Owens' 15-yard penalty following his Usain Bolt tribute Sunday, the league's supervisor of officials Mike Pereira felt the need to clarify.
"You've just got to stay on your feet," Pereira told the New York Times on Monday.
Asked why players aren't flagged for kneeling to pray after scores and first downs, Pereira said, "I do not want to get struck by lightning."
See, it's possible for someone in the league to have a sense of humor. Pereira also said the Lambeau Leap was allowed because it's classified as a spontaneous display of emotion and doesn't normally involve teammates. And while I have no problem with the Leap, let's not say it's a spontaneous reaction. When something has been done by a team for years, it's no longer spontaneous.
I'd love for someone to do something completely radical, like flipping the ball back to the official. That's the way Herschel Walker used to do it. It always gave the impression that he'd been there before and planned on returning soon.
But there's still a place in the league for Billy "White Shoes" Johnson's dancing and Butch Johnson's "California Quake." The league just needs to get over itself and realize that someone touching the ground isn't going to ruin the youth of America.