January, 7, 2015
Jan 7
11:30
AM ET
With Perry Fewell out after five years as New York Giants defensive coordinator, here's a partial list of possible replacements, in no particular order:

Pepper Johnson, defensive line coach, Buffalo Bills: Former Giants linebacker and two-time Super Bowl champion was with the New England Patriots' coaching staff for 14 years before joining Buffalo's in 2014. If the Giants decide to go the unproven-coordinator route as they did on offense last year with Ben McAdoo, Johnson will be among their top candidates.

Steve Spagnuolo, assistant head coach/secondary coach, Baltimore Ravens: Some in the Giants' hierarchy are pushing for a return of the coordinator who helped coach Michael Strahan, Justin Tuck & Co. to that Super Bowl XLII upset over the undefeated Patriots. But it's no sure thing, as the Giants want to look at all options. And that "assistant head coach" title could mean the Ravens (who are still alive in the playoffs) don't have to let Spagnuolo out of his contract for anything less than a head coach position.

Mike Smith, former Atlanta Falcons head coach: Smith was the Jaguars' defensive coordinator for five years before becoming Falcons head coach in 2008, and is well liked and respected by Giants coach Tom Coughlin.

Mike Nolan, Altanta Falcons defensive coordinator: Likely to be a free agent once Alanta hires Smith's replacement. Nolan was Giants' defensive coordinator from 1993-96 under Dan Reeves.

Dennis Allen, former Oakland Raiders head coach: Seen as a bright defensive mind who likely will be on several teams' lists as coordinator candidate.

Jim Schwartz, Buffalo Bills defensive coordinator: Still under contract in Buffalo, but if the Bills' new head man wants to pick his own coordinator, the former Lions head coach will be among the hottest candidates around.

Vic Fangio, San Francisco 49ers defensive coordinator: Fangio wants the Niners' head coaching job, and if he doesn't get it, he's not likely to stick around.
December, 12, 2013
12/12/13
9:20
AM ET
ASHBURN, Va. -- They have the same record, but are going through a far different experience.
Washington Redskins
coach Mike Shanahan blamed the noise surrounding his team on their record and that's partly true. But there's little noise out of Atlanta, which also entered the season with Super Bowl hopes and instead are seven games under .500, just like the Redskins.
Why is that? Here's a good place to start: The Falcons were 56-24 under coach Mike Smith entering the season. (They were 11-21 the previous two seasons and coming off the Mike Vick saga, so this was not an easy turnaround.) The Redskins were 21-27 under Shanahan.
Any coach such as Smith can withstand a bad season after so many good ones. Any coach in Shanahan's position will be scrutinized, especially when in the last year of a contract. (Smith signed a three-year extension in 2011; general manager Thomas Dimitroff said earlier this season that Smith was going nowhere.) When you're in Shanahan's situation, leaks result.
[+] Enlarge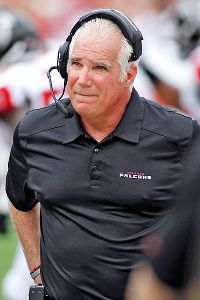 AP Photo/Reinhold MatayFalcons coach Mike Smith's success in the recent past affords him leeway that Mike Shanahan is not getting right now.
Smith said he's handled their 3-10 season by staying positive.
"I'm a very positive person and I think that you have to be transparent with your team in terms of when things are going well and when things are not going well," he said. "We have collectively contributed to the success that we've had and we've collectively contributed to the season that we're having this year. We're all responsible for it and we're all accountable for it. I think when you have that type of communication between the different parts of the organization and everybody takes accountability for it, it makes it a lot easier."
"Certainly, it's a tough time," Falcons quarterback
Matt Ryan
said. "I think Coach Smith has done a great job of handling the different situations."
A strong locker room helps, too. The Redskins say they have it and, being in there every day, I agree. I do think the next three weeks will be a struggle with the circus atmosphere that now dominates. The outside stories about Shanahan's future or past and examining every relationship involving Griffin have taken a toll.
Atlanta doesn't have to endure any of that.
"You want to point fingers, that's just the way it is, but it does you no good," Ryan said. "I think guys have realized that -- that blaming other people and trying to throw guys under the bus, it's not going to help us. Certainly that's one of the things, when you look at a tough season, that's one of the things that is a positive."
Here, there's talk about the nature of owner Dan Snyder's relationship with
Robert Griffin III
. We don't know how Arthur Blank gets along with Ryan. (We do know he was close to Vick.)
Smith on Blank:
"Well, Arthur is a very good leader. He's got a lot of experience not only in football, but in business as well. He knows how to handle things when times are great and knows how to deal with things when times are bad. I think it starts at the top with him. ... Again, I think collaboration is very important, and communication, so that you have a collaborative atmosphere where you can have discussions and make decisions to try to get things first. That's what we're trying to do at this point in time and we will get it done."
Meanwhile, the Redskins will enter the offseason with plenty of questions that the Falcons just don't have to answer.
July, 30, 2012
7/30/12
10:08
AM ET
Over at the NFC South blog,
Pat Yasinskas has done a post
updating the progress of former
Philadelphia Eagles
cornerback
Asante Samuel
. The Eagles traded Samuel to the Falcons just before the draft for a seventh-round draft pick, and many Eagles fans bemoaned the deal because of how little they got in return. It was the kind of deal that made you think the Eagles believed Samuel to be done as a player, and a few weeks back Jeff McLane of the Philadelphia Inquirer wrote that Eagles coach Andy Reid believed Samuel was in "
steep decline
."
Samuel
Pat spoke with Falcons coach Mike Smith and GM Thomas Dimitroff about Samuel and they said they're happy with him. Not a huge shock, since what are they going to say in the first week of camp? "The guy's a bum, I'm sorry we traded for him?" But Smith talked in detail about the kind of player Samuel is -- a cornerback who can match receivers' ability to play in space. And I think that's a pretty fair assessment. If they'd brought him in to be a shutdown, man-coverage corner, I think it'd be fair to say they'd made a mistake. But they didn't. They already had
Brent Grimes
and
Dunta Robinson
on their roster, and they likely can use Samuel in situations that play to his strengths. And he does have several.
I don't think, based on everything I was being told at the time, that "steep decline" was the driving reason for the Eagles' decision to trade Samuel. I think it was a money issue (i.e., they wanted to get rid of his salary so they could sign their younger players long-term) and a scheme issue (i.e., they wanted to be able to play their corners in man coverage more this season and couldn't do that as long as Samuel was one of the starters). Like Pat, I would not be surprised to see Samuel do well in Atlanta. If he does, I would not automatically believe that means the Eagles made a mistake. The Eagles didn't think they could use him anymore, especially at his price. The Falcons saw a guy who fits what they want to do. It's entirely possible it could work out well both ways.
January, 10, 2011
1/10/11
2:07
PM ET
By
Matt Mosley
| ESPN.com
I'm sure Giants defensive coordinator Perry Fewell would rather be in the playoffs right now, but New York's abrupt ending to the season did provide him a head start on interviewing for some of the head-coaching vacancies around the league. The
Denver Broncos
were an open book
when it came to Fewell's recent interview.
Fewell has emerged as a serious candidate in Denver, although you have to wonder if John Fox's experience will eventually give him the edge. Fox was scheduled to interview in Denver on Tuesday, but
it's been postponed
due to weather issues in North Carolina. I think Fox is a good coach, but I'm not sure the Denver fan base would be that enthusiastic about a retread.
[+] Enlarge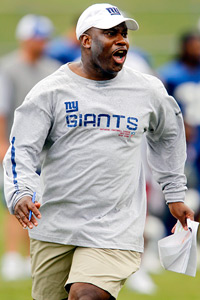 AP Photo/Mike GrollPerry Fewell is a candidate for the head-coaching job with the Broncos, Panthers and Browns.
With the success of first-time head coaches such as
Mike Smith
, Raheem Morris, John Harbaugh and Todd Haley in recent years, everyone's trying to identify who's next. The Broncos just tried to go that route, though, and failed miserably.
Fewell certainly brought some much-needed energy to the Giants' coaching staff and several of his new players put up big numbers. But I think teams such as the Broncos, Panthers and Browns are more interested in how Fewell functioned when he was the interim coach for the Bills for part of the '09 season. His players swore by him and it's obvious that he has some unique leadership skills. If Fewell doesn't land a job, I think he'll be perfectly happy to try to help lead the Giants back to the playoffs. But he's having trouble containing his excitement right now.
"It's constantly on your mind," said Fewell during an interview that appeared on the team's website. "It's a situation that you are so excited about that you are ready to jump out of your skin.
"But you've got all these plans that you want to put into action. You have these beliefs and you're trying to draw upon your years of experience in coaching to say 'Yes, I can do this job. Yes, I can relate to the management staff. I can identify with the fans and I can help coach and teach the players.' And we can put together a quality staff. It seems like your dreams are like almost coming true, but then they haven't come true yet."
Fewell did a tremendous job communicating with his players this season.
Justin Tuck
has told me before that he and his teammates aren't easily impressed. They're actually a pretty skeptical bunch, but Fewell won them over quickly with his positive and energetic approach. Training camp in Albany was a completely different experience with Fewell racing around the practice field to praise or chastise players. Coughlin seemed amused when Fewell would run next to one of his safeties when he made an interception.
It will be interesting to see if the Giants do anything to persuade Fewell to stay. When Sean Payton nearly left Dallas to take the Oakland job six years ago, Jerry Jones gave him a $500,000 raise to stay. It's probably the best decision of Payton's career. And we all remember Jason Garrett getting $3 million to remain offensive coordinator of the Cowboys following the '07 season.
No matter what happens with these openings, I do think Fewell is destined to be a head coach. But I bet a few of his players are secretly hoping it won't happen this time around.
November, 9, 2009
11/09/09
7:22
PM ET
By
Matt Mosley
| ESPN.com
Posted by ESPN.com's Matt Mosley
If you've watched ESPNEWS at all Monday, you've seen the footage of Redskins cornerback
DeAngelo Hall
on the Falcons' sideline surrounded by players and coaches during a confrontation. Hall, who says he arrived on the sideline to help teammate
LaRon Landry
, has accused Falcons coach Mike Smith of
coming "over there to put his hands on [Hall] in a harmful way."
The NFL is reviewing the altercation and I'm sure we'll be hearing about some fines this week. It all started when Landry was flagged for hitting quarterback
Matt Ryan
out of bounds. In a matter of moments, Hall arrived on the sideline and was surrounded by Falcons. After the game, he told reporters that he intended to contact NFL commissioner Roger Goodell to tell his side of the story.
On Monday, Redskins coach Jim Zorn had Hall's back, saying the video footage seemed to back up the cornerback's version of the events.
"I read what he said, and it looked to me on video it's exactly what happened," Zorn said. "We were penalized, and what he was trying to do was get LaRon off the sideline and LaRon was going and he got grabbed. I think there was emotion involved because their player just got hit out of bounds, the quarterback. That's a tough deal in itself. The emotion rose, and he was the only guy in there. I was really actually proud of DeAngelo for keeping his composure."
This Redskins team has been surrounded by controversy throughout the season. At least this gives them something to talk about other than their 2-6 record. I watched most of the first half of the Falcons game Sunday and that's as poorly as I've seen an offensive line play. Good for offensive line coach Joe Bugel for getting in his players' faces at halftime and inspiring them to have a better second half. It would've been easy to roll over in the second half, but the Redskins actually made a game of it.
It was a heroic effort by banged-up quarterback
Jason Campbell
, who's basically auditioning for other teams right now. I can't help but wonder how good Campbell could be if he worked under someone such as the Falcons' Mike Mularkey or the Chargers' Norv Turner.
November, 8, 2009
11/08/09
7:00
AM ET
By
Matt Mosley
| ESPN.com
Posted by ESPN.com's Matt Mosley
Before I make my weekly predictions, let's take a look at what
the ESPN selection panel came up
with for today's NFC East games. Of the eight esteemed panelists, only two picked the Cowboys to win at the Linc tonight. That would be
Merril Hoge
and Adam Schefter.
The panel has lost a lot of respect for the Giants during this three-game losing streak. Four guys picked the Chargers to walk into Giants Stadium and hand New York its fourth consecutive loss.
Eric Allen
,
Mike Golic
,
Mark Schlereth
and Seth Wickersham all picked the Chargers.
As you probably expected, all eight panelists picked the Falcons over the Redskins. It would be nice for someone other than Dan Snyder to go out on a limb and pick the Redskins, but it would also be foolish at this point in the season. I do have a feeling that the Redskins will keep this one close in the first half. OK, here are the Beast predictions:
Eagles 24, Cowboys 21:
The game will live up to all the hype and
David Akers
will nail the game-winner late in the fourth quarter. I like how Cowboys quarterback
Tony Romo
is playing right now, but he doesn't have a good history against the Eagles. Defensive coordinator
Sean McDermott
doesn't think Romo responds well to contact and that's why you'll see a lot more blitzes than he called against the Giants last Sunday.
Giants 31, Chargers 20:
They desperately need a win -- and I think this is a bad spot for the Chargers. The Giants could get a couple of players back on defense, which will make them a lot more versatile.
Philip Rivers
is going to get hit a lot in this game. I also think
Eli Manning
will play well against a Chargers defense that doesn't like to blitz a lot. It's imperative that the Giants get off to a fast start in this game. I think that's exactly what will happen for them.
Falcons 27, Redskins 10:
The Falcons have lost two straight games for the first time during the
Mike Smith
era. I don't think the Redskins are poised to make it three in a row. New play-caller Sherman Lewis has had more time to familiarize himself with the personnel, but with tight end
Chris Cooley
out of the lineup, there aren't many weapons. I think the Falcons will overwhelm the Redskins' inexperienced offensive line.
OK, have a wonderful Sunday. I'll be in Philly for Cowboys-Eagles.
October, 22, 2009
10/22/09
1:45
PM ET
By
Matt Mosley
| ESPN.com
| | |
| --- | --- |
| | |
| | Wesley Hitt/Getty Images |
| | The Cowboys have elevated receiver Miles Austin to the starting lineup, but the team's handling of the situation could have been better. |
Posted by ESPN.com's Matt Mosley
IRVING, Texas -- Dan Snyder was one of the best things that ever happened to Jerry Jones. If not for Snyder's bumbling treatment of
Washington Redskins
"head coach" Jim Zorn, folks might be focused on the
Dallas Cowboys
' apparent communication failure at wide receiver.
I think we all assumed
Miles Austin
would crack the starting lineup when he had 10 catches for 250 yards and two touchdowns in a 26-20 overtime win over the
Kansas City Chiefs
two Sundays ago, but the Cowboys have been guarding it like a state secret. Asked about the prospect of Austin replacing
Patrick Crayton
in the starting lineup Wednesday, Cowboys owner Jerry Jones reacted with an impressive barrage of "uh's" before escaping with a "There's no need to!"
First of all, do we think
Atlanta Falcons
coach Mike Smith is losing any sleep on whether Crayton's out of the Cowboys' starting lineup next Sunday? Of course not. This is just another instance of Wade Phillips' ham-handed ways of communicating with both his players and the media.
Crayton, a seventh-round pick in 2004 who has been a very serviceable player, became a prominent member of
Terrell Owens
' camp from '06 to '08, so he knows a thing or two about questioning the coaching staff. He pretty much knew he was going to lose his starting job based on his poor performance against the Chiefs and Austin's record-breaking day. But he felt like he at least deserved a heads-up from either Phillips or offensive coordinator Jason Garrett.
| | |
| --- | --- |
| | |
| | Tim Heitman/US Presswire |
| | Wade Phillips claims the Cowboys talked to Patrick Crayton about his demotion. |
"I would have loved it," Crayton said. "It would have been real standup. That's not what happened.''
Phillips was then asked repeatedly by reporters during his daily news conference Wednesday why no one thought to tell Crayton of his demotion before he had to find out during practice. He stumbled around for a bit before offering a firm, "We discussed it with him. I have no doubt about that."
Some of my colleagues in the Dallas media quickly pointed out that this type of miscommunication would never happen in the Bill Parcells regime, but that sounds like revisionist history to me. I recall former starting defensive end
Ebenezer Ekuban
finding out that he was inactive for a road game when he showed up at his locker and realized his uniform was missing. Ekuban had the nerve to complain about Parcells' manners, which didn't exactly help his career in Dallas.
Whether or not you think Crayton deserved better, it's obvious the Cowboys continue to fumble even the smallest of situations. Phillips eventually got around to explaining that Crayton still could be in the starting lineup Sunday if
Roy E. Williams
(ribs) isn't ready to go. And if he'd said that first, he could have avoided a hissing contest with Crayton.
With Phillips as the head coach, there's a leadership vacuum at Valley Ranch -- but I've written that column at least 11 times since the inception of the Beast and I need to let the last one breathe a little longer. On Wednesday, Jones used a misdirection play to throw reporters temporarily off the receiver trail. He decided to drop in a little nugget that another team had contacted him about trading a premium draft pick for a "key player" on the Cowboys' roster.
Thanks to ESPN's Chris Mortensen, we now
believe that player's name
is
Martellus Bennett
. I'm trying to find out exactly what the compensation would've been, but a second-round pick sounds about right for the talented Cowboys tight end. Jones wanted the story out there because it suggests that other personnel departments covet his players.
Bennett might be the most impressive four-catch tight end in the league. The entertaining player told me Wednesday that a fifth catch might transform his career. But it's not a funny topic to Cowboys fans. Their team has been awful in the red zone, where tight ends such as
Jason Witten
and the 6-foot-6 Bennett might come in handy. So far this season, Bennett's had one red zone throw in his direction.
But I get it. Why would you throw to those guys when you have
Sam Hurd
in one-on-one coverage with
Champ Bailey
?
OK, don't answer that.
December, 30, 2008
12/30/08
10:16
AM ET
By
Matt Mosley
| ESPN.com
Posted by ESPN.com's Matt Mosley
In the wake of the most disappointing season in Cowboys history, it's interesting that another team would request to talk to offensive coordinator Jason Garrett about a head-coaching opportunity. Garrett was a hot commodity after the Cowboys went 13-3 last season, and he interviewed with the Ravens and Falcons. Garrett chose not to accept the Ravens' offer when Cowboys owner Jerry Jones gave him a huge raise to $3 million a year.
There is nothing in Garrett's contract to prevent him from becoming a head coach elsewhere, but he was considered the head-coach-in-waiting in Dallas. Following the collapse of the Cowboys and the failure of the offense to sustain any type of consistency, something tells me that Jones won't fight as hard to keep Garrett this time around.
If Garrett receives an offer from the Lions, he should take it. He's seen how quickly the window can close in this business and Detroit would offer an opportunity to help turn an organization around. The job's not as bad as it looks -- especially in light of what Mike Smith and Tony Sparano accomplished this past season. The Lions would be gambling on the Garrett of 2007 to make a return. But remember, the Garrett of '07 had Sparano by his side. We all underestimated how important Sparano was to the entire operation in Dallas.
The Lions should learn from the hires that Atlanta, Baltimore and Miami made. Smith wasn't a household name in the league, but he's turned out to be the perfect guy for the Falcons. This franchise is in desperate need of a fresh voice. I'd be lining up an interview with Jim Schwartz, defensive coordinator of the Tennessee Titans. He's the guy the 49ers should've hired when they chose Mike Nolan a few years ago. Schwartz is young, innovative and he's going to make an excellent head coach. Here's a list of candidates the Detroit Free Press put together.