January, 8, 2014
Jan 8
10:47
PM ET
Green Bay Packers
quarterbacks coach Ben McAdoo will interview Saturday for the
New York Giants
' vacant offensive coordinator position, a source confirmed Wednesday. He is the third known candidate to replace Kevin Gilbride, who stepped down from the position last week.
Former Giants assistant and
Tampa Bay Buccaneers
offensive coordinator Mike Sullivan and former
Tennessee Titans
offensive coordinator Dowell Loggains were interviewing Wednesday.
It's possible that other candidates could emerge as teams with interesting candidates get eliminated from the playoffs. But McAdoo has emerged as a hot name this week, interviewing with the
Cleveland Browns
for their head coaching position and drawing interest from the
Miami Dolphins
for their newly vacant offensive coordinator job.
January, 8, 2014
Jan 8
1:35
PM ET
Count wide receiver
Victor Cruz
among those who would welcome Mike Sullivan back to the
New York Giants
' coaching staff as offensive coordinator. Speaking at a promotional event in New York on Wednesday, Cruz disputed the notion that the Giants need major scheme changes on offense and said he thought Sullivan could succeed by putting a fresh face on the same system Kevin Gilbride was running.
Per The Star-Ledger
:
"I think it's just his familiarity with our personnel, with our offense, the one we had. Obviously, he's running a similar offense with Tampa Bay but I'm sure he'll have some tweaks here or there. I just think we need a refresher, I think, more so than people needing a whole big name. A refreshing face that we know, one we're all comfortable with, and we can go from there."
[+] Enlarge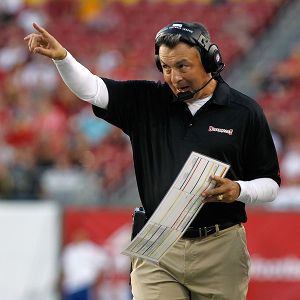 Kim Klement/USA TODAY SportsFormer Bucs offensive coordinator Mike Sullivan will interview with the Giants this week to replace Kevin Gilbride.
Sullivan was fired last week as Tampa Bay's offensive coordinator along with head coach Greg Schiano. Prior to joining Schiano with the Buccaneers, he was the Giants' quarterbacks coach. He was scheduled to interview Wednesday for the offensive coordinator position, as was former Titans offensive coordinator Lowell Doggains. But Sullivan's familiarity with the terminology and principles on which the Giants' offense is based brings up interesting points pro and con about his candidacy.
If you believe, as Cruz does, that the system doesn't need an overhaul but could benefit from a new voice directing it, then Sullivan makes sense. Head coach Tom Coughlin's influence on the offense is significant, and that's not likely to change, so hiring a coordinator who knows how to run what Coughlin likes to run makes sense. Quarterback
Eli Manning
has operated within that same system since entering the league in 2004, and some have suggested that Manning might not want to change.
But I'm not sure on that last point. I think there's a chance Manning would welcome a chance to see what he could do in a new scheme after 10 years. There's a possibility that he's plateaued and would benefit from a new challenge, or a system that plays to different strengths of his. If that's the case, and if you agree with what team owner John Mara said last week about the offense being "broken," then you have to wonder whether a greater overhaul is warranted.
Whoever the Giants hire for offensive coordinator will need major personnel upgrades at offensive line, running back, tight end and likely wide receiver in order to succeed. And again, my expectation is that any changes to the scheme will be minor as long as the team remains committed to Coughlin as its head coach, which it does. But it's fair to at least ask the question of whether that's the right way to go.
December, 31, 2013
12/31/13
2:45
PM ET
People want answers, and I get that. Coaches were getting fired left and right in the NFL on Monday, so
New York Giants
fans are wondering why it should take a few days for their own team's coaching situations to sort themselves out. Offensive coordinator Kevin Gilbride is the name on everyone's mind, and everyone wants to know whether he'll be back or if the Giants will find someone new to guide their offense. Former Giants assistant Mike Sullivan, just fired as Tampa Bay's offensive coordinator Monday, makes a lot of sense, and it's possible Gilbride will get fired and Sullivan will get the job.
But it's also possible Gilbride will keep the job, and truth be told no decision has been made on that yet. Head coach Tom Coughlin, who says he wants to return and has been told by owner John Mara that the team wants him to return, is scheduled to meet with Mara and other Giants decision-makers later this week, likely Thursday. Until that time, little that you hear or read should be viewed as final.
"We're going to do what we have to do, but we're going to do it in an intelligent fashion," Mara said Monday. "We're not going to make these sweeping changes. Stability is important. It's one of the reasons we've had some success here, but there are times when changes have to be made. If we agree on those changes, then we'll make them going forward."
Here's how I read the situation as of Tuesday afternoon:
Coughlin wants to be back as head coach and the team wants him back as head coach, so all of the discussions to come work within that framework. Coughlin operates as one of the decision-makers. Head coaches like to choose their own coordinators, and the Giants historically have allowed that to be the case. Coughlin is, however, outranked in the decision-making hierarchy, chiefly by the people who own the team. And if Mara, who described the offense as "broken" Monday, thinks Gilbride needs to be replaced, he's surely going to make that opinion plain to Coughlin.
If and when that happens, the manner in which Coughlin reacts will determine a lot. I do not know for certain how Coughlin would react if presented with a suggestion or ultimatum about firing Gilbride, who's been with him since his Jacksonville days, and neither does anyone else who's speculating on it right now. The people I've talked to think Coughlin would resist or possibly refuse, but even those people are speculating. Only Coughlin knows what's in his heart and head. So be careful with that.
The other piece to remember here is that Coughlin only has one year left on his contract. In the past, when it appeared he might confront that situation, Coughlin has cited with admiration the old Brooklyn and L.A. Dodgers manager Walter Alston, who never had a contract longer than one year but held the job for 23 of them. He says he's not afraid of having to prove himself year after year, and if the Giants insist on breaking with organizational policy and allowing him to coach as a lame duck, he may say that's fine with him.
But it also could be a negotiating tool. For instance, if the Giants insist that Coughlin fire Gilbride and replace him with Sullivan and he agrees (which isn't an insane thought, since he likes Sullivan and so does quarterback
Eli Manning
), he could do so under the condition that they add a year or two to his contract. If he goes to the mat for Gilbride and insists that he be kept (also possible, since Coughlin is loyal and has expressed confidence in his coaches in recent days), the Giants could agree but then refuse to extend the contract.
There exists the slim possibility that the whole thing could blow up and that Coughlin could decide to leave (or the Giants could decide to fire him) over one or more of these issues. That would be a shocking result at this point, but again, these meetings are going to be emotional, and it's impossible to predict exactly what will come of them. And there are other coaches whose names will come up for evaluation in addition to Gilbride. Special teams coordinator Tom Quinn can't be assumed to be safe. Gilbride's son is the wide receivers coach, and one of Mara's best lines Monday was about how he was "not sure why it took us three years to figure out
Jerrel Jernigan
can play." This is, as Mara said, intended to be a thoughtful process and not a rash one. For that reason, it must take some time.
So while I wish I could give you a more definitive answer, the fact is I don't know right now if Gilbride will be fired because the Giants don't either. My only advice is to be patient and rest assured that the decisions will be discussed and made the right way, whether you end up agreeing with them or not.
February, 15, 2012
2/15/12
8:00
AM ET
Best winter ever continues. I have a northern New Jersey forecast that says 50 degrees today, and I can't remember where my snow shovel is. Almost feels like spring, which would mean free agency and draft and all that good stuff. But it's not. Yet. And so we stick with what we have. Which is links.
New York Giants
When you win the Super Bowl, other teams come after your people. The Giants lost assistant offensive line coach Jack Bicknell Jr. to the
Kansas City Chiefs
, who have
made him their offensive line coach
. This just a few days after quarterbacks coach
Mike Sullivan
left to become offensive coordinator for Greg Schiano in Tampa Bay. Hard to say what impact, if any, these moves will have on the Giants' on-field product in 2012, but it's another sign that nothing is forever.
Giants fans are
paying attention to the rehab
of cornerback
Terrell Thomas
, who tore his ACL in the preseason. The Giants surely are as well. Their decision on whether to bring back Thomas, and for how much, is likely to be rooted in what they can learn about his health between now and the start of free agency. With
Aaron Ross
likely to depart via free agency, the Giants would surely love to be able to re-sign Thomas at a reduced cost thanks to his injury.
Philadelphia Eagles
There are few more stringent believers in the "Wide 9" defensive line concept than
Jason Babin
, who has
flourished in the scheme
under Jim Washburn for the past two seasons. Babin adds his voice to the chorus of Eagles emboldened by the strong finish and eager to continue their progress as a defense in 2012.
Steve Spagnuolo spoke about
his decision
to take the
New Orleans Saints
' defensive coordinator job over the amorphous, undefined role he was apparently offered by Andy Reid in Philadelphia. I'm not sure that's a decision that really needs explaining, am I right?
Dallas Cowboys
Calvin Watkins' sources tell him the Cowboys are
not interested
in UStream sensation
Randy Moss
, who's trying to return to the NFL after a year in which no one wanted him and two season after he flopped miserably with three different teams. That's one down, 31 to go.
Nick Eatman has a list of five Cowboys players who weren't starters in 2011 but could have a chance to make
more significant contributions
in 2012.
Bruce Carter
and
Sean Lissemore
seem like obvious candidates, but check out what Nick has to say about
Barry Church
,
Andre Holmes
and
Alex Albright
. There could be some serious opportunity at linebacker for a guy like Albright, especially if a guy like Carter can't take the next step for which the Cowboys are hoping.
Washington Redskins
Mike Jones
analyzes the Redskins' quarterback dilemma and wonders, as some of you have begun to wonder, if it might make sense to take a
second-tier option
such as Ryan Tannehill all the way up at No. 6 if they can't or won't trade a bunch of first-round picks to get Robert Griffin III. This came up in Tuesday's chat, and I wonder if Tannehill can improve his stock enough to get that high by April 26.
Hogs Haven broke down
the Redskins' own free agents
by tier. I agree with their first tier, and the idea that they could upgrade at starting center and still bring back
Will Montgomery
as a utility lineman who can play guard as well. I also expect that they'll bring back
Tim Hightower
as the starting running back, since they like their depth there and believe he's a better passing-game asset than
Roy Helu
or
Evan Royster
.
February, 11, 2012
2/11/12
1:29
PM ET
By
ESPN.com staff
| ESPN.com
The New York Giants will need a new quarterbacks coach for Eli Manning. ESPNNewYork.com's Ohm Youngmisuk has the story.
Mike Sullivan has been hired by the Tampa Bay Buccaneers for their offensive coordinator job, league sources told ESPN NFL Insider Adam Schefter.

Sullivan just finished his second season as quarterbacks coach after serving as the Giants wide receivers coach for six seasons. This past season, Manning enjoyed the finest season of his career. He earned his second Super Bowl MVP and passed for a career-high 4,933 yards during the regular season.

He had 29 touchdowns and 16 interceptions, down from the 25 interceptions he had in 2010. Entering the season, Manning said he wasn't a 25-interception quarterback and he was able to cut that number down with Sullivan's help.

Read the rest of Ohm's story here.
February, 12, 2010
2/12/10
4:08
PM ET
By
Matt Mosley
| ESPN.com
Pardon the late arrival today. We've had a foot of snow in the Dallas area and I've finally found a place that has electricity. But in other news, the
New York Giants
have announced that Mike Sullivan will replace Chris Palmer as quarterbacks coach. Sullivan has done a nice job as wide receivers coach the past six seasons and now he'll work hand in hand with
Eli Manning
and the other Giants quarterbacks.
Sean Ryan was promoted from offensive quality control assistant to wide receivers coach. Coach Tom Coughlin prefers to promote from within, but he's shown a willingness to look elsewhere while filling positions on defense.
"The major reason that I felt strongly about Mike Sullivan coaching the quarterbacks here is that Mike has been with us for all six years and he's been an integral part of the progress of our pass game," said Coughlin in a press release. "He was the position coach for the wide receivers last year and worked very closely with the quarterbacks and the offensive coordinator. He has a very good understanding of our passing game. He did the majority of the work in assembling our first and second-down pass game. He is an industrious, very hard-working, very intelligent coach who looks forward to each challenge. In the words of Eli [Manning], he knows exactly what we can expect from Sully and that Mike is a grinder. Mike is going to work extremely hard in the face of any challenge -- and his challenge is to continue the development of Eli."
Sullivan and Manning have always had a strong rapport, so this move makes sense. Manning stays in constant contact with his wide receivers in the offseason and he's always traded ideas with Sullivan. I think Palmer was an excellent teacher at the quarterback position, but it won't hurt Manning to hear a new voice.
October, 27, 2008
10/27/08
9:59
AM ET
By
Matt Mosley
| ESPN.com
Posted by ESPN.com's Matt Mosley
When you isolate Plaxico Burress' latest transgression (skipping a neck treatment), it doesn't seem like a big deal. But with Burress' growing body of work off the field, it becomes another maddening episode for Giants head coach Tom Coughlin.

Burress
This is a man who preaches team above all else, and this is a player who doesn't quite get that concept. It would be one thing if Burress were a 22-year-old rookie fresh out of college, but he's a 31-year-old man who loves challenging authority. Some people win our respect by challenging authority, but Burress comes off looking like a petulant child.
My colleague Jeff Chadiha traveled to New Jersey to cover what we thought could be a Super Bowl preview. But because of Burress' actions Saturday, Jeff barely mentioned the game in his column. It's too bad, because the Giants asserted themselves once again as the team to beat in the NFC. And I understand why Coughlin was frustrated at the mention of Burress' benching to start the game. He may have snarled at reporters, but behind closed doors, Burress is the one he's angry with.
But as Jeff points out, Burress doesn't seem capable of showing remorse. He blew off his recent suspension because of his noble effort -- to drop off his son at school. And on Sunday, he basically suggested that Coughlin was out of touch.
"The coaches who are around me every day know what kind of person I am," Burress said. "My receivers coach [Mike Sullivan] and the offensive coordinator [Kevin Gilbride] know who I am. I'm not around Coach Coughlin every day so he's not as involved with me."
At the end of his column, Chadiha wonders if Burress' selfish behavior will prevent the Giants from winning another title. The good news for Giants fans is that quarterback
Eli Manning
does a nice job of ignoring whatever Burress is doing off the field. Coughlin handles things a bit differently, but he's not going to let one player stand in the way of progress. If he wants to sit Burress down again at some point, the Giants are loaded at receiver. Might not be a bad idea.
On Sunday, he was little more than an expensive decoy. Something tells me they could've found a way to beat Pittsburgh without Burress' two catches for 15 yards.