January, 27, 2014
Jan 27
8:00
AM ET
It was an eventful Pro Bowl for the
Philadelphia Eagles
' representatives.
Quarterback
Nick Foles
was named offensive MVP after completing 7 of 10 passes for 89 yards and a touchdown.
Foles threw a go-ahead touchdown pass to
Cleveland Browns
tight end
Jordan Cameron
in the fourth quarter. Foles entered a 14-14 game just before the fourth quarter. On his second full drive, he found Pittsburgh wide receiver
Antonio Brown
deep to get "Team Sanders" into the red zone. He hit Cameron on a corner route to make it 21-14.
Wide receiver
DeSean Jackson
caught the first touchdown of the game from
Indianapolis Colts
quarterback
Andrew Luck
. Luck got the ball back on a flea flicker and threw a jump ball into the end zone. Jackson was there with two defenders. He tore the ball from the grasp of
Tennessee Titans
cornerback
Alterraun Verner
for the 36-yard score.
It wasn't all good news. Eagles running back
LeSean McCoy
, the NFL's leading rusher in 2013, left the game in the second half with what was announced as an ankle injury. He didn't return to the game, but that didn't mean much considering the nature of the game. The nature and severity of the injury were not immediately known.
Before getting hurt, McCoy lost a fumble. Jackson had a ball taken out of his hands for an interception.
Eagles left guard
Evan Mathis
got plenty of playing time for
Team Rice
along with McCoy. Mathis played both guard positions, and helped Carolina running back
Mike Tolbert
win the game -- 22-21 -- with a 2-point conversion with 41 seconds left in the game.
Perhaps Mathis' finest moment was on Twitter. With Foles in the game, Mathis tweeted, "Throw a pick, @NFoles_9! Is that weird? #Pro Bowl #TeamRice."
After Baltimore kicker
Justin Tucker
missed a 67-yard field-goal attempt on the game's final play, the NBC cameras caught Foles talking with Saints quarterback
Drew Brees
.
"We've got to get a picture with you, me and Justin," Foles said.
Foles, Brees and Tucker are all graduates of Westlake High School in Austin, Texas.
March, 22, 2012
3/22/12
2:03
PM ET
Man, running back really is a funny position these days in the NFL, isn't it? Last week,
Mike Tolbert
, who has 303 carries and 19 touchdowns over the past two seasons, signed a free-agent deal to be a fullback on a
Carolina Panthers
team that has two starting-caliber tailbacks. Thursday,
Michael Bush
, who had 977 rushing yards and 418 receiving yards in 2011,
signed a free-agent deal
with the Bears, who have designated star running back
Matt Forte
as their franchise player.
[+] Enlarge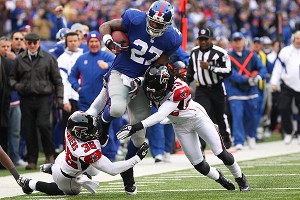 Debby Wong/US PresswireIn an odd year for free-agent running backs, it's possible Brandon Jacobs could return to the Giants.
I have
New York Giants
asking me what all of this means for
Brandon Jacobs
, who was released a couple of weeks ago after he and the Giants couldn't agree on the size of the pay cut he would take in order to remain on the team. A lot of people think the slow and weird running back market means Jacobs is likely to return to the Giants, since it portends a lack of opportunity to find a better deal elsewhere. I think that's possible, but I don't think it's that cut and dried. I think it comes down to whether there's a team out there that has a specific role in mind for Jacobs.
Of the top 15 running backs (
according to our Scouts Inc. grades
) who hit the open market when free agency opened last Tuesday, Bush is just the fourth to sign. And all four have been backs who spent 2011 in time-share or backup roles. (Jacobs ranks No. 3 on this list, since I'm not counting the two guys at the top who got franchised and therefore didn't hit the open market.)
What's it all mean? Well, teams have come to realize that there's not much value in throwing big free-agent bucks at running backs when good ones can be found in the middle and late rounds of the draft. But it also shows that running back beauty today is very much in the eye of the beholder.
If you're a free-agent running back on this year's market, you need to hope some team has a very specific role or job in mind for you. The Panthers wanted Tolbert because they saw in him a fullback who could pick up big yards for them in short-yardage spots or at the goal line. The Bears wanted Bush because ... well, they always seem to want a high-profile backup behind Forte since they don't like to give Forte the goal-line carries. Also, it's possible Forte could hold out, demand a trade or refuse to sign his franchise tender. Forte's unhappy in Chicago, and the Bears helped their leverage by signing a guy who showed he could handle starter's duties last year in Oakland when
Darren McFadden
got hurt.
Jacobs wouldn't have fit either of those roles, which is why he's not a Panther or a Bear. But that doesn't mean there's not a team out there who sees Jacobs as a fit for what they need in their backfield. He brings some things other running backs don't bring. He's by far the biggest and most physical back on that Scouts Inc. list, taller and heavier than even the guys who are being signed for fullback roles. He's as physical a runner as there is in the league, and he's got open-field speed that befits a much smaller guy. No, he's not the same terrifying force he was earlier in his career, but he can help, as he did the Giants in 2011. He's also got two Super Bowl rings, which is something I'm fairly certain no one else on the list can claim. And yeah, that kind of thing does appeal to teams.
The Giants have a spot for him -- in the same championship time-share in which he spent 2011 with his buddy
Ahmad Bradshaw
. They haven't filled it yet, and as the central point of this post indicates, there's no rush for them to do so. If Jacobs decides he wants to go back and take the offer they gave him two weeks ago, there's a decent chance that spot will still be waiting for him. But he's not in any rush either. There are still teams with holes in their backfields, and one of those teams might just decide Jacobs is the guy they want. Running back is a strange and sl0w-moving market this year, and I don't think we can know anything just yet about where Jacobs fits into it, and whether he goes back to the Giants or not.
March, 21, 2012
3/21/12
10:35
AM ET
Been a couple of hours since the breakfast links, in which I pointed out that there is almost nothing being written anywhere in print or on the Internet about what the Super Bowl champion
New York Giants
are up to these days. And nothing's changed. Still nothing out there. No rumors, no reporting, nothing. But I have Giants fans (I think) who still come here to read this blog, and it's a disservice to them if we allow the inertia of the coverage to dictate our content.
To that end, here's a list of some of the most popular questions I'm getting on Twitter and in the mailbag from Giants fans the past couple of days, and my best attempts to answer them:
Why didn't the Giants make the deal the Eagles made with Houston to get DeMeco Ryans?
It's not a terrible question. The Giants need a middle linebacker too, and if someone as good as Ryans could be had for nothing more than a fourth-round pick and a swap of third-rounders, why didn't the Giants do it? There are several possible answers. First, the Eagles have a great deal more salary-cap room than the Giants do, and Ryans is making $5.9 million this year. Second, the Giants got by just fine without a top-of-the-line middle linebacker last year, and they likely believe they can do so again. If they re-sign
Jonathan Goff
, as they're expected to do, and he's healthy, they believe he's more than good enough at that spot given their other strengths on defense. They didn't have the same level of need that the Eagles did. And third, it's not as though there was a "For Sale" sign on Ryans. The first any of us heard that he was available was when we heard the Eagles had acquired him. Maybe the Eagles just asked the right question at the right time. Ryans was no longer useful to the Texas at his salary, since they'd switched to a 3-4 last year and were taking him off the field in passing downs. For the Eagles, he'll play all three downs and likely flourish in his original position. Maybe the Eagles just had a good idea no one else had.
Is there a chance Brandon Jacobs comes back?
[+] Enlarge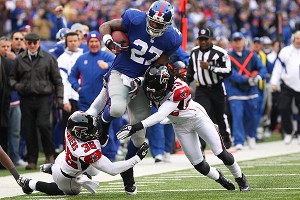 Debby Wong/US PresswireThe door is not closed on running back Brandon Jacobs returning to New York.
There is, until he signs elsewhere, that chance. The running back market is dormant, and there hasn't been a peep to indicate any team has had Jacobs in for a visit or expressed interest in him. That doesn't mean no one has, of course, but it indicates that the market isn't teeming with stellar offers for his services. If no team offers him more than whatever the Giants' final offer was, sure, he could come crawling back. But I still think he'll find a new home. The
Carolina Panthers
, who were already loaded at running back, signed
Mike Tolbert
, who was one of the best options on the market. So any team that was looking at Tolbert now has to look at lesser choices, and Jacobs is on that list.
Speaking of which, how about a trade for Jonathan Stewart, if Carolina has so many backs?
The Panthers moved quickly to dispel any notion that the Tolbert acquisition means they'll deal Stewart or
DeAngelo Williams
or even
Mike Goodson
. But that could be a leverage play to keep interested teams from thinking they're desperate. The fact is, they should see what they can get for Stewart, who's miscast there in a timeshare with Williams (and now Tolbert), and if I were the Giants I'd be extremely interested. Stewart is a big-time talent and would be a big upgrade over Jacobs in the Giants' backfield tandem with
Ahmad Bradshaw
.
What are they doing on the offensive line?
With
Kareem McKenzie
gone, the most glaring need is right tackle. But if
Will Beatty
is recovered from his eye problems, they could move either him or
David Diehl
to right tackle. They liked what
Kevin Boothe
gave them at left guard late last year, and they think highly of
Mitch Petrus
in that spot going forward, so they feel like they have some depth on the interior. I think they should get a tackle, be it in free agency or in the draft, because they're getting thin at those spots. But I don't think it had or has to be any of the bigger names out there. As they always do, the Giants will target someone they like for their team and system and then work to get him. And if they miss, they'll look for a solution on their own roster.
I'll keep you posted if anything else comes up. Hopefully this holds you over.
March, 13, 2012
3/13/12
8:00
AM ET
Morning. The new league year begins at 4 p.m. ET, and while two of our teams may have
less to spend
than they initially thought, it promises to be an interesting day on which speculation finally begins converting to reality. No longer must we wonder what our teams will do once free agency begins. Today, we get to watch and see.
At this hour, it is still technically not yet the new league year. So one last time, our links are in order of this past year's division standings. Tomorrow, they'll be alphabetical again.
New York Giants
Old friend Kevin Boss has been
released by the Raiders
. Lots of people were asking, in the wake of this news, whether this meant he'd come back to the Giants. It makes perfect sense to me. Boss knows the system. The Giants need a tight end. He's not likely to cost anything near what he cost last year. He probably regrets leaving. Why not? If he's healthy, the Giants need to at least look at it.
Free-agent running back Mike Tolbert says he
wants to be the guy
to replace Brandon Jacobs in New York. I say it's a great fit. Tolbert is a different kind of back than Ahmad Bradshaw is. He's used to being in a committee situation and apparently wouldn't mind being in one again. He's good enough to be an every-down guy if and when Bradshaw has to miss a game. Tolbert and Michael Bush, two starter-quality free agents who have been operating in running back committees, make the most sense as Jacobs replacements if the Giants can afford them. The question now for Tolbert is how much he expects to make. They're right up against the salary cap, which is why Jacobs is gone in the first place.
Philadelphia Eagles
Rich Hofmann wonders if free agency will be the time when the Eagles, who should be feeling a
sense of urgency
about the coming season, start to show it. I don't think that's how the Eagles roll. And while they might make a signing or two (Rich raises the London Fletcher possibility we
discussed here last week
), they're not likely to go nuts the way they did a year ago. Those players are all still there, or the good ones are at least, and they believe they'll perform better in Year 2.
The Eagles did take care of restricted free agent Antonio Dixon on Monday, tendering him
at second-round level
. If any team wants to sign him to an offer sheet, the Eagles will have seven days to match the offer or receive a second-round pick from the team that wants him. Basically means he's not likely to go anywhere.
Dallas Cowboys
Jean-Jacques Taylor writes that the salary-cap sanctions against the Cowboys show that Jerry Jones doesn't wield
the same power he used to
in an NFL that's become a Roger Goodell dictatorship. I don't think that's what happened here. It wasn't Goodell who pushed for these sanctions, but rather the other owners. And it does bear mentioning that the new chairman of the NFL Management Council, which issued the sanctions, is Giants owner John Mara. Jones and the Redskins' Dan Snyder likely flaunted the 2010 guidelines because they saw that they constituted illegal collusion and figured the NFL would have to admit to such if it ever wanted to call them on it. They just didn't count on the NFL getting its union to go along with the punishment, which effectively cut off their avenue for complaint.
Todd Archer explains what you really want to know if you're a Cowboys fan -- why the sanctions announced Monday
don't necessarily kill
the Cowboys' plans to use free agency to fill the many holes on their roster.
Washington Redskins
Regardless of the sanctions, the Redskins still need to be active and intelligent in free agency, according to Mike Jones and Mark Maske, who run down
some of the Skins' potential moves
. One name that popped on the market late Monday is that of right tackle Eric Winston, who was released by the Houston Texans in a surprise move and should be one of the Redskins' first phone calls this afternoon.
Dan Daly writes that the sanctions are a disgrace, and that the
Redskins were negligent
for allowing them to happen. Strong take, but again, I'm not sure I agree. The Redskins broke no rule whatsoever. They simply acted in a way that upset their competitors. Unfortunately for them, the NFL is a business in which their competitors have the ability to band together and punish them for behavior they don't like. I guess the Redskins should have known that, but (a) it strikes me as having been worth a shot and (b) they have so much cap room this year that it's unlikely to matter too much anyway.
March, 9, 2012
3/09/12
4:22
PM ET
Mike Garafolo of
The Star-Ledger
reported, and our Adam Schefter confirms, that the
New York Giants
have decided to release running back
Brandon Jacobs
because they have been unable to come to terms on a renegotiated contract with him. Jacobs was entering the final year of his contract and was scheduled to make $4.9 million in 2012. But the Giants have salary-cap concerns and have been working with Jacobs in an effort to get him to agree to cut that salary, perhaps by half or more.
Jacobs, who took a pay cut last year so the team could re-sign his friend and backfield-mate
Ahmad Bradshaw
, said recently that he'd be amenable to a cut but only if it were "fair." Apparently, he and the team could not reach agreement on what would constitute "fair," and Jacobs now will look for work elsewhere.
Jacobs rushed for 4,849 yards and 56 touchdowns, and, perhaps more importantly, won two Super Bowls in seven years with the Giants. His best individual season was 2008, when he averaged 5 yards per carry and racked up 1,089 yards and 15 touchdowns in only 13 games. He was less productive in recent years and lost the starting job to Bradshaw, but he played a key role this past season when Bradshaw had to miss games with a foot injury, and he and Bradshaw worked well together as a running back committee.
The Giants have some young running backs, including
D.J. Ware
,
Da'Rel Scott
and
Andre Brown
, but they also could look on the free-agent market or in the draft for someone to replace Jacobs' carries and production.
Michael Bush
and
Mike Tolbert
are both free-agent running backs who have performed well in committee roles in recent years, and would fit well if the Giants decided to go in that direction. Of course, it's unlikely they'll get either of those guys for less than it would have cost them to keep Jacobs.
It has to be a tough parting for Jacobs and the Giants, even though both sides saw it coming for months. The Giants are the only NFL team for which Jacobs has played, and they've had a great deal of success together. But such is life in the NFL's salary-cap world. The Giants would have liked to keep him, but this time around, they couldn't make it work financially.
August, 22, 2010
8/22/10
9:00
AM ET
By
Matt Mosley
| ESPN.com
I thought the most significant thing to come out of Saturday's preseason game was the debut of Cowboys rookie linebacker
Sean Lee
in Dallas'
16-14 victory
against San Diego. The second-round pick made back to back plays in the fourth quarter to shut down the Chargers' short-yardage running game. I wondered how he'd react to game speed, but it didn't seem to faze him. Watching him fight off a lead blocker and then tackle the tailback on his own was the most impressive play of the evening.
Now, let's look at some of other aspects of the Cowboys' win:
Nice job by cornerback Terence Newman bouncing back from getting burned to undercut a route and intercept Philip Rivers in the first quarter. This defense looks a lot more opportunistic after three preseason games.
The Cowboys better hope Ryan Mathews is the second coming of LaDainian Tomlinson, because he made them look bad at times Saturday night. The Chargers were able to run down hill with all three of their main backs. Wade Phillips' defense will have to work on tackling this week, because it kept bouncing off Chargers running backs. I've been a fan of Mike Tolbert's ever since he came out of Coastal Carolina. Impossible to bring him down if you go high, and Orlando Scandrick learned that lesson the hard way.
I didn't like the looks of Gerald Sensabaugh's left shoulder injury. Keith Brooking injured his right shoulder and said it was a "mild AC strain." Neither injury is serious, but don't be shocked if they sit out the final two preseason games.
I know that Tony Romo had linebacker Stephen Cooper closing in on him, but you can't throw that pass into the middle of the field. You'd rather see Romo take the sack in that situation, and he admitted that after the game. It wasn't a great night for Romo and the offense, but the red-zone touchdown pass to Miles Austin was a thing of beauty. Romo throws that back-shoulder fade as well as any quarterback in the league right now.
Norv Turner burned the Cowboys with those little slip screens to Darren Sproles. He used the Cowboys' speed against them by letting DeMarcus Ware and Anthony Spencer come free before dumping the ball over their heads. Not even Brooking could make a play in the open field as Sproles raced for daylight.
Marion Barber and Felix Jones aren't doing much in the preseason games. Jones needs to turn some of those runs upfield quicker instead of gliding down the line of scrimmage, hoping to find a seam.
Rookie free-agent safety Danny McCray has become a special teams phenom. I saw him make at least three tackles in coverage. He's already among the Cowboys' top two or three special-teams players, and he's not finished climbing.
It's fun watching left tackle Doug Free get out in space on screen passes. He flattened a defender to lead the way for Barber's 8-yard reception.
Let's give offensive tackle Robert Brewster his due. He certainly had some help at right tackle when Romo was on the field, but I thought he played pretty well. And when he moved over to the left side, Brewster did a nice job of anchoring and giving Jon Kitna a clean pocket. Backup center Phil Costa also receives kudos for some excellent work. He does a nice job on those middle screens. He's been the under-the-radar star of the offensive line in this camp. Mark that down somewhere.
Spencer is pretty much impossible to block right now. He had one sack wiped out because of defensive holding, but he was constantly in the face of Rivers or Billy Volek. He's poised to have a huge season.
During my time in Oxnard, Calif., last week, I kept telling you guys that Martellus Bennett could be a threat in the red zone. Well, Kitna realized that Saturday night. Bennett was a nice third-down option for both Romo and Kitna. He's an enormous target who is too big for safeties to cover and too fast for linebackers. That might have been the best all-around game I've seen him play in a Cowboys uniform. Let's see if he can take it to the regular season.
Linebacker Leon Williams didn't help himself by missing a tackle in the backfield on Tolbert. And fellow linebacker Victor Butler helped himself big time with a strip sack in the second half that led to the game-winning safety. Butler has had an excellent camp.
Cornerback Cletis Gordon's the biggest surprise from this camp. The former Charger snagged an interception with his right hand while running step for step with a wide receiver in the second half. If you count practice, I think he has at least 14 interceptions this preseason.
I like how rookie running back Lonyae Miller runs the ball. He played better than Herb Donaldson on Saturday. I'd try to get Miller on the practice squad. I'm sure he wanted to show off for his former Fresno State teammate Mathews.
November, 15, 2009
11/15/09
4:43
PM ET
By
Matt Mosley
| ESPN.com
SAN DIEGO -- After Eagles punter
Sav Rocca
shanked a punt, the Chargers had great field position. On the touchdown, coach Norv Turner did a nice job of putting fullback
Mike Tolbert
in a one-on-one situation with Eagles middle linebacker
Chris Gocong
, who is playing out of position.
Gocong, who hasn't played middle linebacker since high school, allowed Tolbert to cross his face and the fullback had an easy touchdown. Early on, the Chargers were getting the ball to tight end
Antonio Gates
with ease. The Eagles can't handle tight ends -- and that's not lost on Turner.
The Eagles have already thrown two passes to
Reggie Brown
, who's barely on this roster. Why would you try to dial up Brown deep when you have
Jeremy Maclin
and
DeSean Jackson
? I can't answer that. Eagles have the Chargers pinned deep in their own territory now.
LaDainian Tomlinson
looks slow to me -- and I realize that I'm not breaking news with that stunning observation.
The Chargers had Tomlinson's replacement ready to go in the form of
Michael Turner
. He's now a star running back for the
Atlanta Falcons
.