NFC East:

monday night football
September, 27, 2011
9/27/11
1:25
AM ET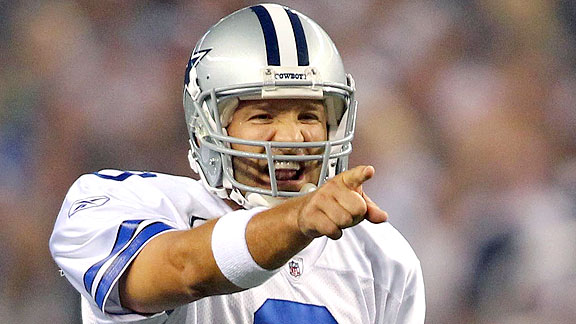 Tim Heitman/US PresswireTony Romo overcame a broken rib and a punctured lung to lead the Cowboys over the Redskins.
ARLINGTON, Texas -- In the raw, emotional aftermath of an
18-16
meat-grinder of a win,
Dallas Cowboys
receiver
Dez Bryant
spoke about his quarterback,
Tony Romo
, in awed, reverent tones.
"He motivated me to go out there tonight when I obviously wasn't 100 percent," said Bryant, who was slowed by a thigh injury but still managed to make the critical third-and-21 catch that kept the Cowboys' final scoring drive alive. "I mean, broken rib, punctured lung, and he's out there. You've got to be willing to put yourself out there for a guy like that."
This was the prevailing thought in the Cowboys' locker room -- that in spite of the tower of circumstances that were stacked against him, Romo was the reason the Cowboys beat the
Washington Redskins
on Monday night. He was without top receiver
Miles Austin
, and Bryant wasn't himself. His offensive line played a miserable game, especially center
Phil Costa
, who was so confused by Redskins defenders barking fake snap counts that he kept snapping the ball before Romo was ready for it. The running game didn't get going until the second half. Oh, and his rib is still broken, and that hurts.
And yet, without much help from any of his offensive friends, and without so much as a single touchdown, Romo managed to deliver a fourth-quarter comeback win for the second week in a row.
"Pure will," tight end
Jason Witten
said. "And nobody in this locker room is surprised. We knew he had that kind of makeup, and when you have a quarterback with that kind of mentality, it's easy to want to go out there and play for him."
The watchword for the NFC East so far in this young season is "tough." Sunday in Philadelphia, the undermanned, injury-ravaged
New York Giants
came back on the division-favorite Eagles and won a game they seemingly had no business winning. Giants quarterback
Eli Manning
wasn't playing with broken ribs, but his passing-game options are as shredded as Romo's right now, and that says nothing of the injury issues the Giants are enduring on defense. But Manning remained cool and calm Sunday, picked his spots and threw four touchdown passes to lift the Giants to 2-1 in spite of all they're going through.
Monday night, Romo did basically the same thing. No, he didn't throw any touchdowns. The scoring hero of this game was rookie kicker
Dan Bailey
, whose six field goals accounted for every point Dallas scored. But with everything seeming to crumble around him and his center flipping the ball over his head, Romo kept making plays. He kept getting in his teammates' faces and urging them to be better. His very presence on the field did as much. It may well have been Romo's shining moment as a leader.
"He won the game for them," Redskins nose tackle
Barry Cofield
said. "Quarterbacks are measured by wins and losses, and he did enough to win the game. He made enough plays."
The Redskins, by the way, would like to be included in the toughness discussion. They know everybody picked them to finish last, but they came into Monday night's game 2-0, and when it was over they felt they'd let one slip away. They're not into moral victories in Washington. They believe themselves to be a good team, and they took a tough loss just the way you'd expect from a team that expects itself to win. They took it hard.
"We feel like we have everything we need to be a winning team," left tackle
Trent Williams
said. "We've just got to find a way to bring these tough games home."
Williams was flat-out exhausted from working all night to try to contain Cowboys pass-rushing monster
DeMarcus Ware
. Williams had Ware frustrated to the point that the Cowboys moved him over to the other side to send him against right tackle
Jammal Brown
for much of the second half. Ware got past Williams a couple of times in the fourth quarter, when the Redskins were unable to sustain the clock-eating drive that would have salted away their victory, but overall Williams had reason to feel good about his performance. He said he did, but he looked spent.
"It's almost impossible to go out there and dominate him to where he doesn't make any plays," Williams said. "I felt like I recovered well, but there's some stuff he did that he didn't even show on film, a lot of inside moves and stuff. He's a great, great player."
But Williams hung tough, and the Redskins' defense hung tough for most of the night. And the offense ran the ball tough, though without much success against an extremely tough-looking Cowboys defense. These two teams traded punches as if they were fighting at the end of a "Rocky" movie, and in the end the Cowboys were one or two plays tougher.
"I don't feel like we took a step back," Redskins linebacker
London Fletcher
said. "We held them to six field goals and we needed to make one more play than we made defensively."
Coming out of this week of head-to-head matchups in the NFC East, the Cowboys, Giants and Redskins are all 2-1. The favored Eagles are 1-2, mainly because their own quarterback hasn't been able to finish the past two games. While
Michael Vick
is complaining about not getting calls, Manning and Romo have been finding ways to overcome their challenges and win games anyway. Their teams may not have as much talent on the field right now as the Eagles do, but they're taking a back seat to no one in the toughness department, and the records reflect that.
"It's going to be tough and hard-fought every single week, right to the end, and I think with all four teams," Cofield said. "That's the way it always is in the NFC East. That's the way we like it."
September, 26, 2011
9/26/11
11:45
PM ET
ARLINGTON, Texas -- A couple of thoughts on the
Dallas Cowboys
' 18-16
victory
over the
Washington Redskins
on "Monday Night Football."


What it means
: Something very similar for the Cowboys to what the Giants' victory meant to them Sunday in Philadelphia. The Cowboys are shredded on offense right now, with a jumpy, mistake-prone offensive line and very limited options at receiver. And yet, Cowboys quarterback
Tony Romo
found a way to move the offense down the field and into field goal range six times -- enough to deliver a win the Cowboys had no business picking up. Banking a division win like this at a time when their team is not whole is pure gold for a team like the Cowboys or the Giants, each of whom find themselves a gritty, gutsy 2-1. For the Redskins, this game is a missed opportunity. They had the Cowboys where they wanted them but were unable to generate enough offense in the fourth quarter to put it away. Credit the Cowboys' defense, but Washington's offense doesn't have big-time playmakers, and it cost them a win they should have had.
Romo needs help
: I don't know whether Romo played a bad game or whether he was up against impossible circumstances. He didn't have top receiver
Miles Austin
, out with a hamstring injury. He really didn't have much of his other star receiver,
Dez Bryant
, who's clearly far less than 100 percent due to his thigh injury and was in and out all night before catching a big third-down pass in the final minutes. The Redskins knew Romo wanted to throw to tight end
Jason Witten
, so they covered up Witten all night. Left tackle
Doug Free
had a bad game. Center
Phil Costa
had an awful game, botching several quarterback/center exchanges and getting an earful from a clearly frustrated Romo. If the Cowboys can't support Romo better than they did Monday night, he's going to have to keep pulling miracles out of his bag, as he basically has done the past two weeks.
Washington's offense is boring, but basically works
: The Redskins' offensive game plan for this season appears to be simple: Run the ball, run out the clock and stay away from mistakes. It's not a lot of fun, but it doesn't have to be. They rely on running back
Tim Hightower
, who's an asset as a runner, a receiver and a pass-blocker. When he needs to come off the field, they bring in spry rookie
Roy Helu
.
Rex Grossman
throws downfield some, but it's clear they want to limit his ability to hurt them with a bad decision and/or throw. They protected him well for most of the night, with second-year left tackle
Trent Williams
holding his own against
DeMarcus Ware
until Ware broke through for a couple of big plays in the fourth quarter. The Redskins built up the defense this offseason and likely will target some offensive pieces next year. But for now, this ball-control plan is what they're comfortable with, and it's doing what they need it to do, even if it did come up just short Monday night.
Run on the Redskins?
: The Cowboys couldn't do anything in the run game in the first half, but in the second, holes started opening up and
Felix Jones
started hitting them and doing major damage. It felt similar to last week's Redskins game, in which the
Arizona Cardinals
couldn't run the ball against them in the first half but then got
Beanie Wells
going in the second. The Redskins are thin on the defensive line with rookie
Jarvis Jenkins
out for the year with a knee injury, and I wonder if their linemen are playing more snaps than the coaching staff would like them to play and maybe wearing down in the second half. Just a theory, and something to watch.
Sound in the kicking game
: Other than the field goal the Redskins had blocked as a result of a bad snap, the kickers and punters put on an absolute show. Redskins punter
Sav Rocca
and Cowboys punter
Mat McBriar
are both having stellar years, and their skills were on display all night as they helped determine field position. And Washington's
Graham Gano
and Dallas'
Dan Bailey
combined for nine field goals as neither offense was able to muster much of anything in the red zone.
What's next:
The Cowboys are likely going to need to generate more offense Sunday when they host
Matthew Stafford
,
Calvin Johnson
and the high-flying, 3-0
Detroit Lions
. That's a tougher team to outscore than the Redskins are. Washington heads to St. Louis, where the Rams have yet to get their season off the ground and are 0-3 including losses to the Eagles and the Giants during their early-season tour of the NFC East. The Redskins should be able to get to 3-1 and put this tough loss behind them.
September, 26, 2011
9/26/11
7:17
PM ET
ARLINGTON, Texas --
Tony Romo
will be active and start at quarterback for the
Dallas Cowboys
in their "Monday Night Football" matchup against the
Washington Redskins
. Also active for the Cowboys are wide receiver
Dez Bryant
and running back
Felix Jones
, who spent last week battling injuries that might have kept them out of the game. Receiver
Miles Austin
remains out with a hamstring injury, and
Kevin Ogletree
will start in his place.


For the Redskins, safety
LaRon Landry
is active for the first time this season, as he's finally recovered from the hamstring injury he suffered during training camp. Landry's return is a big boost to a Washington secondary that was conceived in the offseason with the idea Landry and
O.J. Atogwe
as its starting safeties.
Romo fractured a rib and punctured a lung in last Sunday's victory over the 49ers in San Francisco, but the lung has healed, and Ed Werder reports that Romo plans to take a
painkilling injection
to help him deal with the pain from the rib fracture Monday night. Bryant injured his thigh in the season opener two weeks ago and missed the Week 2 game, but with Austin out his return for this game was critical. He looked good running on the field a few hours before game time, and it'll be worth watching how explosive he's able to be.
Kickoff specialist
David Buehler
, out with a groin injury, is inactive, which means rookie
Dan Bailey
will handle kickoffs as well as field goals. And cornerback
Orlando Scandrick
is out with an ankle injury, a loss that's offset by the fact that starting corner
Terence Newman
is active for the first time this season.
Redskins fullback
Darrel Young
is out with a hamstring injury, so veteran
Mike Sellers
starts in his place.
I will be here at the game, writing about it throughout and late into the night. We'll also be having our
Monday Night Live
chat, which you can join in if you'd like to pester me and our other fine ESPN.com writers and analysts with questions about the game.
The complete list of inactives:
REDSKINS
WR
Donte' Stallworth
S
DeJon Gomes
FB Darrel Young
LB
Markus White
OL
Willie Smith
WR
Leonard Hankerson
DL
Darrion Scott
COWBOYS
K David Buehler
WR Miles Austin
CB Orlando Scandrick
RB
Phillip Tanner
G
David Arkin
G
Derrick Dockery
DE
Clifton Geathers
September, 20, 2011
9/20/11
1:23
AM ET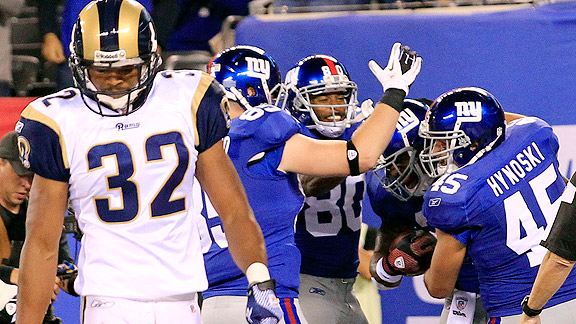 AP Photo/Julio CortezIt wasn't pretty, but New York capitalized on St. Louis' mistakes to beat the Rams on Monday night.
EAST RUTHERFORD, N.J. -- There was a chance, even with everything else they had going on, that the
New York Giants
could have overlooked Monday night's game against the
St. Louis Rams
. The fact that they played such a sloppy game but overcame all of the mistakes and injuries to post a
28-16 victory
was a point of pride in the locker room after the game.
Because the game the Giants really want is the one they're playing Sunday against the Eagles in Philadelphia. And even though the issues they're facing in the present are serious enough to threaten this season, the memory of the way they lost the last game they played against the Eagles has not faded one bit.
"Last year will linger with me until I die," Giants defensive end
Justin Tuck
said.
He could not have been more serious, and he's not the only Giant who feels that way. The Giants played the Eagles here in Week 15 of last year and had a 31-10 fourth-quarter lead in a game that would have given them control of the NFC East. But they lost that game, giving away that 21-point lead to
Michael Vick
and losing on that fateful final-seconds punt return by
DeSean Jackson
. It was their sixth straight loss to the Eagles, and it cost them a spot in the playoffs. And it still stings.
"Everybody in that locker room feels like we owe the Eagles a little something," Tuck said.
And so this was big, this survive-and-advance "Monday Night Football" victory over the Rams. The Giants have too many well-documented injuries, depth and inexperience problems right now, and they didn't need to be dealing with an 0-2 start on top of it all. That they were able to hold the Rams to field goals at the end of long first-half drives, convert a slew of St. Louis miscues into points, and even out what began as a very uneven performance by
Eli Manning
and the offense was vital for reasons that have nothing to do with bad memories or division rivalries.
"Obviously, there's much that can be improved upon, but that's okay. We accept that," Giants coach Tom Coughlin said. "But to be 1-1, to have Dallas 1-1, to have Philadelphia at 1-1 and to have Washington leading the division at 2-0, it was important for us to keep the pace."
The Giants are not yet whole. They are not yet as healthy as they will eventually be. The rookies and young players they're using at key spots like middle linebacker and left tackle and defensive end are not as reliable and seasoned as they will be later this year, or next season, or the season after that. "We haven't jelled yet," is the way Tuck put it, and because of that, a win at this point in a season like this is welcome relief. They get one in the bank when they don't yet have their team, and that's precious.
"It may not have been pretty, but we got the win," said linebacker
Michael Boley
, whose alert fumble recovery and return for a touchdown gave the Giants a 14-6 lead early in the second quarter. "That's the most important thing, and the small details and everything else can be worked out in the week leading up to the next game."
The next game, though, is the big one, and everybody connected with the Giants knows it. They want the Eagles, and they want them bad. They want
LeSean McCoy
and the summertime Twitter trash-talk he fired off at
Osi Umenyiora
. They want
Steve Smith
, the former Giant and symbol of an offseason in which the Eagles kicked their tails at every turn. They even want Vick to be recovered from his concussion and healthy enough to play and start at quarterback, because the Giants want revenge.
"That guy's a tremendous athlete, and as he goes so goes their offense, but you always want to beat teams at their best," Tuck said. "I think he brings out the best of us, too. Maybe we go down there and he doesn't play and we start thinking, 'We've got this.' We want their best, and we want to beat them."
The short week means the Giants have to wait one less day to try and take their revenge. It also means they have one less day to address the concerns they carried into Monday's game -- struggles in the secondary, inability to get the run game going -- and the new ones that cropped up -- injuries to
Mario Manningham
and
Domenik Hixon
, and whatever the issue was with
Aaron Ross
that got him benched. But the win they got Monday means they get to do all of that coming off a victory, however ugly and unimpressive it may have been. Their record says 1-1, which is the same record Sunday's opponent has, by the way.
"It's going to be a pretty intense game, especially after the way we lost to them the last time," Boley said. "It's going to be heated. I'm looking forward to it."
Aren't we all.
September, 19, 2011
9/19/11
11:42
PM ET
EAST RUTHERFORD, N.J. -- A few thoughts on the
New York Giants
' eventful
28-16
victory over the
St. Louis Rams
on "Monday Night Football":


What it means
: It's a win, plain and simple, and it's one the Giants needed to get. Were there issues with
Eli Manning
's accuracy and the secondary and more injuries at the receiver position? Oh, yeah, you betcha there were. But the Giants made enough big plays when it counted that they were able to take full advantage of a Rams team that couldn't get out of its own way. What it means is that the Giants are 1-1, and not 0-2, headed into next week's division showdown with the Eagles in Philadelphia.
Heart and soul
: The Giants welcomed their best player and defensive leader,
Justin Tuck
, back after he missed the Week 1 game with a neck injury. The difference he made was clear. The Giants' defensive line may have played fine without him last week, but with all of the weaknesses they have right now in the secondary and at linebacker, they missed his difference-making plays up front.
Receiver shortage:
Hakeem Nicks
recovered from his midweek knee injury enough to make an early difference with a brilliant touchdown catch in the first quarter. But the Rams were able to contain him the rest of the way, and the final drive of the first half was costly to the Giants' receiving corps.
Mario Manningham
suffered a concussion making a key catch on a deep ball, and
Domenik Hixon
injured his knee catching the touchdown. Neither returned to the game. The good news is that
Steve Smith
will be active for Sunday's game. The bad news is that he'll be wearing an Eagles uniform.
Secondary depth
:
Aaron Ross
has struggled since becoming a starting cornerback in place of the injured
Terrell Thomas
, and his struggles continued again Monday, to the point where he was benched for a time in the second half in favor of
Michael Coe
. The good news for Ross is that Coe was even worse, and he was back in the game soon thereafter -- even returning punts! The problem for the Giants in the secondary right now is a lack of depth. Ross is better suited to a backup role and finds himself overexposed as a starter. And with nothing behind him, the Giants have no one who can sub in for him or
Corey Webster
when they're struggling or need a break. They need to use
Antrel Rolle
as a nickel corner and mix and match with extra safeties. They need
Prince Amukamara
to hurry back, and hope.
What of the QB?
: Manning was shaky early on, underthrowing Manningham on some deep balls and missing shorter-range throws. But he got into a rhythm and looked better late. I still think the Giants need to commit to the run game, but they didn't seem to want to do that fully, even though the Rams weren't stopping them. So we'll see what kind of offensive game plan they come up with against the Eagles. The passing game doesn't feel trustworthy right now.
Weak sisters
: It appears as though playing the NFC West teams will be a benefit to teams in the NFC East this year. The division that failed to produce a .500 team in 2010 is off to a rough start once again, and is a combined 2-6 overall and 0-4 against the NFC East after two weeks. The Rams, a preseason pick by many to be a surprise team, have looked awful twice. Monday night they effectively handed the Giants two touchdowns while clearly outplaying them in the first half -- one with a muffed punt and one when
Cadillac Williams
failed to recognize that the lateral he'd dropped was a live ball and
Michael Boley
scooped it up and ran in for a touchdown. The Giants made some plays, but the Rams helped them win this game. It won't always be so easy.
What's next
: The Giants travel to Philadelphia for a Sunday afternoon game against the Eagles, who have beaten them each of the last six times they've played. The Eagles have yet to announce who will start at quarterback, since starter
Michael Vick
left Sunday night's game with a concussion and backup
Vince Young
has yet to play since injuring his hamstring in the preseason.
Mike Kafka
could be the starter for the Eagles against the Giants' pass rush.
September, 19, 2011
9/19/11
10:18
PM ET
EAST RUTHERFORD, N.J. -- Not completely sure what I've just watched, I will attempt to offer my review of the first half that somehow finds the
New York Giants
leading the
St. Louis Rams
21-6
.


Mike Sando of the NFC West blog just pointed out on
our live chat
that the Giants have had some players make unbelievable plays -- the touchdown catches by
Hakeem Nicks
and
Domenik Hixon
and the alert fumble recovery touchdown by
Michael Boley
chief among them -- and that the Rams have not. And I guess that's as good an explanation as any for how a team could look as bad as the Giants looked in that half and still be up by 15 points.
Eli Manning
threw the ball considerably better on that last touchdown drive than he had at any point earlier in the game. He had been underthrowing deep passes to
Mario Manningham
and throwing tentatively on shorter routes, as if he has no trust in his receiving corps. But he let it loose as he got into that two-minute-drill rhythm, and the result was a third touchdown that seems to have put the Giants in control of the game.
The Rams have helped, to be sure. Rookie
Greg Salas
fumbled a punt that set the Giants up for their first score. And an insane third-down play call on which Rams quarterback
Sam Bradford
threw a backwards pass that
Cadillac Williams
failed to (a) catch or (b) realize was still a live ball led to the Boley touchdown. Mistakes doomed the Rams last week against the Eagles, and they've done so thus far to the Giants' benefit.
It's clear that the return of
Justin Tuck
helps the defense, as he's made several big tackles to prevent big gains by Rams running backs. And it's too obvious to even mention how important it is that Nicks recovered from his knee injury in time to play this game. He's a superstar in the making, and on the first touchdown drive he showcased once again his incredible ability to locate the ball before the defender does and catch it -- even one-handed, if that's what it takes. The Rams have done a better job of covering him since, which makes it more important that Manning trust Manningham and that the injury with which Hixon limped off just before halftime isn't too serious.
Regardless, the Giants should be running the ball anyway, as they've had success doing so and now have the big lead. If you don't see a lot of
Ahmad Bradshaw
and
Brandon Jacobs
in the second half, the Giants will be playing with fire.
September, 19, 2011
9/19/11
12:05
PM ET
It's "Monday Night Football" here in New Jersey tonight, as I'll head down Route 17 to the Meadowlands to see the
New York Giants
take on the
St. Louis Rams
. We will be chatting live during the game right here on ESPN.com, and of course I'll be blogging and columnizing and Rapid Reacting and all of the things we do from games we attend in person. It's going to be a long, late night, so take a nap this afternoon if you need one to make sure you can keep up. I know I will.


You already know I think one of the keys for the Giants is to
commit to the run
more strongly than they did in the opener against the Redskins. But I also think the run game is the key when they're on defense. The Rams were able to run up the middle with some success in their opener against the
Philadelphia Eagles
, and the Giants' defense has a similar weakness in the middle to the Eagles' defense -- i.e., a rookie middle linebacker who's likely to struggle if he has to make a one-on-one play against the running back. The Giants'
Greg Jones
looked better in his debut than the Eagles'
Casey Matthews
has looked in either of his games, but the rookie out of Michican State is still new at this, and even if
Steven Jackson
doesn't play, stopping
Cadillac Williams
and
Jerious Norwood
isn't exactly the same as stopping Indiana's run game. It will fall to defensive tackles
Chris Canty
and
Linval Joseph
to slow the Rams' backs at the line so they don't hit the soft middle of the Giants' defense with a head of steam.
On offense, the Giants should try to create those same mismatches with running backs
Ahmad Bradshaw
and
Brandon Jacobs
against the Rams linebackers, especially if the Rams blitz as much as they did in their opener. It remains to be seen whether Steve Spagnuolo will blitz like that every week or whether that was just a plan to try and rattle (or eliminate)
Michael Vick
.
Eli Manning
gets rid of the ball very quickly, as Spagnuolo knows from his days coaching against him in practice when he was the Giants' defensive coordinator, and it's possible the Rams will choose to rush four and sit in coverage more than they did last week. If they do go blitz-heavy again, the run game is the Giants' best way to take advantage of that.
I think the Giants will win the game tonight, but to do so they must seek to control it, and the best way to do that is to control the ground game on both sides of the ball. If this turns into a shootout, neither quarterback has his full complement of receivers. But I don't think the Giants want to entrust this game to their banged-up secondary.