November, 10, 2013
11/10/13
8:08
PM ET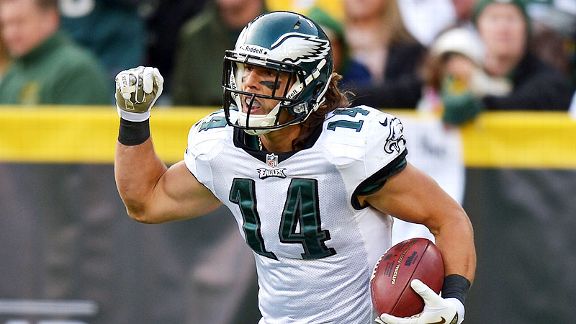 Drew Hallowell/Philadelphia Eagles/Getty ImagesRiley Cooper had three catches for 102 yards and two scores in the win over Green Bay.
GREEN BAY, Wis. -- It all could have been so much worse for
Riley Cooper
and the
Philadelphia Eagles
over the summer.
And now, as fall takes on winter's bite, things could not be much better.
It was not an easy road, from the worst days of Cooper's personal life to the best days of his professional life. He caught two more touchdown passes from
Nick Foles
on Sunday
in a 27-13 win
over the
Green Bay Packers
. In his past five games, Cooper has caught 20 passes for 462 yards and six touchdowns.
"I'm just playing football," Cooper said. "I'm playing the same football I always played."
This run of on-field success would have been tough to imagine back in July, when that ugly video of Cooper using the N-word appeared on a local Philadelphia sports blog. Cooper was fined and, worse, had to stand up in front of his teammates -- most of whom are African-American -- and explain himself.
A couple weeks later, Cooper and teammate
Cary Williams
got into a fight during practice. It was the kind of fight that happens frequently in the NFL, but this time, there was no ignoring the undercurrents. Williams was one of the players who expressed unease about having Cooper as a teammate, and the fight forced everyone to ask again whether Cooper could co-exist with his teammates.
"Everybody gets a second chance, man," veteran linebacker
Trent Cole
said. "You have to forgive. We're all brothers. We're all together. If Riley was really like [he appeared in the video], he wouldn't be able to play for long. I think everybody embraced him. We're playing football together. It is what it is."
It was a long road from there to here. To make it, Cooper had to disappear twice. First, he went home to Clearwater, Fla., for a few days to spend time with his family and let things settle down. The second disappearing act was on the field. Given the chance to start when
Jeremy Maclin
tore his ACL, Cooper caught just eight passes for 91 yards and a touchdown through the first five weeks.
That made him as anonymous as possible in the wake of his public troubles. Cooper was a marginal player who was easy to ignore, and he did his best to stay out of the spotlight off the field.
"Riley's a guy that comes to work every single day," center
Jason Kelce
said. "Everybody here knows he's a really good player. I'm happy for him, happy that he's overcome some things. It's good that the team hasn't really missed a beat. I think we have good guys in the locker room. It was a little rough for maybe a week there, but everybody eventually got over it."
When Foles replaced the injured
Michael Vick
as starting quarterback, Cooper started getting the ball thrown his way. As it happened, Foles' first start was in Tampa, where Cooper went to games to root for
Derrick Brooks
and
Mike Alstott
. It was the first time he'd seen his family since his brief summer exile. Cooper caught four passes for 120 yards and a touchdown.
Last week, with Foles back after missing a game with a concussion, Cooper caught three touchdown passes.
"He's showing you what he's always been," Foles said. "I believe in Riley and it just so happens that when I'm reading out plays, he's getting open and making plays. He's a big, physical receiver, and I love the fact he does a great job blocking and he's a team player."
There's no denying the correlation between Foles' playing quarterback and Cooper's emergence. Explaining it is a little trickier. Vick is at least five inches shorter than Foles. Maybe Foles is seeing Cooper's routes develop in a way Vick couldn't. Or maybe it's just that Foles is comfortable throwing the ball where his receivers can make plays without needing to see them wide open.
"He trusts in his wide receivers," Cooper said. "If it's man-to-man, if that's his read, if that's where he's supposed to go, he throws it up. We told him as a group: 'If you trust in us, we're going to go get it or we're going to bat it down.' Having that confidence, he's going to let the ball fly a little bit."
Cooper's first touchdown Sunday was a perfect example. He ran a post route. Two Packers defensive backs ran it with him. Foles said he deliberately underthrew the ball, making it like a pop-up that Cooper, who was drafted by the Philadelphia Phillies, could run down like the baseball player he once was.
"He put it where only I could get it," Cooper said. "A few guys told me it looked like a baseball play. In baseball, you have a glove to block the sun. Here I didn't. I think it helped a little bit, catching those fly balls with the sun in your face."
Cooper dove to catch the ball and rolled into the end zone. One of the Packers stepped on his leg.
"I got cleated real bad," Cooper said. "Got a little bruise on my shin."
On the second touchdown, Cooper broke off the line as if he were running a post route. He juked safety
Morgan Burnett
, then broke toward the corner. Foles found him easily for the 32-yard score.
"The safety thought I was going across his face," Cooper said. "I just took it high and Foles hit me, man."
It really can be that simple.
Cooper let a question about the summer, and the journey into the fall, pass without addressing the specifics.
"I'm having a blast," he said. "I love football. It feels so good when you're contributing to the team and you're winning games. Everything is so new. The personnel is new. The plays are new. I love it. I love blocking on the perimeter for
DeSean Jackson
on a bubble screen and getting after it. I love the whole feel of what we have going on."
It is a feeling Cooper could have missed out on entirely. For Cooper and for his team, it could have been so much worse before it got so much better.
November, 10, 2013
11/10/13
4:13
PM ET
GREEN BAY, Wis. -- Observations on the
Philadelphia Eagles
' 27-13 victory against the
Green Bay Packers
on Sunday.

What it means:
The Eagles are 5-5, are in contention in a weak NFC East and seem to have a legitimate quarterback in
Nick Foles
. A week after throwing seven touchdowns in Oakland, Foles threw for three at Lambeau Field. For the season, he has thrown 16 touchdowns and no interceptions. That was the NFL record for 53 years until
Peyton Manning
broke it this season. The victory also means the Eagles have some luck on their side. The Packers, already without
Aaron Rodgers
, lost second-team quarterback
Seneca Wallace
in the first quarter.
Scott Tolzien
made his NFL debut. The Eagles have wins against
Mike Glennon
,
Terrelle Pryor
and Tolzien this year.
Body count:
Both teams were afflicted by injuries. The Eagles lost three starters: Left tackle
Jason Peters
went out twice, once to be evaluated for a concussion and once with a knee injury. Linebacker
Mychal Kendricks
and safety
Earl Wolff
left with knee injuries.
Allen Barbre
replaced Peters and did a solid job protecting Foles' blind side. Veteran
Patrick Chung
replaced Wolff.
Najee Goode
took Kendricks' inside linebacker spot and was used a couple of times to blitz Tolzien.
Stock Watch:
Riley Cooper
-- Rising fast. After catching three of Foles' record-tying seven touchdown throws last week, Cooper caught two more against the Packers. The first was a fluky 45-yard play. Foles underthrew the ball. Cooper saw it and circled back under it as two Packers defenders overran the play. At the end of the third quarter, Cooper shook safety
Morgan Burnett
and was wide-open on a corner route for a 32-yard score.
What's next:
The Eagles' 10-game home losing streak is on the line as NFC East rival Washington comes to Lincoln Financial Field. Although they're 0-4 there under Chip Kelly, a win would keep them in contention in the division race as they go into their bye week. The Eagles, who are 5-1 on the road, opened the season with a 33-27 win at Washington.
September, 13, 2013
9/13/13
12:00
PM ET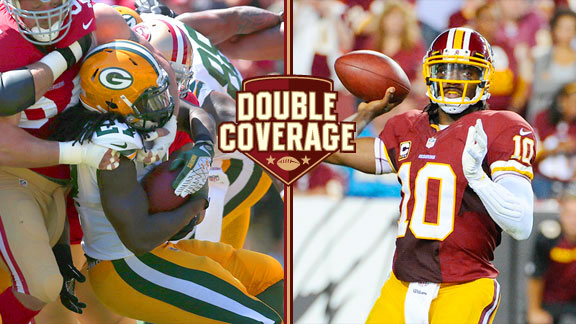 AP Photo, Getty ImagesEddie Lacy, left, and Robert Griffin III are among the keys to Sunday's Packers-Redskins matchup.
The
Green Bay Packers
and
Washington Redskins
, NFC division winners last season and playoff hopefuls this season, both lost in Week 1.
That means, barring a tie, when they meet Sunday at Lambeau Field, one of these teams will be in an 0-2 hole to start this season.
"It's not about, does it make or break your season," Redskins quarterback
Robert Griffin III
said this week.
ESPN Packers reporter Rob Demovsky and ESPN Redskins reporter John Keim break down the key elements to this matchup.
Demovsky:
John, let's get right to perhaps the most closely watched knee rehabilitation in recent NFL history. You've watched Griffin's every move in his comeback from the knee injury. You have chronicled practically every step he has made since, and by now, you've dissected the film of Monday night's loss to the
Philadelphia Eagles
. What limitations, if any, did he play with?
Keim:
Griffin did not look the same and showed the effects of not playing in a game in the preseason -- and of recovering from major knee surgery in January. Was his knee 100 percent? Everyone says it is, including the doctors. But his game was not 100 percent, as should be expected. Jon Gruden pointed it out a few times on Monday night, showing how Griffin wasn't always transferring his weight onto his front leg when he threw. In some cases, the line was getting shoved back and provided him no chance to step into a throw. But it was evident early, even when he had that room. It seemed like his reactions in the pocket, especially early, were not where he would want them to be. He also made the worst passing decision of his career, throwing an interception into triple coverage to a receiver who never even appeared open. He finished strong, though most of the passes he completed during this stretch were short throws. Still, he showed a better rhythm. It's going to take him a few games.
The Packers just played a mobile quarterback; how did they take away
Colin Kaepernick
's legs -- and how did it leave them vulnerable to the pass?
Demovsky:
The Packers did a good job limiting Kaepernick's running opportunities by playing a lot of zone coverage. That kept the defenders' eyes on the quarterback, and they rarely had their backs turned to him. However, that meant they couldn't play as much press coverage as they normally would, and the result was that they gave up massive amounts of yardage to receiver
Anquan Boldin
, who caught 13 passes for 208 yards, and allowed Kaepernick to throw for 412 yards. Now, it should be noted that the Packers were missing two key players in the secondary, safety
Morgan Burnett
and cornerback
Casey Hayward
, who both missed the game because of hamstring injuries.
How much, if anything, do you think Redskins can learn from watching the way Kaepernick and the 49ers attacked the Packers?
Keim:
I'm sure there is a lot to learn, but I wouldn't be surprised if they anticipate different looks in the secondary because of who might be back for Green Bay and because Griffin needs to prove himself as a dynamic threat again. Until he does, I wouldn't be surprised to see teams play him more aggressively, or at least without as much fear. I'm not sure how long that will last; until he makes them pay, I suppose. But I also think what Washington needs to do more than learning from Green Bay's game is learn from its own. The Redskins killed themselves with penalties and poor decision-making. That meant their bread-and-butter run game could never get going, and their offense sputtered until it was 33-7.
Are Burnett and Hayward expected to play Sunday? If so, how big a difference will that make for the Packers?
Demovsky:
Hayward won't play. He already has been ruled out and is likely to miss at least another game or two. This is the second time he pulled the same hamstring. The first time, he missed a month. He reinjured it Aug. 23, and if it's as severe, he could be out for a while. Last season, his six interceptions were huge for the defense. Burnett's injury didn't seem as bad, and it was somewhat surprising that he missed the 49ers' game. The Packers hope he can play, because their safety play with
M.D. Jennings
and
Jerron McMillian
was subpar at San Francisco.
Speaking of the secondary, the Redskins were 30th in the NFL last season in passing yards allowed. Are there any signs that will improve this season? I would think
Aaron Rodgers
would be licking his chops to play against this defense.
Keim:
It's debatable how much they've improved. Long term? I think they'll be helped because two rookies -- starting free safety
Bacarri Rambo
and cornerback
David Amerson
-- are playing key roles. Rambo's big issue is tackling, mostly in the open field. His coverage has mostly been fine, but I don't think he's been challenged in a way that Rodgers could on Sunday. I like Amerson's future, if he remains disciplined with his technique. He's a better tackler than anticipated. But Washington has issues at strong safety because of
Brandon Meriweather
's constant injury issues (missed Monday with a groin injury). The Redskins used a cornerback who had never played safety before in his place (
E.J. Biggers
), and he struggled. Their corners,
DeAngelo Hall
and
Josh Wilson
, do some good things but are not top-line starters. What this group needs more than anything is a better pass rush.
Speaking of the rush, how is the Green Bay offensive line holding up without
Bryan Bulaga
, and where is it susceptible?
Demovsky:
Perhaps surprisingly, Green Bay's young tackles, rookie
David Bakhtiari
on the left side and second-year man
Don Barclay
on the right, held up well against the 49ers.
Aldon Smith
beat Bakhtiari a couple of times for sacks, but Smith does that to a lot of tackles. It's why he had 19.5 sacks last season. But other than those two plays, Bakhtiari's first start went fine. Barclay is much improved over last season, when he filled in for Bulaga the final six games. As a unit, the run blocking needs to get much better.
Eddie Lacy
didn't have much running room, and when he did, there were penalties -- three of them on left guard
Josh Sitton
, who is normally pretty clean -- that wiped away the Packers' longest rushes of the game.
Looking at the big picture, one of these teams is going to be 0-2 after this game (barring a tie). If that's the Redskins, how devastating would that be for them? I know they finished strong last season, but I'm sure they don't want to put themselves in a hole again.
Keim:
It's a hole they could dig out of with games against the
Detroit Lions
at home and on the road against the
Oakland Raiders
in the following two weeks before their bye. But I don't think any team wants to start off 0-2, especially one that has designs on accomplishing grand things in the postseason, which, if healthy, the Redskins should have. I also think it would depend on how they look against Green Bay. If they play well and lose a close game, it still suggests they're on a certain path (no moral victories, but more about being headed in the right direction). If it's an ugly game like it was for nearly three quarters Monday? Then it suggests other issues. That would be difficult for them to swallow. But the one thing I've seen with this group, last season and in the previous few, is that they are resilient. Their mindset is a good one for a 16-game season.
I would think if there's any formula for stopping the Green Bay offense, everyone would use it. But is there a theme to when teams are able to slow this attack?
Demovsky:
For about the past year and a half, teams have played the Packers predominantly one way -- keep both safeties back and dare them to run the ball. That's why they drafted Lacy in the second round. The hope is that teams will start respecting the Packers' running game and bring a safety in the box to stop it. That would give Rodgers more open space to throw in the secondary. Lacy did not get off to a strong start against the 49ers, but he did have one impressive series late in the game in which he gained 26 yards on five carries. Problem was, he couldn't get much else done the rest of the game.
April, 3, 2010
4/03/10
6:55
PM ET
By
Matt Mosley
| ESPN.com
The Dallas Cowboys could have waited until after the draft to release left tackle
Flozell Adams
and safety
Ken Hamlin
, but they decided to go ahead and pull the trigger. Obviously, the moves suggest safety and offensive tackle will be even bigger needs on the first couple days of the draft.
The Cowboys have a replacement for Adams in
Doug Free
, but it's not a sure thing
Alan Ball
or Michael Hamlin can become starters. The Cowboys brought in safeties Nate Allen, Morgan Burnett and Chad Jones for visits Friday.
Of that group, I think South Florida's Allen is the most likely to be chosen at No. 27 by the Cowboys. And as I've suggested several times, Rutgers cornerback Devin McCourty is also a player they really like. Some mock drafters have the Cowboys selecting left tackle Anthony Davis at No. 27, but I don't see that one at all.
We'll keep you posted.
Go Butler
!
NFC EAST SCOREBOARD
Saturday, 12/20
Sunday, 12/21