April, 8, 2014
4/08/14
10:15
AM ET
IRVING, Texas -- Two veteran wide receivers went off the market Monday when
Nate Burleson
and
Jason Avant
signed with the
Cleveland Browns
and
Carolina Panthers
, respectively.
Both were linked to the
Dallas Cowboys
by the media (hello, that's me), but sources indicated the Cowboys had some interest in Burleson, who played for their new passing game coordinator, Scott Linehan, with the
Detroit Lions
. The Cowboys just were not willing to pull the trigger on a deal now, continuing their patient approach in free agency.
Could it mean the Cowboys are as content at wide receiver as owner and general manager Jerry Jones has said?
[+] Enlarge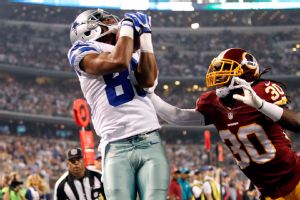 Tim Heitman/USA TODAY SportsTerrance Williams, a 2013 pick, started as the No. 3 receiver and also showed he could handle the No. 2 role. Is Dallas hoping for a repeat in the 2014 draft?
With
Dez Bryant
and
Terrance Williams
, the Cowboys are set at the top two spots.
Dwayne Harris
and
Cole Beasley
would settle in as the No. 3 receiver, splitting the job depending on role. Harris has more big-play ability. Beasley is better in the quick-game routes.
I've long said the Cowboys do not need a true No. 3 receiver over the years because they have tight end
Jason Witten
, and the running backs have always figured prominently in the passing game.
The best performance by a No. 3 receiver for the Cowboys in the past five years has been
Laurent Robinson
, who caught 54 passes for 858 yards and 11 touchdowns in 2011. But mostly the Cowboys need their third receiver to catch anywhere from 30 to 40 passes a season.
Kevin Ogletree
did that in 2012 with 32. Technically Roy Williams might not have been the No. 3 receiver in 2010, but he caught 37 passes. In 2009, Patrick Crayton caught 37 passes for 622 yards and 5 touchdowns.
So you're looking for a No. 3 receiver to catch two or three passes a game when you look at the options available in how the Cowboys have constructed their offense.
But what if Bryant or Williams gets hurt? And there will be injuries. Can Harris be a No. 2 receiver and excel outside? Maybe for a few games. Beasley is just a slot receiver because of his size. That is why I thought Avant or Burleson would have been good fits. Other options remain, such as
Earl Bennett
and even
Miles Austin
, but that would be a long shot.
However, if the Cowboys were not willing to make a play for a free agent Monday, they're not going to get into the market Tuesday.
Last week, I wondered whether
Gavin Escobar
could
be an option as the third receiver.
The Cowboys like his athleticism and saw in glimpses his ability to make plays. His touchdown against the
Philadelphia Eagles
in the season finale was an eye-opener. With the way the tight ends are used these days, Escobar has more receiver skills to him than tight end skills. He needs to get bigger and stronger to be an on-the-line tight end, but that part of his game will never be his strength. His strength will be working the seams and his ability to go get the ball.
But here is a thought: This is considered one of the deeper drafts in memory for wide receivers. Could the Cowboys be looking for their No. 3 receiver, who could be the No. 2 receiver, in the early to middle rounds of the draft?
Williams, a third-rounder last year, caught 44 passes for 736 yards and 5 touchdowns and showed he could handle the No. 2 role when Austin missed games with a hamstring injury. Williams' development played a part in the release of Austin.
If a
Mike Evans
fell, or if a
Marqise Lee
is there in the first round, could they be targets? It sure seems as if the draft is the Cowboys' preferred method to find their No. 3 receiver.
February, 20, 2014
2/20/14
8:00
AM ET
INDIANAPOLIS -- When will the
Dallas Cowboys
start making decisions on the future of players?
"Til it's time to get under the cap," executive vice president Stephen Jones said.
Teams do not need to be compliant with the salary cap until March 11, but some teams have already started cutting players to create cap savings, like the
Detroit Lions
did last week in cutting
Louis Delmas
and
Nate Burleson
and the
New Orleans Saints
with
Will Smith
,
Roman Harper
and
Jabari Greer
.
In addition to using the time at this week's NFL scouting combine in Indianapolis to look at draft prospects, the Cowboys will use the time to discuss the futures of players like
DeMarcus Ware
and
Miles Austin
and how they want to pare their salary cap by $20 million-$25 million before the first day of the league year.
Several others could have their contracts restructured, like
Tony Romo
,
Sean Lee
,
Jason Witten
, and others could be cut, like
Justin Durant
, to make room.
"We continue to look at them and we continue to look at what's available out there, what's going to be available out there, and we're looking at a lot of tape with [assistant director of player personnel] Will [McClay] and the pro guys are looking at the tape on all those guys and what's likely to be available in the draft," Jones said. "All these things affect the decision."
February, 14, 2014
2/14/14
1:15
PM ET
IRVING, Texas -- When the
Detroit Lions
released safety
Louis Delmas
and wide receiver
Nate Burleson
on Thursday, most of the attention of
Dallas Cowboys
' fans went to Delmas.
It makes sense. The Cowboys need safety help. Delmas is young, though a bit injury prone. He had a career-high three interceptions in 2013 and was set to make $5.5 million in 2014.
Burleson
When considering any free agent, you always have to factor in cost. There will be a team with more cap space than the Cowboys willing to pay Delmas more. I wouldn't expect the Cowboys to be huge players in the free agent market.
To me, however, Burleson makes more sense.
Let's go with the premise that
Miles Austin
will not be around in 2014. We have talked about that a few hundred times already. The Cowboys have
Dez Bryant
and
Terrance Williams
ready to be their top two wide receivers. They like
Dwayne Harris
and
Cole Beasley
, but both of those players have limitations. They could look at a receiver early in the May draft, like they did in selecting Williams in the third round, but most of the time receivers don't hit the ground running. Williams and Bryant did, however, hit the ground running in their rookie years.
To me, adding a veteran receiver makes sense should the Cowboys lose Bryant, who has had back troubles no matter how minor they have been, or Williams for a good stretch.
Burleson caught 39 passes for 461 yards and a touchdown in nine games last season. He suffered a broken forearm in a car accident when he was attempting to stop a pizza from sliding off the seat. He suffered a broken leg in 2012.
Burleson's
defense
of
Calvin Johnson
last year came at the expense of Bryant before the Cowboys and Lions made some headlines, but it meant little.
He is 32, which might be too long in the tooth, but the connection with Scott Linehan, who is the Cowboys' new passing game coordinator and playcaller, is interesting.
Burleson and Linehan spent five years together with the Lions, and Burleson caught 194 passes for 2,083 yards and 12 touchdowns.
His price might be a lot more palatable to the Cowboys, especially compared to what Delmas should get.
October, 23, 2013
10/23/13
11:07
AM ET
IRVING, Texas – The
Dez Bryant
-
Calvin Johnson
subject will not go away this week.
Bryant started it off on Monday when
he spoke with 103.3 ESPN in Dallas.
"I believe I can do whatever he can do," Bryant said. "I think it's just a pride thing. When it comes to football, just being on the field, it's a mindset and having a mentality. I honestly believe when I'm there, I'll be feeling like there's nothing I can't do. Whatever the coaches ask me to do, I'm going to do it."
On Tuesday
Nate Burleson
came to Johnson's defense
, crediting Bryant but conceding Johnson is better, calling him a "living legend."
"He's not Calvin Johnson," Burleson said. "No way, no how. Sorry Dez. Keep it real."
On a conference call Wednesday, Lions coach Jim Schwartz was asked about the similarities between Bryant and Johnson.
"He's one of the best receivers in the NFL, as is Calvin, and I think that's about the only comparison that you need to make between those two guys," Schwartz said. "Every player is different. Every player has things that they do well and things they do well within the scheme and things like that. And we're going to have our hands full getting Dez Bryant stopped and I'm sure Dallas is working really hard to find a way to get Calvin stopped."
Schwartz sees a different Bryant than the one he prepared for in 2011. Bryant caught three passes for 37 yards and had two touchdowns in the Cowboys' 34-30 loss the Lions at AT&T Stadium.
"He's playing like a veteran player now," Schwartz said. "He's taken the load of the No. 1 receiver. That's a big burden to be the No. 1 receiver. You're going to see attention every week. You're going to see double teams. You're going to see corners rolled to your side and it's a big mental adjustment to go through that and I think that Dez Bryant has done that. He's made big plays for them. He's always been a really strong player, but you just see him maturing as a player and I think that's good for the NFL when you see young players improve like he has."
September, 25, 2013
9/25/13
10:15
AM ET
I'll get into some other things I saw on film throughout the week. Suffice to say that corner
DeAngelo Hall
competed well and, yes, there were a couple plays he gave up but he did a good job against
Calvin Johnson
when paired against him. Also, nose tackle
Barry Cofield
was terrific. He looked like the guy we saw this summer, thanks to the removal of the club. The Detroit Lions threw a lot of short passes and focused on blocking the interior on those plays, allowing
Ryan Kerrigan
and
Brian Orakpo
free rushes at times -- knowing it would be tough to get home.
But last Sunday's game was mostly about breakdowns leading to big plays. Of Detroit's 441 yards of offense, 270 occurred on 10 plays. In the second half, 114 of their 183 yards came on four plays. For the game, 201 yards occurred on these six plays:
[+] Enlarge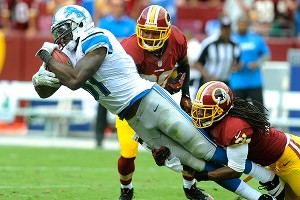 AP Photo/Richard LipskiCalvin Johnson was one of several Lions to gash the Redskins secondary for big plays last Sunday.
1. The 23-yard pass to Johnson (third-and-8, first quarter). This one was too easy as the Redskins dropped into a Cover 2 zone. The Redskins rushed three so quarterback
Matthew Stafford
had plenty of time to find Johnson, running a deep in, about 3 yards in front of safety
Brandon Meriweather
(he got him to lean outside with a plant). There was too much room in front of Johnson to stop this play -- Kerrigan was about 14 yards in front of him. That's too much wide-open space for Stafford and Johnson.
How drive ended: Punt.
2. The 37-yard pass play to running back
Joique Bell
(third-and-10, quarter). The Redskins rushed six on the play, including linebacker
Perry Riley
. Often times he'll rush if the back stays in to block, but on this play his job was to do exactly as he did: blitz. That's a fact. I'm not positive on this, but I think Bell read the blitz and left on his own -- leaving the line with five blockers against six rushers. The left tackle set as if he had outside help from Bell, positioned on that side. When Bell left, Orakpo had a free rush but Stafford unloaded the ball fast so it didn't matter. There was no one within 15 yards of Bell when he caught the ball. Missed tackles tacked on another 27 yards. Tack on a 15-yard penalty on Riley for roughing the passer and this was a killer.
How drive ended: Touchdown.
3. The 20-yard pass play to Johnson (third-and-6, first quarter). The Lions used a stack formation on the left with Johnson set a yard back. Hall still tried to jam him and failed, then stumbled off the line. Johnson rubbed off the other receiver on that side for a deep-in as Hall tried to recover.
How drive ended: Touchdown.
4. The 41-yard gain to receiver
Nate Burleson
(second-and-14, second quarter). Once again, press coverage. The Redskins did well at times in this look but it was not always successful and when it isn't, teams get burned.
David Amerson
lost the inside off the line and Burleson gained another yard of separation on the cut inside after about 15 yards. Still, Amerson dove for the ball and turned a good gain into a great one. Burleson ran another 24 yards.
How drive ended: Field goal.
5. The 47-yarder to Burleson (first-and-10, fourth quarter). This was an odd one and was clearly a breakdown. I can't say with 100 percent certainty what should have happened but I know what did happen. So here goes: The Redskins were in zone coverage based on the movements of almost every player. There was no receiver split to the right so Amerson was near the line and about 5 yards off. At the snap, others drop into what looks like a Cover 3. But Amerson sees the tight end on his side start running across the middle and starts to go with him. Meanwhile, Burleson, who started on the left side, runs a deep cross and catches a ball in an uncovered area. If it was indeed a Cover 3, then Amerson would have been back on that side. But I still need to find out for sure. It might have been a good pick up anyway but it became a great one.
How drive ended: Field goal.
6. The 33-yarder to receiver
Kris Durham
(second-and-9, fourth quarter). Yet another one involving Amerson. The kid made some plays on slants, where his long arms really help. Even if he doesn't get a good jam he's able to reach around and deflect. But he was in press coverage on this one. He did not get a jam on Durham and played him to run what everyone else had all day: a deep-in route. So Amerson cut hard to the inside when Durham planted his foot that way. But this was a great example of saving a play until the fourth, especially against a rookie corner. Durham cut back to the outside to pick up another long gain.
How drive ended: Touchdown.