May, 2, 2014
May 2
3:00
PM ET
IRVING, Texas -- In many ways a successful draft is measured by how well a team does in the later rounds.
Ben Volin of The Boston Globe put together a story about teams that
draft well and poorly
with an interesting graphic.

The
Dallas Cowboys
are one of six teams not to have a current starter they selected in Rounds 5-7, according to the chart, which means Volin did not count
Orlando Scandrick
(fifth round, 2008) as a starter even though he started most of the 2013 season. If
Morris Claiborne
performed up to capabilities and was not hurt, he would have been the starter. If you count Scandrick, then the Cowboys would be one of 12 teams to have one starter from Rounds 5-7.
The other five without a starter were the
Detroit Lions
,
Arizona Cardinals
,
Jacksonville Jaguars
,
Tampa Bay Buccaneers
and
Chicago Bears
.
Since 2010, the Cowboys have had 12 picks in Rounds 5-7 and only
Dwayne Harris
,
James Hanna
,
Joseph Randle
and
DeVonte Holloman
remain.
Hitting on late-round picks is guesswork in a lot of ways. In 2004, the Cowboys hit on three seventh-rounders in Nate Jones, Patrick Crayton and Jacques Reeves. They all had productive NFL careers and earned second contracts.
That's the goal: find players who can fill roles. The Cowboys kept Crayton for a second contract, but Jones and Reeves left after their rookie deals expired.
Teams build their depth through late-round picks and the Cowboys have not hit enough in the late rounds to fortify their depth. The
Seattle Seahawks
had an NFL-best five starters from Rounds 5-7 in 2013. The
Philadelphia Eagles
were next with four.
Also in Volin's chart is a look at undrafted starters. The Cowboys had a league-high five in 2013 with
Tony Romo
,
Miles Austin
,
Barry Church
,
Ronald Leary
and
Jeff Heath
. The
Denver Broncos
and
Miami Dolphins
had four apiece to tie for second.
For years the Cowboys have excelled in finding undrafted free agents. In the last three years they have landed
Dan Bailey
,
Phillip Tanner
,
Chris Jones
,
Ben Bass
,
Cole Beasley
, Leary, Heath and
Cam Lawrence
.
They make up for the misses in Rounds 5-7 with hits in undrafted free agency. With three compensatory picks in the seventh round this year, the Cowboys will have the chance to draft what would have been their priority undrafted free agents.
They only hope they're not just making up for misses in Rounds 5-7.
June, 25, 2010
6/25/10
7:38
PM ET
By
Matt Mosley
| ESPN.com
New York Giants
third-round pick and former LSU two-sport star
Chad Jones
underwent surgery on his left leg and ankle Friday
following an early morning wreck
when his SUV slammed into a pole in New Orleans. The Giants released a statement late Friday afternoon:
"We continue to gather information on Chad's condition, and obviously our primary concern is for his health and well-being. [General manager] Jerry Reese and his staff have maintained contact with Chad's family throughout the day."
I've been in touch with the club throughout the afternoon. If there are any updates regarding Jones' surgery, I'll pass it along to you.
January, 15, 2010
1/15/10
1:00
PM ET
By
Matt Mosley
| ESPN.com
AFC
:
Jets-Chargers
:
Graham
|
Williamson
»
Colts-Ravens
:
Kuharsky
|
Walker
NFC
:
Cowboys-Vikings
:
Mosley
|
Seifert
»
Saints-Cardinals
:
Yasinskas
|
Sando
Three nuggets of knowledge about Sunday's divisional playoff game between the Dallas Cowboys (12-5) and Minnesota Vikings (12-4).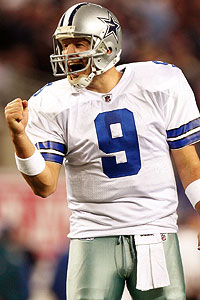 Ronald Martinez/Getty ImagesTony Romo's career QB rating of 95.9 shows he can play at an elite level.
1. Bring the noise:
It's hard to imagine the Metrodome being louder than the Saturday night in New Orleans, where the Cowboys gained confidence with a win over the previously unbeaten Saints in Week 15. But that Viking horn going off every 30 seconds or so can start to play tricks with your mind. It's well-known that Cowboys left tackle
Flozell Adams
has some hearing loss, which contributed to his six false start penalties this season. Dallas has done an excellent job of getting off to quick starts during its four-game winning streak and that will be imperative against the Vikings on Sunday. The last thing the Cowboys want is to fall behind early and let this crowd get carried away. That's why I think it's important for Dallas to establish the running game early on. The Cowboys' enormous offensive line feeds off the running game. If the Cowboys have some early success on the ground, you'll see players such as
Andre Gurode
and
Leonard Davis
begin to gain confidence against the Vikings' talented front four.
2. Romo vs. his boyhood idol:
I know that
Tony Romo
is trying to downplay the whole boyhood idol theme, but don't let him fool you. Growing up in Burlington, Wis., he tried to copy
Brett Favre
's every move. And when he first got into the NFL, he would wear his jacket on the sideline just like Favre (a cape) and position his chinstrap the exact same way as No. 4. It's no coincidence that he ended up with a similar style to Favre's. The Vikings are hoping they can take an early lead and force Romo to put too much pressure on himself. Romo's played better than Favre down the stretch, and I don't expect for his game to fade now. The Cowboys like the matchup they have with
Miles Austin
against
Antoine Winfield
, who's been banged up. I heard Chris Mortensen talking about it on the ESPN affiliate (103.3 FM) in Dallas on Thursday. He doesn't think Winfield is himself because of a bum foot, and he believes the Cowboys can exploit that matchup. Winfield's still a scrappy player, but he's not the guy he was three years ago -- or even three months ago, for that matter. If the Cowboys' offensive line can give Romo time, I think he can light up this secondary.
3. The Vikings' offensive tackles will have their hands full with the Cowboys' outside linebackers:
Wade Phillips has been doing a nice job of moving
DeMarcus Ware
and
Anthony Spencer
around. You'll even see them line up next to each other occasionally. It's important for the Vikings to communicate against this defense. I don't think
Bryant McKinnie
's prepared for what he's about to face with Ware. I guess
Julius Peppers
gave him a little preview, but Ware's even more relentless. Vikings coach Brad Childress must neutralize the Cowboys' pass rush by dumping off the ball to his tailbacks or fullbacks. Favre doesn't need a ton of time in the pocket, but you can't have him running for his life. The last time he faced a Phillips defense in the regular season, he was knocked out of the game after throwing two interceptions. Fortunately for Favre, Nate "The Mayor" Jones from Rutgers is no longer with the Cowboys. That's the man who sent him to the locker room on a corner blitz. This game should have it all, and the NFC East blog will be at the Metrodome to bring you every moment. Thanks for spending a little time with us this afternoon.