August, 1, 2013
8/01/13
12:16
PM ET
OXNARD, Calif. -- We've all heard stories about
Larry Allen
's strength, power and the raw athleticism that made him one of the best offensive linemen ever.
We can all recite the stories about him bench-pressing 700 pounds and chasing New Orleans linebacker Darion Connor 50 yards to prevent a touchdown as a rookie.
And we've all seen video of him destroying linebackers and defensive backs when he pulled, creating running lanes for
Emmitt Smith
.
"Across the board, he was the best football player I ever played with -- and I played with them all," former Cowboys safety
Darren Woodson
said. "
Troy [Aikman]
, Emmitt,
Michael [Irvin]
,
Deion [Sanders]
... Larry Allen was the best.
"He was also the smartest."
Say what?
That's right. Talk to any player or coach who played with Allen during his 12 seasons in Dallas and they'll tell you he was among the game's most intelligent players.
Former offensive line coach Hudson Houck used to joke that Allen was the best offensive linemen on the field and in the classroom.
"He wanted to know everyone's assignment," six-time Pro Bowl guard
Nate Newton
said. "If the quarterback was rolling out, he wanted to know exactly where he was supposed to end up so he could adjust his block properly.
"He always asked a lot of questions, but he asked a lot of smart questions. He always wanted to know what we were supposed to do if the defensive player didn't do what we thought he would do."
Allen was a second-round pick from tiny Division II Sonoma State in the 1994 draft. Six games into the season, he was starting. The six-time All-Pro played every position except center on the offensive line.
"Do you know how smart you have to be to go from playing at Sonoma State to starting for a two-time Super Bowl champion?" Woodson said. "Think about how big that jump is. Think about the kind of offense we had in Dallas and what he ran at Sonoma State.
"I don't know how Larry did in math or what kind of grades he made, but he understood everything about football and concepts and that's what helped make him a great player. He anticipated things because he knew where everyone was on the field and he could adjust."
July, 30, 2013
7/30/13
4:39
PM ET
Former Dallas Cowboys guard Nate Newton, who's now with ESPN Dallas 103.3 FM, is doing some
periodic observations
for ESPNDallas.com on the team's interior offensive line. And he is high on guard
Ronald Leary
:
He looked OK in team. He looked even better in pass-rush drills. That's combination single-blocking and games, when the defensive line is stunting. He did a tremendous job. He punched well. He moved his feet well. He didn't let people get into his zone.

I think out of six or seven pass rushes, he got beat one time on a spin move. That's where he let a guy get into his body and didn't punch, but after that, he handled his business. He had great knee bend for a first day back. He did a great job.

Now this kid has to put back-to-back practices together. He has to be more consistent, get into his playbook.
Yes, surely Leary will have to have a second strong practice before he can truly be considered for one of the starting guard spots. But as Newton points out,
Nate Livings
isn't exactly going to be impossible to beat out. The Cowboys liked Leary enough last year to guarantee a significant portion of his rookie salary even though he was an undrafted free agent. And while it's not as though the Cowboys have never overvalued an offensive lineman before, that at least tells you they think highly of him and are willing to give him a shot to win one of these jobs.
May, 30, 2013
5/30/13
2:49
PM ET
How 'bout them all-time great NFL coaches? Our series looks today at the man who
came in at No. 13 in our poll
, former Dallas Cowboys coach Jimmy Johnson.
Johnson came from the college ranks, and he brought a college coach's fire and intensity to the NFL. Tabbed by his college buddy Jerry Jones to succeed legendary Cowboys coach Tom Landry, Johnson presided over a run of Super Bowl success that burnished the Cowboys' legacy as one of the sport's signature franchises and set a standard to which the team has struggled for nearly two decades now to live up. Former Cowboy Nate Newton offered this as part of his analysis of Johnson's coaching style:
[+] Enlarge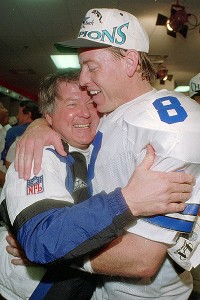 AP Photo/Charles KrupaJimmy Johnson coached the Cowboys to back-to-back Super Bowl titles in 1992 and '93.
"Jimmy was a master manipulator. He didn't have to cuss you out or dog you to get you to do what he wanted you to do. He took what you feared most and used it to motivate you.

"Stuff like Michael Irvin's fear of not being able to feed his family. Or Troy Aikman's fear of not being the best quarterback in the league. or Emmitt Smith's fear of not being on the field.

"He used my fear of letting the coach down. You could say anything and it wouldn't faze me, but you cornered me off and got me in a one-on-one situation and made me commit I would do whatever I said I was going to do because you showed faith and trust in me. Jimmy knew that. And he used it."
It's got to be exhausting to coach the way Johnson coached -- devoted to finding the right way to motivate each individual player on a daily basis. He did it to tremendous effect in Dallas, less so with the Dolphins. And while his résumé was strong enough that he likely could have stayed in coaching, he retired at the age of 56 to a comfortable life of TV broadcasting and fishing in the Florida Keys. His legacy as an all-time NFL coaching great rests on the Super Bowl titles he won in Dallas, coaching legends like Aikman, Smith and Irvin. The fact that he had to fight his way out of Landry's shadow to succeed and that the Cowboys really haven't been the same since he left only strengthen his case for the spot he occupies on this list.
July, 22, 2011
7/22/11
8:00
AM ET
Good morning, all. Yes, in spite of the hang-wringing and incredulous impatience of last night, I really believe today is the day. I think the players didn't like the way the NFL handled things last night, don't want to be forced into re-establishing their union if they don't want one and honestly felt they needed time to look over the deal the owners handed them before agreeing to it. I think all of this is reasonable. And from all I've been told, I have no reason to think any of it will hold up the deal beyond today. Could the players vote no and surprise me? Sure. But I think (a) this is a really nice deal for them and (b) they all want to get back to work. So, in the spirit of justified optimism, we link:
Dallas Cowboys
Skip Bayless and Chris Broussard debated on "First Take" on Thursday whether this is a "
make or break
" season for Tony Romo in Dallas. Skip says it is. Chris says he's nuts. Chris is right. If Romo throws for 4,000 yards and 30 touchdowns and the defense gives up the second-most points in the league again and they miss the playoffs, how exactly would that be Romo's fault? Said it before, say it again: Romo is the least of the Cowboys' problems.
Calvin Watkins' "
Old School
" series checks in with Nate Newton, who thinks, among other things, that the Cowboys should have designated Doug Free as their franchise player before the lockout began.
New York Giants
Mike Garafolo listened to Ahmad Bradshaw do an
interview with a Miami radio station
and couldn't figure out which way he was leaning -- Giants or Dolphins. On the heels of Drew Rosenhaus' comments about Bradshaw and the Dolphins earlier this week, Bradshaw sounds like a guy who wants and expects to be back with the Giants but is trying to use the Dolphins' potential interest as leverage for the best possible deal. Of course, the Dolphins really could use him and could make an offer to lure him away. It was Dolphins versus Giants last year for Antrel Rolle, and Miami was upset to lose out. Revenge?
Giants.com asks who was the
Giants' best free-agent signing of the past 15 years
-- Kerry Collins, Michael Barrow, Shaun O'Hara, Antonio Pierce, Kareem McKenzie or Plaxico Burress? Honestly, given where they were at quarterback before he signed, I might go with Collins here.
Philadelphia Eagles
The Eagles are ready to begin training camp next week if the players sign off on the deal, and they
still expect to have it at Lehigh
.
And we have
this latest entry
on why it would be better for the Eagles to sign a cornerback who's not as good as Nnamdi Asomugha than it would be for them to sign Asomugha himself. It's twisted logic every time I read it, and yet it's become something of a consensus. Fine. You guys want Ike Taylor, go get him. You just won't be as good as you could have been. I mean, jeez. If Asomugha doesn't fit into the defense you're planning to run, but you can afford him and he wants to sign with you ... maybe you should be running a different defense.
Washington Redskins
Jason Reid says the Redskins will be one of the teams most affected,
in a negative way
, by the lost offseason: "The accelerated schedule poses problems for ballclubs relying on inexperienced quarterbacks and those envisioning significant roster turnover, both of which describe the Washington Redskins' situation." I'll add that I also think they're hurt because this second year of Jim Haslett's 3-4 is a critical one in that transition, and they really didn't get to have the offseason I'm sure Haslett wanted to have with it.
Mike Jones lists Kevin Barnes, Keiland Williams, Graham Gano, Perry Riley, Anthony Armstrong and LaRon Landry as potential "
breakout" players
for the Redskins in 2011. Mike has written on Barnes a lot this offseason, wondering if the Redskins will indeed make him a starting cornerback and address other free-agent needs instead. Worth watching.
All right. More later. It's Friday, so you know we have plenty. But right now I have to go vote on a proposed bowl of cereal, pending the addition of a glass of orange juice.
October, 22, 2010
10/22/10
11:14
AM ET
By
Matt Mosley
| ESPN.com
Let's take a quick spin around the division this morning. I'll be away from the blog for much of the day while preparing two columns for Saturday. Thanks in advance for your patience:

Cowboys
Eagles
Giants
Redskins

June, 22, 2010
6/22/10
11:00
AM ET
By
Matt Mosley
| ESPN.com
Notable players
: QB
Troy Aikman
, RB
Emmitt Smith
, FB
Daryl Johnston
, WR
Michael Irvin
, G
Nate Newton
, C
Mark Stepnoski
, OT
Erik Williams
, TE
Jay Novacek
, DT
Russell Maryland
, LB
Ken Norton
, DE
Charles Haley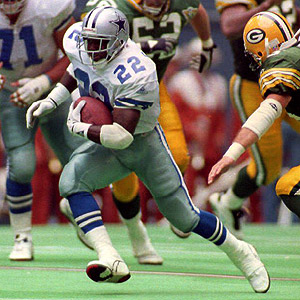 Tim Roberts/AFP/Getty ImagesEmmitt Smith held out to start the season, but once he returned, it all came together for the Cowboys.
Analysis
: I could make the argument that the '94 team that lost to the 49ers in the NFC title game was the best, but I'll save that one for another day. In '93, Jimmy Johnson and the Cowboys had an enormous target on their backs and the team began the season with Smith in a holdout. Disgusted by an 0-2 start without Smith, Jerry Jones quickly signed the running back to a new contract. The Cowboys ran off seven straight wins and finished the season 12-4.
Dallas sent 11 players to the Pro Bowl after the season, and they could've had a few more on defense. If not for Smith's holdout, this was the type of team that might have made a run at a perfect season. The Triplets were unstoppable, and the Cowboys had perhaps the best offensive line in the league. The Roger Staubach teams of the '70s were formidable, but I just don't think they were as deep as Johnson's teams of the early '90s.
The Doomsday defense from the late '70s trumps the defense from the early '90s, but the Triplets surpassed what Staubach, Tony Dorsett and Drew Pearson accomplished.
Most impressive win
: It's too easy to say the Super Bowl, so give me the overtime victory in the Meadowlands over the Giants to end the regular season. The win gave the Cowboys the division title and a wild-card bye week. In that 16-13 win, Smith had one of the best individual efforts in club history. Playing with a separated shoulder, he rushed for 168 yards and caught 10 passes.
Best player:
How can you not go with the guy who won the NFL's MVP award, the Super Bowl MVP and the rushing title in the same season? Let's go with Emmitt.
Honorable mention
1977
: The Super Bowl champions were dominant on both sides of the ball. Dallas began the season 8-0. The Broncos didn't belong on same field in the Super Bowl. Ed "Too Tall" Jones, Harvey Martin and Randy "Manster" White put the "Doom" in Doomsday.
1992
: You almost forget how Jimmy Johnson could send waves of pass-rushers at quarterbacks.
Tony Tolbert
had more sacks than Haley in '92. And Maryland and
Leon Lett
were just beginning to figure things out. The collection of talent was remarkable. The Triplets truly began to impose their will on opponents.
1971
: Some of the great defensive players from the early days -- Bob Lilly, Chuck Howley, Lee Roy Jordan -- finally got their championship. The offense scored 29 points per game and the Cowboys won by an average of 13.1 points per game.
June, 7, 2010
6/07/10
12:19
PM ET
By
Matt Mosley
| ESPN.com
Let's take a quick look around the division this morning to see if anything's happening:

Cowboys
Eagles
Giants
Redskins

May, 6, 2010
5/06/10
11:59
AM ET
By
Matt Mosley
| ESPN.com
Our friends at ESPNDallas.com continued their three-part Old School 101 series today that features former Cowboys greats discussing "problem areas" for the current team. Six-time Pro Bowl guard
Nate Newton
, now a talk-show host for 103.3 ESPN in Dallas,
sat down with ESPNDallas.com's Calvin Watkins
to talk about what Cowboys left tackle
Doug Free
can expect in the starting role.
Asked whether the left tackle position was overrated in today's game, here's what Newton had to say:
"Yeah, it's overrated, until your quarterback's left back third rib is cracked. Until your quarterback starts tapping his feet and can't go through his seven-step read when he knows he has two reads he has to make and he can only get through one of those reads and he has to get rid of the ball.

"It's all right to have a run-of-the-mill type quarterback and an average tackle. But you don't want an average left tackle with the way Tony is building his credibility up. You want a guy who used to tap his feet and run at the drop of [a] hat? Now that he's learned to drop back, move around the pocket, you want him to revert back to what he was? You don't want that."
I encourage you to check out the entire interview. Newton offers some keen insight.
September, 17, 2008
9/17/08
6:46
PM ET
By
Matt Mosley
| ESPN.com
Posted by ESPN.com's Matt Mosley
Earlier today, I had a chance to visit with ESPN.com's Jeff Pearlman, whose book "Boys Will Be Boys: The Glory Days and Party Nights of the Dallas Cowboys Dynasty" was released nationwide Tuesday. Pearlman, who's also written books about the '86 Mets and Barry Bonds, said he talked to 140 former Cowboys players and employees.
I haven't read the entire book yet, but the first chapter is pretty explosive. It has details on a stabbing incident that many of us have been hearing about for years. Also some great (shocking) Charles Haley stories. It was a team of colorful personalities, and the coach and owner set the tone.
Also an interesting Q&A with Pearlman on the New York Times' Fifth Down blog. Michael Irvin and Nate Newton both play prominent roles in the book. I'll see both of them tomorrow, so I'll see what they think.
July, 9, 2008
7/09/08
10:50
AM ET
By
Matt Mosley
| ESPN.com
Posted by ESPN.com's Matt Mosley
If you're a Redskins fan, you have 11 days left until training camp. Cowboys fans have 16 days left. I'm currently putting together an elaborate plan that will allow me to see all four of the NFC East teams during training camp.
Quick question for my three-team East Coast trip: Would you guys start in Albany and work your way down via rental car or use Ashburn, Va., as a starting point? I need to finalize things pretty quickly so ESPN can book my middle seat.
Now, here are today's NFC East headlines:
Cowboys
Eagles
Giants
Redskins

NFC EAST SCOREBOARD
Thursday, 8/21
Friday, 8/22
Saturday, 8/23