August, 28, 2012
8/28/12
9:27
AM ET
People have been asking me all summer who's winning the
Washington Redskins
' kicker competition, and we now have our answer. It's the guy who lost the
Baltimore Ravens
' kicker competition.
Cundiff
One day after cutting veteran
Neil Rackers
(and ostensibly leaving the job to
Graham Gano
), the Redskins have signed former Ravens kicker
Billy Cundiff
,
Adam Schefter reports
. And according to ESPN 980 in Washington,
Gano says he's been cut
.
Cundiff was released by the Ravens on Sunday in a surprise move after undrafted rookie
Justin Tucker
outperformed him in camp. Clearly, the Redskins think the Ravens made a mistake, as they raced to sign him and cut both of the guys who'd been kicking for them all summer. The surprise part of today's move is the cutting of Gano, who hasn't been the most reliable of kickers but has a strong leg and might have been able to win a competition with Cundiff if given the chance. I mean, Justin Tucker did...
But kicker is really an eye-of-the-beholder thing, and Mike Shanahan must see something in Cundiff that he likes. Cundiff was a Pro Bowler in 2010, when he hit 89.7 percent of his field goals. And over the past two years, he's 53-of-59 on field goals of less than 50 yards and leads the NFL in touchbacks. Last year, he was 28-for-37 on field goals -- a more pedestrian 75.7 percent that compares closely with Gano's 75.6 and with Cundiff's career percentage of 76.7. But Cundiff was 1-for-6 from beyond 50 yards while Gano was 4-for-6 from that distance.
Cundiff did also, of course, famously miss a 32-yard field goal that would have tied last year's AFC Championship Game and sent the Ravens to overtime against the Patriots for a chance to go to the Super Bowl.
So what to make of this? Cundiff is more reliable inside the 50, which matters more than the ability to boom the occasional 50-yarder. But the main difference is on kickoffs, where 83 of Cundiff's 154 kicks (53.8 percent) have resulted in touchbacks over the last two years while just 40 of Gano's 144 (27.8 percent) have done the same. That's the part that matters most to coaches, who know kickers are eventually going to break their hearts on field goals but really want them to deliver in terms of field position. That's got to be the main reason Cundiff is the Redskins' new kicker while Rackers and Gano are looking for work.
August, 6, 2012
8/06/12
8:00
AM ET
OXNARD, Calif. -- Yeah, the NFC East blog hasn't been this far out of its geographical comfort zone since the Giants played that NFC Championship game in San Francisco back in January. But here we are, stopping in for a couple of days to watch and chat with the
Dallas Cowboys
at their far-flung training camp. Weather was utterly fantastic when I arrived Sunday night, and I'm wondering if this might be the first training camp stop I've ever made that wasn't impossibly hot and humid. I shall keep you posted. Meantime, links.
Philadelphia Eagles
The only news out of Eagles camp Sunday was the
awful news
of the death of Andy Reid's son Garrett. Our Eagles "Camp Confidential" is coincidentally scheduled to run today, and it was reported and written days before the tragedy, so I hope you'll forgive the fact that there's only a passing reference to Sunday's news. Those pieces are supposed to reflect the mood in training camp, and it's safe to assume that the mood is far different there today than it was when I was there Wednesday and Thursday.
Jeff McLane had, I believe, the
best story of the day
, relaying his personal experience of talking with Reid about fatherhood. "They grow up," Reid told Jeff back in March at the NFL owners' meetings, "but you never stop worrying about them." Just rotten, lousy news that makes football seem small. The players and people in the Eagles organization love Reid and will rally to support and strengthen him the best they can. But I can't imagine there's any way to ever make this feel better.
Washington Redskins
Get to know Redskins rookie lineman
Josh LeRibeus
, who is
a jokester
, but is also probably just one more lineman injury away from being thrust into a prominent role right away.
A lot of people asked me about the kicking battle when I was at Redskins camp last week, and to be totally honest with you, I was watching other things. But here you go.
Mark Maske wrote about it
over the weekend. No real way to handicap it, I don't think, until preseason games. And even then the opportunities might be tilted one way or the other. My sense is that
Neil Rackers
is better, but
Graham Gano
seems to have a nine-lives thing going on.
Dallas Cowboys
Jason Witten
caught a
couple of touchdowns
in Sunday's scrimmage. My theory has been, when people have asked how they'll make up for those 11
Laurent Robinson
touchdowns, that Witten is the answer. Yeah,
Tony Romo
trusted Robinson in the red zone, but who has he ever trusted more than he trusts Witten. Tim MacMahon has a story about Witten and his
sense of urgency
about this season.
Oh and Jerry Jones says he's
not overly concerned
about
Miles Austin
's latest hamstring injury. I mean, sure. Why would anyone be concerned about a Miles Austin hamstring injury? When has that ever been a lingering issue in the past? Seriously, name me one time. Okay, two. Okay, okay... Anyway,
Kevin Ogletree
is playing in his place.
New York Giants
Running back
Ahmad Bradshaw
is fired up about his chance to be the clear No. 1 running back on the Giants. He told me that in so many words when I was at their camp a week and a half ago, and
Ohm Youngmisuk has a story
about how Bradshaw is taking more of a leadership role with the Giants. If this guy's healthy, he could do big things this year. Has that look in his eye, like they say. But that health is a big "if."
When the Giants signed
Shaun Rogers
like two hours before the draft in April, it was an easy move to overlook. And frankly, until I got to Albany and spoke with people about him, my sense was that he was a camp body or a placeholder in case
Marvin Austin
got hurt again. But
Chris Canty
is hurt, and Austin may need some time to acclimate after two years without playing in games. And
Rogers has been impressing people
at Giants camp. A lot of people outside the Giants have told me they're not buying it with Rogers, who's been a behavior case elsewhere. But the Giants don't suffer those. If this guy weren't legit, they wouldn't be giving him all these reps. Anyway, maybe a surprise guy to watch there.
August, 2, 2012
8/02/12
11:00
AM ET
ASHBURN, Va. -- As the rest of the teams in the NFC East talk about dynasties, defending championships and ... whatever it is that Jerry Jones has been talking about all week, the
Washington Redskins
are working on moving up from fourth place. It has been a long time since the Redskins were a real factor. They've had three straight losing seasons and have reached the playoffs in just three of the past 19 years.

But for the first time in a long time, there is reason for hope. His name is
Robert Griffin III
, and he is a rookie quarterback on whom everything now rests. The Redskins traded three first-round picks and a second-round pick for the right to draft Griffin, and all he has to do is look around or listen to know what he represents to the Redskins' starving fan base.
"I didn't expect the excitement," said Griffin, who doesn't seem to be caught off-guard by too many things. "I wasn't looking to get drafted and have a whole city fall in love with me. So it's definitely a great experience. Hopefully, I can be the catalyst and get a lot of fans excited about this team."
Months before the games -- months before training camp, even -- Griffin already was doing that. His jersey became a fungal phenomenon, sprouting up instantly everywhere in D.C., Maryland and Virginia. Stores began selling posters modeled after the iconic 2008 Barack Obama "HOPE" campaign posters, only with Griffin's face on them instead. The public reaction to Griffin has been outsized and unreasonable. But given the way Redskins fans feel about their team and how long they've gone without a franchise quarterback, it's easy for longtime residents of the area to understand.
"It's Washington, man," veteran Redskins receiver
Santana Moss
said. "There's nothing reasonable. The whole city expects 'now,' so at the end of the day, all you can do is give them what they want."
"Now" may not be a reasonable goal for a rookie quarterback on a team that won five games last year and plays in the same division as the Super Bowl champions. But what Griffin has already done around here is change the vibe. People are talking with real excitement about what can or will be. Even coach Mike Shanahan, who has overhauled the roster to the point where 19 of the projected 22 starters weren't on the team two years ago, feels differently about 2012.
"It's the first time, I feel like, you go into a season and you've got a chance," Shanahan said. "You're excited about the year. You're excited about your football team. You're excited about the direction you're going."
That's all new this year, and the new front man is a huge reason why.
THREE HOT ISSUES
1. How will the offense be different under Griffin?
If you watch the Redskins practice, you see a lot of new stuff. There are rollouts. There are bootlegs. There are designed runs for the quarterback. There are option sets, where Griffin has to decide whether to keep, pitch or throw the ball. Shanahan admits he's throwing a lot at his rookie quarterback, and it's by design.
"What I think you do is, you feed him everything," Shanahan said. "For people to grow, in my opinion, you teach them everything and then you find out what they're able to do. So we teach him everything, see how much he can handle, knowing he's going to get better and better every year because he's smart enough to get it. And then that'll be our job here for the next three weeks, really after this week, to isolate it down more to what we're going to do this season -- get a package for him that he's most comfortable with."
[+] Enlarge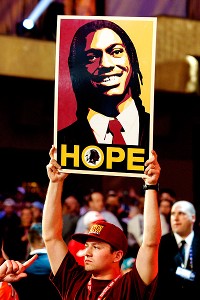 AP Photo/Brian GarfinkelRedskins fans are hoping Robert Griffin III can turn things around in Washington.
In other words, all of the stuff we're seeing Griffin do in practice might not necessarily carry over into the season. If there's a particular part of the offense with which he's having a hard time, the Redskins could shelve it until next summer and go with the things they know he can do. Regardless, though, Griffin's athleticism and running ability give the Redskins options they didn't have in previous years. And it may help them cover up question marks on the offensive line and in the running game. Speaking of which ...
2. Do they have enough around him?
Shanahan won't talk about the salary-cap penalties the league imposed on the Redskins (and the Cowboys) just before the start of free agency. But it's a pretty fair guess that, had they not been docked $18 million in cap space this year and again next year, they might have been able to sign some offensive line help. They did not. They're bringing back last year's offensive line, and two of the starters are already injured. There's a chance left guard
Kory Lichtensteiger
makes the season opener, but right tackle
Jammal Brown
has a recurring hip problem that could prevent them from being able to count on him. The good news is that some of their backups got playing time last year because of injuries and suspension. And left tackle
Trent Williams
looks like the best player on the field in practices. But Griffin's protection could be an issue all year if the line struggles with injuries.
If it doesn't, Shanahan believes it can be effective because the players all know the system and each other. He's also not worried right now about who will emerge has his starting running back. Veteran
Tim Hightower
would be the starter if not for his ongoing recovery from last year's knee surgery.
Evan Royster
, a sixth-round pick in 2011, has looked the best of the remaining bunch so far in camp, but they also like 2011 fourth-round pick
Roy Helu
and 2012 sixth-rounder
Alfred Morris
. "We have four backs that can play," Shanahan told me, and he's willing to let the camp competition sort it out for him.
Griffin's receiving group includes newcomers
Pierre Garcon
and
Josh Morgan
, veteran Moss and last year's rookie star,
Leonard Hankerson
, whose 2011 was cut short by injury, appears to be back. They're also expecting big things out of tight end
Fred Davis
, who was their best pass-catcher for much of last year before a drug suspension cost him the final four games.
3. The secondary.
The defensive front seven looks strong and deep, but there are question marks at cornerback and safety. Will
DeAngelo Hall
thrive in his new role as the nickel corner? Will
Cedric Griffin
or
Kevin Barnes
be good enough as his replacement on the outside? Is strong safety
Brandon Meriweather
a talented star who was miscast in Chicago? Or is he a malcontent who got kicked out of New England because he wasn't playing to his potential? Can
Madieu Williams
or
Tanard Jackson
hold down the free safety spot? Lots of new faces and moving parts out there, and these questions need to be answered if the defense is going to continue to make progress.
REASON FOR OPTIMISM
As they will tell you, the Redskins did beat the Giants twice last year. And they played the Cowboys tough twice. Of all the last-place teams in the NFL, only one finished closer to its division's first-place team than did the Redskins, who at 5-11 were still only four games out of first. They have replaced a starting quarterback (
Rex Grossman
) who somehow threw 20 interceptions in only 13 games with a brilliantly talented, charismatic and ultra-promising rookie. They've beefed up at receiver and on the defensive line. And even if all of that isn't enough for them to contend in 2012, Redskins fans have all kinds of reasons to feel good about the direction in which their franchise is pointing.
REASON FOR PESSIMISM
The Eagles should be better than they were last year. The Giants have reason to believe they'll be better than they were last year. The Cowboys made major upgrades at cornerback and should be tougher to play than they were last year. Even with the improvements, there are very few positions (Tight end? Linebacker? 3-4 defensive end?) at which the Redskins appear to be as good as or better than their division rivals. That's a comment on the talent in the rest of the division as much as it is on what the Redskins are doing, but it remains a troubling reality. The Redskins are still a work in progress, and while the NFL prides itself on the number of its annual surprises, a Redskins playoff push at this point would likely rank among the biggest.
[+] Enlarge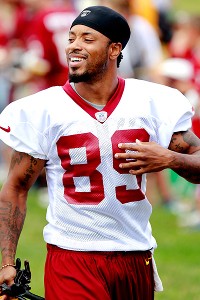 Geoff Burke/US PRESSWIRERedskins receiver Santana Moss has lost 16 pounds since last season.
OBSERVATION DECK
Moss' weight loss is striking. He's down 16 pounds and says he feels completely different. The Redskins' coaches called him in the offseason and told him they thought he was too big, and he agreed, so he got in shape and has come to camp determined to show the world he's still a top receiver.

The Redskins are converting Niles Paul, who last year was a rookie wide receiver, to tight end. He's 234 pounds and said his biggest concern when they asked him to make the change was that he wouldn't be able to block big pass-rushers like DeMarcus Ware and Jason Pierre-Paul. But incumbent tight end Chris Cooley told him it was all about technique, and Cooley has been working with Paul to help refine that.

That's a pretty cool thing for Cooley to do for a player who may be about to take his job. Shows you what kind of guy and teammate Cooley is. He's got a chance to stick on the roster, but he has to show he's healthy and probably take a pay cut.

The Redskins' plan as of now for three-receiver sets is to use Garcon and Hankerson wide and Moss in the slot. But Moss could play well enough to see action outside in two-receiver sets, especially if Hankerson and Morgan have injury problems. Morgan, who has always had those, is being looked at as someone who can play any of the three receiver slots in Shanahan's offense.

Shanahan named defensive lineman Chris Baker as a player he thinks will surprise people. If that's true, the defensive line rotation looks formidable with Barry Cofield, Stephen Bowen, Adam Carriker and 2011 second-round pick Jarvis Jenkins, who missed his rookie year with a knee injury but is back and looking good.

Outside linebackers Brian Orakpo and Ryan Kerrigan will switch up from time to time this year instead of staying pinned to specific sides of the field. Orakpo also says he's working on adding pass-rush moves to his arsenal in an effort to get his sack numbers up.

Neil Rackers has a chance to unseat Graham Gano as the kicker, but Gano held off a challenge from veteran Shayne Graham in preseason last year, so don't give up on him yet.

Brandon Banks has been told he has to make the team as a receiver, not just a return man. If he doesn't make it, look for Aldrick Robinson as a possible kick returner.

Somehow, we have reached this point in the Camp Confidential without mentioning the name of London Fletcher. But he's still very much in the middle of things at age 37. He ran an interception in for a touchdown during the first week of training camp. He's in the best shape of anyone in camp, as usual. They put Griffin's locker next to his because they felt Griffin could benefit from proximity to their best veteran leader, and Griffin said he knew right away the significance of the locker assignment. Fletcher said he wanted to come back to Washington in part because he wants to be there when they turn it around. If they do, his presence will of course be a big reason why.
June, 19, 2012
6/19/12
8:00
AM ET
Happy Tuesday here in the NFC East. We've got a full day planned, with a chat and a bunch of other mid-June NFL goodies. But we start as always with links.
Philadelphia Eagles
First-round draft pick Fletcher Cox has agreed to a four-year contract with the Eagles, which means he'll be in training camp on time like all of the other draft picks who haven't signed yet but surely will some time in the next six weeks. Cox also
spoke with the media
on a conference call and talked about his chances to start and the ways in which he has improved in the offseason. Cox could open the season as a starter, but it's no sure thing given the Eagles' depth at defensive tackle.
Sheil Kapadia takes a look at the Eagles'
fourth-quarter numbers
from last year. The basics are that they were awful, and that Vince Young led more fourth-quarter comebacks than Michael Vick did. The Eagles know what they need to do better. Right now it's just about waiting three months to see whether they can actually do it.
Washington Redskins
Yeah, it's time for kicker updates. And no, Graham Gano's job in Washington is not safe. The Redskins brought in Neil Rackers either to replace him or spur him to great things, and it'll
be a long time
before we see which one of those things happens. Gano held off veteran challengers last year, so don't rule him out just yet.
This one's from last week, but it's about Rob Jackson, who's probably the first option at
outside linebacker
for the Redskins if one of their starters gets hurt. It's another example of a position at which the Redskins feel they have more depth than they did last year, if only because of the added experience some of their backup players now have.
Dallas Cowboys
I wrote Monday that the Eagles should take a run at Browns quarterback Colt McCoy if he really is available for a sixth-round or seventh-round pick. Tim MacMahon thinks the
Cowboys should try and get him
. I wrote Eagles because I believe their backup quarterback situation is more dire than Dallas' is, but Tim's point is a good one. The Cowboys are more likely to let go of Stephen McGee at this point than the Eagles are to give up on Mike Kafka.
Dez Bryant will be the guy on whom all eyes are locked once Cowboys training camp starts, and he's getting good reviews all over -- including the
all-important one
from starting quarterback Tony Romo.
New York Giants
Terrell Thomas expects to be one of the Giants' starting cornerbacks once training camp starts.
Ohm Youngmisuk expects the Giants to take it slowly
with Thomas as he continues to work his way back from last summer's ACL injury. I think Ohm's prediction is the more likely one to come true, though they both agree that Thomas is a starter come Week 1 assuming he stays healthy.
If there's a threat to Thomas' playing time other than his own knee, it's 2011 first-round pick Prince Amukamara, who
expects to be a factor
in the cornerback mix for the Giants this year now that he's healthy and has an NFL season under his belt.
April, 25, 2012
4/25/12
8:00
AM ET
So the draft is tomorrow, which I understand some people are excited about. The prospects have arrived in New York City. I dropped by the EA Sports event in Manhattan on Tuesday night and met
Robert Griffin III
and
Fletcher Cox
and some other folks. I always enjoy this part of the draft -- the days leading up to the thing itself, when these kids get to feel like kings of the world before the real work starts. Invariably, several of them are making their first-ever trip to New York, and as someone who grew up going to school field trips there, I have always found it to be a lot of fun to meet someone who's experiencing it for the first time.
Anyway, don't panic if things slow down a bit today. I am going up to Bristol for a meeting and then stopping back in Manhattan on the way home for another pre-draft event at which I hope to do some interviews that will assist me in writing intelligent and informative stories and columns on the players your favorite teams draft Thursday night. There will be posts today, but as I said, it could get a little slow. You get me all night Thursday and Friday and all day Saturday, so you'll have plenty of time to get sick of me before this is all said and done. And in the meantime, you know I'd never let you go a day without your links.
Dallas Cowboys
One of the topics
Tony Romo
addressed during his news conference Tuesday was the amount of time he has left as the starting quarterback of the Cowboys. Romo, who just turned 32, says
he hasn't thought about it
because, "Unless you start to regress in your abilities, that doesn't enter your thoughts." I think Romo's of a different mind on this issue than a lot of Cowboys fans are, and I think the team is as well. If the Cowboys draft a quarterback in the middle or late rounds this weekend, it will say more about their feelings on
Stephen McGee
as capable backup than it will about long-term worries about life after Romo.
In non-Romo news,
Anthony Spencer
showed up and
worked out
at the team facility on the day after he signed his franchise tender. Spencer's still hoping for a long-term deal, and it still doesn't look as though he's going to get one anytime soon.
New York Giants
Eli Manning
joked that, in spite of the Giants' Super Bowl championship, he's still the
third-most talked-about quarterback
in New York. I think he's right, though I feel fairly certain that young
Mark Sanchez
would be happy to trade places with him in those rankings.
We have written a lot lately on this blog about the Giants and their approach to the draft. Peter King has a pretty
outstanding in-depth look
at the way the Giants have been built, and it's worth a read for non-Giants fans as well.
Philadelphia Eagles
If the Eagles want to get a player like Fletcher Cox or
Luke Kuechly
in the first round Thursday, it looks as though they may have to trade up. They can, since they have enough picks, and they might, if they decide one of those guys is worth it. A trade-up is just one of the scenarios
Jonathan Tamari examines
for the Eagles.
The
Atlanta Falcons
are indeed
trying to trade
for
Asante Samuel
, who at this point has to be dealt before the end of the draft or the Eagles are going to have a big problem. And again, it's not that Samuel can't play anymore. It's a salary dump for cap room they'll need to sign
LeSean McCoy
and their draft picks. Don't be surprised if all they get is a sixth-round pick.
Washington Redskins
The answer to the popular question of whether
Graham Gano
is safe as the Redskins' kicker became a very loud "no" on Tuesday when it was revealed that
Neil Rackers
has
agreed to contract terms
with Washington. I guess they'll bring them both to camp and let them fight it out, but Rackers' resume indicates that he's well-equipped to win the fight.
Rich Campbell's already up here, tailing Robert Griffin III around the Big Apple, and Griffin says the meetings he's had over the past several weeks with Redskins offensive coordinator Kyle Shanahan have been
useful and productive
. You will continue to read more about Griffin on this blog over the next 48 hours.
December, 3, 2010
12/03/10
12:05
AM ET
By
Matt Mosley
| ESPN.com
The Eagles coughed up a 20-10 halftime lead, but quarterback
Michael Vick
led them to a
34-24 comeback win in the fourth quarter
Thursday night. Let's take a closer look at how it happened:


What it means:
The Eagles are in sole possession of first in the NFC East (at least until Sunday afternoon). Philadelphia (8-4), which plays at Dallas in 10 days, will have a great opportunity to be 9-4 when it faces the Giants in two weeks. It was a gut check for the Eagles after they dominated much of the first half. The Texans came roaring back to take a 24-20 lead, but Vick calmly led a touchdown drive early in the fourth quarter. He took way too many hits in the first half, but he managed to stay on his feet and make some huge plays down the stretch. Vick threw for 302 yards, two touchdowns and one interception. He also ran for a touchdown. I'm still not sure why Andy Reid and Marty Mornhinweg allowed Vick to take so much punishment. They could've run the ball more in this game, but that's nothing new.
The real McCoy:
Eagles running back
LeSean McCoy
was too much for the Texans to handle in the open field. He had eight catches for 86 yards and destroyed Houston in the screen game. The Texans dropped seven players back in coverage, but none of them could tackle McCoy in space. He added 44 rushing yards on 12 carries, but he did most of his damage in the passing game. He has become one of the best pass-catching backs in the league. It looked like the Texans weren't adequately prepared for his quickness. It was just a brilliant performance by McCoy, who reminds me a lot of
Brian Westbrook
when he gets in the open field. He makes defenders look really bad.
A huge play by Brent Celek:
Clinging to a 27-24 lead with 6:36 left, the Eagles faced a third-and-19 from Houston's 24-yard line. Vick threw a short pass to Celek, who was ruled down after an 18-yard gain. Replays showed that he was able to whip his body around and reach past the first-down marker, and Celek campaigned for Reid to throw the challenge flag. Reid, not known for his game management skills, wisely let the clock tick before challenging. The Eagles won the challenge and scored two plays later on a 5-yard touchdown pass to
Owen Schmitt
.
The drive:
The Texans put together a 13-play, 86-yard scoring drive in the third quarter to take a 24-20 lead. But after a ridiculous squib kick by
Neil Rackers
, the Eagles had good field position at their 40-yard line. (Were the Texans scared of
Jorrick Calvin
?) Vick quickly hit
DeSean Jackson
on a gorgeous 33-yard pass that set up the go-ahead touchdown early in the fourth quarter. Jackson finished with three catches for 84 yards, and something tells me he won't get chewed out by Reid following this performance. He and Vick connected on the Eagles' first play from scrimmage, setting the tone for the offense. Philadelphia scored on its first three possessions and it was 2-of-4 in the red zone in the first half, a big improvement over the past two weeks.
Laws makes a nice grab:
Texans quarterback
Matt Schaub
tried to dump the ball to
Arian Foster
late in the first half, but Eagles defensive tackle
Trevor Laws
reached up and snagged the ball for an impressive interception deep in Houston territory. The Eagles settled for a field goal and a 20-10 halftime lead. It was the first takeaway of Laws' NFL career.
Allen was exhumed from the goal line:
The Eagles did a fairly nice job on Texans running back Arian Foster, but he ran over rookie
Nate Allen
on a touchdown reception in the third quarter that trimmed the Eagles' lead to 20-17. It looked like something Herschel Walker would've done to a defensive back (Bill Bates, anyone?) when he was at Georgia, and Allen had to be a bit embarrassed.
What's next:
The Eagles will get an extended break before heading to Dallas for a Sunday night game. I'm sure Reid will give the Eagles Friday through Sunday off . That should give them a chance to finish strongly. There's a decent chance the Eagles and Giants will be 9-4 when they play in two weeks, setting up a great Dec. 19 matchup at New Meadowlands Stadium.
October, 13, 2008
10/13/08
12:31
AM ET
By
Matt Mosley
| ESPN.com
Posted by ESPN.com's Matt Mosley
GLENDALE, Ariz. -- For a few frantic moments Sunday, the Cowboys made you forget how pedestrian they've become. Marion Barber's mad dash to the end zone and a 52-yard field goal by Nick Folk at the end of regulation temporarily covered up another unimpressive effort.
But with one blocked punt return for a touchdown, the Cardinals delivered a jolt of reality. Arizona won the game 30-24, and any other result would've been a crime after watching the Cardinals dominate the second half.
| | |
| --- | --- |
| | |
| | Lisa Blumenfeld/Getty Images |
| | Dallas quarterback Tony Romo's solid numbers and high passer rating are misleading. |
The Cowboys probably should've turned the ball over four times in the first half, but they only had one. The aerial assault on what had been rumored to be an outmanned Cardinals secondary never materialized, and Tony Romo spent most of the day checking down to Barber.
Romo somehow always ends up with 300 yards and three touchdowns, but don't be fooled by those numbers -- or his 113.3 passer rating. He fumbled the ball three times, and was fortunate to lose only one. The only thing that prevented him from giving up a touchdown in the first half was the tuck rule, which makes less sense every time I see it called.
In fairness to Romo, his Pro Bowl-laden offensive line was dominated by the Cardinals' defensive line. Left tackle Flozell Adams offered little resistance as defensive ends Bertrand Berry and Antonio Smith raced past him. I've documented almost every Romo start since 2006, and I've never seen him take that much punishment. People want to ask where all the enthusiasm and child-like joy has gone. Well, getting hit in the mouth every other play isn't a particularly enjoyable experience.
Romo showed up to his news conference with a heavily bandaged right throwing hand. According to the Cowboys, he sprained his right pinky finger. And considering the punishment he took Sunday, he may have gotten off easy. Romo made an interesting statement when asked about the constant pressure he faced.
"I think there's a couple of things we've got to do to counteract ... one of our formations I think some of the teams are kind of getting a bead on," said Romo. "We'll rectify that this week and hopefully learn from it."

NFC EAST SCOREBOARD
Thursday, 8/21
Friday, 8/22
Saturday, 8/23