NFC East:

NFL concussion settlement 082913
August, 30, 2013
8/30/13
3:27
PM ET
IRVING, Texas -- Drew Pearson was not among the 4,500 plaintiffs in the suit brought against the NFL, but the Dallas Cowboys' Ring of Honor wide receiver will be among the players to benefit from Thursday's settlement.
Pearson, however, wonders if the $765 million agreement is enough.
"It helps players immediately," Pearson said. "There are so many players that need help and so many that are suffering in that regard, so it's good. But also at the same time, I don't think it's enough money. How can you say it's not enough? Well, look at the revenue generated by the league. This is a payout over 20 years, so that $765 million comes down to $24 million a team. That's a drop in the bucket to the NFL. I don't know that we would've won the case. I think it would've been hard for the players to prove it in court … but still, if the NFL was willing to settle we should've held out for a little more, knowing that the revenues for the NFL will increase through the term of the settlement significantly."
[+] Enlarge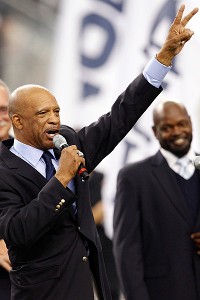 AP Photo/Jim CowsertFormer Cowboys great Drew Pearson says the $765 million concussion settlement is "a drop in the bucket to the NFL."
Pearson spent 11 seasons with the Cowboys (1973-83) and was named to the All-Decade team of the 1970s. In 1980 he became the franchise's all-time leader in receptions, and took over the top yardage spot in 1983. He led the Cowboys in receiving from 1974-77 and helped win Super Bowl XII.
Like fellow Ring of Honor member Cliff Harris, Pearson is happy to see that former players in dire need of help will receive it.
Pearson, 62, said he has some health issues, like memory lapses and pain in his right knee. This summer he attended a banquet honoring Harris in Little Rock, Ark., with teammates Roger Staubach, Charlie Waters and some others, and noticed they all had some sort of issues.
"You don't notice it until you're around the guys, because we're so used to dealing with pain and discomfort and are so used to overcoming things that our mental threshold is greater than others in dealing with it," Pearson said. "Plus, we know why it's happening. We know why Charlie's had the post-career surgeries he's had. He gave up his body for the game.
"I was in the training room with Charlie, and he's taking shots in his ankle, knee and shoulder just to play the game that Sunday. You're not thinking about that might be a problem. You're thinking, 'Yeah, way to go Charlie. That's a teammate there. He'll do anything.'"
Pearson said the lack of education and protocol led to players suffering more. He estimated he had at least one concussion a year, even if he was never officially diagnosed with one.
"I'm not saying if we were educated we wouldn't have played," Pearson said. "I probably still would've played knowing the ramifications, because I love the game. But if we were better educated then, we might be dealing with it a lot better and recognize the symptoms. When we played we were the judge and the jury, because when we got hurt it was up to us. Coach (Tom) Landry asked you, 'Can you go?' He didn't go to the doctors and say, 'Can he go?' He came to us and asked, and you said yes, no matter what the circumstances might be."
August, 30, 2013
8/30/13
9:50
AM ET
ARLINGTON, Texas -- Cowboys' Ring of Honor member Cliff Harris was among the 4,500 litigants in the concussion suit that was brought against the NFL and tentatively settled on Thursday for $765 million.

One of the hardest-hitting safeties in NFL history, Harris played for the Cowboys from 1970-79 and won two Super Bowls.

"I'm glad they've done something to help either the players that need it now or that are going to need it," Harris said.

Harris had not read the settlement and was reluctant to comment further on Thursday night. All of the NFL's retired players are eligible to receive benefits from the settlement. According to the settlement, $675 million of the settlement will be given to former players and families of deceased players afflicted with cognitive injury. Another $75 million will be spent on baseline medical exams, and the league will fund research and education to the tune of $10 million.

Tony Dorsett, who was one of at least 10 Pro Football Hall of Famers involved in the suit, could not be reached for comment, but told the Associated Press, "Football has been my life and football has been kind to be, but when I signed up for this I didn't know some of the repercussions. I did know I could get injured, but I didn't know about my head or the trauma or things that could happen to me later in life."

Co-lead counsel for the plaintiffs, Christopher Seeger, called Cowboys owner and general manager Jerry Jones a "hard ass," in the negotiations. On KRLD-FM (105.3 FM) before Thursday's preseason finale against Houston, Jones spoke about the settlement.

"The players that have been impacted, and the players that could be potentially impacted, will get the money rather than the attorneys," Jones told the station. "There wasn't a 'Who's right?' or 'Who's wrong?' here. It's just that the money will go to the ones that need that. I'm excited that it's going to result in substantive benefit to the players who helped make this game what it is today."
August, 29, 2013
8/29/13
9:00
PM ET
FOXBOROUGH, Mass. -- The NFL
reached a tentative $765 million settlement
over concussion-related brain injuries among its 18,000 retired players.
The agreement, announced Thursday, will compensate victims, pay for medical exams and underwrite research.
New York Giants
owner John Mara fielded questions from reporters before the preseason finale against the Patriots. Here's the full Q&A:
Your reaction to the settlement?
"I think it's a good settlement, primarily because it will help get money to people who need it much faster than had we gone through a long litigation, with appeals and discovery and everything else. It could have gone on for eight or 10 years. This hopefully will get some money to some people who could use some help."
The $765 million number is a large amount.
"It's a big number, to be sure, but I think it's a fair settlement. I'm just pleased that we're going to be able to help some people that are in need right now."
[+] Enlarge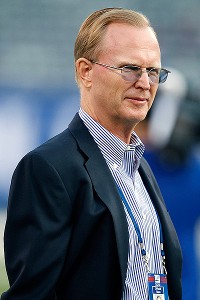 William Perlman/The Star-Ledger/US Presswire"I think it will be money well spent," Giants owner John Mara said of the league's $765 million concussion settlement.
One of the principal terms of the settlement is that the agreement is not considered "an admission by the NFL of liability." Do you feel culpable?
"No, and I'm not going to get into that aspect of it. I just feel good about the fact that there are some former players out there who are not in good condition right now and we're going to be able to help them. I heard a report today that it comes out to less than $200,000 per plaintiff, but that's not the way to look at it because most of these plaintiffs are not going to be eligible. There's going to have to be a showing of some cognitive impairment, and there are some players who are in that condition, and those are the guys who deserve the money. ... You have to make a showing, according to the way I read the judge's order, a showing of some cognitive impairment, and that gets determined by independent doctors that both sides will agree on, and it's overseen by the court."
Some players feel the number could have been bigger.
"You can always say that about any number, but if we had gone through the litigation process here, it would have taken years. I thought the league, we felt like we had some very strong defenses, so who knows how that would have come out. The only thing for certain is it would have delayed for many years the chances of any of those plaintiffs getting any money out of this, and some needed [the money] sooner rather than later. That to me is the best part of this."
Was there pressure on you and the league to not let this go to court because you don't want a lot of former players going onto the stand?
"You always have that risk when you go into litigation. Fortunately there was a willingness on both sides to come to an agreement, and a judge that was pushing the sides to settle the case, and a mediator who was very effective in bringing the sides together. As a result, we have a deal that is very good for a lot of these players that can use some help."
It cost the owners a lot.
"It will, but I think it will be money well spent."