December, 19, 2013
12/19/13
8:07
AM ET
We know Sunday will be London Fletcher's last home game. The
Washington Redskins
have 15 other players who could be appearing in their last home game as well because of their pending free agency. If there's a new coach, there could be a mass exodus. But for now I'll stick with the pending unrestricted free agents currently on the active roster.
[+] Enlarge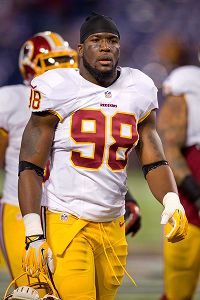 Bruce Kluckhohn/USA TODAY SportsBrian Orakpo will be the most expensive player to re-sign of the Redskins' soon-to-be unrestricted free agents.
Linebacker Brian Orakpo
: He views himself as an elite linebacker, which means he'll want to get paid like one. Last year's top free agent at outside linebacker was
Paul Kruger
, who received $8.2 million per year with $20 million guaranteed and signing bonuses totaling $12.85 million. Orakpo is better. Whether or not you think he's elite, in a passing league it's tough to let good pass-rushers walk, especially if you plan to stick with a 3-4.
Tight end Fred Davis
: Hard to see why he'd want to return, especially if the head coach remains. Yes, he'd be good insurance given questions about
Jordan Reed
's durability but that's not what Davis wants. He wants to start. I can't imagine him getting a big deal after the past couple of years of suspension, injuries and now questions about his work ethic.
Linebacker Perry Riley:
If you're staying in a 3-4, you keep him around. You're already going to have a transition at the other spot; it's good to have someone who knows the defense. He's flawed, but steady and won't cost too much.
Defensive lineman Chris Baker:
He's talented, but inconsistent. He makes plays because of his penetration, but sometimes misses plays because he's so intent on getting upfield. A nice backup.
Linebacker Darryl Tapp:
Looked good this summer, but hasn't played a whole lot this season. Not a great pass-rusher from this spot, but strong. Not an all-around linebacker. A good backup, but the Redskins would do well to find younger backup linebackers who can excel on special teams.
Linebacker Rob Jackson:
If they lose Orakpo, could Jackson be a good alternative? He certainly won't cost as much, but he's also not as good. He's worth keeping as a primary backup, but Jackson should first look for a starting job elsewhere based on his 2012 film.
Quarterback Rex Grossman:
All depends on the coaching staff and what happens with
Kirk Cousins
. If Grossman is your third quarterback, you're in good shape. But it wouldn't stun me if the Redskins start looking for another No. 3, perhaps a younger player they can groom into a solid No. 2 for 2015 when it's hard to imagine both Cousins and
Robert Griffin III
still being on the roster.
Corner E.J. Biggers:
Offers versatility and would be cheap. Just a backup.
Receiver Santana Moss:
He's been an excellent Redskin and a personal favorite because he's always available after games and during the week, win or lose, since joining the team in 2005. But his productivity has waned; at 35 (in June) that will continue. Tough to see him returning. If this staff stays in place, next year's slot could be
Leonard Hankerson
, but because of his injury they'll need some insurance in case he's not ready. Perhaps that's how Moss returns, but with a new staff? Don't see it. He deserves kudos from the crowd Sunday for a career well done in Washington.
Receiver Josh Morgan:
There's little reason to bring him back; he hasn't been productive and his blocking has been inconsistent.
Safety Reed Doughty:
If there's a new staff, sometimes guys like Doughty -- valuable special-teamers and role players -- get lost in the shuffle. But he's worth keeping around because of what he does.
Corner Josh Wilson:
He's been fine in the slot, doing a nice job against the run from this position. That's important. But he's 28 and descending. Not everyone likes small corners, so a new staff could go in a different direction. I have a tough time seeing him return, especially as a starter.
Corner DeAngelo Hall
: He made big plays in the first half of the season, though he's been quiet lately. When playing off man or zone he's not as effective. He's also 30. If the Redskins keep only one of Hall or Wilson, then the former is more productive. They have so many areas to address that they might not be able to find all the answers in free agency or the draft. I don't know if
David Amerson
will be a quality starter, but a second-round pick in Year 2 should be one of your top two. I'd pair him with a younger veteran via free agency who is still ascending and can be the lead guy.
Linebacker Nick Barnett:
Not a good alternative to Fletcher because of his coverage skills. A good guy in the locker room and a pro, but he turns 33 in May. And if you're not going to start, you'd better do well on special teams. Not his strength.
Center J.D. Walton:
They just claimed him off waivers. He's a former starter worth checking out; the Redskins need stronger center play.
September, 23, 2013
9/23/13
8:30
PM ET
ASHBURN, Va. --
London Fletcher
finally made a concession to his age. That's why the
Washington Redskins
linebacker talked with coaches about having
Nick Barnett
replace him at times during games.
Fletcher
Barnett played eight snaps over two series for Fletcher in Sunday's 27-20 loss to the
Detroit Lions
.
"It's something to keep me fresher," said Fletcher, 38. "They rotate running backs, so we decided to rotate middle linebackers. … I thought it helped me during the course of the game."
Fletcher finished with eight tackles, one sack and two tackles for loss. He did not come off the field in the first two games, but struggled to get off blocks at Green Bay. As others have said, every player succumbs to age at some point.
"We don't want to overwork him, especially with the offenses we go against nowadays," Redskins coach Mike Shanahan said. "I'd like to give him a few more plays off to not just wear him down. We're trying to keep him 100 percent. We feel very good about London. We want to keep him healthy and we think Nick is doing a good job, too."
The Redskins were hurt in the preseason when second-year linebacker
Keenan Robinson
tore his pectoral muscle and was lost for the season. He was Fletcher's backup and, potentially, his eventual replacement. Barnett, 32, is more of an insurance policy for this season.
September, 1, 2013
9/01/13
1:32
PM ET
Taking a look at the Redskins' roster after Saturday's cutdown to 53 (knowing it could change during the week). As on offense, I don't look at any of these groups as being worse than a year ago. The line is about the same, though they were pretty good last year and Barry Cofield continues to improve. The linebackers should be better and it's reasonable to expect the secondary to improve just because they'll play two young kids. But they have to prove what they can do in a regular-season game. Still, they're not worse. I'd be surprised if the defense doesn't improve. Is it a top-10 unit? I have my doubts. But they don't need to be, not with the offense and, besides, it's all about turnovers and points allowed. Those are the stats that will matter with this group.
Defensive line (6):
Kedric Golston
, Barry Cofield,
Stephen Bowen
,
Chris Baker
,
Chris Neild
,
Phillip Merling
[+] Enlarge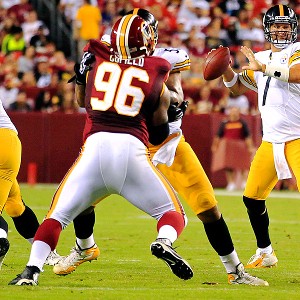 Geoff Burke/USA TODAY SportsWill a strong summer for Washington's Barry Cofield lead to a big regular season?
Note: This was a relatively easy area to project because of the inexperience behind these six. Merling played well enough to earn a spot, too. Now he has four weeks until
Jarvis Jenkins
returns to prove he should maintain one.
They'll get Jenkins back in four weeks; he worked on adding more explosion and a bigger first step to help his pass rush. But Jenkins did not show more as a pass-rusher than he did last season. He still never reached the QB in the preseason. Golston earned the start ahead of Baker in his place because of his consistency and penchant for doing his job.
Better or worse than 2012: Same. It's hard to say they're better only because they consider Jenkins a starter ahead of Golston and he'll miss the first four games. I like Neild as a backup nose; but can Baker do what they need him to as the No. 3 end? He can play the nickel, but can he do the every-down duties -- occupying blockers, etc.? When Jenkins returns, it's a solid group -- not because he's a budding Pro Bowler, but because he can help. He improved against the run last year in terms of occupying blockers. Also, in some nickel situations he should help just by collapsing the pocket, though he didn't look much different rushing the passer this summer than in '12. Bowen isn't better -- he was excellent last year -- but his numbers should be just because of Brian Orakpo's presence. Cofield looked terrific this summer and is as important as anyone to this defense. A third year in this system for Cofield and Bowen will help, too.
Linebackers (8):
Ryan Kerrigan
,
Perry Riley
,
London Fletcher
,
Brian Orakpo
,
Darryl Tapp
,
Brandon Jenkins
,
Nick Barnett
,
Bryan Kehl
Note: Again, another spot that was pretty easy to call as long as Barnett's knee was sound. He at least provides veteran insurance inside. The coaches like Kehl, but the fact is he's only started five games (appearing in 67, though mostly on special teams). Barnett has started 139 games. Fletcher looked fine this summer, but at 38 you need an experienced backup behind him. Whether or not he can help after this season, who knows? But his experience will help in a pinch if needed. Tapp and Jenkins are the latest to convert from ends to linebacker. Tapp was a pleasant surprise this summer; didn't realize how strong he was at the point of attack. He had a couple big-time swats to get free for pressure. Jenkins is still a rather raw pass-rusher, but will help in certain looks. He's rushed both standing up and with his hand on the ground.
Better or worse than 2012: Better. Orakpo's return makes that so and Kerrigan's increased versatility makes it even more true. Kerrigan was more effective as a rusher when being moved around last season; I like him inside for a change-up -- it's harder for guards to handle his rip move because he can close the space they need to combat it in a hurry. Orakpo makes others around him better in ways obvious and subtle. Riley seems to improve a little bit each year.
Defensive backs (10):
DeAngelo Hall
,
Josh Wilson
,
David Amerson
,
E.J. Biggers
,
Jerome Murphy
,
Bacarri Rambo
,
Brandon Meriweather
,
Jose Gumbs
,
Reed Doughty
,
Jordan Pugh
Note: This yielded two surprises in Gumbs and Murphy, at least when you go back to the start of camp. It's doubtful many projected them to win spots. Murphy was helped by Richard Crawford's injury and then by his own physical play (and, mostly, special-teams work). Gumbs adapted to free safety and showed he's a hitter. I really like that the coaches rarely had to get on Rambo for missed assignments. I'm sure they did in private, but on the practice field he rarely seemed to be out of position. His big flaw in the preseason -- open-field tackling -- improved in the final two games. With no live tackling in practice, he had to learn on the run (no pun intended). The lessons will continue, but Rambo is a good learner.
Better or worse than 2012: Same, but with an asterisk. They have durability issues with Meriweather -- but that's nothing new considering he played half a game last season. Wilson is coming off shoulder surgery, but they seem to have improved the depth here and I like Amerson's potential. So if something happened to Wilson and Amerson had to start midway through, then the Redskins would be fine and, eventually, better just because of the rookie's potential. An improved rush will help them as will the infusion of youth. But the latter can take time to mature so at some point this season you could rightfully say they're better.
August, 27, 2013
8/27/13
6:35
PM ET
Quarterback
Pat White
remains a long shot to make the Redskins roster. He could, however, get a chance to make someone else's with another strong preseason showing. White will play the entire preseason finale at Tampa Bay.

The Redskins don't have a need to develop another young quarterback, with their top two both in their second year. They like what
Rex Grossman
brings, both on the field and in the meeting room, as a No. 3 quarterback. The Redskins have done a good job calling plays for White, who is comfortable running the ball but inconsistent with his passing -- excellent on slants and digs but high on passes to the outside.
"Pat hasn't been totally consistent in all his drops in the rhythm of the passing game," Redskins offensive coordinator Kyle Shanahan said. "But he's gotten better each week. He can still get a lot better."
White is ineligible for the practice squad, but the Redskins are convinced he'll be on some team's roster this season.
"The more football he's around, the more he works at it, the better he'll get," Shanahan said. "He's as hard on himself as anyone I've been around. … It's just a matter of time that he can be as good as he wants."
In other Redskins news:
August, 23, 2013
8/23/13
7:30
PM ET
Here's what I'll be watching when the Redskins host the Bills at 4:30 p.m. ET Saturday in the third preseason game for both teams:
The pace of Buffalo's offense. I wrote about this Friday morning, but Buffalo likes to use a fast-paced attack, something the Redskins' season-opening opponent, Philadelphia, does as well. How will the Redskins handle this? What will the Redskins do if caught in a personnel grouping that isn't the best for what Buffalo's offense has on the field? Because the starters will play only 15-20 snaps, it will provide only a small test -- the pace can take its toll over the course of a game -- but it will be a help nonetheless.

Safety Bacarri Rambo's progression. I'd play him more than the other starters, or at least in the final preseason game, just to give him more chances to tackle in the open field. He clearly needs the work. He might end up starting, but he still has yet to truly win the position. At this point he's in there by default. He has a lot of skills to offer, but if this area doesn't improve it'll cause big problems.

Corner Josh Wilson. He'll make his preseason debut after sitting out the first two games while his surgically repaired shoulder continued to heal. Wilson remains the starter, ahead of rookie David Amerson. But Wilson is not coming off his best season and was asked to take a pay cut in the offseason -- so it's not as if he's firmly entrenched at this position. He's much more knowledgeable about the defense than Amerson and, with a rookie safety, that matters. The Redskins can't afford a lot of defensive backs learning on the go, though Amerson has looked good at times. But Wilson still needs to play well.

[+] Enlarge

AP Photo/Wade PayneRookie safety Bacarri Rambo (29) needs more work on his open-field tackling to avoid headaches later.

Backup running backs. There's no doubt who the top two players are at this position (Alfred Morris and Roy Helu -- but you really didn't need me to tell you that, did you?). Is Evan Royster in any danger? The problem is, the rookies have yet to show that they deserve a roster spot. Chris Thompson has flash, but he's barely done anything in practice, let alone a game, in part because of injuries. Coaches are big on players being available; can they rely on Thompson in this area? His speed is intriguing (and speed is why Mike Shanahan, among others, initially fell in love with Brandon Banks in 2010). So it matters. But based on performance Thompson still needs to prove he belongs. I like Jawan Jamison's running style, but the same applies to him. Royster is an average runner, so he's no lock. Keiland Williams is a good special-teams player, but not much help from scrimmage.

Veteran backups. Specifically linebacker Nick Barnett and receiver Donte' Stallworth. Barnett, the ex-Bill, isn't worried about any sort of revenge; rather, he needs to show that he can still play at a certain level. This will be his first chance to do so. The Redskins have a pressing need for inside linebacker depth, and having a former starter who is familiar with this defense would help. As for Stallworth, he'll make it only if the Redskins keep six wideouts. He's played special teams sparingly in his career, but will have to show he can help there to stick around. And stay healthy. Lingering injuries never help aging vets.

Right tackle. If Bills defensive end Mario Williams plays -- he went two series in the opener and did not see time last week -- then Redskins right tackle Tyler Polumbus will have a good game to measure any progress. Polumbus did not have a strong game last week. Nobody else has taken first-team reps at right tackle. But along with watching Polumbus, I want to keep an eye on veteran Tony Pashos. He's Washington's most aggressive right tackle when it comes to using his hands, but what does he have left? The Redskins likely would need to keep nine linemen for him to make the roster. And Tom Compton is still working on the left side, but he's coming off a strong game.

Nose tackle Chris Neild. With Barry Cofield sidelined by a fractured bone in his right hand, Neild will get a chance to work against the Bills' starting line. He's not in danger of being cut, but this is a good opportunity to face quality blockers.

Rookie tight end Jordan Reed. He struggled as a blocker last week, mostly, it appeared, because of inconsistent technique. He was not overpowered, which is a good sign for him. But he does need to help in this area. Reed also dropped a ball last week; I'd like to see him get a chance to display his athleticism.
August, 21, 2013
8/21/13
7:05
PM ET
Washington Redskins
nose tackle
Barry Cofield
made fun of left tackle
Trent Williams
for wearing a club in practice. And then he got hurt against Pittsburgh.

"Karma," said Cofield, wearing a purple cast on his right hand, after practice. He broke it Monday against Pittsburgh.
But Cofield said he still didn't know whether or not he'd have to wear a club on his hand, whether in practice or a game. What he does know is that he should be ready for the Sept. 9 season opener versus Philadelphia. Coach Mike Shanahan said if they had a regular-season game this weekend rather than a preseason one, Cofield would play.
"I feel optimistic," Cofield said. "I'm not concerned. You play through pain. You play through injury. Teammates have a high expectation of me. They count on me to perform and to lead, and that's my goal. I feel confident."
Safety Brandon Meriweather got "a lot of good reps today", Shanahan said. Meriweather, recovering from ACL surgery, worked all of last week with the scout team. It represented progress because it was the most days in a row he had practiced. However, Shanahan said, "He looked a little sore on the last day."Considering the issues at safety, the Redskins need Meriweather to open the season healthy. They've missed too many tackles at safety, many times because of poor angles to the ball.
Veteran linebacker Nick Barnett, signed early in camp, will make his preseason debut Saturday. Barnett, who has worked behind London Fletcherat inside linebacker, said his transition has been eased because the defense is similar to what he played in Green Bay three years ago. Barnett spent the past two years in Buffalo, whom the Redskins play Saturday. "I have no animosity to the players or anybody, but it will be fun to play against them."The Redskins need depth at inside linebacker, so they need Barnett to be healthy and still productive. Their top backup for now is veteran Bryan Kehl, known more for his special teams play than anything he's done from scrimmage.
Receiver Donte Stallworth, who missed last week with a hamstring injury, returned to practice. So, too, did receivers Aldrick Robinson (thigh) and Leonard Hankerson (knee), both of whom were hurt against Pittsburgh. Running back Keiland Williams(knee) did not practice.The Redskins would need to keep at least six receivers in order for Stallworth to make the final roster. He can play special teams, which helps his case, but he's spent too much time lately with a sore hamstring. It's likely that veteran Dez Briscoe would be his main competition for the sixth spot. Briscoe's hands have been inconsistent this summer.
Shanahan said he's not sure how much his starters will play against Buffalo. In the past, they've gone into the third quarter. But with a quick turnaround after Monday's game, they're not expected to play as much. To compensate, Shanahan said he kept most of the starters in a little longer against the Steelers. It's still doubtful that the starters would play in the preseason finale at Tampa Bay.
August, 14, 2013
8/14/13
7:15
PM ET

RICHMOND, Va. -- Here are some notes and observations from
Washington Redskins
practice Wednesday:
Coach Mike Shanahan said the team released veteran receiver Devery Henderson to give him a chance to sign with another team. He had no shot at making the final roster, which was apparent even before he had to miss a week to attend a funeral. Henderson did not look fast and Shanahan said he did not report to camp in shape. "Not in the type of football shape that I thought I could actually practice him full-speed without getting him hurt," Shanahan said.
His departure has little impact on what will happen moving forward. The big decision at receiver is whether or not they'll keep six. Henderson was never really an option considering his early performance.
Linebacker Nick Barnett did not practice, one day after working full for the first time. Shanahan said it was just to let Barnett's knee recuperate following arthroscopic surgery in the offseason. The Redskins are thin behind the starting inside linebackers and need Barnett to be healthy for depth. Corner Richard Crawford sat out after injuring his right calf in practice Tuesday.
Said this yesterday, but the Redskins continue to work running back Chris Thompson with the punt returners. Thompson still does not look comfortable catching the ball. If he becomes a punt returner in the NFL, it will take a while.
Kai Forbath made eight of nine field goals, but the one miss could be excused. It came from 65 yards and was wide right. He had the distance – there was a wind at his back. His other kicks, ranging from 32 to 58 yards, all were true.
Strong safety Brandon Meriweather worked with the scout-team defense as did his backup, Reed Doughty. That left DeJon Gomes working with the starters. But Meriweather was active on the scout team, intercepting a tipped pass off Aldrick Robinson's hands (not the best day for his hands). On the next play, Meriweather ran to his left and was involved in a collision as he broke up a pass to receiver Lance Lewis.
A point of emphasis by the defense today: stripping the ball carrier of the ball. They worked on gang-tackling, but then one or two in each "tackle" would forcefully try to rip the ball (mostly just going through the motion).
Another day of Jordan Reed displaying his athleticism. He made a leaping, twisted catch of a Rex Grossman pass over the middle. And he hauled in a deep ball down the left side from Robert Griffin III, drifting toward the sideline as he looked over his right shoulder. I saw this in his college games, but he makes catches that most tight ends can't make.
There's usually little contact in scout team work, but that wasn't the case when Josh LeRibeus pulled on one snap. Linebacker Darryl Tapp, running into the backfield, ran over LeRibeus, knocking him to the ground. Just ran him over. Yep.
Here's a veteran move: As the first-team defenders ran to the ball, a couple bodies tumbled to the ground. As they did, linebacker London Fletcher anticipated more falling bodies and deftly stepped away.
August, 13, 2013
8/13/13
8:45
AM ET
The
Washington Redskins
originally scheduled just one practice for Tuesday, but that changed yesterday afternoon when they opted for another day of a 10 a.m. walk-through followed by a 3:20 p.m. practice. Here is what I'll monitor today:
Robert Griffin III. This is a staple, as Mike Shanahan likes to say, for obvious reasons. It's not about measuring the progress of his knee as much as it's gauging his consistency throwing the ball from one day to the next. He had a solid day Monday in this area. As he waits to take 11-on-11 snaps Wednesday, will Griffin post a second straight good day throwing the ball? The passes he missed on Monday were not off by much; in other workouts he missed by a decent amount. And he had a couple throws that required either touch or velocity.
Linebacker Nick Barnett's progress/Brandon Meriweather's snaps. Meriweather is the more important one because he's a starter and it was yet another good sign for him that he practiced as much as he did Monday. Will that continue? Barnett worked Monday for the first time in pads (or, more accurately, shells). Can he work a second consecutive day? Or did the knee not respond? Barnett won't fight for a starting job, but there is little depth inside. Very little. If Barnett is healthy and still capable, then he at least provides a veteran with starting experience behind London Fletcher.
The weather. There's a 60-percent chance of storms this afternoon, which is not a welcomed forecast three days after a practice session was cancelled due to a thunderstorm. The Redskins had one morning where their walk-through was held at a convention center, which is not a big deal. They literally just walk through plays so not a whole lot is lost. But losing another practice would not be good. They can work in the rain, but if it storms they're in trouble. I'm just glad I brought an old pair of sneakers to slog through the muddy remains of previous storms. Lessons learned.
July, 31, 2013
7/31/13
8:00
AM ET
Good day. Here are your links.
Dallas Cowboys
The Cowboys are trying to be careful with
Tony Romo
has he works his way back from offseason surgery to remove a cyst. But Romo is making it tough on them. He
talked his way into practicing
Tuesday on a scheduled off-day and is still hoping to play at least part of Sunday night's preseason opener against Miami.
Reports from Oxnard have
consistently marveled
at how explosive
DeMarcus Ware
looks in his new 4-3 defensive end role. Not surprising. Ware is a stud who could well thrive playing on the line of scrimmage full-time. The thing to watch is not Ware's effectiveness as a pass-rusher in his new stance but the extent to which the banging away at offensive linemen all game long wears on him physically throughout the season.
New York Giants
So I wrote something the other day about
Cullen Jenkins
maybe being able to lock in at defensive tackle this year for the Giants rather than move around between tackle and end, and then the Giants go ahead Tuesday and give him
practice snaps at defensive end
. Shows you what I know. Seriously, Jenkins' versatility is part of his appeal, and with
Jason Pierre-Paul
still recovering from back surgery it makes sense to look at all options.
Corey Webster
says that part of the motivation for the Giants to make the Super Bowl this year is that they don't want one of their rivals
using their locker room
during Super Bowl week. Sure, hey, whatever works.
Philadelphia Eagles
Zach Berman breaks down the
new-look Eagles secondary
, where former Giants safety
Kenny Phillips
and his balky knee are the most significant wild cards.
And Les Bowen examines the deep-seated reasons that
Donovan McNabb
's legacy in Philadelphia will always remain
a complex one
.
Washington Redskins
Thin at inside linebacker due to the
Keenan Robinson
injury and spurned by
Joe Mays
, the Redskins are
taking a look
at veteran
Nick Barnett
, who used to play one of the inside spots in the Packers' 3-4 defense.
Cornerback
DeAngelo Hall
is going to miss some practice time with a
sprained ankle
. Doesn't sound as though the regular-season is being threatened by this, but certainly any injury in the secondary is cause for concern, with so many question marks there already.
August, 2, 2011
8/02/11
2:47
PM ET
All right. I didn't forget you guys. Been a busy day what with the chat and some video stuff we've been working on for the site. But I have been here at Redskins Park, where some things are happening. Let's take a little spin through some of them.
Item No. 1: Rex Grossman returns.
[+] Enlarge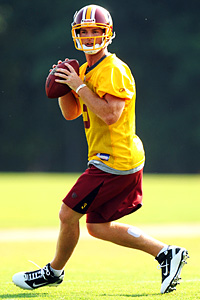 Mitchell Layton/Getty ImagesJohn Beck has had a slow start to training camp.
Mike Shanahan said in his morning news conference that Grossman would "be here tonight," which is something about which many people have been asking me and for which I now have an answer. Grossman was a free agent and is re-signed to enter the quarterback competition along with
John Beck
, who's taken so many first-team reps that, Shanahan says, his "arm was a little sore today" and "He didn't have the zip on it that he normally has."
The other thing everybody's asking is how Beck looks, since it sounds like Shanahan favors him as the starter. I wish I had better news for you guys. Beck has not looked good the two days I've been here. His throws are consistently behind receivers, his deep passes wobble and he looks jittery when he sees extra rushers (who aren't even allowed to hit him, by the way). It's only Aug. 2, so it's unfair to judge a guy based on the way he looks right now. But you guys are asking how he looks, so there it is, with those caveats.
What do I think they'll do at quarterback? I think they'll decide between Beck and Grossman, depending on how each looks in camp and maybe even switch it back and forth during the season depending on how they play. I do not think they'll bring anyone else in, and I think the quarterback spot will be a glaring weak spot that costs them a chance to contend in 2011. I believe their offseason moves have been good ones, but I think that because this is a team building for the future, not a 2011 playoff team.
Item No. 2: Phillip Buchanon is back ... sort of.
The Redskins re-signed the cornerback Monday, and Tuesday Shanahan revealed that Buchanon would be suspended for the first four games of the season. Didn't say why, but four games does tend to mean a second violation of the substance abuse policy. (A first violation gets a warning that's not made public.) Buchanon will be here and eligible to practice Thursday and throughout camp but will miss the first four games. And no, I don't expect them to bring in another corner for those four games. Could be a chance for a guy like
Kevin Barnes
to show something.
Item No. 3: Ryan Kerrigan still hurt.
Shanahan said the team's first-round pick would miss "another two or three days" of work because of the bone bruise on his knee. Said they don't want to rush the kid, who hasn't had injury problems in the past. What long-term effect this has is a good question. Kerrigan will be a rookie who didn't have minicamps, and every day of training-camp practice he misses is a day lost in learning the new techniques he must learn to play 3-4 outside linebacker as opposed to the 4-3 defensive end spot he played in college. That could explain why they are, as has been reported, looking for inside linebacker help. They tried on
Nick Barnett
before he signed with Buffalo, and
Lofa Tatupu
was supposed to be in for a visit today. Bringing in help there could allow them to keep
Lorenzo Alexander
at the outside linebacker spot opposite
Brian Orakpo
in the event that Kerrigan isn't ready to take all the starter snaps beginning in Week 1. Alexander's versatility is critical here. He lined up in several different linebacker spots this morning, and they could use him in a variety of ways regardless of Kerrigan's status.
Item No. 4: Jarvis Jenkins
The defensive line was one of the most impressive-looking things about the Redskins in morning drills, and Jenkins stood out, particularly in his ability to create pressure up the middle against the run and the pass. "You can tell he likes to work," Shanahan said of his second-round pick. "All the things you look for in a guy, I believe he has." Jenkins will have an opportunity for playing time on the line even once
Barry Cofield
and
Stephen Bowen
are able to practice.
The Redskins have a walk-through in a little while and we'll get some more interviews, so I'll keep you posted if anything else happens or anybody says anything especially interesting. But hopefully these here give you something to chew on in the meantime. If you need me, you know you can find me on Twitter.
July, 29, 2011
7/29/11
2:50
PM ET
The mystery of what the Eagles' defense will look like in 2011 with former offensive line coach Juan Castillo as its new coordinator is beginning to unravel. Castillo spoke to reporters at Lehigh on Friday after the Eagles' first practice and talked linebackers, among other things.
Rookie
Casey Matthews
was the starting middle linebacker for the Eagles' first training-camp practice, with
Jamar Chaney
playing on the strong side. And it seems as if the strong side is where Castillo wants Chaney to stay.
From the Philadelphia Daily News' Eagles blog
:
But the way Castillo envisions the Eagles' D, the strongside 'backer is going to need to be a very physical presence, which Chaney is.

"We're going to attack and get up the field," Castillo said.
The team has reportedly decided not to bring back oft-injured middle linebacker
Stewart Bradley
, who is said to be talking to the Cardinals. But instead of handing that job off to Chaney, who manned the middle in Bradley's absence last season, the Eagles are going to keep Chaney on the outside and ... do something else in the middle. Castillo talked up Matthews, and hey, you never know. But no draft analysis I saw ever had Matthews projected as a 2011 starter. So if we read between the lines here, it looks as though the Eagles will pursue a free-agent middle linebacker to start in between Chaney and, I guess,
Moise Fokou
.
Options? Well, the top middle linebacker on the market is Tennessee's
Stephen Tulloch
, but
Reuben Frank's got a source
telling him the Eagles have no interest in Tulloch and not much in
Nick Barnett
, who was just cut by the Packers. Other highly regarded names on the market include
Barrett Ruud
,
Kirk Morrison
,
Kevin Burnett
and
Stephen Cooper
. Fair number of options for the Eagles to consider, but for now it appears, from reading the tea leaves, they'll be looking for someone for the middle.
July, 20, 2011
7/20/11
2:18
PM ET
John Clayton's latest column is on
potential salary-cap casualties
-- guys who could be cut by teams that need to get under the new salary-cap number, which looks as if it will be $120 million. It also comes with a list of all NFL teams and where they are relative to that $120 million figure. Here's the breakdown on the four teams that matter to us:
Keep in mind that it looks as if each team will get a $3 million "exception" that will help them exceed the cap for one specific player if they feel they need to, and that teams are probably going to be required to spend at least 94 percent of the cap figure on player salaries.
As for the players on John's list, several are of potential interest to NFC East teams. To wit:
Reggie Bush
: As John says, he'd likely prefer to test free agency than to restructure his deal. He's been connected to the Eagles, which is a dizzying possibility considering how numerous and electric the Eagles' current offensive options already are. Personally, I think a guy like
Willis McGahee
, who's further down on John's list, would make more sense as
LeSean McCoy
's backup if
Jerome Harrison
leaves. McCoy and Bush strike me as similar kinds of players.
Nick Barnett
: The Packers will try to trade him, but if they're unsuccessful they'll likely cut him and set him free. There's been a rumbling or two about potential Giants interest, and they do need to beef up at linebacker. The Eagles will be looking for linebackers, too, if they don't re-sign
Stewart Bradley
.
Vince Young
: Still think he makes a lot of sense as
Michael Vick
's backup in Philly if the Eagles trade
Kevin Kolb
.
Albert Haynesworth
: Not much left to say here. I'll be surprised if he's cut and allowed to pick his next team. The Redskins are under the cap as it is.
Antwan Odom
: Lots of thought that the Eagles are looking for a pass-rushing defensive end. Remember the first half of the 2009 season, when Odom was leading the league in sacks? Big health risk with the possibility of a big reward.
Shawn Andrews
: Giants brought him in for offensive line depth, which they still kind of need. But the $7.333 million they could save by cutting him is likely to be more useful than Andrews himself.