October, 16, 2013
Oct 16
5:40
PM ET
ASHBURN, Va. --
Washington Redskins
cornerback
David Amerson
was limited in practice, three days after suffering a concussion in the 31-16 loss at the
Dallas Cowboys
on Sunday. But Redskins coach Mike Shanahan said he's hopeful that Amerson will be fine Thursday.
Amerson said earlier on Wednesday that he has not felt any lingering affects from the concussion, which occurred thanks to a blindside hit on a second-half kick return. The Redskins can't afford to lose Amerson in a week where they're facing two big receivers in 6-foot-4
Brandon Marshall
and 6-foot-3
Alshon Jeffery
. At 6-foot-1, Amerson is the Redskins' tallest corner.
Meanwhile, backup nose tackle
Chris Neild
was limited with a calf injury. Linebacker
Brandon Jenkins
(ankle), center
Will Montgomery
(knee), corner
Jerome Murphy
(ankle) and tight end
Logan Paulsen
(knee) all practiced in full. Long snapper
Nick Sundberg
underwent surgery to repair the meniscus in his right knee and now faces a five-month recovery.
For Chicago, tight end
Martellus Bennett
(knee), defensive end
Julius Peppers
(not injury related) and corner
Charles Tillman
(knee) did not practice. Linebacker
James Anderson
(back), defensive tackle
Stephen Paea
(toe), safety
Anthony Walters
(hamstring) and safety
Major Wright
(knee) were limited.
October, 14, 2013
Oct 14
4:22
PM ET
ASHBURN, Va. -- The Washington Redskins' special teams has enough problems. Two more can be added to the list. They lost their top tackler,
Bryan Kehl
, and long snapper,
Nick Sundberg
, to season-ending knee injuries.
Both Kehl and Sundberg were hurt in Washington's 31-16 loss at the
Dallas Cowboys
on Sunday night.
Kehl tore his left ACL while Sundberg tore the meniscus in his right knee. They'll weaken an already weak crew under first-year coach
Keith Burns
. Sundberg is an excellent long snapper and gets the ball back quick. Kehl was one of the leaders on special teams, an area that has kept him in the NFL. The Redskins lack impact players on these units and therefore can't afford any loss of a good player. The Redskins have not yet signed anyone to take the place of either player.
Corner
David Amerson
suffered a concussion in Sunday's loss and will be monitored throughout the week.
October, 14, 2013
Oct 14
12:56
AM ET
ARLINGTON, Texas -- Observed in the locker room after the
Washington Redskins
'
31-16 loss
to the
Dallas Cowboys
.
Morris
Reality check:
For the fourth time this season the Redskins had a quiet locker room. But there was more of a shell-shocked look on the faces of the players. Nobody is more surprised by the 1-4 start than the Redskins' players and coaches. "Lack of execution is costing us games," running back
Alfred Morris
said. There's still a long ways to go, and perhaps that's why
Reed Doughty
spent several minutes "coaching" up
Jerome Murphy
in the locker room, going over scenarios and different plays. But they all know time is getting short.
Ouch:
Cornerback
David Amerson
left the game in the second half with a concussion. Coach Mike Shanahan did not have an update after the game, but Amerson will be evaluated throughout the week. Special-teamer
Bryan Kehl
said he felt something pop in his knee on the Cowboys' second-quarter punt return for a touchdown. The killer on that play: Kehl had the angle on returner
Dwayne Harris
. "I would have made the tackle," Kehl said. He'll undergo an MRI. Long-snapper
Nick Sundberg
suffered a knee injury as well. Shanahan was not sure how serious it was, but Sundberg could not finish the game.
Dead zone:
The Redskins had three trips inside the red zone, but settled for field goals of 20, 32 and 33 yards. Meanwhile, the Cowboys had four trips in the red zone and came away with three touchdowns. That's a 12-point difference. "I think we had a solid game, but we need touchdowns instead of field goals," Redskins center
Will Montgomery
said.
September, 16, 2013
Sep 16
2:59
PM ET
A review of four hot issues from the
Washington Redskins
' 38-20 loss to the
Green Bay Packers
on Sunday:
[+] Enlarge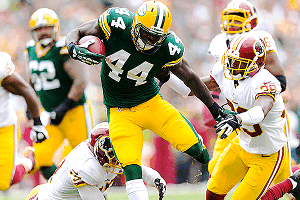 Jeff Hanisch/USA TODAY SportsPoor tackling plagued the Redskins in their loss to the Packers on Sunday.
Tackling woes:
The Redskins' defense already had flaws; it added another one with its tackling. The Redskins consistently give high-powered offenses extra yards because they fail to tackle; they have allowed the most yards after contact this season (208) after ranking sixth in this area last season, according to ESPN Stats & Information. The problem is that teams are able to spread them out, preventing gang tackling at times. They're not good enough, and not making enough plays, to overcome this issue. Teams will continue to get them in space, and Washington needs to prove it can tackle. Or else.
Quarterback runs:
Is
Robert Griffin III
not running on zone-read options because of his knee? Because of how defenses are playing them? Because deficits forced the Redskins to abandon it? It's a good question (why, thank you), and one we'll try to answer throughout the week. Griffin's timing in the pocket is off -- yes, a byproduct of missing so much offseason work from the knee injury. It can be subtle sometimes, but the difference in hitting a receiver on the correct shoulder can mean the difference between a 10-yard gain or 20. It adds up. One reason the Redskins gained so many yards after the catch last season was because of the chaos in the back end of defenses, fueled by late linebacker drops as they were worried about defending a multi-option run game.
Brandon Meriweather:
There's a dual issue here with Meriweather, starting with his health after leaving Sunday's game with a concussion. He'll now be monitored all week. So the Redskins will spend another week waiting to see whether Meriweather is able to play. Then you have to wonder what sort of punishment, if any, he'll receive from the NFL. He was not flagged for either of his big hits, but replays showed him leading with his helmet on the first one against Eddie Lacy. Regardless, when he returns they need him more under control with his tackling -- and he needs to prove he can play for longer than a half without getting hurt. His continual health issues make the loss of
Phillip Thomas
even worse. But just think of the learning curve for a secondary with three rookies in prominent roles.
UPDATE:
Meriweather will be fined, but not suspended
according to Adam Shefter
.
Special teams:
They've flown under the radar a little bit because of the problems elsewhere. But they shouldn't. The special teams have not done anything to help. That goes for the returns, where rookie
Chris Thompson
is averaging 19.7 yards on six kick returns and 4.7 yards on three punt returns; one good runback would boost either number. Gunner
Niles Paul
and long-snapper
Nick Sundberg
both received 15-yard unsportsmanlike conduct penalties Sunday. In Sundberg's case, the Redskins had pinned Green Bay at its own 10-yard line. It wasn't a death sentence for the defense that the Packers then started at the 25-yard line. But right now every yard is huge for this defense. And
Sav Rocca
shanked a 25-yard punt that gave Green Bay the ball at its own 35 in the first quarter.
September, 15, 2013
Sep 15
4:19
PM ET
GREEN BAY, Wis. -- Some thoughts on the
Washington Redskins
'
38-20
loss to the
Green Bay Packers
on Sunday.

What it means for Washington:
It's not just an 0-2 record, it's the way Washington has looked for most of the two games. The Redskins miss too many tackles and allow too many big plays on defense. The offense hasn't displayed any rhythm early in games, leading to big disadvantages at halftime. The Redskins dug out of a 3-6 hole last season, but they looked far better at that point than they have this season. The offense, at that point, was dangerous. The offense is only hurting the team now, giving no shelter for a struggling defense. And the special teams haven't helped one bit. Add it up and the Redskins' 0-2 hole feels much deeper.
Stock report falling:
The defense hasn't been helped by an offense that produces little to nothing in the first half of games. But a year ago the offense propped up the defense by producing with big games. This year the defense needs to help out an offense that takes way too long to get into a rhythm. They haven't been helped facing explosive offenses in the first two weeks, but the secondary continues to have problems, sometimes with communication and other times with missed tackles.
Piling up numbers:
In the first two quarters, quarterback
Robert Griffin III
completed 6 of 13 passes for 107 yards and no touchdowns. He threw for 31 yards on the first two series of the third quarter. After that point, with the Redskins trailing 31-0, Griffin threw for 182 of his 320 yards and three touchdowns.
Undisciplined play:
The Redskins had four penalties of at least 14 yards (one was half the distance) and it could have been more had the officials called a helmet-to-helmet hit on safety
Brandon Meriweather
. But they also had unsportsmanlike conduct penalties on long-snapper
Nick Sundberg
and gunner
Niles Paul
on special teams. And center
Will Montgomery
had a facemask penalty as well as one for a peel-back block. Coach Mike Shanahan once took pride in his team's disciplined play, but the Redskins have not played that way the first two games when it comes to penalties.
What's next:
The Redskins host Detroit on Sunday in a game that could be as important as any left on their schedule. Another loss and the Redskins could have major issues going forward. They need a win. Desperately.
September, 12, 2012
9/12/12
8:00
AM ET
Happy Wednesday. Let's get you caught up on some of the transaction and other news that went down late in the day Tuesday with a heaping helping of your morning links.
Dallas Cowboys
While much of the talk about
DeMarco Murray
has been about his tough running and his somewhat disconcerting love of contact, Todd Archer writes that it's important to take note of the second-year Cowboys running back's
football intelligence
, too. Murray is a big key to this offense -- a fearless running back who, like quarterback
Tony Romo
, can help the Cowboys succeed in spite of their offensive line issues. They need to keep him healthy.
Jerry Jones remembers that the Redskins nearly beat the Cowboys twice last season when Washington's quarterbacks were
Rex Grossman
and
John Beck
. And after watching
Robert Griffin III
's debut Sunday, Jones says he's
not looking forward
to seeing the Redskins this year or in the years to come.
Washington Redskins
Mike Shanahan says that, when considering the kinds of run plays they wanted to design for Griffin, the Redskins' coaching staff watched tapes not only of Griffin's college games but
also 2011 tapes
of running quarterbacks
Cam Newton
of Carolina and
Tim Tebow
of Denver.
The Redskins have placed long-snapper
Nick Sundberg
, who played the second half of Sunday's game with a broken left arm, on injured reserve/designated to return. That's the new IR, that doesn't require the player to sit out the season. Sundberg
must miss at least eight games
. His replacement is former Colts long-snapper
Justin Snow
.
Philadelphia Eagles
You are now free to call 2011 second-round pick
Jaiquawn Jarrett
a bust if you so choose. Despite opportunities to contribute at safety during his time in Philadelphia, Jarrett failed to show much of anything, and
he was cut Tuesday
so that the team might bring back wide receiver
Mardy Gilyard
. Thin at receiver due to injuries to
Jeremy Maclin
,
Jason Avant
and
Riley Cooper
, the Eagles decided it was more important to have an option at wide receiver this week than it was to maintain whatever depth Jarrett might represent at safety. A missed special-teams tackle in Sunday's game may have been the last straw for Jarrett.
Eagles wide receiver
DeSean Jackson
donated
$50,000 to the Wounded Warrior Project
and spent the 11th anniversary of the Sept. 11 attacks hanging out with some of the soldiers the organization works to help. Good work, DeSean.
New York Giants
Left tackle
Will Beatty
is hoping he gets cleared to start and play Sunday against the Buccaneers. He says he's
ready to go
because he's been working against the Giants' excellent defensive ends in practice. But he wasn't OK to start the season opener, at least not according to the team, and so he waits to find out.
Victor Cruz
says he knows he's a
marked man
after his breakout 2011 season. And he understands he had a bad game in the season opener on Wednesday. But it's about looking forward, and Cruz and the Giants insist they're better prepared this week.
September, 10, 2012
9/10/12
8:00
AM ET
So there you have it. The first week of NFC action is in the books, and as usual it appears we didn't know anything. I was a fifth Michael Vick interception from starting the year 0-3 on my predictions. And yet, after one week, three of the division's four teams are still undefeated, and the only one that lost is the team that won the division last year. Yeesh. I need some links.
Dallas Cowboys (1-0)
The challenge for the Cowboys after their very impressive season-opening victory Wednesday is to put that game in the past and focus on what's ahead of them. Todd Archer writes of the things
Dallas must improve
in the weeks ahead.
On the occasion of the retirement of wide receiver Roy Williams, Calvin Watkins writes that the move to acquire him rates as the
worst trade in the history of the Cowboys
. Do you agree with Watkins?
Washington Redskins (1-0)
Dave Sheinin has the recap of Robert Griffin III's incredible debut and
what it means to the Redskins
. I like the part where Drew Brees tells him, after he'd just beaten Brees 40-32, that he was proud of him. Simply impossible not to be impressed with what you saw from Griffin on Sunday. No matter who you were.
If there was an unsung hero in the game for the Redskins, it may have been long snapper Nick Sundberg, who broke his left arm in the second quarter and yet remained in the game and continued his long-snapping duties.
With a broken arm
. A. Broken. Arm. Look for the Redskins to bring in a long-snapper this week. And maybe to build, like, a small statue to Sundberg somewhere in the Ashburn complex.
Philadelphia Eagles (1-0)
The Eagles won their opener as well, but it's fair to say the vibe around that team wasn't quite as upbeat and positive as it was around the Redskins. After the Eagles escaped Cleveland with a 17-16 victory in spite of four Vick interceptions, Phil Sheridan writes that the Eagles' quarterback is looking
neither new nor improved
.
The Eagles' defense, however, was excellent in the opener.
Drawing particular praise
was the play of new middle linebacker DeMeco Ryans, whose preseason performance had some Eagles fans worried but whose performance Sunday reminded us all for the 7,843rd time that you can't predict anything based on preseason games.
New York Giants (0-1)
Speaking of new linebackers in new places, Keith Rivers was a bright spot in the Giants' season-opening loss Wednesday. Kieran Darcy writes that Rivers is already proving it was
a good move
for the Giants to trade for him. If Rivers has to start, he can start. If he has to fill a utility linebacker role, it appears he can do that. Great depth move and more for the Giants.
Paul Schwartz believes that rookie Jayron Hosley may be the
cure for what ails
the Giants in the secondary. At this point, there seems to be little reason not to offer Hosley more responsibility and see what he can do with it.