July, 15, 2010
7/15/10
1:00
PM ET
By
Scouts Inc.'s Matt Williamson
| ESPN.com
»
NFC On the Radar
:
East
|
West
|
North
|
South
»
AFC
:
East
|
West
|
North
|
South
A player, coach or issue that should be on your radar as training camp approaches.
The New York Giants' pass rush is going to be improved in 2010. In fact, its pass defense as a whole is going to take a major step forward. The safety play has to be improved. Safety was a massive liability in 2009, but it should be a strength this season.
[+] Enlarge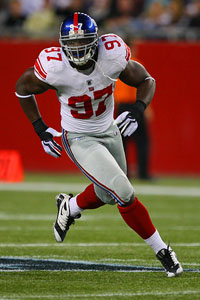 AP Photo/Stephan SavoiaClint Sintim could be a breakout player for the Giants this season.
The defensive backfield has more talent and more possibilities with four, five and even six defensive backs on the field. Better secondary play will provide for more defensive play-calling flexibility. That should lead to more blitzing and more unpredictability in the play calling in general.
The immediate benefactor of bringing added pressure? Try linebacker
Clint Sintim
. He was a 3-4 outside linebacker in college and should grab a hold of the strongside linebacker job in his second season. He can get upfield, make plays in the backfield and pressure the quarterback. I view Sintim as a strong breakout candidate in 2010, and his ability to rush the passer is a major reason why.
But no team in the NFL has the talent at defensive end like New York. There will be serious competition for playing time at end, and as we have seen in the past, the Giants will not hesitate to put more than two defensive ends on the field at the same time in their different personnel packages. That is one of the beauties of
Justin Tuck
. Surely he will bump inside on passing downs again to allow another pure edge rusher to enter the game.
Mathias Kiwanuka
and
Osi Umenyiora
are now ahead of
Jason Pierre-Paul
on the defensive end depth chart. When Tuck moves inside, I would unleash rookie Pierre-Paul off the edge. He is a very raw player, but far and away the best athlete of this group, which is saying something.
Lastly, with all this depth on defense, especially at defensive end, the Giants defenders should be able to stay fresher longer. This applies to the end of games and the end of the season. This defense is back in a big way, and the pass rush will be a big reason why.
July, 1, 2010
7/01/10
1:00
PM ET
By
Matt Mosley
| ESPN.com
»
NFC On the Radar
:
East
|
West
|
North
|
South
»
AFC
:
East
|
West
|
North
|
South
A player, coach or issue that should be on your radar as training camp approaches.
As many of you might recall, last year's offseason theme for the
Dallas Cowboys
was a "Romo friendly offense." Doesn't that seem like 10 years ago now?
[+] Enlarge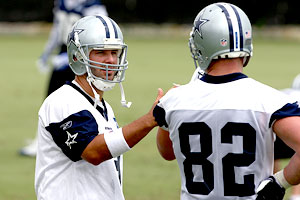 Matthew Emmons/US PresswireTony Romo has taken on a more vocal role with the Cowboys this offseason.
Well, things worked out pretty well for that offense as
Tony Romo
led the Cowboys to their first playoff win in 13 years. The debacle in Minneapolis left a sour taste, but '09 was obviously a step forward for the organization. Now, Cowboys owner Jerry Jones is asking Romo to take an even bigger step in the process.
Jones and offensive coordinator Jason Garrett now believe that Romo has the ability to raise everyone's level of play. Now that he's no longer defined by December swoons, there's a belief that he's capable of getting this team to a Super Bowl. This offseason, Romo has taken more of a vocal role on the team.
In '08 and even to a certain extent last season, Romo sort of took care of his business and hoped that his teammates would do the same. He's taken a different approach to the 2010 season. When his pal
Miles Austin
skipped the first two weeks of voluntary workouts, Romo jumped on the phone and told him it was time to come back to Valley Ranch. Players such as veteran linebacker
Keith Brooking
have told me that they've noticed a change in Romo.
In practices, he's offering the defense feedback and he's not afraid to get in someone's face if they make a mistake. It seems like Romo's success in the playoffs, albeit limited, has given him more credibility with his teammates. I realize there's a perception that Romo's more interested in playing golf and hanging with celebrities, but that's not reality.
In the offseason, he'll devour sports books and then try to figure out how to apply it to his game. He read a Johnny Unitas book a few years ago that changed the way he thought about the quarterback position. Romo realized that his actions in practices and in the locker room truly mattered and that he would set the tone for his teammates.
Now, he has more confidence than ever. I think he may be poised for his first All-Pro season with the Cowboys. But get back to me in December on that one.
July, 1, 2010
7/01/10
11:47
AM ET
By
Matt Mosley
| ESPN.com
Michael Vick
and his attorney Larry "Woody" Woodward have not asked me for legal advice (yet), but here's what I'd tell them: STOP TALKING!
Woodward has made such a production of saying that Vick was long gone before a shooting took place early Friday morning after the quarterback's 30th birthday party that it's become the central element in the story. Perhaps Woodward would've been wise to recall that his client once famously fibbed to NFL commissioner Roger Goodell and Falcons owner Arthur Blank about his involvement in a dogfighting ring.
As you may have heard, Virginia Beach police are no longer saying that Vick's of "no interest" to them. He talked to investigators Monday about the shooting on his own accord. But now police have obtained a surveillance video from the bar/restaurant Guadalajara that appears to contradict Woodward's assertion that his client departed 10-20 minutes before the shooting.
"Right now, we don't really have a title for [Vick]," police spokesman Adam Bernstein told the Philadelphia Daily News on Wednesday.
As many of you know, police often hand out catchy titles such as "person of interest" or "witness." The fact that Vick's lost the title of "no interest to the police" is not a positive development for the Eagles quarterback. And Woodward's not backing off his client's original version of the timeline.
"I stand by what I said, that Michael was long gone before the shooting, does not know who did the shooting and had nothing to do with the shooting," Woodward told the Daily (Va.) Press. "Anyone who says any different better be very careful."
The fact that media outlets have reported that the shooting victim was one of Vick's dogfighting co-defendants, Quanis Phillips, only complicates matters. As part of his federal probation (and the NFL's reinstatement), Vick is not allowed to associate with anyone convicted of a felony unless granted permission to do so by his probation officer. And something tells me his Norfolk, Va.-based probation officer didn't sign off on Phillips' presence at "Michael Vick's ALL WHITE 30th Birthday Bash."
Up until early Friday morning, the Vick redemption tale was going pretty strong. But this is obviously the first major snag. I suspect he's earned a sitdown with Goodell in New York. The commissioner said that Vick's margin for error would be "extremely limited" in his reinstatement letter last July.
We may soon find out how the league interprets that clause. If I'm Andy Reid, I'd make sure
Jeff Garcia
's still on speed dial.
June, 24, 2010
6/24/10
1:00
PM ET
By
Matt Mosley
| ESPN.com
»
NFC On the Radar
:
East
|
West
|
North
|
South
»
AFC
:
East
|
West
|
North
|
South
A player, coach or issue that should be on your radar as training camp approaches.
The NFC East teams have an embarrassment of riches at certain positions. The Eagles, Cowboys and Giants are remarkably deep at wide receiver and some of the league's elite pass-rushers reside here. But running back is sort of a mixed bag, so let's compare the different rotations in the Beast in this week's edition of "On the radar," which is now syndicated in more than 37 countries and East Texas.
[+] Enlarge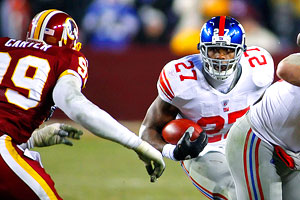 Geoff Burke/US PresswireThe Giants are hoping Brandon Jacobs can return to his form from 2008.
In Washington, Mike Shanahan must be hoping for a magic time machine, preferably one that returns his backs to the '06 season.
Clinton Portis
,
Larry Johnson
and
Willie Parker
were at the top of their games four seasons ago, but they've been in steady decline since. Actually, Portis had an excellent first half of the season in '08 before trailing off because of injuries. I think the Redskins have the weakest group of the four teams. There's not a home-run threat in that bunch, which makes life easier on opponents.
I think the Cowboys will have the best unit if
Marion Barber
and his leaner frame can stave off injuries. He's looked a lot quicker in practice sessions this offseason and there's a chance he regains his '07 form, which led to a lucrative contract extension.
Felix Jones
is the biggest home-run threat in the division because of his speed and quickness. Offensive linemen don't have to hold their blocks as long when Jones is in the backfield. And with
Tashard Choice
as the third back, the Cowboys could have something similar to what the Giants featured during their Super Bowl season ('07).
I have the Giants and Eagles neck and neck at running back.
Ahmad Bradshaw
's going to be the X factor because he has the potential to be a dominant back. But there are questions about his durability after watching him hobble around in protective boots last season. If Bradshaw's truly 100 percent, he's capable of being the best running back in the division. Seriously. I think some of us have forgotten those carries during the Giants' playoff run.
Brandon Jacobs
will have a hard time holding on to his starting spot, but he's a proud enough player that he might find a way. He was too tentative last season. He gave the Giants their offensive identity in '07 and '08. Like Barber, he needs to somehow regain that form. I think
Gartrell Johnson
has a good shot to be the third running back. It just seems like
Andre Brown
has fallen too far behind in his developmental process following a ruptured Achilles tendon in last year's training camp. You don't hear about a lot of backs making full recoveries from that particular injury.
With the Eagles, I'm anxious to see how
LeSean McCoy
handles the feature role. He's obviously started games in the league, but he had
Brian Westbrook
around to point him in the right direction. McCoy needs to become more consistent catching the ball. If he's able to do that, he has the potential to be a Westbrook-type player. I watched
Mike Bell
a couple of weeks ago and he's a little quicker than I remembered. I think he could be one of the most underrated pickups of the offseason. And we all know what
Leonard Weaver
can do from the fullback spot.
With a new quarterback in place, the running game will be more important than ever for the Eagles. Now we'll see if Andy Reid changes his approach. I have my doubts.
June, 17, 2010
6/17/10
1:00
PM ET
By
Scouts Inc.'s Matt Williamson
| ESPN.com
»
NFC On the Radar
:
East
|
West
|
North
|
South
»
AFC
:
East
|
West
|
North
|
South
A player, coach or issue that should be on your radar as training camp approaches.
When examining the landscape of the NFC East, it is somewhat surprising how many issues there are across the board at the safety position. Let's take a quick overview of the situation while remembering that this is a division that features tight ends such as
Jason Witten
and
Brent Celek
, a lot of firepower at the wide receiver position and a fine foursome of passers to attack safeties at the third level.
In Dallas,
Gerald Sensabaugh
looks entrenched as the starting strong safety, while
Alan Ball
will do battle with
Mike Hamlin
at free safety, with the long shot of rookie
Akwasi Owusu-Ansah
factoring in here as well.
Sensabaugh is probably the best safety on the roster, but his coverage skills are average. He is best against the run, but it should be noted that he played a large portion of the season with a broken thumb. Everyone else is really an unknown, other than
Pat Watkins
, but Watkins has proved to be someone not worth getting excited about. Ball is small and has more of a cornerback skill set than that of your typical safety.
[+] Enlarge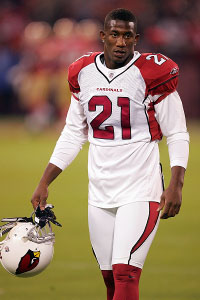 Ezra Shaw/Getty ImagesThe Giants, who signed Antrel Rolle to a $37 million deal, should have the best situation at safety in the division.
The Giants were horrendous at safety last season and obviously some of that had to do with the brutal knee injury to
Kenny Phillips
, who looked like a real up-and-comer before he got hurt. It's hard to speculate if Phillips will be ready for this season or if he will be the same player when he does return, but the Giants were quite proactive in their approach to the position.
Though they spent a lot of money to acquire him, I commend the signing of
Antrel Rolle
. He is extremely talented and entered the league as a highly touted cornerback prospect. While already a very good player, he should only improve with more reps at free safety, where he will start for the Giants. His ability to read the play from the deep middle does need work though.
If Phillips cannot man the strong safety spot, the job would go to either
Deon Grant
, recently signed as a free agent, or
Michael Johnson
, who had a rough year in 2009 and makes too many errors with his assignments. New York also used a third-round pick on
Chad Jones
, a player with a lot of ability. His game seems best suited for free safety, but he has the body to play closer to the line of scrimmage.
While New York was probably the worst off in this division at safety last year, I expect them to be the best of the four in 2010. You have to commend their aggressive approach to fixing a problem. And although all these moves seem to indicate that New York is seriously worried about Phillips' recovery, it also should be noted that new defensive coordinator Percy Fewell used a lot of three-safety sets with the Bills and that could carry over to the Giants this year.
Philadelphia also was proactive in improving its free safety position, but an Achilles injury to
Marlin Jackson
took him out of the equation. Second-round pick
Nate Allen
also is a fine-looking prospect for this position. That is a lot of pressure to put on a rookie -- especially in this division -- but Allen has the skills to handle it. What is worrisome, however, is how well he will handle the mental aspects of the position, which can be taxing.
The Eagles are set at strong safety with
Quintin Mikell
, who is a very solid all-around safety who is asked to do many things in an attacking scheme -- and does just about everything well. With Jackson's injury, depth here is a major concern, although
Macho Harris
could potentially move back to free safety if needed. Still, the Eagles are not real deep at cornerback either, which gives me some pause about their sub package defenses. If we lined up today, I would attack this defense with three- and four-wide receiver sets until the secondary proved it could handle the stress.
Like their counterparts in the division, the Redskins have questions at safety as well. I see three decent safeties -- one with loads of ability -- but all three are more strong safety types. The player with loads of ability is
LaRon Landry
, who will handle the starting strong safety spot. Landry was overwhelming coming out of college, but certainly has not lived up to his draft position. As the Redskins move to a 3-4 scheme, maybe Landry will see more of a versatile role, such as the one Pittsburgh uses with
Troy Polamalu
. Landry has reportedly bulked up for the role, which could be a good or bad thing, depending on how it affects his movement skills. He really struggled in deep coverage, but I am predicting a breakout season for him.
Neither
Chris Horton
nor
Reed Doughty
is the ideal fit at free safety. Doughty fits the mold better and should get the nod, but he isn't going to make anyone forget about Sean Taylor in terms of his physical skill set. He plays the run better than the pass. This safety situation could lead to a lot of big plays deep downfield against the Redskins.
There are some good football players at safety in this division and there are others with a lot of ability who could flourish in 2010. But it does surprise me that three of the four teams -- Dallas, Philadelphia and Washington -- do not appear interested in adding a true centerfield type in
Oshiomogho Atogwe
. And while there are questions across the board at safety, for the most part, the teams in the NFC East can really rush the passer -- which of course can make problems on the backend disappear.
June, 10, 2010
6/10/10
1:00
PM ET
By
Matt Mosley
| ESPN.com
»
NFC On the Radar
:
East
|
West
|
North
|
South
»
AFC
:
East
|
West
|
North
|
South
A player, coach or issue that should be on your radar as training camp approaches.
In some precincts, the Redskins' stunning trade for
Donovan McNabb
automatically put them in the playoffs. My colleague John Clayton has said he sees the Cowboys and Redskins as the teams to beat in the rugged NFC East. But for some reason, I haven't been converted to the Skins-in-the-playoffs theory, and I'll tell you why.
[+] Enlarge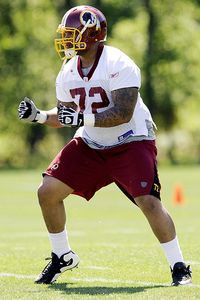 Rafael Suanes/US PresswireWashington's Trent Williams has to work on his blocking, one of the many issues on the Redskins' O-line.
I don't trust that offensive line one bit.
It's nothing personal. Watching
Mike Williams
return to football after eating himself out of the league has been heartening. And 32-year-old
Casey Rabach
does a decent job at center. But in the end, I don't think McNabb can hold up behind this offensive line as currently constructed. It's not like Mike Shanahan can take a beast like Williams and turn him into a cut blocker who opens up lanes for
Clinton Portis
. And Portis was a much younger man when he was darting through cutback lanes with the Broncos last decade.
The other Williams on the line, Trent, has the tools to be a special player. But he still has to learn the nuances of the NFL game while trying to block
DeMarcus Ware
,
Justin Tuck
and
Trent Cole
. As Bill Parcells liked to say, "this will not go smoothly." It's almost like everyone forgot about the beatings that
Jason Campbell
took on a weekly basis.
This isn't the McNabb who used to race around and extend plays by 10 seconds or so against the Cowboys on "Monday Night Football." He can slide around the pocket, but it's not like he speeds away from defenders on a regular basis. I'll point to his last two games against Dallas as Exhibits A and B. With center
Jamaal Jackson
out, the Eagles had to slide players around in the middle. The results against the Cowboys were disastrous.
For now, the Redskins have
Artis Hicks
lining up as the starting right tackle. To me, that means that Shanahan and his son, Kyle, aren't sold on
Stephon Heyer
. Most of us expected him to hold down that position. And the Mike Williams vs.
Chad Rinehart
battle at right guard isn't riveting stuff. Neither player would start for the three other teams in the division.
I certainly agree with the pundits who say the Redskins are better off with McNabb. He'll make
Devin Thomas
and
Malcolm Kelly
better receivers. And the combination of
Fred Davis
and
Chris Cooley
should be the best tandem in the Beast. But I don't like the thought of putting aging running backs behind a suspect offensive line.
At this point, the Redskins have the worst offensive line in the division and I don't see the Shanahan boys' zone-blocking scheme changing that right away. Could I be wrong about this?
There's always that slight chance.
June, 3, 2010
6/03/10
1:00
PM ET
By
Matt Mosley
| ESPN.com
»
NFC On the Radar
:
East
|
West
|
North
|
South
»
AFC
:
East
|
West
|
North
|
South
A player, coach or issue that should be on your radar as training camp approaches.
I don't know about you guys, but I'm anxious to see how Mike Shanahan divides carries among his stable of former star running backs. Shanahan surrounds himself with running backs the way Jon Gruden used to do with quarterbacks. He believes there's strength in numbers and he's left no stone unturned when it comes to backs whose careers peaked in 2006.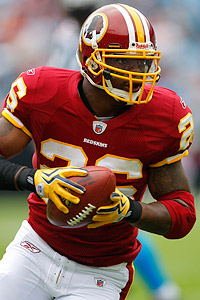 Bob Donnan/US PresswireThe Redskins have some veteran options backing up Clinton Portis.
As we
discussed on the blog this morning
, the Redskins have now made an offer to former Eagles star
Brian Westbrook
. Shanahan has even lobbied Westbrook's younger brother,
Byron
, who plays cornerback for the Skins. In my mind, Westbrook would have a highly specialized role in the Redskins' offense. Coming off a year in which he had two concussions in a short period of time, there's no way Westbrook can have more than seven or eight carries per game. He'd be used as a third-down back and the Redskins would try to get him matched up one-on-one with linebackers.
If Westbrook signs with the Redskins, either
Larry Johnson
or
Willie Parker
would be the odd man out. It would be silly to keep all four players active. It's not like any of them can help you on special teams. Are you going to ask Parker to run down on kickoffs? From the folks I've talked to at Redskins Park, Parker probably would be the first player to go. He has not looked all that explosive in practice sessions, but obviously we have a long way to go.
Given Shanahan's success in Denver, we've come to believe that any back can have success in his zone-blocking scheme. But that wasn't the case his last couple of seasons with the Broncos. Denver had a ton of injuries and the Mike Andersons and Olandis Garys of the world stopped showing up out of nowhere. Just because the Redskins' running backs have recognizable names doesn't mean they'll automatically put up big numbers in Kyle Shanahan's offense.
Johnson's at his best when running downhill. But Washington's offense will require him to be patient and wait for cutback lanes to develop. He's never seemed like a good fit in this offense to me -- even if he still had his '06 legs.
Quarterback
Donovan McNabb
is convinced that finally having a consistent running game will allow him to have more success. But I don't see anyone in this backfield who would scare an opponent. Is anyone worried that
Clinton Portis
or Johnson will take it to the house from midfield?
I'm curious to hear what Redskins fans think of this rotation. You guys think there's room for Westbrook?
May, 27, 2010
5/27/10
1:00
PM ET
By
Matt Mosley
| ESPN.com
»
NFC On the Radar
:
East
|
West
|
North
|
South
»
AFC
:
East
|
West
|
North
|
South
A player, coach or issue that should be on your radar as training camp approaches.
In case you've been trapped under a rock or some other impediment recently, you know that
Washington Redskins
wide receiver
Santana Moss
has been connected to a Canadian doctor charged with supplying and smuggling human growth hormones. Moss hasn't addressed the topic publicly, but his teammates and head coach seem convinced that he'll be cleared of any wrongdoing. But while it looks like there's no threat of criminal charges, we all know about the swift hand of NFL commissioner Roger Goodell's justice. If he determines that Moss did anything wrong, the receiver could face a suspension.
[+] Enlarge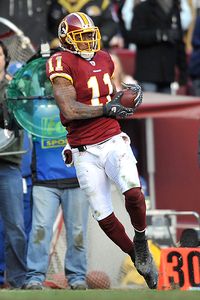 Larry French/Getty ImagesDevin Thomas started to produce in the second half of last season, including a seven-catch, two-TD game against the Saints.
And it's not like the Redskins are flush with proven receivers right now -- unless you count a guy like
Joey Galloway
who has been proving himself for 16 seasons in the league. Galloway's been on the downhill side of his career for at least the past four seasons, so it's unlikely he could turn back the clock and become a consistent deep threat. Moss led the Skins with 70 catches for 902 yards and three touchdowns last season, but his 12.3 yards per catch is a pretty benign number. That's why it's finally time for the faces of the '08 rookie class to show some consistency. Either
Malcolm Kelly
or
Devin Thomas
-- perhaps both -- need to step forward and make plays for
Donovan McNabb
.
The good news is that McNabb has had some success when surrounded with pedestrian receivers. In his pre-
Terrell Owens
years in Philly, he threw to the likes of
Freddie Mitchell
and the immortal
Todd Pinkston
. So chucking the ball to
Bobby Wade
, Thomas and Kelly might not look that bad to him. Plus, he'll have the talented combo of
Chris Cooley
and
Fred Davis
at tight end.
But even if Moss clears the Dr. Anthony Galea hurdle, the Redskins still need for Thomas and Kelly to emerge. I think fans are sick of hearing about their potential. Kelly won the starting job at the start of last season, but Thomas was the better receiver down the stretch. Thomas only had 25 catches, but three of them went for touchdowns and 16 went for first downs.
"Devin Thomas has been hurt through most of the minicamps and OTAs," Mike Shanahan told reporters last week. "It's good to get Devin back and watch him in these OTAs because I didn't get a chance to watch him except for the first day in our minicamp. Malcolm, it's like all of the receivers, learning the system, getting the chance to show their skills. It's going to be an interesting question here over the next two months, three months. We got a number of wide receivers that are competing for a position. I like what I have seen thus far."
If the commissioner decides to suspend Moss, don't be shocked if Shanahan looks to T.O. for help. We simply don't have enough drama in the NFC East, so it's important to reunite McNabb and his old buddy. As you know, their appearance together on a recent reality show laid the foundation for reconciliation. I have to stop now because I'm getting emotional.
May, 20, 2010
5/20/10
1:00
PM ET
By
Scouts Inc.'s Matt Williamson
| ESPN.com
»
NFC On the Radar
:
East
|
West
|
North
|
South
»
AFC
:
East
|
West
|
North
|
South
A player, coach or issue that should be on your radar as training camp approaches.
[+] Enlarge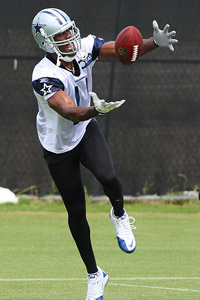 Matthew Emmons/US PresswireA full complement of pass-catchers may mean fewer opportunities for Roy Williams.
Can
Roy Williams
still play a key role in the Cowboys' offense? When Dallas moved up in the draft to select Oklahoma State's
Dez Bryant
, it was not a ringing endorsement for Williams in this potent passing attack.
The Cowboys now have a very full stable of wideouts, though a wide receiver (probably
Patrick Crayton
) could be released or traded. They also have one of the best tight ends in the business in
Jason Witten
and very good pass-catching running backs, led by
Felix Jones
, whose role as a pass-catcher might be primed for expansion in 2010.
So where does that leave Williams? This is a receiver who has size, strength and body control to make spectacular catches. Coming out of the University of Texas, he also had exceptional long speed. In terms of his deep speed and overall explosiveness, Williams no longer looks like that prospect coming out of college. He now has build-up speed and is more suited to a possession role, but he isn't reliable enough for such a role. This problem is magnified by the wealth of other options that quarterback
Tony Romo
has. Plus, Romo and Williams have never shown strong cohesion or comfort with one another.
Does all of this mean that Williams is incapable of revitalizing his career? No, it is possible. But there is no reason for Dallas to wait around for it to happen. What
Miles Austin
showed us last season is very much what I expect out of him this year, and Bryant can be as good as he wants to be at the opposite wide receiver spot before long. I don't see Williams playing a key role for the Cowboys this season. I do see him making a few big plays against lesser coverage, but overall, his opportunity for greatness in Dallas may have passed.
NFC EAST SCOREBOARD
Saturday, 12/20
Sunday, 12/21