NFC East:

On the radar 7110
July, 1, 2010
7/01/10
1:00
PM ET
By
Matt Mosley
| ESPN.com
»
NFC On the Radar
:
East
|
West
|
North
|
South
»
AFC
:
East
|
West
|
North
|
South
A player, coach or issue that should be on your radar as training camp approaches.
As many of you might recall, last year's offseason theme for the
Dallas Cowboys
was a "Romo friendly offense." Doesn't that seem like 10 years ago now?
[+] Enlarge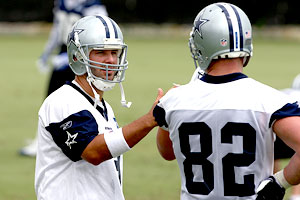 Matthew Emmons/US PresswireTony Romo has taken on a more vocal role with the Cowboys this offseason.
Well, things worked out pretty well for that offense as
Tony Romo
led the Cowboys to their first playoff win in 13 years. The debacle in Minneapolis left a sour taste, but '09 was obviously a step forward for the organization. Now, Cowboys owner Jerry Jones is asking Romo to take an even bigger step in the process.
Jones and offensive coordinator Jason Garrett now believe that Romo has the ability to raise everyone's level of play. Now that he's no longer defined by December swoons, there's a belief that he's capable of getting this team to a Super Bowl. This offseason, Romo has taken more of a vocal role on the team.
In '08 and even to a certain extent last season, Romo sort of took care of his business and hoped that his teammates would do the same. He's taken a different approach to the 2010 season. When his pal
Miles Austin
skipped the first two weeks of voluntary workouts, Romo jumped on the phone and told him it was time to come back to Valley Ranch. Players such as veteran linebacker
Keith Brooking
have told me that they've noticed a change in Romo.
In practices, he's offering the defense feedback and he's not afraid to get in someone's face if they make a mistake. It seems like Romo's success in the playoffs, albeit limited, has given him more credibility with his teammates. I realize there's a perception that Romo's more interested in playing golf and hanging with celebrities, but that's not reality.
In the offseason, he'll devour sports books and then try to figure out how to apply it to his game. He read a Johnny Unitas book a few years ago that changed the way he thought about the quarterback position. Romo realized that his actions in practices and in the locker room truly mattered and that he would set the tone for his teammates.
Now, he has more confidence than ever. I think he may be poised for his first All-Pro season with the Cowboys. But get back to me in December on that one.
July, 1, 2010
7/01/10
11:47
AM ET
By
Matt Mosley
| ESPN.com
Michael Vick
and his attorney Larry "Woody" Woodward have not asked me for legal advice (yet), but here's what I'd tell them: STOP TALKING!
Woodward has made such a production of saying that Vick was long gone before a shooting took place early Friday morning after the quarterback's 30th birthday party that it's become the central element in the story. Perhaps Woodward would've been wise to recall that his client once famously fibbed to NFL commissioner Roger Goodell and Falcons owner Arthur Blank about his involvement in a dogfighting ring.
As you may have heard, Virginia Beach police are no longer saying that Vick's of "no interest" to them. He talked to investigators Monday about the shooting on his own accord. But now police have obtained a surveillance video from the bar/restaurant Guadalajara that appears to contradict Woodward's assertion that his client departed 10-20 minutes before the shooting.
"Right now, we don't really have a title for [Vick]," police spokesman Adam Bernstein told the Philadelphia Daily News on Wednesday.
As many of you know, police often hand out catchy titles such as "person of interest" or "witness." The fact that Vick's lost the title of "no interest to the police" is not a positive development for the Eagles quarterback. And Woodward's not backing off his client's original version of the timeline.
"I stand by what I said, that Michael was long gone before the shooting, does not know who did the shooting and had nothing to do with the shooting," Woodward told the Daily (Va.) Press. "Anyone who says any different better be very careful."
The fact that media outlets have reported that the shooting victim was one of Vick's dogfighting co-defendants, Quanis Phillips, only complicates matters. As part of his federal probation (and the NFL's reinstatement), Vick is not allowed to associate with anyone convicted of a felony unless granted permission to do so by his probation officer. And something tells me his Norfolk, Va.-based probation officer didn't sign off on Phillips' presence at "Michael Vick's ALL WHITE 30th Birthday Bash."
Up until early Friday morning, the Vick redemption tale was going pretty strong. But this is obviously the first major snag. I suspect he's earned a sitdown with Goodell in New York. The commissioner said that Vick's margin for error would be "extremely limited" in his reinstatement letter last July.
We may soon find out how the league interprets that clause. If I'm Andy Reid, I'd make sure
Jeff Garcia
's still on speed dial.