NFC East:

Oshiomogho Atogwe
March, 16, 2012
3/16/12
2:58
PM ET
The secondary is the part of the defense the
Washington Redskins
most needed to address this offseason, and address it they have. One day after signing safety
Brandon Meriweather
to a
two-year contract
, the Redskins have agreed to terms with former Vikings cornerback
Cedric Griffin
.
Griffin
The Redskins have been talking with many different options for their secondary. Earlier this week, it was reported that they were planning to host former Giants cornerback
Aaron Ross
for a visit Friday, and it's possible they still are. The signing of Griffin could indicate that they have the third cornerback they sought, but it could also mean something else. Griffin is big and physical enough to play safety. The Vikings discussed moving him to safety last year when he struggled so badly at cornerback that he ended up benched late in the year. And with Meriweather likely slated for the
LaRon Landry
strong safety spot in the secondary, Griffin could be looked at as a candidate to replace recently released free safety
Oshiomogho Atogwe
.
That decision may not even have been made yet. Griffin adds a physical presence to the secondary wherever he plays and however much he plays. He comes in on a one-year, $2.5 million deal, so it's not a major commitment. If he can handle cornerback, maybe they use him there. If he can handle free safety, maybe that's his role. But Mike Shanahan has been preaching the need for depth all over the roster, and whatever role he ends up playing for the Redskins, Griffin helps with the depth on defense.
March, 14, 2012
3/14/12
2:15
PM ET
John Keim of the Washington Examiner first reported, and
ESPN 980 radio
in Washington has since confirmed, that
New York Giants
cornerback
Aaron Ross
will visit with the
Washington Redskins
on Friday. ESPN 980 also reports Ross will visit with the Bengals on Thursday, so there is some competition for his services. But this information, plus Adam Schefter's report that the Redskins are bringing in safety
Brandon Meriweather
for a visit, makes it clear that the Redskins are intent on upgrading their secondary.

The Redskins feel good about their defensive line, and if they re-sign
London Fletcher
(which they'd like to, but by the way still haven't), they feel great about their linebackers. But the secondary remains an issue. Safety might be the bigger problem, with
O.J. Atogwe
released and
LaRon Landry
almost certain not to return. But they checked in on cornerback
Eric Wright
before he signed with Tampa Bay, and now they're apparently looking at Ross.
Some will speculate that the addition of a veteran corner like Ross could mean the Redskins are planning to deal or cut
DeAngelo Hall
, and that could well be the case. But it's also possible — likely, even — that the Redskins believe it's important to have more than two good, starter-quality cornerbacks. And if they added Ross to the mix with Hall and
Josh Wilson
, they'd feel better about their cornerback rotation in 2012 than they did in 2011. Mike Shanahan has repeatedly stressed depth as the Redskins' biggest issue, and cornerback is one of the most vital positions in today's NFL. Depth there isn't a bad idea.
May, 4, 2011
5/04/11
1:00
PM ET
Scouts Inc.'s Matt Williamson breaks down the cornerbacks of each NFC East team. Today: Washington Redskins.

Although they are second on this list, the Redskins really did struggle in coverage last season. I still feel that Dallas and Philadelphia are worse off at the position as it stands at the beginning of May.
Carlos Rogers
is scheduled to hit free agency. Rogers was much more effective in 2009 than he was last season -- he was banged up for much of the second half of the season. Still, plenty of teams should be interested in the former first-round selection.
DeAngelo Hall
has a ton of ability but has always been inconsistent. Although he wasn't deserving of his Pro Bowl berth, he does absolutely have a flair for the dramatic. He isn't my style of corner, but I do respect his ability.
As Rogers battled injuries,
Phillip Buchanon
became the starter opposite Hall. Like Hall, consistency is a big problem for Buchanon. He had more than his share of ups and downs in 2010. He really is a difficult guy to count on as a true starter and should be considered a sub-package player.
Washington did add two depth players in the draft -- fifth rounder
Dejon Gomes
and seventh rounder
Brandyn Thompson
. But expect the 'Skins to use some money in free agency on a veteran corner or to try to re-sign Rogers.
It needs to be noted that the addition of
Oshiomogho Atogwe
as the starting free safety should make Washington's cornerbacks more effective all-around cover men. Last season, the pass-rush was well below average. The addition of first-round selection
Ryan Kerrigan
should boost that phase of pass defense as well.
Scouts Inc. watches games, breaks down film and studies football from all angles for ESPN.com.
April, 25, 2011
4/25/11
1:00
PM ET
By
Matt Williamson, Scouts Inc.
| ESPN.com
Scouts Inc.'s Matt Williamson examines the safeties of each NFC East team. Today: Washington Redskins

With the signing of
Oshiomogho Atogwe
, the Redskins are now loaded at safety and have an excellent complement to
LaRon Landry
. Landry really came into his own in 2010 until an Achilles tendon injury ended his season in Week 9.
Safety is the best position that Washington has and is a true area of strength -- assuming Landry returns to pre-injury form, which might be a bit optimistic considering that he also had shoulder surgery this offseason.
Atogwe is best in a deep center field role where he can key the quarterback and make plays on the ball in the air. He is a very average run-support player, but Atogwe has proved throughout his career that he has an excellent knack for getting his hands on the football. He was also used more as a blitzer last season, a role that he seemed to relish. He could really help what was a very poor 2010 pass defense. The addition of Atogwe, whom defensive coordinator Jim Haslett knows well from their time together in St. Louis, should allow Landry to freelance even more.
Landry has become the quintessential strong safety who thrives near the line of scrimmage. He is one of the biggest safeties in the league, but his coverage skills could use work. He has improved in that capacity, and the Redskins made better use of his unique skill set with Haslett in control of the defense. Landry can blitz and play the run as well as just about any safety in the league. The opposing offense now needs to account for him pre-snap. Landry can be very disruptive.
Kareem Moore
was the starting free safety to open the season but didn't do a lot to get excited about. He missed a lot of tackles and was too much of a liability in coverage, but Moore could be a solid backup to Atogwe.
Reed Doughty
also has starting experience and could be a valuable player if Landry doesn't recover as planned.
Chris Horton
also could factor in, but durability has become a major problem for this young strong safety. Washington doesn't want Doughty or Horton covering the
Jason Witten
s of the world.
Scouts Inc. watches games, breaks down film and studies football from all angles for ESPN.com.
March, 14, 2011
3/14/11
12:00
PM ET
By
Matt Williamson, Scouts Inc.
| ESPN.com
Scouts Inc.'s Matt Williamson examines the biggest weakness of each NFC East team and offers some potential solutions.
I would love to see the effects of Dallas' acquiring a free safety with a ton of range and capable of making big plays behind the Cowboys' pass rush. A player like that could make up for some problems at the cornerback position.
[+] Enlarge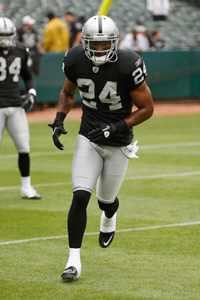 AP Photo/Marcio Jose SanchezMichael Huff could be a good fit in the Cowboys' secondary.
Last year,
Alan Ball
was the starter at free safety. He failed to make an impact but could provide valuable depth.
Gerald Sensabaugh
is up for free agency, and it would be smart to bring him back for stability while trying to upgrade the starting spot opposite him where Ball played.
There isn't much else on the roster to be excited about. Dallas' safeties gave the corners little to no support in 2010. There isn't a safety worth taking with the Cowboys' first-round pick, but Dallas does have the 40th overall selection. At that spot, they could land the top safety in this draft class, UCLA's Rahim Moore. Or maybe they have to move up a handful of spots at a minimal price to get Moore. But Moore really can't be considered a huge difference-maker, especially in the short term.
Dallas is built to win now. Going the veteran route at safety could be the best option. In fact, it shocked me that Dallas wasn't more proactive to land
Oshiomogho Atogwe
, who was quickly scooped up by division rival Washington. But there are other veterans who could make sense to upgrade this area of weakness. The Eagles'
Quintin Mikell
is the best safety on the market. He isn't a true free safety in the mold I described above, but signing him would do damage to a division rival while also very much upgrading the safety position overall. But the fit I like best is Oakland's
Michael Huff
, who came on in a big way last year after the Raiders finally put him more in deep patrol instead of keeping him close to the line of scrimmage. Huff was a safety/cornerback tweener coming out of the University of Texas and could be just want the doctor ordered in Big D.
The other guy who would be a home run and an excellent fit for Dallas is San Diego's
Eric Weddle
. Weddle can do it all. He excels near the line of scrimmage, but I see him as being best off the ball and in deep patrol. Rob Ryan would love the versatility of this Pro Bowl-caliber safety. Weddle is also younger than Huff. Two other less expensive options would be the Jets'
Brodney Pool
and Chicago's
Danieal Manning
. Both would be upgrades.
The Cowboys do have some options, but there are more teams in the league with free safety needs than needs at strong safety. The draft is very light at the position this year, so this pool of free agents could dry up quickly.
Scouts Inc. watches games, breaks down film and studies football from all angles for ESPN.com.
March, 11, 2011
3/11/11
8:54
AM ET
By
ESPN.com staff
| ESPN.com
March, 3, 2011
3/03/11
6:18
PM ET
Oshiomogho Atogwe
's contract agreement with the
Washington Redskins
,
reported
by Jim Thomas of the St. Louis Post-Dispatch, leaves the
St. Louis Rams
weaker in the secondary.
That is the bottom line.
ESPN's Adam Schefter says the deal
is for five years and $26 million. It's unclear how the contract is structured. Atogwe's previous deal with the Rams wound up paying him $4 million. His new deal surely represents an upgrade even though players often don't see all the money in a long-term deal.
Unusual and unfortunate circumstances negatively affected negotiations between the Rams and Atogwe. The team named him its franchise player following the 2008 season. Atogwe played the 2009 season under terms of the one-year, $6.34 million franchise offer. He became only a restricted free agent following the 2009 season, however, as the labor agreement upped requirements for unrestricted free agency in an uncapped year.
This was an unfortunate step backward for Atogwe.
The Rams took advantage of the RFA designation by making the
lowest possible offer
. Rules required them to up that $1.226 million offer to $7 million or let Atogwe become a free agent last June. The Rams opted to let Atogwe become a free agent. They liked him, but not at the $7 million price. The timing made it tougher for Atogwe to find a suitable deal. He re-signed with the Rams.
At the time, Matt Williamson of Scouts Inc. thought
Atogwe would have been better off
joining a superior defense elsewhere on a one-year deal and re-marketing himself. Instead, Atogwe came back to the Rams and played well at times, but he did not stand out.
Atogwe has built a reputation for forcing turnovers, but his production in that area has fallen off even while the Rams have improved on defense. He had three interceptions in 2010 and two the previous season after collecting 13 in 2007 and 2008. Jim Haslett, the Rams' defensive coordinator during Atogwe's ball-hawking years, is coordinating the Redskins' defense. Perhaps Atogwe will fit better there.
I think the Rams would have liked to have brought back Atogwe, but they never valued him as a sideline-to-sideline force. They never valued him the way the franchise designation said they valued him. For them, the tag was a convenient way to keep him for a year, not a sign they valued him at that price over a long-term deal. Throw in the unusual RFA situation last offseason and this negotiation wasn't as easy as it should have been.
The Rams will miss Atogwe, but their fans should be happy for him, too. Atogwe
handled himself more professionally
than I can recall another player handling himself under the circumstances. He practiced with the team as a franchise player even though he hadn't signed the $6.34 million tender. He was a team player all the way.
February, 21, 2011
2/21/11
11:02
AM ET
By
Matt Mosley
| ESPN.com
The
Washington Redskins
will host safety
Oshiomogho Atogwe
today,
according to Howard Balzer of St. Louis' ESPN 101
. Atogwe was released by the Rams because they didn't want to pay him an $8 million bonus. For now, he's exploring his options. And you'd have to think the Cowboys would also be interested in taking a look at Atogwe.
"This is an opportunity for me to explore other options," Atogwe told Balzer. "It doesn't mean the Rams aren't still an option. A door has been opened so I can really see if this is where I'm supposed to continue to be, or if I am supposed to go elsewhere. It gives me and my family more options to make a decision."
Atogwe, 29, had the best season of his career while playing for Redskins defensive coordinator Jim Haslett while he was with the Rams in 2007. The safety had eight of his 22 career interceptions that season. It's also worth noting that Atogwe is engaged to the daughter of Vikings linebackers coach Mike Singletary. And the Vikings are in desperate need of help at the safety position.
Players such as Atogwe and
Shaun Rogers
are getting their own version of a free agency period. And given all the uncertainty surrounding the labor negotiations, they'd probably be wise to strike a deal before March 4.
March, 9, 2010
3/09/10
4:00
PM ET
By
Matt Mosley
| ESPN.com
»
NFC Big Question
:
East
|
West
|
North
|
South
»
AFC
:
East
|
West
|
North
|
South
A new Tuesday feature on the ESPN.com NFL blog network.
Should the Cowboys replace Ken Hamlin at safety?
[+] Enlarge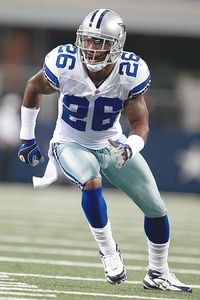 Scott Boehm/Getty ImagesKen Hamlin has recorded just one interception in the past two seasons.
It's hard to believe it has already come to this point with Hamlin, but it has. He played himself into a lucrative contract extension with a Pro Bowl season in '07. Now, he appears to be the only weak link on the Cowboys' defense. Quite simply, he doesn't make enough plays to warrant the money (six years, $38 million). And the Cowboys also have to make up their minds about
Gerald Sensabaugh
, a restricted free agent with a second-round tender. There are a lot of teams needing a safety (see the Eagles), but I think Jerry Jones will likely match an offer unless it's for ridiculous money. He's not going to let Sensabaugh join an NFC East rival.
I'm hearing that the Cowboys believe that safeties Nate Allen (South Florida) and Taylor Mays (USC) aren't that far apart in terms of talent. It seems like Allen has a lot more range from what I've seen, but starting a rookie at safety is a risky proposition. I think a better option might be
Oshiomogho Atogwe
of the
St. Louis Rams
. He's a restricted free agent who received the lowest-possible tender. The 29-year-old Atogwe is coming off a right shoulder injury, but he's been much more productive than Hamlin since '06 with 18 interceptions and 14 forced fumbles. Over that same period of time, Hamlin has nine interceptions and two forced fumbles.
When I talk to secondary coaches, they tell me that safety is the toughest position for a rookie to learn in the NFL. The Cowboys know what it's like to play without a reliable starting safety and it's not something they want to revisit. If you can't get a significant upgrade over Hamlin, you might be better off giving him one more season.
October, 19, 2008
10/19/08
5:11
PM ET
By
Matt Mosley
| ESPN.com


Posted by ESPN.com's Matt Mosley
A month ago, the Cowboys were talking about wanting to fast-forward to the playoffs. But after being dominated in a 34-14 loss to the Rams, this team will be doing well to even qualify. Right now, that seems like a long shot.
The Cowboys thought they could surround 40-year-old quarterback Brad Johnson with enough talent to win a game while Tony Romo recovered from a broken right pinkie. But Johnson never had a chance. He finished 17 of 34 for 234 yards and three interceptions. The Rams took Cowboys running back Marion Barber out of the game by taking a 24-7 halftime lead, and they didn't put up a fight in the second half.
It's not surprising that new wide receiver Roy Williams wasn't a factor, but for the fourth consecutive game, Terrell Owens was pretty much non-existent.
Dallas took itself out of scoring opportunities with dumb penalties, and the offensive line did little to help an overmatched Johnson. Oshiomogho Atogwe, one of the heroes in last week's win over the Redskins, had two interceptions for the Rams.
Jerry Jones said Sunday's game was, in many ways, more important than upcoming games against Tampa Bay and the New York Giants. But the team played with no sense of urgency. Head coach Wade Phillips kept a disgusted look on his face for most of the game -- and for good reason.
He's already on the hot seat in Dallas. Now, there will be talk of an in-season firing. (Hey, it worked for the Rams). But who do you replace him with? Jason Garrett, a man who can't devise a scheme for getting T.O. off the line of scrimmage?
The Cowboys spent all last week trying to convince us the sky wasn't falling. Well, it's officially falling. Romo will try to return against Tampa Bay, but it's not like he'll be at full strength.
Jerry Jones has tried to remain optimistic while his team continues to implode. Let's see how he handles Sunday's loss. If someone doesn't show a little anger after this one, you might as well as pack it in until next season.
NFC EAST SCOREBOARD
Saturday, 12/20
Sunday, 12/21