March, 29, 2014
Mar 29
1:00
PM ET
The Redskins bypassed the expensive talent, knowing they needed more than one or two players. So they opted to rebuild their 3-13 roster a different way: by adding depth. Naturally, that pleased their coach.
Jay Gruden sees a roster that's already improved. Yes, he should say that regardless.
[+] Enlarge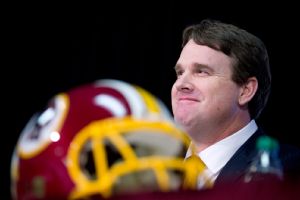 AP Photo/Manuel Balce CenetaCoach Jay Gruden said he's pleased with how the Redskins have added depth at inside linebacker.
"We've made a lot of progress as far as our team's concerned with free agency," he said. "The big thing with free agency was we needed some players to help our depth.
"Obviously, we wanted to get everybody, but you have to have a plan of attack. You have to circle certain guys or a position and really go after it and come out of free agency with something because there's no guarantee that you can get even the top guy that you have as a priority. So, I think we did a great job and I'm happy where we're at."
They obviously added an interior pass-rusher in
Jason Hatcher
and three inside linebackers (two of whom,
Darryl Sharpton
and
Akeem Jordan
, will compete for the starting job).
"We attacked very well," Gruden said of that position. "We answered that [inside linebacker position]. We added some good players and it's going to be a very competitive position in training camp."
Those moves provided Washington help on special teams, giving them a key for any good unit: bigger guys who can run. All three have carved out careers because of their work there, even when they've started. The Redskins lacked enough players like this a year ago and the results showed. They still need to work on this area at safety. When you have good safety and linebacker depth, special teams benefits.
They've also added offensive line depth, with
Shawn Lauvao
, who will start at left guard, and
Mike McGlynn
, who gives them an experienced backup.
"Some of the marquee guys just got a lot of money, and good for them," Gruden said. "We needed more quantity as opposed to just one guy at a huge price. I think we went about it the right way."
While there were rumblings in some circles that the stain of Washington's finish, and the drama surrounding it, was an issue for some free agents, Gruden said it wasn't for those they met.
They're still awaiting word from receiver
Kenny Britt
and safety
Ryan Clark
. Both visited; both remain possibilities. Tight end
Owen Daniels
also visited, but it does not appear anything is imminent with him. Gruden said he knows how players are eventually lured somewhere.
"This is a heck of a franchise, but when it's all said and done it's usually about the money -- usually," Gruden said. "There are some teams I wouldn't think would get any players. It wasn't an issue, really. The type of players we have in place with
DeAngelo Hall
and [
Brian] Orakpo
and
Robert [Griffin III
] and
Pierre Garcon
, this is an attractive franchise for players."
June, 29, 2011
6/29/11
10:56
AM ET
Getting close to the end of our position-by-position look at four-year unrestricted free agency and the way it could play out in the NFC East. We're going to take a look at the tight end position, where the Cowboys and Redskins are set and really so are the Eagles, though I'm going to include them for a number of reasons, some of which are outlined below. Two of the top options,
Owen Daniels
and
Marcedes Lewis
, are off the board, as Daniels signed a new deal with Houston and Lewis was designated a franchise player by the Jaguars.
NFC East teams in need

Giants
: The Giants have a few key players who would be free-agent eligible under the proposed rules, and one of those is valuable tight end
Kevin Boss
. The Giants like Boss a lot and would love to re-sign him, but they want to re-sign quite a number of their players, including
Ahmad Bradshaw
,
Mathias Kiwanuka
,
Steve Smith
and
Barry Cofield
, and someone is going to slip through the cracks. If it turns out to be Boss, the Giants are probably going to need to find someone to replace him or at least provide a safety net in case
Travis Beckum
isn't ready to take over the position.

Eagles
:
Brent Celek
is one of the better tight ends in the league, and given the rest of the offensive weapons the Eagles have at their disposal it's hard to imagine them making this a high priority item. But I saw
this item
recently about how Andy Reid is enamored of the idea of a two-tight-end set, and since more and more coaches are using them, I don't think you can rule out the possibility that Reid and the Eagles would explore it. And I'm not sure
Clay Harbor
is the answer if they do. So here they are, "need" or not.
Top five potential unrestricted free-agent tight ends:
1. Zach Miller.
He's averaged 61 catches per seaosn over the past three seasons with absolutely no reliability or stability at the quarterback position in Oakland. He likely would thrive in a more active and potent passing offense, and he's probably looking to do just that. Should get a very nice contract.
2. Boss
. On the other hand, Boss is a guy who has played in a big-time passing offense the past two seasons but just hasn't been one of its top targets. A reliable blocker and route-runner who's looked, at times, like a good red zone target for
Eli Manning
, Boss fits his role well in New York and would probably do well to stay.
3. Bo Scaife.
Has been more of a blocker than a receiver in Tennessee. So if the Eagles really did want to go that way, he'd be a nice complement to Celek. I still don't see it, but they always surprise you, those Eagles.
4. David Thomas.
He's been a good backup for the Saints who can catch passes when needed but isn't going to bug the coaches about wanting to do more. Might be a nice fit for either of the teams we're talking about, assuming he could handle a starter's workload if he ended up in New York.
5. Daniel Fells.
There are better overall options, but I'm putting Fells on this list because, if some team is looking for a tight end who can function as a red zone target and won't need to be a passing-game factor otherwise, Fells could be the man. He hasn't done too much in St. Louis, but they've had quarterback and receiver issues there as well. This guy lists at 6-foot-4, 272 pounds and has caught five touchdown passes over the past two seasons.
Predictions that mean nothing:
Giants re-sign Boss, and the Eagles, always looking to keep multiple options open, do bring in a guy from further down on the list. Maybe a guy like Fells who can be a bruiser near the goal line.