NFC East:

Owners Meetings 2010
March, 24, 2010
3/24/10
1:55
PM ET
By
Matt Mosley
| ESPN.com
ORLANDO, Fla. -- I started my day at Mike Shanahan's breakfast table -- as usual. The NFC coaches breakfast Wednesday drew a packed audience, and Shanahan was front and center.
As you might expect, there were several questions about nose tackle
Albert Haynesworth
's reluctance to participate in the Redskins' "voluntary" offseason conditioning program. Oh, and there's also the part about Haynesworth going on the radio and complaining about the prospect of playing nose tackle in a 3-4 scheme.
"I totally disagree with his decision to not be there," said Shanahan, referring to the conditioning program. "But I respect him being there the first day and sitting down and talking to me man to man. Any time a person's willing to do that, you feel good about the communication."
I also tried to ask Shanahan if there was an open competition at starting quarterback, but he made a joke about all the positions being open and quickly moved on. I've pressed both Shanahan and general manager Bruce Allen for their thoughts on incumbent starter
Jason Campbell
, but they've been very evasive with their non-answers. Allen basically said he didn't want to talk about Campbell and Shanahan keeps talking about how he needs to see the quarterback on the field.
Obviously, there is plenty of film available at Redskins Park, so it's a little odd that Shanahan's reluctant to discuss Campbell. He's probably afraid that saying anything about Campbell might tip folks off on his draft strategy. I have to head out to the airport soon, but we'll have more from the owners meetings throughout the week.
I also had conversations with Tom Coughlin and Wade Phillips on Wednesday morning. And there's more from my marathon session with Jerry Jones.
March, 24, 2010
3/24/10
12:59
PM ET
By
Matt Mosley
| ESPN.com
ORLANDO, Fla. -- About halfway through the NFC coaches breakfast Wednesday, I noticed a crowd starting to gather at Eagles coach Andy Reid's table. Reid's not known as a particularly interesting quote, so it seemed a bit odd. I abandoned my post at the Mike Shanahan gathering and headed over for a visit.
[+] Enlarge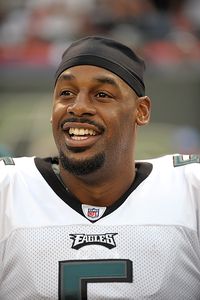 Drew Hallowell/Getty ImagesDonovan McNabb could reportedly be had for a second-round draft pick.
Turns out Reid was making it known for the first time in a public setting that he would entertain offers for quarterback
Donovan McNabb
-- and his two backups. And it's not like Reid was caught off guard or anything. The Eagles came to Orlando to let the NFL community know their quarterbacks were not off limits. In my mind, second-stringer
Kevin Kolb
is the closest thing to an untouchable.
"I've got a great situation at that position right now," said Reid. "That's a good position to have three guys who all can start and win at a championship-caliber level. It doesn't get any better than that. Kolb's one play away from playing and Michael's two plays away. So they'd better be ready to roll. They'll all go out and play and do what they need to do. They're all getting paid good money."
Citing an anonymous source Wednesday,
the Philadelphia Inquirer reported
that the Eagles have lowered their asking price for McNabb to a second-round pick. Reid didn't say anything about that during Wednesday's breakfast, but it's obvious the Eagles have a strong interest in beginning the Kolb era in 2010. The organization knows it would be awkward to have three quarterbacks in the final year of their contracts. Reid keeps bringing up the fact that McNabb received a "bump" in pay after the '08 season, but I don't think that makes the quarterback feel any better about his future.
So where could McNabb end up?
I think the Rams, Bills, 49ers, Seahawks, Cardinals and Vikings could all be in play. Everyone thinks the Rams will take
Sam Bradford
with the No. 1 overall pick, but McNabb would be a cheaper option. And he's much more of a proven commodity. OK, much more to come on this and other topics.
March, 23, 2010
3/23/10
1:00
PM ET
By
Matt Mosley
| ESPN.com
»
NFC Big Question
:
East
|
West
|
North
|
South
»
AFC
:
East
|
West
|
North
|
South
Is it time for the Cowboys to replace Flozell Adams at left tackle?
ORLANDO, Fla. -- On some afternoons, Cowboys left tackle Flozell Adams is still among the best in the league. But those afternoons aren't as frequent as they used to be. Adams, 34, is certainly a declining player at this point in his career, and he attempts to make up for it by tripping players and jumping out of his stance early. I think the Cowboys can get one more season out of Adams, but it's time to start thinking about his long-term replacement.
[+] Enlarge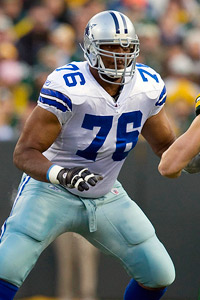 Jeff Hanisch/US PresswireVeteran tackle Flozell Adams' play has declined in recent seasons.
High-ranking members of the organization have indicated to me recently that re-stocking the offensive line is the highest priority in next month's draft. But there are some within the organization who believe that
Doug Free
is capable of taking over for Adams soon. If Adams struggles early in the 2010 season, don't be surprised if Free becomes his permanent replacement. The Cowboys loved how Free played at right tackle when
Marc Colombo
was injured for half of the '09 season. They know that Free lacks Adams' brute strength, but he's already a better foot athlete, which means he operates well in space.
I think quarterback
Tony Romo
gained a lot of trust in Free last season, which is an important step in the process. The Cowboys are also excited to find out whether former third-round draft pick
Robert Brewster
can bounce back from a torn pectoral muscle. Coach Wade Phillips told me Monday that Brewster is one of the players from the '09 draft who everyone's curious about. He's being projected as a right tackle, so the Cowboys potentially have replacements at left and right tackle in the fold. But that won't keep them from trying to upgrade. It wouldn't surprise me if the Cowboys stay at No. 27 and take the best offensive tackle or guard available.
And if Adams falters this season, Free will be ready to go. This transition could take place a lot sooner than most folks think.
March, 23, 2010
3/23/10
10:27
AM ET
By
Matt Mosley
| ESPN.com
ORLANDO, Fla. -- The
Washington Redskins signed
34-year-old punter
Josh Bidwell
on Tuesday. Bidwell, a former Pro Bowler, missed the '09 season with a hip injury.
Obviously, the Redskins have struggled in the kicking game. Bidwell has a big leg but the hip injury would concern me a great deal.
The Cowboys' place-kicker,
Nick Folk
, entered the 2010 season with a hip injury and the results were disastrous. Punters put even more stress on their hips than place-kickers, so this is something that bears watching.
In other news, the NFL will not announce the schedules for the opening-weekend and Thanksgiving games today. Hopefully that will happen Wednesday.
March, 22, 2010
3/22/10
7:24
PM ET
By
Matt Mosley
| ESPN.com
ORLANDO, Fla. -- As I was talking to
New York Giants
co-owner Steve Tisch on Monday about which opponent his team would play in the first regular season game in the new Meadowlands stadium Sept. 12, the league's scheduling guru, Howard Katz, walked past.
"Who are we playing?" Tisch asked Katz, who responded by shaking his head and frowning.
The league's expected to reveal the Giants' opening-weekend opponent Tuesday -- and don't be surprised if it's an NFC East rival. My money's on the Cowboys. I asked Tisch about the recent flap over NFL commissioner Roger Goodell's secret coin toss to determine whether the Giants or Jets hosted the first game at the new stadium. Jets owner Woody Johnson criticized Goodell regarding the process and the league soon announced that the Giants would play on Sunday, Sept. 12 and the Jets would play the following evening on "Monday Night Football."
"Roger made a decision who would play the first of the two games, and the coin landed in our favor," Tisch told me Monday. "Woody made some comments about it. I think Woody and the commissioner have resolved it."
Asked if he was pleased with the outcome, Tisch paused before saying, "I think it's good for the Giants and the Giants fans."
Tisch sounded confident that the stadium will have a naming rights partner before the first regular season game. He knows that Jerry Jones' palace in Arlington, Texas, still goes by Cowboys Stadium, but he's optimistic that the Giants and Jets will strike a deal with a company.
"We will have a naming rights partner," said Tisch. "The economy seems to be improving and we're going to have a number of conversations."
March, 22, 2010
3/22/10
6:15
PM ET
By
Matt Mosley
| ESPN.com
ORLANDO, Fla. -- The Eagles are the only team in the NFC East to have compensatory picks in the 2010 draft. The league announced Monday that the Eagles will be awarded two extra draft choices (243 and 244) in the seventh round.

The exact formula for how compensatory picks are awarded is beyond comprehension for most humans, but essentially teams receive the picks if their previous year's free-agent losses outweigh their free-agent gains. Obviously, the Giants, Redskins and Cowboys were not rewarded under the mysterious formula. There had been speculation that the Redskins would receive at least one compensatory pick, but things didn't work out.

The Bengals were the biggest winners, receiving additional picks in the third and fourth rounds.