March, 12, 2014
Mar 12
9:40
AM ET
1. Yes, I'm surprised the
Washington Redskins
did not land one of the top safeties available. I'm not sure, however, that I would have paid
Jairus Byrd
what New Orleans did (yes, I know his first-year cap hit is only $4 million, but Year 3 will be a whopper of a figure). I wasn't sold on
Malcolm Jenkins
as an option, either; certainly not at the price Philadelphia paid. That leaves
Mike Mitchell
, who signed with the Steelers. Nor would I have given
Aqib Talib
the deal he got from Denver ($26 million guaranteed). I like Talib; I also know he hasn't played more than 13 games in a season since 2009, and players don't become healthier as they age. It's a shame because he would have helped.
2. Byrd would have helped because of his deep middle skills. But the area that must be fixed is the pass rush. And people I trust who have played this game or coached in it all said the same: They would sign the expensive corner before the safety -- yes, even at a time where it seems the safety position has become a bigger deal. In other words, Talib over Byrd. But both received deals not recommended for a team that needs to fill so many holes.
[+] Enlarge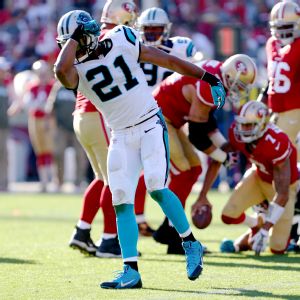 Kelley L Cox/USA TODAY SportsThe Redskins showed interest in Mike Mitchell, who landed with the Steelers.
3. Safeties often are a product of their front seven. Carolina had a terrific front. That's the thing with Mitchell: Was last year the start of something for his career? He's only 26 after all. Or was he the product of right place, right time? But his deal did not seem outlandish (five years, $25 million, but I have not yet seen the breakdown). This is the one that puzzles me a bit. No, I'm not sure what they will do here yet and, yes, they need to do something -- a few things. Still, the Redskins need to improve their pass rush; you can't rely on two outside linebackers anymore to generate all the heat, especially when they're good but not great 'backers.
4. The problem is, the Redskins didn't temper expectations at all. We heard they would be active. We knew they made their first call of the legal tampering period to Mitchell. They clearly liked him (while he had a good year, I did hear mixed opinions from a couple people outside the organization when asking about him. Nobody hated his game, but there were some doubts). They also clearly set a price. I'm all for that; not doing so in the past has led to many, many bad deals -- for which they're being knocked with the same intensity they are now. But they made it seem as if they would be in on these deals, setting up fans for disappointment. Heck, some of their own members of the organization, too.
5. By the way, it's not that I endorse what the Redskins are doing, it's that I refuse to get caught up in hysteria over the lack of certain moves. Have been around too long and seen too much to go that route. Have seen too many first-day splashy signings result in "Possible Super Bowl" talk only to lead to buyer's remorse.
6. History shows that the Redskins and overspending do not mix. Or most teams for that matter. Free agency is a way to complete a team, not build one. The problem is, that means you must draft and develop well, and the Redskins haven't done that either.
7. I seriously doubt there would be this much angst if this front office had a track record like, say, GM Ozzie Newsome and Baltimore. The Ravens could let players walk last year and even those who were baffled had to come back to this: "Well, Ozzie knows what he's doing." The Redskins haven't done anything to warrant that sentiment. Maybe they will in time; they haven't yet. With no trust built up, panic ensues when certain moves aren't made. I get that aspect big time.
8. Is this a new approach they're trying? Or did they fail to execute their plan? I've seen many plans over the past 15 years; all have pretty much failed. But there were some offseasons that stood out for their inactivity, like before Marty Schottenheimer's first season. They signed nobodies. It was a reversal from the 2000 Deion Sanders-led offseason when they signed big names. Both teams went 8-8. Good coaching did the trick under Schottenheimer, but he obviously was a proven winner. Jay Gruden is just starting out.
9. The real problem is the years of failure that went into trying to build a secondary. It left the Redskins in an absolute state of dire need this offseason. And when the top safeties were signed (aside from
Chris Clemons
, who remains available), it led to many being up in arms. They also lack depth at linebacker and need someone to help rush the passer from the front (
Antonio Smith
is visiting Wednesday). This defense was poorly built, for whatever reason, and the Redskins are now paying for it, and the patience that is required will be difficult for some. And if I'm Jim Haslett, I'm thinking, "I've seen this movie before." None of the first three signings went to defense (I'm considering
Adam Hayward
special teams help, which, as you might recall, is welcomed). Haslett can't be pleased. But the offseason just started.
10. We were told the Redskins had built depth along the offensive line. If that's the case, and you want to make a change at guard, then one of the three young guards you have should be ready. All have been around at least two years. Instead: They gave
Shawn Lauvao
a four-year deal worth $17 million. If you're doing things right, one of those young players is ready and you fill from within -- and then you use that money for more pressing areas. Instead, the Redskins invested two to three years on backup linemen -- and then signed a player who struggled with his previous team.
August, 3, 2011
8/03/11
8:00
AM ET
Back up and at 'em we are with the links. Always, with the links.
Dallas Cowboys
Rick Gosselin paints a grim picture
of a Cowboys organization that is hamstrung by salary-cap concerns and will be again next year. He thinks they're in the middle of a rebuild and they make their run in 2013. Rick's closer to the situation than I am, but you know from here I disagree. Dallas is still young and good enough at key positions that, if they get bounce-back years from some of the guys who underperformed on defense in 2010, I don't see why they can't contend in 2011.
Sean Lee will eventually replace Keith Brooking at inside linebacker for the Cowboys. How soon that will happen depends largely on whether Lee can stay healthy,
Charean Williams writes
.
New York Giants
Things are still murky on the Osi Umenyiora front, as a
Baltimore Sun report
late Tuesday said the Giants had dropped their trade demand from a No. 1 draft pick to a No. 2 but reports out of New York this morning cite
Umenyiora's agent saying that's not true
. The Sun report, though, raises a critical point when it discusses Ozzie Newsome's uncertainty over whether to pull the trigger if it is a No. 2. Sure, you'd give up a second-rounder for Umenyiora. But on top of that, you're going to need to give Umenyiora the big, new contract he wants, or he's just going to do the same thing to you he's doing to the Giants. And that's one of many reasons a Umenyiora deal remains unlikely.
Kenny Phillips was on the verge of becoming one of the breakout safeties in the NFL when he got injured early in the 2009 season. Ebenezer Samuel checks in with Phillips, who believes he should finally be able to
continue on that path in 2011
, now that his knee is fully recovered and there's no Deon Grant in the picture anymore. The Giants liked Grant fine, but the main reason they signed him last year was concern over Phillips' health. Now, the door is open for Phillips to become a star.
Philadelphia Eagles
Ryan Harris surely isn't the biggest headline-grabber among the Eagles' free-agent acquisitions so far. But Paul Domowitch thinks he's
a perfect fit
at right tackle -- a spot they needed to shore up.
Mark Kreidler warns the Eagles to
steer clear of comparisons to the Miami Hea
t. I agree, and would extend that warning to those watching and covering them. It's a facile comparison, first of all, since what the Eagles are doing is part of a strategic plan put in place by team management and not some scheme hatched by three buddies when they were playing on the Olympic team together. But that's where we are in sports these days, and Mark is right that it was one of those new Eagles, Jason Babin, who said it first.
Washington Redskins
Rich Campbell sizes up
the Redskins' quarterback situation
now that Rex Grossman is back to compete with John Beck for the starter's job. The sense around Redskins camp is that Grossman likely can run the offense as well as or maybe better than Donovan McNabb ran it last year, but that the coaching staff wants to see if Beck can be even better than that. If he can't, Grossman would seem to be in a strong position to step in and claim the job.
As for the running back competition, it got
a lot more interesting
with the addition of Tim Hightower, who said he has zone-blocking scheme experience from college and plans to compete for a starting role here. Add in his pass-catching and pass-protection abilities, and Hightower appears to have more to recommend him than do the other backs on the Redskins' roster, though they do have a deep, young stable with guys like Ryan Torain and Roy Helu.
Back over to Ashburn for a few hours and then back on the road. Will keep you posted the best I can. Enjoy your day.
February, 26, 2009
2/26/09
10:44
AM ET
By
Matt Mosley
| ESPN.com
Posted by ESPN.com's Matt Mosley
Baltimore Ravens general manager Ozzie Newsome indicated Wednesday that the club is making progress on a contract extension with linebacker Ray Lewis, but he didn't know whether anything would get done before the start of free agency Friday. Lewis, 33, has never been a free agent.
Newsome also pointed out that reaching a deal with free-agent linebacker Bart Scott wouldn't necessarily preclude the club from also signing Lewis. I think it will be difficult to satisfy both players, and I'm not sure the Ravens should try. They've always seemed to have a good sense of when to let players leave. Some of us questioned the wisdom of letting a phenomenal athlete like Adalius Thomas hit free agency a few years ago, but the guy hasn't exactly lit it up in New England.
Lewis is still a possibility in Dallas, but a Cowboys source told me Thursday morning that the club hasn't even spent much time discussing the veteran player. Jones has been burned before when it comes to paying age. Right now, he's focused on paying for outside linebacker DeMarcus Ware and a $1.3 billion stadium.
Honestly, you haven't lived until Jones has given you a lecture on "burn rates." I know the daily burn rate at the owner's new stadium if anyone's interested.
Continue to visit the NFC Beast Blog for the latest on free agency.