July, 3, 2013
7/03/13
6:25
PM ET
Jane McManus has a post
up on ESPNNewYork.com in which
New York Giants
offensive line coach Pat Flaherty offers his thoughts on the team's offensive line situation heading into training camp. Flaherty talks of course about first-round draft pick
Justin Pugh
, who can play anywhere on the line but is apparently working on competing with
David Diehl
and
James Brewer
for the starting right tackle spot. But he also discusses the rest of the line, where things aren't all lined up exactly right either:
The only member of the offensive line who is healthy and has his spot locked up right now is left tackle Will Beatty, who recently signed a five-year deal. To varying degrees, the other four starting spots are potentially in play. Jim Cordle backed up David Baas at center this spring and remains an option, and seventh-round pick Eric Herman could get a look at a few spots with two key players coming off injuries.

Chris Snee, who plays right guard, is rehabilitating a hip injury, and Baas is healing from offseason elbow surgery. Those two were at the voluntary OTAs and attended the mandatory minicamp, but did not participate.
Not mentioned is
Kevin Boothe
, who I'm pretty sure is slotted in at left guard. But you get the picture. Question marks. Something of an unsettled situation on the line. And I do get questions, you know, about the Giants, and they're usually about
Victor Cruz
and
Hakeem Nicks
at wide receiver or how the running back situation's going to play out with
David Wilson
and
Andre Brown
or what to expect from new tight end
Brandon Myers
... stuff like that. Lots of fun, exciting skill-position names on the Giants' offense, which of course is built around excellent, reliable, indestructible quarterback
Eli Manning
. Lots of reasons to think the Giants can score a lot of points in 2013.
But I hesitate, and the reason is the blocking. The offensive line health issues dealt with in Jane's post are not insignificant. Baas has had trouble staying healthy since he became a Giant. Snee has been severely banged up for the past two seasons -- understandably so, based on his position and his experience level, but still. Right tackle is obviously a major question mark if it's Pugh vs. Diehl. If the Giants have to mix and match on the line, that limits what the offense can do, both from a game-plan standpoint and an on-field execution standpoint.
Add into that the fact that they have this offseason let go one of the best blocking halfbacks in the league in
Ahmad Bradshaw
, one of the best blocking tight ends in the league in
Martellus Bennett
and could go into the season without fullback
Henry Hynoski
, who has a knee injury. Wilson and Myers and of course Nicks, Cruz and Manning are all high-level talents in terms of their ability to make big plays and score points. But my early-July feeling about this year's Giants is that their season will come down to the ability of those guys as well as the big meanies around them to get the dirty blocking jobs done. And from where we sit right now, I think there are major questions about whether they can. Long way to go, and the Giants always contend, but I think looking at the talent level at the skill spots can lead people to overlook some troubling underlying issues on this roster.
August, 16, 2011
8/16/11
5:04
PM ET
I love a contrarian point of view, and K.C. Joyner's got one here. While everybody is gushing over the
Philadelphia Eagles
as free-agent champs and NFC East favorites, K.C. has written
an Insider piece

listing eight reasons to think the
New York Giants
should be the favorites instead. Like I said, it's an Insider piece, so if you want to read it you can either buy the insider subscription or call my cell phone and I'll give you my password.
K.C.'s eight reasons are:
[+] Enlarge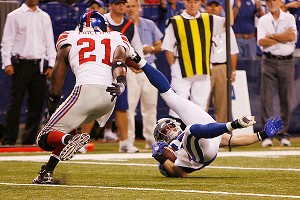 Brian Spurlock/US PresswireSafety Kenny Phillips, 21, now healthy, is among the reasons the Giants could win the NFC East.
1.
Michael Vick
was lucky last season, as a high percentage of his potential interceptions weren't actually intercepted.
2.
Eli Manning
was unlucky last season on the opposite end of the same scale.
3.
Hakeem Nicks
and
Mario Manningham
are better against good coverage than
DeSean Jackson
and
Jeremy Maclin
are.
4. Manning can overcome the loss of
Kevin Boss
and
Steve Smith
simply by throwing to Nicks and Manningham more.
5.
Jason Pierre-Paul
and
Marvin Austin
will improve the Giants' already strong pass rush.
6.
Steve Weatherford
is a better punter than
Matt Dodge
, who cost them games last season.
7. Offensive line coach Pat Flaherty is the best in the NFL, and that should help the transition to the reworked alignment there.
8.
Kenny Phillips
is fully healthy.
K.C. has numbers to back up many of these points, and many of them are points with which I agree. I think Phillips will be a huge help, agree completely on Weatherford and can easily believe both that Manning will throw fewer interceptions than he did last season and that Vick won't be quite as awesome as he was last season. On the comparison of the two teams' wideouts, I have no reason to doubt K.C.'s numbers.
I have specific issues with points 4, 5 and 7, as follows:
4. I don't think it's as simple as "throw it to Nicks and Manningham more." Nicks and Manningham surely benefited from defenses having to pay attention to Smith, who'd caught 107 balls the season before, when he was on the field. He's gone and has not been replaced.
5. I like Pierre-Paul and Austin fine, but they're not being added to the mix. They're replacing people who have departed.
Mathias Kiwanuka
moved back from the line to linebacker, and Pierre-Paul will take his spot.
Barry Cofield
signed with the Redskins, and Austin replaces him. It's a big leap to believe that those two young players will approximate the production and performance of those two veterans and a bigger one to believe they'll improve on it.
7. Flaherty could be a wizard, but if William Beatty isn't ready for the starting left tackle job in his third season in the league, the Giants' line will struggle. And as of right now, we still don't know if he is.
So what do I think of K.C.'s basic thesis? I think the Giants have a very good team as far as the front-line starters go, and I don't think it'd be some huge upset if they won the division. I have all kinds of respect for the work K.C. does and the numbers on which he is basing his conclusions. He makes a strong case and a case worth making amid all the Eagles hype.
But the way I see it, the Giants' problem the past couple of seasons hasn't been one of measurables.
The Giants' defense over the past two seasons has been inconsistent and hasn't always played up to the level of the talent on the roster. The same can be said, in places, for the running game and for Manning. The Giants were good enough to make the playoffs in 2009 and 2010 but didn't, and the reason they didn't was because the good players they have in key spots like that didn't always perform the way the numbers would expect them to perform. Supposedly reliable parts of the roster let them down when it mattered most.
Ahmad Bradshaw
fumbled. Manning threw interceptions.
Kareem McKenzie
had an inexplicably bad game against the Titans. Half of the defense quit on its coordinator in 2009.
That's the kind of stuff that doesn't show up in preseason projections, when we're imagining everyone playing as well as they can possibly play and predicting outcomes based on that. If the Giants stay healthy and play 16 games that reflect the talent on their roster, sure, they can be division champs. But that was true last season and the season before, too. And those teams, which looked a lot like this team except maybe deeper, didn't do it.
September, 26, 2010
9/26/10
8:45
PM ET
By
Matt Mosley
| ESPN.com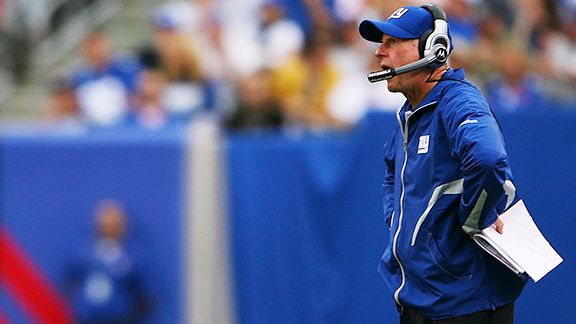 Andrew Burton/Getty ImagesTom Coughlin's New York Giants totaled six personal fouls in a sloppy loss to the Tennessee Titans.
EAST RUTHERFORD, N.J. -- Led by their head coach's postgame monologue, the
New York Giants
claimed to have been the best team on the field Sunday against the
Tennessee Titans
. But they were also the dumbest team, which undermined any positives in a
29-10 loss
to the Titans that puts them in a 1-2 hole.
We've told ourselves since the 2007 Super Bowl season that Tom Coughlin's teams don't beat themselves, but that's exactly what happened Sunday. The Giants appear to be one of the most undisciplined teams in the league, although it's progress that no helmets made their way into the stands. Of course, that didn't keep the Giants from losing their heads.
Quarterback
Eli Manning
set the tone early with what may have been the most clueless decision of his career. A brilliant throw down the seam to tight end
Kevin Boss
for 54 yards gave the Giants a first-and-goal on the Titans' 9-yard line midway through the first quarter. On third down from the 2-yard line, Manning tried to escape pressure before inexplicably lobbing the ball into the end zone with his left hand. Titans linebacker
Will Witherspoon
tipped the weakly thrown pass and cornerback
Jason McCourty
made a diving interception.
The Giants' benevolence in the red zone would continue, but it was the utter lack of composure that brought back Terrible Tom's sideline act. Through the magic of film, players and coaches had noticed how the Titans liked to play through the whistle. They shouldn't have been surprised that cornerback
Cortland Finnegan
, one of the most underrated players in the league, likes to add an extra shove or a few choice words following plays. Yet the Giants retaliated time after time, leading to six personal fouls, two of which were called on veteran right tackle
Kareem McKenzie
.
When McKenzie was flagged for his second unnecessary roughness penalty in the fourth quarter, Coughlin stormed down the sideline and told offensive line coach Pat Flaherty to find an immediate replacement. Former Eagles Pro Bowler
Shawn Andrews
came jogging onto the field and played the rest of the way. On the Titans' ensuing possession, Coughlin yanked safety
Antrel Rolle
from the field for drawing another 15-yard penalty for taking a swipe at tight end
Craig Stevens
after the whistle. Rolle complained last week that Coughlin pulled players off at a road game too early. Rolle said he wasn't provided with an explanation for his early departure, but I'm sure the coaches will accommodate him soon.
"I got struck twice, and I struck back," said Rolle. "There was no explanation about it. I'm a ballplayer, and that means I'm fiery. He struck me twice, and I definitely struck him back. I wasn't ejected, but the coaches pulled me out probably to calm me down. I understand that. It's a game of emotions. That guy took two strikes at me, and I made sure I struck him back."
[+] Enlarge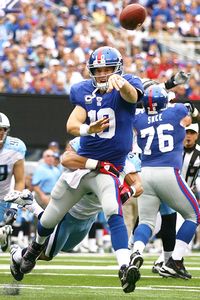 Andrew Burton/Getty ImagesEli Manning threw two picks against the Titans, including this drive-ending interecption at the goal line.
Rolle admitted that he made a mistake, but he seemed to stand by his retribution. I wouldn't blame Coughlin if he benched both Rolle and McKenzie next week. During a postgame news conference that was held in clear sight of some boisterous Giants fans, Coughlin took full responsibility for the red zone turnovers and personal fouls.
"The way in which we play in between the lines is my responsibility and I'm taking full responsibility for that," said Coughlin. "This is a game that we should have won, we didn't win."
Told that Coughlin had taken the blame for the all the personal fouls, defensive end
Justin Tuck
told a small group of reporters, "That's horse [expletive]! That's an individual penalty, not a coach's penalty."
Even with all the mistakes, the Giants had an opportunity to get back in the game late in the third quarter.
Ahmad Bradshaw
had gashed the Titans for runs of 22 and 20 yards on a drive to set up a first-and-goal from the 6-yard line. On the next play, Titans safety
Michael Griffin
poked the ball out of Bradshaw's arms and the Titans recovered to maintain a 19-10 lead.
The two red zone turnovers and six personal fouls undermined a strong performance by the defense against Titans All-Pro running back
Chris Johnson
, who tacked on a 42-yard gain after the game had been decided. The Giants outgained the Titans by a staggering 200 yards but it didn't matter because of 11 penalties and three turnovers.
It was a completely different feeling from the whipping they took from the Colts last week, but the result was the same. Even in the watered-down NFC East, the Giants are already in trouble. They have the same 1-2 record as the
Dallas Cowboys
, but those teams had much different experiences Sunday. The Cowboys' win over the Texans could serve as a springboard for a quick turnaround, while the Giants will host a Bears team next Sunday night that could potentially be 3-0.
This season is already on the brink, and you could say the same thing about Coughlin's future as head coach. He talks about always putting the team first, but several individuals made a joke of that concept in Sunday's loss. The fact that most of those players are veterans has to be the most galling part for Coughlin.
"I'm disappointed that it comes at all, that it comes from our team because, as I said, it'll be very, very difficult to win football games under those circumstances," said Coughlin.