February, 11, 2014
Feb 11
11:40
AM ET
PHILADELPHIA -- Well, that was quick.
Tuesday's events in Cleveland stunned observers around the NFL, but nowhere more than in Philadelphia. The Browns' recent history has been strangely tied up with that of the Eagles, a phenomenon that continued with the announcement that
Ray Farmer
would
be the Browns' new general manager
.
Farmer was the Eagles' fourth-round pick out of Duke in 1996. He played linebacker and special teams for three years. Farmer's last season in the NFL was in 1998.
In 1998, Joe Banner was the Eagles' executive vice president and Michael Lombardi was their director of pro personnel.
Small league, huh?
Farmer's promotion was not the big shock Tuesday, of course. He has been on the cusp of a general manager's job for several years after working his way through the scouting and personnel ranks. Farmer interviewed for the
Miami Dolphins
GM job last month.
The stunning news was the ouster of Banner, who spent 18 years as the Eagles' top executive, and Lombardi. Their bizarrely brief tenure was also entwined with goings-on in Philadelphia.
Banner left the Eagles in June 2012 and was named CEO of the Browns as they were being purchased by Jimmy Haslam. The head coach he inherited was Pat Shurmur, a longtime Eagles assistant under Andy Reid. Banner hired Lombardi as his GM and the two fired Shurmur at the end of the 2012 season.
Shurmur is now the Eagles' offensive coordinator.
Banner and Lombardi interviewed a number of head coaching candidates, foremost among them Oregon head coach Chip Kelly. We know how that turned out. Kelly came to Philadelphia and the Browns hired Rob Chudzinski.
Kelly won the NFC East in his first season. Chudzinski won four games.
Still, it was puzzling, from this perspective, when the Browns fired Chudzinski after just one season. In 18 years with the Eagles, Banner worked with three head coaches -- Rich Kotite, Ray Rhodes and Reid. Mike Pettine, hired late last month, became his third head coach in less than two years in Cleveland.
And now Banner and Lombardi are out, Farmer is in and Pettine (a native of Bucks County in suburban Philadelphia) is working for a guy who didn't hire him.
The Philadelphia connection to Cleveland remains strong, although Eagles fans probably wouldn't trade places with their Browns counterparts right about now.
January, 6, 2014
Jan 6
10:55
AM ET
The
Cincinnati Bengals
' misfortune could turn out to be the
Washington Redskins
' gain. The Redskins have requested permission to interview two Bengals' assistant coaches, now that their season is over.

The Redskins, along with three other teams, have requested permission to speak with Bengals offensive coordinator Jay Gruden. Minnesota, Tennessee and Detroit also requested permission, according to a league source. The Redskins do not yet have an interview scheduled with Gruden. They've also requested permission to speak with Bengals defensive coordinator Mike Zimmer, a league source told ESPN.
A league source said the Redskins might have interest in former
Cleveland Browns
head coach Pat Shurmur, currently the
Philadelphia Eagles
offensive coordinator. He, too, is available to be interviewed. The Redskins can interview coaches of teams still alive in the playoffs, but they can't hire them until their seasons are over.
The Redskins are interviewing
New York Giants
defensive coordinator Perry Fewell Monday. They've already spoken to Carolina defensive coordinator
Sean McDermott
,
Baltimore Ravens
offensive coordinator Jim Caldwell, Seattle offensive coordinator Darrell Bevell and Dallas special teams coach Rich Bisaccia.
The Redskins also have interest in Vanderbilt coach James Franklin, but no interview had yet been scheduled in part because he was going to be at the National Championship game Monday night.
August, 19, 2013
8/19/13
10:28
AM ET
PHILADELPHIA -- It usually isn't a good thing when a new coaching staff comes to a player and asks him to switch positions. That has happened to
Clay Harbor
twice since Chip Kelly became head coach of the Eagles.
"I don't look at it as, I'm not going to be able to play my position," said Harbor, who was drafted in the fourth round of the 2010 draft as a tight end. "I look at it as an opportunity to help the team. You could see it either way. I looked at it as an opportunity."
He is making the most of it. With too many tight ends after adding
James Casey
and
Zach Ertz
, Kelly moved the 6-foot-3, 255-pound Harbor to wide receiver. There is a need there because of injuries to
Jeremy Maclin
and
Arrelious Benn
.
[+] Enlarge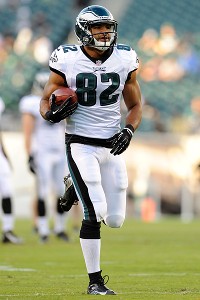 AP Photo/Michael PerezClay Harbor is trying to take advantage of his latest position switch.
"I think Clay has done a great job," offensive coordinator Pat Shurmur said. "He's done everything we've asked. I think the way we structure our passing game, you know, you learn the concept based on being in the first, second or third spot, and so instead of being in the second or third spot, we are just putting him out at one. And I've seen him improve in every session since we put him there."
There is a lesson here, not just about adapting to what your new boss wants, but about how Kelly operates. He has famously said that "Big people beat up little people," but he might as well add that smart people out-think less-smart people.
"In any offense, you need to be smart," Harbor said. "But in this offense, especially, with how you have to know every concept with every play, and everybody should know every position. Smart players definitely have a leg up."
Harbor's mastery of Kelly's offense could just earn him a roster spot.
"If you learn all the concepts in the offense," Harbor said, "you ought to be able to play any position. That's what it comes down to. It's a different kind of offense. It's an offense where everybody should learn all the concepts."
For perspective's sake, remember the little dust-up between Kelly and
DeSean Jackson
. The speedy wideout sought an audience with his head coach to find out why he was running with the second team at times. The answer was that Jackson needed to study until he knew every route for every position on every play.
"You have to learn how to run the route," Harbor said. "You know what the route looks like, you've got to learn the details of it, what to make it look like to the defensive back, timing things. You know, it took a couple of days, but it's coming along."
The first time Kelly asked Harbor to move, it was a bigger change: to linebacker.
"That was just a couple days in OTAs," Harbor said.
But even then, it was an opportunity to improve as an offensive player. If there is a chess match between receivers and defensive players, Harbor got a peek at the board from the other side. If you know what a linebacker is thinking as he drops into zone coverage, you can exploit that to find an open spot.
"That was very helpful, the few things I learned there," Harbor said. "I learned different stances when they're going inside or going outside, what the responsibilities are. They don't want anybody outside of them in certain situations, so we can take exaggerated drops to block them."
Harbor looked very sharp playing on the outside in Saturday's last open practice of the summer. His size and experience as a blocker can be assets in Kelly's running game. And Harbor was one of the four tight ends Kelly deployed a couple of times against Carolina last week.
After the additions of Casey and Ertz made him look expendable, Harbor has used his smarts to improve his chances to make the team. And who knows? If the Eagles decide to deal a tight end to a team desperate for one --
Miami Dolphins
on Line 1 -- Harbor's development could allow them to move
Brent Celek
or Harbor himself.
Camp milestone
: The kindest, gentlest training camp in Eagles history hit a milestone over the weekend. After two preseason games, the team used to move operations from Lehigh University to its regular-season facility. Since the entire camp was held at the NovaCare Complex, the shift was marked by closing practice to the media.
Kelly gave the players another off day Monday, two days after their last off day. Somewhere Vince Lombardi is scratching his head.
The coaching staff was set to meet Monday and implement a game plan (of sorts) for Saturday's preseason game in Jacksonville. The idea is to replicate a typical regular-season week.
"I think we are so far away from the game right now," Shurmur said. "We like to get in a mode where we prepare like a [regular] week, but we are also still in training camp where we are trying to get better, going Eagles against Eagles."
QB race
: Rookie
Matt Barkley
was asked how the quarterback competition between
Michael Vick
and
Nick Foles
looked from his vantage point.
Oops.
"I don't feel like I'm watching it," Barkley said. "I still feel like I'm playing in it."
There's no harm in that, although it seems clear that either Vick or Foles will start Week 1 at Washington. Barkley's timetable is set for later in the season, if necessary.
Shurmur has helped rookies like
Sam Bradford
and
Brandon Weeden
prepare over the past few years. So he has a unique perspective on Barkley, the fourth-round pick from USC.
"He's made great strides," Shurmur said. "I think when you notice Matt, I think the truth can be said about his work in the games. As he settled down, he played better, so I think it's just a matter of him playing more and more and more."
June, 21, 2013
6/21/13
9:45
AM ET
By
ESPN.com staff
| ESPN.com
Dallas Cowboys
The
Cowboys have cut ties
with defensive lineman Anthony Hargrove.
DeMarcus Ware came in at No. 12
on NFL Network's list of the top 100 players.
New York Giants
Ralph Vacchiano of the New York Daily News
: "Victor Cruz spent his offseason sitting for photo shoots, walking on red carpets, and even posing with a giant donut for National Donut Day. While his teammates were working hard at the Meadowlands, he was a fixture on the celebrity scene. That's what the public saw during Cruz's long contract stand-off with the Giants over the last four months. Sean Donellan saw something different. He saw Cruz sweat."
Free-agent linebacker Desmond Bishop said Thursday the
Giants have expressed interest
.
Philadelphia Eagles
Offensive coordinator Pat Shurmur addresses
quarterback Matt Barkley's progress
this offseason.
Geoff Mosher of Sporting News
: "[Chip] Kelly could be the next Bill Walsh -- or the next Steve Spurrier. The Eagles, who have never won a Super Bowl, are willing to take that risk to find out."
Washington Redskins
In case Robert Griffin III isn't ready to go,
Kirk Cousins is preparing
as if he'll be the starter at quarterback in Week 1. Cousins: "Robert's looking awfully good for only being whatever it is, six months into the injury. He's moving around really well, and I have high expectations for him. I know he has even higher expectations for himself, and we'll just play it as it goes. But my mindset has to be that I need to approach it like I'm gonna start Week 1."
Speaking of Griffin, the
quarterback is No. 15
on NFL Network's top 100 list.
February, 18, 2013
2/18/13
2:47
PM ET
Some New York Giants fans have been asking, since before the end of the season, whether defensive coordinator Perry Fewell was in danger of being fired. He is not. He's signed through 2013, and near as I can tell his firing was never a consideration for Tom Coughlin and the Giants, who like him very much.

A lot of people like Fewell, in fact. And while Giants fans may be thinking he should be fired, there are people out there who wonder why he can't get himself in position to be hired -- as a head coach.
This in the Charlotte Observer
, from Panthers coach Ron Rivera, on the trouble with minority coach hiring in the NFL today:
"But it is kind of disheartening because, and I'll give you a name, (Giants defensive coordinator) Perry Fewell. He's a great coach and I really think he should have been in the cycle.

"This guy went to the Super Bowl last year and helped design a (heck of a) defense. Sometimes you do sit there and go, 'Wow, some guys do get overlooked,' and it's happened to me, too. Hopefully Perry will have a great opportunity next year."
This is interesting, to be sure, in light of the Rooney Rule's failure to produce a single minority hiring for any of the eight head coaching vacancies this offseason. Two offseasons ago, Fewell got four head coaching interviews. He lost out to Pat Shurmur in Cleveland, John Fox in Denver, Mike Munchak in Tennessee and Rivera himself in Carolina. Last year, when there were seven head coach openings, Fewell got zero interviews. (He was busy coaching the Giants' defense to a Super Bowl title, but still.) This year, also no interviews.
So what happened to Fewell as a head coaching candidate? Why was he a hot name two years ago and not since? He's a 50-year-old coordinator in a high-profile market with a Super Bowl ring and a half-season's worth of head coaching experience picked up in 2009 when he finished out the season as interim head coach following the firing of Dick Jauron. In a league that mandates the interview of at least one minority candidate for every available job, I have to agree with Rivera that it's bizarre that Fewell is 0-for-15 the past two years in even getting called in.
Now, you may sit there and say it's performance-based, this dropoff in Fewell's desirability, and you may be right. As brilliant as the Giants' defense was in last year's playoff and Super Bowl run, it finished 27th in the league in the 2011 regular season in total defense. This year, the Giants dropped to 31st in total defense, allowing more yards in the 2012 regular season than any team but the Saints. It does start to feel silly to sit here and argue that the coordinator for the second-worst defense in the league ought to have been getting head coach interviews.
So that could be it, but the drop from Fewell's January 2011 status as hot candidate to his 2013 status as non-candidate does seem a bit precipitous. Ironically, the Saints' defense this year was coached by Steve Spagnuolo, the last Giants defensive coordinator to win a Super Bowl, who parlayed that success into a job as head coach of the Rams two years later. He was able to strike while the iron was hot. Fewell has not had that chance. And depending on the way the Giants defense performs in 2013, it's possible he might not get it.
February, 15, 2013
2/15/13
3:04
PM ET
We touched on this briefly Thursday in a post on the
Dennis Dixon
signing, but
Reuben Frank has a piece
up on CSNPhilly.com about significance of the five assistant coaches Chip Kelly brought with him from Oregon to the
Philadelphia Eagles
:
"I knew I was going to hire coordinators that were NFL guys that haven't had the opportunity to work with me before. I have a tendency to talk really fast and I want things to be efficient. But I also know that I may forget to say something, and Pat Shurmur can go to Greg Austin and say, 'What did he mean by that?' Or the same thing with Dave Fipp and Matt Harper for those young guys.

"Now I can put together guys with NFL experience coming here, and those guys can say, 'This is what coach means, this is how we operate.'"
This is an important aspect of a new coach who comes to the NFL from college. As we have discussed many times, I don't think it's fair or reasonable to expect that Kelly will simply run his Oregon offense in Philadelphia. But whatever form his schemes take, he has his own terminology and underlying concepts that he'll naturally bring with him. And bringing along some of the guys who are used to listening to him talk is a wise move that can only help those around him who are not. This is part of the reason Dixon, who spent a year with Kelly at Oregon, makes sense as a backup quarterback, and it's the main reason all of these five assistant coaches make sense as NFL assistants under Kelly.
January, 21, 2013
1/21/13
9:37
AM ET
By
ESPN.com staff
| ESPN.com
Dallas Cowboys
Jean-Jacques Taylor of ESPNDallas.com
weighs in on the process that has made Jim Harbaugh a success with the San Francisco 49ers and the dysfunction that has been the Cowboys of late. Taylor: "In two seasons, [Harbaugh] has made two appearances in the NFC title game. Now, he's headed to the Super Bowl, while Dallas Cowboys coach Jason Garrett is traveling to the Senior Bowl looking for prospects. Sad, ain't it? San Francisco is 24-7-1 with a pair of NFC West titles, while Dallas is 16-16 without a playoff appearance the past two seasons. Jerry Jones must look at San Francisco's success under Harbaugh and shake his head."
New York Giants
Big Blue View continues its position-by-position analysis with a
look at the cornerbacks
-- an area that definitely needs improvement heading into the 2013 season. Writes Ed Valentine: "The New York Giants simply did not defend the pass well in 2012, a bad thing in a pass-oriented league. The Giants gave up 60 plays of 20 yards or more, and only three teams surrendered more."
Philadelphia Eagles
As new coach Chip Kelly continues to settle in, he has tabbed former Cleveland Browns coach
Pat Shurmur to join his staff
. Shurmur will likely be Kelly's offensive coordinator.
Marcus Hayes of the Philadelphia Daily News says the hiring of Kelly is
reason for Eagles fans to be hopeful
.
Washington Redskins
Thanks to the 49ers landing a spot in the Super Bowl, Redskins linebackers London Fletcher and Ryan Kerrigan will be
going to the Pro Bowl
.
January, 20, 2013
1/20/13
1:20
PM ET
Adam Schefter reports that former Browns head coach and former
Philadelphia Eagles
assistant Pat Shurmur is expected to join new Eagles head coach Chip Kelly's staff, likely as Kelly's offensive coordinator. On the surface, it appears a curious fit, since Shurmur is known for coaching in a West Coast offense while Kelly ran more of a spread-style attack at Oregon.
But I don't think it should be viewed as a sign that Kelly is planning to abandon those spread principles. I think everybody has been assuming that Kelly would call the offensive plays for the Eagles no matter who was brought in as offensive coordinator. My guess (and that's all I can do right now is guess) is that Kelly sees in Shurmur a coach with a good track record for getting the most out of quarterbacks. Shurmur worked with
Donovan McNabb
in Philadelphia and with
Sam Bradford
during Bradford's successful rookie season in St. Louis.
Kelly doesn't know yet who his quarterback is going to be for the 2013 season, but whether it's
Nick Foles
,
Michael Vick
or someone not currently on the roster, he does know it's going to be someone who comes with question marks. And if you're not looking for an offensive coordinator who calls plays, you still need to give him something important to do. If Shurmur's job is going to be taking the Eagles' 2013 quarterback -- whoever that may be -- and developing him as quickly and effectively as possible in whatever offense Kelly plans to run, that's a pretty important job. And other than his time as head coach in Cleveland, Shurmur has the background as an assistant coach to indicate he can handle it.
March, 28, 2012
3/28/12
8:00
AM ET
PALM BEACH, Fla. -- One more day here by the beach. As you read this, I am at the NFC coaches' breakfast listening to what Andy Reid, Jason Garrett, Tom Coughlin and Mike Shanahan have to say. I shall spend the remainder of the morning and the afternoon working feverishly to communicate back to you the items of NFC East interest from this session before my flight leaves for home this evening. They had links at the AFC coaches' breakfast Tuesday, along with bacon and some kind of cool steak eggs benedict deal. Not sure if today's spread will be the same, but you know you can always count on having links right here, every morning at 8 a.m.

Dallas Cowboys
The only thing you know for sure about the draft this time of year is that everybody's lying. Everything's a smokescreen and no one's telling you what they really think or plan. So
take this with a grain of salt
, even though I agree with Jerry Jones that it wouldn't be a great idea for him to take an offensive lineman in the first round after drafting three of them last year and signing two more earlier this month.
Yeah, I wish Jones would tell us what he really feels about the salary-cap penalties, too, but he's smart to keep his mouth shut until the arbitrator rules on it, and so
this little crack
about wanting to settle his dispute with John Mara on the field will have to do for now.

New York Giants
Coughlin's getting a contract extension, obviously. Mara
told the New York Post
that he expects the deal to be done within four to six weeks, and there's every reason to think the Giants coach, who's won two Super Bowl titles in the past five years, will get paid a salary similar to those of the best coaches in the league -- upward of $7 million per year. I'm thinking it ends up being a three-year deal.
Defensive end
Dave Tollefson
continues to draw interest on the free-agent market,
now scheduled to visit
the suddenly free-agent-happy
Green Bay Packers
. As they are with
Jonathan Goff
and, to some extent,
Brandon Jacobs
, the Giants are letting Tollefson test the market while also letting him know they'd like to have him back. If he can't find a better offer than what the Giants are willing to give him, he comes back. If not, they move on and find a replacement. It's how they roll.

Philadelphia Eagles
Eagles general manager Howie Roseman sure made it sound as though the team believes it
can find a trade market
for cornerback
Asante Samuel
between now and the draft. Roseman discussed that issue and several others Tuesday with Jeff McLane. One point further down in the notes: Roseman declined to say where he expected
Jamar Chaney
to play because the Eagles are "still in the talent acquisition phase" of the offseason. Says to me they're still looking for linebackers, even with
DeMeco Ryans
in the fold.
Former Andy Reid assistants Pat Shurmur and John Harbaugh, now the head coaches of the Browns and Ravens, respectively, came to the defense of their former boss -- and of defensive coordinator Juan Castillo --
in conversations with Paul Domowitch
at the aforementioned AFC coaches' breakfast.

Washington Redskins
Yes, the Redskins were
seriously interested
in
Peyton Manning
when he was on the market. No, it's not clear how good their chances were of getting him. But Mike Shanahan and Kyle Shanahan met with Manning even after trading for the No. 2 pick in the draft, and it's clear that he was a serious option in their minds if they hadn't been able to move up to the spot from which they now plan to draft their next franchise quarterback.
Former Redskins quarterback
Mark Rypien
is at the front of
the latest lawsuit
by former players against the league over head injuries. These suits continue to be filed, and will continue to be filed, and if you don't think they worry the league, then think again about why the punishments against the Saints for the bounty stuff was so severe.
November, 24, 2008
11/24/08
1:02
PM ET
By
Matt Mosley
| ESPN.com
Posted by ESPN.com's Matt Mosley
On the day after he shockingly gave Eagles quarterback Donovan McNabb the hook after a dreadful first half in Baltimore, coach Andy Reid said McNabb would be the starter against the Cardinals on Thursday night.
Sitting in front of an Eagles press corps ready to pounce, Reid nervously looked down at some prepared notes. Reporters wanted to know why he'd ordered quarterbacks coach Pat Shurmur to bench McNabb instead of doing it himself. Reid hid behind protocol, but nothing was normal about his decision Sunday.
Donovan McNabb vs. Kevin Kolb, Nov. 23

McNabb

Kolb
1st
Half played
2nd
8
Completions
10
18
Attempts
23
59
Yards
73
3.3
Average
3.2
0
TDs
0
2
INTs
2
13.2
Rating
15.3
"It was the right thing to do," said Reid of McNabb's benching. "I wouldn't change my decision."
He once again rolled out his phrase about needing to "step back an inch" in order to move forward. But at 5-5-1, it seems like the Eagles' retreat should probably be measured in miles.
"Sometimes it's good to step back and look at things from a different angle," Reid said. "I expect [McNabb] to go out and play his heart out."
But how tough is it to play your heart out when you're constantly looking over your shoulder? Whether or not you support McNabb, it's pretty obvious that Reid undermined him Sunday. Yes, he was in the middle of an awful funk, but it's not like the Eagles were out of the game.
The move obviously backfired on Reid, in part, because Kevin Kolb played as poorly if not worse than McNabb. But it's about more than Sunday's final outcome. Reid, who will forever be linked to McNabb because they arrived in Philly at the same time, left his quarterback out to dry.
In another time, maybe Reid's move would be viewed as gutsy. But on Sunday afternoon, it simply came across as desperate. On Monday, Reid sounded defiant when he told reporters that he knew McNabb "better than anyone in this room."
But has McNabb ever struck you as the type of personality who might benefit from a good benching? He's a proud player who has enormous influence in the locker room. On Sunday, Reid basically threw McNabb overboard.
Unfortunately, it's part of this league's ruthless nature. A coach will do anything to save his job. And at halftime Sunday, Reid decided he couldn't stand to watch McNabb turn the ball over anymore.
"I know six turnovers isn't Donovan McNabb," said Reid. "I trust that he'll get his part right and the guys around him will."
If the Eagles lose Thursday, there's no reason in the world why McNabb should remain the starter. The Eagles would be virtually out of the playoff picture, and the final four games would give Reid a chance to see more of Kolb.
After he'd been on the stand for close to 10 minutes Monday, Reid reminded reporters that he wasn't a defense lawyer. Really?
"Donovan's the quarterback for this football team," he said, before abruptly ending the news conference.
NFC EAST SCOREBOARD
Saturday, 12/20
Sunday, 12/21