NFC East:

Patrick Peterson
November, 4, 2014
11/04/14
2:00
PM ET
So
Dez Bryant
has settled on an agent, leaving Eugene Parker and hiring Roc Nation. The
Dallas Cowboys
' wide receiver who suspended contract talks with the team before the season started, now wants them to resume again with his new agent.
While Bryant has finalized his business off the field, his on-the-field actions need some work.
[+] Enlarge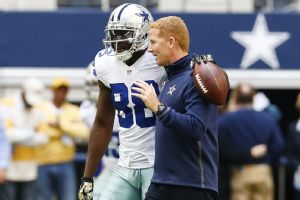 Matthew Emmons/USA TODAY SportsCowboys receiver Dez Bryant encounters opponents' best cornerbacks each week, but he still has to find a way to get open and bring down catches.
Against Arizona he finished with just two catches for 15 yards and one touchdown. Both catches came in the fourth quarter and out of his 55 offensive snaps, a majority of the time he was covered by cornerback
Patrick Peterson
one-on-one.
"Played great," Bryant said of Peterson. "I'm a physical guy and they came out and did an outstanding job. We were a little bit powerless."
Arizona played single-high coverage, designed to stop the run which meant Bryant had his chances to make plays one-on-one. He was targeted 10 times, the fifth time this season he was thrown to in double-digits, but he produced just two catches. He also had two plays where he could have made catches but could have been considered drops.
It was Bryant's fewest catches when targeted more than 10 times in his career.
Bryant is an excellent receiver but he might have been impacted by backup quarterback
Brandon Weeden
and Peterson's efforts.
"Without question I missed him (quarterback
Tony Romo
), but I believe in Weeden, too," Bryant said. "But things didn't go our way. We've got to go back to the drawing board and try to fix what we need to fix."
There was frustration in Bryant on Sunday, which is understandable given the amount of pressure on him to produce in the Cowboys' passing attack. Bryant does need to win his one-on-one battles more and that means being more physical when defenders jam him at the line of scrimmage and run precise routes to become a better target.
Bryant has improved as a route runner during his career and his command of the offense isn't an issue like it was his rookie season. Getting him on the move, in the slot running slants or the back shoulder fade routes are positive plays for Bryant. Arizona didn't pressure Weeden like they did
Nick Foles
and the
Philadelphia Eagles
last week.
Yet, Weeden looked out of sorts when throwing to Bryant.
Maybe it was a chemistry deal, but Weeden is able to work with the first team in practice once a week as Romo rests his back. Romo could return for the Jacksonville game on Sunday in London. Romo playfully threw some passes to school-aged kids on Tuesday in London as part of a NFL Play 60 event. So maybe, Bryant gets his quarterback back.
"Across the board we're going to get it right," Bryant said. "I know we are."
April, 1, 2014
4/01/14
12:15
PM ET
IRVING, Texas -- The
DeSean Jackson
trade talks that never went anywhere got ESPN Insider Field Yates to think about
some trades that should happen.

Claiborne
Yates has one for the
Dallas Cowboys
, sending cornerback
Morris Claiborne
to the
Arizona Cardinals
for defensive tackle
Dan Williams
.
He writes:
Dallas Cowboys trade cornerback Morris Claiborne to the Arizona Cardinals for defensive tackle Dan Williams

Why it works for Arizona: Claiborne's NFL struggles are hard to figure after he starred at LSU, but his natural abilities are still enticing. The team added depth in the secondary with Antonio Cromartie this offseason, but Claiborne would bring higher upside playing alongside former LSU teammates Patrick Peterson and Tyrann Mathieu. Peterson also happens to be a free agent next offseason, and while the Cardinals are angling to keep him around long term, a rejuvenated Claiborne would give them insurance in case Peterson ends up elsewhere.

Why it works for Dallas: Claiborne is the Cowboys' third cornerback right now and has disappointed. The team has had better luck adding cornerbacks in free agency than through the draft and is desperate for big bodies along the defensive line. Williams has just one year left on his deal, but he presents an intriguing size and strength combination next to Henry Melton, a penetrating interior force. It may not be the most natural fit in what Dallas does defensively due to Williams' lack of quickness, but his ability to clog space would provide an upgrade against the run.
Maybe this
could
happen but it definitely
won't
happen, and we're not talking about any salary-cap issues that could hinder a deal. The Cowboys are not about to give up on Claiborne, whom they moved up to the sixth pick in the 2012 draft to select. And Williams does not bring enough value in return. He's in the last year of his contract. The Cowboys control Claiborne's rights for another two years.
This is a huge year for Claiborne, who has yet to flash the potential most people thought he had coming into the draft. Maybe it has been health. Maybe it has been scheme. Maybe it has been a lack of confidence. Maybe it's all of the above.
But for the Cowboys to get the benefit of the trade up to get him, Claiborne has to come through in a big way in 2014. For them, not for the Cardinals -- or anybody else.
December, 4, 2013
12/04/13
11:00
AM ET
PHILADELPHIA -- Sooner or later, it's going to happen. It's inevitable. Eagles quarterback
Nick Foles
is going to throw a pass and a player in a different uniform is going to catch it.
"I don't go into a game thinking about throwing a pick," Foles said, "but if it does happen, it's not going to be the end of the world. We're going to keep moving on. If it does happen, we're going to bounce back from it."
Even the greatest quarterbacks throw interceptions. Foles threw two interception-worthy passes in Sunday's 24-21 victory over Arizona. One, on a deep pass, was batted away from cornerback
Patrick Peterson
by Eagles wide receiver
DeSean Jackson
. The other was actually caught by Peterson but negated by a penalty.
Foles
When the time comes, Foles will be much better off if that inevitable interception comes on the first sort of play and not the second.
"I just play," Foles said. "I'm out there, I'm not thinking about the [interception to touchdown] ratio. I'm thinking about giving my receivers the best opportunity to catch the ball and being smart with the ball. You're going to have to take chances, you're going to have to take risks. That's how you win games. You've got to choose your risks wisely. I have a lot of confidence in my receivers and my line and my whole team."
That first near-interception was consistent with Foles' philosophy. He has been throwing the ball and trusting his receivers to get it throughout his hot streak. Jackson couldn't make the catch, but he took care of his quarterback by preventing the turnover.
Peterson's second chance was different. It came when Foles was under pressure during the fourth quarter. He threw off his back foot and could have given the Cardinals possession in Eagles territory with a chance to tie or take the lead.
"It's just being more crisp," Foles said. "Just being smart with the football. I put the ball in harm's way at the end. There was a holding penalty that canceled the play out."
An interception that results from a sound risk/reward decision is not nearly as hard to rebound from as one that results from a bad decision or from losing focus under pressure. Eagles coach Chip Kelly alluded to that the other day.
"He doesn't really put the ball in harm's way," Kelly said. "Very rarely do you look at it and go, 'I don't know about that one.' Sometimes we've been in games -- we played in the Green Bay game and had two balls hit us directly in the hands and we dropped them. But that's not a good decision by the quarterback on the other side. Nick very rarely does that."
Foles has thrown 19 touchdown passes this year without an interception. He is one away from tying Peyton Manning's NFL record. He said the record is "not important at all. The most important thing is our team continuing to excel. I don't think about the records. Records are always team records."
December, 2, 2013
12/02/13
8:00
AM ET
PHILADELPHIA -- A look at four issues from the
Philadelphia Eagles
'
24-21 win
against the
Arizona Cardinals
Sunday.
[+] Enlarge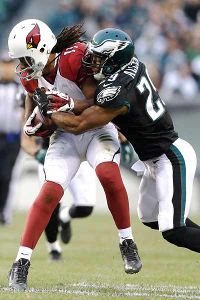 Matt Rourke/AP PhotoEagles safety Nate Allen did his best to keep Cardinals receiver Larry Fitzgerald in check during their Week 13 game Sunday.
Foles is lucky as well as good.
Nick Foles
needs to throw just two more touchdown passes to break
Peyton Manning
's NFL record of 20 touchdown passes without an interception. Foles also broke teammate
Michael Vick
's team record of 224 consecutive pass attempts without an interception. Going back to late last year, Foles has thrown 233 pick-free passes.
That's all good. But luck came in when he threw an ill-advised pass as he was being hit in the fourth quarter. The ball landed in the hands of Arizona cornerback
Patrick Peterson
, but the interception was negated by a holding penalty on safety
Tyrann Mathieu
.
"It definitely was a mistake by me," Foles said. "I was happy there was a penalty that kept our drive going. It wasn't a smart decision." It was the kind of decision that can turn a game around. Luck kept that from happening.
"That's just the game of football," Foles said. "It's a crazy game, and things happen."
Nate Allen isn't Brian Dawkins, but that's OK.
Allen, the fourth-year safety from South Florida, made a nice break on an underthrown
Carson Palmer
pass for an early interception. Allen was part of an egregiously bad secondary the past two years and has not exactly been a huge fan favorite. But his improved play has been a big part of the defense's development.
"He's one of the hardest workers in the building," Eagles defensive coordinator Bill Davis said. "It means so much to him. He's motivated because he hasn't had the success and everyone has been on him for a couple years here. Everyone wanted him to be Brian Dawkins and now everybody's kind of letting him be Nate Allen."
Fitzgerald? Check. Megatron?
The Eagles' defense did a decent enough job on Arizona's
Larry Fitzgerald
and
Michael Floyd
. Each caught a touchdown pass. Fitzgerald caught five passes for 72 yards, Floyd five for 99. Those are very good numbers, but neither could break open the game. That's encouraging, because the Eagles defenders get Detroit's
Calvin Johnson
here next Sunday.
"Those guys stepped up and took on the challenge of playing this top receiving group," Davis said. "There's a lot of times they were one-on-one. Throughout the game, I was mixing in [coverages], but there were a lot of snaps that were, 'Hey, get your man.'"
Davis often had linebacker
Connor Barwin
lined up directly across from Fitzgerald, especially in the slot. Barwin was able to get a more physical jam on Fitzgerald at the line before giving him up to a defensive back to cover.
The NFC playoff picture is a little clearer after this.
The Eagles earned a tiebreaker over Arizona should they wind up with the same record in the wild-card race. Sunday's win also keeps them within a game of San Francisco (8-4), which is currently in position to earn the second wild card. Chicago's loss to Minnesota leaves the Bears at 6-6, a game behind Detroit. The Eagles face those three NFC North teams over the next three weeks -- Detroit and Chicago at home, with Minnesota on the road in the middle.
The Eagles' best shot at the playoffs remains in beating Dallas (7-5) for the NFC East title, but the Cowboys are one of the teams with a realistic shot at a wild card.
August, 17, 2013
8/17/13
10:46
PM ET
GLENDALE, Ariz. --
Dez Bryant
didn't want to talk about any of the good plays he made Saturday.
The final moment of his four-catch, 74-yard performance, when cornerback
Jerraud Powers
ripped the ball out of Bryant's hands at the end of a 27-yard gain across the middle, was all that was on the Cowboys' big-play receiver's mind.
"Pissed about the fumble," Bryant hoarsely grumbled after the 12-7 loss to the
Arizona Cardinals
. "It's just not me, you know what I'm saying? I don't fumble. I'm not going to hold it over my head, because I know what type of player I am. It's something I have to correct."
Bryant has lost fumbles on only three of his 200 career receptions, but that doesn't excuse what he called a "big, huge mistake" against the Cardinals. He pled guilty to trying to do too much on the play, attempting to switch hands with the ball while stiff-arming the defender.
"That outweighs what you're doing in the ballgame, regardless of any circumstances," Bryant said.
That's especially true when it was one of six turnovers the Cowboys committed, five of which came during a scoreless first half for Dallas in the sloppy loss.
But Bryant's breathtaking training camp -- and second half of the 2012 season, for that matter -- has carried over into the preseason. He's caught seven passes for 129 yards in about a half's worth of work.
Bryant's phenomenal physical tools and the trust quarterback
Tony Romo
has in him was especially evident on Bryant's first catch Saturday, a 25-yard gain on which he snatched the ball on a back-shoulder fade despite tight coverage by Pro Bowl cornerback
Patrick Peterson
.
"He knows the turnover matters more than anything else," Romo said. "But he's playing great.
"Today's going to be a great teaching moment for him. Sometimes, some of the best lessons you learn are when you make a mistake. It depends on whether you take the approach or not to do that. He will."
It's an even safer bet that Bryant will keep making big plays.
July, 6, 2012
7/06/12
11:38
AM ET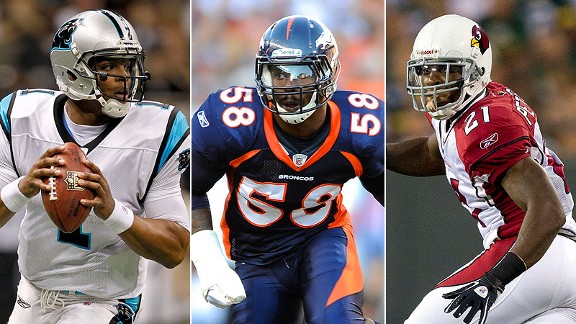 US PresswireCam Newton, Von Miller and Patrick Peterson all contributed right away during their rookie seasons.
There were doubts, this time last year, about
Cam Newton
as the No. 1 pick, about Newton as an NFL-ready starting quarterback, but they were all external. In the offices of the
Carolina Panthers
, who had taken Newton with the first pick in the draft, any and all doubts were outlawed. Newton was their guy, and they were all-in on him. After a rookie season in which he threw for 4,051 yards, ran for 706 and totaled 35 touchdowns, they have no regrets.
"He brings so much to you -- his accurate passing, his mobility, his leadership, his desire to win, his approach to the game, his enthusiasm for the game and his desire to be the best," Carolina general manager Marty Hurney said in March at the NFL owners meetings. "That all combines into an excellent young quarterback with a future that has tremendous upside."
Upside is one thing, but Newton is pretty good right now. If you don't think that's important in today's NFL, look around. We asked 20 coaches and general managers at the owners meetings which player 25 years old or younger they'd like to have on their team, and we got 13 different answers.
Newton got the most votes in this incredibly informal and unscientific poll, with four. Denver linebacker
Von Miller
, who went second in last year's draft, got three. 2011 rookies
Patrick Peterson
of Arizona and
Torrey Smith
of Baltimore were each named twice.
But the more interesting names are those of the players whose draft slot isn't fresh in everyone's mind. One general manager named
New York Giants
wide receiver
Hakeem Nicks
, who is only 24 yet has established himself as one of the best and most reliable receivers in the league.
Philadelphia Eagles
running back
LeSean McCoy
, named by one coach, turns 24 next week. Lions quarterback
Matthew Stafford
, who surpassed 5,000 yards passing in 2011, is only 24. And when one coach picked
Baltimore Ravens
running back
Ray Rice
, it was startling to realize he is only 25. Some of these guys seem as though they've been dominating the league for years, and it's no accident.
"I think the game is getting younger," said Texans coach Gary Kubiak, who picked his 2011 first-rounder,
J.J. Watt
. "These kids that are drafted nowadays, they're playing right away and contributing right away. They just seem to be a little more mature and caught up and ready to go now than maybe back a few years ago. Nowadays, with the cap and the way teams change, when you get a guy in the first round or early in the second round, he's going straight on the field."
The 32 players picked in the first round of the 2011 draft played an average of 13 games in the 2011 season. That counts those who missed time because of injury, such as
Prince Amukamara
, and project quarterback
Jake Locker
, who played sparingly in only five games. Half of those 32 players started at least 14 games as rookies, and 10 started all 16.
What this tells you is that when you evaluate a player you're considering taking in the first round, you're asking yourself all of the normal questions about whether he can play, learn, behave and lead, and you're also asking whether he can do it
right away
.
"I think the way the system is, or the way the system has been, you have to play your young players," Chiefs coach Romeo Crennel said. "We have the salary cap, and with the rookie contracts, if you don't play a guy, then you end up losing a guy when he becomes a free agent. And then you just trained him for somebody else. So you might as well get some value for him while you've got him, and that's why I think a lot of the young guys have been put into the fire sooner."
What it has done is put a premium on figuring out if that young, talented college stud you're considering has what it takes, mentally and physically, to handle what the NFL throws at him while he is still young. That's why pre-draft interviews have become such a major part of the process. No longer are teams willing to use those first-round picks on raw talent they think they can develop. There's no time to develop them. A first-round pick has to be the whole package. Like Newton in Carolina. Or Miller in Denver, who was (no surprise) the pick of Broncos coach John Fox.
"First of all, he's got a lot of God-given ability," Fox said of Miller. "He's very explosive, strong for his size, got good flexibility. That combination of explosiveness and flexibility makes him pretty dynamic as a pass-rusher. And the fact that he's a good young man and he's not afraid to work hard. He wants to do it."
So in other words, NFL teams don't want much out of their young players these days -- just everything.
"It's a young man's game," Fox said. "There's no question that you need any influx of young players. You see it with every team, and the teams that are doing well are the teams that are getting production from that 25-and-under group -- young guys, but already kind of established. And I don't think that's going to change any time soon."
July, 19, 2011
7/19/11
9:04
AM ET
So I'm sure you guys saw this when it went up Monday night, and I thought it was worthy of its own post (i.e., bigger than a "breakfast link") because it touches on
one of the league's hottest post-lockout storylines
and because Mike Sando says this guy Jurecki is pretty plugged in out there in Arizona. I refer, of course, to the report that the Cardinals are willing (planning?) to trade cornerback
Dominique Rodgers-Cromartie
to the Eagles in the long-anticipated
Kevin Kolb
deal.
Kolb
Gotta be honest, I've heard very different things on this from a wide variety of people and don't know what to think. A theory took root at the draft, when the Cardinals picked cornerback
Patrick Peterson
. The theory was that, since the Cardinals didn't appear to need a cornerback (and the Eagles really, really do), perhaps they picked Peterson so they could deal Rodgers-Cromartie for Kolb. Some even thought they might have made the pick intending to flip
Peterson
, though I find that much more farfetched. Sal Paolantonio said a few weeks back that he thought the Eagles were going to be able to get actual players, rather than just picks, for Kolb. And now reports circulate that they might be able to get Rodgers-Cromartie in the deal.
But I've also heard that Rodgers-Cromartie and Peterson are both in Arizona's 2011 plans, and that they'd prefer to deal picks (even if that meant a first-rounder in 2012) in the Kolb deal. So I'm not sure what to believe. I'm not shooting down Jurecki's report, because I don't do shoot-downs and I have had people tell me Philadelphia might get a player and not a pick for Kolb. But I am confused at having heard two such opposite opinions on how this is going to go down.
If it is Rodgers-Cromartie, I'll say I think the Eagles will have done very well, trading a guy they view as a backup quarterback for a 25-year-old starter who's got a Pro Bowl on his résumé and fills their biggest current need. I know there's been a lot of talk about whether Rodgers-Cromartie (or even
Nnamdi Asomugha
) is the right
type
of cornerback for the defense the Eagles are planning to run, since he's more of a cover guy than a tackler. But a lot of that is based on speculation about what kind of defense the Eagles plan to run. If you end up with two very good cover corners, it makes some sense to build your defense around that to a certain extent, rather than try to shoehorn bad fits into a preset scheme. I think the Eagles' coaches are smart enough to know this, and that any panic Eagles fans have about Rodgers-Cromartie being a poor fit should (if it happens) take a back seat to happiness at having flipped your backup quarterback for a talented young starting corner and being able to move on to other free-agent needs.
I just don't have any idea at all how to handicap the chances of it actually happening. Maybe we'll know by this time next week, right?
May, 22, 2011
5/22/11
2:00
PM ET
Cruising through the mailbag on a dreary Sunday, killing time between my son's Little League game and the latest episode of "Game of Thrones," which we tend to hope are two very different spectator events.
John from Dallas
was intrigued by the idea that the Redskins might patch it together at quarterback and wait until next year in the hopes of drafting Andrew Luck as their long-term answer. This led John to ask, "If the lockout continues and there is no 2011 NFL Season, how would the draft order be determined for the Spring 2012 NFL Draft?"
Dan Graziano:
Pat Yasinskas
hit this one Friday
in a post regarding commissioner Roger Goodell's conference call with Panthers season ticket holders. Basically, the answer is that the NFL hasn't thought about it yet. "We haven't given any consideration to a season-long work stoppage," Goodell said. This could mean the owners have a drop-dead date by which they plan to cave in, or that they're 100 percent convinced their lockout strategy will break the players' union. Because if the owners imposed a lockout with no defined end date and without considering the possibility that it might last all season, then they'd be fools. And as foolish as they might be acting right now, I don't think they're fools.
---
John Binando from Bergenfield, N.J.
(represent!)
asks what I think about the Cowboys' chances for next season. "Are they contenders like I thought a year ago or was last year a real view of what Jerry has assembled?"
Dan Graziano:
As someone who picked the Cowboys to win last season's Super Bowl, I might be the wrong guy to consult on this. But I do think there's enough talent there that if they have addressed and continue to address their deficiencies on the lines, they could rebound quickly. I don't think it's any accident the way they responded to Jason Garrett as head coach. And if he ever gets the chance to coach them again, I think he'll pick up where they left off. So yeah, with the disclaimers that we still have no idea (a) what any team looks like until free agency happens or (b) how much if any of the season will be played, I'd say I think the Cowboys rebound into contention in 2011.
---
milroyigglesfan from Anchorage, Alaska
asks if I believe "as many do, that the Eagles got a miracle save by the rejuvenation of Vick, that the team was well situated for winning in 2010, or a little of both?"
Dan Graziano:
I definitely think it was the Vick thing, milroy. When I went to Eagles training camp last year, it felt like I was watching a rebuilding project. Lots of young players, not a lot of stars, and lots of questions on the offensive line and the defense in general. But that was before anybody knew what Vick would do, or that he would play at all. I think he was spectacular enough to disguise the Eagles' deficiencies, most of which were on defense, and that the Eagles seem wisely to have focused this offseason on improving the defensive personnel. I don't think they'd have contended in 2010 without Vick's resurgence.
---
Matthew Gene from Summit, NJ
(aw yeah) asks: "What current NFL player does
Prince Amukamara
remind you of? Seeing as he has limited experience as a cornerback, how high is his ceiling?"
Dan Graziano:
Tough one, and I'm not alone here. I asked our man Matt Williamson of Scouts Inc. and he couldn't come up with one either. A couple of places compared him to
Malcolm Jenkins
before the draft, but I think that's mainly because of a thought that he might end up at safety. But given his size, speed, intellect, ability to contribute on special teams ... Amukamara's ceiling is a lot higher than that of a typical 19th overall pick. The Giants got a star here, I think.
---
Zain Saleh of Lincoln, Neb. asks:
"Do you think instead of throwing a lot of money towards
Nnamdi Asomugha
, we sign a Jonathan Joseph type of corner?"
Dan Graziano:
Zain, buddy, I got no idea who "we" are. You didn't tell me which team you root for. I imagine Joseph could become an option for any team that either fails to get Nnamdi or decides not to pursue him because of the money. But remember, if they play under 2010 rules, Joseph's RFA not UFA and probably stays in Cincy.
---
Arnold from Pittsburgh
wonders about the talk of trading
Kevin Kolb
to Arizona: "What are the chances that the Eagles could trade him for
Patrick Peterson
or Domonique Rodgers-Cromartie?
Dan Graziano:
I think he'll be traded for picks, not players, if he's dealt. (Can Arizona even trade Peterson? I don't think so. They just drafted him, right?)
---
Mike Burkey from Nashville
, understandably nervous about the idea of
John Beck
at quarterback, asks what I think the chances are that Mike Shanahan would give
Donovan McNabb
a second chance in Washington.
Dan Graziano:
About the same as the chances he'll give me a tryout at nose tackle.
---
Bill Ray from Philly
has a lockout-related question: "If players can get together and work out on their own, why can't the coaches join them? The coaches are not the owners, so what stops the coaches from meeting up with the players during off hours and working with them?"
Dan Graziano:
The owners (i.e., the coaches' bosses) are what's stopping them. The owners imposed the lockout and the rules that go along with it. One of those rules is that players and coaches can't have any contact during the lockout. Theoretically, the owners could change the rule and allow players to work out with their coaches. But methinks that would defeat the purpose of the lockout which, as we've discussed, is an effort to break the players down and make them cave in.
On a personal note, much of the mailbag during the first week was filled with very kind and complimentary stuff welcoming me to the blog. Just wanted to tell you all how happy I am to be here, how much fun I'm having so far and how much I'm looking forward to more and more interaction with you all. Thanks for the kind wishes. I'll look back on them fondly as the future unfolds and your opinion of me ... uh ... flickers?
April, 21, 2011
4/21/11
12:00
PM ET
»
NFC Draft Watch
:
East
|
West
|
North
|
South
»
AFC
:
East
|
West
|
North
|
South
Each Thursday leading up to the NFL draft (April 28-30), the ESPN.com blog network will take a division-by-division look at key aspects of the draft. Today's topic: Dream scenario/Plan B.
Dallas Cowboys

Dream scenario:
If the Cowboys play things the conventional way and sit tight at No. 9, they'll probably be looking at either defensive end
J.J. Watt
or offensive tackle
Tyron Smith
. Either one would provide good value or fill a big need, and the Cowboys would improve. But Dallas owner Jerry Jones doesn't always do things the conventional way. Although trading up to the top five might be difficult, Jones' imagination could heat up if LSU cornerback
Patrick Peterson
makes it past the first five picks. The entire Dallas secondary had a horrible year last season, and Peterson would provide an instant upgrade. Jones might not be able to sit still if he's within striking distance of Peterson.
Plan B:
If there's no chance at Peterson and the Cowboys aren't excited enough about Watt or Smith, they could reach slightly and take Nebraska cornerback
Prince Amukamara
. He's the second-best cornerback in this draft, and most mocks have him going somewhere in the teens. If the Cowboys like the player enough, it wouldn't be much of a reach to just take him. If another team is looking to move up for another player, the Cowboys could drop down a few spots and still have a shot at Amukamara.
Washington Redskins

Dream scenario:
The Redskins, who need a quarterback perhaps more than any other team on the planet, would love nothing more than for something bizarre to suddenly cause
Cam Newton
or
Blaine Gabbert
to start falling. It's not out of the realm of possibility. Carolina's leaning toward Newton but hasn't made a final decision. Even if the Panthers go with Newton, Buffalo could go with linebacker
Von Miller
at No. 3, and the word out of Arizona is the Cardinals probably are looking more for a pass-rusher than a quarterback. That would put the Redskins within striking distance on Gabbert, and general manager Bruce Allen and owner Daniel Snyder could try to move up to grab him. Or they could just take a chance that he'll be available at No. 10.
Plan B:
If Newton and Gabbert are gone, there's no quarterback worthy of the No. 10 pick. Defensive tackle also is a major need, but the Redskins could fill that in free agency. Snyder enjoys making a splash, and if he can't do it with a quarterback, he might do the next-best thing and take a guy who would catch passes from whoever ends up throwing them. With
Santana Moss
as a free agent and not much else in the receiving corps, Alabama's
Julio Jones
could be a very nice consolation prize.
New York Giants

Dream scenario:
The desperate need is at outside linebacker, but the only player who is really a sure thing is Miller, and he almost certainly will be a top-five pick. So the dream ends there and reality sets in, and the other reality is the Giants have big needs on the offensive line, where everyone but guard
Chris Snee
is starting to get old. Florida center/guard
Mike Pouncey
could really solidify the interior of the line, where the need is greatest. Tackles
Gabe Carimi
and
Anthony Castonzo
also could be possibilities as the Giants could consider moving tackle
David Diehl
to guard.
Plan B:
This may sound a bit off the wall because the Giants have decent running backs in
Ahmad Bradshaw
and
Brandon Jacobs
. But what if Alabama's
Mark Ingram
happens to be available? The Giants might have to consider him. He might be better than Bradshaw and Jacobs. Also, along the same lines, don't rule out the possibility of a defensive tackle like Temple's
Muhammad Wilkerson
if he's available. The Giants appear to be in good shape in the middle of the defensive line, but general manager
Jerry Reese
places a high value on having lots of depth, especially in the middle of the defensive line.
Philadelphia Eagles

Dream scenario:
In a perfect world, the Eagles would package their first pick (No. 23 overall) with quarterback
Kevin Kolb
and trade their way into the top five, where they would aim for cornerback Peterson. The Eagles have a desperate need for a cornerback to play opposite
Asante Samuel
, and Peterson is the only sure thing in this draft. But this is not a perfect world. Unless the lockout somehow ends between now and the start of the draft, they're not allowed to trade Kolb. If they stay put, the Eagles have to hope Amukamara somehow falls to them, or they might have to take a chance on Colorado's
Jimmy Smith
, who comes with some background questions.
Plan B:
The right side of the offensive line needs to be upgraded. Most teams stay clear of guards in the first round. But tackles Castonzo,
Nate Solder
and Carimi all could be available when the Eagles pick. Any one of them could step right into the lineup and start.
March, 25, 2011
3/25/11
9:50
AM ET
By
ESPN.com staff
| ESPN.com
Dallas Cowboys
What has been the Cowboys'
biggest draft blunder
since 2000?
Bob Sturm says LSU cornerback Patrick Peterson is one player he could see the Cowboys
trading up to take
in next month's draft.
New York Giants
Eli Manning's wife, Abby,
gave birth on Monday
to the couple's first child.
Former Giants coach
Bill Parcells has taken a job
as a draft analyst for ESPN.
Philadelphia Eagles
USA Today's Jim Corbett
: "Instead of a placard bearing his name and organizational logo designating his table, Philadelphia Eagles coach Andy Reid might have been better served posting a sign at this week's owners meetings coaches breakfast that advertised: 'Gently-used starting quarterback. Best offer.'"
Running back LeSean McCoy is
doing anything but endearing himself
to Eagles fans during the lockout.
Washington Redskins
Vonnie Holliday is doing what he can to
keep his teammates updated
on the current labor situation.
Auburn quarterback Cam Newton is expected to take a
pre-draft visit to Redskins Park
next month.
January, 8, 2011
1/08/11
2:53
PM ET
By
Matt Mosley
| ESPN.com
I'm about to board a flight to Philadelphia for Sunday's Packers-Eagles wild-card playoff game, but let's dip into the mailbag for a few questions first. A lot of folks are wondering what Jason Garrett will do at defensive coordinator now that he's been granted so much authority by Cowboys owner Jerry Jones. Let's get right to your questions:
Kevin in San Jose, Calif., what's on your mind?
Is it reasonable to hope and wish for a Champ Baily-Washington reunion this coming offseason?
Mosley:
I realize that Mike Shanahan seems to value veteran players more than most head coaches, but I don't see him committing a lot of money to Bailey at this point in his career. Bailey's been one of the best cornerbacks in the league for years, but he's a declining player at this point. The Redskins would be better off identifying a cornerback in the draft. I think LSU's Patrick Peterson might be gone by the time the Skins pick at No. 10 (
Now No. 4 on Mel Kiper's Big Board
), but he's certainly someone to keep in mind. I tried to focus on Peterson in last night's AT&T Cotton Bowl, but a freshman named Tyrann Mathieu kept stealing the show. It looked like Mathieu was the best defensive back on the field in the win against the Aggies, but it's not like I've watched a ton of LSU football this season. Bringing in aging players (see
Donovan McNabb
and
Larry Johnson
) didn't exactly work out for Shanahan in his first season, so I'd be surprised to see him make a play for Bailey.
---
Al from High Point, N.C., has two New York Giants questions:
1.
Do you see [defensive coordinator] Perry Fewell as being interviewed by certain teams for a head-coaching job more as a legitimate concern for the Giants or are the other teams making him more of a Rooney Rule candidate? 2: How come the Giants do not find a way to keep coordinaters from becoming head coaches some other place by trying to make one of them a successor to Tom Coughlin?
Mosley:
That whole coach-in-waiting thing rarely works out at any level. Ask the University of Texas about that strategy. Coughlin sees himself coaching for several more years, so he wouldn't be pleased with that type of scenario. The Redskins had Gregg Williams as their coach-in-waiting to Joe Gibbs, but that didn't work out for him. Fewell did some nice things this season, but it's too early to overreact and make him a coach-in-waiting. Jerry Jones basically did that with Jason Garrett by making him the highest-paid assistant in the league following the '07 season. And the plan of succession didn't go off that smoothly, with Wade Phillips getting fired eight games into the 2010 season. Regarding your first question, I think Fewell has a legitimate chance to be a head coach. I think owners and general managers across the league have a lot of respect for how he handled the interim job in Buffalo, and I don't think the Rooney Rule's the only reason he's getting a look right now. Ultimately, though, I think he'll be with the Giants for at least another season. And it's not a bad thing when teams want your assistants to be head coaches. It normally means a team is having a lot of success. You can't really say that about the Giants right now, but the defense certainly took some positive steps.
---
Jason from Bryn Mawr, Pa., is one of our most prolific mailbag participants. He has an Eagles thought:
"Can the Eagles Flip the Switch?" is a great article
, providing well-balanced information. Everyone seems to be concerned with only the Eagles' performance against the Vikings, but let's not forget they had not played very well in the weeks prior to that game. I believe the "Miracle in the Meadowlands II" has masked our recollection of prior events. They were then blown out by the Bears (final score is no indication) and required fourth-quarter come-from-behind TDs to beat both the Texans and Cowboys.
Mosley:
Jason, I agree with you that teams have sort of caught up with
Michael Vick
a little bit since that first game against the Giants. But I'm afraid that Vick was so brilliant through the first 10 games that we sort of developed unreasonable expectations for him. He'd had enough near-interceptions earlier in the season to indicate that he'd eventually have some turnovers. But the fact that he has nine fumbles in his past six starts is pretty remarkable. But if Vick is close to 100 percent from that quad contusion suffered against the Vikings, he's capable of making the Packers' defense pay. I think Andy Reid and Marty Mornhinweg have spent a lot more time getting Vick ready for some of those cornerback blitzes that the Vikings used with a lot of success. And I can promise you that
Jason Peters
will have some help at left tackle to make sure that Packers outside linebacker
Clay Matthews
doesn't take over this game. Packers defensive coordinator Dom Capers will try to be aggressive with the blitz early in this game. And if the Eagles can pick it up, they'll have a shot at a big play on that first drive. I'm told that Reid and Mornhinweg have emphasized a quick start on offense all week. That's why I wouldn't be surprised to see Vick dial up
DeSean Jackson
on one of those double moves on the first play from scrimmage.
---
Steve in Philadelphia wants to talk about Jason Garrett's decision-making power:
Jerry Jones did not say that Jason Garrett would have final say on picking players. He said that no one would be on the team that Garrett doesn't want on the team. I believe that this may mean that while Jones continues to function as the GM, he would merely shy away from major free agents or draftees that Garrett has some apprehension about from a character perspective, like T.O. I do not believe this is the same as "final say" on all personnel decisions. Do you agree?
Mosley:
Steve, I think you're on the right track. Jones did stunningly say that Garrett would have "final say" when it came to the hiring and firing of assistant coaches. But I don't think Garrett necessarily wants "final say" when it comes to player personnel decisions. Only Andy Reid and Mike Shanahan enjoy that type of power in the league right now. And it's not like Shanahan has a great track record when it comes to drafting players. I think Garrett's smart enough to know that he doesn't have the skins on the wall to demand complete authority on draft picks. I think what Jones was saying is that he won't release or sign a player against Garrett's wishes. It's still surprising that Jones made that statement Thursday, but it doesn't necessarily mean he'll follow it.
I'll check in with you guys from Philadelphia on Sunday.