December, 27, 2012
12/27/12
2:30
PM ET

Man, you know things have turned around for the
Washington Redskins
when they put three players in the Pro Bowl and everybody's talking about the Redskins players who should have made it and didn't. Quarterback
Robert Griffin III
, left tackle
Trent Williams
and linebacker/special teamer
Lorenzo Alexander
will represent the Redskins in Hawaii. But in this SportsCenter video, Adam Schefter lists three other Redskins as Pro Bowl "snubs." They are:
Running back Alfred Morris, who has 267 more rushing yards and three more touchdowns than San Francisco's Frank Gore, and has a strong case.
Center Will Montgomery, who would have been a better choice than Green Bay's Jeff Saturday, who just got benched last week.
Linebacker London Fletcher, who ranks, as usual, in the top 10 in the league in tackles and has five interceptions this season.
I can see the argument for each of the first two. But while anyone who reads this blog regularly knows how much respect I have for Fletcher and everything he brings to the Redskins' defense, I don't think his omission is a true "snub." The five interceptions jump out, to be sure, and Fletcher's the kind of guy who could make it on reputation every year and feel justified about it. But he's not having the same kind of flying-around, dominating defensive season he's had in recent years. He's struggled with injuries, most significantly to his ankle, and for much of the season he appeared to be limited physically. While he's certainly come on strong lately as the Redskins have made their big run, I don't see how he makes a case to be included over either of the 49ers inside linebackers,
Patrick Willis
and
NaVorro Bowman
, who got the spots.
In fact, having watched every Redskins game this season at least once, I think Fletcher's teammate and protege,
Perry Riley
, has been the higher-impact guy. He's not mentioned as a snub because he doesn't have Fletcher's well-earned reputation as a leader, an ironman and an on-field thumper, but Riley is exceeding his mentor in a lot of ways this season, to Fletcher's delight.
Anyway, as I said, these must be fun times to be a Redskins fan if you're chief complaint is an insufficient amount of Pro Bowl recognition.
April, 11, 2012
4/11/12
10:49
AM ET
An upset in the quarterfinals of the
Madden '13 cover voting
has eliminated
New York Giants
wide receiver
Victor Cruz
, the last remaining hope to represent our once-proud division on the cover of the iconic video game.
San Francisco 49ers
linebacker
Patrick Willis
, the No. 11 seed in his half of the bracket, obtained some small measure of revenge for the Giants' NFC Championship Game victory in January in San Francisco. Willis collected 55 percent of the vote in his third-round matchup against the second-seeded Cruz, whose vote totals in the first two rounds seemed to have put him on track for a semifinals matchup against Carolina's
Cam Newton
.
Cruz easily defeated
Washington Redskins
linebacker
Brian Orakpo
in the first round and Jets cornerback
Darrelle Revis
in the second, but he was no match for Willis, who has so far knocked off
Matt Forte
,
Maurice Jones-Drew
and now Cruz in his improbable march to the semis. If he can upset Newton, he'll take on the winner of the
Aaron Rodgers
-
Calvin Johnson
semifinal for the honor of gracing the Madden cover.
I assume Kevin Seifert will have a full breakdown of the Rodgers-Johnson matchup on the
NFC North blog
, but for the NFC East, it is time to bid this competition farewell. Fun while it lasted and all of that. If you'd like to vote on the remaining matchups, feel free to do so
here
.
April, 4, 2012
4/04/12
12:17
PM ET
Madden '13 cover voting has reached
the quarterfinal stage
, and our division is down to one representative.
New York Giants
wide receiver
Victor Cruz
easily defeated Jets cornerback
Darrelle Revis
, collecting 62 percent of the vote and scampering 99 yards for a victory in his second-round matchup. Next up for Cruz, the No. 2 seed in his half of the bracket, is 49ers linebacker
Patrick Willis
, the No. 11 seed who has already knocked off running backs
Matt Forte
and
Maurice Jones-Drew
and will be a formidable opponent. Should Cruz get past Willis, he's almost certain to see Carolina quarterback
Cam Newton
in the semifinals, as Newton is enjoying a Kentucky-line run so far.
The only other NFC East player to survive the first round was
Philadelphia Eagles
running back
LeSean McCoy
, but he lost a close second-round matchup against Cardinals receiver
Larry Fitzgerald
. McCoy got 46 percent of the vote in what was the second-closest match of the round.
So Cruz is all we have left if we want someone from our division on the Madden cover. The whole point of this, of course, is that you do the voting, so go to
this link right here
and vote early and often.
March, 29, 2012
3/29/12
2:39
PM ET
We have arrived in the second round of the "
Madden 13" cover vote bracket
. Two of our division's four representatives survived the first round and two did not.
New York Giants
wide receiver
Victor Cruz
absolutely demolished
Washington Redskins
linebacker
Brian Orakpo
in the all-NFC East first-round matchup, collecting 82 percent of the vote in the third-most-lopsided matchup of the round. (Brian, your vote totals are hurtful. I'm taking the bus and you will NOT see me at the pancake social in the morning!)
Philadelphia Eagles
running back
LeSean McCoy
easily beat Dolphins running back
Reggie Bush
68 percent to 32 percent. I thought this would be closer, but McCoy should be grateful for the easy win, because as we discussed here last week, his road to the final four is not an easy one.
And
Dallas Cowboys
linebacker
DeMarcus Ware
lost a tough first-round matchup to Vikings defensive end
Jared Allen
. Ware got 42 percent of the vote in this matchup of sack artists.
Cruz's second-round matchup is against Jets cornerback
Darrelle Revis
, and I predict an easy win for Cruz in the all-New York showdown. If Cruz wins, he gets a quarterfinal match against the winner of the second-round match between
Patrick Willis
and
Maurice Jones-Drew
. My bracket has Cruz making it all the way to the final.
McCoy's second-round matchup is a big one against Cardinals wide receiver
Larry Fitzgerald
. No guarantee McCoy wins this, and even if he does, he'll likely have to take out
Cam Newton
in the third round. Tough sledding for Shady, but you never know. And you can go and vote if you really want him to win.
April, 11, 2011
4/11/11
12:36
PM ET
April, 7, 2011
4/07/11
5:53
PM ET
By
ESPN.com staff
| ESPN.com
April, 4, 2011
4/04/11
3:01
PM ET
By
ESPN.com staff
| ESPN.com
Only eight players remain from the original 32 vying to be on the cover of "
Madden NFL 12
."
No. 3 seed Michael Vick garnered 62 percent of the votes in his matchup with Andre Johnson to advance to the quarterfinals.
Vick now moves on to face 49ers linebacker Patrick Willis.
May, 11, 2010
5/11/10
1:00
PM ET
By
Matt Mosley
| ESPN.com
»
NFC Big Question
:
East
|
West
|
North
|
South
»
AFC
:
East
|
West
|
North
|
South
Is Phillip Dillard a viable candidate to start at middle linebacker?
[+] Enlarge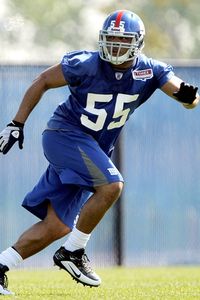 John Munson/US Presswire Phillip Dillard, a fourth-rounder in this year's draft, looks like a front-runner to start at middle linebacker for the Giants.
Something strange has taken place since the
New York Giants
' first rookie minicamp a couple weeks ago. It's almost like we're assuming that Phillip Dillard, a fourth-round pick out of Nebraska, should be the starter at middle linebacker. So does that say more about the team's shaky status at that position or Dillard's upside?
Antonio Pierce
is gone because of injuries and declining play. But the Giants certainly will miss his leadership at middle linebacker. It's the job of new defensive coordinator Perry Fewell to identify someone who's not afraid to be vocal while getting the front seven in the right spots. The good news for Fewell is that rookie linebackers have flourished as starters over the last few years in the league. I think of the impact
DeMeco Ryans
had as a rookie with the Texans. And you immediately knew that
Patrick Willis
would be Pro Bowler when he stepped on the field for the 49ers.
Dillard has a long way to go, but there are signs that he has the type of ability to take over the position. And honestly, I don't think
Jonathan Goff
,
Bryan Kehl
and
Gerris Wilkinson
are viable alternatives. I'm not sure there's a fourth-round pick in the league who faces more pressure than Dillard. Ohm Youngmisuk of ESPNNewYork.com caught up with Redskins middle linebacker
London Fletcher
to
ask him about rookies in the starting lineup
. Fletcher played for Fewell with the Bills, so he knows what the defensive coordinator's trying to accomplish.
"If the rookie comes in and is a great talent and they can live with the growing pains that come with the rookie, and that rookie learns from his mistakes and doesn't repeat the same mistakes, he can excel in that defense," said Fletcher.
January, 29, 2010
1/29/10
1:00
PM ET
By
Matt Mosley
| ESPN.com
Pro Bowl Watch
:
AFC
»
East
|
West
|
North
|
South
NFC
»
East
|
West
|
North
|
South
In case you missed it, the NFC East (namely the Cowboys and Eagles) has taken over the NFC Pro Bowl roster. We've mentioned several times the fact that more players than ever seem to be dropping out of Sunday's game in South Florida, but let's take a moment to focus on a player who truly appreciates his spot on the roster.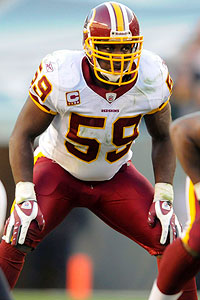 Howard Smith/US PresswireAfter being overlooked for years, London Fletcher is finally going to the Pro Bowl.
The fact that Redskins middle linebacker
London Fletcher
needed the Saints'
Jonathan Vilma
to miss the Pro Bowl isn't significant in the whole scheme of things. At age 34, Fletcher probably should have played in five or six Pro Bowls by now but for whatever reason he's come up short in the voting process.
In '09, Fletcher was credited for 142 tackles (the Redskins say he had 172), which ranked second in the league behind the 49ers'
Patrick Willis
. It didn't help Fletcher's cause that he played on one of the worst teams in the league, but you never saw him back down. His streak of playing in 192 consecutive games is second only to
Brett Favre
. The 5-foot-10, 245-pound linebacker from Division III John Carroll has always been an underdog, but that hasn't kept him from being one of the most productive players in the league.
He admitted to being incredibly nervous in the final moments of the NFC Championship Game because his Pro Bowl ticket was hanging in the balance. Now, he's in the process of trying to secure tickets for family and friends who never gave up on him making it to the NFL's all-star game.
"I'm thinking, 'Man, here I am in my 12th year. Is it ever going to happen for me?' When it finally became a reality, yeah, it was a big relief. I didn't sleep much at all last night," Fletcher told reporters via conference call this week. "The Pro Bowl is something they have all been waiting for. They've gone to two Super Bowls with me. But now, finally getting the Pro Bowl is something that they've also been looking forward to."
Eagles quarterback
Donovan McNabb
told reporters in South Florida that he was thrilled for Fletcher, but he's not cutting him any slack when it comes to "rookie" hazing. He indicated that Fletcher would soon have some large tabs at the team hotel's pool bar.
And something tells me that Fletcher won't hesitate in picking up the check. He's long overdue.
December, 12, 2009
12/12/09
5:46
PM ET
By
Matt Mosley
| ESPN.com
Let's answer four questions on four teams. You guys have been as prolific as ever. Keep up the good work.
Omar from Oakland, Calif., has some concerns with my recent column suggesting the Cowboys should have hired Norv Turner instead of Wade Phillips:
Listen, the Cowboys did not make the wrong decision with Phillips over Turner. Record comparison is comparable with Turner 28-16 and Phillips 30-14. Of course, Turner has won three playoff games to Wade's zero. But here's the thing.
Tony Romo
is a good quarterback and not a great one. Philips Rivers is the best quarterback in the leauge this side of Manning and Brees. Believe me, the Chargers are winning in spite of Turner. He is a great offensive coordinator and Wade is great defensive coordinator. Neither are great head coaches and never will be, although because of Rivers, Turner may get to a Super Bowl this year while the Cowboys are the fourth or fifth best team at best in the NFC. Bottom line, Turner has Rivers and Wade has Romo. Simply put, no comparison.
Mosley:
Could we at least give Turner a little credit for his work with making Rivers one of the top quarterbacks in the league? Turner's recognized as one of the best quarterback gurus (
Troy Aikman
anyone?) in the game and I think he would've done an unbelievable job with Romo. When you simply talk about skill level, I don't think Rivers is far ahead of Romo -- if at all. But yes, Rivers has three more playoff wins than Romo. Turner has taken quarterbacks such as
Brad Johnson
and
Alex Smith
and led them to excellent seasons. Let's not act like he just lucked into a good quarterback. I think Turner's a huge part of Rivers' success and I can't help but think that he would've already helped Romo get at least one playoff win.
---
Yatin from Los Angeles has a question about Kevin Kolb:
Hey Matt, I've tried asking this several times in the chats, but no luck. So I'm giving your mailbag a shot. What do you think Eagles management should do with Kevin Kolb? It's not too different from Favre-Rodgers in that there's a veteran quarterback in
Donovan McNabb
who is still playing at a high level, but a young talent in Kolb who is not going to be happy sitting forever. While I love Donovan and don't think we should release him, I'm worried we're going to lose our potential quarterback of the future in Kolb.
Mosley:
The good thing for the Eagles is that they've now seen that Kolb can perform well in a regular-season game. It wasn't fair to judge the guy on the second half against the Ravens last year. In two games this season, Kolb put up solid numbers and proved that he's a capable backup. My thought is that McNabb will be the starter in 2010 for sure. After that, who knows what will happen? If there's a team out there that thinks of Kolb like the Texans thought of
Matt Schaub
when he played for the Falcons, then the Eagles will be all ears. But for now, I think Andy Reid still believes that Kolb is the heir apparent to McNabb.
---
Amari H. from Richmond, Va., doesn't think London Fletcher deserves your Pro Bowl vote:
I'm sorry but I couldn't disagree with you more. Although London Fletcher is a really good player, he obviously hasn't stood out enough to be considered a Pro Bowl player. There is no way you can compare his numbers to
Ray Lewis
'. He may get a similar number of tackles, but if you want to go to the Pro Bowl then you have to be a dynamic linebacker. Ray Lewis,
Brian Urlacher
and
Patrick Willis
not only make tackles but they make interceptions, cause fumbles, get sacks, and score touchdowns. They make dynamic plays for their football team. Only two of these guys can get on the Pro Bowl squad and clearly Fletcher hasn't seperated from the pack enough to warrant consideration. This story comes up literally every year and yet still no results. Are you really asking for a handout on behalf of London Fletcher? Right now I got Willis,
A.J. Hawk
and
Keith Brooking
ahead of him. And if you can give me any reason to put him ahead of those guys, I am all ears. But can this please be the last time this story comes up. I know he won Super Bowl, I know he's started so many games and I know that he always makes a lot of tackles. But these Redskins players are whining about the Pro Bowl too much.
Mosley:
I don't think Peter King would've placed London Fletcher on his all-decade team if he didn't have a little something. No one's looking for handouts, but it is a tremendous slap in the face that Fletcher's never made a Pro Bowl. You brought up forced fumbles and sacks. Well, he's right up there with Lewis in those categories over the past decade. He's also the ultimate leader. I've watched him completely take over football games, so I don't know how you can argue that he's not a dynamic player. He's having another brilliant season at linebacker. This is not some lifetime achievement award we're talking about. He's earned a Pro Bowl trip this season, just like he has for the past six or seven.
---
Jonathan from Boulder, Colo. has a question about the Giants' O-line:
You keep saying in chats and columns that you expect the Giants to change up their O-line in the offseason. After all the success they had last year, what is the difference this year? Who's the weak link and who do you expect to be gone?
Mosley: Last year the offensive line did a nice job of protecting Eli Manning the first 12 or 13 games of the season. This year, the line has given up too many sacks and hasn't done a good job opening up holes in the running game. There are still good players up front -- right guard Chris Snee is one of the best in the league -- but I do think there are changes on the way. For starters, I think David Diehl's days at left tackle are numbered. I think he'd be more effective at left guard. I could also see third-round draft pick Will Beatty pushing Kareem McKenzie at right tackle. It would not surprise me at all to see some of those changes take place this offseason. The Giants' offensive line has had remarkable continuity dating back to the Super Bowl season, but I think changes are on the way.

December, 16, 2008
12/16/08
4:29
PM ET
By
Matt Mosley
| ESPN.com
Posted by ESPN.com's Matt Mosley
Here are the NFC East starters for the 2009 Pro Bowl: FB Mike Sellers, Redskins, TE Jason Witten, G Chris Snee, C Andre Gurode, DE Justin Tuck, DT Jay Ratliff, OLB DeMarcus Ware, P Jeff Feagles, PK John Carney
Reserves: QB Eli Manning, RB, Clinton Portis, TE Clinton Portis, OT Chris Samuels, C Shaun O'Hara, CB Asante Samuel, FS Brian Dawkins, G Leonard Davis
Cowboys: 5
Giants: 6
Eagles: 2
Redskins: 4
My biggest disappointment: Redskins linebacker London Fletcher should be in the Pro Bowl. He's had a great season. Patrick Willis and Jon Beason made it in front of Fletcher. Hopefully Fletcher will make it as an alternate, but that's not the same. It looks like the Redskins' ballot-stuffing didn't pay off that much. Sellers deserves to be starting. And Clinton Portis, Chris Samuels and Chris Cooley all deserve backup spots. Early in the fan voting process, the Redskins were leading at 17 positions.
I'll be back a little later with some Pro Bowl analysis.
October, 21, 2008
10/21/08
12:56
PM ET
By
Matt Mosley
| ESPN.com
Posted by ESPN.com's Matt Mosley
I went back and watched some of the Giants game in the Beast film room this morning. The defense was superb, but the offense wasn't that efficient. Should we chalk that up to the 49ers being a little underrated on defense or the Giants not executing?
Probably a little bit of both if you ask me. Mike Singletary has done a great with the 49ers' linebackers and Patrick Willis is the real deal. Mike Garafolo does a nice job of breaking down the game on his Star-Ledger blog, which deserves a much better display.
Garafolo thought defensive tackle Fred Robbins got cheated out of a half-sack, but he'll resume his torrid pace against the Steelers. Jon Kitna was the only quarterback sacked more than Big Ben last season. Unless something changes, defensive end Justin Tuck and Robbins should both make their first trips to the Pro Bowl after the season. Tuck's a no-brainer, but Robbins has been flying under the radar. He's quietly become a force in the league, and he's a big part of why the Giants are ranked second behind the Titans in sack differential.
September, 1, 2008
9/01/08
11:44
AM ET
By
Matt Mosley
| ESPN.com


Posted by ESPN.com's Mike Sando
The Rams face an extremely tough draw in their opening-week matchup with the Eagles in Philadelphia. These franchises have very little in common.
The Eagles' roster features 33 players drafted by the organization, one behind league leaders Chicago and Green Bay. The Rams have only 23 of their own draft choices. Holding onto one's own draft choices isn't necessarily a good thing, but failing to hold onto them often reflects poor drafting, poor management, frequent scheme changes, etc.
By my count, 18 Rams players entered the NFL as draft choices for other teams, about four more than the league average. The Eagles' corresponding number is seven. The low figure reflects a disciplined approach to roster management.
For more on the Eagles, pick up a copy of Philly's 25-category roided-out roster. Five quick notes on the team I picked to represent the NFC in the next Super Bowl:
The Eagles' Jon Runyan is one of the biggest -- and oldest -- starting right tackles in the league. Pass protection is not his specialty. The Rams will have to keep this game close to free up their pass rush. If they do, a healthy Leonard Little could give Runyan some problems.
On the other side, Eagles left tackle Tra Thomas welcomes Rams first-round draft choice Chris Long to the NFL. Long fashions himself as a technician, but he's still making the adjustment from 3-4 to 4-3 defensive end.
Quarterback Donovan McNabb hasn't started 16 games in a season since 2003, but he's been at his best in September. McNabb has thrown 28 touchdowns with only four interceptions in September games over the last four seasons. The numbers dip to 25 touchdowns with 13 interceptions in October, 17 touchdowns with nine interceptions in November and 14 touchdowns with four interceptions in December (all since 2004).

Brian Westbrook has 2,550 yards rushing and 167 receptions over the last two seasons. Rams middle linebacker Will Witherspoon finds himself overshadowed in a division featuring Lofa Tatupu and Patrick Willis. Westbrook presents his greatest challenge of the season. No other back on the Rams' schedule threatens a defense in so many ways.
That note about McNabb not finishing seasons as strong (if at all) casts doubt on my Super Bowl prediction. At least I took the Chargers to win (not that San Diego has any injury concerns entering this season, come to think of it).
The Rams had to grimace when they saw the 2008 schedule for the first time. This was a fragile team coming into the offseason, to the point that coach Scott Linehan
wanted to win preseason games
for momentum. A victory over the Eagles in the opener would represent a giant step forward for the Rams under Linehan, but it's a tough draw.