May, 13, 2013
5/13/13
2:10
PM ET
Football Outsiders is doing a series of posts called "Red Flags," which take a look at the biggest remaining issue facing each team with the draft behind us and minicamps getting underway.
Today's post is on the NFC East teams

, and I'm going to break it up into four smaller posts to examine the red flags team-by-team. We start with the
Washington Redskins
, for whom the Outsiders have identified the secondary as the biggest remaining issue.

Washington drafted cornerback
David Amerson
in the second round, safety
Phillip Thomas
in the fourth and safety
Bacarri Rambo
in the sixth. Yet, the Outsiders remain skeptical:
The general consensus seems to be that Amerson is a DeAngelo Hall clone, which begs the question: How many DeAngelo Halls can one team afford to play? Thomas and Rambo are the safety equivalents of Amerson -- Thomas led the nation in interceptions in 2012, while Rambo was second behind Amerson in 2011 -- but in each case, the ball-hawking ability is paired up with some questionable tackling skills.
As we have discussed here a few times, the Redskins' plan in the draft seemed to be to collect players they considered to be high-end talents but who might need their rough edges smoothed out. Their idea is that you can teach someone proper tackling technique and coverage discipline, but you can't teach the kinds of playmaking instincts that guys like Amerson, Thomas and Rambo showed when they were at their best as college players. That ability won't go away just because you teach a guy how to be a sure tackler, and the Redskins believe defensive backs coach Raheem Morris can help develop players quickly at the NFL level.
So yes, the secondary for Washington remains the biggest question area (other than the health of the surgically repaired right knee of starting quarterback
Robert Griffin III
). But considering the cap penalties that prevented them from addressing it in free agency, and considering they didn't have a first-round draft pick, I think they were wise to try and reach for high-upside guys they believe they can coach up rather than looking for "safe," NFL-ready starters in the middle and late rounds.
Sean McCormick, who wrote this piece for Outsiders, also points out the return of a healthy
Brian Orakpo
at linebacker could be the biggest boost to the secondary, no matter who's playing in it. And he's right that the ability to get pressure on the quarterback takes some of the pressure off of the guys who are covering the receivers. Washington was able to piece things together in the secondary last year and will have to do so again, but it'll surely be helpful if they can stay healthier up front.
May, 11, 2013
5/11/13
11:10
AM ET
You don't even have to wait for an invitation, though I do tend to tweet a few out toward the end of the week. You can always submit a question for the Twitter mailbag just by posting it on Twitter with the hashtag #nfceastmail. Once a week I sort through them and come up with something a little bit like this.


May, 6, 2013
5/06/13
8:00
AM ET
Good morning and welcome to another offseason week here on the NFC East blog. The regular season begins four months from yesterday. That's a lot of links. Including these.
Dallas Cowboys
The Cowboys' right tackle situation remains unresolved, and one of the more attractive remaining free-agent options
left the market
Sunday when Tyson Clabo signed with the Miami Dolphins. There are other options still available to the Cowboys if and when they decide to replace Doug Free, including free agent Eric Winston. But I imagine some Cowboys fans had been hoping for Clabo and are disappointed this morning.
Tim Cowlishaw says you can't look at the Cowboys' current roster and say they're
better than they were a year ago
. But he takes some solace in the fact that it doesn't appear you can say that about the other teams in the NFC East either.
New York Giants
The reason the Giants are looking at running back Tim Hightower is that, with Ahmad Bradshaw gone, they need to make sure they have a
running back who can block
. Hightower is surely that. The question is whether he's healthy.
Art Stapleton thinks the idea that the Giants need to address the linebacker position
is a myth
, because he thinks they'll be running less of their base 4-3 this year than ever.
Philadelphia Eagles
Zach Berman muses
on the question of which Matt Barkley the Eagles drafted -- the one who was thought to be a very early pick in the 2012 draft or the one who was still there in the fourth round of the 2013 draft.
The struggles of the Eagles' offensive line in 2012 notwithstanding, Pro Football Focus still ranked Evan Mathis as the
best offensive lineman
and one of the top six players in the entire league.
Washington Redskins
Rich Campbell writes that the Redskins want the free safety and the strong safety in their defense to be
interchangeable
, and that's the reason they were comfortable drafting both Philip Thomas and Bacarri Rambo. I'm sure Campbell is right, but I think they're thinking beyond the immediate here. I know that they brought in Brandon Meriweather last year specifically for the strong safety role, and I don't think they see him as a good fit for the other spot. So if he's healthy, my belief is that it's just the one spot that's open.
One of the attendees at Redskins rookie minicamp was Shawn Morris, whose
brother
is Alfred Morris, who went from sixth-round pick to one of the top running backs in the league last season.
May, 2, 2013
5/02/13
9:53
AM ET
As he continues his review of last week's NFL draft,
Mel Kiper Jr. has a list

of players taken in rounds 4 through 7 who he thinks could make an impact this season. One
Dallas Cowboys
pick, one
Philadelphia Eagles
pick and three
Washington Redskins
got mentioned.
Washington Redskins
-
Phillip Thomas
, S, fourth round: Mel thinks he should have been drafted in the second or third round, and given the Redskins' other options, that he could possibly start right away.
-
Chris Thompson
, RB, fifth round: Though Redskins starter
Alfred Morris
was second in the league in rush yards last year, Mel thinks Mike Shanahan has a plan up his sleeve for this big-play threat to get touches as a rookie.
-
Brandon Jenkins
, OLB, fifth round: Could "crack the rotation as a pass rusher."
Dallas Cowboys
-
Joseph Randle
, RB, fifth round: Mel calls him the second-most talented running back on the Cowboys' roster after injury-prone starter
DeMarco Murray
. If that's not a recipe for touches...
Philadelphia Eagles
-
Earl Wolff
, S, fifth round: With
Kenny Phillips
' knee a question mark and
Patrick Chung
still not established as an NFL starter, opportunity could exist at safety in Philadelphia.
April, 30, 2013
4/30/13
2:15
PM ET
Still sorting out what went down last week in the NFL draft,
Todd McShay has selected

a "Best pick" and a "Questionable pick" for each team in the league. Here's what he came up with for the NFC East's teams:
Dallas Cowboys

Best:
Gavin Escobar
Questionable:
Travis Frederick
Todd says Escobar has the best hands of any tight end he evaluated for this draft. As for Frederick, as has been the case many places, Todd's issue is not with the player but rather how high he was picked. But I still don't know what any team saw Thursday night that would have made them comfortable with waiting a round or two for the offensive lineman they wanted.
New York Giants

Best:
Justin Pugh
Questionable:
Johnathan Hankins
Todd's opinion of the players is at the root of this evaluation. He likes Pugh a lot -- thinks he projects as a guard, but doesn't rule out tackle. He's less high on Hankins, saying he struggles with technique and offers little in the pass rush.
Philadelphia Eagles

Best:
Lane Johnson
Questionable:
Bennie Logan
Todd likes Johnson as a fit for the up-tempo offense Chip Kelly plans to run, because of his athleticism. He questions Logan as a guy who took plays off.
Washington Redskins

Best:
Phillip Thomas
Questionable:
David Amerson
Todd believes Thomas was undervalued and that Washington did well to find a potential 2013 starter in Round 4. He had a fourth-round grade on Amerson, and says the Redskins could have made a safer choice at 51. I agree, but safe doesn't appear to be what the Redskins were after. They were trying to hit home runs with their early picks, and they like Amerson's raw ability.
April, 27, 2013
4/27/13
6:30
PM ET
»
NFC draft analysis
:
East
|
West
|
North
|
South
»
AFC
:
East
|
West
|
North
|
South
The draft started off heavy in the NFC East, as the three teams with first-round picks this year used them on offensive linemen. And while there were a few little surprises and treats along the way, it never really got hot. All four of the division's teams had workmanlike drafts that balanced need and value and didn't stray into any of the juicy storylines. No
Manti Te'o
,
Geno Smith
or
Tyrann Mathieu
for us.
There was a trade-down in the first round, as the
Dallas Cowboys
moved out of a No. 18 spot they didn't like and still managed to get their first-round offensive lineman, while adding a third-rounder to the mix. There were two trade-ups in the fourth round, as the
Philadelphia Eagles
and the
New York Giants
maneuvered to add quarterbacks in surprising moves. And there were the
Washington Redskins
, without a first-rounder but fine with it because they have
Robert Griffin III
, who waited it out and got two talented safeties in the late rounds for a secondary that needs rebuilding.
We'll be breaking this all down for days and weeks and months, but here's a quick early look at the way the 2013 draft went in the NFC East.
BEST MOVE
In the absence of any earth-shaking moves in the early rounds by NFC East teams, I'm going to have to go with the Eagles taking tackle
Lane Johnson
at No. 4. They probably could have traded down and out of the pick, but this was a draft in which six offensive linemen went in the first 11 picks, and the value of the third-best tackle with the fourth pick was worth hanging in there. After what happened to their offensive line with injuries in 2012, the Eagles were wise to load up there, taking an athletic player who can start at right tackle right away and maybe move to left tackle down the road once
Jason Peters
is done. It also helps that Johnson is the kind of lineman who can move. If Chip Kelly plans to run a lot of read-option, or even a lot of bubble screens, Johnson's ability to get out and block at the second level is going to be a big help.
Also considered: The Eagles' trade-up for quarterback
Matt Barkley
at the top of the fourth round. ... The Redskins' getting two quality safeties in the fourth and sixth rounds in
Phillip Thomas
and
Bacarri Rambo
. ... The Cowboys trading down in the first round and getting wide receiver
Terrance Williams
with the third-round pick they added in that deal.
RISKIEST MOVE
[+] Enlarge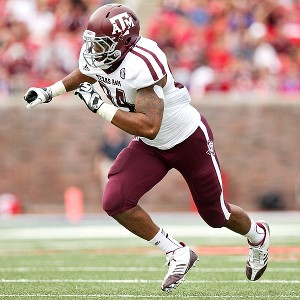 Thomas Campbell/US PresswireDamontre Moore put up impressive numbers at Texas A&M, but he has to disspell concerns over his work ethic and attitude at the next level.
There weren't any real big risks taken by NFC East teams with their most valuable picks in the first and second rounds, I didn't think. So I'm going with defensive end
Damontre Moore
, who went to the Giants in the third round. Moore is a big-time talent with big-time production numbers in college -- 12.5 sacks last year, 26.5 over the past three. But there are good reasons a player as good as he is was still there at pick No. 81, and in Moore's case those reasons include a marijuana bust and a reputation as a young man who struggles with attitude and work ethic.
Now, Moore is just 20 years old, and it's wrong to assume anyone that age will always be what he has been so far. But Moore is the player from this draft whose job it is to bolster the future of the Giants' pass rush with
Osi Umenyiora
gone and
Justin Tuck
aging. If he's a solid citizen and produces the way he did at Texas A&M, he's going to be a steal. If he's an attitude case who doesn't take to coaching and causes problems, the Giants are going to have to keep looking for long-term solutions at defensive end in the next several drafts. A third-round pick isn't too much to risk on a player with Moore's potential, but it's a pick with which the Giants could have found help elsewhere. So if he does flop, they will regret it.
MOST SURPRISING MOVE
The Eagles pulled the surprise of Day 3, moving up three spots to the top of the fourth round, where they selected USC quarterback Matt Barkley. Most analysts were convinced Kelly would seek a fast, athletic, running quarterback when he finally pulled the trigger on that position, but Barkley was a pro-style pocket passer at USC and doesn't fit the "system" everyone seems to be assuming Kelly is determined to run now that he's in the pros. As you know if you read this blog regularly, I think that's hogwash and that Kelly is smart enough to know that the best way to coach is to find talented players and figure out the best way to coach them -- not come wading in with your own "system" and only look for players who fit it.
Kelly knows Barkley from coaching against him in college, and Barkley is a guy who a year ago was thought of as a possible No. 1 overall pick. If 2012 was just a bad year for him and he ends up being a good NFL quarterback, nobody's going to care that he can't run the read-option. For a fourth-round pick and a seventh-round pick, which is what it cost the Eagles to move up and take him, it's a worthwhile risk. And it leaves Kelly with a lot of options at the most important position on his team as he begins his first offseason as an NFL coach.
The Giants pulled a surprise of their own later in the round, trading up six picks to select Syracuse quarterback
Ryan Nassib
to develop behind
Eli Manning
. The 32-year-old Manning hasn't missed a game since 2004, so it's unlikely Nassib sees the field anytime soon. But the Giants decided it was time to start thinking down the road at the position.
FILE IT AWAY
I liked the Cowboys' first round more than most people did, because I thought they absolutely needed to come out of that round with an offensive lineman, and they did. And while
Travis Frederick
may have been a reach at 31, reaching for an offensive lineman wasn't a bad move for this particular team in a draft in which eight offensive linemen went in the top 20 picks. They traded down from 18 and got the pick that netted Frederick and the third-round pick that netted wide receiver Terrance Williams, and they like that pair better than they liked what was available to them at 18.
But they won't have to look far to remember what might have been. The Giants took Syracuse offensive lineman
Justin Pugh
at 19, which means the Cowboys could have stayed put and picked up a better-regarded lineman than Frederick (though, obviously, not also get Williams in the third). If Pugh turns out to be a great player for the Giants and Frederick flops in Dallas, the Cowboys could end up regretting the Day 1 trade-down in the long run.
April, 27, 2013
4/27/13
5:22
PM ET
Safety was the
Washington Redskins
' biggest need entering this year's NFL draft, and while they waited a while to address it they ended up with a couple of recognizable names. None more so, however than Georgia's
Bacarri Rambo
, whom they selected with their sixth-round pick (No. 191 overall).
Scouts Inc. ranked Rambo as the No. 9 safety in this year's draft, and he was the 18th one taken. Along with fourth-round pick
Phillip Thomas
of Fresno State, he represents good value at a need position. In terms of the Redskins' offense, he likely profiles better for the strong safety role, as coverage isn't his strength but he can help as a big hitter and in run support. He's physical enough to outfight receivers for the ball, and he flashed big-time playmaker ability at times at Georgia. His stock likely dropped due to some off-field and character concerns, but here in the sixth round that gets a little bit easier to overlook for a player whose ceiling is as high as Rambo's is.
I also predict that, especially if Rambo makes the team, the Redskins will set an NFL record for first-year jersey sales of a sixth-round pick.
April, 26, 2013
4/26/13
10:14
PM ET
The
Washington Redskins
addressed their biggest need with their first pick of this year's NFL draft, taking cornerback
David Amerson
when their turn finally came around in the second round. Their needs in the secondary are significant enough that many thought they'd go with a safety in the third round. But the reason the Redskins didn't have a first-round pick this year (and don't have one next year either) is the trade they made last year for quarterback
Robert Griffin
III. And when you have a franchise quarterback, you like to give him as many weapons as possible. So the Redskins used their third-round pick (85th overall) Friday night on a pass-catching tight end,
Jordan Reed
of Florida.

The book on Reed is that he's an excellent pure athlete with big-play pass-catching ability but not a blocker at all. This, to my mind, addresses those who asked if the Redskins would take a wide receiver at some point. They didn't, but with this pick they did add another receiving option and a possible hedge against
Fred Davis
' health and/or eventual departure. I don't think this means much for
Logan Paulsen
or
Niles Paul
, either, as Reed isn't likely to be asked to do the tight end dirty work those guys do in the Redskins' offense.
The complaint appears to be that he doesn't play safety, and the Redskins really don't have anyone to play free safety right now (or any cap room with which to get someone). But we've been hearing for a while now that safety is one of the deepest positions in this year's draft, and guys who were being talked about as potential second-round choices for Washington -- guys like
Shamarko Thomas
,
Phillip Thomas
,
Baccarri Rambo
and
Duke Williams
-- remain on the board as you read this, and it appears the Redskins will still be able to get a safety who can at least compete for that job. Don't worry yet.
August, 24, 2012
8/24/12
11:30
PM ET
You want to talk
Nick Foles
, and that's fine. The rookie quarterback the
Philadelphia Eagles
took in the third round looked very good again Friday night in a
27-10 victory over the Browns
in Cleveland. Foles was 12-for-19 for 146 yards, two touchdowns and one interception. The interception was on his second pass of the night, and obviously he improved after that. The touchdown passes both came from in close and both after turnovers deep in Cleveland territory, but overall Foles looks like a guy who's not scared of the rush, makes good decisions and throws a very nice deep ball.


There is a chance, as
Mike Kafka
continues to sit out with a broken hand and Foles continues to impress in these preseason games, that the rookie could win the backup quarterback job. And I think that could potentially make sense for reasons that have nothing to do with preseason numbers. The fact is, Foles throws the deep ball better than Kafka does, and the speed-based Eagles offense needs someone with the arm strength to throw deep.
I don't think Foles would be an effective answer for the Eagles if
Michael Vick
had to miss significant time this year. I think, in a case like that, Kafka would be more likely to be able to manage the game and run the offense, and they could alter the playbook to suit his skills. But if Vick goes down in a game and has to miss a few plays or can't finish, it might make sense to go with Foles. No, he doesn't have Vick's mobility, but they could still run the downfield passing game and feel confident that they had a guy who could get the ball to
DeSean Jackson
and
Jeremy Maclin
. Something to think about.
Some other things I saw in the Eagles' third preseason game: