NFC East:

Phillip Buchanon
October, 12, 2011
10/12/11
8:00
AM ET
Up is down, down is up, the Redskins are a top-10 Power Rankings team and the Eagles are closing in on the bottom 10. As we turn our attention to Week 6 of the NFL season, we still really don't know who's good, who's phony or how it's all going to turn out. But the picture is starting to become a little bit clearer. And we know for sure that we can always count on the links.
Washington Redskins
The big mystery of the week is which running back will get the start this week against the run-friendly Eagles. I guess, if I had to bet, I'd say they ride the hot hand and stick with
Ryan Torain
, who looked more explosive in Week 4 than either
Tim Hightower
or
Roy Helu
has looked at any point so far this season. But I sure am glad I don't have to bet. The backs involved are
saying all the right things
, and I do believe it's Mike Shanahan's dream to be able to run for 150 yards on 30 carries every week with all three guys involved. So we'll see.
Oh, and if the Eagles were hoping they could sneak up on the Redskins this week because they're 1-4... not so much. The Skins are
still stinging
from that "Monday Night Football" beat-down last fall, and they wouldn't mind getting some payback.
New York Giants
Giants defensive tackle
Jimmy Kennedy
has been
suspended four games
for violating the league's performance-enhancing substance policy. Kennedy isn't a major contributor and the Giants are likely to be largely unaffected by this, but I still think it's weak that these suspensions are so accepted as part of the season. If Major League Baseball players were routinely getting suspended for one-quarter of the season for performance-enhancing drugs, there'd be investigative reports all over the place about the epidemic. But this week in this division alone, the Redskins'
Phillip Buchanon
comes back from one, Kennedy goes off on one and the world just keeps on spinning with nobody saying anything about any drug problem in the NFL. Rubs me wrong, is all, the double-standard.
Paul Schwartz writes
that a win Sunday wouldn't have solved the Giants' intrinsic problems. Might have masked them, actually. Man, if I'd written this... Go get Schwartz, everybody! He must really hate the Giants!!!
Dallas Cowboys
Mike Jenkins
says the bye week helped him recover physically and mentally from the first couple of games, and Calvin Watkins thinks the Cowboys are going to want to
use three cornerbacks
as much as possible Sunday in New England. So it's good that Jenkins is feeling good and
Orlando Scandrick
looks like he'll be back from his injury.
If you have
Jason Witten
on your fantasy team, this could be bad news: Bill Belichick sounds
very worried
about Witten. When this happens, Belichick has this way of just locking in on the tight end and taking him out of the offensive game plan. That could be okay for the Cowboys, especially as they get receivers
Miles Austin
and
Dez Bryant
back from their injuries, but it could be a quiet statistical game from Witten.
Philadelphia Eagles
Chris Mortensen's report
that the Eagles were thinking about bringing in a defensive "consultant" during the bye week got misinterpreted a lot of places, I think. It's a completely common practice for teams to bring in out-of-work coaches to check out their teams and offer some thoughts. It's a way for coaches to stay involved and make money while between jobs, and the NFL coaching fraternity is tight enough that this goes on all the time. Teams just don't like to publicize it because... well, you see here what happens. For what it's worth, the Eagles are denying the report, but that could be a semantic denial, and if Andy Reid brings in someone to look at practice tape and offer suggestions, he likely could pull that off without any of us ever finding out that it happened.
Reuben Frank writes
that the Eagles remain in the mix for a playoff spot, in spite of it all, in a down year for the NFC East. And sure, but I still think the crux of the issue is this succinct line from early in Reuben's piece: "The bad news is that the Eagles stink." That's a tough thing to overcome, no matter what the Week 6 playoff math says.
October, 5, 2011
10/05/11
8:00
AM ET
Lively day yesterday in the comments, folks! Love the action. Just love it. But after a day of defending my manhood and my ability to do my job, it's always nice to relax with some nice, mellow, reliable links.
Washington Redskins
Phillip Buchanon
has had his drug suspension lifted and was
back on the practice field Tuesday
. It sounds as though he could be worked into the defensive back rotation right away in the team's Week 6 game against the Eagles, which would help deepen a Redskins' secondary that's been the one part of the defense that looks as though it could use a little help.
Ryan Torain
didn't mind sitting for the first three games of the season. He says he's used to having to be patient -- that it's the story of his career, really. And he was happy for his Week 4 chance to
show the coaches what he could do
.
New York Giants
Ohm Youngmisuk writes that
Jerry Reese
isn't surprised
by the Giants' hot start, and we know Reese isn't just blowing smoke because he said in August that he thought he had a playoff team in spite of his relative inactivity in free agency. It has to make Reese feel good to see the Eagles struggle while his team has started 3-1, as much grief has he took for doing nothing while Philly loaded up. Long way to go yet, but so far, Reese looks like the one who knew what he was doing.
The Redskins aren't the only first-place NFC East team adding cornerback depth, as the Giants have signed former Colts corner
Justin Tryon
to
add to the bench mix
behind starters
Corey Webster
and
Aaron Ross
. I don't think this means anything about the timetable for
Prince Amukamara
's recovery from his injury, but even once Amukamara is healthy, he'll still be a rookie with a screw in his foot, and depth in the secondary is a good thing for the Giants to be pursuing at this point.
Dallas Cowboys
Tim MacMahon writes that the Cowboys have no choice but to stick with
Tony Romo
and
ride the Romo-coaster
through all of its ups and downs. That appears to be what they're doing, though Tim seems to wonder if the team's belief in Romo's talent needs to be weighed against its own high championship standards of years past.
Tyron Smith
is a young man of few words, and the few he's using indicate that he's taking that
Willie Young
sack from Sunday's final minute pretty hard. I don't think he should. Smith's been outstanding for the Cowboys all year and was outstanding all day Sunday until letting Young through on what he called "
bad technique
." It's good to see him wanting to build off a mistake, but his overall body of work to this point is something of which he should be very proud.
Philadelphia Eagles
Sheil Kapadia's must-read weekly player-by-player review of the Eagles' game reveals that the second half of the 49ers game was
the most the offensive line has struggled all season
, with right guard
Kyle DeVan
and right tackle
Todd Herremans
having a particularly hard time against a strong San Francisco front.
Depth on the defensive line has been a strength for the Eagles, but it's being challenged now by injury.
Antonio Dixon
is on injured reserve and out for the year with a triceps tear, so the team re-signed defensive tackle
Derek Landri
, whom they liked in training camp,
to replace him
. If they can stay deep at defensive tackle, they could conceivably play
Cullen Jenkins
at end sometimes, especially while they're waiting for
Trent Cole
's calf injury to heal. They'll lean on that depth now.
I'm going to head over to East Rutherford today and check in on the Giants, see if I can't pick up a Thursday column on them. I'll let you know if anything interesting happens.
August, 17, 2011
8/17/11
8:00
AM ET
We were promised Jeremy Maclin news Tuesday and
didn't get it
. As of this morning, neither Maclin nor the Philadelphia Eagles have issued any kind of statement on the mysterious medical condition that has kept the star wide receiver from practicing in training camp. You won't get speculation here, and if I had any real information on it I'd tell you. But the longer this goes, the more it puts Maclin in jeopardy of missing the start of the season. And while his status as a football player obviously isn't as important as his personal health, we don't know anything about the latter except that it's not good enough to allow him to play. So that's all we can write about right now.
More Eagles
Rich Hoffman says protecting Michael Vick's blind side is the
key to the Eagles' season
. Right tackle Winston Justice is still hurt. Ryan Harris, his apparent replacement, is hurt. King Dunlap, one of the largest human beings I've ever seen, is slated to start there in Thursday night's preseason game. And they have a rookie, first-round draft pick Danny Watkins, in line to start at right guard. Hoffman's right. These are questions they need to answer.
Hall of Fame Eagles receiver Pete Pihos died Tuesday at the age of 87 after a long bout with Alzheimer's disease.
The story of Pihos' final years
is an achingly familiar one we've read before about the later lives of former NFL players. Dementia. Swindled out of a bunch of money. These guys get old and forgotten and suffer for having played NFL football. It's why retired players groups were working so hard to make sure they were taken care of in the recent labor negotiations.
Dallas Cowboys
Jerry Jones says that if Felix Jones has a good year,
so will the Cowboys
. With those other backs hurt, and based on a creeping suspicion, I was already sliding ol' Felix up my fantasy draft board a bit. Hope Jerry didn't let the secret out. What's that? He says this every year? Oh, right.
Igor Olshansky says
he doesn't care whether he starts or not
, which could be a good thing, since it looks as though he might not. The Cowboys believe they have a lot of defensive end depth now with Kenyon Coleman having joined the mix and Jason Hatcher freed from
his elevator prison
.
New York Giants
The Giants signed Rhys Lloyd, who's a kicker who
only kicks off and never kicks field goals
. My first thought was that they only did this because Lawrence Tynes has that thigh injury and they need someone who can kick off in their preseason game Monday night. Then I read that they tried to sign Lloyd last year, so I thought maybe there was more to it. Then I remembered that nobody's going to need a kickoff-only kicker anymore because every kicker in the league is going to be able to drill the ball through the back of the end zone now that kickoffs have been moved up to the 35-yard line. So I'm back to thinking it's that first thing I said.
Mike Vaccaro says
the return of Osi Umenyiora isn't the only reason to feel good about the Giants' defense going into this year. Man, the narrative on the Giants has shifted in just one week, hasn't it?
Washington Redskins
Kevin Barnes is a guy who could play a big role in the Redskins' secondary this year. With Phillip Buchanon suspended for the first four games, Barnes will get a lot of chances to play, even if it's only as the nickel corner with DeAngelo Hall and Josh Wilson as the starters.
Stephen Whyno takes a look at Barnes
and what he's up to as he prepares for the season.
Roy Helu tells Brian Tinsman that he
learned a lot in his first NFL preseason game
and is looking forward to putting those lessons into practice in the next one. He also says Tim Hightower has been great working with the younger backs on the roster, which I found kind of funny because Hightower is only 25 years old. I mean, it's great he's working with the less experienced guys and all, but a veteran at 25? Gives you an idea why they were fired up to be able to get him.
Enjoy the day, folks. I'll have a few things up before my flight to Dallas. And who knows? Maybe we get that Maclin news ...
August, 9, 2011
8/09/11
9:38
AM ET
I have here on my laptop screen three "unofficial depth charts" -- one each for the
Dallas Cowboys
,
Philadelphia Eagles
and
Washington Redskins
. They arrived as part of the media game notes in advance of preseason games, which begin the day after tomorrow. On Monday, I got the ones for the Cowboys and Eagles, who open preseason play Thursday. This morning I got the one for the Redskins, whose preseason opener is Friday. I am assuming that the Giants, who play Saturday, will send theirs tomorrow. (See what I did there? I incorporated simple addition and knowledge of the calendar. My sons' elementary school teachers would be so proud.)
Anyway, these don't, technically, mean anything. The teams call them "unofficial" just so we remember that. But they are fun, and here at the NFC East blog we're all about having fun. So let's take a look at a couple of things I noticed about each of the three I have so far that you, my dear readers, might find interesting. (And don't worry, Giants fans, you'll get your turn when I get your depth chart.)
Dallas Cowboys

Not a lot of surprises here. The Cowboys don't list their injured players as front-line starters, so
Phil Costa
is listed as the first-string center with
Andre Gurode
listed in brackets at the back of the depth chart as an injured player. They still have
Montrae Holland
listed as the starting right guard even though he's hurt, too, and
David Arkin
started there in Sunday's scrimmage. Arkin is listed as
Kyle Kosier
's backup at left guard, but we know that the alignment was changed Monday so that Arkin was starting with the first team at left guard and Kosier moved over to the right to start next to rookie tackle
Tyron Smith
.
Felix Jones
is listed as the starting running back, though
Tashard Choice
and
DeMarco Murray
are listed in brackets because of injury and therefore pose no unofficial-depth-chart threat at the moment. Jones' backup on the depth chart is
Lonyae Miller
.
Kevin Ogletree
and
Jesse Holley
are the wide receivers listed immediately behind
Dez Bryant
and
Miles Austin
at those two positions, for what that's worth. Brings into focus the fact that they could use help at that No. 3 receiver spot.
On defense, they have
Marcus Spears
and
Igor Olshansky
starting at defensive end, and
Sean Lee
starting next to
Bradie James
at inside linebacker with
Keith Brooking
hurt.
Orlando Scandrick
is the starting cornerback opposite
Mike Jenkins
and in place of the injured
Terence Newman
, and
Alan Ball
is listed as Jenkins' backup. Free-agent signees
Gerald Sensabaugh
and
Abram Elam
are the starting safeties.
And
David Buehler
is still listed as the kicker ahead of
Dan Bailey
, but as I understand it that's not yet settled. Overall, it's tough to get a clear picture of the Cowboys' depth chart because of all the injuries.
Philadelphia Eagles

The Eagles still list
Jeremy Maclin
and
DeSean Jackson
, neither of whom has yet had a full practice, as their starting receivers. So the Dream Team rolls a bit differently, depth chart-wise, than does America's Team. Their backups are listed as
Riley Cooper
and
Jason Avant
, who are obviously more likely to play Thursday than are the listed starters.
Ryan Harris
is listed as the starting right tackle and
Winston Justice
isn't listed at all (presumably because he's on that PUP list).
Jamaal Jackson
is still listed as the starting center, though you need to keep an eye on
Jason Kelce
and how much he plays against the Ravens. They also list
Vince Young
as the No. 2 quarterback, ahead of
Mike Kafka
.
On defense, the Eagles' first-team line is listed as
Trent Cole
,
Antonio Dixon
,
Mike Patterson
and
Juqua Parker
. Obviously, Patterson's health concerns have taken him out of the mix for the time being, and Dixon has been limited due to injury. So you're more likely to see
Cullen Jenkins
and
Anthony Hargrove
at those defensive tackle spots, with
Trevor Laws
in the mix once he's healthy. Deep rotation on the line, where free-agent signing
Jason Babin
is a second-team defensive end along with
Darryl Tapp
. They're listing
Casey Matthews
as the starting middle linebacker in between
Jamar Chaney
and
Moise Fokou
, and
Asante Samuel
and
Nnamdi Asomugha
are the starting cornerbacks.
Kurt Coleman
is listed as the starting free safety opposite
Nate Allen
and in front of rookie
Jaiquawn Jarrett
.
Johnnie Lee Higgins
is listed as the kick returner and as Jackson's backup punt returner.
Washington Redskins

Rex Grossman
is listed as the starting quarterback, which is a change from the depth chart Mike Shanahan had on the wall of his office last week and could have something to do with
John Beck
's groin injury. It'll be interesting to see, if Beck is healthy, which one starts and how much they play. I think they'd like Beck to win the job but are prepared to go with Grossman if Beck falls on his face.
They're also listing
Tim Hightower
as the starting running back with
Ryan Torain
injured. But even if Torain were healthy, I believe they prefer Hightower assuming he can control his fumbling problem.
Jabar Gaffney
is listed as the starting wide receiver along with
Santana Moss
.
Anthony Armstrong
and
Leonard Hankerson
are listed as the backups. No surprises on the offensive line.
On defense, they have rookie
Ryan Kerrigan
starting at outside linebacker opposite
Brian Orakpo
and
Rocky McIntosh
starting inside along with
London Fletcher
. That puts
Lorenzo Alexander
in a bench/utility role from which he can help in multiple ways.
Stephen Bowen
and
Adam Carriker
are listed as the defensive ends on either side of nose tackle
Barry Cofield
. They have
Josh Wilson
starting at cornerback opposite
DeAngelo Hall
, and it'll be interesting to see if Wilson holds that job through and after
Phillip Buchanon
's four-game suspension.
Reed Doughty
starts at strong safety with
LaRon Landry
injured, and they're still listing
Graham Gano
as the kicker ahead of
Shayne Graham
, though it's possible that whoever shows up first when Shanahan yells "Graham!" will get to kick.
Have fun with it, folks. I'll take questions here and in the
chat, at noon ET
.
August, 2, 2011
8/02/11
11:15
PM ET
Time once again for our nightly check-in, where we look back over the 24 hours that have just transpired and ask the open-ended question: How was your day ...

Dallas Cowboys?
"You know, fine."
Got to be getting old watching the Eagles sign half the world, but the Cowboys did finally lock in one of the two starting safeties they need, bringing back
Gerald Sensabaugh
on what appears to be
his third one-year contract
. Wonder what that says about a guy. They keep wanting him back, but ... not
that
much. I'd be surprised if
Abram Elam
weren't the Cowboys' next move, and after that, maybe a No. 3 receiver. But everybody who's been harping on the Cowboys to sign free agents seems to forget how many good players they already have. Rob Ryan's coaching could be enough to fix what went wrong on defense last season, even with similar personnel. And the offense is loaded with talent. The Cowboys don't need star-caliber pieces. They just need to fill holes. They'll do it. By the way, they also
signed another kicker
-- Kai Forbath, who was really good at UCLA but is hurt now and might or might not be a factor in the
David Buehler
/
Dan Bailey
kicking competition that has the Metroplex riveted.

New York Giants?
"Restful."
The Giants' players had the day off,
to their coach's chagrin
, but the front office made itself busy with minor moves, such as
signing defensive tackle
Gabe Watson
, who'll be a solid backup or rotational guy in the middle of the line, and
bringing back
Michael Clayton
to help the receiver depth. Nothing new on
Osi Umenyiora
, who still wants a new deal or out and isn't any more likely today than he was yesterday to get either. Nothing new on
Steve Smith
or
Kevin Boss
, although the signing of
Zach Miller
by the Seahawks could get the Raiders interested pretty quickly. The Giants signed
Ben Patrick
on Monday to give them insurance in case Boss left, but they're not similar players. Patrick doesn't block the way Boss does, and they surely want Boss back.

Philadelphia Eagles?
"Oh, you know. Typical, three-signing day."
The Eagles were off, too, but they were at it again, agreeing to new deals with
Ronnie Brown
as a backup running back,
Ryan Harris
as a right tackle and
Jarrad Page
to add to their safety mix along with all the young guys they have back there. All three came on one-year deals because apparently the whole league wants to play for the Eagles now and will take anything to do it.
Jeremy Maclin
also
arrived in camp
after missing the first five practices due to an illness the team won't discuss, so hopefully he's OK. And nothing new on
DeSean Jackson
, who has to be wondering how much money is left for him.

Washington Redskins?
"Humbling."
Yes, they're paying attention in Ashburn to what's happening at Lehigh with the Eagles. The whole league is. And if you're the Redskins, it can't escape your attention that your current starters at quarterback and running back are
John Beck
and
Ryan Torain
while the Eagles'
backups
at those spots are
Vince Young
and Ronnie Brown. But hey.
Rex Grossman
showed up Tuesday
, which means it might not
have
to be Beck.
Phillip Buchanon
showed up, too, although we also learned he's suspended for the first four games of the season. Once he's back, I think the Redskins' defense has a chance to be good. The offense, with question marks at quarterback, running back, receiver and offensive line ... that's another story.
My day was good. Spent some more time at Redskins camp. Had some nice conversations with
Barry Cofield
,
Trent Williams
,
DeAngelo Hall
,
Lorenzo Alexander
and others, and in the coming days I will be filling you in on the insight I gleaned from those conversations. I like getting out and talking to the players and coaches. I learn more from those conversations than I do from watching practice, although I know you guys want to know what I saw in practice. But yeah, my day was real nice. Looking forward to one more morning in Ashburn before I head home and then out to see the Eagles.
How was your day?
August, 2, 2011
8/02/11
2:47
PM ET
All right. I didn't forget you guys. Been a busy day what with the chat and some video stuff we've been working on for the site. But I have been here at Redskins Park, where some things are happening. Let's take a little spin through some of them.
Item No. 1: Rex Grossman returns.
[+] Enlarge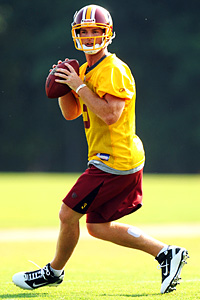 Mitchell Layton/Getty ImagesJohn Beck has had a slow start to training camp.
Mike Shanahan said in his morning news conference that Grossman would "be here tonight," which is something about which many people have been asking me and for which I now have an answer. Grossman was a free agent and is re-signed to enter the quarterback competition along with
John Beck
, who's taken so many first-team reps that, Shanahan says, his "arm was a little sore today" and "He didn't have the zip on it that he normally has."
The other thing everybody's asking is how Beck looks, since it sounds like Shanahan favors him as the starter. I wish I had better news for you guys. Beck has not looked good the two days I've been here. His throws are consistently behind receivers, his deep passes wobble and he looks jittery when he sees extra rushers (who aren't even allowed to hit him, by the way). It's only Aug. 2, so it's unfair to judge a guy based on the way he looks right now. But you guys are asking how he looks, so there it is, with those caveats.
What do I think they'll do at quarterback? I think they'll decide between Beck and Grossman, depending on how each looks in camp and maybe even switch it back and forth during the season depending on how they play. I do not think they'll bring anyone else in, and I think the quarterback spot will be a glaring weak spot that costs them a chance to contend in 2011. I believe their offseason moves have been good ones, but I think that because this is a team building for the future, not a 2011 playoff team.
Item No. 2: Phillip Buchanon is back ... sort of.
The Redskins re-signed the cornerback Monday, and Tuesday Shanahan revealed that Buchanon would be suspended for the first four games of the season. Didn't say why, but four games does tend to mean a second violation of the substance abuse policy. (A first violation gets a warning that's not made public.) Buchanon will be here and eligible to practice Thursday and throughout camp but will miss the first four games. And no, I don't expect them to bring in another corner for those four games. Could be a chance for a guy like
Kevin Barnes
to show something.
Item No. 3: Ryan Kerrigan still hurt.
Shanahan said the team's first-round pick would miss "another two or three days" of work because of the bone bruise on his knee. Said they don't want to rush the kid, who hasn't had injury problems in the past. What long-term effect this has is a good question. Kerrigan will be a rookie who didn't have minicamps, and every day of training-camp practice he misses is a day lost in learning the new techniques he must learn to play 3-4 outside linebacker as opposed to the 4-3 defensive end spot he played in college. That could explain why they are, as has been reported, looking for inside linebacker help. They tried on
Nick Barnett
before he signed with Buffalo, and
Lofa Tatupu
was supposed to be in for a visit today. Bringing in help there could allow them to keep
Lorenzo Alexander
at the outside linebacker spot opposite
Brian Orakpo
in the event that Kerrigan isn't ready to take all the starter snaps beginning in Week 1. Alexander's versatility is critical here. He lined up in several different linebacker spots this morning, and they could use him in a variety of ways regardless of Kerrigan's status.
Item No. 4: Jarvis Jenkins
The defensive line was one of the most impressive-looking things about the Redskins in morning drills, and Jenkins stood out, particularly in his ability to create pressure up the middle against the run and the pass. "You can tell he likes to work," Shanahan said of his second-round pick. "All the things you look for in a guy, I believe he has." Jenkins will have an opportunity for playing time on the line even once
Barry Cofield
and
Stephen Bowen
are able to practice.
The Redskins have a walk-through in a little while and we'll get some more interviews, so I'll keep you posted if anything else happens or anybody says anything especially interesting. But hopefully these here give you something to chew on in the meantime. If you need me, you know you can find me on Twitter.
July, 25, 2011
7/25/11
2:13
PM ET
»
NFC
:
East
|
West
|
North
|
South
»
AFC
:
East
|
West
|
North
|
South
»
Unrestricted FAs
Readiness factor
: The Redskins held a ton of player-organized workouts, and they seemed to go very well. Organized by defensive leaders
London Fletcher
and
Lorenzo Alexander
and inspired by the camps the Redskins teams of the past ran to great effect during labor stoppages, the Redskins' workouts were well-attended and well-directed. There were days when Fletcher would call plays from a piece of paper he kept in his pocket, trying to help the defense run some of the 3-4 looks that were installed (but not quite mastered) last year. They brought fans out of the stands to run drills with them and generally just had a good old time. It'll be interesting to see if all of that lockout-time bonding pays dividends once the games start to count.

Biggest challenge
: Figuring out the quarterback situation.
Donovan McNabb
is surely gone as soon as they can move him. They didn't draft a quarterback in April, and shortly after the draft head coach Mike Shanahan said he liked the idea of
John Beck
as his starter. Whether it's Beck or
Rex Grossman
, who ran the offense late last year when the McNabb plan blew up, the Redskins will be going with an imperfect solution at the most important position on the field. Will it be a season-long nightmare that forces them to draft a quarterback high in next year's draft? Will it be a revolving door with one guy starting one game and the other the next? Will the defense play well enough to overcome it? Will Beck surprise and play better than everyone (except, apparently, Shanahan) thinks he can? Many questions, still no answers yet. At least soon they can start running drills and see what they actually have back there.
Haslett's second season
: Defensive coordinator Jim Haslett came to town with Shanahan last year and converted the Redskins from a 4-3 defensive team to a 3-4. It was not an easy transition, and many of the pieces that were in place didn't fit well into the new scheme. Now, every coach who knows about it says it takes two years, not one, to fully transition to the 3-4. So we should see improvement in the way the Redskins play defense in 2011. They still need to add some pieces on the line, find a cornerback or two, and they may need a linebacker if
Rocky McIntosh
leaves and Alexander can't be a full-time starter on the inside. But the pre-lockout addition of
O.J. Atogwe
at safety and the drafting of outside linebacker
Ryan Kerrigan
in the first round were good moves. Along with the year of experience the returning guys got last year, they could help the Redskins put together a respectable defense sooner than you might expect.
Key players without contracts for 2011
: OT
Jammal Brown
, CB
Phillip Buchanon
, DE
Kedric Golston
, QB Rex Grossman, LB Rocky McIntosh, WR
Santana Moss
, C
Casey Rabach
, CB
Carlos Rogers
May, 4, 2011
5/04/11
1:00
PM ET
Scouts Inc.'s Matt Williamson breaks down the cornerbacks of each NFC East team. Today: Washington Redskins.

Although they are second on this list, the Redskins really did struggle in coverage last season. I still feel that Dallas and Philadelphia are worse off at the position as it stands at the beginning of May.
Carlos Rogers
is scheduled to hit free agency. Rogers was much more effective in 2009 than he was last season -- he was banged up for much of the second half of the season. Still, plenty of teams should be interested in the former first-round selection.
DeAngelo Hall
has a ton of ability but has always been inconsistent. Although he wasn't deserving of his Pro Bowl berth, he does absolutely have a flair for the dramatic. He isn't my style of corner, but I do respect his ability.
As Rogers battled injuries,
Phillip Buchanon
became the starter opposite Hall. Like Hall, consistency is a big problem for Buchanon. He had more than his share of ups and downs in 2010. He really is a difficult guy to count on as a true starter and should be considered a sub-package player.
Washington did add two depth players in the draft -- fifth rounder
Dejon Gomes
and seventh rounder
Brandyn Thompson
. But expect the 'Skins to use some money in free agency on a veteran corner or to try to re-sign Rogers.
It needs to be noted that the addition of
Oshiomogho Atogwe
as the starting free safety should make Washington's cornerbacks more effective all-around cover men. Last season, the pass-rush was well below average. The addition of first-round selection
Ryan Kerrigan
should boost that phase of pass defense as well.
Scouts Inc. watches games, breaks down film and studies football from all angles for ESPN.com.
October, 5, 2010
10/05/10
12:09
PM ET
By
ESPN.com staff
| ESPN.com
Redskins CB Phillip Buchanon discusses

Washington's win over the Eagles and explains why he thinks Kevin Kolb will be a good quarterback.
September, 23, 2010
9/23/10
4:45
PM ET
By
Matt Mosley
| ESPN.com
Washington Redskins
linebacker
London Fletcher
seemed amused
by cornerback
DeAngelo Hall
's rant following Sunday's loss to the
Houston Texans
. Hall emphatically stated the Redskins defense was "his" and indicated that he should've been assigned to the Texans' top receiver,
Andre Johnson
, in crunch time. And after watching what happened to
Phillip Buchanon
and
Reed Doughty
on a fourth-and-10 play in the fourth quarter, it's hard to argue with Hall.
"I wasn't really aware of the conversation, or the question and whatever," said Fletcher per the Post. "I understand him wanting to be a playmaker and make plays. Obviously, you've got some elite receivers that we're gonna face throughout the course of the season. You're gonna want those challenges. As a competitor, you want to go up and face their best. ... But I understand what he means by it."
I think the Redskins are about to get on a nice little roll here. I can't wait for them to get to Philadelphia on Oct. 3. Been eyeing that game since April.
September, 19, 2010
9/19/10
8:44
PM ET
By
Matt Mosley
| ESPN.com


What it means:
It's
a really tough loss
for a team that appeared to be in control at halftime. The Redskins know the Texans' offensive personnel as well as anyone but they couldn't do anything to slow down
Matt Schaub
in the passing game. A 2-0 start would have put the Redskins in a great position -- especially with the Cowboys at 0-2. Washington has to quickly put this one behind them, but it's a loss that could haunt the Skins late in the season. Quarterback
Donovan McNabb
had a huge day with 426 yards passing and a touchdown. The Redskins' offense really missed rookie left tackle
Trent Williams
when he was injured late in the game.
Tomorrow's talker:
Everyone will be talking about the timeout Gary Kubiak took just as Redskins kicker
Graham Gano
attempted a 52-yard field goal. He nailed the field goal, but Kubiak had already been awarded the timeout. When Gano lined up again, he missed the field goal to the right. Icing a kicker at the last second can obviously backfire if he misses the kick, but it paid off for Kubiak. The fact that he did it to his mentor and close friend, Mike Shanahan, only added to the intrigue.
Goat:
Safety
Chris Horton
jumping offsides in overtime was an absolute killer. The Texans were able to extend the game-winning drive. A lot of Redskins deserve blame for all those passing yards, but Horton made the mistake that folks will remember.
What I didn't like:
At a crucial point late in the fourth quarter, why would the Redskins have
Phillip Buchanon
attempting to cover
Andre Johnson
? He had already burned them for double-digit catches. You have to put your best cornerback on him. Buchanon had help over the top with
Reed Doughty
but he was not able to break up the touchdown. That's how the Texans forced overtime.
What's next:
The Redskins will travel to St. Louis, where they can't afford to have a letdown. If they can get to 2-1, that Eagles game in Philly is going to be huge -- for so many reasons.
March, 29, 2010
3/29/10
4:07
PM ET
By
Matt Mosley
| ESPN.com
One day after he visited Redskins Park, veteran cornerback Phillip Buchanon has signed a one-year contract with the club worth $1.5 million,
according to ESPN's Adam Schefter
. Buchanon could earn up to $750,000 if he reaches certain incentives.
The 17th overall pick in the 2002 draft for the Oakland Raiders, the 29-year-old Buchanon has had a disappointing career to this point. He has 18 career interceptions, five of which have been returned for touchdowns. But he hasn't been able to stick with a team long since being traded from the Raiders.
"We are very excited to add a veteran corner, such as Phillip, to our defensive backfield," said Mike Shanahan in a press release Monday. "He has had a lot of success in this league and brings with him the ability to create turnovers. He will be a big part of what we are trying to accomplish defensively in Washington ."
The Redskins have avoided the big-ticket items in free agency this offseason, instead opting for veteran players in need of a fresh start. I still think Washington will regret signing a malcontent such as running back Larry Johnson, but veterans such as Maake Kemoeatu and Buchanon make sense. They come at a relatively low cost and they both have the potential to play a significant role on defense.
Buchanon played in 13 games for the Lions in '09 but did not have an interception. He was banged up in a game that caused Browns coach Eric Mangini
to launch allegations
of the Lions faking injuries to slow down Cleveland's no-huddle offense.
March, 29, 2010
3/29/10
3:23
PM ET
By
Matt Mosley
| ESPN.com
Let's take a quick look at the top storylines from around the division this afternoon:
Cowboys
Eagles
Giants
Redskins