November, 11, 2013
11/11/13
8:00
AM ET
NEW ORLEANS -- A review of four hot issues from the
Dallas Cowboys
' 49-17 loss to the
New Orleans Saints
.
Going nowhere:
Only three times in their first 10 games have the Cowboys converted on at least 40 percent of their third-down opportunities. They were 0-for-9 against the Saints.
Tony Romo
missed on all six of his third-down passes, continuing a poor season-long trend for the quarterback. Romo was the 30th-ranked quarterback in third-down passer rating before Sunday, ranking ahead of only
Matt Schaub
and
Brandon Weeden
. Winning on third down is a must, and the Cowboys don't win nearly enough.
"Typically you have to get yourself in favorable third-down situations," coach Jason Garrett said. "I believe you have to make first downs on first down and drive the football and stay out of some of those third-down situations. But when the time comes you've got to convert and you've got to make some plays, and we've just got to do a better job. We'll evaluate what we're doing and see if we can put our players in better positions to do that."
[+] Enlarge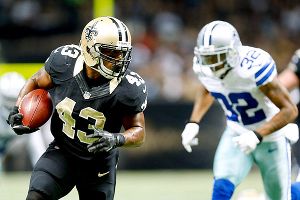 Derick E. Hingle/USA TODAY SportsDallas gave up three scores on the ground and 242 rushing yards to the Saints.
Pounded on the ground:
The Saints ran for 282 yards against the Cowboys.
Mark Ingram
had 145 yards.
Pierre Thomas
had 87 yards. It was the second time this season the Cowboys gave up 200-plus rushing yards. Washington had 216 yards on Oct. 13 but lost. The Cowboys have given up at least 84 yards on the ground in six of their last seven games. The Cowboys had eight players in the box Sunday, dropping a safety, but the line was of no help with the running backs often not getting touched as they broke through to the second level. That's where they missed
Sean Lee
, but the tackling was atrocious.
"It's not good when they can just line up and run it right at you," defensive coordinator Monte Kiffin said.
Slowing down:
Terrance Williams
was able to catch a 21-yard touchdown pass from Romo, but it was his only catch of the game on five targets.
In the last three games, Williams has caught just five of the last 22 passes thrown his way. Not all targets are created equal and viewing them purely in a batting average fashion can be dangerous, but Williams has to be more efficient. If teams are going to do whatever they can to take away
Dez Bryant
, then Williams has to win more. If he wins, then Bryant cannot be doubled as easily as he has been doubled. A healthy return of
Miles Austin
would also help the offense and Williams.
What's the deal?
Maybe the Cowboys don't lead the league in hamstring injuries, but they must be close. Lee was forced from Sunday's game in the first half.
Justin Durant
was forced out in the second half. Claiborne did not play against the Saints because of a hamstring injury. Austin missed his fifth game in the last seven weeks because of a hamstring injury.
Garrett is confounded by the issue that has cropped up and has said the Cowboys examine all of their stretching issues before and after practices as well as before games.
"I think they're fairly common around the league," Garrett said, "but we've certainly had our share of them."
January, 19, 2012
1/19/12
3:00
PM ET
EAST RUTHERFORD, N.J. -- He saw the question coming, because surely someone had told him in the previous 24 hours that he'd been called "
a little bit soft
" by one of the greatest players in NFL history. So when somebody asked
New York Giants
running back
Brandon Jacobs
about Jerry Rice's comments Thursday, he was ready with his answer.

Jacobs
"I grew up a San Francisco 49er fan," Jacobs said. "I loved Jerry Rice. I still love Jerry Rice. I have nothing negative to say about Jerry Rice. If he feels that way, he feels that way. I wish he was going to try and tackle me, though."
Jacobs isn't the sort of guy who leaves much doubt about his confidence level. No, he's the sort of guy who goes running up to the opposing coach after a Christmas Eve victory and yells, "Time to shut up, fat boy!" So while Jacobs' news conference Thursday was low on controversial sound bites, it was teeming with self-assured responses to questions about the challenges he'll face in Sunday's NFC Championship Game against the 49ers in San Francisco.
Someone asked him, for instance, about the fact that the Niners knocked Saints running back
Pierre Thomas
out of last Saturday's playoff game and have earned a reputation for doing the same with other backs.
"Knocked out of the game means you got hit in the head," Jacobs said. "I wish like hell one of them would try and hit me in my head, because that means they're staying high instead of going for your legs."
The 49ers are the toughest run defense in the league -- a physical, punishing, super-quick bunch up front. Jacobs had 55 yards on 18 carries in a Week 10 game he had to play without his buddy and fellow running back
Ahmad Bradshaw
, who is expected to play in this game. So he knows how hard they hit. It's just not something that's bothering him.
"I really don't care how physical they are," Jacobs said. "I'm not afraid of anybody on that team. I'm not afraid of anybody in that organization. I'm ready to play football."
October, 15, 2009
10/15/09
2:15
PM ET
By
Matt Mosley
| ESPN.com
| | |
| --- | --- |
| | |
| | Getty Images |
| | Will the Giants defenders be able to slow down Drew Brees and the Saints' passing attack? |

Posted by ESPN.com's Matt Mosley
Let's admit it. The NFC East hasn't exactly provided us with great theater through five games of the '09 season. You could argue that Chiefs-Cowboys was an instant classic -- as long as you skip the first three quarters. But on Sunday, the Beast emerges from its five-week slumber with a matchup between two heavyweights in the NFC.
We pretty much assumed the Giants were going to be in the Super Bowl conversation heading into the season, but the Saints were a different story. For all their prolific offensive numbers, they had not been a good defensive team under coach Sean Payton. But after winning a bidding war for defensive coordinator Gregg Williams this offseason with some of his own money, Payton and the Saints appear to have as good a chance as anyone from the NFC.
Could this be a preview of the NFC Championship Game? It's hard to say at this point, but it should be an entertaining matchup. The Beast blog now presents my five favorite storylines heading into Sunday's game in New Orleans:
1. Eli Manning is going home to play in the Superdome for the first time.
It's hard to believe that the youngest Manning boy grew up in New Orleans, hung out with his father at Saints games, but has never played in the Superdome. Brothers Peyton and Cooper played high school games in the famous stadium, but the one NFL game Eli was supposed to play in New Orleans was moved to Giants Stadium in 2005 because of Hurricane Katrina.
Manning hasn't lost his "aw, shucks" demeanor, so it's hard to tell how much this game means to him. I think he'll take a moment before the game to sort of soak everything in -- and then he'll go about his business like any other road game. The outcome of this game isn't going to determine whether the Giants make it back to the Super Bowl, but it will give them a great idea of how they stack up against a pretty impressive team. The Giants have devoured the dregs of the league (Bucs, Chiefs, Raiders, Redskins), and that's why it's hard to truly know how good they are at this point.
Manning has thrown 10 touchdowns against only two interceptions this season and he's kept his passer rating over 100 the past four weeks. He's certainly right in the middle of the MVP conversation and a big game in front of a hostile crowd would only enhance his chances. A lot of folks have him trailing big brother Peyton right now, but I think a win on Sunday would put Eli in front. Williams has done a tremendous job with the Saints' defense, but so far this season, Manning has been unflappable. I don't see that changing.
2. The Giants will see an old friend in tight end Jeremy Shockey.
I realize this storyline is getting a little tired, but we're not going to run from it. Earlier in the week, Shockey told the New Orleans Times-Picayune that he still had a "bitter taste" in his mouth about his very public split with the Giants. The reality is that Shockey acted like a baby when the Giants didn't coddle him leading up to Super Bowl XLII. Like many injured players, he felt estranged from his teammates down the stretch -- but a lot of that was his own doing. Payton has a good understanding of Shockey because he once served as offensive coordinator for the Giants. He knows how volatile Shockey can be and I think he'll do a good job of trying to prevent the tight end from going overboard Sunday.
Shockey's a very talented player. He's also incredibly childish. I wouldn't be surprised if some of the Giants' defenders try to bait him a little bit during the game. Giants linebacker
Antonio Pierce
has been very complimentary of Shockey this week, but I wouldn't be shocked if he changed his tune after kickoff.
3. Can the Giants' front four get to Drew Brees?
Quick, name the Saints' starting left tackle. Unless you follow this team on a weekly basis, you'll have a hard time coming up with
Jermon Bushrod
and his understudy
Zach Strief
. The Saints lost Pro Bowl left tackle
Jammal Brown
for the season -- and it hasn't mattered. Brees is one of the best quarterbacks in the league at getting the ball out quickly. Payton has provided the perfect system for Brees' skills -- and he takes advantage of some tremendous weapons. NFC South blogger Pat Yasinskas has even tried to make the argument in the past that
Brees is the best quarterback in the league
. I think this will be a fascinating cat-and-mouse game between Giants defensive coordinator Bill Sheridan and Payton. Here's where I think the Giants can hurt Brees: Players such as
Osi Umenyiora
and
Mathias Kiwanuka
have enormous wingspans. They're not always going to get to Brees, but I think you'll see them bat down some passes.
I think the Giants will move defensive end
Justin Tuck
inside even more than usual Sunday. The Giants want to bring pressure up the middle in an effort to force Brees out of the pocket. He can move around a little bit, but it's not as if he's great at throwing on the run. I also think you'll see the Giants bring some pressure from their cornerbacks and safeties. I like the way Pierce checks into different calls right before the snap. He did that against the Cowboys and it paid off with an interception return for a touchdown by
Bruce Johnson
. The Giants will do everything they can to make Brees uncomfortable.
4. With linebacker Michael Boley out with an injury, how will the Giants account for the Saints' RBs?
This is the topic that's not getting enough play nationally. The Saints finally have all their running backs healthy.
Mike Bell
,
Pierre Thomas
and
Reggie Bush
pose a serious threat to any defense -- but especially one that has had trouble covering running backs in space. That's what Boley was brought in to do after
Brian Westbrook
exposed Pierce last December. Just as he did in 2006, Payton uses Bush as his primary receiving back. He'll use him in a variety of ways in the passing game -- and occasionally he'll even hand him the ball.
Thomas and Bell probably will end up splitting the carries. Thomas may be the closest thing to a feature back that the Saints have -- and he's been excellent lately. Bell was really good early in the season and now he's ready to go again. I guarantee you that Sheridan's almost as concerned about the backs as he is about the Saints' wideouts.
Chase Blackburn
's a solid replacement for Boley against the run, but he could struggle trying to cover Bush. Someone should be spying on Bush at all times.
5. Manning has to know where Darren Sharper is at all times.
If Manning has a nemesis, it's this guy. Sharper's one of those crafty safeties who seems to constantly lure quarterbacks into mistakes. And he's driven Manning nuts in the Meadowlands. Sharper has picked off Manning four times, returning two of those for touchdowns. Manning joked this week that he has single-handedly kept Sharper going to Pro Bowls.
Like his brother, Manning does an excellent job of making pre-snap reads. He rarely checks into the wrong play. And he'll know where Sharper is at every moment Sunday. The crowd noise is going to be a factor and I think the Giants will be ready to go with a silent count if they need to. Manning's been superb on deep balls through five games. I'd look for him to try to hit
Mario Manningham
or
Hakeem Nicks
on a double move early in the game. He'll try to take advantage of Sharper's daring ways.
The Beast has reserved a seat in the Superdome press box Sunday, so make sure you join me for all the action.