April, 26, 2013
4/26/13
1:56
PM ET
As they continue to work to free up the cap space they'll need to sign their draft picks, the
Washington Redskins
continue to get help in that effort from players already on their roster.
Zac Boyer reports
that Redskins cornerback
Josh Wilson
has agreed to a contract restructure that will reduce his 2013 base salary to $2 million with a chance to make another $1.3 million in incentives, and that the team will save roughly $2 million in cap space with the move. No new years are added to Wilson's deal, no cap hit dumped into future years.
So far this offseason, the Redskins have released and re-signed
DeAngelo Hall
, signed
E.J. Biggers
and openly pursued other cornerback help, most recently bringing in veteran
Quentin Jammer
for a visit. With the second and third rounds of the draft tonight and cornerback a deep position group from which the Redskins should be able to select, it's certainly conceivable that Wilson became convinced a pay cut now was preferable to being cut in the next few days or weeks. But he's one of many Redskins players to reduce their salaries and stay with the team this offseason, including Hall,
Santana Moss
,
Adam Carriker
and
Brandon Meriweather
.
The Redskins are dealing this offseason with $18 million worth of salary-cap penalties left over from last year's league-imposed discipline for their spending behavior during the uncapped 2010 season. But they've managed to keep almost everyone they wanted to keep from their 2012 division-champion roster. Linebacker and special-teams captain
Lorenzo Alexander
has been their only significant defection to this point.
April, 22, 2013
4/22/13
11:56
AM ET

The
Washington Redskins
reportedly met
Sunday night with veteran cornerback
Quentin Jammer
, which isn't going to get Redskins fans all that excited after failed pursuits of superior options
Aqib Talib
and
Antoine Winfield
earlier this offseason. Jammer turns 34 next month and hasn't drawn any interest on the free-agent market until now, and it's hard to make a real strong case that he's an upgrade over what they have right now.
But I think it's important to remember what the Redskins are looking for at this point. Their long-term answer at cornerback or free safety isn't going to arrive in Ashburn this summer. The salary- cap penalty they incurred meant they couldn't make a real play for Talib or any of the other high-end talent on this year's market in their preferred age range. Instead they signed
E.J. Biggers
, who's likely a No. 3 corner, and re-signed
DeAngelo Hall
, whose work Redskins fans are quite familiar. No perfect solutions available to this year's Redskins.
Which brings us to Jammer, who likely has little to offer as a starting cornerback at this point but could make sense in a hybrid corner/safety kind of role for a Redskins secondary that's going to have no choice but to piece things together for another season and hope it works. Maybe Jammer can play some free safety in a pinch. Maybe he can fill in at corner if Biggers doesn't pan out or in nickel or dime sets. If they were looking at him as a guy who'd line up against star wide receivers on the outside and try to shut them down, they'd be in trouble. But if they see him as an intriguing, experienced piece they could use in a number of strategic ways without overexposing him, then it feels a little better. That's the market in which the Redskins find themselves this offseason. It's the best they can do.
April, 22, 2013
4/22/13
8:00
AM ET
Oh, yeah. It's coming. The NFL draft is the day after the day after tomorrow, and we are all kinds of fired up around these here parts. On Tuesday, we will be doing our blogger mock draft, in which I and each of the other seven ESPN.com division bloggers make the picks for the teams in our division. (It's a first-round-only mock, so Mike Sando and I only have to worry about three teams.) We did this one last year and it was fun, because we're allowed to make trades. So look for that and a bunch of other draft-related goodies here in the days leading up to the NFL's Christmas-in-April spectacular Thursday night at Radio City.
Meantime, links.
Dallas Cowboys
Another look
at the Cowboys' schedule has Calvin Watkins thinking the team could start hot with a big September and wondering why the Raiders, of all teams, are the Thanksgiving Day opponent.
Needing depth at the safety position and appreciative of what he offers them on special teams, the
Cowboys have re-signed
restricted free agent Danny McCray for the 2013 season.
New York Giants
Ohm Youngmisuk writes that the passing of Friday's deadline for teams to sign restricted free agents to offer sheets
increases
the already strong likelihood that Victor Cruz will play for the Giants in 2013. What remains to be seen is whether Cruz will hold out in protest of the state of his contract negotiations. I still don't think so, but he has recently changed agents, so it's possible he's getting different advice than he was before.
Some Giants players did an awfully nice thing at the end of last week, heading up to Newtown, Conn., to put on a
football clinic
for schoolchildren in the area in which the deadly elementary school shooting took place in December. It has nothing to do with the draft or the team's chances in 2013, but it's worth at least a link to tip our caps to pro athletes doing meaningful work in the communities in which they live.
Philadelphia Eagles
It's hard to predict which way Chip Kelly and the Eagles will go with the No. 4 pick in the draft Thursday, but pass-rusher Dion Jordan, who played for Kelly at Oregon, is an
awfully sensible pick
if you're stuck having to make a prediction.
Quarterback EJ Manuel, a potential second-round selection, has been writing a
draft diary
for Birds 24/7, and he says he'd love for the Eagles to draft him. He and we will all know soon enough.
Washington Redskins
We discussed this a bit on Friday, but Mark Maske believes the Redskins
could benefit
by spending one of the later-round draft picks on wide receiver. It's not an obvious position of need, but there's enough fragility and uncertainty about the receivers on the roster that adding depth there isn't a crazy idea.
Grant Paulsen reported
Sunday that veteran cornerback Quentin Jammer was meeting with the Redskins as they continue to hunt for a versatile veteran defensive back who'll work cheap.
November, 15, 2009
11/15/09
11:02
PM ET
By
Matt Mosley
| ESPN.com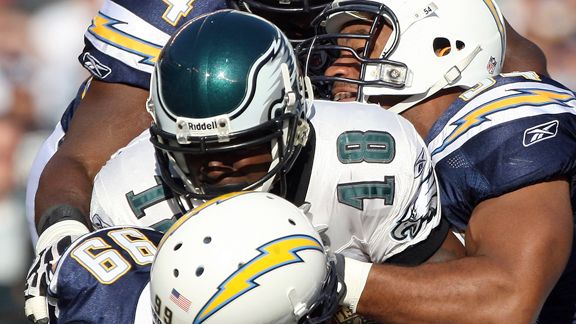 Donald Miralle/Getty ImagesThe San Diego defense made it difficult for the Eagles to get into the end zone from point-blank range.
SAN DIEGO -- Perhaps the
Philadelphia Eagles
should just save themselves the jet fuel in future West Coast trips. Sunday's
31-23 loss
to the
San Diego Chargers
wasn't quite as embarrassing as going belly up in the Black Hole, but it had its moments.
With the defense short on quality personnel, the Eagles needed their offense to realize its explosive potential and beat the Chargers in a shootout. But by the time wide receiver
Jason Avant
decided to take over the game, the Eagles had already dug themselves too deep a hole to overcome.
Donovan McNabb
's eye-popping 35-of-55 for 450 yards and two touchdowns will please fantasy owners, but those are empty numbers when it comes to this team's win total, which by the way is stuck on five. By taking the weekend off, the
New York Giants
leaped into a second-place tie with the Eagles at 5-4, and the
Dallas Cowboys
fell to 6-3 with a
17-7 loss in Green Bay
. The Eagles are still in the thick of the playoff race, which says more about the watered-down NFC than it does about anything this team has actually accomplished.
The Eagles' defense found a way to revive
LaDainian Tomlinson
's fading career, allowing him to rush for 96 yards and a pair of touchdowns. Eagles defensive coordinator Sean McDermott paid homage to Tomlinson after the game, but he tacked on a few harsh words for his players.
"When you play passive football, and not attacking, any running back's going to have a good day," McDermott said.
But it's hard to pick on a unit that was filled out by such immortals as
Dimitri Patterson
and
Ramzee Robinson
. On the play that the Chargers basically sealed the win late in the fourth quarter, McDermott called for safety
Quintin Mikell
to cover Pro Bowl tight end
Antonio Gates
. The Eagles actually have a puncher's chance in that matchup, but someone on the field checked out of that coverage, which forced Patterson to cover Gates instead. Rivers connected with Gates for a 17-yard completion -- and the Eagles began preparing for the in-flight movie.
"Yeah, if we could go back to that, we'd probably make a different check," Mikell deadpanned.
But at least the defense had some legitimate excuses for yielding 31 points. The Eagles' offense had all of its weapons on the field during the second half. They were missing left tackle
Jason Peters
(ankle), but McNabb had plenty of time to deliver the ball throughout the game.
After falling behind 14-0, the Eagles drove 77 yards and had first-and-goal at the Chargers' 1-yard line after
Jeremy Maclin
drew a pass interference penalty from
Quentin Jammer
. Three failed plays later, the Eagles were forced to settle for an 18-yard field goal.
On first down, Eagles fullback
Leonard Weaver
was stuffed for no gain, and on the next play McNabb fired an incomplete pass to
Brent Celek
in the corner of the end zone. On third-and-goal from the 1, coach Andy Reid decided it was a good spot to give rookie
Eldra Buckley
the first meaningful carry of his career. Former Cowboys linebacker
Kevin Burnett
blew up the play.
"When we get in there, we take a lot of pride in scoring touchdowns and not field goals," Reid said. "When you're that close with a first down, you expect to get in there, especially when you've seen [the Chargers] do it the week before, you want to use that and better yourself off somebody else's errors. We weren't able to do that."
The Eagles made two other trips inside the Chargers' 10-yard line that resulted in field goals. Trailing 21-6 in the third quarter, Reid opted to kick the field goal when the Eagles had a fourth-and-1 at the Chargers' 7-yard line. Avant could be seen mouthing the words, "C'mon coach!" in frustration as Reid sent
David Akers
onto the field.
For all of his offensive genius, Reid may be among the worst multi-taskers in the league. His problems with game management (burn those timeouts early) are well-documented, but you also have to question his game planning after Sunday's loss.
It took another
Brian Westbrook
concussion for rookie
LeSean McCoy
to get involved Sunday. McCoy had only two carries in the first half. And we're not talking about a guy who's been a fringe participant on this team. He's been one of the top rookies in the league, but Reid couldn't find a way to get him involved.
The coach said last week that Westbrook and McCoy probably would rotate series, but that's not what happened. At halftime, the Eagles had eight carries for 9 yards. McCoy, who finished with three carries for 5 yards, was at a loss for words as he was asked to explain his limited role.
"I really can't answer that," said McCoy. "It was kind of a normal week. There really wasn't a big difference."
I've heard some people within the organization suggest that Reid doesn't trust McCoy as a pass-blocker, but that's not a concern as long as McCoy has the ball in his hands. I think Reid spent the week trying to make sure Westbrook was featured in the game plan -- to the detriment of McCoy.
Reid devoted more time to calling plays for
Reggie Brown
(yes, still on the roster) than he did for one of the league's most talented rookie running backs. The Eagles had so much success with the big play in the first half of the season that they've forgotten how to score from point-blank range.
The silver lining for the Eagles is that they appear to be surrounded by mediocrity in the NFC East. Oh, and the West Coast portion of their schedule is complete.