May, 1, 2014
May 1
10:00
AM ET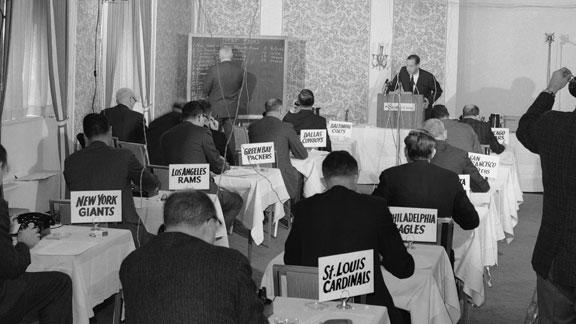 IRVING, Texas -- Roger Staubach found out he was drafted by the
Dallas Cowboys
in the 10th round of the 1964 NFL draft by reading the Washington Post.
"I was in my room at the Naval Academy," Staubach said. "No one called me. They had this little story, 'Staubach drafted in Round 10.' … To me, it wasn't a big deal. I had five years to go before I could go play."
Staubach is the greatest 10th-round pick in NFL history. He surely is part of one of the best draft classes ever. The 1964 NFL draft produced a record 11 Hall of Famers, and three were drafted by the Cowboys: Mel Renfro (second round), Bob Hayes (seventh round) and Staubach.
"You know why it was special?" said Gil Brandt, the Cowboys' vice president of player personnel at the time. "Because basically Tex [Schramm] and I did it by ourselves. We didn't have nine scouts and all that stuff."
The only team to produce more Hall of Famers from the same draft class in NFL history is the
Pittsburgh Steelers
, who drafted Lynn Swann, Jack Lambert, John Stallworth and Mike Webster in 1974.
The Cowboys had 19 picks in 1964, and Brandt can recite scouting reports on all of them to this day. Only seven played for the club, but the Hall of Fame trio makes it Brandt's favorite draft.
[+] Enlarge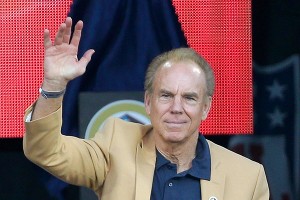 AP Photo/Tony DejakRoger Staubach led the Dallas Cowboys to five Super Bowl appearances in his Hall of Fame career.
The Cowboys' 1975 draft became known as the "Dirty Dozen" with 12 picks making the team, led by Hall of Famer Randy White. From 1988 to 1990, the Cowboys' first-round picks were Michael Irvin, Troy Aikman and Emmitt Smith. All three call the Pro Football Hall of Fame home.
Drafting Renfro, Hayes and Staubach spoke to the Cowboys' advantages over other teams in that day -- and a little bit of good fortune.
Had they not held training camp in Forest Grove, Ore., it is doubtful Brandt ever meets Renfro as a high school senior. Air Force assistant coach Pepper Rodgers was recruiting Renfro and brought him to Cowboys camp, where he met Brandt.
Brandt remained in contact through Renfro's time at Oregon. When it came time to pick in the second round in 1964, the Cowboys held up the draft for six hours so a doctor could examine Renfro's injured wrist. After getting the news they wanted, they picked Renfro, and Brandt was on a flight from Chicago to Portland the next day.
"I called Mel. 'Mel, I'm coming in on United flight so and so, and I get in at 1,' or whatever time it was, and he said, 'OK, I'll meet you at the airport,'" Brandt said. "I get off the plane, go down three or four steps and there's Mel. We signed right there in the airport.
"Now the coup de grace is you had to get the contract witnessed at the time because this was during the war between the two leagues. So we're in Portland and we've got to get down to Eugene, but we've got to get this contract witnessed, so we stop at Oregon State to get a contract for an Oregon kid witnessed."
Renfro made the Pro Bowl in each of his first 10 seasons, six at safety and the final four at cornerback. His 52 career interceptions remain a team record, and he was inducted into the Hall of Fame in 1996.
Like Staubach, Hayes was a future pick, but not many teams knew he was eligible. Brandt went to Florida A&M to visit with the coaches.
"I saw him in person, but he was like a third-team running back," Brandt said. "He wasn't a typical sprinter. He was well-defined. I mean he was a strong guy."
He also visited Hayes' mother in Jacksonville, Fla., at the restaurant where she worked.
"The big thing then was Pepsi Cola, 12 full ounces for a nickel too," Brandt said, recalling the soda's jingle at the time. "When you ate those chitlins, you drank one of those big 12-ounce Pepsis."
With Hayes' speed, Brandt saw a game-changing wide receiver. Hayes went on to win two gold medals in the Tokyo Summer Olympics, earning the "fastest man in the world" title, and joined the Cowboys in 1965.
[+] Enlarge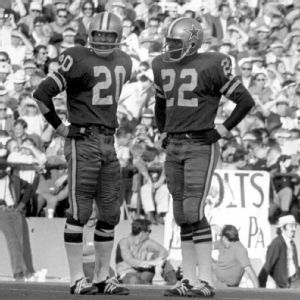 AP Photo/NFL PhotosThe Cowboys selected three future Hall of Famers in the 1964 draft, including Bob Hayes (20) and Mel Renfro.
The Cowboys took Hayes with the 88th pick in the draft, one spot before the
Detroit Lions
took a future Cowboys head coach in Bill Parcells. Hayes caught 46 passes for 1,003 yards and 12 touchdowns in 1965 and was named to the Pro Bowl three times in his career. Because of his speed, Hayes changed the game, forcing defenses to use zone coverages.
In 2009, Hayes was inducted into the Hall of Fame.
Staubach wasn't even sure he was eligible for the draft. Because he spent a year at the New Mexico Military Institute in 1960 before going to Annapolis, the Cowboys were able to use a future pick on Staubach.
"It was about 2 o'clock in the morning when we drafted Roger," Brandt said. "At that part of the draft, it's all about taking risks."
The summer before Staubach's Heisman Trophy season, Brandt visited the quarterback's parents in Cincinnati. Brandt wanted to see if Staubach could get out of his five-year commitment to the Navy after graduation.
"Gil likes to tell the story about talking to my mother and she threw him out of the house. 'Roger has an obligation to the Naval Academy,'" Staubach said. "And that was that."
The AFL's
Kansas City Chiefs
also drafted Staubach, but he chose the Cowboys because he was an NFL guy, growing up as a
Cleveland Browns
fan. It also helped that they agreed to pay him $500 a month and a $10,000 signing bonus in his years with the Navy.
After returning from Vietnam, Staubach was stationed in Pensacola, Fla., and took two weeks leave to go to Cowboys training camp in Thousand Oaks, Calif., in 1967.
"That's what made the difference, changed my life, really," Staubach said. "I had a really good camp, and I think Coach [Tom] Landry thought I was mature enough so they possibly wouldn't have to get a veteran quarterback."
In 1969, Don Meredith retired unexpectedly. Craig Morton, the Cowboys' first-round pick in 1965, would take over. Jerry Rhome, who was picked in the 13th round in 1964, was traded to Cleveland.
"We're getting ready to leave Pensacola and then go to Thousand Oaks, and I told [his wife], 'I'm second team and I haven't done anything. Don't worry,'" Staubach joked. "But if not for that year before, I think Coach Landry would've traded for a veteran quarterback behind Craig."
By 1971, Staubach delivered the Cowboys their first title, winning Super Bowl VI and earning Most Valuable Player honors. The Cowboys won Super Bowl XII and appeared in five Super Bowls with Staubach, who earned the Captain Comeback nickname for his 23 late-game wins.
He was inducted into the Hall of Fame in 1985.
Like fishing stories, scouts have famous stories about the ones that got away. As good as the '64 draft was, Brandt knows it would have been better if they were able to get Paul Warfield and Dave Wilcox, who went on to Hall of Fame careers.
The Cowboys would have drafted Warfield in the first round but made a wink-wink trade with the Steelers for wide receiver Buddy Dial. The Steelers received the Cowboys' pick in return, Scott Appleton, who signed with the Houston Oilers instead of the Steelers.
Dallas did not have a third-round pick in 1964 but were so confident they would land Wilcox that Brandt had scout Red Hickey with the defensive end. Instead, the
San Francisco 49ers
took Wilcox with the first pick of the third round.
"We could've had five [Hall of Famers] if it would've gone right for us," Brandt said. "We could've had four, but we had three. And I thought that was pretty good."
More than pretty good.
January, 19, 2014
Jan 19
10:05
PM ET
IRVING, Texas -- With the
Denver Broncos
earning their way to Super Bowl XLVIII,
Dallas Cowboys
tight end
Jason Witten
has earned a trip to the Pro Bowl.
Witten
Witten will replace Broncos tight end
Julius Thomas
and become the fourth Cowboy to head to Hawaii, joining left tackle
Tyron Smith
, wide receiver
Dez Bryant
and defensive end
Jason Hatcher
, who was added as a replacement for
Baltimore Ravens
defensive tackle
Haloti Ngata
.
While it will be the first Pro Bowl trips for Smith, Bryant and Hatcher, it will be Witten's ninth in 11 seasons. The only years he did not make it to the Pro Bowl came as a rookie in 2003 and in 2011.
Witten ties Randy White for the fourth most Pro Bowl appearances in team history. Only Bob Lilly (11),
Larry Allen
and Mel Renfro, who appeared in 10 each, have been selected to more than Witten.
Witten caught 73 passes for 851 yards and had eight touchdown passes in 2013.
December, 13, 2013
12/13/13
8:00
AM ET
IRVING, Texas -- As the
Cowboys
walk to the team meeting room every day, they are met with pictures of Dallas' five Super Bowl winners. Each collage has a team photo and pictures of smiling players, coaches and executives from winning NFL championships.
At Lambeau Field, the photos from the great moments in Packers history line the wall from the tunnel to the locker room. When the stadium was renovated years ago, they took a row of old bricks and moved it to the new tunnel so players can say they walk over the same ground as the greats who played at Lambeau Field.
With a loss Sunday, though, either team will need even more help to just make the postseason.
[+] Enlarge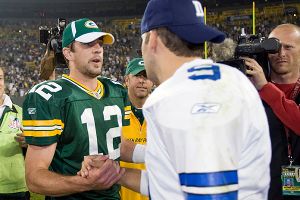 AP Photo/David StlukaCowboys QB Tony Romo, right, and Green Bay's Aaron Rodgers know the burden that comes with playing for franchises trying to recapture past glory.
Like the
Pittsburgh Steelers
and
San Francisco 49ers
, the Cowboys are constantly chasing ghosts from past teams.
The Packers and Cowboys have combined for 18 NFL championships (Green Bay 13, Dallas five) and nine Super Bowls (Green Bay four, Dallas five). They produced one of the NFL's iconic games -- the Ice Bowl -- in the 1967 NFC Championship. They were coached by legends in Tom Landry and Vince Lombardi. They rekindled the rivalry in the 1990s, meeting in the playoffs from 1993 to 1995.
The current teams carry something of a burden with them because of the successful pasts.
"We always look at it as a sense of pride and energy to tap into," Green Bay coach Mike McCarthy said. "We think it's very important to have that and recognize it and honor it, so I always refer to it as there's pride in the bricks of Lambeau Field and it's something we need to tap into. We talk to our current team about it and how important it is to win and represent the
Green Bay Packers
the right way."
Jason Garrett does not talk about the expectations laid out from the likes of Roger Staubach, Bob Lilly, Tony Dorsett, Randy White, Mel Renfro, Michael Irvin, Troy Aikman and Emmitt Smith. He talks about the standard those players and teams set.
"You want to be in a place where there's a high standard for achievement," Garrett said. "I think that's a good thing. That brings the best out in people. What we try to do each and every day is be our best. Come to work as players and coaches and put our best foot forward and get ready for our challenges each week and again, embrace the past. That's a good thing. ... That drives us. That's part of what drives us to achieve, really, each and every day, and certainly each season."
Tony Romo
is constantly measured against Staubach and Aikman.
Aaron Rodgers
is measured against Bart Starr and Brett Favre, but he has the Super Bowl ring that Romo is still looking for, having beaten the Steelers at AT&T Stadium in Super Bowl XLV.
Rodgers has 23 teammates on the roster with a Super Bowl ring.
Romo hopes one day to have his own, so he and his teammates can have their pictures on the wall holding the Lombardi Trophy.
"You want to be a part of a storied franchise," Romo said. "It just makes it important. You want a challenge. You want it to matter, and you want it to be important. That's what's great about this organization and great about our fans."
January, 27, 2012
1/27/12
12:07
PM ET
If you're not familiar by now with this week's "
Any Era team
" series here on ESPN.com ... why not? Go back and take a look at it. Some fun stuff in there, and there aren't any games this weekend so what else are you going to do?
Anyway, the only NFC East player on that top-20 list was the
Dallas Cowboys
'
DeMarcus Ware
, who was ranked by our panel of Hall of Famers as the No. 12 current player who could have played in any prior era. The main qualification for this list was an ephemeral thing called "toughness," and so as a spin-off from the project, ESPNDallas.com ranked the top 10 all-time
toughest Cowboys players
.
Ware didn't make that list, which is headed by Randy White and Roger Staubach. The nice thing, though, is that if you disagree with the list, you can vote on your own top 10 all-time toughest Cowboys
right here
. Actually, you can vote for 15. So if you're a Cowboys fan nostalgic for the good old days as the Giants and Patriots get ready to play in the Super Bowl, here's something for you to do instead of work on a Friday afternoon. Enjoy.
August, 6, 2010
8/06/10
11:14
AM ET
By
Matt Mosley
| ESPN.com
ASHBURN, Va. -- As I walked around Redskins Park on Thursday, I kept bumping into folks who were headed to Canton, Ohio to attend Russ Grimm's induction to the Hall of Fame. For a team that leaned so heavily on its running game in the '80s and early '90s, it's amazing that it took so long for a member of those offensive lines to get elected.
[+] Enlarge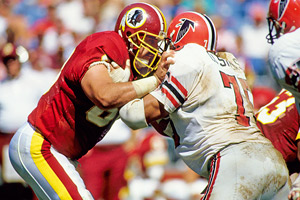 Manny Rubio/US PresswireRuss Grimm is the first member of the famed "Hogs" to be inducted into the Hall of Fame.
But Grimm was the correct choice to represent the beloved Hogs. He was one of the more colorful players in Redskins history and a dominant offensive lineman. I've had a lot of talks with Cowboys Hall of Fame defensive tackle Randy White over the years, and invariably a lot of those discussions involve the great rivalry with the Redskins. Most teams were forced to double-team White, and the Skins were no exception. But Grimm was one of the few players in the league who could neutralize White (at times) on his own.
There's a great story about how offensive tackle Mark May used to taunt White. It apparently frustrated Grimm to no end because he was primarily responsible for blocking White. According to fellow Hog Joe Jacoby, Grimm had finally heard enough and he lit into May in the huddle.
"I know you've got a stiff over there, but you keep it up, and I'm coming after
your
ass," Jacoby recalled Grimm saying.
Grimm was apparently referencing Cowboys defensive end John Dutton as the "stiff." But Grimm had immense respect for White, and he didn't want May to give him any added incentive.
Washington went to four Super Bowls in an 11-year span with coach Joe Gibbs, and the Hogs played an enormous role in that run. Gibbs wasn't the most colorful quote in the game, but he truly appreciated having memorable characters on his team. Some of the stories about the Hogs would have made coaches cringe in this era, but Gibbs knew better than to try to curb their appetite for fun.
Here's a story that Gibbs recently told
former running back John Riggins:
"The one thing I'll always remember about Russ and Joe and that crew, they would always get away from us a little bit in those afternoons when we had those Wednesday scrimmages in Carlisle [Pennsylvania]," said Gibbs. "And I got in the huddle one night, and I mean, the smell of beer was so strong that I backed out of there after calling the play.

"And in between plays, I turned to [offensive line coach Joe] Bugel and I said I've got to tell you something right now, somebody in there has had some beers, OK? And Bugel went and got those guys. I don't know if you remember this, I kind of turned my back and walked off for a few minutes, he got everybody in the huddle and said this better be the best practice of your life or you guys are gonna be running wind sprints for the rest of your life. So Russ goes: 'I plead guilty.'"
Those linemen embraced the "Hogs" nickname because it suited their reputation for not taking themselves too seriously. But when they stepped on the field, there wasn't a more dominant group in the NFL. It took too long for a representative to be voted into the Hall, but now that it has happened, Grimm's the perfect choice. And in a lot of ways, all of the Hogs will be enshrined during Saturday's ceremony.
And if you see White cringe when Grimm's delivering his speech, you'll know he's thinking about that "50 Gut" play from the NFC title game in 1983.
June, 22, 2010
6/22/10
11:00
AM ET
By
Matt Mosley
| ESPN.com
Notable players
: QB
Troy Aikman
, RB
Emmitt Smith
, FB
Daryl Johnston
, WR
Michael Irvin
, G
Nate Newton
, C
Mark Stepnoski
, OT
Erik Williams
, TE
Jay Novacek
, DT
Russell Maryland
, LB
Ken Norton
, DE
Charles Haley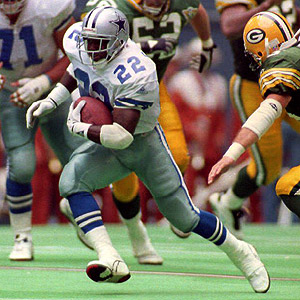 Tim Roberts/AFP/Getty ImagesEmmitt Smith held out to start the season, but once he returned, it all came together for the Cowboys.
Analysis
: I could make the argument that the '94 team that lost to the 49ers in the NFC title game was the best, but I'll save that one for another day. In '93, Jimmy Johnson and the Cowboys had an enormous target on their backs and the team began the season with Smith in a holdout. Disgusted by an 0-2 start without Smith, Jerry Jones quickly signed the running back to a new contract. The Cowboys ran off seven straight wins and finished the season 12-4.
Dallas sent 11 players to the Pro Bowl after the season, and they could've had a few more on defense. If not for Smith's holdout, this was the type of team that might have made a run at a perfect season. The Triplets were unstoppable, and the Cowboys had perhaps the best offensive line in the league. The Roger Staubach teams of the '70s were formidable, but I just don't think they were as deep as Johnson's teams of the early '90s.
The Doomsday defense from the late '70s trumps the defense from the early '90s, but the Triplets surpassed what Staubach, Tony Dorsett and Drew Pearson accomplished.
Most impressive win
: It's too easy to say the Super Bowl, so give me the overtime victory in the Meadowlands over the Giants to end the regular season. The win gave the Cowboys the division title and a wild-card bye week. In that 16-13 win, Smith had one of the best individual efforts in club history. Playing with a separated shoulder, he rushed for 168 yards and caught 10 passes.
Best player:
How can you not go with the guy who won the NFL's MVP award, the Super Bowl MVP and the rushing title in the same season? Let's go with Emmitt.
Honorable mention
1977
: The Super Bowl champions were dominant on both sides of the ball. Dallas began the season 8-0. The Broncos didn't belong on same field in the Super Bowl. Ed "Too Tall" Jones, Harvey Martin and Randy "Manster" White put the "Doom" in Doomsday.
1992
: You almost forget how Jimmy Johnson could send waves of pass-rushers at quarterbacks.
Tony Tolbert
had more sacks than Haley in '92. And Maryland and
Leon Lett
were just beginning to figure things out. The collection of talent was remarkable. The Triplets truly began to impose their will on opponents.
1971
: Some of the great defensive players from the early days -- Bob Lilly, Chuck Howley, Lee Roy Jordan -- finally got their championship. The offense scored 29 points per game and the Cowboys won by an average of 13.1 points per game.
November, 30, 2009
11/30/09
8:00
AM ET
By
Matt Mosley
| ESPN.com
The Dallas Morning News asked 20 current and former staffers to come up with the top 50 Cowboys in the organization's first 50 years. Coaches, players, owners and administrators were all considered.
Here's the list
. And it should come as no surprise that
the late Tom Landry finished No. 1 overall
. I don't know how it could be any other way.
Here's the breakdown of the top 10:
1. Tom Landry
2. Roger Staubach
3. Emmitt Smith
4. Bob Lilly
5. Troy Aikman
6. Tony Dorsett
7. Randy White
8. Michael Irvin
9. Mel Renfro
10. Tex Schramm
Owner/general manager Jerry Jones checks in at No. 17, one spot ahead of safety Cliff Harris.
Jason Witten
is the highest-ranked current Cowboys player at No. 29 -- and I have no problem with that. He's been one of the top tight ends in the league since his 2003 rookie season.
DeMarcus Ware
is No. 36, but he'll probably end up much higher -- when the DMN does its 75-year list. Quarterback
Tony Romo
checks in at No. 47 and left tackle
Flozell Adams
rounds out the list at 50. I like the fact that Danny White cracked the top 30. He took a lot of abuse, but if he wins one of those three NFC title games, his legacy is completely different. His reputation also took a hit during the strike, but that doesn't change what he accomplished on the field.
I think Charles Haley ended up at No. 31 because he was only with the Cowboys from '92-'96, but the fact that he was a big part of three Super Bowl titles should've put him higher on the list. His behavior off the field is well-documented, but he was a brilliant pass-rusher who deserves to be about five spots higher.
I also think Cornell Green's too low at No. 25. I've had a lot of former players tell me that Green was one of the best defensive backs in league history. He got his hands on everything, but he dropped a lot of potential interceptions. I'm shocked that the late Mark Tuinei, the left tackle on those 90s Super Bowl teams, didn't receive a single vote. That makes no sense to me. Kicker Rafael Septien received a few votes, but a man who played 15 seasons at offensive tackle was shut out?
The selection panel came up with only a single vote for the great defensive coordinator, Ernie Stautner. Linebacker Ken Norton and defensive tackle Leon Lett didn't show up on the list, but both are worthy. Some people will argue that
Terrell Owens
should've been on the list. I'm not buying that one because he was only with the Cowboys for three seasons and the team didn't win a playoff game during that time.
It's pretty remarkable that two Hall of Famers -- Bob Hayes and Rayfield Wright -- didn't even crack the DMN's top 10. The only thing I'd change about the top 10 is that I'd probably put Bob Lilly in front of Emmitt Smith. I know that sounds crazy to some of you, but this list was about "greatest Cowboys," not the greatest NFL players. When I think about the players that have defined this franchise, Lilly comes before Smith in my opinion. They don't call him "Mr. Cowboy" for nothing.
What did you guys make of the list?