October, 18, 2013
10/18/13
9:05
PM ET
ASHBURN, Va. --
Robert Griffin III
wanted to make one thing clear: He's not trying to draw penalties on hits out of bounds. During his press conference Wednesday, the
Washington Redskins
quarterback did say he tried to draw a foul on a
Detroit Lions
defensive player. Friday, Griffin told the team's website, Redskins.com, that he didn't mean to say that he was doing this on purpose.
Griffin
"Some people think I'm aiming to draw penalties and that's not what I said," Griffin told the site. "I was asked about the hits on the sideline and the guys not being afraid to take the 15 yards for unnecessary roughness. I told them that against the Cowboys, I was just trying to run out of bounds and some guy hit me. Some guys will take that, some guys don't really care. It's just up in the air.
"Some guys will take the penalty and some won't take the penalty. You've got to use the sideline as your friend. I'm not using the sideline to try and get penalties."
Two days earlier Griffin talked about using the sidelines to possibly fool defenders into thinking he was going out of bounds, only to turn it upfield. He then talked about trying to draw a penalty on Detroit's
Rashean Mathis
in a Week 3 loss. Griffin also discussed the two personal fouls on Dallas'
Barry Church
in Sunday's loss. Griffin said Wednesday that he wasn't trying to draw a penalty on Church and replays back him up: Griffin was out of bounds when he hit him late the first time and was a couple yards out of bounds on the second one.
"I was trying to draw the penalty on Rashean there and he's a smart player," Griffin said Wednesday. "He's a smart player; he didn't hit me. I kind of stopped well inside in bounds to try to get him to hit me and he didn't. He said, 'I'm not taking that penalty, Griff.' I said, 'I got you, man.'
"With Barry, it was more I was out of bounds. I didn't slow down at all. ... He hit me and it does suck, but some guys are going to take those penalties. It's hard to walk that line, and you've always got to try to protect yourself. ... The sideline is your friend and you can get out of bounds, but a lot of defensive players, they just really don't care. Sometimes they're going to still get that hit on you."
September, 18, 2013
9/18/13
1:30
PM ET
A weekly analysis of the Redskins' quarterback play.
Griffin
Rewind:
I thought it would take
Washington Redskins
quarterback
Robert Griffin III
another week or two to gain his rhythm, and that has sort of happened. I also thought if the offense was really doing well then he would not be in the 300-yard range. He threw for 320, a byproduct of a lopsided score. Griffin had a terrific second half in terms of numbers (213 yards and three touchdowns) and he looked better than he did in the opener when a lot of his second-half yardage was built on underneath throws -- smart, but not exactly a great gauge of his progress. Sunday, he had to make tougher throws against the Packers' coverages and rush.
Fast-forward:
Griffin will face a defense that is strong up front, especially inside. The Redskins interior linemen have struggled against such fronts when having to just protect in the pocket. Detroit's defense ranks 15th, but has not faced a balanced attack in the first two games. It's hard to say the Redskins are one yet, either. But they have more potential to be than the Lions' first two opponents, Minnesota or Arizona. The Lions are first in third-down defense while the Redskins are 31st offensively in this area. The Lions have some issues in the secondary at one corner position where rookie
Darius Slay
and veteran
Rashean Mathis
have split time. Nickelback
Bill Bentley
hasn't stood out either.
Third-down passing:
Griffin's third-down numbers have been bad and it's one reason the Redskins offense has started so slowly. Through two games, they've converted 1 of 9 third downs in the first half combined. Part of the problem is too many third-and-longs (all are third-and-4 or longer). This isn't all about Griffin; in some cases the coverage has defeated them or a ball was dropped. But regardless, it's a problem. This season, Griffin has completed 7 of 19 passes on third down and averaged 3.1 yards per attempt. On first and second down? He's a combined 47-for-66 and averaging 8.8 yards per attempt.
Prediction:
Griffin improved from the opener to last week. However, he needs to regain that dynamic element, and thus far that hasn't happened -- will the Lions also blitz the middle and keep him contained? What provides hope for the offense is last week's run game, which was excellent in limited opportunities. Griffin and the offense will break out soon. Griffin will have a better first half this week and that will help the offense, finally, show some rhythm.
October, 29, 2010
10/29/10
4:00
PM ET
By
Matt Mosley
| ESPN.com
»
NFC Final Word
:
East
|
West
|
North
|
South
»
AFC
:
East
|
West
|
North
|
South
Five nuggets of knowledge about the Week 8 games.
[+] Enlarge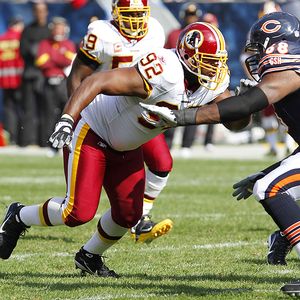 Icon SMIAlbert Haynesworth will face his former defensive coordinator, Jim Schwartz.
Can the Washington Redskins avenge last season's embarrassing 19-14 loss to the Detroit Lions?
Redskins Pro Bowl outside linebacker
Brian Orakpo
told the NFC East blog on Thursday that Washington's loss to the Lions, which ended a 19-game losing streak, has been on his mind every day since. There's no way Mike Shanahan will let his team take the Lions lightly. Early in this game, the Skins' front seven must do a good job on Lions rookie running back
Jahvid Best
, who is capable of home run plays on the ground and in the passing game. Linebacker
Rocky McIntosh
is playing at a high level and that must continue. I'm eager to see if defensive tackle
Albert Haynesworth
is able to put back-to-back solid performances together. He's facing his old defensive coordinator from Tennessee in Jim Schwartz, so you may see him bring a little something extra.
The Redskins will attempt to hold down Megatron on this game.
Calvin Johnson
is one of the best two or three receivers in the league, and we all remember what
Andre Johnson
did to the Skins. But this is
DeAngelo Hall
's defense, as he has pointed out, and he should be able to pad his interception count against the Lions. I'm ready to see if Jim Haslett does anything special against Johnson. My gut tells me that he won't.
It's time to unleash Jon Kitna on the NFL again.
I really think Kitna will play well against the Jaguars.
Aaron Kampman
's really the only Jags pass-rusher who can get home against the Cowboys, so Kitna should have plenty of time. He told me recently that he fought through elbow tendinitis in his throwing arm for a five-year stretch (2003-08), so I'm eager to see how he holds up with a lot more attempts than he's used to. The Jags' best cover man is
Rashean Mathis
, so look for
Jason Garrett
to stay away from his side when possible.
Let's see if Wade Phillips' defense can actually contribute to a win.
With the Cowboys leading the Giants 20-7, the defense pulled a disappearing act. Phillips had the gall to blame it on Kitna's three-and-out-based offense, but we all know the score. The Jaguars allegedly have inferior talent to the Cowboys, so this is a game
DeMarcus Ware
and
Anthony Spencer
should resemble Pro Bowlers again. If
David Garrard
's not under siege in this game, something's gone horribly wrong.
It's time to show the world that Dez Bryant will someday be an elite wide receiver in this league.
And that day is coming soon. I don't think the Jags have enough firepower to keep up with
Miles Austin
,
Roy Williams
and Bryant. It will be interesting to see if Bryant's given a bigger role in the offense this week. If he is, it will be a sign that he's showing more dedication in the classroom at Valley Ranch. Have a wonderful bye weekend, Eagles and Giants fans. I'm sure you'll be backing your NFC East cohorts. Oh wait ...
NFC EAST SCOREBOARD
Thursday, 9/25
Sunday, 9/28