NFC East:

Rayfield Wright
August, 22, 2013
8/22/13
10:40
PM ET
ARLINGTON, Texas -- One of the reasons why Jason Garrett likes to have a training camp practice at AT&T Stadium is for the current players to mix and mingle with the former players and learn the history of the
Dallas Cowboys
franchise.
Cliff Harris spoke at the dinner following the two-hour practice and was one of six members of the Ring of Honor in attendance, along with Roger Staubach, Lee Roy Jordan, Rayfield Wright, Mel Renfro and
Charles Haley
.
Players representing every era of Cowboys' football were on hand, as well, including Butch Johnson,
Jay Novacek
, Billy Joe DuPree, John Fitzgerald and
Ken Hamlin
.
"I want to get my helmet and go through some of these exercises with some of these guys," said Wright, a Hall-of-Fame offensive tackle who played for the Cowboys from 1967-80.
Wright was looking forward to talking to some of the offensive lineman at the dinner.
"There's just little techniques that you could communicate with some of the young guys," Wright said. "We have the talent, skills and ability. These guys have great talent. They're a lot bigger than we were when I played the game. But they have great talent and if I had the opportunity to sit down and just talk to some of these guys on a personal, one-on-one level, it would be fantastic for me."
January, 25, 2012
1/25/12
1:30
PM ET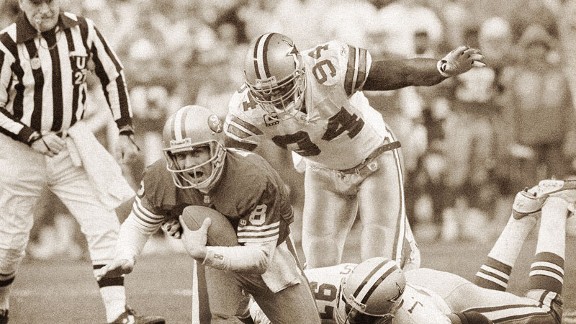 ESPN.com IllustrationEven a QB as elusive as Hall of Famer Steve Young may have a hard time avoiding DeMarcus Ware.
Day 3 of the
NFL Any Era Team
project brings us to our first NFC East player,
Dallas Cowboys
linebacker
DeMarcus Ware
. In case you haven't been paying attention, the NFL Any Era Team is a list of the top current 20 players, as determined by a panel of 20 Hall of Fame players and Hall of Fame writer John Clayton, who could have played in any NFL era. We are revealing four per day, and Nos. 9-12 were revealed today. Ware, often regarded as the league's best pass-rusher, came in at No. 12. That's why you see here a cool, old-looking photo illustration of him sacking
Steve Young
, which never actually happened but, according to our panel, certainly could have.
"When you say tough guy I'm thinking DeMarcus Ware," Hall of Fame former
Washington Redskins
cornerback
Darrell Green
said. "I'm talking about a guy who has to go against double-teams all game long, with the line trying to kill him on every play and with backs chipping on him -- that stuff hurts. There's toughness there in terms of your mind being able to overcome and take on a double team all day long, or you fight through everything and almost getting the sack or you would have had it had the back not chipped you.
"I give the D ends a lot of credit for being tough, for being able to take on double and triple teams all day long, and for the frustration of being a big guy and then having a little bit guy try and chip you. That's why I like Ware. He exemplifies how I feel about the great defensive ends and all they have to face."
Ware is playing in an era in which getting to the quarterback has become the most important aspect of playing defense, and he's as good at doing it as any player in the league. Our panel ranked him ahead of fellow pass-rushers
Jared Allen
and
Dwight Freeney
, who came in 16th and 17th, but behind Steelers linebacker
James Harrison
, who came in 10th. We'll see over the next two days how many current pass-rushers are in the top eight. But Ware got his share of respect from the panel.
"I love DeMarcus Ware's style of play," Hall of Fame former Cowboys tackle Rayfield Wright said. "He is very active and aggressive. He seems to understand his role as far as the team is concerned and he plays it very well."
September, 28, 2010
9/28/10
7:27
PM ET
By
Matt Mosley
| ESPN.com
We told you earlier today that Hall of Famer Rayfield Wright
was home recovering from a heart attack
he suffered last Wednesday night. I talked to him via phone a few minutes ago and he's feeling much better after doctors installed a stent in the lower right side of his heart.
"I was getting ready for bed and I felt like a 1,000-pound weight was on my chest," said Wright. "Then I laid down and felt like there was a 1,000-pound weight on my back. I knew something wasn't right, so I jumped in my car and drove to the hospital. Obviously, I should've dialed 911."
Wright said doctors told him he should make a full recovery and he's vowed to take it easy for a few weeks.
"I'd been working too hard," he said. "I have to learn how to take care of myself."
Wright was one of the most dominant offensive lineman in the history of the game and he spent most of his career making sure Roger Staubach stayed on his feet. He travels the country making motivational speeches and working with young people.
September, 28, 2010
9/28/10
4:01
PM ET
By
Matt Mosley
| ESPN.com
Dallas Cowboys Hall of Famer Rayfield Wright is recovering at home after suffering a "moderate to severe" heart attack last week,
according to his spokeswoman Jeannette DeVader
. I've been attempting to reach Wright this afternoon by phone and I'll let you know when I hear something.
Our thoughts and prayers are with the "Big Cat" as he recovers in Parker County, Texas.
April, 17, 2009
4/17/09
4:48
PM ET
By
Matt Mosley
| ESPN.com
Posted by ESPN.com's Matt Mosley
If the Eagles are able to complete a trade with Buffalo for left tackle Jason Peters, I think it's a significant upgrade. Not to take anything away from Tra Thomas, but Peters is an elite player who has a chance to become the best left tackle in the game.
There's a tradition in the NFL of college tight ends becoming effective offensive tackles. Cowboys Hall of Famer Rayfield Wright comes to mind. Peters and the much-improved Todd Herremans should form one of the best left sides in the league. And now the Eagles have filled both offensive tackle spots, don't be surprised to see them go after a center in the draft. Head coach Andy Reid dropped some hints in that direction during the NFC coaches' breakfast last month.
So how much better are the Eagles with Peters at left tackle? Well, I think having an elite left tackle is one of the greatest luxuries a team could have. Thomas certainly did a nice job, but Peters is a much more dominant (and younger) player. He's athletic enough to block some of the division's top pass rushers such as DeMarcus Ware, Justin Tuck and Osi Umenyiora. If there's a better left tackle currently playing in the Beast, feel free to provide a name. Here's how I would rank them: 1. Peters 2. David Diehl 3. Chris Samuels 4. Flozell Adams.
Under the Tony Sparano (offensive line) regime, Adams played like an elite left tackle at times. Now he appears to have trouble getting out of his stance. On Wednesday, I looked over the Eagles' schedule and predicted 10 wins. With Peters, I'm willing to give them another win -- and perhaps two.
The Eagles can now focus on landing a tight end and a running back (and perhaps a center) in next weekend's draft. A lot of folks seem convinced the Eagles will take a running back with that No. 21 pick. I've never been convinced of that -- and today's news hasn't changed my opinion. There's a better chance of the Eagles going after Oklahoma State's Brandon Pettigrew than one of the top running backs.
So what about Anquan Boldin? I think the chances of him landing in Philly are pretty remote at this point. And that's not something Eagles fans should be all that upset about. DeSean Jackson's already an impact player, and now he should be more consistent. Kevin Curtis should be healthy and Jason Avant has become a lot more reliable as a third-down receiver. If someone like Brian Robiskie's hanging around in the second round, that's certainly a possibility.
Philadelphia Daily News columnist Rich Hofmann agrees that this trade is quite a coup for the Eagles. The Eagles have always built from the lines out -- so I guess this move shouldn't come as a surprise. It's so rare to find a 27-year-old Pro Bowler at one of the most important positions in the game. I need to revisit the NFC Beast schedules now.
Keep hitting "refresh" for more opinions on this trade.
February, 2, 2009
2/02/09
6:22
PM ET
By
Matt Mosley
| ESPN.com
Posted by ESPN.com's Matt Mosley
Is the woman who read that emotional letter from Bob Hayes really the late receiver's sister? It seems that other members of the Hayes family have their doubts.
I've visited with Lucille Hester in the past, and I know that Hayes' close friend and former teammate Rayfield Wright believes she is indeed his sister. I have a call into Hester right now. I'll let you know what she says.
Mike Fisher, a former Cowboys beat writer for the Fort Worth Star-Telegram, had the original story on this topic. Honestly, I'm just glad Hayes has finally taken his rightful spot in the Hall of Fame. That's the most important story to come out Saturday. Hopefully the family issue will sort itself out sometime before Hayes' induction in August.
You certainly don't want a family squabble upstaging such an important day. But if Hester turns out to be an imposter, she's done a remarkable job. And why hasn't the family spent more time fighting this in the past?
January, 31, 2009
1/31/09
4:07
PM ET
By
Matt Mosley
| ESPN.com
Posted by ESPN.com's Matt Mosley
The last time the late Bob Hayes was among the finalists for the Hall of Fame was 2004 in Houston. When he was passed over, there was a sense that his name might not come up again.
| | |
| --- | --- |
| | |
| | James Flores/NFL Photos/Getty Images |
| | Bob Hayes is the only person to have won an Olympic gold medal and a Super Bowl ring. |
I remember talking to his sister Lucille that night and the family was profoundly sad that Hayes wouldn't take his rightful place in Canton.
But earlier this afternoon, the former Dallas Cowboys great finally made it into the Hall. The wide receiver whose speed forced defenses to come up with completely new coverage schemes will be part of the Class of 2009.
When Cowboys offensive tackle Rayfield Wright was voted into the Hall three years ago in Detroit, the Bob Hayes family rejoiced with him. In fact, some members of the Hayes family attended Wright's induction. That's why the first call I made after hearing about Hayes was to Wright, his close friend and teammate. Wright was driving when I reached him.
"I was so elated that I wanted to jump out of my car and start screaming," said Wright. "I talked to Bob's family this morning to let them know our prayers are with them. The only thing I hate is that he's not here to enjoy it. This was a honor he should've received a long time ago. He had an amazing impact on our team. He brought all the things he'd done in college and the Olympics to us. I think he single-handedly brought a lot more attention to the Dallas Cowboys."
In a statement, owner Jerry Jones said: "This is a deserving honor for one of the Cowboys most and truly gifted stars. We all know he changed the game on the field, but he also brought a unique star quality to the NFL that helped make professional football the most popular sport in the world. He was a world champion in two different sports, and he had a world class heart. I couldn't be happier for Bob. He was always one of my personal favorites."

In other NFC East news, former Redskins defensive end Bruce Smith was also voted in. He's more linked to the Buffalo Bills because that's where his career flourished. Redskins great Russ Grimm did not make the finals. He's a player who should eventually get in. The Hogs were too good not to have at least one representative.
But because of Hayes, this is a great day in Dallas. Now let's start discussing Drew Pearson!
Eric Allen and Qadry Ismail analyze the Pro Football Hall of Fame Class of 2009.
January, 13, 2009
1/13/09
7:20
PM ET
By
Matt Mosley
| ESPN.com
Posted by ESPN.com's Matt Mosley

Adams
Dallas Cowboys
left tackle
Flozell Adams
has been named to the Pro Bowl roster for the fifth time in his career. It took injuries to
Walter Jones
and
Chris Samuels
to make this happen.
If you needed one more reason why this is the worst all-star game of the four major sports, consider this Exhibit Z. Adams regressed this season, but he continues to back into Pro Bowls because of his past achievements. If he makes one more Pro Bowl, he'll tie Hall of Famer Rayfield "Big Cat" Wright for most appearances. I'm sorry, but something's not right about that.
After the 2003 season, I remember Bill Parcells saying that Adams had a chance to be the best left tackle in the game. He still has the ability to dominate talented defensive ends, but it doesn't happen that often anymore.
Someone just asked me if they call false starts in Hawaii. It's a valid question.