August, 2, 2013
8/02/13
2:00
PM ET
OXNARD, Calif. – As he sat with opposing players before they had to play against
Larry Allen
, John Madden could notice the dread.
"You didn't sleep easy the night before, hoping you get to play against Larry Allen," Madden said. "They knew it. There's no pro football player that has a fear of another guy that plays on that level, but he was so doggone strong and there wasn't much you could do against him."
Allen will be the 14th Cowboy inducted into the Pro Football Hall of Fame on Saturday, and Madden, a Hall of Famer himself, can't wait to see him in Canton, Ohio. He shares northern California ties with Allen and got to know him over the years.
Madden remembers Joe Greene praising Allen, even if Greene never played against him. He recalls the respect
Reggie White
had for Allen. And he remembers the words coaches like Mike Holmgren and George Seifert had for Allen.
Even Allen's teammates were amazed at what he could do.
"When
Nate Newton
played he came in at 300 pounds, and that was a number that you didn't want to exceed," Madden said. "I remember those days because I coached and those 300-pound guys would be 299, and Nate always fought his weight. He said he always had to be under 300 pounds and he said, 'Then this Larry Allen comes in and he weighs 330 pounds and they're all bragging about it. They never let me weigh 330 pounds, and then we got this guy and I saw him and he was a different 330 pounds than I (had) ever seen.'"
What made Allen so great?
"He had everything," Madden said. "That was the thing he had. He had strength and knew how to use it. There are a lot of guys that have strength and power and don't use it. There are other guys that don't have it and go and get beat. He was the type of guy that could use it at the line of scrimmage and use that in space. He could pull and get at defensive back downfield and he could block at the point of attack and pass protect. That's what makes a great player. You don't say he had one thing. He had everything."
Allen made offensive line play cool, and few were cooler or better than Allen, according to Madden.
"He has to rank right up there at the top," Madden said. "I think you have to go by the ones you've seen, and I've always put John Hanna up there as that guy. I had Gene Upshaw and he's a Hall of Fame guard, and I put Larry Allen right there with that group. There was never a question with me whether or not he was a Hall of Famer. He's one of the all-time great NFL players at his position, and you could make an argument that he's the best, but you'd have to wrestle some other guys for it."
November, 9, 2012
11/09/12
8:00
AM ET
New York Giants
What would a week with the Giants be without a little back-and-forth trash talk with or about the other team? This week, the Bengals' A.J. Green said something about the Giants' defense having "a lot of holes in it," and Giants safety Antrel Rolle fired back with some profanities and
a bit of a threat
. "I'll talk with my pads come Sunday. That's how I approach the game. That's how we always approach the game," Rolle said. "If he sees me, he'd better duck. That's it." We'll miss the chatty Giants next week when they're off, won't we?
Hakeem Nicks says he did not have a setback with his knee and that he'll play Sunday. He also said "
stats is for girls
" when asked about his disappointing numbers, then later clarified his comments to make sure everybody knew he wasn't being sexist but rather repeating something a youth coach of his used to say about guys who just want to compile stats for the purpose of impressing girls. Nicks is a good, unassuming guy, and I believe that he wasn't trying to be defiant or, certainly, offensive.
Philadelphia Eagles
Dominique Rodgers-Cromartie says the rest of the league looks at the Eagles' defense as "
pretty
," and that the impression other players have is that "y'all guys are talented but y'all don't want to hit nobody." Looks that way the last few weeks, sure. The Eagles' defense was a tough-tackling unit in September but has looked lost lately.
One aspect of the Eagles that's not at risk of being called "pretty" is the offensive line, which is down four starters and a complete mess. But line coach Howard Mudd says
the problems can be fixed
.
Dallas Cowboys
If the Cowboys' DeMarcus Ware can tear through that soft Eagles line on Sunday and get at least one sack, he'll have his seventh straight season with at least 10 sacks. That would
put him on a list
with Reggie White, John Randle, Bruce Smith and Lawrence Taylor, which if you sack quarterbacks for a living is the kind of list on which you dream to find yourself.
Jason Garrett says he doesn't like the word "desperate" because it suggests that the team might start to do things it's not supposed to do. But Jean-Jacques Taylor writes that the Cowboys' situation is
indeed desperate
, because the loser of Sunday's game in Philadelphia can kiss its season goodbye.
Washington Redskins
One of the most disappointing aspects of this year's Redskins team for Mike Shanahan has been
an excess of penalties
. The Redskins have played and lost a lot of close games, and if you're a coach who thought your team would be better than 3-6, that's an obvious place to look.
Brian Burke looks at the numbers during the bye week and concludes that the Redskins do indeed
still have a chance
to reach this year's playoffs. Certainly, the fact that they have five division games among their final seven offers some degree of opportunity.
June, 28, 2012
6/28/12
8:00
AM ET
It is Thursday of fantasy week here on the NFC East blog, and for no reason whatsoever today's links will be presented in order of 2011 fantasy
points scored
by each team's top-scoring tight end.
Dallas Cowboys
(
Jason Witten
, 117)
Hey, nothing like a little Twitter war between the official Twitter accounts of two division rivals, right? I mean, talk about old-school. The Cowboys
"wished"
Eagles quarterback
Michael Vick
a happy birthday with a photo of
DeMarcus Ware
sacking him and saying they couldn't wait to see him in November. The Eagles, whose best two games of the 2011 season might have been their twin beatdowns of the Cowboys, shot back with a question about whether the poster had burned the 2011 game tapes. How many days until real football again?
If the third year in the NFL is traditionally a player's breakout year, the Cowboys have some candidates, including
Dez Bryant
,
Sean Lee
,
John Phillips
and
Phil Costa
. The Cowboys' official site has
the rundown
on potential third-year breakout guys. (And yeah, I know Lee broke out last year. So do they. Don't be so doggone nitpicky, mmkay?)
Philadelphia Eagles
(
Brent Celek
, 105)
Yeah, I'm linking to Sheil Kapadia every day. Because how many people besides him are writing fresh stuff on the Eagles every day right now?
His latest
notes the appearances of Vick and
DeSean Jackson
on another NFL columnist's "biggest jerk" list, which is one of those lists that makes me ask, "How many days until real football again?"
Jason Brewer wonders if
Jason Babin
could lose snaps to a healthy
Brandon Graham
, making Babin a situational pass rusher, and
still produce at a starter's level
. Jimmy thinks he could, and I agree. It's all Babin likes to do -- pressure the quarterback. Babin himself will admit this if you ask him. I don't think he'd mind being deployed in situations where he had no other responsibilities.
Washington Redskins
(
Fred Davis
, 90)
The dude accused of trying to extort money from
Robert Griffin III
has been on "
Judge Judy
." It's like day-and-a-half-old news, but I thought you'd like to know if you didn't already. Judge Judy. Have I asked yet when real football starts again?
And here's
Griffin posing
with the Hall of Fame bust of Sammy Baugh, with links to stories about his and the other NFL rookies' trip to the Hall of Fame in Canton, Ohio, while there as part of the rookie symposium. Sammy Baugh has never been on Judge Judy, and to my knowledge made no attempt to extort money from Griffin while this photo was being taken.
New York Giants
(
Jake Ballard
, 78)
Chris Canty
, the same guy who compared
Jason Pierre-Paul
to Reggie White the other day while up in Bristol, is apparently really into comparison.
This time
, he says
Eli Manning
is more clutch than
Tony Romo
. I think we can all basically sign off on that one, no? Two Super Bowl MVP awards, one attained by beating Romo along the way, yada, yada. What I want to know is how Eli compares to Reggie White.
When
Mark Herzlich
asks how many days until real football starts again, it's not because he's bored with the offseason. To hear Herzlich tell it,
he lives for this time of year
. You don't have to be a Giants fan to root for Herzlich, who's not out of the mix for a potential starting linebacker spot at some point down the road.
June, 27, 2012
6/27/12
8:00
AM ET
Good morning. Yes, it's still fantasy week here on the NFC East blog, but today will not be quite as fantasy-heavy as Monday and Tuesday were. We have our "Hidden Treasures" features running this morning, where we focus on one position group for each team that I think has a chance to exceed its preseason expectations. And we will have our weekly video mailbag Vokle chat at 2 p.m., and I hope as many of you as possible show up for that. But I will try and sprinkle in at least one or two fantasy features so we can keep this week's theme going. Consistency is very important to me, you know.
Today's links are brought to you in order of fewest fantasy points allowed, per game, to opposing running backs in 2011.
Dallas Cowboys
(14.3)
Calvin Watkins takes his stab at an
early Cowboys roster projection
. He has
Brodney Pool
on the outside looking, and he thinks the presence of
Clifton Geathers
at defensive end means trouble for
Adrian Hamilton
's bid to earn a spot.
Cowboys rookie
Morris Claiborne
heard the league's
message on concussions
at the rookie symposium, and it definitely appears to have stuck with him.
New York Giants
(16.2)
Giants defensive tackle
Chris Canty
not only believes teammate
Jason Pierre-Paul
is better than the Cowboys'
DeMarcus Ware
, he thinks he
compares favorably
to Reggie White. I mean, OK. I get that they're teammates and all. But can we see the young man do it again before we start tossing around these kinds of comparisons? Or is this just the way we roll in 2012?
John Mara was on the radio in New York on Tuesday and
reminiscing about the decision
to trade up and draft
Eli Manning
in 2004. It is fun for people to talk about decisions like that when they turn out as brilliantly as that particular one has.
Washington Redskins
(16.6)
Robert Griffin III
said the extortion-plot story in which he's apparently the target jibed with some of the lessons he feels he's learning at the rookie symposium. "
There's vultures out there
," the young man tells us.
CSNWashington.com has a very
optimistic outlook
on
Pierre Garcon
in Washington, with the help of a film study by analyst Evan Silva. The sense around the league is similar to the sense the Redskins' coaches have -- that Garcon looks like a really good fit for their offense. The question, as Ben Standig raises late, is whether and how much he'll need to adjust to that offense before he can be productive in it.
Philadelphia Eagles
(18.3)
Sheil has concluded that the most effective way defenses attack
Michael Vick
is by sending
extra pass rushers, but not too many
. Too much risk for him to beat them with a big play once they get to six or seven rushers. Four or five seems to be the number that's most effective against him. Send only three, and you're more or less toast.
As for Vick, he says the Eagles
don't talk among themselves
about the need to perform this year because last year was so disappointing. He says they're just fired up about how good they're going to be this year and they don't discuss 2011 except in media interviews. Which is the way it ought to be. Why wallow, right?
June, 20, 2012
6/20/12
8:00
AM ET
A good, sweltering Wednesday morning to you here in the NFC East. We're going to try the Vokle chat again today at 2 p.m. ET, I am pretty sure (will let you know when/if that's official), and we have a feature going up at noon that requires me to do something I have professed to hate: make predictions in June. But it's a fun little offseason game where John Clayton picks the win totals for each team and I go through and decide whether I agree with him.
The AFC guys did it Tuesday
, and today's the NFC's turn.
Like I said, though, that's not for a few more hours. By then you'll have fully digested your links.
Washington Redskins
The guy that was getting the most reps at running back at Redskins minicamp last week was rookie Alfred Morris -- mainly because he was one of the very few running backs healthy enough to practice. Should that trend continue, Morris will get lots of chances in training camp to show what he can do. And
his versatility
as a potential fullback or tailback should help his chances of cracking the roster.
And here's
some info on prices
for still-available tickets at the reconfigured FedEx Field for 2012. I agree that $29 for an NFL game is a good price, but "upper-level standing room" doesn't sound like the most awesome game-day experience to me. But that's me. I sit in the press box.
Dallas Cowboys
Hey, don't sleep on undrafted guard Ronald Leary's chances to make the Cowboys' roster. As Todd Archer writes, the team already has
a lot more money
sunk into the guy than teams typically spend on undrafted free-agent guards. And it's not as though there's no opportunity in Dallas at that position.
In their continuing search for
a second tight end
to replace Martellus Bennett, the Cowboys have picked up John Nalbone, who has played for six NFL teams and went to the same school as Miles Austin. The Cowboys are looking for blocking tight ends, since that's the part of Bennett's game they'll actually miss.
New York Giants
Ohm takes a look at
the Giants' linebacking corps
, which is looking like a much deeper group than it did last year, thanks to the addition of Keith Rivers and the development of some of the 2011 rookies. Ohm seems to think Chase Blackburn has a good chance to hold onto the middle linebacker spot, even as the year goes along, though Rivers remains an intriguing possibility if he shows he can play there.
If you were going through the drive-thru at the Dunkin' Donuts in East Rutherford, N.J., on Tuesday morning, you might have got a surprise -- Eli Manning handing you your coffee,
headset and all
. I love how he's wearing his. The Manning brothers' lasting legacy may turn out to be that they've managed to make being a dork kind of cool. I say that with the ultimate respect and appreciation.
Philadelphia Eagles
Yes, the hopes for the defensive line in Philadelphia are sky-high. Dave Spadaro
wonders if there's a chance
this unit could end up comparing to the Reggie White-led lines of the 1980s and early 1990s. Which would be, you know. Pretty good.
The Philadelphia-based media does not seem to think Colt McCoy makes sense as an Eagles trade target. And if the team truly believes Mike Kafka is capable of starting in a pinch at this point, no, it
probably doesn't make sense
to trade a pick for him. The fact that they haven't done it yet indicates that that is, in fact, what the Eagles believe. My thing is I'm not convinced Kafka's an experienced enough backup for a quarterback as fragile as Michael Vick. But as I've said many times, Andy Reid has watched him a lot more than I have.
May, 9, 2012
5/09/12
2:08
PM ET
I liked
this story/chart
from Pat Kirwan on the rate at which NFL teams sacked the quarterback on third downs in 2011. (Even though his chart claims to include all 32 teams and in fact only includes 24. Hey, it's the offseason.) And I can't say as I'm surprised that the
New York Giants
ranked second-best in the league in third-down sacks and percentage of third-down sacks (behind only the Ravens). For a 9-7 team to win the Super Bowl, it must be exceptional at certain things, and in critical situations, and the Giants were certainly that. One of the things Pat believes his chart shows is why it would be foolish for the Giants to entertain thoughts of trading
Osi Umenyiora
:
In 123 games Osi has 36.5 sacks in third-down situations for his career. That's a third down sack 1:3.3 games. Julius Peppers has 34.5 in 164 games or 1:4.7 games. The great Reggie White had 47.5 sacks on third downs in 251 games or 1:5.2 games. The Giants aren't giving Umenyiora away and probably shouldn't trade him at all. Reggie White played until he was 39, and Osi is just 31.
Fair enough. I'm not totally sure we can look at one number and say Umenyiora's the new Reggie White, but it's clear that he brings something very special and that the Giants should value it highly, as they do. My argument for trading him has been based on the idea that his value is probably at its peak right now, but I agree with Pat that they're not in a take-the-best-offer mode and should only move him if the price is good.
I also found it interesting that the
Philadelphia Eagles
ranked fourth on this list in the first year of Jim Washburn and the "Wide 9." From this distant, early-May vantage point, the reasons to think the Eagles should be among the first defenses taken in fantasy drafts continue to pile up.
December, 30, 2011
12/30/11
1:30
PM ET
»
NFC Final Word
:
East
|
West
|
North
|
South
»
AFC
:
East
|
West
|
North
|
South
Five nuggets of knowledge about Week 17:
Ware QBs dare not tread:
Dallas Cowboys
linebacker
DeMarcus Ware
could become the first player to lead the NFL in sacks in three different seasons, according to ESPN Stats & Information. Ware led the league with 20 sacks in 2008, with 15.5 last season and currently has 18 with one game to go. Minnesota's
Jared Allen
has 18.5 and
Philadelphia Eagles
defensive end
Jason Babin
has 18, so this is a race that's going down to the wire. Of those three, Ware's the one with something to play for Sunday other than the league sack lead.
[+] Enlarge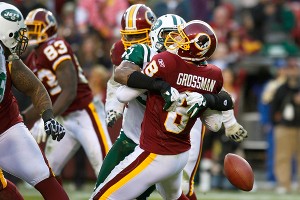 AP Photo/Evan VucciDespite playing in just 12 games this season, Rex Grossman is tied for the league lead in turnovers with 24.
You take it. No, you take it:
The game between the Eagles and the
Washington Redskins
has a chance to be sloppy. The Eagles are tied with the Buccaneers for the league lead in turnovers with 36. Right behind them are the Redskins, who rank third in the league this year with 34 turnovers. Washington quarterback
Rex Grossman
, who is tied for the league lead with 19 interceptions in spite of having played just 12 games, is also tied with San Diego quarterback
Philip Rivers
for the league lead in turnovers with 24.
Romo's signature season:
If Cowboys quarterback
Tony Romo
throws at least one touchdown pass and no interceptions in Sunday night's game against the
New York Giants
, he will become the sixth player in NFL history, according to ESPN Stats & Info, to throw at least 30 touchdown passes and fewer than 10 interceptions in the same season.
Aaron Rodgers
did it in 2009 and will again this year unless he throws four interceptions Sunday.
Tom Brady
did it in 2007 and 2010.
Brett Favre
turned the trick in 2009,
Peyton Manning
in 2006 and
Donovan McNabb
in 2004.
Eagles history:
Babin enters the game with an outside shot at Reggie White's team record of 21 sacks, set in 1987. Babin had three sacks each in his Week 14 and Week 15 games, so it's not out of the question that he could get three here against the banged-up Redskins line and match White's record. The Eagles will be playing hard, as
LeSean McCoy
has an outside shot at the league rushing title and the team is trying to stave off what would be just the third losing season in Andy Reid's 13-year tenure as its head coach.
Holding on when it counts:
The Giants' receivers have had an issue with dropped passes this year. They are tied for the league lead with 31 drops. But according to ESPN Stats & Information's "Next Level" numbers, 23 of those 31 drops have come in the first half of games. Their 23 first-half drops are five more than any other team has this year, but 22 teams have more than the eight drops the Giants have in the second half or overtime. So the Giants' passing game does seem to correct itself as the game goes along. Those same "Next Level" stats say Giants quarterback
Eli Manning
was 4-for-11 with 8.6 yards per attempt when the Cowboys sent five or more pass-rushers in the first half of the Week 14 game in Dallas, but he was 8-for-11 with 12.7 yards per attempt and a touchdown against Dallas blitzes in the second half of that game.
June, 6, 2011
6/06/11
8:00
AM ET
Morning, all. Happy Plaxico Burress Release Day. We'll have some coverage, as you might imagine. It started Friday, really, but if you missed any of it, you can find it all (or get to it all from)
here
. As I wrote Friday, I think the
Eagles make the most sense
for him both ways, but it only makes sense for the Eagles if they don't have to get into a bidding war for him. If some other team is going to pay him to be its No. 1 WR and the Eagles are looking at him for the limited role he'd fit perfectly on their offense, they'll probably let him go. What would be interesting is to see if Burress would take less to go to a place, such as Philly, that could be better for him personally than he'd get to go to a team offering more money and a larger role.
But it's a long time until the lockout ends and we know how this all ends. A long time and a lot of links.
Dallas Cowboys
Hey! Dez Bryant
went to the mall
and didn't get thrown out. Must've stopped at a belt store this time, eh? Oh come on, that's never going to get old, right?
Oh, and it turns out the Tony Romo wedding wasn't even the Cowboys wedding of the year. You know, given the choice between the two, you'd have rather been to the
Martellus Bennett wedding
. Don't pretend otherwise.
New York Giants
Mike Garafolo had a nice profile of Giants third-rounder Jerrel Jernigan in
Sunday's Star-Ledger
. Talked to the young man's high school and college coaches, who paint the picture of a tough, explosive player who likely will make an instant contribution on special teams next year. Seems undersized to play a full-time WR role, but I imagine he's heard that before and yet here he is. And it says something about the guy that he's using the lockout time to finish his college degree.
And Paul Schwartz of the New York Post delves into the issue of
whether the Giants are doing enough
in terms of player workouts during the lockout. Schwartz quotes Justin Tuck and Shaun O'Hara, each of whom espouses the very typical Giant point of view that they don't care what other teams are doing and they're going to do things their way. Again, we'll ultimately see which approach pays off -- whether the teams who did a lot on their own during this time are helped or hurt or not affected at all. But when the time comes to study that, the Giants will be the prime example of a team that didn't do much.
Philadelphia Eagles
So they're trying to get a statue of Eagles great Chuck Bednarik built in Philadelphia, and
Philly.com
polled readers to ask which other Philly sports legend would deserve one. Reggie White is running third in the poll.
Former Ohio State linebacker Brian Rolle, a sixth-round pick of the Eagles in April's draft, said in a recent ESPN radio interview that
he was offered a car while at Ohio State
. Hey, who wasn't? Difference is, Rolle says, he turned it down.
Washington Redskins
Eric Edholm thinks the Redskins will pursue a
veteran free-agent running back
to add to the Ryan Torain/Roy Helu duo. He suggests Joseph Addai and Darren Sproles as possibilities, and his logic makes sense. Can't have too much depth there. I just think the Redskins have bigger FA needs on defense and at receiver, and I wonder if they'll go low-end on running back options as a result.
Speaking of receiver,
Dan Pompei's Sunday notes
included his rankings of "old wide receivers," defined as those who would be 32 or older by the scheduled start of the 2011 season. He ranks free agent Santana Moss No. 5 on his list. But he also ranked fellow free agents Chad Ochocinco and Terrell Owens ahead of Moss. I still think Moss is the most likely and sensible FA option for Washington at the position.
Finally this morning,
JB from Whistler, BC
, wrote into the mailbag: "Hey Dan: I hope your analysis of the Beast proves to be more on target than your opinion of the Dallas Mavericks' NBA title chances. GO MAVS!"
Dan Graziano
: Sorry, JB. They won one more game than I thought they would, and sadly (because my goodness, who could possibly want the Heat to win?) I think that's all they get.
September, 10, 2010
9/10/10
4:00
PM ET
By
Matt Mosley
| ESPN.com
»
NFC Final Word
:
East
|
West
|
North
|
South
»
AFC
:
East
|
West
|
North
|
South
Five nuggets of knowledge about the Week 1 games.
[+] Enlarge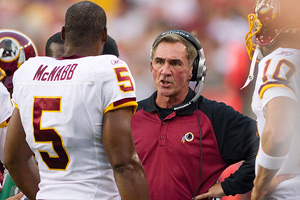 Maxwell Kruger/US PresswireQuarterback protection was a problem for the Redskins last season.
This will be the only Cowboys-Redskins preview in the blogging community not mentioning a certain defensive tackle.
That's because I think he'll be a non-factor in this game. I'll be zeroed in on what Mike and Kyle Shanahan do to make sure
Donovan McNabb
stays on his feet long enough to deliver the ball.
Trent Williams
is going to be a solid left tackle in this league, but there are easier ways to make your debut than facing outside linebacker
DeMarcus Ware
. The Skins are going to help Williams quite a bit early in this game and that could take away from what McNabb's able to accomplish with the talented tight end duo of
Chris Cooley
and
Fred Davis
. If the Redskins can give McNabb some time, I think
Santana Moss
will be a tough matchup for
Terence Newman
or
Mike Jenkins
. Kyle Shanahan wants to use Moss a lot like he used Houston's
Andre Johnson
and that's a scary thought for this secondary.
Justin Tuck was elected defensive captain by his teammates.
Sunday's game against Carolina is the game where Tuck and his defensive teammates can show they're ready to get back to the '07-'08 years. Tuck has promised to be a lot more vocal on and off the field and he'll be supported by the energetic new defensive coordinator Perry Fewell. I can't say enough about Fewell, who has completely changed the mindset with a lot of these players. He's going to hold his guys accountable, but he's also not going to beat them down constantly. I really like what he's done to fortify the rush defense. And it looks like Fewell has helped inspire Tom Coughlin. I had a long conversation with Coughlin in Albany, N.Y, during training camp and you could tell he thinks this team has a legitimate chance to do something special this season. I have them reaching the Super Bowl. However, I may change that pick if they struggle against the Panthers.
Kevin Kolb can't win this game against Green Bay on the first drive.
The previous sentence popped into my head when I couldn't sleep Thursday night and it's not quite as profound now that I see it in print. But you know what I'm saying. Kolb doesn't need to try to do anything heroic in his debut as the full-time starter for the Eagles. Simply feed the ball to your playmakers and make sure you hit them on the run. Kolb's going to have some rough days, but I also think he's capable of putting up some big numbers. He moves around a lot better than folks give him credit for and you'll see that against the overrated Packers.
Doug Free was thrown into an awful situation against Jared Allen in last year's divisional playoff game.
He'll be much better prepared for Washington outside linebacker
Brian Orakpo
on Sunday evening. Orakpo joined us on ESPN 103.3 in Dallas-Fort Worth on Thursday and wouldn't tip his hand on where he'd be lining up. There's some thought that defensive coordinator Jim Haslett might move him around a bit. Orakpo will try to use his speed early in the game before transitioning to his bull-rush technique. The players refer to that as "speed to power" and Orakpo can be dangerous in that mode. I think Free will hold his own. If he doesn't,
Tony Romo
could be in trouble.
Let's keep our eye on the Eagles' tweeting defensive end Brandon Graham.
The rookie defensive end had to stop by Andy Reid's office Thursday to explain why he tweeted his intentions to whisper in
Aaron Rodgers
' ear the word "sack." I'm not sure I recall Deacon Jones or Reggie White whispering anything in a quarterback's ears, but times have changed. I'm anxious to see how Graham performs in his first game. He can't get so amped that he forgets his technique early. But I could see him having a big debut -- especially since the Packers will be focused on trying to slow down
Trent Cole
. Graham's studied Broncos defensive end
Elvis Dumervil
on film and he's ready to showcase some of those moves Sunday.
June, 22, 2009
6/22/09
7:11
PM ET
By
Matt Mosley
| ESPN.com
Posted by ESPN.com's Matt Mosley
Earlier today, I asked you guys to come up with an all-decade defensive team for the NFC East (2000-present). And as always, the response was overwhelming. Here's the all-decade story, which was written by NFC West stalwart Mike Sando. Three members of the team -- CB Troy Vincent, DE Michael Strahan, CB Champ Bailey -- spent their best years in the NFC East.
Now, let's take a look at what you guys came up with for our NFC East all-decade team. Many of you included players on offense, which is fine. Here's a sampling of what you guys wrote:
PiccoloKu9: If we were talking about eight games, I'd definitely take Portis
Padr321:
QB: Donovan McNabb
RB: Tiki Barber
WR: T.O. Amani Toomer
TE: Jason Witten
OT: Runyan and Thomas
G: Larry Allen and Shawn Andrews
C: Shaun O'Hara
DE: Strahan and Ellis
DT: Glover and Simon
LB: Ware, Pierce and Trotter
CB: Vincent and Bobby Taylor
S: Dawkins and Sean Taylor (RIP)
K: Akers
P: Feagles
JMick1215: I think Donovan McNabb would have to be the QB on this team, as he has been the most dominant over the past decade. I understand some would like to argue that he is not the current best QB in the division, but over the last decade as a whole, I don't see how there is any argument!
Zrots21:

QB: Donovan McNabb
RB: Tiki Barber (he did it longer; more durrable than B. West)
FB: Madison Hedgecock
WR1: Terrell Owens (Sad but true)
WR2: Plaxico Burress
TE: Jason Witten
LT: Tra Thomas
LG: Larry Allen
C: Shaun O'Hara
RT: Jon Runyan
RG: Chris Snee (Andrews probably more talent/now playing RT)
DT: Corey Simon, Fred Robbins
DE: Greg Ellis, Michael Strahan
LB's: Demarcus Ware, Carlos Emmons, Antonio Pierce (Can't have two MLB)
CB's: Troy Vincent, Champ Bailey
S: Brian Dawkins, Sean Taylor
PR: Brian Westbrook
KR: Brian Mitchell
P: Feagles
K: Akers
bigdjosh: Wow I wasn't going to post today, very slow and hung over from a weekend in the pool and drinking... but this is just nonsense!!
Ware is the MOST complete OLB (in the 3-4) and would be the the MOST complete DE (in the 4-3) hands down!!! He rushes the passer with the force of Reggie White, he has the speed and spin move of Charles Haley. If you watch Cowboys games he is regularly coming all the way across the field and running the running back down for a tackle. The weakest part of this game is his dropping into coverage. However, that improves year to year and he is MORE than decent at it now. He said after his rookie year that it was his major weakness and works to better it every offseason.
Anyone who thinks Ware is NOT a complete OLB simply doesn't watch him enough to know! every analist would tell you he is NO QUESTIONS!!!
mosley: I just read all 255 comments. That's 45 minutes I'll never get back. Let's do it again tomorrow -- when we announce the all-decade offense. All my best!