NFC East:

replacement refs
September, 25, 2012
9/25/12
11:05
AM ET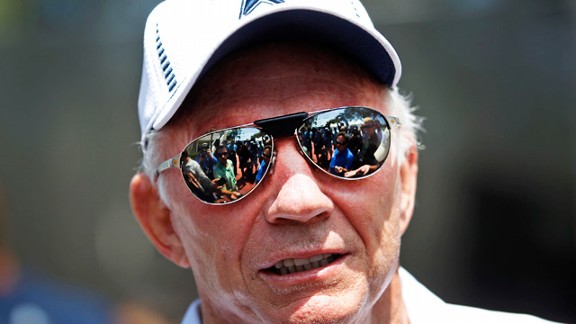 Ron Jenkins/Fort Worth Star-Telegram/MCT/Getty ImagesCowboys owner Jerry Jones says he didn't watch the end of the Packers-Seahawks game Monday.
Here it is, folks. Your NFL officials controversy in a nutshell.
Dallas Cowboys
owner Jerry Jones, asked about the controversial ending to Monday Night's Packers-Seahawks game, said on the radio Tuesday morning that he didn't see it and hadn't heard about it.
Per ESPNDallas.com
:
"I didn't see that ending last night," Jones said on KRLD-FM. "I cut it off about halftime."

Jones said he hadn't received any phone calls about the controversy: "I just read a little note in the paper that the Seahawks pulled it out," he said, quickly switching the subject to praise Seattle's team.

...

Pressed further on the matter, Jones made his best sales pitch.

"We can have all kinds of what-ifs," Jones said. "We've played three games and we've got 16 to play. It's exciting. It gives us a lot to talk about on our shows that we have. But fundamentally, when I look at where the league is over the first three ballgames, it's great. Lot of competition."
That's it, right there. That's the NFL owners' stance. They don't care how ridiculous the proliferation their lockout of the officials makes them or their league look, because people are still talking about and watching the games. And that's why nothing that happens on the field with these replacement officials is going to change anything about the situation.
A couple of people have suggested that Jones' take on this might be different if it had been his team that had lost on the bad call. I do not believe it would. I think the owners have dug in on this, that they believe they are in the right and that what they are hoping to accomplish in terms of dictating and establishing work rules for their employees that are as beneficial as possible to their own bottom lines. I believe a conversation very much like this took place some months ago in a plush hotel banquet hall in Palm Beach, Fla.:
Hypothetical voice of reason (the commissioner, a fellow owner, a league PR rep, somebody): "OK, so another lockout. Second year in a row. This is what you guys want to do, right?"
NFL owners, including Jerry Jones: "You betcha!"
Hypothetical voice of reason: "OK, then. You know it's very likely that if we go ahead with these replacement officials, we're going to look really foolish, get ripped like crazy by media and our broadcast partners and a few of our teams are probably going to lose games we should have won. That's OK with you guys too?"
NFL owners, including Jerry Jones: "Well, is any of that going to affect TV ratings, attendance or advertising revenue?"
Hypothetical voice of reason: "Nope. Not one bit. We'll actually probably keep setting records for that stuff."
NFL owners, including Jerry Jones: "So, what was the problem again?"
Face it, the NFL's owners are fine with things the way they are and aren't about to change the way they're operating this situation. This is what they wanted, and they don't see anything wrong with the way it's working out. That's why Jones can come out and ask us to believe he didn't see the game and didn't get any calls about it. He and the rest of his fellow owners know you're going to keep buying their product no matter how they present it to you. So why should he act as though anything's wrong?
September, 24, 2012
9/24/12
2:50
PM ET
If you haven't heard by now,
Washington Redskins
offensive coordinator Kyle Shanahan lost his mind at the officials at the end of the Redskins' loss to Cincinnati on Sunday. There's video on the internet of Shanahan chasing the officials down the hallway after the game was over and cursing at them, even after he'd already been slapped with an unsportsmanlike conduct penalty that helped make
Robert Griffin
III's final-play Hail Mary impossible. It's ugly stuff, and it prompted Shanahan to release
an official apology
Monday:
"When I overheard the official tell the head coach that the game was over after the false start penalty, I tried to explain that the game was not over," Shanahan, the son of Redskins Coach Mike Shanahan, said. "That is what resulted in the unsportsmanlike conduct penalty. I tried to get an explanation of how I could get that penalty when half of the other team was on the field as well.
"I was frustrated, and in the process of trying to get some answers from the officials, I conducted myself in the wrong way."
[+] Enlarge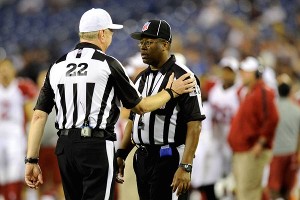 Joe Howell/AP PhotoThe NFL has requested team personnel embrace the replacement officials for now.
So the league is looking into this, as well as the incident in Baltimore where
New England Patriots
coach
Bill Belichick grabbed one of the officials as he ran off the field
following Sunday night's loss to the Ravens, and there would seem to be little doubt that the NFL must impose some sort of discipline on these guys -- most likely in the form of a fine.
But while Shanahan and Belichick are certainly grown men who need to control their tempers better and be responsible for their public actions, this is just the latest deepening of a stubborn, stupid hole the NFL has dug for itself as a result of its continued lockout of the real officials.
Last week, the league sent a letter to every team to remind players and coaches to show respect for the officials. Because, you see, the league's position is that they're not going to give in to the real officials' demands that they get to keep their pensions and they're prepared to move forward with the replacements as the new real officials. With that being the case, the NFL is telling its coaches and players, you're stuck with these guys, for now and possibly forever. And if the league's owners really are determined to carry this farce to that sort of unconscionable conclusion, they have no choice but to support the replacement refs by making it publicly clear that efforts by players and coaches to abuse and bully them will not be tolerated.
The shame of it is, this was all avoidable, and the fact it's just getting worse is the fault of the continued unbridled arrogance of a sports league that doesn't feel it ever has to give an inch because its customers refuse to hold it accountable. The on-field product is clearly suffering for this mess, but the owners don't care because the ratings continue to soar and the advertising dollars continue to pour in accordingly. So there's no tangible punishment for a cartel that's willing to create a miserable working environment for its most important employees in order to win a staring contest with a few other employees.
The league has created a perpetual situation, in every game, in which coaches and players are anticipating disaster and reacting accordingly when it happens. Belichick would never have believed a real NFL official could have blown a field goal call, and he never would have chased him down and grabbed him. But because these guys are expecting something to go wrong on any given play, the blowups are more frequent and more severe.
The classy thing for the NFL and its owners would be to admit they're beaten, give in on the pension issue and welcome the real officials back. Live to fight this battle another day. Ease the burgeoning tension amid coaches and players who push each other to be the best in the world at their jobs and can't understand why their games are being regulated by people who are not. An owner like Robert Kraft, Belichick's boss, actually has an opportunity here to look like a hero in the public eye by simply being the grown-up and ending this thing without caring who wins or who loses. But it's Kraft and his fellow owners who think it's a good idea to lock out a certain group of their employees every year now, so don't hold your breath.
Meantime, Kyle Shanahan and Bill Belichick can expect to have some pay docked this week, as the league continues to operate as though nothing's wrong until they say it is. Coaches have to be held accountable for their actions, even if those who impose the fines refuse to hold themselves to the same standard.
NFC EAST SCOREBOARD
Thursday, 11/27
Sunday, 11/30