February, 22, 2011
2/22/11
9:59
AM ET
By
Matt Mosley
| ESPN.com
If
Philadelphia Eagles
coach Andy Reid had won at least one Super Bowl by now, he might approach this quarterback situation differently. But with folks starting to talk about his job security, he'll likely take the safe route and enter the 2011 season with two quality starters rather than one.
Faced with too much time on his hands, longtime Beast enthusiast Rich Hofmann of the Philadelphia Daily News came up with
10 scenarios for how this situation could play out
. And I agree with Hofmann that it's unlikely the Eagles will part with Kolb, although the former University of Houston star won't like that outcome.
The labor situation further complicates Kolb's prospects. He deserves an opportunity to become a starter for another team, but Reid needs insurance for
Michael Vick
because of his reckless approach. I suppose Kolb could be a bit more aggressive in demanding a trade, but that's simply not his nature.
Guys from Stephenville, Texas, rarely stage holdouts.
December, 3, 2010
12/03/10
9:57
AM ET
By
Matt Mosley
| ESPN.com
I'll have several more observations from the Eagles' 34-24 comeback win over the
Houston Texans
, but let's first take a look at what folks around the country are saying about the game:
July, 23, 2010
7/23/10
11:00
AM ET
By
Matt Mosley
| ESPN.com
Longtime Philadelphia Daily News columnist Rich Hofmann had a front-row seat for the
Donovan McNabb
era, and that's why he knew
it had to end after the '09 season
. Donovan Fatigue was an actual condition that some folks are still being treated for in Philly. In his column today, Hofmann compares the Reid-McNabb years to other famous duos.
"When you look at it, Reid and McNabb are the only coach and quarterback to survive such a long stretch together without winning a Super Bowl, in a big media city, and in the talk radio/Internet age," writes Hofmann. "It might never happen again."
Hofmann's theory is that it's not in Philly's DNA to be able to endure so many near-misses over that period of time.
"If you didn't just win the whole thing, an accomplishment that offers everyone involved the protection of Kevlar, there are exactly two ways in the NFL to change the conversation: change the coach or change the quarterback," writes Hofmann. "And it is just simple human dynamics that you need to change the conversation every few years, for sanity's sake if for no other reason."
It's hard to predict where the Eagles will finish in the NFC East, but I think most folks agree that a change at quarterback was necessary. Now we'll see how long the honeymoon lasts with
Kevin Kolb
.
March, 15, 2010
3/15/10
3:14
PM ET
By
Matt Mosley
| ESPN.com
When the Cowboys recorded back-to-back wins over the Eagles last season (three in all), there was a school of thought (led by the Philadelphia Daily News' Rich Hofmann) that
Donovan McNabb
had taken his last snap in Philly. Eagles coach Andy Reid insisted that McNabb would be his quarterback in 2010, but then, what else did you expect him to say?
[+] Enlarge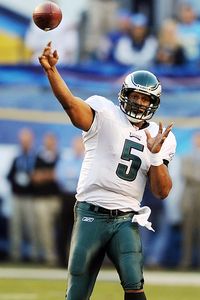 Christopher Hanewinckel/US PresswireAt 33, Donovan McNabb appears to still have a number of productive seasons ahead of him.
But as the draft approaches, it's becoming more and more likely the Eagles will put off the
Kevin Kolb
era for at least one more season. Today in his award-winning (I assume) Monday Morning Quarterback column, Peter King wondered aloud why more quarterback-needy teams aren't lining up to trade for McNabb. And I couldn't agree more with Peter on the theory that trading a first-round pick for McNabb is actually safer than spending $35 million or so on a rookie quarterback such as Notre Dame's
Jimmy Clausen
. Here's a portion of
Peter's column
:
"A playoff quarterback near his prime can be had for a premium price," writes King. "The fact that there's a real chance the Eagles could deal McNabb, and that McNabb is a half-year younger than
Peyton Manning
and apparently intends to play four or five more seasons, and also apparently has kicked the injury bug, leads me to this question: What in the world are all these quarterback-needy teams doing? Why aren't teams running to deal for McNabb?
"The prime object of this game in the personnel area is to get a quarterback who can win games and lead your team, and a good, proven one is out there. The Eagles aren't shopping him, but they surely are listening. I asked a coach with a quarterback need about McNabb, and the coach said because McNabb is on the last year of his contract and would probably need to be re-signed, and the fact that Philadelphia would want a high draft choice for him in a very good draft, and the fact that he doesn't have a lot of years left, all combine to make it a tough trade. Understood. Good factors all. But McNabb is 33.
"I have my own problems with McNabb. I don't consider him on the Manning-Brady-Brees plane. I think the Eagles should go with Kolb and make the best deal they can for McNabb this offseason, because, basically, it's Groundhog Day in Philadelphia. Every year's the same, and I don't see McNabb getting Philly over the hump and into another Super Bowl. So why would I want to pawn him off on another quarterback-needy team when I don't think he's a top-five quarterback? Simple. Because he's a top-10 or top-12 quarterback, and they're too hard to find to let one pass when he's just sitting there for the taking.
"McNabb would shore up any team's most important position for the next half-decade. Some team's going to take Jimmy Clausen between, say, the fourth and 20th pick in the first round, and whoever takes him is going to have no idea if he's the long-term solution at quarterback."
In the case of the Vikings, they can't make a play for McNabb until they hear from
Brett Favre
. But even if they're willing to offer a first-rounder for McNabb, the Eagles might not want to help out a team that competes in the same conference. But if teams such as the Bills or Rams (same conference but not a true threat) put a nice package together, surely the Eagles would be interested.
A scenario in which McNabb, Kolb and
Michael Vick
all return to the Eagles still seems unlikely despite what you're hearing on at least one network. Courage awards aside, Vick had no choice but to say all the right things in '09. But I could see him becoming extremely frustrated during another season of limited Wildcat reps. I don't think it makes any sense for the Eagles to bring him back. Do we think that Reid and offensive coordinator Marty Mornhinweg will spend much of this offseason trying to develop an expanded Wildcat package?
Former Eagles general manager Tom Heckert is now with Cleveland, so I thought he might make a play for McNabb. But now the Browns have signed former Panthers quarterback
Jake Delhomme
, a man coming off by far the worst season of his career. Perhaps a team will finally panic when we get closer to the draft and make a strong offer for McNabb.
But if not, it looks like the Eagles are prepared to go with a lame-duck quarterback in 2010. I think you're asking for problems with that approach, but maybe the Eagles are willing to take the risk. Meanwhile, Kolb continues to say all the right things publicly. Something tells me, though, that he won't be thrilled with yet another season on the sideline. Call it intuition after watching how much he enjoyed those two starts in '09.
One last note from King: Eagles quarterbacks coach James Urban and Mornhinweg
were in the Bronx on Friday
to watch Fordham quarterback
John Skelton
's pro day. Doesn't that seem like a little overkill for a late-round prospect from a school not known for being an NFL farm system? (apologies to Fordham grads Alex Wojciechowicz and Vince Lombardi of Seven Blocks of Granite fame).
January, 19, 2010
1/19/10
10:42
AM ET
By
Matt Mosley
| ESPN.com
Let's take a quick look at the top storylines from around the NFC East. I realize that you're perfectly capable of finding these stories on your own, but allow me to save you a little time.

Cowboys

Eagles

Giants

Redskins


September, 28, 2009
9/28/09
10:38
AM ET
By
Matt Mosley
| ESPN.com

Posted by ESPN.com's Matt Mosley
Eagles wide receiver
DeSean Jackson
had never taken a pain-killing injection before a game -- until Sunday. Without the injection, he probably wouldn't have been much of a factor against the
Kansas City Chiefs
. But after seeking advice from teammates, Jackson took the shot to help ease the pain in his injured groin.
He responded with perhaps the best day of his career. Jackson was the best player on the field in leading the Eagles to a 34-14 win. And I think that overrides the fact that he did a somersault followed by an awkward split in the end zone to celebrate his touchdown. Daily News columnist Rich Hofmann
attempts to analyze the two sides of Jackson
this morning.
"But there is this thing about Jackson," writes Hofmann. "He is a great player, and he has some great qualities, but he risks trivializing his image with the rest of this stuff. We all know what happened last year, when a premature celebration in Dallas cost him a touchdown. He already has been penalized and fined this season for a touchdown celebration that went too far. Now, this."
I see where Rich is coming from, but I think it's pretty much impossible for a somersault or an extended celebration to trivialize a 149-yard receiving day. As long as Jackson continues to put up big numbers, I'm sure coach Andy Reid will live with some of his antics.
What do you think? Do Jackson's end zone celebrations bother Eagles fans at all?
June, 24, 2009
6/24/09
5:00
PM ET
By
Matt Mosley
| ESPN.com
Posted by ESPN.com's Matt Mosley
Cowboys
Eagles
Giants
Redskins
May, 5, 2009
5/05/09
5:26
PM ET
By
Matt Mosley
| ESPN.com
Posted by ESPN.com's Matt Mosley
| | |
| --- | --- |
| | |
| | Don Wright/US Presswire |
| | Rookie LeSean McCoy should be a solid addition to the run game. |
We're going to catch you up on what took place at the Eagles' and Redskins' minicamps over the weekend. As many of you know, we've focused our efforts on the tragic situation at Valley Ranch since Saturday afternoon. But I did manage to catch up with Brian Orakpo on Sunday and Jeremy Maclin is set to check in with the Beast later this week.
For now I'm sort of interested in this Rich Hofmann column on the Eagles' running game. Philly certainly appeared to strengthen its running game with the additions of rookie tailback LeSean McCoy, fullback Leonard Weaver and left tackle Jason Peters.
But for whatever reason, Andy Reid is squeamish about admitting the emphasis on the ground. As Hofmann points out, it's not like the Eagles are suddenly going to become a 50-50 run/pass team. The hope is that the 40 percent devoted to the run will become more efficient.
"There are a handful of things," Reid said. "We talked about the red zone, short yardage and goal line. Those are things we need to do a better job at. That's not the reason why we brought in the personnel that we brought in. We needed to change some things on the offense, maybe in some spots where we were getting a little older and we needed to get a little bit younger, and we did that."
The good news for the Eagles is that McCoy should be ready to contribute immediately. He doesn't remind me of washouts from the past such as Ryan Moats and Tony Hunt. In fact, McCoy is the type of back who could adequately fill in if Brian Westbrook gets banged up, which happens from time to time. He's an instinctive runner who will hopefully adjust quickly to the speed at the NFL level. If McCoy is in the Chicago game last season, I think the Eagles win. Despite Correll Buckhalter's fearless attitude, Reid never completely trusted him. And don't bring up the blocking thing. If a guy's talented enough in the backfield, you should find a way to cover up some of his deficiencies. Especially if he's a backup.
The Eagles have to become more proficient running the ball in short-yardage situations. Perhaps McCoy and Peters can make a big impact there. Donovan McNabb's season was almost derailed last season, in part, because he didn't have a running game to lean on. Reid would never admit that publicly, but the Eagles' moves suggest they agree with that theory.
It's not like Reid's Eagles are about to become three yards and a cloud of dust, but he'd settle for 4 1/2 about 40 percent of the time. The Eagles had become too dependent on Westbrook breaking a big play. Now, they have the opportunity to be more balanced.
Will that happen? I'm not betting on it.
January, 19, 2009
1/19/09
12:27
PM ET
By
Matt Mosley
| ESPN.com
Posted by ESPN.com's Matt Mosley
Before we take you around the nation to see what everyone's saying about the NFC Championship Game, let me say one thing: For the people trying to somehow pin Sunday's loss on Donovan McNabb, give me a break. I thought he performed superbly in the second half -- and he put his team in position to win after the defense played horribly in the first half. OK, let's start out with the locals and then hit some of the nationals:
January, 13, 2009
1/13/09
10:24
AM ET
By
Matt Mosley
| ESPN.com
Posted by ESPN.com's Matt Mosley
In writing a column for this afternoon, I tried to identify the exact moment when the Eagles knew they had a shot at going all the way. But the truth is, I'm not sure they were ever looking that far down the road.
Philly Daily News columnist Rich Hofmann writes this team didn't splinter at 5-5-1 because it's not in their make-up. While other teams had players whining to coaches and teammates about their lack of catches, the Eagles stayed together and kept believing that something good could happen.
"It seems simple enough," writes Hofmann. "But there are so many teams at so many levels of athletics -- in every sport -- that cannot police themselves that way. Sportswriters are experts at cultivating malcontents, but it is a grim, unrewarding task in the Eagles' locker room. They have some emotional players, and some who get more disappointed than others, and some who display their feelings more readily than others, and some whose analysis of situations is sharper than others'. But you don't find people bent on divisiveness -- and it does matter."
And by the way, is there one particular player in this league who comes to mind every time you hear the word "divisive?"