September, 4, 2010
9/04/10
5:27
PM ET
By
Matt Mosley
| ESPN.com
In case you haven't been following the Beast on Twitter,
now's a good time to start
. We've been tweeting and blogging throughout cutdown day. We should have some official news start to roll in at 6 p.m. ET, but we've already seen some interesting developments. Here are some nuggets and observations:
As we reported today, the Eagles sent a seventh-round pick to the Baltimore Ravens for defensive end Antwan Barnes. The Ravens have had a ton of success hitting on players in the fourth round, and Barnes was a nice player for them as an outside linebacker. He'll be a 251-pound defensive end for the Eagles. He'll immediately step into the rotation with Trent Cole and Brandon Graham. The rookie Graham will remain a starter and Barnes will likely be used as a pass-rushing specialist. A league source told me today that Moise Fokou and Daryl Tapp are safe. We'll see if that holds up.
Our friends at ESPNDallas.com are predicting that rookie center Phil Costa, fullback Chris Gronkowski and safeties Barry Church and Danny McCray will all make the 53-man roster. The Cowboys have released guard Travis Bright, according to Calvin Watkins. They should have no trouble getting Bright onto the practice squad.
In other Cowboys news, former SMU cornerback Bryan McCann has been informed that he'll be released. The Cowboys hope to sneak him through to the practice squad, but it will be tough. One team from the NFC and another from the AFC have already told me today that they have interest in McCann.
Update: The Giants just made it official that second-year running back Andre Brown has been released. We'll see if they can get him through to the practice squad. I loved what he was doing during training camp, but he's been banged up in the preseason. Also the workaholic tight end Bear Pascoe has been released.
August, 6, 2010
8/06/10
2:12
PM ET
By
Matt Mosley
| ESPN.com
ASHBURN, Va. -- If
Albert Haynesworth
ever qualifies to participate in one of Mike Shanahan's practices, I actually think he'd enjoy himself. Shanahan asks his players to pour everything they have into morning sessions before hosting jog-throughs in the afternoons. And judging from his red-faced appearance at today's news conference, the head coach is about ready for this episode to end.
The MRI on Albert Haynesworth's knee came back negative, and the Washington Post's Jason Reid reported Friday morning that the defensive lineman's
tearing it up on the treadmill
. So why can this man not make it through two 300-yard shuttle runs that were easily handled by ESPN's
Mike Golic
? Your guess is as good as mine. One reporter excitedly noted that Haynesworth had appeared to increase his work in individual drills Friday.
"He's been doing the same thing," snapped Shanahan. "He's been getting a few reps and individual work -- the same thing he's been doing."
When I sit down with Shanahan this evening, I'm not going to lead with Haynesworth. I'm going to ask the coach to compare this Redskins team to some of his Broncos teams. And I'm curious to pick his brain about why he thought
Donovan McNabb
was the perfect fit for the Redskins. The guy's not known for his accuracy, and that's something Shanahan values. Now let's take a look at what caught my eye in practice Friday morning:
I talked to one longtime Redskins reporter who actually thinks Larry Johnson will have more carries than Clinton Portis this season. I don't see that happening unless Portis suffers an injury, but it's obvious that Johnson's feeling really good early in camp. He's finishing off every run and he's actually shown a burst at times. He also appears to be really comfortable with his new surroundings. On the other hand, it's hard to imagine Willie Parker making this roster. He's not getting many reps and it just doesn't look like Shanahan's giving him much of a chance. Ryan Torrain is receiving more carries than Parker from what I can tell.
Mike Shanahan doesn't miss a beat during practice. During drills, he'll stand away from everyone and just study different things. He also takes mental notes of which players don't hustle between drills and calls out their names at the end of practice. Those players are forced to run extra sprints. As one local beat reporter put it, "The adults are in charge again." I liked Jim Zorn, but he probably gave his players too much latitude.
Lorenzo Alexander and Andre Carter have a nice little battle going on at left outside linebacker. Alexander has been running with the first team, but Carter, 31, will get plenty of playing time. You knew Carter would have a little trouble in coverage, but he's actually been step for step with running backs on a couple of occasions. No matter who wins the starting role, the other guy will receive plenty of playing time. By the way, Carter told me after practice that he thinks David Diehl's the best left tackle he's faced in the Beast.
Defensive coordinator Jim Haslett is the best thing that could've happened to Carlos Rogers' career. The cornerback thought his career in Washington was over, but now Haslett believes he can turn him into an Antoine Winfield-type player. Haslett will take advantage of Rogers' size and he'll send him on a lot more blitzes.
Brian Orakpo told me after practice that Haslett's playbook has at least 20 more blitzes than Greg Blache's version. He said it was a little overwhelming at first, but now he's not thinking as much.
Kedric Golston and Adam Carriker were running with the first-team defense Friday. It looked like the Redskins were working on their dime package, which features two down linemen. If Haynesworth passes the conditioning test in the next month or so, he'll likely see a lot of time at right defensive end.
Torrain could end up serving as the third-down back, but he can't drop a perfect swing pass as he did Friday.
When former Cowboys receiver Joey Galloway broke free on a deep ball, Haslett just about lost it. "How many [expletive] times do we have to do this?" he shoutd in the general direction of safety LaRon Landry. By the way, Landry has a very difficult time not destroying receivers across the middle -- even when players are in shorts. In Friday's morning session, Landry pulled up at the last possible moment when Chris Cooley caught a McNabb pass across the middle. It looks like one of Cooley's brothers (Taylor?) was conducting some interviews for the tight end's blog after practice. They were focusing on Santana Moss.
Cornerback Justin Tryon made a nice recovery on a fly pattern to Roydell Williams. At this moment, Moss and Galloway are your starting wide receivers. I think it's the weakest part of this team, but Moss tried to convince me otherwise during a 20-minute visit following practice.
If you need a Rudy type player to root for, let me point you in the direction of former Kansas State receiver Brandon Banks. At 5-foot-7, Banks isn't exactly a red-zone target. But he's quick and appears to have good hands. I'm interested to see if he can make some plays in the preseason. I'd love to see the little fella get some reps returning punts. He's not very sturdy, though. He caught a short pass Friday and then a shove from cornerback Kevin Barnes almost sent him into a crowd of corporate folks. I think a stiff wind might have the same effect on young Banks.
John Beck rolled right and fired a bullet to tight end Lee Vickers in team drills. Former TCU linebacker Robert Henson reacted with some loud expletives because he came close to breaking up the pass. Perhaps Henson realizes that Baylor quarterback Robert Griffin will do something similar to his Frogs in Week 3. Beck botched a handoff to Portis in Friday's practice. He didn't last with the Dolphins because of a side-arm motion that led to a lot of balls being deflected. If Dolphins quarterbacks coach David Lee can't fix a problem, then I'm skeptical of the quarterback having much of a future in the league. Lee has worked with Tony Romo, Chad Henne and Tim Tebow (Senior Bowl).
Haslett is trying to change the mentality of this defense. You'll hear the word "strip" over and over again in practice. Haslett wants one defender to strip the ball and another to come over the top and go for the scoop. There's an emphasis on takeaways in almost every drill.
Shanahan thinks that Jammal Brown and Malcolm Kelly will return to practice Monday, but he's not certain about that. I get the feeling that the Redskins are starting to lose patience with Kelly, who is nursing a tight hamstring. Late in Friday's practice, the receiver would've broken away from the peloton had he not been on a stationary bike. It's not like the guy has a bad attitude or anything. McNabb and Moss have both taken a special interest in the former Oklahoma star, but he has a hard time staying on the field.
Grapevine, Texas, native Richard Bartel continues to throw the ball well in practice. Everyone's focused on Beck since he arrived, but Bartel's the backup who seems to take advantage of every rep.
Brian Orakpo said he had some lofty personal goals for this season, but he's not willing to go on the record at this point. He spent much of our conversation talking about the Big 12 finding a way to stay together. With Nebraska defecting to the Big 10, Orakpo says this year's game between his Texas Longhorns and Adam Carriker's Cornhuskers will carry added significance. "I'm still trying to recover from when they almost beat us," said Orakpo, referring to the Big 12 title game.
Safety Kareem Moore is having an excellent training camp and it will be tough to keep him off the field. The Redskins have actually developed some nice depth at safety. But on that topic, I'm not sure what's happened to Chris Horton. Two years ago, he took the league by storm when injuries forced him onto the field. Now, he's barely getting any reps in practice.
I thought left tackle Trent Williams looked pretty quick in team drills. He tweaked his hip a little bit in practice, but Shanahan thinks he'll be fine.
August, 2, 2010
8/02/10
3:16
PM ET
By
Matt Mosley
| ESPN.com
It's with a heavy heart that I note
the release
of cult-favorite
Colt Brennan
in Washington. The former Hawaii quarterback won over Skins fans with his daring performance in the 2008 preseason, but we've known for some time that his days with the club were numbered. Brennan suffered a hip injury in last year's preseason and was placed on injured reserve.
He became expendable when
the Redskins traded
for former second-round draft pick
John Beck
, who started four games for the woeful '07 Dolphins. That leaves Mike Shanahan with
Rex Grossman
,
Richard Bartel
and Beck. Dolphins quarterback guru David Lee tried to work his magic with Beck, but it was obvious that
Chad Henne
had a brighter future.
I wouldn't be surprised if this is the end of the road for Brennan. He's a fiery competitor, but he doesn't appear to have the tools to make it in the league.
December, 21, 2009
12/21/09
7:40
PM ET
By
Matt Mosley
| ESPN.com
LANDOVER, Md. -- Giants cornerback
Aaron Ross
is out for tonight's game against the Redskins. We knew starting cornerback
Corey Webster
(knee) wasn't going to play but the Giants were holding out hope Ross (hamstring) would be able to go.
With Webster out, either
Bruce Johnson
or
Kevin Dockery
will start at cornerback opposite
Terrell Thomas
.
Michael Johnson
and
Aaron Rouse
will be the starting safeties. Here are the Giants' other inactives:
Ramses Barden
, D.J. Ware,
Adam Koets
,
Kareem McKenzie
,
Sinorice Moss
and
Darcy Johnson
.
The biggest surprise for the Skins is that defensive tackle
Cornelius Griffin
is inactive. That makes room for offensive tackle
William Robinson
to be active. Here are the rest of the Redskins' inactives: Emergency QB
Richard Bartel
,
Kevin Barnes
,
Edwin Williams
,
Alvin Bowen
,
Curtis Gatewood
,
Paul Fanaika
and
Marko Mitchell
.
November, 27, 2009
11/27/09
4:00
PM ET
By
Matt Mosley
| ESPN.com
»
NFC Final Word
:
East
|
West
|
North
|
South
»
AFC
:
East
|
West
|
North
|
South
[+] Enlarge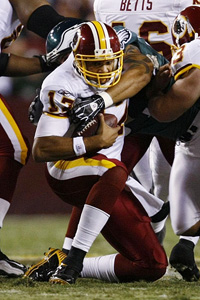 Win McNamee/Getty ImagesQuarterback Jason Campbell has had to adjust while playing behind a leaky line.
Three nuggets of knowledge about the Redskins-Eagles game in Week 12:
The Eagles need more from their pass rush against the Redskins on Sunday.
In the first game against the Skins, the Eagles sacked
Jason Campbell
six times and he was constantly under duress. The Eagles only have three sacks in the past two games and they need their front four to generate more pressure in order to help a banged-up secondary. Sack leader
Trent Cole
(8.5) needs to have a big game against Redskins left tackle
Levi Jones
. It's a matchup that should favor the relentless Cole. The Eagles have allowed five yards per carry over the past two games, but I have a hard time believing that
Rock Cartwright
is going to go off on them. I'd be more worried about him in the passing game.
The Eagles will have some favorable matchups on the outside.
I know the Redskins have the No. 1-ranked pass defense in the league. Skins fans remind me of this all the time -- even though I think those rankings can be misleading. I like to trust my eyes, which allowed me to see
Brandon Marshall
running free behind the Redskins' secondary two Sundays ago. And the fact that
DeAngelo Hall
could miss the game with a knee injury is a major issue. That means that
Fred Smoot
could end up on
DeSean Jackson
from time to time. That's a matchup the Eagles really, really like.
LaRon Landry
better be playing about 30 yards off the line of scrimmage and I'm sure fellow safety
Reed Doughty
will be in retreat mode, too. Jackson and
Jeremy Maclin
only need one play to knock you out, so the Redskins have to be on guard at all times.
What do the Skins have to lose?
I'd like to see Jim Zorn and his playcaller Sherm Lewis loosen up a little in this game. They bogged down in the red zone against the Cowboys last Sunday, in part, because they went conservative for no apparent reason. If you have a chance to take a shot at the end zone before settling for a field goal, then by all means. Believe it or not, this season has actually been good for quarterback Campbell's development. He'll never again play behind an offensive line this bad. In a few short weeks, he's learned how to unload the ball quickly and how to successfully identify hot routes. I thought he played perhaps his best game of the season in a 7-6 loss to the Cowboys. That might sound crazy, but his ability to keep getting up after repeated shots to the chin was pretty remarkable. Keep your eye on this Richard Bartel situation. The Redskins tried to quietly insert a third-string quarterback onto their roster. I think they'd love to take a look at him soon. Maybe not in a divisional game against the Eagles, but you may see the Grapevine, Texas, native out there at some point this season.
November, 24, 2009
11/24/09
9:01
PM ET
By
Matt Mosley
| ESPN.com
After watching
Jason Campbell
take a beating behind a patchwork offensive line for several weeks, the Redskins have decided to add a third quarterback to their 53-man roster. They will sign former Cowboys quarterback Richard Bartel off the Jaguars' practice squad and release Andre' Woodson from their practice squad, according to two league sources.
Bartel signed with the Cowboys in May 2007 and spent the next season on the club's practice squad. He went to camp again with the Cowboys in '08 and was briefly added to their practice squad before being released for good. Bartel caught on with the Browns late in the '08 season.
He was 43-of-71 for 404 yards during the Cowboys' '08 preseason. At 6-3, 230 pounds, he has a big arm and he moves around pretty well in the pocket. He had an opportunity to sign with the Chiefs late in the '07 season but elected to remain on the Cowboys' practice squad.
Bartel was a standout at Grapevine (Texas) High School and played at nearby SMU before transferring to Tarleton State. He was a 17th-round draft pick by the Reds as a pitcher out of high school, so he got a late start on his college football career. Bartel was 12-of-14 for 137 yards in his only extended playing time for the Browns during the '09 preseason. He was released by the Browns and quickly signed by the Jaguars.
Bartel will serve as insurance behind Campbell and
Todd Collins
, but don't be surprised to see him get some playing time at some point since both of those players don't appear to be in the Redskins' long-term plans. It could be a great opportunity for Bartel as long as he's willing to take some punishment. But at age 26, he's a pretty mature guy and I think he'd be capable of putting up decent numbers.
September, 3, 2008
9/03/08
11:00
AM ET
By
Matt Mosley
| ESPN.com
Posted by ESPN.com's Matt Mosley

Bollinger
As we predicted over the weekend, former Vikings quarterback Brooks Bollinger has made an appearance at the Cowboys' practice facility. The 28-year-old quarterback is only 2-8 as a starter since entering the league in 2003, but Dallas felt the need to bring him in.
His arrival , which will likely happen after the Browns game, could spell the end for Richard Bartel, who is currently on the team's practice squad. Bartel had a strong showing in a victory over the Bollinger-led Vikings on Saturday, but it may not have been enough. You have to love the kid's determination, though.
"I don't really care about that, bring them in," said Bartel. "I'd love the opportunity to show them I can play at their level. I'm very motivated."
August, 31, 2008
8/31/08
9:03
PM ET
By
Matt Mosley
| ESPN.com
Posted by ESPN.com's Matt Mosley
The Cowboys have room for one more player on their eight-man practice squad, and I'm told that it will be quarterback Richard Bartel, who had an excellent showing in the final exhibition game against the Vikings.
Brooks Bollinger didn't play well for the Vikings in that game, but he'll probably be added to the Cowboys' 53-man roster after the season-opener against Cleveland. At that point, Bartel will be released from the practice squad. If the Cowboys signed Bollinger now, his salary for the 2008 season would be guaranteed.
It's a little surprising to see that the Cowboys would let another talented young quarterback get away. Last year, they tried to sneak Matt Moore through to the practice squad, but the Panthers signed him and he eventually became their starter.
Bartel has size (6-3, 233) and a live arm. Bollinger (6-1, 205) has more experience after playing for the Jets and Vikings over the past five seasons. He and Cowboys backup Brad Johnson played together in Minnesota.
Here's the rest of the Cowboys' practice squad:
DE Marcus Dixon
For those of you who've been e-mailing me about Erik Walden, he was claimed by the Kansas City Chiefs. I know a couple of people at Valley Ranch who weren't happy about Walden getting cut in the first place.
August, 30, 2008
8/30/08
2:52
PM ET
By
Matt Mosley
| ESPN.com
Posted by ESPN.com's Matt Mosley
After talking to a couple people with the Cowboys, here's a list of the guys who I think will be cut. Coming down the stretch, cornerbacks Evan Oglesby and Alan Ball were in a dogfight for a roster spot. Still don't have a great feel for what will happen there, but a conversation last night led me to believe there was hope for Ball. But he's still getting cut on my list:
The Mosley cuts:
Todd Lowber, WR (not even "Hard Knocks" could save this talented but RAW kid.)
Danny Amendola, WR (prime practice squad candidate.)
Mark Bradford, WR (not familiar with his work.)
James Marten, G (this is the only slight surprise. Marten was a third-round draft choice in 2007.)
Adam Stenavich, G (Adam, we hardly knew ya. He was cut to make room for Larry Allen to retire as a Cowboy.)
Ryan Gibbons, C (no real need for a third-team center.)
Rodney Hannah, TE (did some really nice things late in camp. If you can keep him on the practice squad, do it. Great size and played under an excellent college coach named Art Briles.)
Drew Atchison, TE (nice effort during camp, but not enough.)
Julius Crosslin, FB (never met him.)
Alonzo Coleman, RB (flashed at times in practice and might help on practice squad.)
Keon Lattimore, RB (Ray Ray's going to be upset.)
Junior Siavii, NT (Cowboys hoping to drum up some trade interest. This guy could help someone.)
Marcus Dixon, DE (never could get on the field because of an injury.)
Darrell Robertson, LB (had his moments, but this team's OK at linebacker.)
Tyson Smith, LB (best known for getting lit up by Marion Barber on "Hard Knocks.")
Tearrius George, LB (flashed against the Vikings the other night, but a little too late.)
Erik Walden, LB (If Alan Ball and Evan Oglesby both make the team, something has to give. And even though Walden has some huge supporters at Valley Ranch, I'm afraid he'd be the guy to go.)
Dowayne Davis, SS (It's too bad because he did some serious damage during camp. And I love his name.)
A lot of people have third-team quarterback Richard Bartel getting cut, but as of this morning, he was on the 53-man roster.
August, 28, 2008
8/28/08
1:12
PM ET
By
Matt Mosley
| ESPN.com
Posted by ESPN.com's Matt Mosley
Cowboys third-team quarterback Richard Bartel joined us on ESPN Radio on Wednesday and talked about everything from Jessica Simpson to his minor league baseball days. Bartel will start against the Vikings Thursday night and play the whole way.
It's interesting that the Kansas City Chiefs called late last season and wanted to add Bartel to their active roster. He'd just spent all season on the Cowboys' practice squad, and the Chiefs were offering him a chance to play in a regular-season game.
Bartel turned them down because he wanted to keep learning under offensive coordinator Jason Garrett and quarterbacks coach Wade Wilson. Tonight, we'll see if Bartel made the right decision. If he plays well, there's a chance the Cowboys will keep him on the active roster. If he has a rough night, we may never hear from him again.
At least there's no pressure.
August, 27, 2008
8/27/08
10:03
AM ET
By
Matt Mosley
| ESPN.com
Posted by ESPN.com's Matt Mosley

The Cowboys plan to play third-string quarterback Richard Bartel the whole way in Thursday's final "tune-up" for the regular season against the Vikings. Local media has sort of ignored Bartel in its haste to bring in Chris Simms or John Beck as the third quarterback.
But internally, quarterbacks coach Wade Wilson and Jason Garrett have been pleased with Bartel's progress. For him, Thursday represents a huge opportunity. Bartel has a strong arm, but he'll need to make better decisions against the Vikings. The good news is that he'll have some huge support at Texas Stadium. He grew up playing high school football about 10 miles away in Grapevine.
I'm told that the family of legendary local pastor Jimmy Draper has purchased at least 17 tickets in support of Bartel. Unlike Jim Zorn and Andy Reid, Wade Phillips won't let his starters anywhere near the field Thursday. And that's the way it should be.