August, 8, 2010
8/08/10
5:09
PM ET
By
Matt Mosley
| ESPN.com
When it comes to preseason football, I agree with NFL commissioner Roger Goodell that it's not easy to stomach. But I'm somewhat intrigued by tonight's matchup between the Cowboys and Bengals. I'll post my postgame observations on the Beast at some point this evening. But first, here are the things I'll be looking for in tonight's exhibition opener:
How will kicker David Buehler perform in live game action? There will come a time in this game when Wade Phillips will ask Jon Kitna or Stephen McGee not to get a first down, so that Buehler can get at least one or two opportunities. If Buehler struggles early in preseason, John Carney or Matt Stover will receive a phone call from special teams coach Joe DeCamillis.
Left tackle Doug Free will need more reps than a typical starter. I'm anxious to see him in extended time at left tackle. As I've written a couple times, the other NFC East teams believe that Alex Barron will eventually take over as the starter. I believe that Free will hold his own.
In the absence of the injured Dez Bryant (ankle), receivers such as Kevin Ogletree and Sam Hurd will have a chance to shine. And Tony Romo and Roy Williams need to find a rhythm at some point in the preseason. I think Jason Garrett will call a couple of plays for Williams during the first series tonight.
DeMarcus Ware and Anthony Spencer form one of the pass-rushing duos in the league, but they'll need a few plays off this season. Let's see how Brandon Williams and Victor Butler perform in live action. And I'm anxious to see how Jason Williams looks at inside linebacker. He's a player that a lot of folks have forgotten about since Sean Lee (quadriceps) was selected in the second round. I'd like to see how far Williams has come in terms of knowing his assignments.
This is the type of game where Tashard Choice can shine. He'll get at least 10 carries, and I'd expect for him to have a strong showing.
Phillips has asked his defense to make turnovers a priority, so it will be interesting to see how that manifests itself in tonight's game. Alan Ball should be better in coverage than Ken Hamlin, but I'm not sure how he'll do when it comes to tackling. That's something to watch.
The Cowboys look pretty solid at cornerback, but I'd like to see how Cletis Gordon performs in this game. This is an excellent opportunity for him.
April, 25, 2010
4/25/10
4:28
PM ET
By
Matt Mosley
| ESPN.com
Let's take a quick peek at some of the rookies who signed free-agent contracts with NFC East teams:
Cowboys
Eagles
Giants
Ralph Vacchiano has a full list of the undrafted players the Giants have signed.
Redskins
February, 15, 2010
2/15/10
3:50
PM ET
By
Matt Mosley
| ESPN.com
On the Sunday following the Super Bowl, special-teams coaches around the league are always on pins and needles. That is because they're waiting for Dallas Morning News NFL columnist Rick "Goose" Gosselin to release
his annual special-teams rankings
.
[+] Enlarge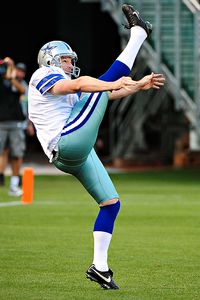 Kyle Terada/US PresswireThe Cowboys downed 38 of Mat McBriar's punts inside the 20.
Gosselin, my old officemate at the DMN, has developed an intricate system for ranking the special-teams units from all 32 teams. In fact, teams such as the Eagles will often cite Gosselin's report when announcing a new special-teams coach. Surprisingly, the hapless
Cleveland Browns
were ranked No. 1 this season and the Super Bowl-winning Saints checked in at No. 29.
The Cowboys hired former Jaguars special-teams coach Joe DeCamillis before the '09 season and moved up 23 spots to No. 4 in the overall rankings. The Eagles were 17th, Giants 20th and Redskins 27th. The good news for Eagles fans, though, is that new special-teams coach Bobby April led the third-ranked special-teams unit in Buffalo. OK, here are some other NFC East-related tidbits from the Gosselin rankings:
The Eagles led the league in punt returns with a 13.5-yard average thanks to DeSean Jackson.

Pete Carroll made a major mistake running off former Cowboys special-teams coach Bruce DeHaven from Seattle. The Seahawks finished 11th in the rankings despite having a bad overall team.

Cowboys opponents had an average starting point at the 22.8-yard line (second in league), something that could be attributed to leading the league in touchbacks. David Buehler deserves major props for his work in that department.

The Cowboys were fourth in the league with 38 punts downed inside the 20. That's one of the main reasons Mat McBriar belonged in the Pro Bowl.

The Eagles and Chargers tied for first in field goals made with 32.

The Cowboys ranked 30th in field goal percentage with 64.5.

The Redskins led the league in giveaways on special teams with five.

I realize the Packers don't play in the Beast, but can you believe they had 28 penalties on special teams? The Falcons had a league-best six.
April, 26, 2009
4/26/09
3:25
PM ET
By
Matt Mosley
| ESPN.com
Posted by ESPN.com's Matt Mosley
NEW YORK -- The Eagles were able to land Florida tight end Cornelius Ingram in the fifth round (153 overall). I just had a long talk with noted draft guru Rick "Goose" Gosselin of the Dallas Morning News about Ingram. Goose had Ingram ranked 59th on his top 100 list. Ingram slipped into the fifth round because he missed the '08 season with an ACL injury, but he has the potential to be the best pass-catching tight end in the draft. Very soft hands and has great athletic ability. In fact, he played on the Florida basketball team one season.
Teams have done a nice job taking advantage of some undervalued tight ends here in the fifth round. Unbelievable that the Texans were able to get Rice's James Casey in the fifth. He's a kid who can play fullback, tight end or quarterback in the Wildcat formation. He played in Houston, so the Texans were very familiar with him. The Cowboys did a ton of homework on him, so it was a little surprising to see them pass. Right now, draft experts inside Radio City are trying to figure out what exactly the Cowboys were hoping to accomplish today.
April, 11, 2009
4/11/09
6:08
PM ET
By
Matt Mosley
| ESPN.com
Posted by ESPN.com's Matt Mosley
| | |
| --- | --- |
| | |
| | NFL.com Video |
| | Mark Sanchez talks about his game as he prepares for the 2009 draft. |
As many of you know, the NFL Blog Network never sleeps -- with the possible exception being Christmas. Hopefully this special edition of Matt's Mailbag will get you through the weekend. Thanks for being so prolific with your questions -- and threats.
Mike in Louisville, Colo., you have the first word: In Kiper's latest mock draft, he has the Redskins picking Mark Sanchez with the 13th pick. Why, why, WHY would the 'Skins pick Sanchez there? They need a starter with that pick and they already have a good starting quarterback. They need help on both lines. In fact, if all of their top choices are gone and Sanchez is still there, they should trade down in the first round and pick up a second round pick from someone who needs a quarterback more. And if the 'Skins were stupid enough to pick Sanchez there, does Jason Campbell's head explode?
Mosley: I think some folks might disagree with you on Campbell, although I'm not one of them. The Redskins are sitting there praying that Brian Orakpo from Texas slips to No. 13. My former colleague and world-famous draft expert Rick "Goose" Gosselin has Orakpo going to the Redskins in his first of three mock drafts. I don't think the Redskins will take Sanchez either, but keep in mind that Kiper is a Ravens season-ticket holder and he's also plugged in pretty closely to the Redskins. So let's not completely dismiss the most famous mocker of them all.
---
Josh from Lynchburg, Va., welcome to The Bag: Matt, all these bloggers keep talking about "true No. 1 receivers." Can you please explain what makes a receiver a true No. 1? Thanks, your blog is the best!
Mosley: As I heard former Cowboys great Drew Pearson point out recently, too many young players are handed "No. 1" status when they haven't done anything to earn it. When a defensive coordinator puts a game plan together, he has to select one or two players that could do the most damage. When you have to jam a receiver and then shade a safety over the top, I'd say the guy's a No. 1. It's basically the receiver who commands the most attention. Some teams don't have a No. 1 receiver (see the New York Jets), and some potentially have two on the roster (see the Arizona Cardinals).
---
Chris from Tuscon, what's on your mind sir? Don't you think you're being a little harsh with your criticism of Roy Williams in your recent article, "Which route will Beast take at receiver?" He was always a solid receiver in Detroit, and that by itself says a lot if you ask me. Williams was acquired by the Cowboys at about midseason, thrown into a whole new system with different terminology and then expected to put up Larry Fitzgerald-type numbers. I agree the 'Boys gave up too much to get him but I think we should at least give him this year before we pass judgment. I think he will surprise you.
Mosley: Based on where he was taken in the draft, Williams has had only one nice season during his six years in the league. That season came with an offensive coordinator (Mike Martz) who doesn't run the ball and a quarterback (Jon Kitna) who had a career season. You're suggesting that Williams' numbers are pretty solid considering that he plays for the Lions. I'm suggesting that his numbers should've been a lot better because the Lions were so bad. They're constantly playing from behind, which should've given Williams more opportunities to pad his numbers. In case you missed it, Troy Aikman recently said the Williams trade could potentially be one of the biggest busts "in NFL history." So no, I don't think I'm being especially harsh. And I never ran into anyone who expected Williams to be Larry Fitzgerald. The two aren't in the same stratosphere.
---
Elizabeth from Los Angeles is concerned about the Cowboys' kicking game: Hey Matt, I have a question regarding the Cowboys' new stadium. How high is the video board, and do you think that a punter could could hit the screen?
Mosley: Elizabeth, I asked Jerry Jones that exact question during my recent site visit, which appeared on "Monday Night Countdown" for at least 18 seconds. Jones assures me the 60-yard-long boards will be "out of play," but I'm not so sure. I haven't seen them suspended above the field yet, but Cowboys punter Mat McBriar gets incredible hang-time on his kicks. My guess is that Jones will send McBriar over to the stadium once his foot is healed and let him have a go at things. It might be awkward to punt while wearing a hardhat, but McBriar will be up to the task.
---
New Canaan checks in with a Giants question: I know the Giants are concerned about Braylon Edwards' drops, but of the three wide recievers they're looking at (Boldin,Johnson and Edwards), he seems like the best choice. He is the youngest in the group, and with a consistent quarterback he can play like he did in '07. And Ocho Cinco has some character issues, Boldin is not a real team guy (just ask Todd Haley). Isn't Edwards the safe bet?
Mosley: Since I've actually discussed Boldin with Haley, let me tell you that he would bring him to Kansas City in a heartbeat. Haley's a fiery guy who's been yelling at players on the sideline (and in practice) for years. The timing of Boldin's shouting match and subsequent pout was awful, but his teammates would never label him as a "non-team guy." I think the Giants would prefer Boldin to Edwards. And yes, Cinco appears to be a distant third.
---
Cameron from Philly writes: YES IT DOES BOTHER ME THAT THE EAGLES REFUSE TO GO OUT AND HELP DONAVON! OK, this is ridiculous that year after year the man has given this franchise a legitimate chance at a championship without that big-play receiver. If only the Eagles could give him this one valuable pick, the Eagles could very easily be front runners in the NFC east with their dominant defense and now their dynamic offense. Is Boldin still an option and if so what do the Eagles have to do?
Mosley: McNabb did have a
big-play receiver in 2004 and for part of '05, but we know how that ended. I think DeSean Jackson is already a "big-play" receiver, and I'm not so sure why everyone thinks the Eagles need another guy. If you draft another quality running back and perhaps a guy like Brandon Pettigrew from Oklahoma State at tight end, you'd be in nice shape on offense. The only think I'd worry about is left tackle -- and that's a pretty big worry. I think the Cardinals would want one of those first-round picks and probably a third. I don't think Andy Reid's going to sign off on that. Thanks so much for your questions. Keep'em coming.
Happy Easter!
October, 15, 2008
10/15/08
5:59
PM ET
By
Matt Mosley
| ESPN.com
Posted by ESPN.com's Matt Mosley
The Eagles showed Wednesday why you never take a fullback in the third round of the NFL draft. Tony Hunt, the Eagles 2007 pick, played in an offense at Penn State that didn't resemble the Eagles' and he wasn't a great blocker or receiver.
It usually takes a team a couple of years to give up on a third-round pick, but the Eagles didn't wait that long. Hunt didn't give them enough on offense or special teams to warrant sticking around.
The Eagles have brought in special teams ace Tracy White to replace Hunt. He's had 68 special teams tackles in 69 career games, which sounds pretty good to me. And what's up with the special teams in this division? The Eagles have struggled in special teams the last few years and the Cowboys have been awful this season under Bruce Read.
I had a longtime NFL coach call me Tuesday to say that Read is taking too much blame for Sunday's two special teams failures. The theory is that special teams always suffer under Wade Phillips because he doesn't place enough emphasis on them.
After Sunday's loss, he said the team "doubled" its efforts in special teams last week. Honestly, you shouldn't have to double your efforts at any point in the season in that department. You should already be spending a ton of time on special teams. Dallas Morning News NFL columnist Rick Gosselin is one of the most respected special teams experts in the league. Teams anxiously await his special teams rankings the week after the Super Bowl.
Gosselin said Wednesday that there are five special teams coaches in the NFL who can actually be considered "difference-makers." He doesn't list Read among those five.
And if Phillips gets fired after this season, one of the biggest reasons will be the team's failures on special teams.