October, 8, 2012
10/08/12
2:45
PM ET
Couple of things. First, I'm not going to write "mild concussion" just because that's the official diagnosis the team provides. Professional sports teams all lie and mislead, all the time, to downplay injuries publicly, and it's not my job to parrot their words back to you without qualification. A concussion is the impact of a collision of the brain with the inside of the skull. I do not consider the possibility that such an event could occur mildly.
Griffin
Now, to the matter at hand, which is Sunday afternoon's impact of the particular brain of
Washington Redskins
rookie quarterback
Robert Griffin
III against the inside of his particular skull. Redskins teammates interviewed about the topic Monday said Griffin was in team meetings and seemed to be doing fine. Fellow rookie quarterback
Kirk Cousins
, who relieved Griffin when the latter was knocked out of Sunday's game in the third quarter, offered his diagnosis
via The Washington Post
:
"We had our mandatory rookie success program this morning, and Robert was there," Cousins said. "He seemed fine, seemed in good spirits. He appeared to be doing well."
This is one of those times at which it is very important to note that neither Cousins nor any other teammate of Griffin's is, to my knowledge, a doctor. And while it's encouraging that Griffin is doing the things he would normally do on a Monday morning, you should not mistake Cousins' optimism for an indication of whether Griffin might play Sunday against the Vikings. The NFL has a battery of concussion tests Griffin must pass before he's cleared to play, and while he very well could pass them all and suit up Sunday, that cannot be, at this time, known with any certainty. Mike Shanahan will offer his update later today, and the Redskins will know more when they gather for practice Wednesday.
So consider that your update for now, Redskins fans, on the matter of most critical interest for you this week. I promise it will not be the last.
September, 23, 2012
9/23/12
2:46
PM ET
LANDOVER, Md. -- The excitement over the home debut of
Washington Redskins
rookie quarterback
Robert Griffin
III didn't get to last long. The
Cincinnati Bengals
opened the game with a 73-yard touchdown pass from one of their wide receivers to another, and things haven't gotten a whole lot better for
Griffin and the Redskins since then
.


The Bengals' defense appears clearly energized by the return of defensive end
Carlos Dunlap
from injury. That, coupled with a knee injury that knocked Redskins left tackle
Trent Williams
out for the bulk of the first half, has helped Cincinnati pressure Griffin somewhat relentlessly. The result is that Griffin looks very much off his game. He's had two fumbles and is just 5-for-10 for 36 yards passing. The first fumble happened when running back
Alfred Morris
ran into him as he was dropping back to pass, but Griffin recovered that one. The second one happened when he faked a handoff to fullback
Darrel Young
and Dunlap, not fooled, sacked him hard immediately. Griffin has been sacked four times, and even on his best run of the game, which just set up the field goal that cut the halftime lead to 24-10, he took a hit as he flew out of bounds.
The Redskins' defense also looks shredded. Cornerback
Cedric Griffin
injured his hamstring early and has yet to return to the already-depleted secondary. It's clear that, unless they get pressure on Cincinnati quarterback
Andy Dalton
, they have no chance to stop the Bengals. They also seem to know this. They pulled both safeties up to the line in a "Cover-zero" look at one point late in the first quarter, but Dalton got the ball out quickly, cornerback
Josh Wilson
slipped and
Armon Binns
ended up with a 48-yard touchdown catch.
Early in the game, the Redskins did get pressure on Dalton. Their touchdown was the result of that pressure, as
Ryan Kerrigan
got to Dalton in the end zone as Dalton was throwing and the ball sailed right into the hands of linebacker
Rob Jackson
, who simply had to fall forward across the goal line for the score. The defense will need to find a way to keep up the pressure if the Redskins are to have a chance to come back in the second half.
And the offense needs to make some adjustments. It should help that Williams returned in the second quarter. And it's interesting that
Evan Royster
, not Morris, was the running back on the final series. So keep an eye out for whatever the Redskins try to do differently in the second half to keep Griffin from getting knocked around and give him the chance to make the kinds of plays these fans came to the home opener expecting to see.
August, 25, 2012
8/25/12
7:20
PM ET
The story of the day in the NFL preseason was the game between the
Washington Redskins
and the
Indianapolis Colts
. The Redskins won the exhibition game
30-17
, but that obviously wasn't what made it a story. This was the showdown between the top two picks in this year's draft -- quarterbacks
Andrew Luck
of the Colts and
Robert Griffin
of the Redskins. And the pair put on a fun show.


Griffin was 11-for-17 for 74 yards and a touchdown. He missed on three deep throws down the field, but at least one appeared to be the fault of his wide receiver, and he showed quite a bit otherwise. On the four-yard touchdown pass to
Santana Moss
, Griffin moved out to the right side extremely quickly, showing his speed and preventing the Indianapolis defense from reacting in time to do anything about it. Griffin continues to show poise and confidence and doesn't get rattled when things don't go exactly as planned. Those are key qualities that, along with his talent and athleticism, bode well for his ability to handle NFL life in his rookie season and beyond.
Luck was 14-for-23 for 151 yards and a beautiful 31-yard touchdown pass to
T.Y. Hilton
. His test was tougher, since the Redskins' defense played better in this game than the Colts' defense did and he faced intense pressure on nearly every play, but he looked very good. Neither rookie quarterback showed anything to make his team feel any less excited about its future.
Here's what else I saw from the Redskins in this game:
July, 9, 2012
7/09/12
12:08
PM ET
By
ESPN.com staff
| ESPN.com
May, 25, 2012
5/25/12
8:00
AM ET
The winner of the how-to-order-the-Friday-links contest this week is
Michael from Nashville
, who suggested tying the order to fantasy sports. I went to the
ESPN fantasy football page
and looked up the points leaders from last year, and the links are hereby provided in order of each team's highest-scoring fantasy player from 2011.
New York Giants
(
Eli Manning
, 273)
Tom Coughlin says "
it's probably going to be close
" when asked whether
Hakeem Nicks
will be ready for the regular-season opener. Nicks broke his foot in practice Thursday and is scheduled to have surgery today to insert a screw into it. The Giants' say the estimated recovery time is 12 weeks, which would be the middle of August, and Coughlin said Nicks is confident he can make that. We shall see.
As I wrote Thursday afternoon, if there's a positive to take out of the Nicks news it's that the Giants will be able to give more offseason and preseason reps to wide receivers
Domenik Hixon
,
Jerrel Jernigan
,
Ramses Barden
and
Rueben Randle
, and extended looks at those players will help them determine which, if any, is best suited to replace free-agent defector
Mario Manningham
as the No. 3 receiver behind Nicks and
Victor Cruz
.
Hixon says he's feeling good and ready
.
Philadelphia Eagles
(
LeSean McCoy
, 270)
The concern with the Eagles is that
Michael Vick
's history says he's likely to miss at least a game or two due to injury this season. And if he does, there's very little in the way of experience among the backup options behind him. Jeff McLane
breaks down
the Eagles' backup quarterback situation, which should be
Mike Kafka
at this point.
As Sal Paolantonio reported the other day, second-year center
Jason Kelce
will be taking over the responsibility for
making the protection calls
at the line of scrimmage. The Eagles gave Vick that responsibility last year, and shifting it to Kelce will give Vick less about which to worry, and I think that's probably a good thing.
Dallas Cowboys
(
Tony Romo
, 265)
Jean-Jacques Taylor writes that third-year wide receiver
Dez Bryant
has had a nice, blissfully quiet offseason and that he's on the
verge of greatness
. As we discussed many times last year, Bryant is a physical mismatch for almost anyone who tries to cover him, even at the NFL level. It's about committing to his own development and route-running, and once he does that he'll be as good as anyone.
And yeah, two from ESPNDallas.com this morning, as the crew there debates whether the Cowboys can
beat the Vegas over/under
of 8.5 wins for 2012. I bring this up as a preview to the "Dream/nightmare scenario" posts that are coming from each of our division's teams this morning. So, you know. Look forward to that.
Washington Redskins
(
Rex Grossman
, 141)
In a bit of irony, the Redskins (and the Cowboys) are
among the defendants
in the NFLPA's collusion case against the league for the spending practices during the uncapped 2010 season. It's ironic because the union says the only way it found out about what it alleges to be collusive behavior was because the league punished those teams for not adhering to the secret agreement regarding 2010 spending. What you should take from this, once and for all, is the fact that the union's collusion case is
in no way whatsoever
aimed at helping the Redskins and Cowboys getting any relief of those cap punishments. That part of this case is over, they will pay the penalties and that's really it. I promise. No matter how nicely you guys ask.
The Redskins put
Robert Griffin III
's locker between those of
London Fletcher
and
Brian Orakpo
, which LaVar Arrington says
could be crucial
to the rookie's development. One of the Redskins' strengths as a team is the veteran leadership they have in their locker room, and they'll surely want to put Griffin in the best possible position -- literally as well as figuratively -- to benefit from that.
December, 5, 2011
12/05/11
4:19
PM ET
The soonest that either
Trent Williams
or
Fred Davis
will play for the
Washington Redskins
again is 2012, and the question now is what the Redskins can or will do about that. Davis is a restricted free agent, so if they wanted to send him packing they could do so by tendering him at a level that tempted other teams to sign him. But they're not likely to get fair value if they do that. Williams was the No. 4 overall pick in the 2010 draft, and he's not going anywhere. You could make a convincing argument that these are the two best offensive players the Redskins have right now, and as they look to rebuild their offense this offseason the way they rebuilt their defense in the last one, they seem to have little choice but to build around them.
[+] Enlarge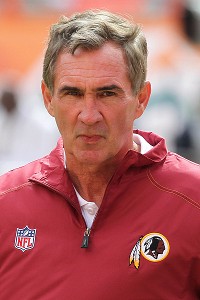 Robert Mayer/US PresswireThe recent suspensions of tackle Trent Williams and tight end Fred Davis complicate coach Mike Shanahan's efforts to retool the Redskins' offense.
That's going to be a headache for Redskins coach Mike Shanahan, who has not been shy about preaching his belief that high-character players are important to what he's trying to build in Washington. I don't know Davis at all. I do know Williams fairly well, and he's never struck me as a bad kid. But based on the repeated knucklehead actions that have resulted in
their current four-game suspensions
, it's perfectly fair for the Redskins to wonder whether they'll be able to count on either guy going forward. And that's a problem, because they need to.
If the season ended right now, the Redskins would hold the No. 5 pick in the draft. The Colts, picking first, are all but certain to take Stanford quarterback Andrew Luck. But the teams that hold the No. 2, 3 and 4 picks -- St. Louis, Minnesota and Jacksonville -- each has taken a quarterback in the first round in one of the past two drafts. So unless someone traded up and jumped the Redskins, at this point, they'd have their pick of Matt Barkley or Landry Jones or Robert Griffin III or whichever quarterback Shanahan liked the best. And they have to take a quarterback, honestly. They can't do what the Bengals did this year, draft an impact wide receiver in the top five and hope their
Andy Dalton
is waiting for them at the top of the second round. If Shanahan gets a top-five pick and doesn't come away with a quarterback, he's making himself fair game for every criticism anybody wants to level at him about stubbornness.
The point is that, come 2012, the Redskins are likely to have a talented rookie quarterback around whom they'll be building their offense. And it'd be awfully nice if that young quarterback knew his supremely talented left tackle and his huge pass-catching tight end were the kinds of guys on whom he could count, week in and week out. The problem now with Williams and Davis is that they're not. They're such determined and remorseless violators of the drug policy that the NFL was set to suspend them for a year before the NFLPA negotiated it down to four games. What evidence do we have that this suspension will deter them from further knucklehead behavior?
It's a problem, because in addition to quarterback the Redskins need to address wide receiver and probably at least one position on the offensive line besides left tackle. They believed they had a franchise guy at left tackle and an emerging star at tight end. What Williams and Davis have done is call those two positions, at which the Redskins believed they were set, into question.
Argue all you want about the merits of what Williams and Davis actually did to get themselves in trouble. Experience tells me that you will, and colorfully so, in the comments. But the fact is, whether you agree with the law or the NFL's rules, Williams and Davis knew the law and knew the rules and presumably knew what would happen to them if they kept getting caught. And they kept doing the drugs anyway. Which either means they don't care about being suspended and disappearing for months at a time when their teammates need them, or that they're too dumb to comprehend the consequences of their actions. Whichever it is, it's an issue for a Redskins team that's trying to build something sustainable and reliable and doesn't need new question marks popping up in places where they thought they had their problems solved.
August, 6, 2010
8/06/10
2:12
PM ET
By
Matt Mosley
| ESPN.com
ASHBURN, Va. -- If
Albert Haynesworth
ever qualifies to participate in one of Mike Shanahan's practices, I actually think he'd enjoy himself. Shanahan asks his players to pour everything they have into morning sessions before hosting jog-throughs in the afternoons. And judging from his red-faced appearance at today's news conference, the head coach is about ready for this episode to end.
The MRI on Albert Haynesworth's knee came back negative, and the Washington Post's Jason Reid reported Friday morning that the defensive lineman's
tearing it up on the treadmill
. So why can this man not make it through two 300-yard shuttle runs that were easily handled by ESPN's
Mike Golic
? Your guess is as good as mine. One reporter excitedly noted that Haynesworth had appeared to increase his work in individual drills Friday.
"He's been doing the same thing," snapped Shanahan. "He's been getting a few reps and individual work -- the same thing he's been doing."
When I sit down with Shanahan this evening, I'm not going to lead with Haynesworth. I'm going to ask the coach to compare this Redskins team to some of his Broncos teams. And I'm curious to pick his brain about why he thought
Donovan McNabb
was the perfect fit for the Redskins. The guy's not known for his accuracy, and that's something Shanahan values. Now let's take a look at what caught my eye in practice Friday morning:
I talked to one longtime Redskins reporter who actually thinks Larry Johnson will have more carries than Clinton Portis this season. I don't see that happening unless Portis suffers an injury, but it's obvious that Johnson's feeling really good early in camp. He's finishing off every run and he's actually shown a burst at times. He also appears to be really comfortable with his new surroundings. On the other hand, it's hard to imagine Willie Parker making this roster. He's not getting many reps and it just doesn't look like Shanahan's giving him much of a chance. Ryan Torrain is receiving more carries than Parker from what I can tell.
Mike Shanahan doesn't miss a beat during practice. During drills, he'll stand away from everyone and just study different things. He also takes mental notes of which players don't hustle between drills and calls out their names at the end of practice. Those players are forced to run extra sprints. As one local beat reporter put it, "The adults are in charge again." I liked Jim Zorn, but he probably gave his players too much latitude.
Lorenzo Alexander and Andre Carter have a nice little battle going on at left outside linebacker. Alexander has been running with the first team, but Carter, 31, will get plenty of playing time. You knew Carter would have a little trouble in coverage, but he's actually been step for step with running backs on a couple of occasions. No matter who wins the starting role, the other guy will receive plenty of playing time. By the way, Carter told me after practice that he thinks David Diehl's the best left tackle he's faced in the Beast.
Defensive coordinator Jim Haslett is the best thing that could've happened to Carlos Rogers' career. The cornerback thought his career in Washington was over, but now Haslett believes he can turn him into an Antoine Winfield-type player. Haslett will take advantage of Rogers' size and he'll send him on a lot more blitzes.
Brian Orakpo told me after practice that Haslett's playbook has at least 20 more blitzes than Greg Blache's version. He said it was a little overwhelming at first, but now he's not thinking as much.
Kedric Golston and Adam Carriker were running with the first-team defense Friday. It looked like the Redskins were working on their dime package, which features two down linemen. If Haynesworth passes the conditioning test in the next month or so, he'll likely see a lot of time at right defensive end.
Torrain could end up serving as the third-down back, but he can't drop a perfect swing pass as he did Friday.
When former Cowboys receiver Joey Galloway broke free on a deep ball, Haslett just about lost it. "How many [expletive] times do we have to do this?" he shoutd in the general direction of safety LaRon Landry. By the way, Landry has a very difficult time not destroying receivers across the middle -- even when players are in shorts. In Friday's morning session, Landry pulled up at the last possible moment when Chris Cooley caught a McNabb pass across the middle. It looks like one of Cooley's brothers (Taylor?) was conducting some interviews for the tight end's blog after practice. They were focusing on Santana Moss.
Cornerback Justin Tryon made a nice recovery on a fly pattern to Roydell Williams. At this moment, Moss and Galloway are your starting wide receivers. I think it's the weakest part of this team, but Moss tried to convince me otherwise during a 20-minute visit following practice.
If you need a Rudy type player to root for, let me point you in the direction of former Kansas State receiver Brandon Banks. At 5-foot-7, Banks isn't exactly a red-zone target. But he's quick and appears to have good hands. I'm interested to see if he can make some plays in the preseason. I'd love to see the little fella get some reps returning punts. He's not very sturdy, though. He caught a short pass Friday and then a shove from cornerback Kevin Barnes almost sent him into a crowd of corporate folks. I think a stiff wind might have the same effect on young Banks.
John Beck rolled right and fired a bullet to tight end Lee Vickers in team drills. Former TCU linebacker Robert Henson reacted with some loud expletives because he came close to breaking up the pass. Perhaps Henson realizes that Baylor quarterback Robert Griffin will do something similar to his Frogs in Week 3. Beck botched a handoff to Portis in Friday's practice. He didn't last with the Dolphins because of a side-arm motion that led to a lot of balls being deflected. If Dolphins quarterbacks coach David Lee can't fix a problem, then I'm skeptical of the quarterback having much of a future in the league. Lee has worked with Tony Romo, Chad Henne and Tim Tebow (Senior Bowl).
Haslett is trying to change the mentality of this defense. You'll hear the word "strip" over and over again in practice. Haslett wants one defender to strip the ball and another to come over the top and go for the scoop. There's an emphasis on takeaways in almost every drill.
Shanahan thinks that Jammal Brown and Malcolm Kelly will return to practice Monday, but he's not certain about that. I get the feeling that the Redskins are starting to lose patience with Kelly, who is nursing a tight hamstring. Late in Friday's practice, the receiver would've broken away from the peloton had he not been on a stationary bike. It's not like the guy has a bad attitude or anything. McNabb and Moss have both taken a special interest in the former Oklahoma star, but he has a hard time staying on the field.
Grapevine, Texas, native Richard Bartel continues to throw the ball well in practice. Everyone's focused on Beck since he arrived, but Bartel's the backup who seems to take advantage of every rep.
Brian Orakpo said he had some lofty personal goals for this season, but he's not willing to go on the record at this point. He spent much of our conversation talking about the Big 12 finding a way to stay together. With Nebraska defecting to the Big 10, Orakpo says this year's game between his Texas Longhorns and Adam Carriker's Cornhuskers will carry added significance. "I'm still trying to recover from when they almost beat us," said Orakpo, referring to the Big 12 title game.
Safety Kareem Moore is having an excellent training camp and it will be tough to keep him off the field. The Redskins have actually developed some nice depth at safety. But on that topic, I'm not sure what's happened to Chris Horton. Two years ago, he took the league by storm when injuries forced him onto the field. Now, he's barely getting any reps in practice.
I thought left tackle Trent Williams looked pretty quick in team drills. He tweaked his hip a little bit in practice, but Shanahan thinks he'll be fine.
June, 23, 2009
6/23/09
11:50
AM ET
By
Matt Mosley
| ESPN.com
Posted by ESPN.com's Matt Mosley
Here's the link to today's Beast chat. Suggested topics: Tony Romo's conditioning, Roy Williams' discovery of weightlifting, the Skins' receivers, Robert Griffin's Heisman hopes, training camp battles, Justin Tuck's bid to become the most feared player in the division.
Or simply ask anything you want. I've been away from the chat for a couple weeks, so I'm expecting big things. A worthy goal for today? I think 8,000 questions sounds about right. See you in the chat room at high noon -- unless you're on the West Coast, where it will be 9 a.m.
I'm heavily medicated because of a summer cold/fever. I may seem even less lucid than usual. Bear with me during this difficult time in our lives.
June, 2, 2009
6/02/09
11:44
AM ET
By
Matt Mosley
| ESPN.com
Posted by ESPN.com's Matt Mosley
The Cowboys called off today's organized team activities session due to rain in the area, so the chat's back on. I'll meet you guys in the SportsNation chat room in about 20 minutes. Suggested topics: the Eagles' deployment of Jeremy Maclin, where Redskins rookie defensive end Brian Orakpo is lining up, the latest on Greg Ellis and the development of Giants rookie Rhett Bomar.
But I'll talk about anything. Many of you want to know if Baylor quarterback Robert Griffin's thinking about declaring for the draft in 2011. I'm happy to discuss that topic. Right now, he's at No. 20 in the first round on the 2011 Mosley Big Board.
Thanks for your continued support.
NFC EAST SCOREBOARD
Saturday, 12/20
Sunday, 12/21