February, 27, 2014
Feb 27
12:30
PM ET
Andre Carter
has a simple routine these days: Wake up, help his son do homework, work out and "do whatever my wife tells me." No, he's not retired but he's not far away from it either. Carter spent five seasons in Washington, arriving as a prized free-agent defensive end. He exited after one year as an ill-fitted outside linebacker in a 3-4. In between he recorded 34 sacks, with 10.5 (and four forced fumbles) coming in 2007, which also happened to be a playoff year for Washington. Other than that season, Carter experienced a lot of losing.
Here's what Carter had to say on:
[+] Enlarge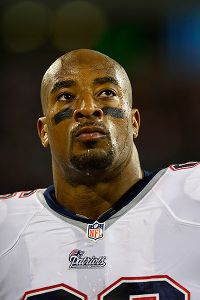 Bob Donnan/USA TODAY SportsAndre Carter, a 13-year veteran, isn't ready to hang up his cleats just yet.
Whether he'd like to play again:
I would still like to play. I haven't officially retired. There's still that one goal, which is to win Super Bowls. I know I'm not a younger pup, even though I still play like one. I'm realistic how the league moves over; everyone is going younger. My main goal and objective this offseason is to stay in shape, just because I love staying in shape. It gives me something to do. At the same time I have to shift my mind to the future and life after football and continue to make that transition. It's a healthy balance.
Crossing that line from player to retirement:
It's not hard to cross that line. I talked to one of my former teammates,
Bryant Young
, after the season and he said what are you going to do? I said if someone wants me to play, I play. He said that's good if you still have that fire, then by all means go ahead. Guys have said they know when they're done because they said, 'I had nothing left in the tank. My body is beat up. I don't have the patience to keep the offseason training.' I'm not there yet. I still feel as far as my durability and the knowledge of the game and the love of playing is still there. That's something I'll take to heart and know that in the end if a team does want me I'll be ready.
Life after football:
I have been talking to a lot of people I have a relationship with in TV and radio as far as commentating. It's something I'm constantly working on, the craft of learning how to speak and be engaging, the mechanics of opening your mouth and analyzing the game. One of the good resources I have is [NFL Network's] Mike Silver and my old high school coach is Tim Ryan. Those two are such a big part of my life. I connected with Tim when the Chargers played the Colts and I saw how he and his colleagues worked on the radio side [for Westwood One]. It was good to see. I wondered can I do this as a career and I was like I know I can. It's a matter of do you want to do play-by-play or color or the pregame show. So many avenues.
Classes he's taken to prepare:
I'm working with a voice speed coach to try and understand annunciations, little things you may take for granted but are very important if you're going into TV or radio, to project your voice and make sure you sound clear. I have a low voice so when I look at interviews I cringe because I understand what I'm saying, but does the audience understand what I'm saying? That's why I'm doing technique exercises and drills, reading out loud. The reps help.
Why he wants to do this:
To stay connected to the game. Your foot is still in the door, you're still having fun, you're still around the guys. It's not the locker room, but it's still fun. So why not? I would love to coach. But coaching is a lot of hours. It's a big commitment. That's something I'll look at down the road once my son [now 6] graduates. Until then I'll enjoy my family.
The best part about playing in Washington:
I enjoyed just meeting the guys that came back, the old-school players. You name it, they were there and that just showed these guys really care about the tradition and really cared about continuing the legacy, that Redskins pride. That's important. It brings a lot of camaraderie and a sense of pride about yourself. We were not only representing ourselves, but those guys that made the Redskins name.
The toughest part about playing in Washington:
For as much talent as we had, it was disappointing when we were unsuccessful. Being with New England gives you a different perspective, especially this year. We had a lot of major injuries and a lot of key guys out. We could have turned it in early. But Bill kept us humble and hungry. He took guys not as talented as the other players who were out, but they worked their butts off. When a group of men believes in one another and you do your job, that's what we did. We did our job. There's no secret pill or drink we took. We just focused and tried to outexecute our opponents. If we had taken that mentality [in Washington] and used it to our advantage, who knows what we could have done? Live and learn from experience.
The difference in organizations:
One thing the [Patriots] do so well is they evaluate themselves from a coaching standpoint and in evaluating players. But when I got there in 2011, one coach was here had worked there 10 years. Another had been there 12 years. Another guy learning to be an offensive line coach had been there for three or four years. The staff was such a tight-knit group and they worked together. It's tough when you don't have consistency in coaches. The philosophy and style changes. The play-calling changes. The scheme changes. It's like starting over. That's one of the toughest things from a team standpoint to go through. With the Patriots, you knew who we had and who they could trust and when you have that consistency it makes things so much easier.
September, 24, 2012
9/24/12
2:50
PM ET
If you haven't heard by now,
Washington Redskins
offensive coordinator Kyle Shanahan lost his mind at the officials at the end of the Redskins' loss to Cincinnati on Sunday. There's video on the internet of Shanahan chasing the officials down the hallway after the game was over and cursing at them, even after he'd already been slapped with an unsportsmanlike conduct penalty that helped make
Robert Griffin
III's final-play Hail Mary impossible. It's ugly stuff, and it prompted Shanahan to release
an official apology
Monday:
"When I overheard the official tell the head coach that the game was over after the false start penalty, I tried to explain that the game was not over," Shanahan, the son of Redskins Coach Mike Shanahan, said. "That is what resulted in the unsportsmanlike conduct penalty. I tried to get an explanation of how I could get that penalty when half of the other team was on the field as well.
"I was frustrated, and in the process of trying to get some answers from the officials, I conducted myself in the wrong way."
[+] Enlarge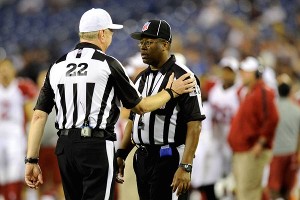 Joe Howell/AP PhotoThe NFL has requested team personnel embrace the replacement officials for now.
So the league is looking into this, as well as the incident in Baltimore where
New England Patriots
coach
Bill Belichick grabbed one of the officials as he ran off the field
following Sunday night's loss to the Ravens, and there would seem to be little doubt that the NFL must impose some sort of discipline on these guys -- most likely in the form of a fine.
But while Shanahan and Belichick are certainly grown men who need to control their tempers better and be responsible for their public actions, this is just the latest deepening of a stubborn, stupid hole the NFL has dug for itself as a result of its continued lockout of the real officials.
Last week, the league sent a letter to every team to remind players and coaches to show respect for the officials. Because, you see, the league's position is that they're not going to give in to the real officials' demands that they get to keep their pensions and they're prepared to move forward with the replacements as the new real officials. With that being the case, the NFL is telling its coaches and players, you're stuck with these guys, for now and possibly forever. And if the league's owners really are determined to carry this farce to that sort of unconscionable conclusion, they have no choice but to support the replacement refs by making it publicly clear that efforts by players and coaches to abuse and bully them will not be tolerated.
The shame of it is, this was all avoidable, and the fact it's just getting worse is the fault of the continued unbridled arrogance of a sports league that doesn't feel it ever has to give an inch because its customers refuse to hold it accountable. The on-field product is clearly suffering for this mess, but the owners don't care because the ratings continue to soar and the advertising dollars continue to pour in accordingly. So there's no tangible punishment for a cartel that's willing to create a miserable working environment for its most important employees in order to win a staring contest with a few other employees.
The league has created a perpetual situation, in every game, in which coaches and players are anticipating disaster and reacting accordingly when it happens. Belichick would never have believed a real NFL official could have blown a field goal call, and he never would have chased him down and grabbed him. But because these guys are expecting something to go wrong on any given play, the blowups are more frequent and more severe.
The classy thing for the NFL and its owners would be to admit they're beaten, give in on the pension issue and welcome the real officials back. Live to fight this battle another day. Ease the burgeoning tension amid coaches and players who push each other to be the best in the world at their jobs and can't understand why their games are being regulated by people who are not. An owner like Robert Kraft, Belichick's boss, actually has an opportunity here to look like a hero in the public eye by simply being the grown-up and ending this thing without caring who wins or who loses. But it's Kraft and his fellow owners who think it's a good idea to lock out a certain group of their employees every year now, so don't hold your breath.
Meantime, Kyle Shanahan and Bill Belichick can expect to have some pay docked this week, as the league continues to operate as though nothing's wrong until they say it is. Coaches have to be held accountable for their actions, even if those who impose the fines refuse to hold themselves to the same standard.
March, 27, 2012
3/27/12
8:00
AM ET
PALM BEACH, Fla. -- We are all up bright and early this morning for the first of two "coaches breakfasts" at the NFL owners meetings. Pretty cool deal, actually. Today, all of the AFC coaches sit at tables for an hour and you can sit with them and ask them anything you want. The NFC coaches do it tomorrow. So, in my capacity as NFC East blogger, I will of course be working those tables tomorrow for information and insight from Jason Garrett, Tom Coughlin, Andy Reid and Mike Shanahan. But I'm going to today's session, too, to do some work on another project and because you never know what you might learn.
I don't know if they'll have links there. I do know you have them here.
Dallas Cowboys

After saying he'd talk with reporters Monday about the salary cap penalty issue, Cowboys owner Jerry Jones
declined to do so
and in fact stayed very much out of sight all day. (I mean, I was looking for the guy from 8 am until 10 pm, and I saw him once, and he was in a room I wasn't allowed to enter.) It sounds as though the Cowboys and the Redskins will both keep quiet on this, though you should stay tuned because you never know with Jerry, right?
Wanna hear what
Tony Romo
thinks about
Peyton Manning
and
Tim Tebow
?
Here you go
. What? Hey, at least it's not about Romo playing golf. I know you guys just love it when I give you the Romo golf updates...
New York Giants

Giants general manager
Jerry Reese
spoke with
Sirius XM Radio
about several issues, including the team's ongoing hunt for a middle linebacker and the idea of "slow-playing" free agency. I'm amazed that I still get questions from Giants fans about why they haven't done much in free agency. They don't have much cap room, first of all. And second of all, this is how they usually handle free agency, and it seems to be working well for them, no?
Former Giants wide receiver
Steve Smith
signed
with the Rams
, which could be an Eagles link because he "played" for them last year and could be a Cowboys link because some Cowboys fans were wondering if their team might sign him to replace
Laurent Robinson
but is ultimately a Giants link because Smith was much more a Giant than he ever was an Eagle or certainly a Cowboy.
Philadelphia Eagles

Boston College linebacker
Luke Kuechly
is doing a periodic draft diary for Philly.com, and Sheil Kapadia has
the latest installment.
We don't know if the Eagles will end up picking Kuechly in the first round, but he's a guy who would fit nicely there, and he's someone who's been on the minds of Eagles fans, so there you go -- a little look into the pre-draft process through his eyes.
Jeff McLane explains why he thinks the Eagles could use one of their first three draft picks
on a quarterback
.
Washington Redskins

Patriots owner Robert Kraft said that commissioner Roger Goodell has the "
full support
" of the league's other owners on the matter of the salary cap penalties against the Redskins and Cowboys. Of course, Kraft also said Goodell was "in the best position to speak to that," and a few hours later Goodell
refused to do so
. So, you know. Whatever.
My old friend
LaVar Arrington
thinks this is a case of two NFL owners bucking the
"old-school" approach
the others are so determined to preserve. And in truth, this does feel more and more like a vindictive personal issue among the owners involved. That's probably why the league doesn't want anyone talking about it anymore. If the arbitrator assigned to the case thinks there's some kind of personal motivation behind the penalties, that might make him more likely to overturn them.