February, 25, 2014
Feb 25
9:15
AM ET
They say they want him back, but at what price? The Redskins have so many needs that giving free-agent linebacker
Brian Orakpo
a whopper deal could complicate their ability to adequately fill other holes – even with a lot of cap room. That's why it's not a lock that he'll return, especially if his price tag climbs into the $10 million-a-year range. His lack of game-changing plays complicates this decision.
Orakpo
There are only a handful of linebackers in that range. Does Orakpo deserve to be among them? I took a look at five linebackers who earned big deals.
Robert Mathis
is on this list, though he spent the bulk of his career at defensive end in a 4-3 until moving to outside linebacker in a 3-4 in 2012. He signed his new contract with the Colts knowing he'd be shifting to a 3-4. I also included
DeMarcus Ware
, now a defensive end, because his money was earned as a 3-4 linebacker. Only 3-4 outside linebackers were included on this list.
After seeing these breakdowns, what would you pay Orakpo?
Matthews
Green Bay's Clay Matthews
Age:
27
Contract:
5 years, $66 million (2013)
Signing bonus:
$20.5 million
Guaranteed money:
$20.5 million
Average per year:
$13.2 million
Analysis:
Matthews earned NFC Defensive Player of the Year honors in 2010 with 13.5 sacks, two forced fumbles and an interception. He's made four Pro Bowls and was twice named All-Pro. Matthews had recorded double-digit sack totals in three of the previous four seasons before his new contract. Matthews has missed a combined nine games the past two seasons. He was considered very good against the run this past season.
Game-changing plays:
He has 50 career sacks to go with 10 forced fumbles and four interceptions in five seasons.
Worth it:
Yes. There's only one year to go on in the new deal, so it's tough to say he isn't. But injuries the past two years make this a shakier yes than anticipated.
Orakpo comparison:
Matthews clearly is the better player, a more dynamic force who causes more worries for an offense.
Ware
Dallas' DeMarcus Ware
Age:
31
Contract:
7 years, $78 million (2009)
Signing bonus:
$20 million
Average per year:
$13 million
Guaranteed money:
$25,591,176
Analysis:
He earned this deal in a big way with 53.5 sacks in his first four years, including 20 in 2008. He's made seven Pro Bowls and was named first-team All-Pro four times and was the 2008 NFL Defensive Player of the Year. He never missed a game until this past season, his first as a 4-3 defensive end.
Game-changing plays:
He's intercepted only two passes in his career (one this past season), but has forced 32 fumbles. He's recorded 117 career sacks he had a combined 35 sacks in 2009-10.
Worth it:
Yes, though the Cowboys might now have to cut him to clear salary-cap space.
Orakpo comparison:
There's no comparison. Ware was a more dynamic player during his prime. If healthy, he can still play.
Hali
Kansas City's Tamba Hali
Age:
30
Contract:
5 years, $57.5 million (2011)
Signing bonus:
$15 million
Guaranteed money:
$35 million
Average per year:
$11.5 million
Analysis:
Hali earned his deal with a big 2010 season with an AFC-best 14.5 sacks – his first year with double-digit sacks. He's a four-time Pro Bowler and has made All-Pro twice, including this past season. He's played in at least 15 games every season since entering the NFL in 2006.
Game-changing plays:
Hali has forced 27 fumbles in eight seasons, but intercepted only two passes. He has 46.5 sacks since signing his new deal and 73.5 for his career.
Worth it:
Yes. His production has improved and, with two more years left on his contract, he shows no signs of decline.
Orakpo comparison:
Hali makes more game-changing plays, though his contract is a direct result of 2010 (he was a 4-3 end until 2009). He also has more talent around him. Orakpo has not had a breakout year, rather he's consistently been between 8.5-11 sacks in his four full seasons.

Woodley
Pittsburgh's LaMarr Woodley
Age:
29
Contract:
6 years, $61.5 million (2011)
Signing bonus:
$13.5 million
Guaranteed money:
$17 million
Average per year:
$10.25 million
Analysis:
Woodley earned his contract after recording a combined 35 sacks over three straight seasons. But since then, he's recorded a combined 18 sacks and missed a total of 14 games because of various injuries. Sacks don't measure everything, but there's been a drop-off in pressure and he got the big deal because of his sack total.
Game-changing plays:
Since signing his deal, Woodley has intercepted two passes, forced two fumbles and recovered two others.
Worth it:
No. Whether because of injuries or other reasons, his play has slipped.
Orakpo comparison:
At this point, Orakpo is better. But Woodley posted better numbers – and more game-changing plays -- in getting this contract (albeit while surrounded by much better defensive talent). Orakpo has forced six fumbles and intercepted one pass.
Mathis
Indianapolis' Robert Mathis
Age:
32
Contract:
4 years, $36 million (2012)
Signing bonus:
$15 million
Average per year:
$9 million
Guaranteed money:
$17 million
Analysis:
Mathis flourished this past season with a career-best 19.5 sacks – eight more than his previous best. Mathis has 111 career sacks, playing opposite
Dwight Freeney
as a 4-3 defensive end for most of that time. Mathis drops into coverage probably less than 10 percent of the time and rushes with his hand on the ground quite a bit. Two years ago, Mathis recorded eight sacks in 12 games.
Game-changing plays:
He forced eight fumbles this past season and 48 for his career to go with one interception.
Worth it:
Yes.
Orakpo comparison:
Mathis signed his deal before playing in a 3-4, though the Colts already knew they were going to switch to that front. If Mathis, who turns 33 Wednesday, were up for a new contract this season? He'd top $10 million per year. He's a more dangerous pass-rusher than Orakpo, who has six forced fumbles in his career. But Orakpo is asked to do more.
February, 17, 2014
Feb 17
12:50
PM ET
The Redskins face numerous questions this offseason. Too many to mention, perhaps. But there are a number that can be addressed and answered -- with the help of people who know the game much better than me. So all week I'll pose a different question to two experts -- former NFL executive, player and scout Louis Riddick (now an ESPN NFL Insider) and former NFL and college scout Matt Williamson (now ESPN's NFL scout). These also are the sort of discussions that are taking place at Redskins Park. And you'll see that even smart football men won't have the same opinion on a player or situation. The most
talked-about Redskin this offseason
has been linebacker
Brian Orakpo
. Naturally, that's where we'll start this series.
What would you do with Brian Orakpo?
Louis Riddick:
It's interesting. He'll be a tough comparable for me right now, only because of not knowing exactly what they were asking him to do from an assignment perspective, and not being on the inside, I don't know if I'm seeing the whole story with him. I read and heard
that he thinks he can have a lot more production in the pass rush
, whether it's QB hits or hurries or sacks if he had more freedom, but that he was trying to play within the confines of the defense. But at the same time, just watching him as a one-on-one pass-rusher, would I value him as a top five or top 10 pass-rusher in the league? No, I don't think I would do that. Let's put it this way:
Greg Hardy
,
Robert Mathis
,
Robert Quinn
,
DeMarcus Ware
, when healthy. I don't put [Orakpo] in that category. He's somewhere in that second tier and I'm saying because of supply and demand being where it's at, he could wind up – if he hits the market – getting something that far exceeds what I'm comfortable paying him.
There's not a number for how I would value him. It's going to be tricky. Would I want to keep him? Yes. Would I want to extend above and beyond and get him into the nose-bleed area for guaranteed money in the first three years? No, I would not. ... I'd be very prepared to let him walk. That being said, there aren't a lot of good pass-rushers available in free agency and there aren't a lot of guys who will win one-on-ones early in their career in the draft so that will work in his favor.
Matt Williamson:
That defense needs everything, it really does. He's their best player on defense, they have a lot of cap room, they can't let him go. He's one of the few free agents that you have to give the big money to. If that means franchising him, I think he's worth it. He's an all-around player. He's their best pass-rusher, probably one of the best 10 pass-rushers in the league in his prime and he recovered from his injury. I thought he had a good year. He was a constant pressure guy. He's a quick-twitch athlete who can get low and still be powerful. He explodes off the ball and he's a high-motor guy. I don't think he'll be elite. He won't be
Dwight Freeney
in his prime, and if you looked at his strengths and weaknesses as a pass-rusher, he's not extreme in any of them but he's above average in many. Freeney was so low and explosive off the snap, you always remember those things with him. Orakpo doesn't have one trait that you say, 'Wow, I've got to stop that.'
December, 20, 2013
12/20/13
2:00
PM ET
ASHBURN, Va. -- This shouldn't be
Brian Orakpo
's last home game as a
Washington Redskins
player. If the organization is smart they'll find a way to keep him around.
The problem is, they run a 3-4 scheme which needs pass rushers. It's difficult to find pass rushers. They don't have a first-round pick. And Orakpo is a good player.
[+] Enlarge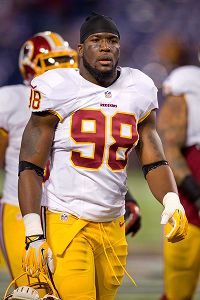 Bruce Kluckhohn/USA TODAY SportsThe Redskins would have a difficult time replacing Brian Orakpo.
Oh, and the Redskins' defense can't afford to lose good players. In case you haven't noticed, there aren't a lot of them on the field. It would just be creating yet another need.
Debating whether Orakpo is an elite rusher or player is one thing. He thinks he is and defensive coordinator Jim Haslett said Thursday that Orakpo is equivalent to guys like
Robert Mathis
or
Robert Quinn
, both of whom have more sacks but are not asked to do as much in other parts of the game.
Green Bay's
Clay Matthews
signed a contract extension last spring, with $20.5 million guaranteed. Orakpo has 39.5 career sacks in 63 games; Matthews has 49 sacks in 68 games. Orakpo has had two double-digit sack seasons, one less than Matthews.
"He rushes every time on third down or nickel, but he does drop into coverage," Haslett said of Orakpo. "He's really good in the run -- I think him and [linebacker] Ryan [Kerrigan] are two of the best I've been around at covering people, so I don't think it's fair. He's not a true four-down lineman. Now, that being said, there's other guys that have made that transition to a down lineman and they're not that successful because it's hard to do it every single snap. It's a little bit of a different breed down there."
Haslett was then asked if he considered Orakpo comparable to others who are considered elite.
"Yeah, I would," Haslett said. "The guy is a heck of a player and I think he showed what he's worth to this organization over the four years. He's been very successful, obviously he's a heck of a rush guy, but the other things he does besides that, he's outstanding, you know, covering tight ends and backs to the flat and in the run game. Him and Ryan are the reason we're so successful in the run. It's hard to get outside because of those two."
Now, a defensive boss typically will say great things about a player like Orakpo. He knows it can help him get paid. I've talked to personnel guys in the past who thought Orakpo was a good, but not great, pass rusher. But I do know he's better than
Paul Kruger
, who was the top free-agent outside linebacker in 2013 and received nearly $13 million in bonus money and $20 million guaranteed. His average per year is a little more than $8 million.
But again, you have to weigh the cost of his departure. Do you have a replacement signed for 2014? No, you don't.
Rob Jackson
is a free agent as well but is not as good as Orakpo. Yes, he'd be cheaper, but in a passing league you need to invest in pass rushers. Jackson is fine if Orakpo's price tag becomes exorbitant (and if it impairs the Redskins' ability to retain other free agents and add others) or if he just wants to go (that's not the case).
It also will depend on whether a new coach -- if Mike Shanahan is fired -- runs a 3-4 or 4-3 and how a new staff views him, of course. How would Orakpo do as a 4-3 end? He'd probably have to gain a little weight, but when he came out of Texas, opinions were split as to whether he should be a 4-3 end or 3-4 linebacker.
Orakpo is not a superstar, but he would be tough to replace. It'll cost the Redskins a lot of money, but it could just be the cost of doing business.
It could just be that they can't afford to lose him.
October, 25, 2013
10/25/13
8:10
AM ET
ESPN NFL analyst Ron Jaworski loves football and watching tape of football. He's watched plenty of Washington Redskins' games and has plenty of thoughts on Robert Griffin III, Jordan Reed and the defense. So here you go:
What have you thought of Robert Griffin III lately, especially last Sunday?
Ron Jaworski:
He's gradually gotten better. He clearly had flawed mechanics early in the season due to not being 100 percent healthy, but he's gotten stronger every week. He's been more mechanically sound. I still believe he missed some throws in this game. But clearly he's getting healthier, the offense is getting better, there's no question. You saw the designed runs which were very effective and that will present problems for the Broncos. The offense is now getting back to where it was last season when he was healthy.
You talked about his mechanics earlier this season, where is he better?
Jaworski:
I really thought early in the year he wasn't confident in that right leg. He wasn't getting his leg back and driving and snapping those hips. I thought the ball lost energy at the end of throws because of that. I didn't think he was right in the beginning of the season. He clearly now is getting weight on that back foot. I've seen him drive throws down the field, so clearly he's getting much healthier.
When you talk about being close to last year, is it because of the dynamic element he can add?
Jaworski:
Yeah first and foremost I see the legs now playing a bigger part in his throws, so that part he's getting healthier with. He's still not the dynamic runner he was a year ago. I don't know if he'll ever be the same dynamic runner that he was. He can certainly make a lot of plays. Last year when healthy he was extraordinary, the burst and getting around the edge. I see him making plays but I don't see that burst when he was flying around last year. He may get better. It's still too early to tell but clearly he's not where he was running the ball last year. It speaks volumes for how he was last year.
What else jumped out at you from their offense?
Jaworski:
I thought they went back to some of their more primary plays that they ran last year. When you look at the success last year it clearly was running the ball, certainly the ability of RG3 to take off balanced the defense and made them stay at home and that opened the play-action pass game. I saw more of that against Chicago than I've seen all season long, more of the offense in rhythm like it was for most of last season.
What did you think of Jordan Reed?
Jaworski:
The guy will be sensational. He's one of the guys that jumps off the tape at you. I like to use the word flash. We saw a little bit of it earlier this season but clearly against Chicago I saw a lot more of it. We were talking here, he reminded us on the field of an
Aaron Hernandez
. He has that kind of wide receiver movement for a big guy. This guy is going to scare the hell out of defenses. They can't load up the box when you have the ability to get him down the field matched against linebackers and safeties. That's a mismatch. He has a chance to be really good. We talk about splash plays; the splash plays against Chicago came from him.
Defensively, have you seen improvement?
Jaworski:
Quite honestly, not a whole lot. I still think Jim Haslett does a great job in scheme, it's well-designed. I saw a number of mental breakdowns against Chicago. They'll have real challenges against
Peyton Manning
when he goes one back, one tight end and three wides. Who's playing in the secondary? They could be very thin. Peyton can expose a weakness in a heartbeat so it's a very difficult matchup because of their structure in the secondary right now.
Is there a kryptonite for Peyton right now?
Jaworski:
There's a kryptonite for all quarterbacks. I don't want to simplify it but
Robert Mathis
had an outstanding game. He had quick pressure on Peyton. He was taking [James] Harrison's bull rush and Peyton couldn't finish a number of throws. When you watched it on TV you see the ball drop short and then you look at the All-22 and you see guys in his face and off the line being pushed back into him where he can't plant, step and throw. All those little things that impact the quarterback. When you have elite quarterbacks the only way to slow them down is pressure them.
Can the Redskins' defensive line, and Brian Orakpo, do what the Colts did?
Jaworski:
Yeah I think they can create some pressure. They don't have the speed and quickness Mathis has, which presents the first problem. It'll be a combination of outside pressure, force Peyton to step up and have that push inside so he can't drive the ball. The Redskins do a nice job when they have [Ryan] Kerrigan and Orakpo on the same side in the nickel package. It's an effective package where you get a couple of really skilled athletes coming off one side. I expect to see some of that in this game. Both are very good pass-rushers. But you have to be creative and you have to create one-on-one matchups. I don't think you blitz Peyton Manning. You have to throw a couple in there but he's so good at decoding a blitz and getting the ball out of his hands so it's risky. But you can't let him sit back there as well, so you have to mix in the blitz and keep him off-balance.
August, 13, 2013
8/13/13
10:55
PM ET
OXNARD, Calif. -- When the
Dallas Cowboys
play the
Arizona Cardinals
on Saturday, DE
DeMarcus Ware
will be back in his helmet with the U-bar face mask. The NFL is awaiting more paperwork before it approves the eight-bar helmet he would like to wear.
Ware wore the eight-bar mask last week at Oakland and had hoped that meant he would be cleared for the regular season. He was in the U-bar helmet at Tuesday's practice.
Last week, the NFL denied a request by Indianapolis Colts DE/LB
Robert Mathis
to wear a nonconforming face mask.
An NFL player must have a medical reason in order to wear a specialized mask. Ware has battled through a series of stingers in the past few years.
March, 22, 2011
3/22/11
6:12
PM ET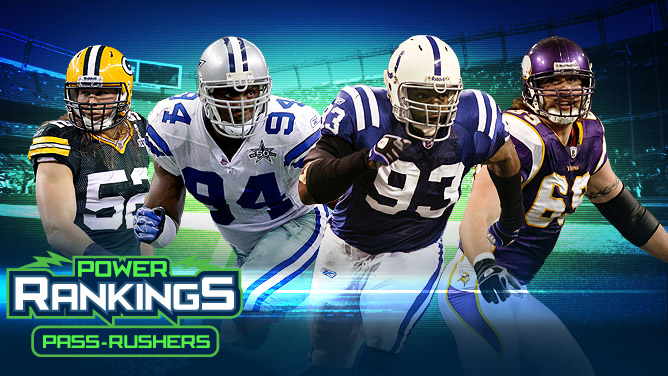 ESPN.com IllustrationDeMarcus Ware (94) was the clear choice for the top spot when our writers ranked the best pass-rushers in the game.
ESPN.com's NFL writers rank the top 10 pass-rushers in the league today. Next week: Top 10 tight ends.
ESPN.com's panel of power rankers had no trouble identifying the best pass-rusher in football. The rest of our Top 10 list? It was easily the most difficult to compile so far in what will be a 10-week project.
Dallas Cowboys
linebacker
DeMarcus Ware
received seven of eight first-place votes. AFC South blogger Paul Kuharsky ranked him No. 2, putting
Indianapolis Colts
defensive end
Dwight Freeney
at the top of his ballot. Overall, a total of 17 players received votes, and the crowd was dense enough to exclude established veterans such as
Houston Texans
defensive end
Mario Williams
,
New York Giants
defensive end
Justin Tuck
,
Baltimore Ravens
linebacker
Terrell Suggs
and Colts defensive end
Robert Mathis
.
The category was tough, explained NFC West blogger Mike Sando, because "sack numbers tend to fluctuate from year to year and it's tougher to know which pass-rushers are truly the best. I think the proliferation of 3-4 defenses also made this a tougher call. We weren't evaluating defensive ends exclusively. We were also looking at 3-4 outside linebackers. That deepened the pool while forcing us to compare players at more than one position."
Ware, for one, wasn't a difficult choice -- as long as sacks are the primary statistical representation of pass rushing. Ware led the NFL in sacks last season with 15.5, and he has also had more combined sacks over the past two, three and five seasons combined than any other NFL player. At 28, he would seem to have several ultra-productive seasons remaining in his career.
Beyond Ware, however, the debate was fierce. The
Green Bay Packers
'
Clay Matthews
received the second-most votes (61), but there wasn't much separating him from Freeney (58) or
Minnesota Vikings
defensive end
Jared Allen
(52).
[+] Enlarge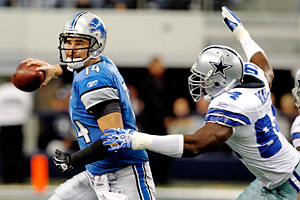 Tom Pennington/Getty ImagesDeMarcus Ware had 15.5 sacks last season and has 80 sacks in six seasons in the NFL.
Kuharsky's familiarity with Freeney gave him a unique perspective.
"I've had coaches and scouts I trust tell me, repeatedly, that Freeney is the best pure pass-rusher in the league," Kuharsky said. "They say he's the guy they'd want if they could have anyone and the most difficult guy to stop because of the way he plots out his game. That's stuck with me and was a big factor for me as I put together my ballot."
From an NFC North perspective, I think it's interesting that Ware is the only NFL player who has recorded more sacks than Allen over the past five seasons. Allen's total of 11.0 last season was his low-water mark over the last four seasons, however, and the explicit instructions for voters were to base judgments on what we can expect for the 2011 season.
Given a choice between Allen, Matthews or Freeney in building a Super Bowl team for 2011, whom would you choose? With all due respect for Freeney (and Kuharsky, such that he deserves it) Matthews, 24, seems the right answer to me.
Matthews, Allen and
Chicago Bears
defensive end
Julius Peppers
gave the NFC North a league-high three members of this exclusive group. Peppers' all-around contributions last season earned him a spot on The Associated Press' All-Pro team, but his total of eight sacks left him ranked eighth on our list.
Illustrating the difficulty of this exercise, two voters left Peppers off their ballots entirely and a third -- AFC North blogger James Walker -- ranked him No. 10. The
Atlanta Falcons
'
John Abraham
, The Associated Press' other first-team All-Pro defensive end, ranked a composite No. 7.
NFC South blogger Pat Yasinskas, who covers Abraham and until 2010 covered Peppers as well, ranked Peppers No. 5 and said: "I know the sack numbers can rise and fall, but he has the ability to completely take over a game at any time." Meanwhile, a younger Abraham would have ranked higher.
"He had 11 sacks last year but 5.5 the year before," Yasinskas said. "At 32, you have to at least question whether he would sustain 2010 numbers in 2011."
Finally, if you're outraged about the absence of Williams, Tuck, Suggs, Mathis, the
Philadelphia Eagles
'
Trent Cole
or even the
Denver Broncos
'
Elvis Dumervil
, you probably need to focus your ire at the inclusion of
Miami Dolphins
defensive end
Cameron Wake
. In his second NFL season, Wake exploded for 14 sacks.
Does one elite season merit inclusion on this list? Opinions varied widely among our voters. Wake was left off three ballots and voted No. 10 on three others. AFC East blogger Tim Graham, who saw more of Wake last season than any other voter, placed him No. 4.
"If we're ranking the best overall defensive ends or outside linebackers, then maybe Cameron Wake doesn't make my list," Graham said. "He's not a run-stuffer and is lacking when it comes to pass coverage. But we're rating pure pass-rushers, and that's the one thing Wake does on an elite level. He's a freakishly gifted athlete who creates havoc in the backfield.
"I also don't view Wake as a one-year wonder because he had a strong season in 2009 despite playing behind
Joey Porter
and
Jason Taylor
in most situations and under a different defensive coordinator. He should continue to thrive under Mike Nolan's guidance. I view Wake as a legitimate star who was overlooked on a mediocre team."
Your thoughts? I'm expecting them.
December, 3, 2010
12/03/10
4:00
PM ET
By
Matt Mosley
| ESPN.com
»
NFC Final Word
:
East
|
West
|
North
|
South
»
AFC
:
East
|
West
|
North
|
South
Five nuggets of knowledge about Week 13.
[+] Enlarge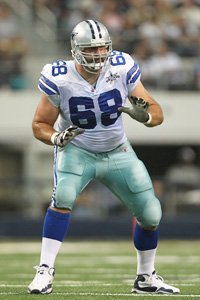 Matthew Emmons/US PresswireDoug Free will have his hands full with Colts DE Dwight Freeney.
Cowboys left tackle Doug Free needs to have his best game of the season.
Most left tackles need some help against Colts All-Pro defensive end
Dwight Freeney
, but I don't think Free will have that luxury. Right tackle
Marc Colombo
will need a lot of help against
Robert Mathis
on the other side. I actually think Free's up to the task. He'll have to get out of his stance quickly and get an immediate punch with his arms to force Freeney to re-start. As most of you know, Freeney will try to get to the outside and turn the corner on Free. He's been the Cowboys' best offensive lineman this season and I think he'll have a strong performance against Freeney. Is that a stone-cold lock of a prediction? Absolutely not.
It's time for the Giants to actually do something with their opening possession.
Offensive coordinator Kevin Gilbride spent a lot of time this week talking about how he likes to get a feel for defenses on the first series of games. The Giants finally scored on their first possession against the Jaguars, but it was only a field goal. The Eagles scored on their first three possessions against the Texans, but the Giants almost always wait until the second half to get going. They've been dominated in the second quarter. The defense has given up 82 points, and the offense hasn't always responded in the first half. With a beat-up team like the Redskins, you can't let them hang around. Just look at what almost happened to the Eagles on Thursday night. Gilbride needs to spend less time setting things up and more time dictating the action. I realize it's tough without
Hakeem Nicks
and
Steve Smith
in the lineup, but the Giants have enough weapons to get things done, as they showed in the fourth quarter against the Jaguars. Maybe they can get
Kevin Boss
going a little bit earlier in this game.
The Redskins have to unleash the pass-rush on Eli Manning early in this game.
If Washington can bring some pressure up the middle and get in Manning's face, it will cause problems.
Mario Manningham
's really the only wide receiver he has faith in, and I think
DeAngelo Hall
has a chance to lock him down. But if Manningham gets the ball on a quick screen, the Redskins have to run everyone to the ball. Manningham has deceptive speed and he's good at making defenders miss. This is also a game where the Skins have to get back to creating takeaways. They were on a torrid pace early in the season, but things have tailed off. Outside linebacker
Brian Orakpo
has to be thinking about the strip because Manning has some ball-security issues at times.
The Cowboys' safeties will be under a lot of pressure against the Colts.
Peyton Manning
looks for
Pierre Garcon
on a lot of vertical routes, but
Reggie Wayne
will look to get loose across the middle. It's important for
Alan Ball
and
Gerald Sensabaugh
to be more disciplined than ever. The Colts are looking for a safety to take one false step. If that happens, they're ready to pounce. And I had a chance to watch tight end
Jacob Tamme
in person against the Eagles. He doesn't have the speed of
Dallas Clark
, but he's a sure-handed receiver who can break tackles if the Cowboys aren't careful. Manning's like most quarterbacks in that he hates having anyone in his face. If nose tackle
Jay Ratliff
and defensive end
Stephen Bowen
can collapse the pocket in the pass rush, I think they can cause some mistakes. Manning took way too many hits against the
San Diego Chargers
. In Sunday's game, the Cowboys need to use a similar approach. If you allow Manning to find a rhythm, it could be a long day. But without any semblance of a running game, it makes him a little bit easier to defend.
Can McNabb continue his dominance of the Giants?
McNabb is 11-7 lifetime against the Giants, but he was wearing a different uniform all those years. He's won four consecutive games over the Giants while throwing to quality receivers such as
DeSean Jackson
,
Jason Avant
and
Jeremy Maclin
(in '09). I think McNabb has a comfort level against the Giants' personnel, but defensive coordinator Perry Fewell has changed things up. I think he'll throw a lot of different looks at McNabb, and I'd look for him to send
Deon Grant
and
Antrel Rolle
on some safety blitzes early in this game. If the Skins can block it up, McNabb will have a chance to make plays downfield. He needs
Santana Moss
to come up big for him, but I think
Terrell Thomas
will be ready for the challenge at cornerback. Without a running game, McNabb's a sitting duck. Maybe "sitting" isn't fair because of his mobility, but you get the picture. The Giants will try to make the Skins one-dimensional early in this game.
November, 9, 2010
11/09/10
1:00
PM ET
By
Matt Mosley
| ESPN.com
»
NFC Decisive Moments
:
East
|
West
|
North
|
South
»
AFC
:
East
|
West
|
North
|
South
The
Philadelphia Eagles
were clinging to a 19-17 lead over the
Indianapolis Colts
with 1:40 left in the third quarter Sunday at the Linc. The Eagles hadn't moved the ball well since midway through the second quarter and
Michael Vick
was facing a second-and-26 at his 28-yard line. He dropped back and fired a strike to
Jeremy Maclin
for 22 yards, which put the Eagles in a much more manageable position on third down.

On third-and-4 from midfield, Vick saw daylight across the middle and he made Colts linebacker
Gary Brackett
look helpless as he raced past him. I've seen several replays that show Colts linebackers slipping down as Vick cuts to his right. Vick ran for 32 yards on the play, setting up the touchdown that put the Eagles ahead 26-17.
If the Colts assigned a spy to Vick, I never saw him Sunday. Vick finished with 74 rushing yards and he made a fast defense look slow. On the scramble, you could see
Robert Mathis
and
Dwight Freeney
running past Vick.
Winston Justice
used poor technique on Mathis, but he had the good sense to resist the urge to throw him to the ground, as he did on another play in the second half.
Vick is the most exciting quarterback in the league and he showed why on that scramble. I thought those back-t0-back plays were both defining moments in Sunday's 26-24 win.
October, 15, 2010
10/15/10
4:00
PM ET
By
Matt Mosley
| ESPN.com
»
NFC Final Word
:
East
|
West
|
North
|
South
»
AFC
:
East
|
West
|
North
|
South
Five nuggets of knowledge about the Week 6 games:
[+] Enlarge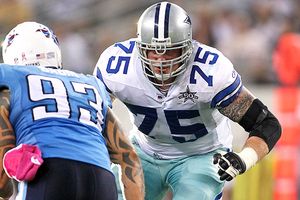 Matthew Emmons/US PresswireDallas tackle Marc Colombo has a difficult matchup this week against Minnesota's Ray Edwards.
Can the Cowboys' offensive line hold up against the Vikings?
We all know what happened the last time the Cowboys were in the Metrodome. Vikings defensive end
Ray Edwards
abused right tackle
Marc Colombo
and All-Pro
Jared Allen
wore out left tackle
Doug Free
in a divisional round playoff game in January. You'll recall that Free was forced into that game when
Flozell Adams
went down with an injury. I think Free will bounce back from a poor game against the Titans and play well against Allen. But the problem with Colombo last season was that he wasn't getting off the snap quickly enough because of the crowd noise in the Metrodome. The Cowboys have worked on their silent counts this week and feel like they're better prepared this time around. Starting center
Andre Gurode
has a degenerative condition in his knee and will likely be a game-time decision. I think he'll be ready to go, but if not, left guard
Kyle Kosier
would be his replacement.
Montrae Holland
would take over at left guard.
The Redskins must diversify their passing game against Colts.
Washington tight end
Chris Cooley
and wide receiver
Santana Moss
are on pace to have career seasons. That's good news for fans, but at some point, there must be more diversity in this offense.
Anthony Armstrong
made a huge play in the fourth quarter against the Packers, so perhaps he's a candidate to be targeted. But right now, I think the Redskins are too easy to defend. The Colts have unbelievable pass-rushers in
Dwight Freeney
and
Robert Mathis
, but the Skins could counter some of their speed by running right at them. With
Trent Williams
back at left tackle, I think this is a game where the Skins needed to pound the running game like they did against the Eagles. But when they must pass, someone other than Moss and Cooley must step forward. Does anyone know what's happened to
Fred Davis
? This was supposed to be one of the best tight end tandems in the league, but Davis' season hasn't gotten off the ground.
Giants need to put the Lions away early.
The
New York Giants
must assert their dominance early in Sunday's game against the
Detroit Lions
. Tom Coughlin has made the Lions out to be world beaters, but we know the score. Rookie running back
Jahvid Best
can burn a defense if he's allowed to have any cutback lanes. I think middle linebacker
Jonathan Goff
, who has been impressive so far this season, will have some one-on-one situations against Best. Lions wide receiver
Calvin Johnson
is one of the toughest covers in the league. I think you'll see
Corey Webster
on him initially with some help over the top from
Kenny Phillips
. The Giants will try to make the Lions one dimensional from the start. Same thing they did against the Texans last week.
The Eagles have a huge opportunity against the Atlanta Falcons.
It sort of feels like Atlanta's the best team in the NFC almost by default. Quarterback
Matt Ryan
's playing really well and the Falcons also have an excellent running game. The Eagles were gashed in the running game by the
Washington Redskins
, and I assure you that Falcons coach Mike Smith will try to do the same thing. With
Brodrick Bunkley
(elbow) out for this game, the Eagles must do a good job of gang tackling. We saw what happened to
Quintin Mikell
when he tried to challenge Washington's
Ryan Torain
in the open field. Atlanta's
Michael Turner
can't be allowed to get in a lot of those one-on-one situations. On offense,
Kevin Kolb
must be smart with the football while playing behind a patchwork offensive line. Andy Reid thinks left tackle
King Dunlap
will play better with a week of practice under his belt, but I have my doubts. Reid better make sure Dunlap has a lot of help.
Can Randy Moss make the Cowboys pay -- again?
No one loves lighting up the Cowboys more than Randy Moss, whom Jerry Jones passed on in the 1998 draft (along with several other teams). With a full week of practice under his belt, Moss could be very dangerous against the Cowboys. Look for him to try to beat the Cowboys on a vertical route early in this game. The Cowboys have struggled against the vertical routes, as evidenced by losses to the Bears and Titans. This is not a smart defense right now, and
Brett Favre
and Moss will look to make them pay. And I don't believe for a second all this nonsense about Favre not playing because of tendinitis. This is panic time for both teams, and Favre's come too far and had too many unretirements to sit this one out.
October, 13, 2010
10/13/10
7:48
PM ET
By
Matt Mosley
| ESPN.com
Redskins coach Mike Shanahan knows how important it will be
to game-plan for Colts defensive ends
Dwight Freeney
and
Robert Mathis
.
New York Giants
left tackle
David Diehl
found out the hard way that Freeney can be nearly unstoppable at times. Skins offensive tackles
Trent Williams
and
Jammal Brown
are both battling through knee injuries, which will make the task even tougher.
"Even when the tackles are healthy, there's concern about those two defensive ends," coach Mike Shanahan told reporters Wednesday. "Obviously, they do a great job consistently.
"They rush the quarterback and react to the run. They've been doing that for a number of years. Been very productive, so everybody better have a game plan for 'em. The nature of their defense is that they attack first and react to the run second. They've always been that way, since I've been watching them at Indy. And they're very talented."
I think playing on the road and on natural grass will neutralize Freeney and Mathis' speed to some extent. I liked how Williams played against
DeMarcus Ware
in Week 1. And I could see him being successful against Freeney. Brown's the guy you worry about a little more.
He just doesn't seem to be using good technique this season at all.