February, 6, 2014
2/06/14
8:00
AM ET
PHILADELPHIA -- The Eagles were much better off at cornerback than at safety last year, and a million times better there than they were for the
Nnamdi Asomugha
/
Dominique Rodgers-Cromartie
jogathon of 2012.
[+] Enlarge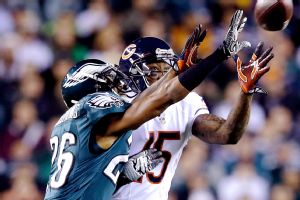 AP Photo/Michael PerezCary Williams' presence among the Eagles' cornerbacks can't be understated.
Still, cornerback is such a premium position, you can expect general manager Howie Roseman to look to upgrade there if he can. It is not an A-1 priority, not compared to safety, but it should always be a priority.
In many ways, Chip Kelly inherited an Eagles team much like the one Andy Reid did 14 years earlier, only in reverse. The 1998 Eagles were 3-13 but had the defensive personnel in place for a quick turnaround:
Brian Dawkins
,
Troy Vincent
,
Hugh Douglas
,
Jeremiah Trotter
and others.
The offense was another matter, especially at wide receiver. Saying the "cupboard was bare," Reid quickly added solid veterans
Charles Johnson
and
Torrance Small
just to get some inventory at the position.
For Kelly, it was the offense that was stocked and the defense that required the most attention. Roseman signed cornerbacks
Cary Williams
and
Bradley Fletcher
, along with safeties
Patrick Chung
and
Kenny Phillips
, just to stock that mostly empty cupboard.
Williams and Fletcher turned out to be better performers at cornerback than Johnson and Small were at wide receiver. They also have a better chance to stick around while their side of the ball develops. Their presence gives Roseman a little breathing room. If he can upgrade the position, he should. But he can address more pressing needs, especially safety, because Williams, Fletcher and
Brandon Boykin
represent a solid group of corners.
Aside: These corners would be that much more effective with an improved pass rush. So that becomes an even higher priority.
As the oldest of the three, Williams would appear most vulnerable to being replaced. But his value to the chemistry and personality of the Eagles defense in 2013 cannot be overstated. The Eagles were soft with DRC and Asomugha at the corners. Williams wasn't having any of that.
Fletcher was the polar opposite, personality-wise. He's as soft-spoken as Williams is outspoken. But he played a solid, reliable cornerback pretty much all season. Fletcher is 27 and another year removed from the ACL tear that cost him most of the 2011 season and made him expendable to the
St. Louis Rams
after the 2012 season.
Williams is 6-foot-1, Fletcher 6-0. They give the Eagles decent size and tackling ability (and willingness to tackle, which is not the same thing) on the outside. Each was also able to remain on one side, regardless of which receivers were matched up there. That allowed Davis the freedom to draw up schemes without having to move one shutdown corner around to compensate for a less competent player.
As for Boykin, he simply had a terrific season as the Eagles' nickel cornerback. Maybe too terrific, since he gave Davis a good reason to leave him where he excels rather than allow him to play outside. It's a win-win situation for the Eagles, though. If Boykin does develop into an outside corner, that gives them depth and flexibility. If he stays put, they have a nickel corner who was tied for second in the NFL with six interceptions despite limited playing time.
With so much work going into gradually improving the defense, there wasn't time to bring along young cornerback
Roc Carmichael
. He played almost exclusively when Fletcher or Williams was out because of injury or, in one case, Williams' temper tantrum in Minnesota. When Carmichael was in, he was targeted. He should benefit from a full offseason and training camp with Davis.
Curtis Marsh
, a 2011 draft pick who spent part of the season with Cincinnati, was active for only one game after being resigned by the Eagles in early November. It's hard to see a role for Marsh in 2014.
December, 19, 2013
12/19/13
1:45
PM ET
PHILADELPHIA -- The
Philadelphia Eagles
' blurry secondary picture is beginning to come into focus.
Nickel cornerback
Brandon Boykin
cleared the NFL's concussion protocol and was back at practice Thursday afternoon. Boykin was injured while returning a kickoff Sunday in Minnesota.
Rookie safety
Earl Wolff
said Wednesday his right knee feels the best it has felt since he injured it in Green Bay on Nov. 10. Wolff is almost certain to play, but likely to rotate with veteran
Patrick Chung
until he's reacclimated.
Safeties
Kurt Coleman
(hamstring) and
Colt Anderson
(knee) did not practice. There's a good chance
Keelan Johnson
, who was signed off the practice squad Tuesday, will be active for Sunday night's game against the
Chicago Bears
.
The 5-foot-11, 212-pound Johnson could serve as a backup to Wolff, Chung and
Nate Allen
. But his main contribution is likely to be on special teams, where Coleman and Anderson are key players.
"I'm actually on a couple of special teams," Johnson said. "I think that's where I'm likely to start out at during this game on Sunday and then work my way into the safety rotation. I just have to keep showing coach [Bill] Davis and my position coach I'm on top of the calls, I'm on top of my checks, things like that."
Johnson was undrafted despite a solid senior season at Arizona State. He signed with the
Miami Dolphins
and was released at the end of training camp. He has been on the Eagles' practice squad all season.
"I always felt like I was good enough to play," Johnson said. "I feel like I could have been a drafted player. I feel like I had a good season and all that stuff. It was just frustrating sitting on the sideline, watching these guys playing the sport I love, and I'm not out there with them."
Johnson might be forced into action if injuries strike as they did last week. But the return of Boykin and Wolff will help restore some normalcy to a secondary that was badly burned by the Vikings. That is a major development for a team preparing for a Bears offense that features
Brandon Marshall
and
Alshon Jeffery
.
"Don't sleep on
Earl Bennett
, either," Chung said. "He's really good, too."
Boykin has done an excellent job playing in the slot, leading the Eagles with four interceptions. Without him, Chung or
Roc Carmichael
would have to play the slot, which would lead to a domino effect. If Chung were to play the slot, that's one less safety available to Davis.
December, 18, 2013
12/18/13
8:00
AM ET
PHILADELPHIA --
Nick Foles
slid his right hand up under his left arm. A reporter had spotted the abrasion on the back and asked him about it.
"Football," Foles said. "You get hit."
As a quarterback, you get hit and hit and hit some more. But it's part of the job to jump back up as if nothing happened, as if nothing hurts, as if nobody on your offense whiffed on a block and almost got you swatted like a fly. It's part of the job to hide the banged-up hand from public view.
Foles spent six weeks as the Eagles' starting quarterback last year. He wore down over that stretch, finally sitting out the final game with a hand injury. In 2012, those games meant nothing in the standings. The Eagles were playing out a frazzled string and Foles went 1-5 in his six starts.
[+] Enlarge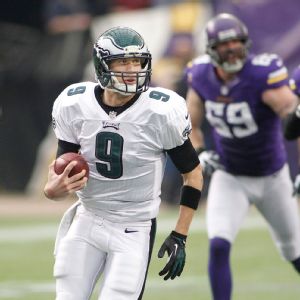 AP Photo/Andy KingNick Foles passed for a career-best 428 yards in a loss to Minnesota, but "we didn't win," he said. "I missed some throws that didn't give us an opportunity to win."
This year, the Eagles are playing for the NFC East title with two games to go.
"There's a lot of attention that comes along with it," Foles said, "but yes, I'd much rather be in this situation than what we were in last year. Every game you're playing is a meaningful game. Last year, we were playing for each other because there was no way at the end of the season that we could have continued on into the playoffs."
Foles threw for a career-high 428 yards and three touchdowns Sunday in Minnesota. On Monday, the civic conversation was about how inconsistent he was in a 48-30 loss.
"I agree with it," Foles said. "We didn't win. I missed some throws that didn't give us an opportunity to win. It's part of playing quarterback. It's tough. I've learned to handle it. It does hurt, but that's why I keep fighting and I have a short memory when I'm out there. When that play happens, I have to forget about it. I learn from it and I move forward and hopefully it doesn't happen again."
The Eagles lost more than a game in Minnesota. It seemed at times they'd lost their collective minds. Wide receiver
DeSean Jackson
got into a shouting match with his position coach, Bob Bicknell.
Roc Carmichael
got called for a taunting penalty when the Eagles were losing by 12. Cornerback
Cary Williams
got flagged for unsportsmanlike conduct and was benched by defensive coordinator Bill Davis.
"I was frustrated," Foles said. "But as a quarterback, you just can't show it. Guys are looking at me to see how I respond. If I get frustrated, it's really going to impact the whole team. I've really got to stay on an even keel and just keep going and keep the guys together. My teammates are looking at me as a quarterback. They're trying to see how I react in those adverse situations. When everything's going wrong, when guys are going crazy, when composure is lost -- what's the quarterback doing? Is he going to lose composure or is he going to keep firing that ball? I'm going to keep firing that ball. We're going to be stronger because of this."
Around the league, established franchise quarterbacks are delivering horrendous performances.
Eli Manning
has thrown 25 interceptions this season.
Robert Griffin
III has been benched.
Tony Romo
threw killer interceptions to cost the Cowboys a game against Green Bay Sunday. And that's just in the NFC East. Detroit's
Matthew Stafford
threw his game away against Baltimore. Even
Drew Brees
threw a couple of interceptions in an upset loss to St. Louis.
Foles has been better than most of them this season. He led the Eagles on a five-game winning streak to get to first place with an 8-5 record. Getting judged for a few bad throws in a loss is part of his job description. Fortunately, Foles understands that.
"For sure," he said. "When you have success, people's expectations do grow. When they see you play consistently well, that's what they expect every week. And that's what I expect. I expect nothing different. But I can't let a game where I don't feel like I played well, and I don't help our team as much as I think I should have, affect me to where I can't play at that level. My goal every game is to go and play a perfect game."
December, 17, 2013
12/17/13
5:45
PM ET
PHILADELPHIA – Figuring there's safety in numbers, the
Philadelphia Eagles
added to the number of safeties in their injury-strewn secondary Tuesday. They signed
Keelan Johnson
off their practice squad, releasing linebacker
Emmanuel Acho
to create a roster spot.
Going into their Sunday night game against the Chicago Bears' high-powered offense, the Eagles have serious issues with four of their safeties, plus nickel corner
Brandon Boykin
.

Rookie starter
Earl Wolff
, who injured his knee six weeks ago in Green Bay, said he expects to play.
"I'll be probable, which means I'll probably play," Wolff said. "If the game was today, I would play. On Sunday, it just didn't feel right. I thought this would be three or four weeks. I didn't think it would be this long."
Safeties
Kurt Coleman
(hamstring) and
Colt Anderson
(knee) were injured Sunday in Minnesota. Both are also important special-teams players. That is the role Johnson likely would fill if he is active for the Bears game.
"Right now, it's just about trying to get healthy and help this team out," Coleman said. "We're trying to make a push for the playoffs. I've got to get better as fast as possible because we need everyone out there."
The other safety with issues is veteran
Patrick Chung
. In his case, the issues are related to performance, not any injury. Eagles defensive coordinator Bill Davis said Chung was in "a slump" that had the coaches moving Coleman into the lineup before he was hurt.
"Until they separate themselves," Davis said, "I'll let the competition get the best out of both of them."
Wolff had separated himself from Chung earlier in the season before getting hurt.
"He was starting to really show some playmaking ability," Davis said. "He got injured and has been out for a while. We have to crawl him back into the mix as we go."
Boykin was knocked out of the Minnesota game with a concussion. He was out on the practice field Tuesday, which is a positive sign, but he still has to be cleared according to the NFL concussion protocol. If Boykin can't play, Davis said, either Chung or cornerback
Roc Carmichael
would move into his role in the slot.
"For me, I like playing outside more," Carmichael said. "That's what I've done my whole career. But going into the inside, it's still a defensive-back position. Playing man will be the same, but now I have to learn more of the zones – which 'backer do I have to help, is the end going to drop, little things like that."
The 5-foot-11, 212-pound Johnson was in training camp with the
Miami Dolphins
. He signed to the Eagles' practice squad in September.
December, 17, 2013
12/17/13
1:30
PM ET
PHILADELPHIA -- Coming off a game in which his defense gave up 48 points and lost three more defensive backs to injuries, Eagles defensive coordinator Bill Davis called Sunday's visit from the
Chicago Bears
"our biggest challenge of the season."
That's quite a distinction, considering the Eagles have faced
Peyton Manning
(allowing 52 points),
Philip Rivers
(33 points),
Jamaal Charles
(26 points),
Larry Fitzgerald
(21 points) and
Calvin Johnson
(20 snow-covered points).
But Davis was taking in all the factors: A game with enormous playoff implications for the Bears and possibly the Eagles; quarterback
Jay Cutler
and his array of weapons, including
Brandon Marshall
,
Alshon Jeffery
,
Martellus Bennett
and
Matt Forte
, and a secondary thrown into disarray by injuries and poor performance.
"Chicago might be one of the most talented offenses we face," Davis said. "They're obviously in the top five in scoring. They've got the big, physical Pro Bowl receivers – two of them. They've got a tight end who's a big, athletic pass receiving tight end. The running back is as rounded as any running back we've faced."
That would sound daunting coming off the nine consecutive games in which the Eagles' defense held the opposing team to 21 points or fewer. Coming off Sunday's debacle in Minnesota, and dealing with the smoking ruins of his secondary, you can see why Davis is concerned.
Nickel cornerback
Brandon Boykin
, who leads the team with four interceptions, has a concussion. His availability will be determined by the NFL concussion protocol. He would be replaced by safety
Patrick Chung
or cornerback
Roc Carmichael
, or a combination of both.
Davis may get rookie safety
Earl Wolff
back after a five-week absence due a knee injury. But Davis said Wolff will have to "crawl" back into the lineup before he's completely back to where he was in early November.
Wolff's replacement, the veteran Chung, was benched in favor of
Kurt Coleman
. Davis revealed Tuesday that decision was made before the game.
"Pat and Kurt knew we were rotating every two series," Davis said. "Now we were rotating because Patrick is in a little bit of a slump. We were prepared in practice, we were 50/50 with the reps. That wasn't something that was a knee-jerk reaction."
Coleman injured his hamstring and spent the second half in the locker room getting treatment.
Colt Anderson
, who plays mostly special teams, injured his knee while pressed into service on defense.
Davis said Wolff and Coleman are "day to day," while Anderson is "more week to week."
And those are just the injured players. Davis also has to regroup with starting cornerbacks,
Cary Williams
and
Bradley Fletcher
, who are coming off their worst performance since the Denver game. Safety
Nate Allen
earned the distinction of being the least-bad defensive back of the day for the Eagles.
"It is a well-rounded offense that's coming at us," Davis said. "We had a bad day in Minnesota. They're in the right mindset. Nobody's pouting about last week. We accepted it, we owned up to it, we talked about the mistakes. Now we're going forward and we're going to attack Chicago with everything we have."
November, 17, 2013
11/17/13
12:00
PM ET
PHILADELPHIA -- The Eagles will be without three injured defensive starters in Sunday's game against Washington.
Linebacker
Mychal Kendricks
and rookie safety
Earl Wolff
are inactive after injuring knees in last week's game in Green Bay.
Najee Goode
will start at Kendricks' inside linebacker spot. It will be worth watching to see if he is used to shadow Washington quarterback
Robert Griffin
III, as Kendricks likely would have been. Veteran
Patrick Chung
, who began the season in the starting lineup, will play in place of Wolff.
Cornerback
Bradley Fletcher
will miss his second game after injuring a pectoral muscle in Oakland two weeks ago. Fletcher missed a game earlier in the season with a concussion.
Roc Carmichael
will start in his place. Carmichael played well last week. Fletcher's absence has a domino effect, however. Defensive coordinator Bill Davis had
Cary Williams
in single coverage more often against the Packers, and that made him a bit of a target.
Left tackle
Jason Peters
, who has a number of nagging injuries including quadriceps and pectoral injuries, is active and will start.
November, 15, 2013
11/15/13
5:15
PM ET
PHILADELPHIA -- Three
Philadelphia Eagles
starters, not counting quarterback
Michael Vick
, are listed as questionable for Sunday's game against Washington.
Left tackle
Jason Peters
has been playing with a list of nicks, led by quadriceps and pectoral muscle injuries. It wouldn't be surprising if he played, but the Eagles could also choose to sit him out this week and give him an extra week of rest with the bye week looming.
Allen Barbre
, who played well in relief of Peters last week, would start if Peters can't go.
Peters
Linebacker
Mychal Kendricks
(knee) seemed like a long shot to play. The questionable status, which signifies a 50-percent chance to play, is actually more positive than expected.
Najee Goode
would play in place of Kendricks, who would otherwise be the leading candidate to shadow Washington quarterback
Robert Griffin III
.
Cornerback
Bradley Fletcher
(pectoral) was questionable last week as well, and did not play in Green Bay.
Roc Carmichael
filled in for him.
As expected, safety
Earl Wolff
(hyperextended right knee) is out.
Patrick Chung
, the starter going into the season, will step back into the lineup. Linebacker/special teamer
Jake Knott
is also out with a hamstring injury.
Chung (shoulder), defensive end
Cedric Thornton
(knee), tight end
Brent Celek
(hip), and wide receiver
Riley Cooper
(knee) were listed as probable.
November, 11, 2013
11/11/13
8:00
AM ET
GREEN BAY, Wis. -- Taking a look at four storylines from the
Philadelphia Eagles
' 27-13
win
over the Green Bay Packers on Sunday at Lambeau Field.
Nick Foles is flirting with history.
Foles has thrown 16 touchdown passes this season without an interception. That would've tied the NFL record set in 1960 by Milt Plum, except that
Peyton Manning
already broke that 53-year-old mark this season. Manning threw 20 touchdowns before throwing a pick.
[+] Enlarge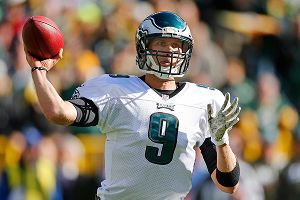 Gregory Shamus/Getty ImagesNick Foles has thrown 10 touchdown passes and no picks in the Eagles' past two games.
What's even more compelling is that Foles isn't being extra cautious. In fact, his receivers say that he's trusting them and throwing the ball out where they can get it. That raises the degree of difficulty on the no-pick streak.
"Nick does a great job protecting the football," coach Chip Kelly said. "He hasn't thrown an interception. He doesn't really make egregious mistakes. If he misses, he may not be as accurate on the throw. He's got a good grasp and command of what we're doing."
Foles put two strong games together.
After his rough outing against Dallas, Foles needed to prove he could be consistent. Check that box.
His numbers in the past two games combined: 34-of-46 (73.9 percent) for 634 yards, 10 touchdowns and no interceptions. Foles has a passer rating of 155.3 for the two games.
"We just have to keep moving, but I felt good out there," Foles said. "Receivers were making some good plays and helping me out."
Does that mean he will be the starting quarterback if
Michael Vick
is healthy? It's a question Kelly won't answer. Until Vick is 100 percent, it's a question Kelly doesn't have to answer.
Tempo works both ways.
The Eagles have done a better job maintaining Kelly's high-tempo offense. But in some ways, their ability to run a slow-it-down offense has been just as important at times. In the fourth quarters of wins in Tampa Bay and Green Bay, the Eagles drained the clock by methodically running the ball.
"You're in a game, it's a couple-score game," Kelly said. "Even if we did turn the ball back over, hopefully there's not a lot of time left on the clock. Everybody knew what was happening. Everybody knew we were running it. It's something to build upon. We feel comfortable it's something we're getting better with."
LeSean McCoy
ran the ball nine times for 50 yards in the Eagles' last drive, which took up the final 9:32 of the game. Foles ran for a first down.
Bryce Brown
mixed in a couple of runs for 11 yards.
"That's what championship teams have to be able to do," wide receiver
Riley Cooper
said.
The Ouch Department was extra busy.
The Eagles went into the game without starting cornerback
Bradley Fletcher
, who injured a pectoral muscle last week. They lost two more defensive starters, linebacker
Mychal Kendricks
and safety
Earl Wolff
, plus offensive tackle
Jason Peters
-- all in the first half.
"I think it speaks a lot about the depth," Kelly said. "You have to have it. It's a tough, hard-nosed, physical game and everybody needs to be ready to play at any point in time. I thought the guys that stepped up and came in did a really nice job."
Cornerback
Roc Carmichael
, linebacker
Najee Goode
and safety
Patrick Chung
helped the defense hold the Packers to 13 points.
Allen Barbre
replaced Peters at left tackle.
November, 8, 2013
11/08/13
2:00
PM ET
PHILADELPHIA -- Eagles cornerback
Bradley Fletcher
was listed as questionable for Sunday's game in Green Bay due to a pectoral injury he sustained in Oakland.
Fletcher
Quarterback
Michael Vick
was listed as doubtful due to his hamstring strain. That would have been the headline in the past, but Vick's condition has become almost an afterthought five weeks after the original injury. Linebacker and special-teamer
Jake Knott
is also doubtful with a hamstring injury.
Fletcher's status would be a bigger issue if the Eagles were facing Packers quarterback
Aaron Rodgers
. But even with
Seneca Wallace
replacing the injured Rodgers, there are repercussions if Fletcher can't go or is limited.
With Fletcher on the defensive left and
Cary Williams
on the right, the Eagles don't move their corners around, or have one of them follow the other team's top receiver.
"As of right now," Williams said, "we're preparing like Bradley's going to play. Hopefully he does. If he doesn't, we'll probably keep to the same formula."
That could mean slot corner
Brandon Boykin
moving out to take Williams' side. Or
Roc Carmichael
, who was on the field for 20 defensive snaps in Oakland, could play outside with Boykin remaining in the slot.
"Roc's been impressive," defensive coordinator Bill Davis said. "Roc came out and competed well and made a couple of plays for us. And I've got all the confidence in the world in Roc, and him out at corner. He's a competitor, he's a bright young man that's picked up the defense well for not being here through the offseason. We're excited about Roc and feel very comfortable with him out there."
Safety
Patrick Chung
, who is listed as probable with a shoulder injury, can also play the slot corner spot. And the Eagles signed cornerback
Curtis Marsh
early in the week, giving them an extra option.
It's also possible that the Packers will use more two-back formations with Wallace at quarterback in order to focus on the running game.
And, of course, it's also possible that Fletcher will play and get through the entire game.
The other players listed as probable were Carmichael (groin), wide receiver
Damaris Johnson
(ankle), left tackle
Jason Peters
(pectoral, shoulder), running back
Chris Polk
(shoulder, knee), defensive end
Cedric Thornton
(knee) and offensive lineman
Julian Vandervelde
(knee).
October, 23, 2013
10/23/13
4:50
PM ET
PHILADELPHIA – The
Philadelphia Eagles
let two young cornerbacks go as part of the roster shuffling made necessary by injuries at other positions. Naturally, with their depth depleted at corner, they have an injured starter at that position.
Bradley Fletcher
hyperextended his right knee in the first quarter of Sunday's loss to the
Dallas Cowboys
. He remained in the game, but experienced swelling Monday and Tuesday and did not take part in practice Tuesday and Wednesday.
Fletcher
With the long-tossing
Eli Manning
and the
New York Giants
coming up, that could be a bad sign.
"I'll have myself together for Sunday," said Fletcher, who missed the second game of the season with a concussion. "I feel like I'll be fine."
When the Eagles and Giants played three Sundays ago, Manning tested the Eagles' revamped secondary with plenty of deep throws. He completed a 49-yard pass to
Hakeem Nicks
early, and hit
Rueben Randle
for a 26-yard touchdown.
"I think it comes with attempts," Eagles defensive coordinator Bill Davis said. "Shots on goal. They threw 11 or 12 deep on us and you're going to hit a couple. Right now, we're averaging 45 passes against us a game, and we're glad that we're keeping all these deep ones off of us. But the Giants threw a lot deep and hit a couple."
Fletcher,
Cary Williams
and nickel corner
Brandon Boykin
give the Eagles three solid cover guys. The only backup corner on the roster right now is
Roc Carmichael
, a special-teamer who has played only 11 defensive snaps. Safety
Patrick Chung
, who missed three of the last four games with a shoulder injury, can play nickel corner if needed.
The Eagles waived rookies
Jordan Poyer
and
Shaun Prater
in the past week when injuries forced them to create roster space for running back
Matthew Tucker
and linebacker
Emmanuel Acho
. Poyer was claimed by Cleveland, Prater by Minnesota.
"All the different injuries that happen to the team affect the bottom of the roster and who is on the practice squad and who is not," Davis said. "Each week we go into it with a plan of saying, who can step in? Who has played corner? Who hasn't played corner? We train different guys in nickel positions because you always have an issue there that you have to be on top of. So it's a moving target. Every week it changes, and this week we have a couple things we're working on."
September, 29, 2013
9/29/13
3:35
PM ET

DENVER -- It wasn't surprising when the
Philadelphia Eagles
announced that safety
Patrick Chung
will be inactive for today's game against the
Denver Broncos
. Chung injured his shoulder against Kansas City and didn't practice all week. Rookie
Earl Wolff
will start in his place.
There was a little intrigue in the rest of the secondary. The Eagles are desperately trying to develop some depth with their young cornerbacks.
Roc Carmichael
, who was signed off the Texans' practice squad last week, will dress for the first time. Seventh-round pick
Jordan Poyer
is also in uniform. Both of them were inactive for the Chiefs game.
Shaun Prater
, who dressed last week, is back on the inactive list this week.
Carmichael and Poyer are likely to see most, even all, of their playing time on special teams. But there is always a chance they will be pressed into action due to injury. Poyer was forced to play against Washington and was immediately targeted by
Robert Griffin III
.
Offensive lineman
Dennis Kelly
is inactive for the fourth time. The first three weeks, he was unable to practice because he was recovering from back surgery. Kelly practiced this week, but is behind
Allen Barbre
, who backs up at both guard and tackle.
Matt Barkley
,
Matt Tobin
,
Damion Square
and
Emil Igwenagu
are the other inactive Eagles.
Cornerback
Champ Bailey
(foot) in inactive for the Broncos. It will be interesting to see if that means
Dominique Rodgers-Cromartie
is assigned to
DeSean Jackson
wherever he lines up.
September, 18, 2013
9/18/13
10:15
AM ET
PHILADELPHIA -- It is hard enough to fix a secondary in six months, as the Eagles have proven the hard way. It is impossible to fix one in the three days between Sunday's 33-30 loss to San Diego and Thursday night's matchup with
Alex Smith
and
Dwayne Bowe
of the
Kansas City Chiefs
.

Cornerback
Roc Carmichael
, signed Wednesday from the
Houston Texans
practice squad, isn't going to cover Bowe. He'll be inactive for this game. But the move adds to a pool of young defensive backs the Eagles hope will be able to contribute as the season goes on.
The Eagles will get starter
Bradley Fletcher
(concussion) back after one week. But
Brandon Hughes
is injured again. After breaking his hand in training camp, Hughes returned Sunday and pulled a hamstring. The Eagles placed him on short-term injured reserve to make room on the roster for Carmichael.
"We've had concerns since we got here with depth at the cornerback spot," head coach Chip Kelly said. "So that is a big concern for us overall. Didn't have Brandon in the first game, didn't have Fletch in the last game, and now Brandon's out again."
Carmichael, 25, was a fourth-round draft choice by the Texans in 2011. He played in six games last season, but was released at the end of training camp. There was a report the Eagles were interested in claiming him, but that never happened and he signed with Houston's practice squad.
He joins seventh-round pick
Jordan Poyer
and waiver-wire pickup
Shaun Prater
in development. Poyer was pressed into service in both games because of injury to other corners. He was immediately targeted for a touchdown pass by Washington's
Robert Griffin
III. Prater has been inactive in both games as he gets a crash course in Bill Davis' defensive playbook.
"He's coming along," Kelly said. "We picked him up after the cut down to 53, so I know those guys are working very hard with him. Shaun's working very hard himself. So we're hoping to get a chance to get him acclimated. But it's also not fair to him to throw him in the field if he doesn't understand what we're doing and expect him to make a play on a Thursday night or Sunday and turn around and say we haven't had a chance to cover that. But Shaun's coming, and we hope to have a chance to get him involved here soon."
The Eagles have the second-worst pass defense in the NFL and were helpless against San Diego's
Philip Rivers
on Sunday. Over the next three weeks, they face Smith,
Peyton Manning
and
Eli Manning
.