February, 6, 2010
2/06/10
5:57
PM ET
By
Matt Mosley
| ESPN.com
In one of the least surprising moments in recent history, former Cowboys running back
Emmitt Smith
was voted into the Pro Football Hall of Fame on Saturday. Smith became the final member of the Cowboys' famed "Triplets" to enter the Hall, mainly because he stuck around for so long. Smith will be joined in Canton, Ohio, by a member of the Redskins' famed Hogs, guard Russ Grimm.
[+] Enlarge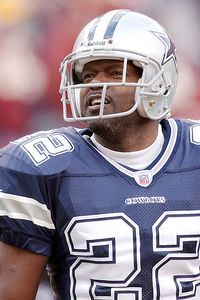 Al Messerschmidt/Getty ImagesEmmith Smith is the NFL's all-time leading rusher.
The Skins' offensive line played a huge role in the team's four trips to Super Bowls in the 1980s and 90s, but it didn't have a representative in the Hall of Fame. Grimm embodied the spirit of the Hogs. He was big, brash and funny. Offensive line coach Joe Bugel presided over this remarkable group of players. Grimm was named to the all-decade team of the 80s. There was absolutely no reason for voters to keep him out of the Hall any longer.
The voters probably saved a lot of time Saturday with Smith and wide receiver
Jerry Rice
, two of the greatest players in league history. Maybe that allowed for more time to consider deserving players such as Grimm,
Rickey Jackson
and
John Randle
-- none were viewed as locks for the 2010 class.
Smith is the NFL's all-time leading rusher and Rice owns most of the meaningful receiving records. It's fitting the two will be inducted in the same class because they were part of the one of the league's greatest rivalries. The 49ers and Cowboys were the best teams in the league during the 90s and they met in the NFC title game on a nearly annual basis early in that decade.
You'll often read about how running backs fall off a cliff at age 30, but it didn't happen to Smith. He gained nearly 5,800 yards after turning 30. And despite his huge success, Smith always seemed to play with a chip on his shoulder that probably dates back to him slipping to No. 17 in the 1990 draft.
Cowboys coach Jimmy Johnson wanted to move up and take Baylor linebacker
James Francis
in 1990, but the Bengals selected him at No. 12. The Cowboys moved from No. 21 to No. 17 and looked at a list of players that included
Rodney Hampton
and
Steve Broussard
. Fortunately for Cowboys fans, Jerry Jones and Johnson eventually decided on Smith. He was available at No. 17 because he didn't run a 4.4 in the 40-yard dash and he was only 5-9, 210 pounds.
But all of that weight appeared to be in Smith's legs, and he used them to punish defenders. If football was played on a straight line, maybe Smith's numbers wouldn't have been so remarkable. But he seemed to turn every carry into an adventure. Linebackers rarely got a clean shot because Smith could dart away at the last moment. And when he knew a tackle was inevitable, Smith made his body limp so that he could live to see another carry. One scout told me recently that other tailbacks looked like they had been "electrocuted" when they were hit by defenders.
[+] Enlarge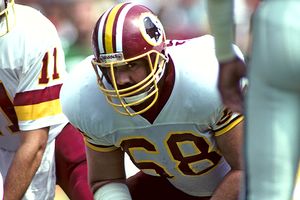 Al Messerschmidt/Getty ImagesRuss Grimm was on a Washington team that went to the Super Bowl four times.
Maybe that explains Smith's longevity. He never had a true complementary back so that he could catch his breath. And I don't think he would've had it any other way. I'll never forget watching Smith rush for 168 yards against the Giants in the 1993 regular-season finale when he separated his shoulder early in the game. No one would've questioned Smith's toughness had he left that game. Instead, he hung in there and led the Cowboys to a division title and a playoff bye.
The best thing about the "Triplets" is that they all realize how much they needed each other. I don't think the Cowboys would have won three Super Bowls with only
Troy Aikman
and
Michael Irvin
. And you can say the same thing about the other combinations.
Cowboys defensive end
Charles Haley
did not make the cut to 10 modern-day players. That's pretty surprising when you consider the man has five Super Bowl rings and was one of the most feared pass-rushers in the game. But I think Haley will have more chances in the future.
Redskins and Cowboys fans are rejoicing this afternoon. Grimm helped pave the way for John Riggins to have a Hall of Fame career. He kept Joe Theismann and Doug Williams on their feet and helped keep things loose in the locker room. I'm sure Joe Gibbs is happier than anyone about today's announcement.
Offensive tackle
Joe Jacoby
is probably the other member of the Hogs that received the most individual attention. He is probably also Hall of Fame worthy, but on this day, I think all the Hogs feel they are represented.
Pretty remarkable day for two NFC East players.
February, 4, 2010
2/04/10
3:40
PM ET
By
Matt Mosley
| ESPN.com
FORT LAUDERDALE, Fla. -- One of the most famous scouting reports in the history of the
Dallas Cowboys'
organization went missing several years ago, but there are witnesses who remember the final line. It was written by former Cowboys Southeast area scout Walt Yaworsky, a man who played center for Bear Bryant at Kentucky before a career in the pros.
[+] Enlarge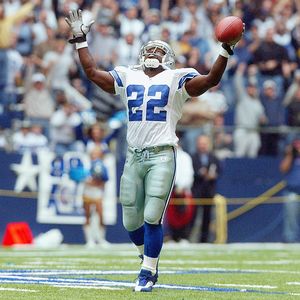 AP Photo/Tony GutierrezCowboys scout Walt Yaworsky reportedly wrote that Emmitt Smith, shown above after breaking the NFL rushing record in 2002, would "someday make Cowboys fans forget about Tony Dorsett."
"
Emmitt Smith
will someday make Cowboys fans forget about Tony Dorsett," read the final line of Yaworsky's report, according to a couple scouts who asked not to be identified in this story.
The statement sounds plausible in the aftermath of Smith's illustrious career, but it raised eyebrows at Valley Ranch in 1990. Yaworsky, not a man to mince words, was prepared to stake his reputation on the 5-9, 210-pound running back out of Florida. Cowboys head coach Jimmy Johnson, a man highly regarded for recognizing talent, made it no secret that he hoped to draft Baylor linebacker
James Francis
. Johnson was reportedly prepared to move all the way up from No. 21 to No. 13 to select Francis, but the Bengals foiled his plans by picking him at No. 12.
The Cowboys eventually moved up to No. 17 and considered a group of players that included
Rodney Hampton
,
Steve Broussard
,
Darrell Thompson
and Smith. Yaworsky, who was also instrumental in scouting
Michael Irvin
, was adamant that Smith was the right player to replace
Herschel Walker
, who had been traded to the Vikings six months earlier. Described by those who knew him best as an "Archie Bunker-type personality," Yaworsky said to hell with 40-yard dash times and informed Johnson and Jerry Jones that Smith had the best vision of any running back he'd ever scouted.
I finally tracked down Yaworsky in Cleveland, Tenn., on Wednesday. He was very modest about his role in the process and kept deferring to "the talented coaches from Miami" in reference to Johnson and his staff.
"He was unique because he wasn't real tall," Yaworsky finally said after some coaxing. "I thought he was in Jimmy Brown's class from the start. He just had this peripheral vision and he seemed to know exactly where his linemen were going to be without ever having to take a peek."
Yaworsky thought Smith was the perfect type of back because most of his weight was in the lower body and he did a superb job of keeping his pad level low. Smith had an uncanny knack for making his body go limp at the moment of impact so that he never took a lot of clean shots. Old-school scouts such as Yaworsky knew that 40-yard dash times, while instructive, shouldn't define players.
Smith never ran better than a 4.5 40-yard dash, but it was his ability to change direction on a dime without losing speed that made him so special. Football isn't played on a straight line and that's why it's not a given that a 4.3 40-yard dash will translate to great rushing numbers.
I'm not even sure if Smith himself knows how much Yaworsky fought for him leading up to the draft. Time has a way of obscuring the facts and that's why you'll hear other scouts' names come up in regard to Smith. But the guys who looked at that old report know the truth. On Saturday here in Fort Lauderdale, it's pretty much a given that Smith will be voted into the Hall of Fame. He and
Jerry Rice
are virtual locks.
Before I hung up the phone Wednesday, I asked Yaworsky if he ever wondered what happened to that report. It might be worth something.
"Oh, I cleaned out the garage a while back," he said. "So that probably rules out any hope of it surfacing."